Official Website : WendyWilliamsXXX.com  Kink Profile : Wendy Williams  Twitter: @TsWendyWilliams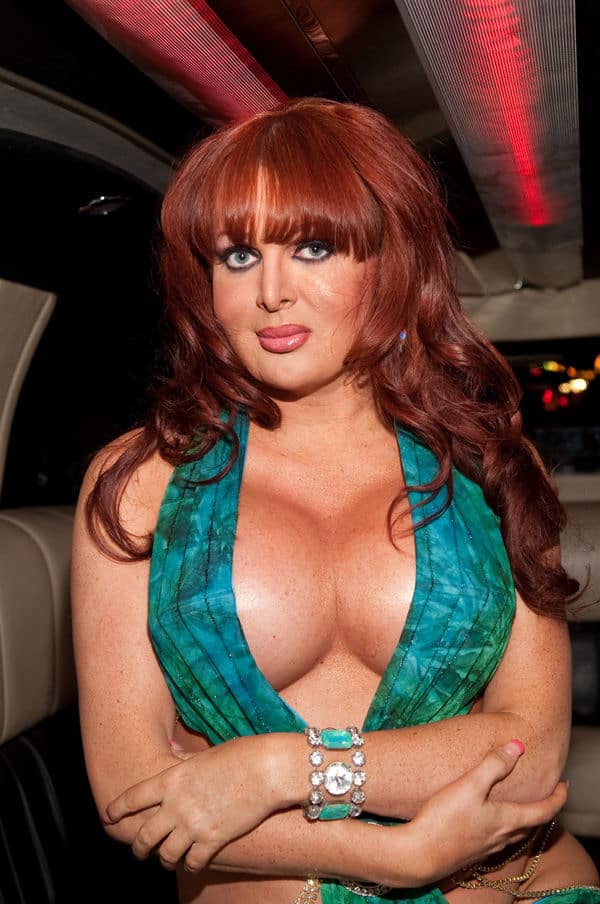 Personal Info
Name : Wendy Williams
Date of Birth: May 3rd 1974
Home Town : Pikeville, Kentucky (US)
Boobs : Enhanced
Height : 5'10 (1.78m)
Hair Colour : Red/ Brunette
Eye Colour : Blue
Years Active : 2002 – present (as a performer) , 2005 – present (as a director)
Number of Scenes : 80+ (as performer) 17+ (as director)
It is universally accepted that Wendy Williams is one of the most influential transsexual performers within the adult entertainment industry. A talented performer, skilled producer and prominent publicist, Wendy has won a multitude of adult film awards and kick-started the careers of countless aspiring transsexual porn stars!
Born and raised in Pikeville, Kentucky, Wendy has described how her family "grew up on food stamps and charity" to make ends meet. When Wendy was in the sixth grade she moved in with her great-grandmother due to the state of her father's alcoholism. Despite these hardships, Wendy applied herself to her studies and graduated from Eastern Kentucky University in 1997 having achieved her Bachelor of Arts degree in Communications. Wendy explained in a CaramelsTGirls.com interview how;
"I grew up in a poor family in the hills of Eastern Kentucky. At the of 11 I went to live with my great grandmother due to my dad's alcoholism and family issues. My "mommy 2" as I called her instilled a very hard work ethic and the importance of going to college. I enrolled immediately after graduation and five years later graduated with a BA in Communications".
After graduating from college, Wendy began to explore her gender identity by working in gay clubs within Kentucky, Ohio and West Virginia. By performing in drag shows under the stage name "Wendy Williams", which was created by her drag mother Stephanie St. Claire, Wendy was able to bolster her confidence and learn more about the transsexual community.
In fact, it was whilst working in these gay clubs in 2000 that a friend of Wendy's introduced her to the concept of solo transsexual performer's websites. Inspired by these performers and their solo online projects, Wendy decided to develop her own website; WendyWilliamsXXX.com. Describing this period of her life in previous interviews, Wendy has explained how;
"I was living in Cincinnati, Ohio and met a guy from Florida and became online lovers quickly. I was living part-time and suddenly after a year talking on the phone he says he is going to fly me to Florida. WHAT?  I had never functioned in public as Wendy and going to the airport I was so nervous. I was afraid he wouldn't like what he saw or people would stare and embarrass him. It was then that I emailed Shemale Yum and asked to do a shoot and did. My God, those photos are HORRIBLE. EEEK …Anyhow after several trips to Florida, I decided to move in with him and it was then that I started living full time. The website was more of a "look at me" site that eventually evolved into a Porn Site".
As Wendy further embellished in a 2011 XXX Wasteland interview;
"In 1999-2000, there were very few solo girl websites on the net (Foxy Angel, Meghan Chavalier, Tonya, etc) and a friend of mine showed me the sites and said we should do one. I was working in the gay clubs doing "drag" and living part-time. I didn't want to do it at first, so we started the website as a free site for me to pretty much just show off. I would do photo sets but wouldn't get nude and noticed that guys on AOL (Yep, good ol' AOL) and Yahoo were asking to see more. Eventually, we set the site up as a members site and I started to get a few members here and there. My friend got married, so we had to shut the site down and I just kept it up as a free site. Fast forward to me meeting a guy on AOL who lived in Florida, and in order to make the trip financially I contacted ShemaleYum (2002) and did my first nude photo shoot. I eventually moved to Florida and started my website back up as a pay site in 2002″.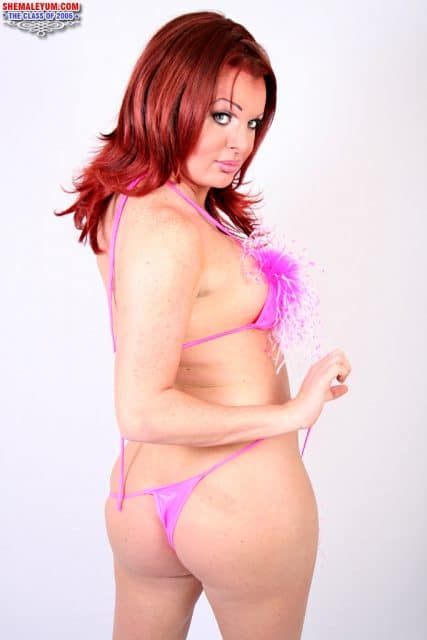 Wendy Williams at Grooby Girls
Wendy Williams : Adult Film Career
In 2001 Wendy began working in the adult entertainment industry after moving to Fort Lauderdale, Florida. Although she posted content on her solo website during this time, Wendy did not pose for her first nude modelling shoot, titled Wendy Williams Bikini Babe until 2002.
A pivotal moment in Wendy's adult film career occurred in 2003 when she met transsexual superstar Joanna Jet whilst she was filming a scene for her fan-favourite Jet Set DVD series. Although Wendy was a fan of Joanna's and had been applying to work with her for several months, it was not until Joanna was performing and producing a Grooby Girls project in Miami, Florida, that Wendy first collaborated with her. Foxxy was booked to work with Joanna but, following a cancellation, referred Wendy to be her replacement. As Wendy explained in her CaramelsTGirls.com interview;
"Joanna Jet is THE reason for my success today. I was living in Ft. Lauderdale and friends with Foxy Angel. Foxy was booked for a shoot and decided not to do it and referred me to replace her. I had emailed Joanna several times about work but apparently she wasn't too impressed LOL. I remember I was so scared and intimidated and it didn't help that me and my co-star fought the entire time in front of her. The scene was okay, but still didn't impress her enough to re-book me. After I grew a bit and worked for Joey Silvera and Shemale Strokers, she saw my progress and we started chatting online. Joanna was travelling between the U.K and U.S and needed an assistant.  Next thing I knew, she moved me to L.A and started teaching me the business side.  I love that woman to death and she means so much to me".
In this manner, Wendy shot her first ever adult film scene with Grooby Girls (formerly Shemale Yum) and began her career as a transsexual porn star! Wendy has continued to film a wealthy of sultry solo sex scenes for Grooby Girls throughout her adult film career including her saucy Wendy And Her Fleshlight sex toy themed shoot in January 2009 and her alluring Heritage Model #17- Wendy Williams! and Heritage Model #17-Wnedy Williams' Climax! shoots that were unveiled in May 2016 and July 2016.
In fact, throughout her prolific porn star career Wendy has filmed all manner of raunchy web clips for several leading trans-friendly porn sites. If we had to name but a handful of Wendy's sauciest online sex scenes to date then we'd recommend checking out her kinky fishnets and leather clad femdom sex scenes with devoted sub Devin that were promoted via the fetish porn network Kink.com in October 2007, Wendy Is In Charge femdom BDSM sex scenes that were filmed by PK Vegas in May 2008 for the Grooby Network porn site Transex Domination, her hot Wendy Williams Tops John Magnum hardcore sex scenes that were promoted via the Grooby Network porn site Shemale Pornstar in January 2010 and her intense interracial sex scenes with Mr Bull that were uploaded via her pioneering porn site Interracial TGirl Sex throughout September 2012; not to be missed!
Impressed by Wendy's determination and her amicable nature, Joanna began to mentor Wendy from 2002 onwards whereupon she taught her about the various ways in which Wendy could produce an adult film DVD series for distribution.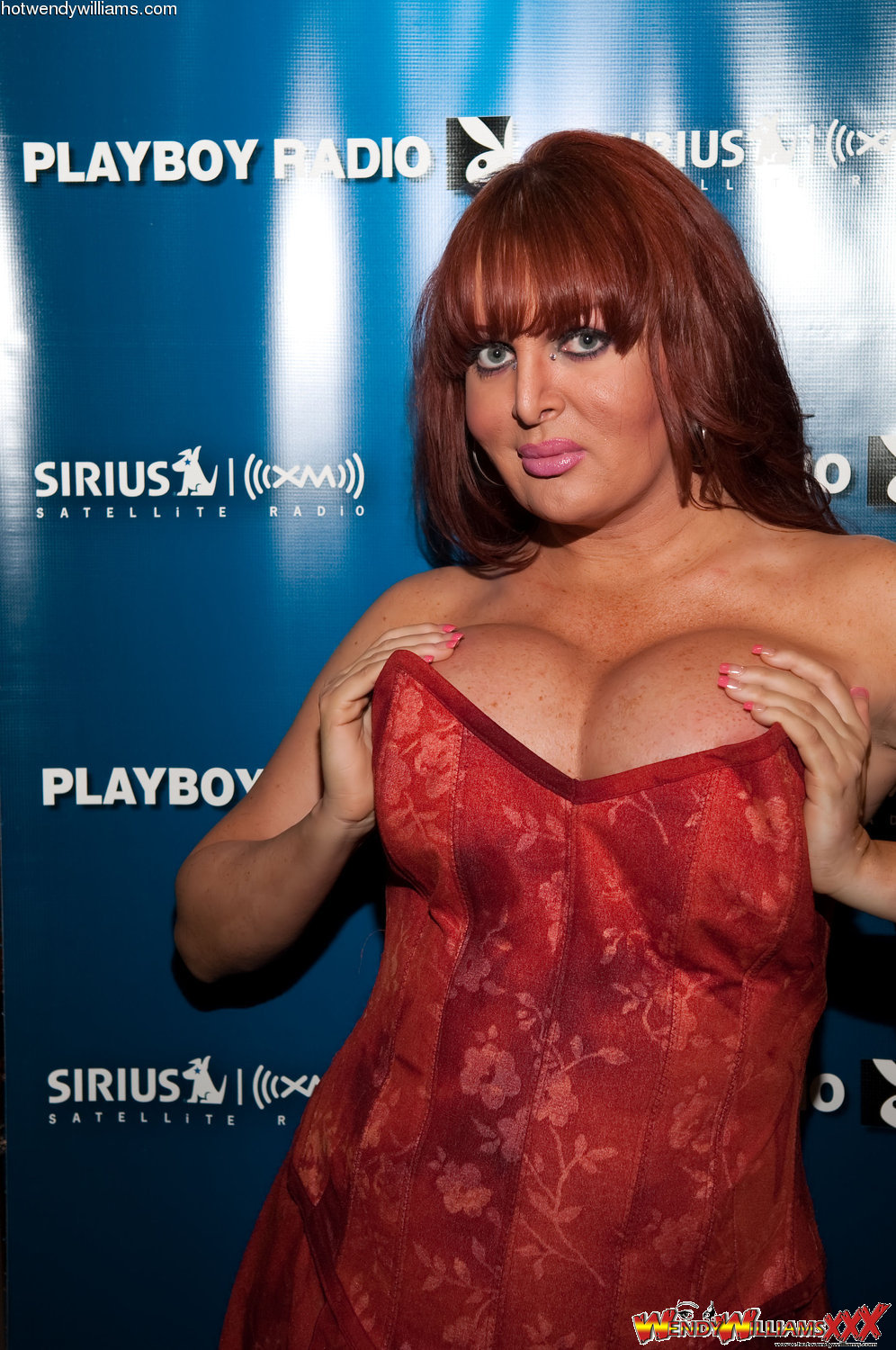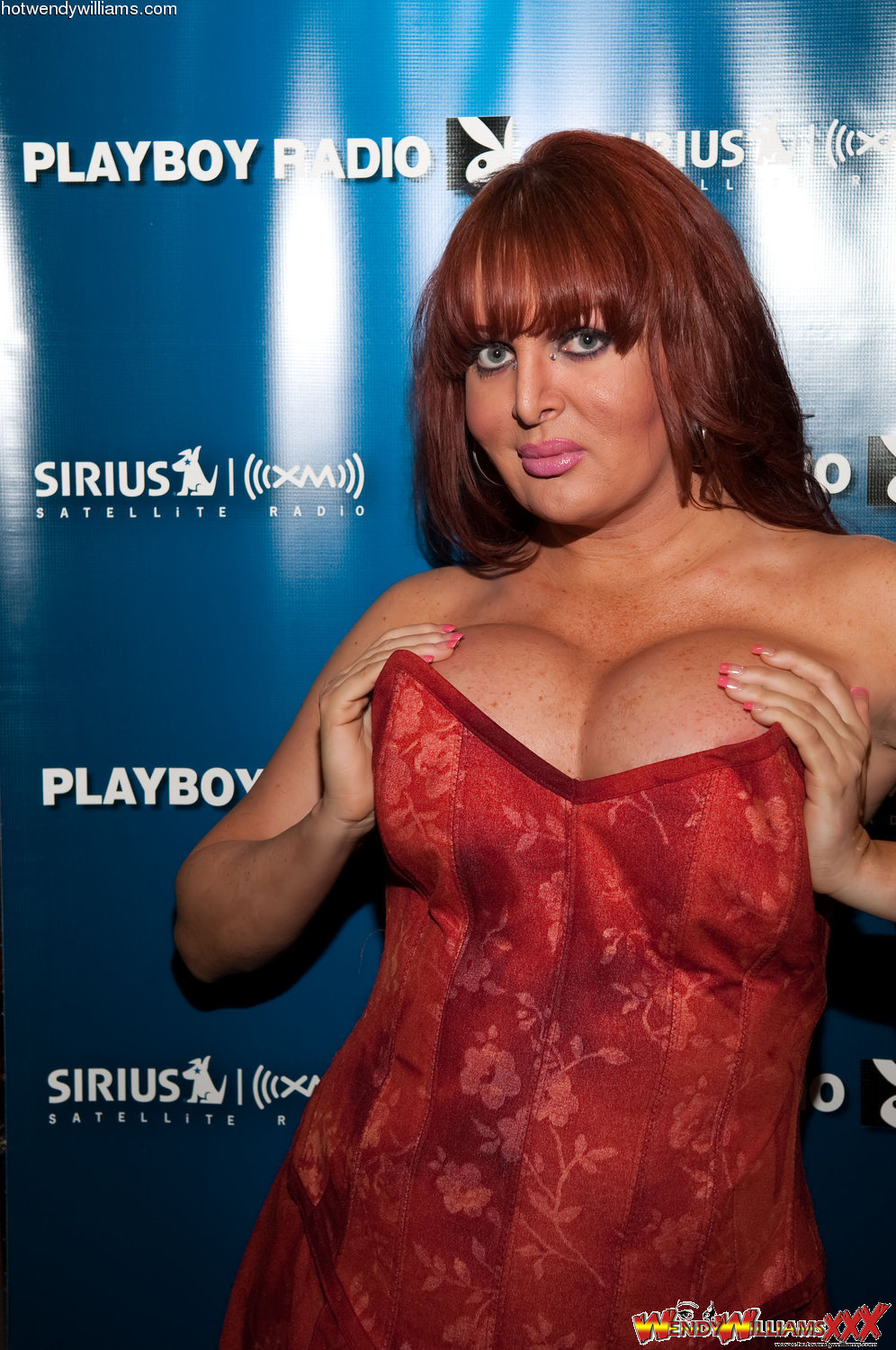 With these industry insights in mind, Wendy moved to Los Angeles, California, to work for Joanna Jet at Altered State Productions. During this time, Wendy began to produce her own DVD series titled Wendy's Wild Shemales for Avalon Enterprises.

This raunchy Wendy's Wild Shemales DVD series proved to be so successful among fans and film critics that it paved the way for Wendy to form her very own production company; Hot Wendy Productions (Hot Wendy PR) which was distributed by Avalon/Blue Coyote. This landmark achievement made Wendy the third ever transsexual performer, behind Joanna Jet and Gia Darling to form an independent production company. Describing this period of her life within her XXX Wasteland interview, Wendy revealed that;
"In 2003, when I shot for Joanna Jet, she was based out of the U.K and needed someone to run her office in L.A. She moved me to L.A in 2004 and began teaching me the ropes of the industry. At that time, the only independent transsexuals with their own distribution and production companies were Gia Darling and Joanna. Joanna taught me how to produce and the steps to producing a DVD for distribution. In the beginning, I launched my first series, Wendy's Wild Shemales, under her label and eventually broke off to form Hot Wendy Productions and begin distributing with Avalon".
By forming her own production company, Wendy was equipped with more creative control over her own film projects. Free to perform, produce and direct projects in her own style, Wendy soon began to amass a devoted fan base and critical acclaim for her Wendy's Wild Shemales series as well as her appearances in Joanna Jet's Tooled-Up She-Males series and TS Cock Strokers 6 for which she was the DVD cover model.
Wendy also appeared within the SheMale Strokers series; promoting them under her Hot Wendy PR label and performing  in SheMale Strokers 49 for which she was also the cover model. As Wendy conveyed in a AVN press release;
"I always love working with the staff at SheMaleStrokers.com and am honoured amongst all the new amazing talent that Sammy and his crew gave me the privilege of a cover placement".
Speaking about these SheMale Strokers collaborations, notable adult film director Sammy Mancini stated;
"Wendy is in the prime of her career and we are pleased to have the timing be just right for her to grace the latest box cover…Fans of the She-Male Strokers DVD series and website love to see Wendy in solo scenes showing off her dangerous curves and talking dirty in that sexy southern drawl! She is a fan favourite for a reason; she knows what her fans like and she gives it to them in spades".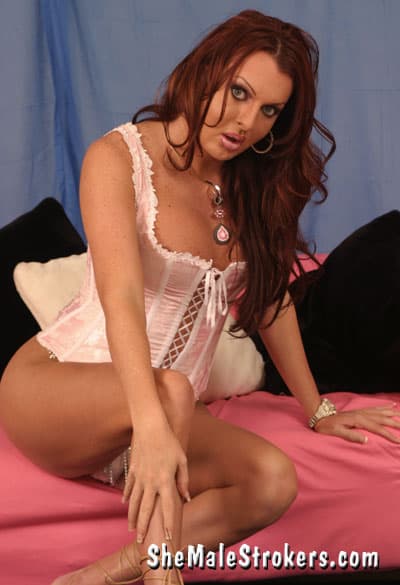 Wendy Williams at ShemaleStrokers.com
Throughout her adult film career Wendy has featured in a wide range of hardcore, soft-core, solo, toy action, gangbang, three-way and POV scenes with many of the biggest porn stars within the transsexual industry; from Joanna Jet to Foxxy and Vaniity Wendy has explained within various AVN interviews how these on-screen collaborations, combined with her producing projects for Hot Wendy Productions, have enabled her to improve the quality of her own solo performances and directing projects;
"When I first started, I thought it was all about the penetration…When shooting, I try to remember that the viewer wants to see not only the close-ups but also the facial reactions and the entire body. When I perform, it really depends on the guy and the attraction. I love to kiss, but if the guy is just there for the money and maybe not feeling the scene, I try to remember that my fans are watching and play to the camera instead".
Consequently, throughout her 13 year porn star career, Wendy's modelling shoots, sex scene performances and producing projects have earned her a series of adult film award wins and nominations including;
2006: AVN Awards nominee — "Transsexual Performer of the Year"
2006: AVN Awards nominee — "Best Transsexual Release" — Wendy's Wild Shemales
2007: AVN Awards nominee — "Best Transsexual Release" — Wendy's Wild Shemales
2007: AVN Awards nominee — "Transsexual Performer of the Year"
2008: AVN Awards nominee — "Transsexual Performer of the Year"
2008: AVN Awards nominee — "Best Transsexual Release" — Wendy's Wild Shemales
2008: AVN Awards nominee — "Most Outrageous Sex Scene" — Shemale Fetish Extreme (with Nikki Darling and Masked Boy)
2009: AVN Awards winner — "Transsexual Performer of the Year"
2009: Tranny Awards winner — "Best Solo Website"
2010: XBIZ Awards winner — "Transsexual Performer of the Year"
2010: AVN Awards nominee — "Transsexual Performer of the Year"
2011: AVN Awards nominee — "Transsexual Performer of the Year"
2012: Urban X Awards winner — "Interracial Transsexual Performer of the Year"
2012: XBIZ Awards winner — "Transsexual Site of the Year"
2012: XBIZ Awards nominee — "Transsexual Performer of the Year"
2012: Tranny Awards nominee — "Best Internet Personality"
2012: Tranny Awards nominee — "Best Hardcore Model"
2012: AVN Awards nominee — "Transsexual Performer of the Year"
2012: AVN Awards nominee — "Most Outrageous Sex Scene"  — Wendy Williams Uncensored 2
2013: BBW Fan Fest Awards winner  — "Speciality/Niche Performer of the Year"
2013: AVN Awards nominee — "Transsexual Performer of the Year"
2013: AVN Awards nominee — "Interracial Transsexual Performer of the Year"
2013: AVN Awards nominee — "Best Transsexual Sex Scene" — Buck Angel's Sexing The Transman XXX 2
2013: Nightmoves Awards nominee — "Best Transsexual Performer"
2013: The Fannys Awards nominee — "Transsexual Performer of the Year"
2013: Tranny Awards nominee — "Voluptuous Diva"
2013: Tranny Awards nominee — "Best Internet Personality"
2013: Tranny Awards nominee — "Best Solo Website"
2013: XBIZ Awards nominee — "Transsexual Performer of the Year"
2014: AVN Awards winner — "Hall of Fame Inductee"
2014: Feminist Porn Awards winner — "Honoured Website" — WendyWilliamsXXX.com
2014: The Fannys Awards nominee — "Transsexual Performer of the Year"
2014: XBIZ Awards nominee — "Transsexual Performer of the Year"
2014: XBIZ Awards nominee — "Transsexual Director of the Year"
2014: Adult Virtual Con Awards winner — "Transsexual Site of the Year"
2015: AVN Awards nominee — "Transsexual Performer of the Year"
2015: AVN Awards nominee — "Best Transsexual Sex Scene" — I Kill It TS 6
2016: Biggie Awards winner — "Social Media Personality"
2016: AVN Awards nominee — "Favourite Transsexual Performer (Fan Award)"
2016: AVN Awards nominee — "Social Media Star (Fan Award)"
2017: Transgender Erotica Awards winner — "Lifetime Achievement Award"
Wendy expressed her joy and surprise at winning her first AVN award in 2009 during her CaramelsTGirls.com interview;
"I didn't think it would ever happen and when it did, I wasn't there. I had attended every year and decided to sit this one out.  I think this award was more of a "told you so" than anything. For years I was told I "didn't have the look". I was too thick, voice too deep, too tall, etc. I have a very vocal anti-Wendy group on the discussion boards so it was nice to say a big FUCK YOU".
Similarly, in a 2011 XXX Wasteland interview Wendy conveyed how;
"I will say I was overwhelmed. Early in my career, I was told I would never win awards because I didn't look like Gia Darling or Vaniity. I am tall, I am primarily a top, average cock, husky voice and just a typical All-American white transsexual. Companies didn't want to take a chance with me, so I had to fight tooth and nail to get acceptance. I guess they saw I wasn't going anywhere and had to take me serious. My fans aren't the guys who are signing my praises on message boards or review sites, but my haters were everywhere.(Laughs)…
Winning AVN in 2009 was earned, as I not only had been extremely relevant from 2006 up, but in 2009 I did the first all-interracial gangbang (eight guys) and I had been featured in other DVD's as well. Then, in 2010, I win XBIZ and that was just the icing on the cake. Currently, I am the only TS to have won both of those awards. I also won Best Solo TG Site in 2009 at the Tranny Awards and in 2010 and 2011 I have won Best Interracial Website at the Urban X Awards".
Over a decade after she first began working within the adult entertainment industry, Wendy still remained a strong contender during adult film awards ceremonies. Wendy expressed her gratitude at receiving these adult film award wins and nominations during an AVN press release held after her 2014 Adult Virtual Con Awards win, stating;
"It's amazing that after all these years, my work continues to be recognized, and winning these type of awards only gives me the motivation to continue".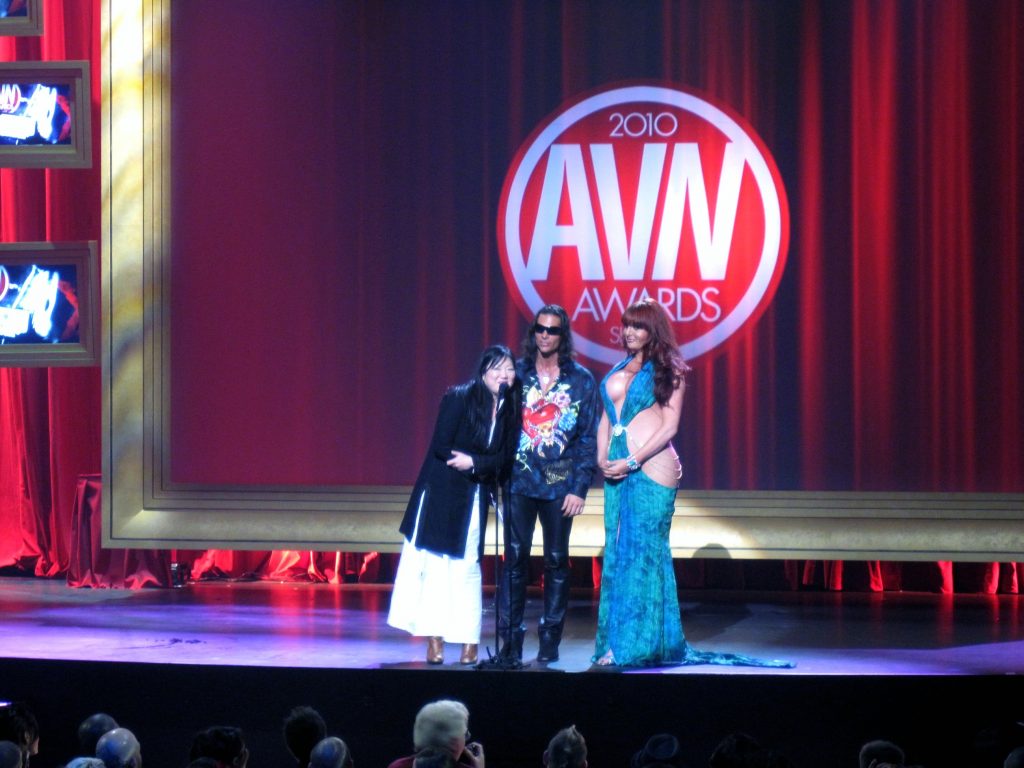 Wendy Williams : Hot Wendy Productions And Doc Johnson Collaboration
Another defining moment in Wendy's career occurred in 2009 Rising Star PR signed Wendy to their public relations roster. Rising Star's founder Devan Cypher stated at the time that;
"Wendy Williams is a bona fide star…We've come up with a plan to help her start getting some of the attention she deserves. I'm looking forward to seeing the diva bust down barriers in the years to come".
Commenting on this impressive PR collaboration Wendy conveyed;
"I feel like Rising Star really understands what I'm looking for…They have the background and experience to help me get the kind of first-class exposure I am looking for in my career right now. I only work with the best".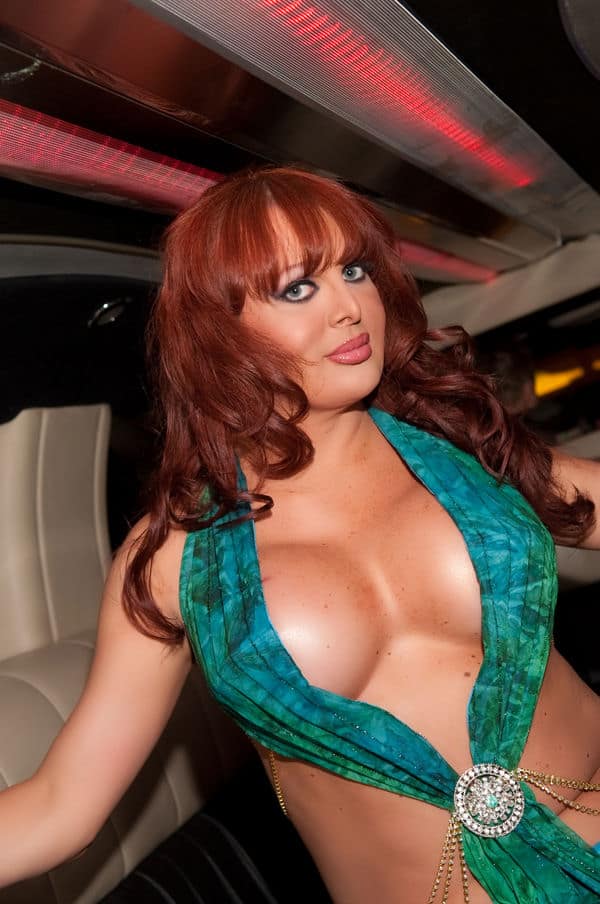 Throughout 2009 Wendy continued her ascent into transsexual superstardom by launching another website, Interracial T-Girl Sex, which would be solely dedicated to interracial transsexual sex scenes. This website made adult film industry history as it featured the first ever interracial shemale gangbang scene. Discussing this exciting new project and her on-screen collaboration withVaniity in her CaramelsTGirls.com interview, Wendy exclaimed;
"it's no secret that I love black men and I think it was due to my backward upbringing of never seeing a "black" person till I was in college, in person that is. When I did the Gangbang I noticed quickly how many fans said "More!" and it wasn't until I met Isa from Shemale Club that it was possible to take on such an expensive project…Vaniity is one of our Icons and I am lucky to be a friend. She really is picky for whom she works with so when I asked she said sure. Vaniity fans will get plenty of content from this shoot. We did 2 solo photo sets, 1 hardcore set, 50 minutes of Behind the Scenes, and over 50 of unedited footage of her and Billy Long, its HOT".
This project culminated in the production; A She-Male Gangbang: The Interracial Version. Shipped from Hot Wendy Productions, distributed by Avalon and starring an all-male black cast with Amber Foxxx as the fluffer, this saucy scene was a commercial success which further cemented Wendy's status as one of the most successful TS performers and producers in the adult entertainment industry. Wendy described the experience of shooting this interracial breakthrough production in a 2008 AVN press release, enthusing;
"It was time for me to do something different and push myself as a porn star. Having support from Grooby, my distributor, and [AVN contributor] Darklady on set made this DVD possible".
In 2008 Hot Wendy Productions also launched its first ever gay line, Jacking Off 4U, which featured prominent gay performers such as Damien XXX, Big O, Henry Wadsworth, Brynn Dane and Jerome. Wendy highlighted the versatility of her brand within an AVN press release stating;
"I know what guys like; I know what girls want," she chanted. "I don't ever want my name or my company to be put in a box. I am a transsexual performer, but that doesn't mean it's the only thing I know how to direct. Hot sex is hot sex, and this is just the tip of the iceberg for what I have in store when it comes to variety at Hot Wendy Productions".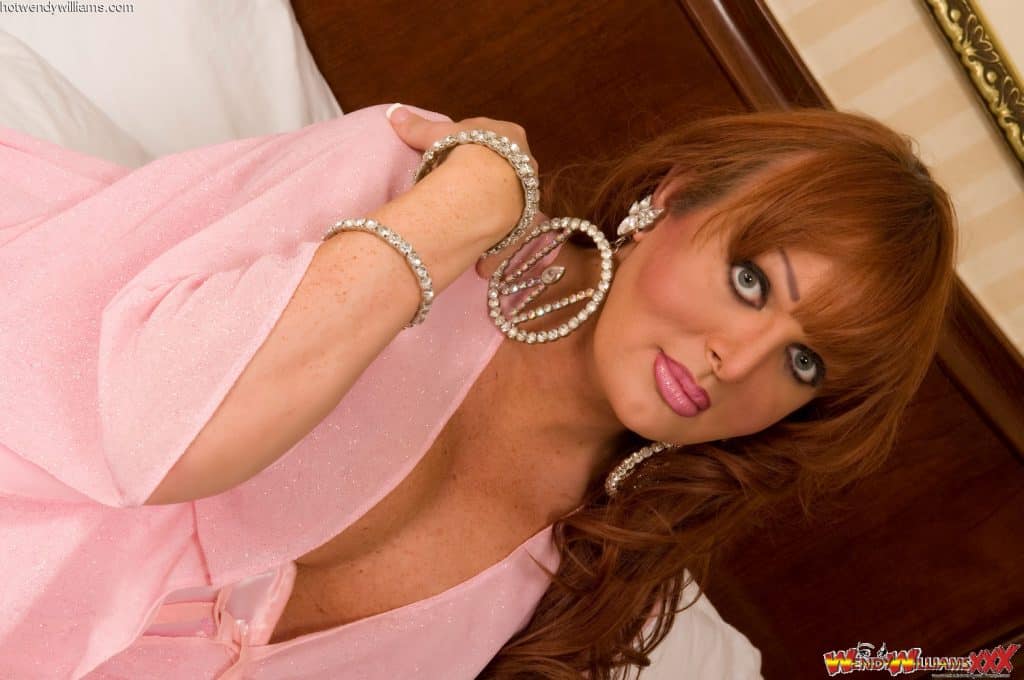 In addition to her show-stopping cinematic performances and impressive Hot Wendy Productions successes, Wendy has also dipped her toe into all aspects of the adult entertainment industry. For instance, in 2011 Wendy collaborated with renowned sex toy manufacturer Doc Johnson in order to create her own line of exclusive sex toys. The collection initially comprised of four products; Wendy Williams Salad Tossing Sprays in Lollipop and Strawberry, a Wendy Williams Anal Trainer Kit and the first life-sized moulded ass; Wendy Williams Moulded Ass and Balls. Over the years, this sex toy line has grown to encompass all manner of exclusive products including a realistic moulded dong! Wendy has described in interviews how;
"The last two years with Doc Johnson has been amazing and I am so happy that fans now enjoy another moulded piece of me".
In January 2011 Wendy's ShemaleStrokers.com web scene was rated the highest viewed content of the month. Subsequently, Wendy returned to Shemalestrokers.com later in the year to appear in another exclusive shoot for this award-winning transsexual website. This particular shoot showcased her Doc Johnson sex toy line in action!
By 2012 Hot Wendy Productions had become so successful that Wendy's clients received a total of 15 nominations at the 2012 AVN Awards! As publicist for Hot Wendy PR and a performer in her own right, Wendy was nominated for "Transsexual Performer of the Year", "Best Alternative Website", "Best Transsexual DVD" and "Best Transsexual Scene", whilst her clients Amy Daly, Tiffany Starr, Shemale Strokers and Jonelle Brooks also received a total of 11 nominations amongst themselves. These award nominations were the ideal way to celebrate Wendy's 10 year anniversary of working within the adult entertainment industry. As Wendy explained in an AVN press release;
"My first web site shoot was for ShemaleYum in June 2002 and then I hit the DVD market in 2003. My web site first appeared on the web around 2001, but was more of an amateur site. Over the past 10 years, I have been a very lucky lady to be able to have the things that I have and do the things I do".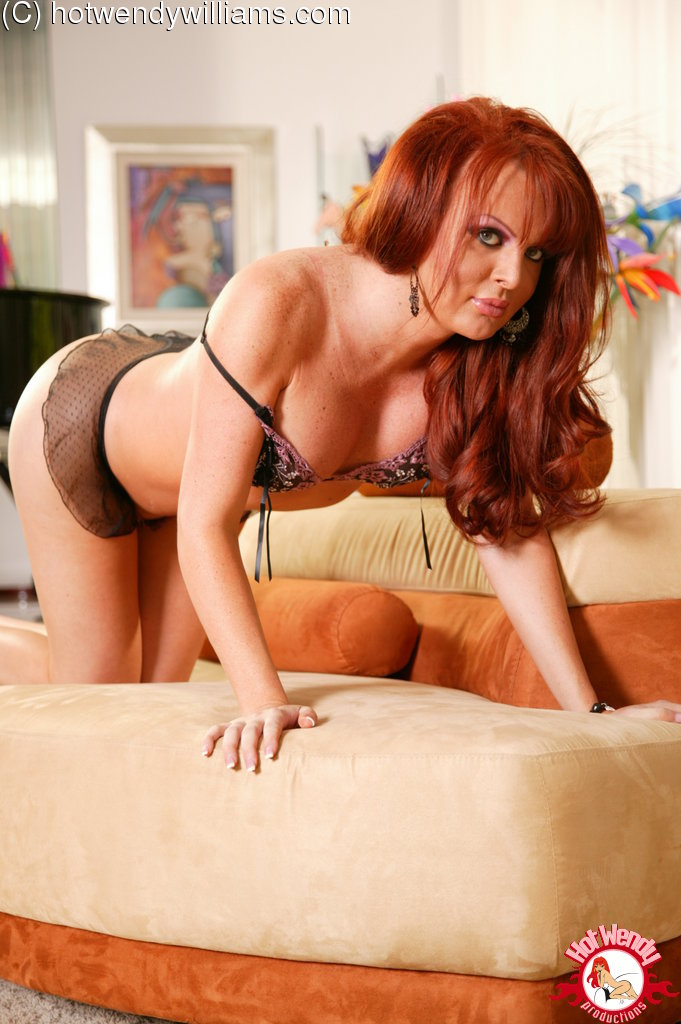 In addition to promoting Shemale Strokers and Trans 500 Studios, in 2015 Hot Wendy Productions was also hired to promote and handle all publicity for BBWCon ; a three day long event which celebrated plus size performers, their fans and the BBW community in general. Speaking  about their choice of promoter, BBWCon event producer Desiree Devine enthused;
"We are thrilled to have Wendy on board for BBWCon…Her enthusiasm and drive is just what we need to fulfil our team. I am personally overwhelmed by the outpouring of support we've received from the BBW community. This year is definitely going to be one for the history books so everyone better stay tuned!".
In addition to promoting this BBW convention, Wendy has also made multiple guest appearances at this BBW extravaganza over the years and has been nominated for numerous BBW Fan Fest awards. After winning one of these BBW Fan Fest awards in 2013, Wendy proclaimed her love for the BBWCon, expressing how;
"As a size 14 among my own niche I am often called chubby, fat, or BBW, but after attending the BBWFanFest Convention I was actually shocked that my size would be considered more of a chubblet," Williams said. "The entire community embraced me with open arms and I really enjoyed meeting fans who where familiar with my work or curious to see more of me".
As matter stand, Hot Wendy Productions, and Wendy's official adult entertainment site WendyWilliamsXXX.com, now encompass 428 photo sets, promote 104 transsexual models and feature 248 TS video scenes!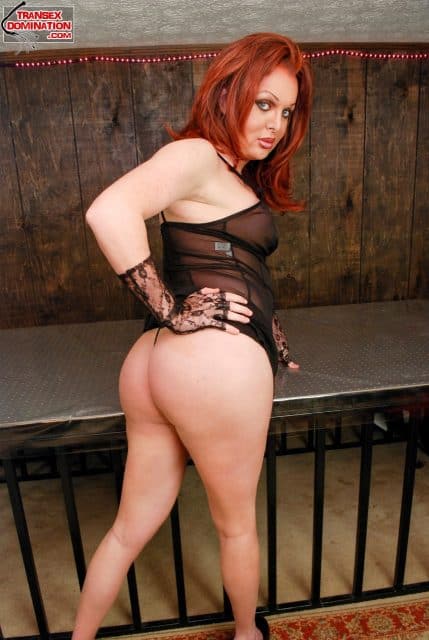 Wendy Williams at Transex Domination
Wendy Williams : Nightclub Hosting Events And Guest Appearances
No matter how successful her career has become, Wendy has never forgotten her bluegrass roots and actually ended up moving back to Kentucky in 2007 to care for her family. When asked why she postponed a thriving adult film career in LA to move back to Kentucky in 2007, Wendy responded;
"I left L.A in 2007 and moved back to Kentucky to be close to my grandparents, who at that time were getting older. Now I enjoy working in the alternative clubs on the weekends and when home during the week, you catch me doing cam shows and laying on my couch".
Despite moving back to Kentucky, Wendy continued to maintain a powerful presence within the adult entertainment industry and hosted many exclusive nightclub events. During these performances Wendy would showcase her famous drag performances and feature dances. Wendy has cited Lady Gaga, Samantha Foxx and Katie Perry as some of her favourite performance pieces and conveyed in her caramelstgirls.com interview that she continues to perform these drag shows because;
"I love glamour makeup and costumes plus it's a nice break from the Adult side of my life".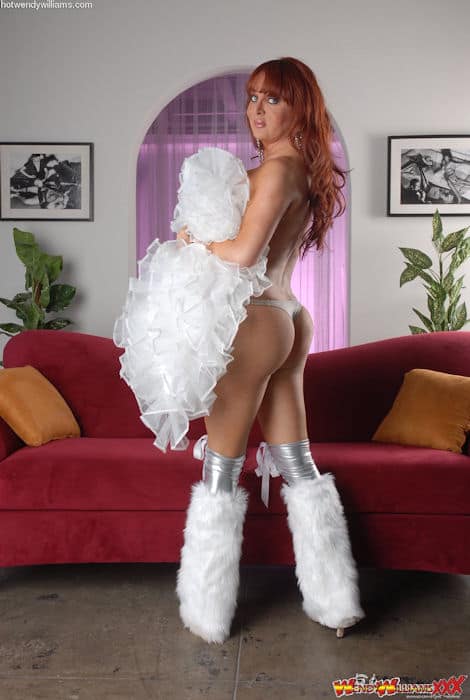 In fact, throughout her adult entertainment career, Wendy Williams has made multiple appearances at nightclubs, adult film conventions and XXX rated bookstores in order to promote her upcoming projects and interact with her devoted fan base. Some of Wendy's most popular public appearances and nightclub hosting events in recent years include;
July 2008: Wendy became the first transsexual performer to sign at Video Liquidators in Hamden, Connecticut,
September 2009: Wendy performed at Club Adonis in Cincinnati, Ohio with popular gay porn star Josh Griffin,
January 2010: Following in the footsteps of her mentor Joanna Jet, Wendy became the second only transsexual performer ever to present an AVN Award onstage in 2010. Airing on Showtime, this hosting opportunity paired Wendy alongside comedian Margaret Cho. In 2016, Wendy would reprise her hosting talents in order to present a posthumous "Lifetime Achievement" Award at the 2016 Transgender Erotica Awards to renowned transsexual performer Kimberley Devine,
October 2010: Wendy hosted a Fusion Lounge party in Manhattan, New York City. Wendy would return to Fusion Lounge throughout her career to meet her fans and to promote her Doc Johnson sex toy line,
January 2011: In Las Vegas, Wendy signed posters and posed for photographs at the AVN Media Network booth within the internationally renowned Adult Entertainment Expo,
April 2011: Wendy travelled across the country as part of Doc Johnson Toy Release Tour whereupon she met fans and showcased her new products in nightclubs across New York City, Las Vegas, Los Angeles, Kentucky, Reno and West Virginia,
July 2011: Wendy discussed her latest projects on the Playboy Radio talk show with Aiden Ashley and Nicki Hunter,
July 2011: Following her successful Playboy Radio talk show appearance, Wendy was a guest on the 50th episode of the popular podcast show Morning After Podcast with Eli Olsberg and Jake Weisman,
April 2012: In Daytona, Florida, Wendy joined rising transsexual porn star Jonelle Brooks for an in-store signing at Banned Bookstore,
June 2012: Wendy made a guest appearance at the Off Broad nightclub in Cookeville, Tennessee, where she danced the night away with hostess Ashley West,
July 2012: Wendy was a guest on com whereupon she discussed her sex toy line, updated WendyWilliamsXXX.com content and the ongoing success of Hot Wendy PR with Tasha Jones,
August 2012: As part of an extensive promotional tour for her new and exclusive Doc Johnson sex toy line, Wendy appeared at the iconic "Tranny Strip/Allanah Starr Party" nightclub event held at Club Evolve in New York City where she partied with friends, clients and co-stars. After this erotic extravaganza Wendy headed back home to Kentucky to host her bi-monthly "Wendy Williams T-Girl and Admirers Party" at the Bluegrass Connection This hosting tour culminated in Toronto when Wendy met fans and held exclusive product giveaways at GoodHandy's nightclub,
April 2013: Wendy displayed her brand new Doc Johnson sex toy line at a booth within the Exxxotica Expo in Atlantic City alongside one of her Hot Wendy PR clients Wendy Summers,
August 2013: Alongside fellow TS star Madison, Wendy appeared for an in-store signing at Southern Nights Video in Atlanta,
April 2014: Wendy hosted a meet and greet with fans at the Exxxotica Expo in Atlantic City alongside Eva Lin

July 2014: Wendy hosted an exclusive nightclub event at Safe House Exhibitions in Chicago.
Wendy also continues to host her monthly "T-Girl and Admirers Party" events from within the Bluegrass Connection nightclub in Kentucky. These transsexual showcases feature many seasoned and rising TS stars represented by Hot Wendy PR including Amy Daly, Raven Roxx, Brittany St. Jordan, Kimber Haven, Kelli Lox and Sunshyne Monroe among many others. When asked about Wendy's influence on the careers of these transsexual performers, one of her protégés Kimber Haven ardently enthused how;
"Wendy was the first one to give me a shot to get up and show my dancing chops on stage. Sure I do it on cam every night but she gave me another outlet to be a performer and I ran with it. I love to dance, I love to perform, I love to express my sexuality in a public forum…Once she put me on that stage the first time I was hooked. She gets on the mike, pumps up the crowd for me, then I go up there and do what I love. She realizes I have a true passion for it and love it so she just lets me be me up there and be me and I love it".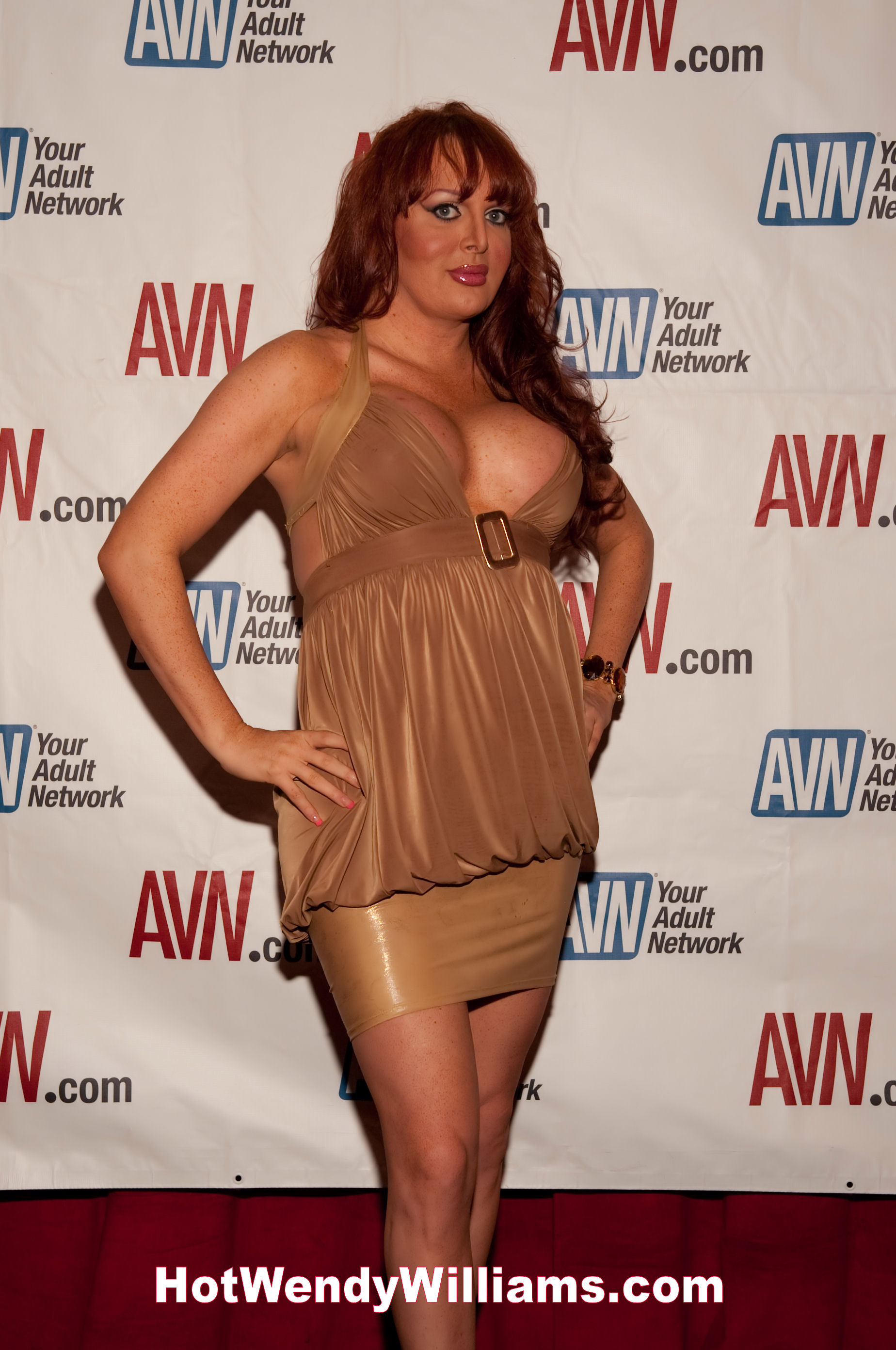 Wendy Williams : Transgender Rights Activist
In addition to her pioneering film performances, directing projects and production company achievements, Wendy has also used her industry influence to raise awareness towards the prejudice and discrimination that transsexual performers face within the adult entertainment industry. Speaking out in a 2009 AVN press release, Wendy advocated how;
"[Transsexuals] sadly aren't accepted enough on the mainstream side, and we really don't fit on the gay side… I have several 2009 goals; first, I want some type of role, whether sex or not, in a sex comedy or feature DVD. I think it would be ground-breaking and something fresh. Not only that, but it would bring in new fans on each side…
It bothers me when I see all these new companies jumping on the transsexual niche and releasing titles with names that are outright disrespectful… As transsexuals, we identify ourselves as female, so I don't want to see some stupid title like My Uncle has Breasts or My Girlfriend is my Boyfriend.  I know we as porn directors have to come up with some gimmick title to sell DVDs, but in reality, most of these companies are straight-owned and only in the genre for the money!".
Similarly, Wendy has always made an effort to differentiate transsexual performers from the gay porn genre;
"I have dealt with many admirers of transsexuals, and I really believe that the large majority identify themselves as straight… They are attracted to the feminine appearance: long hair, breasts, smooth skin, hips, and ass. Experiencing the cock is more of a fetish, just as if they allowed a female to use a strap-on. Most would never be seen at a gay bar picking up a man because that's not what turns them on!  Bigots will scream to the roof tops that a man who deals with a cock is GAY!  My response is unless you live the lifestyle or experience it, then how can you classify it?… 
I really don't like to use labels at all, so I'm glad to be classified as straight, specialty or fetish…Men who buy our porn do NOT buy gay porn. As a business owner, when I'm travelling on my club tour I always try to stop at adult stores in the area to introduce myself and my product. One of the biggest things I noticed in the beginning was when a store had our product in the gay section. I am sure they lost a lot of potential sales because our fans wouldn't feel comfortable shopping in that area! If you don't have a section for transsexuals, then place us in fetish…but never the gay area".
However, despite her willingness to speak openly about transgender issues, Wendy has always reserved the right to keep her own romantic relationships confidential. As Wendy discussed in a 2009 AVN press release, she has been romantically involved with prominent male porn stars but;
"That was behind closed doors, and all involved were straight up and honest about their intentions…I can't fault them for wanting it to be kept private; however, it amuses me greatly when those leaving hateful comments think Christian is the only male performer to be involved with a transsexual! I assure you that there are more admirers than you think; Christian just happens to be the most visible!". 
In 2014 Wendy also featured in an issue of the prominent Seattle newspaper; The Stranger. Titled "Queer Version 2014: How We Make Sure We Don't Leave Trans People Behind" , this issue was written by Anna Minard and interviewed Wendy and fellow transsexual performer Kelli Lox on topics such as "How to stop thinking all trans people are the same", "How to have sex with a trans person" and "How to treat trans sex workers with respect". Enthusing about the importance of this newspaper publication within an AVN press release, Wendy stated;
"Since I started in the adult industry almost 13 years ago, trans people keep making momentum when it comes to being included and respected, but without discussions like The Stranger is having, we will never be able to truly make the big leaps we need not only in our community but outside the industry also".
Wendy Williams: Recent Releases And Upcoming Projects
Always keen to provide her fans with saucy, seductive content, Wendy recently made her highly anticipated comeback to the Grooby Girls  website in April 2016 with two seductive Heritage Model #17- Wendy Williams! and Heritage Model #17-Wendy Williams' Climax! shoots that were unveiled via the fan-favourite Grooby Network porn site in May 2016 and July 2016.
Given that Grooby Girls provided Wendy with her adult film debut 13 years ago, it seemed only fitting for Wendy to return to the site via a raunchy modelling shoot! Founder of Grooby Productions, Stephen Grooby, welcomed Wendy's triumphant return in a May 2016 AVN press release remarking;
"Wendy is certainly an icon and her red hair, Southern accent and love of being a performer are matched only be her good business acumen and excellent promotion and marketing which she's learned from so many years in the business".
In addition to these alluring modelling shoots, Wendy continues to promote all manner of amazing web content for SMC Network and Trans 500 Studios as well as promoting and supporting all of her individual TS protégés via Hot Wendy PR. Never one to rest on her laurels, Wendy continues to perform and direct a steady stream of best-selling DVD titles including Kentucky TGirls (2016) for Hot Wendy Productions, also starring Britney Love and Kimber Haven, and The Wendy Williams Experience (2016) for Taboo Dream Studios that was nominated for "Transsexual Release of the Year" at the 2017 XBIZ Awards. In recent months, Wendy has filmed some raunchy Wendy Williams' Freaky Fantasy sex scenes for Trans 500 Studios as well as starring within such best-selling Trans 500 Studios DVD titles as Kaitlyn Gender: Based On A Not So True Story (2015) also starring Jonelle Brooks, Angelina Castro and Kylie Maria that won "Transgender Release of the Year" at the 2016 AVN Awards, Best Of Trans At Play 2 (2016) and Trans On Top (2017).
Ever eager to keep in touch with her devoted global fan following, Wendy attended the 2016 BBWCon between July 22nd and 24th and she continues to interact with her international fan base via her official social networking channels. Due to her countless appearances in several award-nominated DVD feature releases, her fan-favourite directing projects, and her ongoing dedication to supporting her friends, fans and fellow transsexual performers, Wendy was crowned as the "Social Media Personality" at the 2016 Biggie Awards and she was presented with the coveted "Lifetime Achievement Award" at the 2017 Transgender Erotica Awards.
Want to keep yourself updated on all of Wendy William's latest DVD feature releases, kinky web clips and upcoming public appearances? Then why not check out her official social networking channels online today! Within just a few quick clicks you begin to explore manner of sizzling live web-cam content featuring ravishing redhead Wendy Williams and her sultry TS protégés such as Raven Roxx, Kimber Haven and Kara Lynn via Chaturbate, the Kink.com TS web series TS Seduction as well as via Grooby Girls, the SMC Network, WendyWilliamsXXX.com and Interracial TGirl Sex. So if you're a die-hard Wendy Williams enthusiasts then please feel free to use the links provided below to keep in touch with your favourite transsexual performer. With new content, products and cam-site sessions being released every day, there seems to be no end to the versatile talents of transsexual superstar Wendy Williams!
Social Networks
Official Website : WendyWilliamsXXX.com
SMC Network : Wendy Williams XXX at SMC Network
Transex Domination : Wendy Williams at Transex Domination
Kink.com : Wendy Williams BDSM & Femdom Content
Shemale Pornstar : Wendy Williams at Shemale Pornstar
Grooby Girls : Wendy Williams at Grooby Girls
Interracial TGirl Sex : Wendy Williams at Interracial TGirl Sex
Trans 500 : Wendy Williams at Trans500.com
Shemale Strokers : Wendy Williams at Shemale Strokers
T Girl Pinups : Wendy Williams at T Girl Pinups
Company Website: HotWendyPR.com
Official Blog Site: blog.wendywilliamsxxx.com
Twitter: @TsWendyWilliams
Chaturbate: Wendy Williams Chat Room
IMDB Profile : Wendy Williams Filmography
Niteflirt : Phone Sex — Call HotWendyWilliams