Personal Info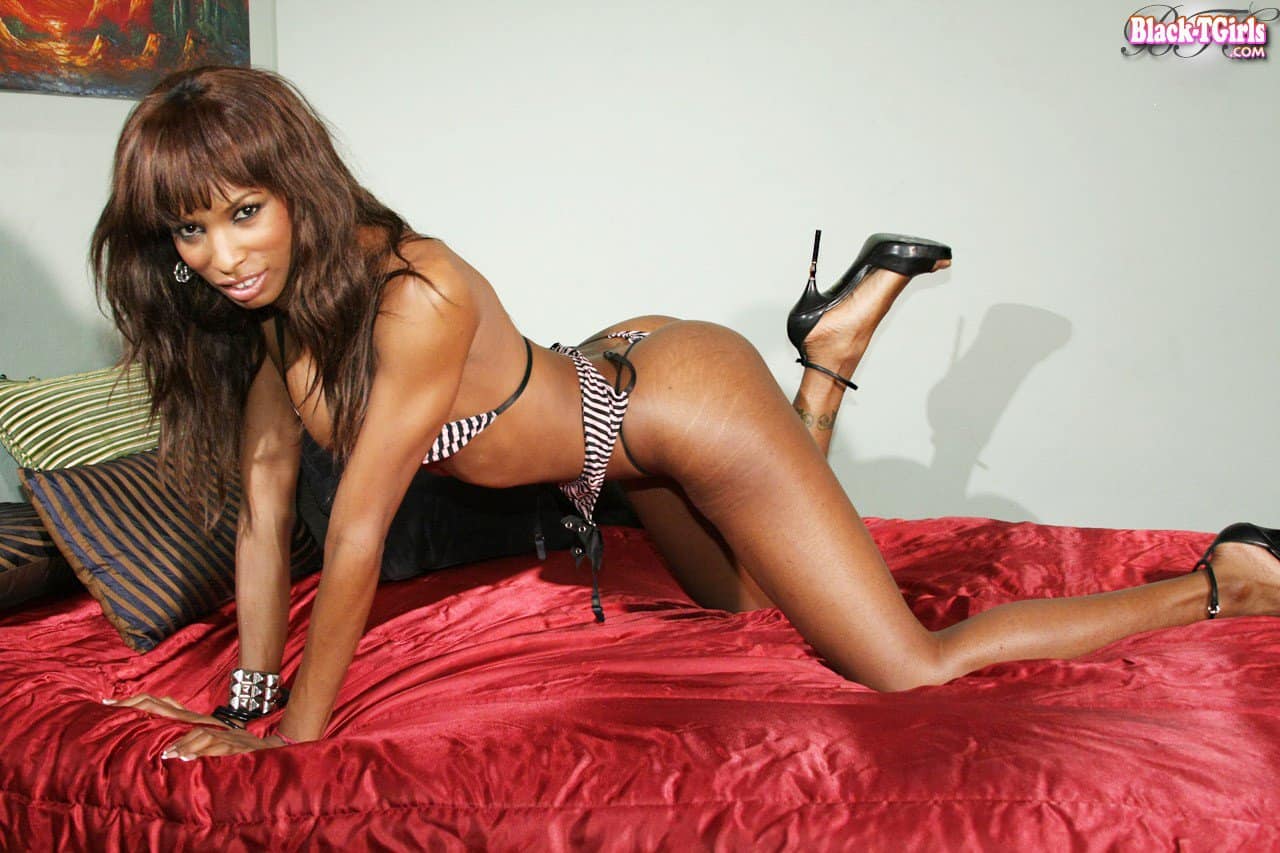 Natassia Dreams at Black T Girls
Name : Natassia Dreams
Alias: Natassia Dream, TS Natassia, Natasha
Hometown : San Diego, California (US)
Date of Birth: August 31st 1982
Measurements : 34D – 24 – 36
Bra/ Cup Size : 34D
Boobs :  Enhanced
Height :  5'9 (1.75m)
Weight : 135lbs (61kg)
Hair Colour : Black/ Brunette
Eye Colour : Brown
Tattoos : Tribal and character design on her lower right leg and a kanjis column on her lower back, upper inside right arm, inside right wrist and left wrist, kanjis on right rib cage
Piercings: Navel and tongue
Years Active : 2003 – present
Number of Movies : 10+
If you love ultra-feminine transsexual performers then you'll absolutely adore Natassia Dreams! Born and raised in San Diego, California, Natassia is of African, Latin and Native American descent and has amassed a huge fan following since she first began working within the adult entertainment industry in 2003.
With the support of her family, Natassia moved to New York when she was 19 years old in order to commence her transition process. Whilst living in New York City Natassia dabbled in mainstream modelling but soon discovered that her raw sexuality was better suited to the adult entertainment industry. As Natassia puts it in her own words;
"I had done some modelling before, but I am a very sexual person and my sexuality was a little too much for mainstream modelling, so I jumped at the chance… I realized that I LOVE to be in front of the camera and to be watched doing what I do BEST! Seducing all of you with my charms and SOMETHING EXTRA down below!".
Natassia Dreams: Adult Film Career
After commencing her transition process and embracing her true gender identity, Natassia moved from New York City to Miami, Florida, whereupon she was soon approached by adult film representatives who were captivated by her ultra-feminine looks. In this manner, Natassia first ventured into the adult entertainment industry and shot her very first sex scenes for realitykings.com which were distributed in 2004.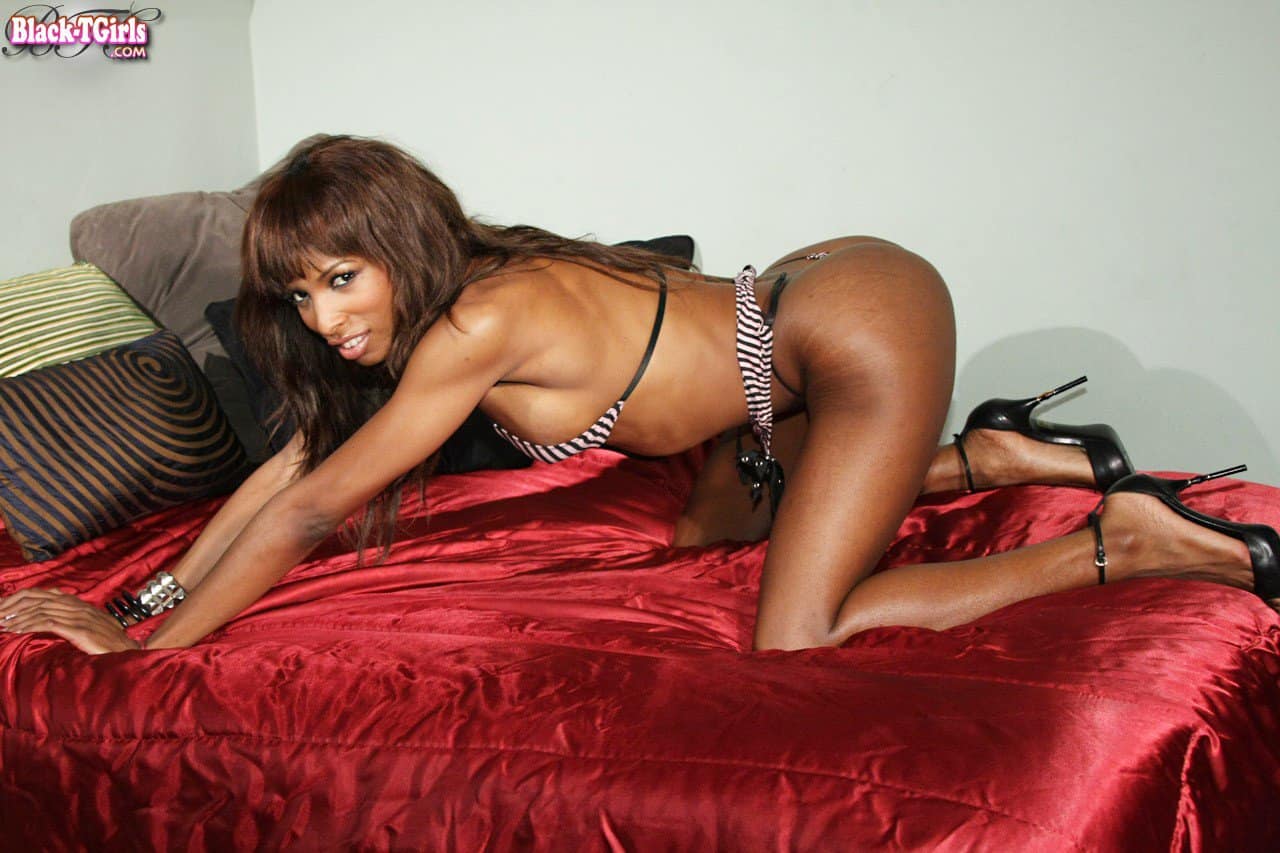 Natassia Dreams at Black T Girls
Natassia's seductive charm and stunning looks were quickly spotted by adult film director Mike Metropolis who cast her within his 2004 Devil's Film DVD feature release Transsexual Prostitutes 31. Natassia starred alongside fellow transsexual performers Lauren DiKarlo and Yasmin Lee with whom she would continue to collaborate throughout her adult film career. Natassia soon caught the eye of many prominent adult film directors including Sammi Mancini who featured Natassia within his 2006 Rodnievision DVD feature release Black Tranny Whackers 1, as well as transsexual performer turned award-winning director Joanna Jet who cast Natassia in her 2006 Altered State pornographic production Tooled Up She-Males 2.
Natassia's adult film career rose to new heights in 2008 when she starred within several Devil's Film productions including; America's Next Top Tranny 2, Dirty Shemale Sluts 7 and Transsexual Babysitters 7 with popular transsexual porn stars TS Foxxy, Vaniity and Gia Darling.From March 2008 onwards Natassia also began to feature within the extremely popular TS Seduction series for the fetish porn site Kink.com. Appearing in saucy sex scenes such as Natassia Dreams and Casper Coxx, Natassia Dreams and Brian Mayor, Yasmin Lee Natassia Dream and Lobo, Road Trip Part 2: The Hitchhiker, Road Trip Day 3: Tranny Bang and Road Trip Day 4 with Yasmin Lee, TS Jesse, Ariel Everitts and Jessica Host introduced Natassia to a whole new network of fans and earned her a nomination for "Best North American/ European Website Model" at the 2008 Tranny Awards.
Since her Kink.com debut in March 2008 Natassia has continued to feature within the TS Seduction website series. In fact, as of April 2016, Natassia has filmed over 27 hardcore sex scenes for Kink.com which have enabled her to establish a devoted fan following within the fetish lifestyle market.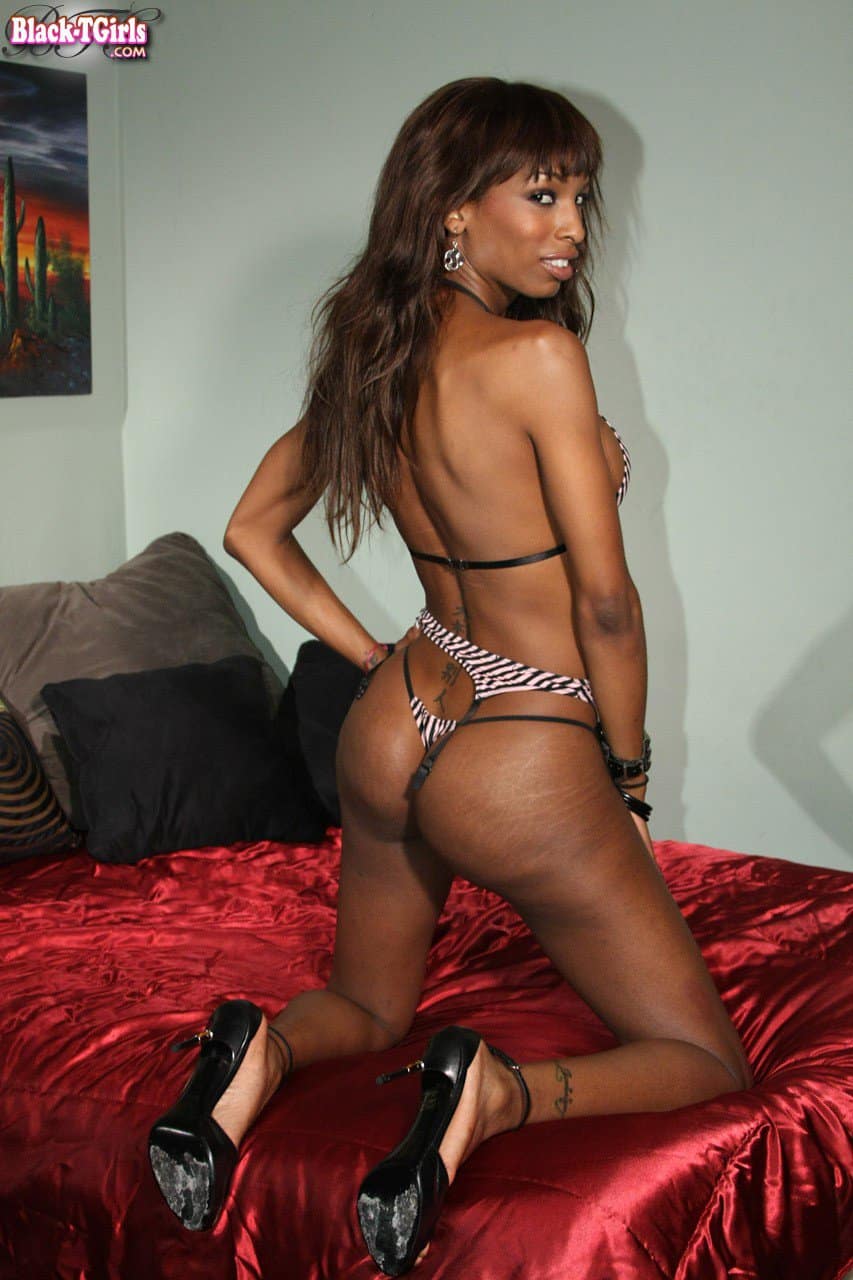 Natassia Dreams at Black T Girls
Between 2008 and 2009 Natassia performed in a variety of soft-core and hardcore pornographic productions including Black Tranny Whackers 8, which was directed by Sammi Mancini and distributed by Rodnievision, the Grooby Productions DVD feature release Interracial Shemale Domination, the Avalon Enterprises DVD sequel T-Girl Fantasies 13, the 2009 Exquisite DVD feature release T-Girl Adventures NYC 1 and the solo sex shoot Beautiful Natassia Dreams Bares All which was distributed via trannypack.com in October 2009. Natassia was also chosen as one of the first transsexual performers to feature on Wendy Williams' pioneering interracial transsexual porn site; InterracialTGirlSex.com. This diverse portfolio of solo shoots, soft-core, hardcore, anal, group and BDSM sex scenes secured Natassia's reputation as a multi-talented transsexual performer and she was presented with the prestigious "Best Solo Model" accolade at the 2009 Tranny Awards.
Following her impressive 2009 Tranny Awards win, Natassia was one of the prominent transsexual performers whose adult film exploits were showcased within She Male Club's Transsexual Superstars DVD series. Natassia performed alongside leading transsexual porn stars TS Foxxy, Vaniity, Ava Devine, Kimber James, Sarina Valentina and Angelina Valentine within the 2010 and 2011 DVD titles; Transsexual Superstars: Natassia Dreams, Transsexual Superstars: TS Foxxy and Transsexual Superstars: Vaniity and USA T-Girls 1.
In 2011 Natassia appeared in the cult classic American Tranny Party and in 2012 she starred in America's Next Top Tranny 15 alongside Amy Daly, Hazel Tucker, Mia Isabella, Jessica Host and Khloe Hart. This star-studded Devil's Film DVD feature release was nominated for "Best Transsexual Release" at the 2012 Nightmoves Awards.
During this time Natassia featured within the Triple Threat DVD feature release Yikes…The Babysitter's A Tranny alongside Danielle Foxxx and Yasmin Lee. Natassia also collaborated on a wealth of online sex scenes and DVD feature releases for multiple trans-friendly distributors and production companies. Fans of Natassia Dreams should check out Barcelona Fix which she filmed for trans500.com, Black Shemale Superstars Edition that was distributed by Third World Media and the Exquisite pornographic production Black Tranny Whackers 21.
Over the course of her adult film career Natassia filmed an eclectic array of sex scenes for various niche porn sites. Amongst these sites included VirtualRealTrans.com, the first transsexual VR porn site, and the bondage and rough sex site, SexuallyBroken.com, for which Natassia filmed Sexually Broken 68 and 76 alongside Rain Degrey. Natassia enthused about this opportunity to work Rain Degrey within an April 2013 XBIZ press release, stating how;
"I'm especially excited to work with Rain because I want to see how much she can take…I know how much she likes to push her own boundaries".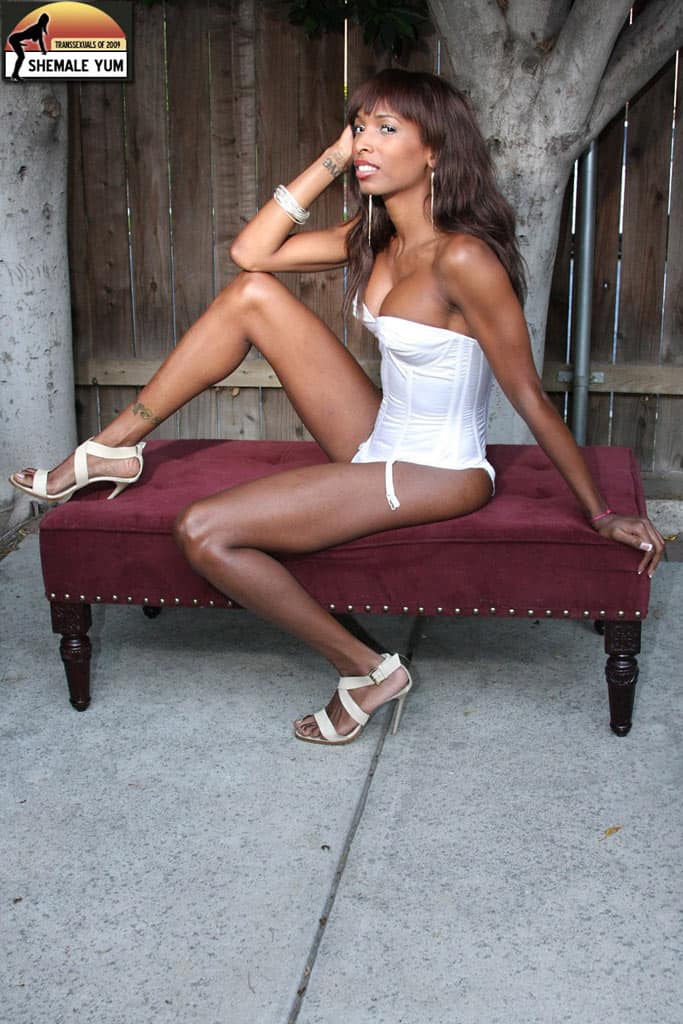 Natassia Dreams at Shemale Yum
Throughout 2013 Natassia continued to star within multiple award-winning DVD feature releases. For instance, Natassia was an integral part of the Pornstar Platinum DVD feature release Pornstars Love Trannies 3 alongside Vaniity, Sarina Valentina, Angelina Valentine, Tiffany Starr and Morgan Bailey. This popular DVD title was subsequently nominated for "Best Transsexual Release" at the 2015 AVN Awards.
Natassia has even had the opportunity to work with Eva Lin, Jane Marie, Sofia Ferreira, Kim Bella, Christian XXX and the award-winning adult film director Buddy Wood upon the Third World Media production; Tranny Chaser. Due to its star-studded cast and Buddy Wood's directing prowess, Tranny Chaser was nominated for "Best DVD" at the 2013 Tranny Awards, "Best Transsexual Release" at the 2014 AVN Awards and "Transsexual Release of the Year" at the 2014 XBIZ Awards.
2013 continued to be a successful year for Natassia as her performance with Angelina Valentine in the July 2013 DVD feature release Trans At Play was nominated for "Best Transsexual Sex Scene" at the 2014 AVN Awards. Natassia would return to the Trans At Play DVD series in 2015 when she appeared within Trans At Play: She Exclusive starring Venus Lux, Carla Novaes and Bruna Butterfly. This DVD feature release was also met with critical acclaim and it received a nomination for "Best Transsexual Release" at the 2015 Nightmoves Awards.
Natassia received yet another adult film nomination in 2013 for her performance with Chad Diamond in the Devil's Film DVD series Transsexual Babysitters 23. Alongside this "Best Safe Sex Scene" nomination, Natassia's She Male Club DVD feature release Trustfund Trannies with Morgan Bailey, Danielle Foxxx, Holly Harlow, Liberty Harkness and Ryder Monroe was also nominated for a string of awards at the AVN, Tranny and XBIZ Awards in 2013 and 2014. Not content with this string of adult film award nominations, Natassia also starred in TS Girlfriend Experience 3 with Vaniity, Tyra Scott and Sunshyne Monroe which won "Best Transsexual Release" at the 2015 AVN Awards!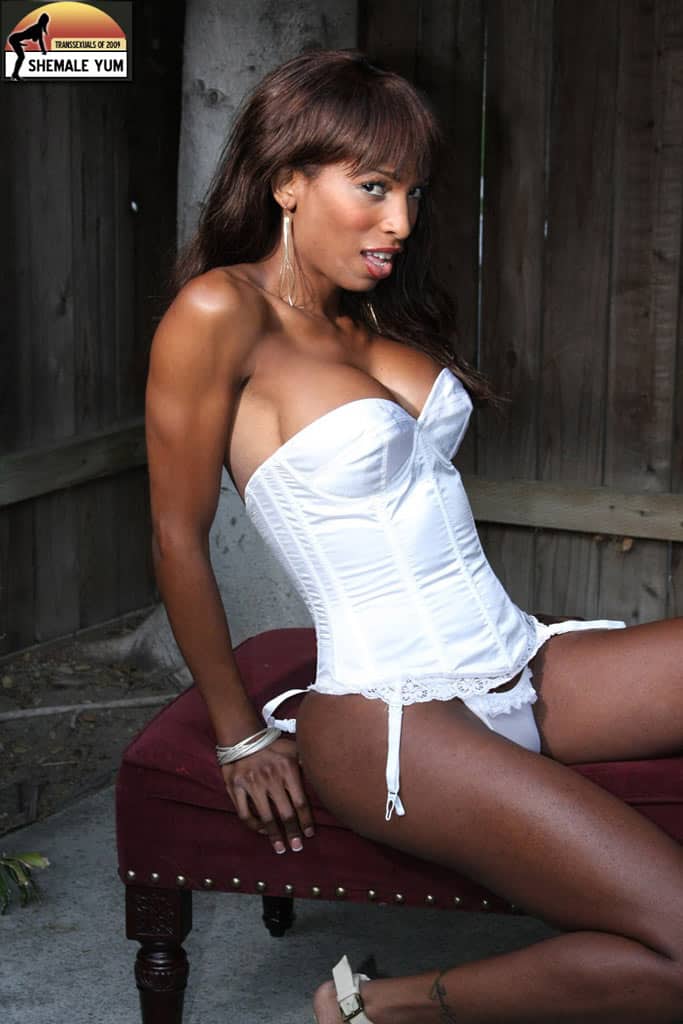 Natassia Dreams at Shemale Yum
In fact, throughout her prolific porn star career Natassia has collaborated upon a number of award-winning DVD feature releases which have cemented her status as one of the industry's premier transsexual performers. Some of Natassia's most impressive adult film accolades have been listed below;
Following her wealth of adult film award nominations, throughout 2013 and 2014 Natassia began to experiment with BDSM and fetish themed content via her online sex scenes for the Kink.com franchise TS Pussy Hunters. Some of Natassia's most popular performances within this extremely popular Kink.com web series include; Natassia Dreams Surprise Gia DiMarco W/Her Hard Cock at Girls PJ Party  in January 2013, MILF MAID: TS Natassia Dreams Fucks the Help with Her Cock in March 2014, TS Natassia Dreams Fucks the Lights Out of Mona Wales!  in January 2015 and Beautiful TS Natassia Dreams Is Dominated by Lorelei Lee's Pussy in April 2016. Natassia also continued to film sex scenes for trans500.com including the Easter themed content Easter Banging with male porn star Ramon, the Trans500 DVD feature release I Kill It TS 9 and the DVD compilation series Best of Trans At Play.
Whilst experimenting within the fetish lifestyle market, Natassia worked alongside formidable femdom porn star Mona Wales. In fact, Mona handpicked Natassia to perform within her Grooby Productions directorial debut Real Fucking Girls in June 2016. This hardcore DVD feature release was a refreshing change for Natassia because Mona gave her free rein to re-enact some of her real life sexual experiences with cis women. As Natassia enthused to AVN Media Network representatives at the Real Fucking Girls premiere party in June 2016;
"For an artist and a performer for many years, it's very rare that someone just gives you free rein to do whatever you want, whatever you feel, whatever turns you on; not just what angles you have to shoot; not just wherever the money shot has to be…That was a first for me as a performer for many years. Mona just said, 'Ladies, have fun; do whatever you want to do, do whatever you enjoy. I want to see what you like to do to have fun,' and that for me was a once-in-a-lifetime opportunity".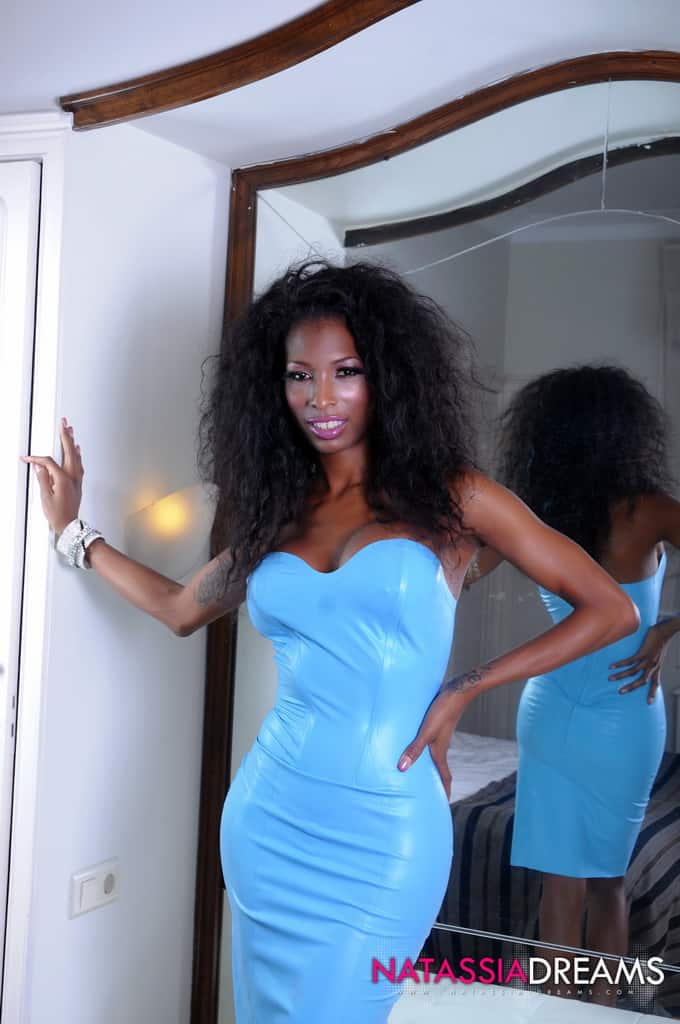 Natassia Dreams at Natassia Dreams
Starring Tori Mayes, Khloe Hart, Kelli Lox, Jane Starr and Aubrey Kate, you can read all about this pioneering pornographic production and its raunchy premiere party within our Mona Wales XXX Bio online today!
Most recently Natassia has starred in Popular T-Girlz 2 for CX WOW Productions, Supermodel Natassia Dreams Gets Fucked in Vegas for pure-ts.com, the Evil Angel DVD series She Male Perverts 3 and TS Stepmother which was directed by Nica Noelle for TransSensual Studios. Charismatic, breathtakingly beautiful and willing to experiment with a broad spectrum of niche genres and hardcore content, the sky's the limit for Natassia Dreams!
Natassia Dreams: Skyn Talent Signing & Nightclub Events
In February 2016 Natassia became the first ever transsexual performer to be signed by the exclusive adult entertainment talent agency Skyn Talent. As matters stand Natassia is one of three transsexual performers, alongside Aspen Brooks and Sunshyne Monroe, to be represented by this prestigious adult film organisation. Thrilled to be chosen by Skyn Talent, Natassia expressed within an XBIZ press release how;
"It's about time that someone has a voice for us as TS performers. As a veteran performer, I feel like it's the right time to start a trend. Agency representation is something that myself and other TS performers talk about all the time, and we are happy that someone is taking a chance on us".
Combine this exclusive talent agency signing with her adult film commercial successes and Natassia Dream has had plenty to celebrate this year. Fortunately this die-hard party girl knows how to commemorate a special occasion in style! After all, Natassia is frequent feature at the Transgender Erotica Awards' exotic pre-parties and luxurious after-parties, and throughout her porn star career she has been a popular guest host at New York City's famous Tranny Strip nightclub events which she often hosts from the Headquarters Gentleman's Club.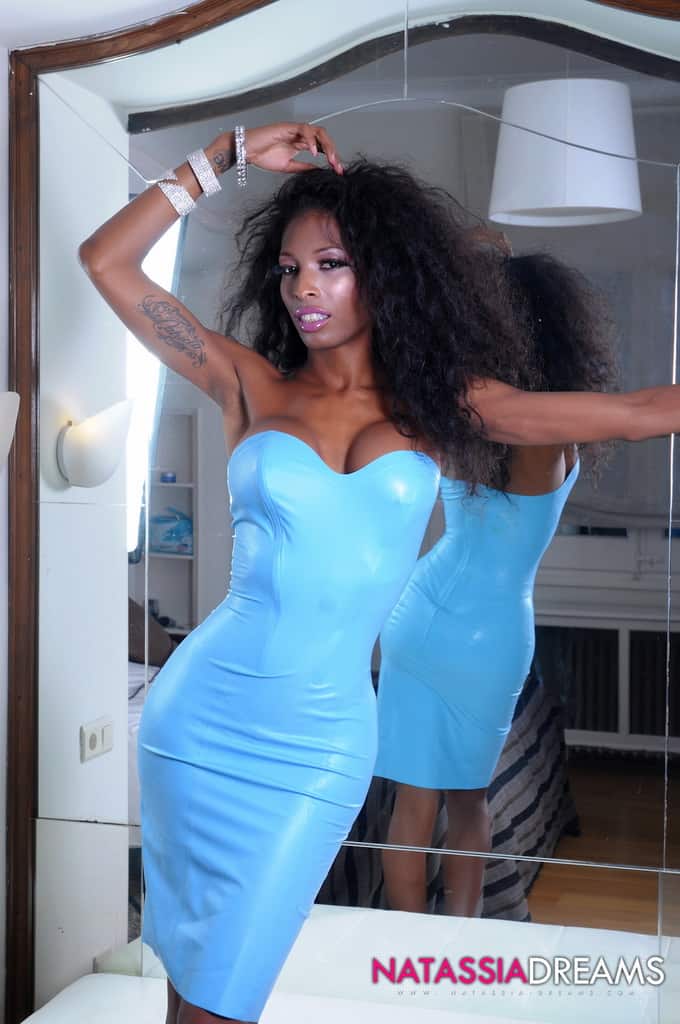 Natassia Dreams at Natassia Dreams
Consequently, it was inevitable that Natassia would celebrate her birthday in spectacular fashion and this year she has organised not one but two star-studded nightclub events in New York City! Natassia's first birthday bash was held at the Headquarters Gentleman's Club in New York City on August 13th. This larger than life birthday party featured performances from many of Natassia's Tranny Strip colleagues including Kim X, Ebonee Excell and Jaemy Paris, as well as over 20 TS dancers, 8 trans go-go dancers and numerous guest hostesses such as Seasone Best, Selena International and Miss Pear.
Natassia's second birthday party was held on September 8th at Ethyl's Alcohol & Food. Titled Ethyl's Taboo Birthday Bash, this extravagant birthday celebration incorporated elements from the lounge's weekly Taboo Night events. Natassia enthused about this momentous occasion during an XBIZ press release, commenting that;
"I can't wait to celebrate with my friends and fans at Ethyl's this Thursday night…They have named a special cocktail after me called 'The Sexy Dream': a yummy spiked punch. I only recently moved to New York City; so a party like this means that much more to me". 
As mentioned above, Natassia has recently relocated back to New York City. However, for many years Natassia has lived in San Diego, California, and Miami, Florida, as well as frequently travelling to Spain, Italy and London in the summer months. If you'd like to keep in touch with this jet-setting transsexual performer and learn more about her international adult film exploits then why not check out her official social networking channels that have been provided below? You can also arrange a public or private chat session with this ultra-feminine transsexual performer via her adult cam-site accounts!
Social Networks
Official Blog Site : Natassia Dreams
Twitter : @NATASSIADREAMSX
Kink Profile : http://www.kink.com/model/16310