Adriana Rodrigues
Twitter : @TsDriRodrigues  Brazilian Transsexuals : Adriana's Sex Scenes  Evil Angel : Adriana's Movies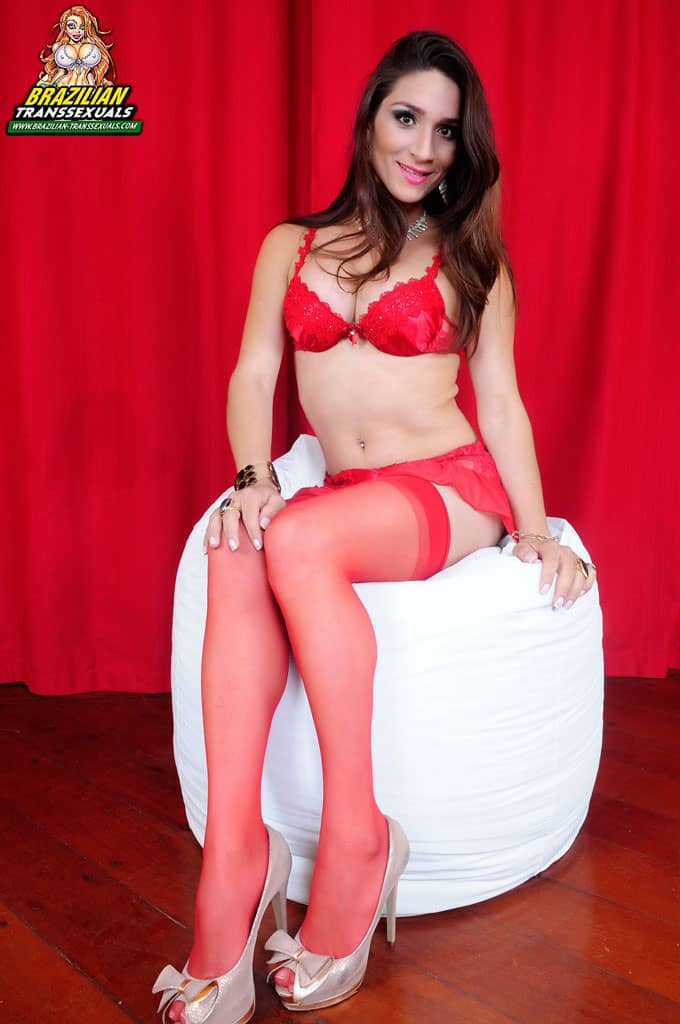 Adriana Rodrigues – Personal Info
Name : Adriana Rodrigues
Alias : Ariana Rodrigues, Adriana Rodriguez, Mulher Beringela
Date of Birth: August 19th, 1986
Star Sign : Leo
Home Town : Auriflama, Sao Paolo (Brazil)
Measurements : 34C – 20 – 36
Height : 5'8 (1.73m)
Tattoos : A fairy and flowers on the right side of her upper back and an intricate butterflies and flowers design across the left side of her lower back
Piercings : Navel
Hair Colour : Brunette
Eye Colour : Brown
Years Active : 2006 – present
Number of Scenes : 50+
Often referred to as 'Mulher Beringela' among her Brazilian fans (which literally means 'female eggplant' in English), Adriana Rodrigues is one of the biggest TS porn stars in the adult industry in more ways than one! Over the years, Adriana Rodrigues has attracted an avid global fan base and she has been nominated for "TS Scene of the Year" at the SexyHot Awards as well as "Best International Performer (West)" at the 2017 Transgender Erotica Awards.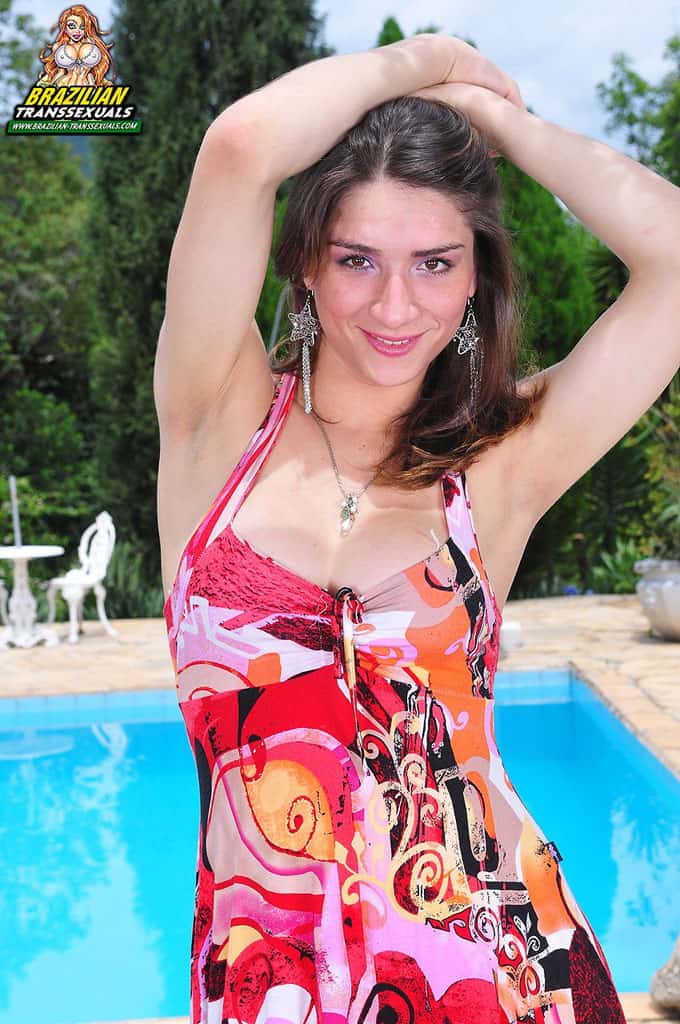 Adriana Rodrigues : Adult Film Career
 Born in the modest municipality of Auriflama in Sao Paolo in 1986, Brazilian beauty Adriana Rodrigues made her adult film industry debut when she was 20 years old. Recruited by Grooby, Adriana Rodrigues made her official porn debut in late 2006 when she filmed a sultry solo scene for the Grooby porn site Brazilian Transsexuals. Titled Sexy Brazilian Babe Adriana Rodrigues!, this steamy solo scene was directed by Louie Damazo and released via Brazilian Transsexuals in October 2006 with the tantalizing description;
"Adriana Rodrigues is so sexy! This pretty young tgirl has got a smoking hot body, nice small boobs and a juicy ass! Watch her posing and stroking her dick for you!".
Spurred on by her sultry solo debut, Adriana Rodrigues proceeded to shoot a raunchy 2 Stars scene with Kalena Rios in June 2007, a titillating Adriana Rodrigues Pounds Anita's Wet Pussy! scene with Anita Ferrari in July 2007 and a seductive Hung Hottie Adriana Rodrigues Strokes! solo shoot which was unveiled via Brazilian Transsexuals in September 2007. Her sultry Latina flair, sheer bravado and raunchy talents soon earned Adriana an ardent fan following within Brazil, the United States of America and across the globe.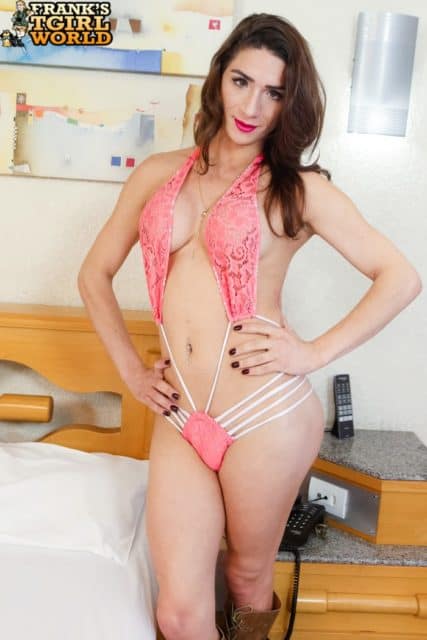 You'll be happy to hear that Adriana Rodrigues has continued to collaborate with award-winning cinematographer Louie Damazo on dozens of dazzling solo shoots and hardcore scenes for Brazilian Transsexuals. Our top picks? They'd have to be Adriana's Naughty Fun! scene with Patricia Bismark in January 2008, her raunchy hardcore scene with Thiago in April 2008, her compelling Two Stars shoot with Sabrina Viena in June 2008 and her sizzling scene with Danielle Martins that was remastered and released via Brazilian Transsexuals in June 2018.
During this time, Adriana Rodrigues also worked with critically acclaimed director Khan on an impressive collection of Brazilian Transsexuals scenes. You'll love watching Adriana's hot hardcore scene with Suzy Gleice in November 2012, her steamy Strips And Strokes solo striptease in June 2013 and her sizzling hardcore scene with Kessy Bittencour in March 2014. Khan has since filmed Adriana's titillating fishnets themed solo scene in April 2014, her seductive Adriana Rodrigues Cums Hard! solo shoot in August 2014, her raunchy top scene with Kenya Rodrigues in March 2015, her Solo Action! thigh-high kinky boots solo scene in October 2016 and her saucy Strip Show! scene with Deborah Mastronelly in March 2016. The list goes on!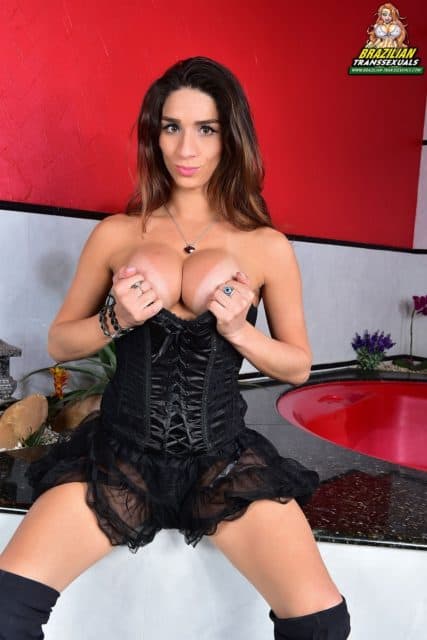 Many of Adriana Rodrigues's fan-favorite sex scenes have been remastered for Brazilian Transsexuals. You'll love viewing high resolution videos of Adriana Rodrigues's sensational hardcore scene with Mariana De Castro, her raunchy hardcore romp with Geana Peron, her steamy Adriana Rodrigues Strokes For You! solo shoot and her hot hardcore scene with Thayla Santos which were unveiled via Brazilian Transsexuals in July 2017, January 2018, February 2018 and September 2018.
Hold on, it gets even better. In addition to her ever-expanding collection of Brazilian Transsexuals content, Adriana Rodrigues has also filmed dozens of sensational sex scenes for the Grooby porn site Brazil TGirls XXX. We recommend checking out Adriana's steamy Adriana Rodrigues Pounds Carol's Wet Pussy shoot with Carol Sampaio in June 2010, her sizzling scene with Amanda Gouveia in June 2010, her saucy three-way with Danielly Marineto and Paulo in June 2010 as well as her unforgettable femdom scene with Vinny in April 2014. Fans of Adriana Rodrigues will also want to watch her thrilling three-way with Gabriela Ferrari and Marcus in March 2015 alongside the remastered versions of her hot hardcore scene with Kampfer, her raunchy romp with Nandeco and her scintillating scene with Thor that were all released via Brazil TGirls XXX in August 2017, May 2018 and January 2019. There's just too many amazing Adriana Rodrigues sex scenes to mention!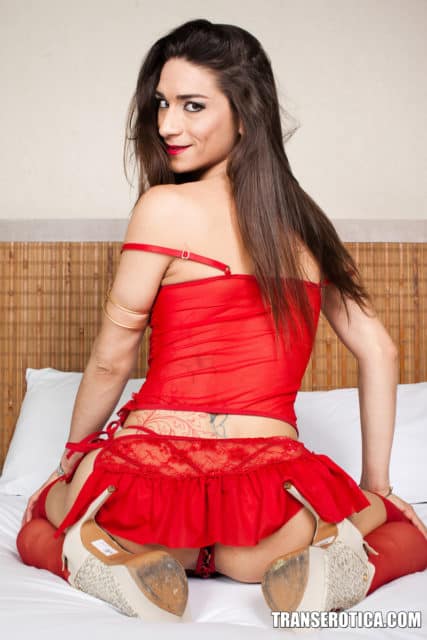 But that's not all. Over the years, Adriana Rodrigues has filmed even more sensational solo scenes for the Grooby porn site Frank's TGirl World. Die-hard Adriana Rodrigues fans will love watching her steamy stroking scene in November 2008, her kinky outdoor romp in February 2009, her solo poolside shoot in January 2010 and her saucy Naughty Adriana Rodrigues Cums Again! scene in March 2011. Adriana Rodrigues has since starred in some sizzling Adriana Rodrigues Returns! and Oh It's Adriana Rodrigues! solo scenes which were released via Frank's TGirl World in June 2016 and July 2018. As photographer Louie Damazo aptly put it;
"We've got the gorgeous Latina lady named Adrianna Rodrigues back for you to fap on today. Sexy and beautiful as hell and she's gonna drive you crazy…This is the superstar with the super cock. She is a fabulous girl as well. She is nice and very funny to hang out with".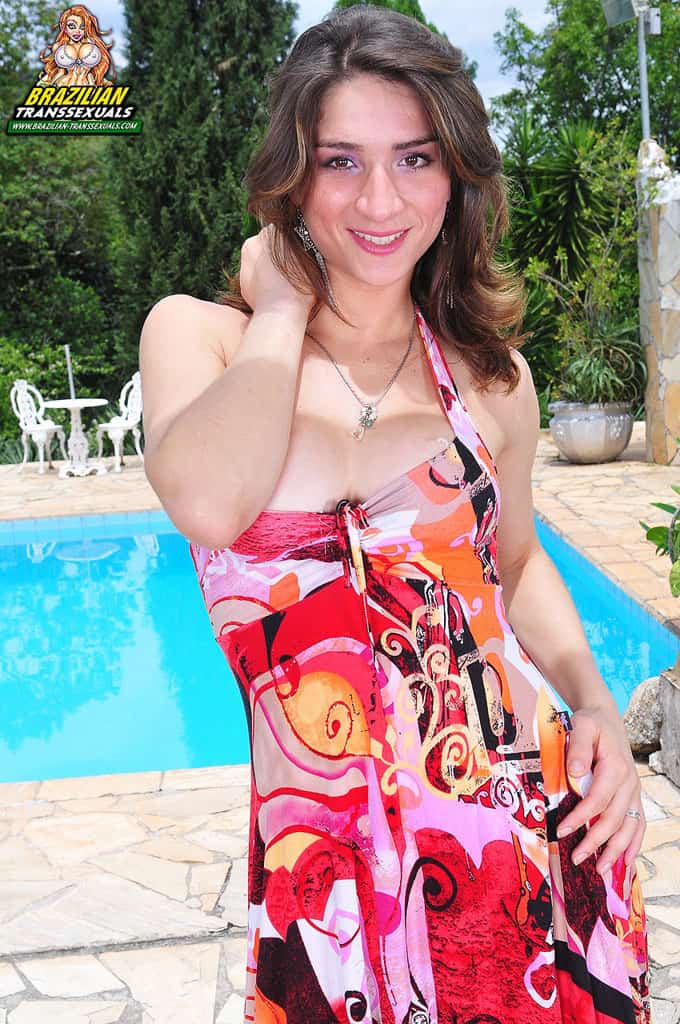 Adriana Rodrigues : Popular Porn Productions
Over the years Adriana Rodrigues has attracted an avid international fan following due to her seductive scenes in several Grooby web clips. But did you know that Adriana Rodrigues has also starred in many popular productions Evil Angel, Reality Kings and Rodnievision? In fact, Adriana Rodrigues has worked with the leading porn networks Blue Pictures, Zaye Entertainment, Tranny Pack, Robert Hill Releasing, TS Latex, Heatwave, Channel 69 and Hell's Ground Productions but to name a few!
As such, fans of Adriana Rodrigues will love viewing her saucy three-way with Adryana Suzuki and Carol Sampaio in the Zaye Entertainment movie Hung Like A Whore #7 (2007) as well as her steamy scenes in the Bacchus Releasing productions Trannies With Big Tits (2012) and Couples Hooked On Trannies #2 (2014). Performing within so many best-selling DVDs enabled Adriana to collaborate with leading TS porn stars such as Carla Novaes, Gabriela Ferrari, Carla Renata and Walkiria Drummond.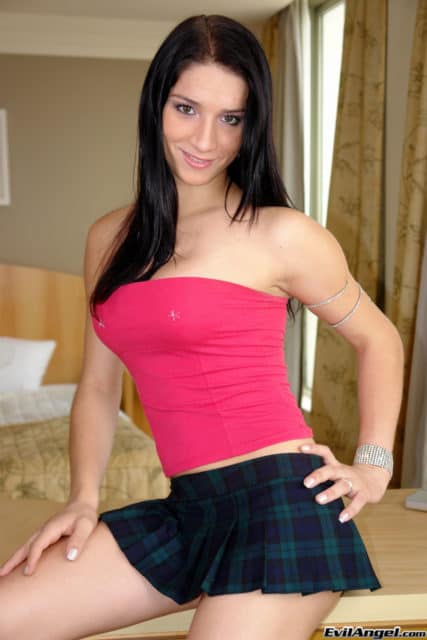 One of Adriana Rodrigues's hottest sex scenes has been her with Andreia Yvanovitch for Joey Silvera's Evil Angel movie How To Please A SM #1 (2008) featuring Aimee Lee, Sunday Valentina, Andreia Ivanovich, Hottie Coxx, Jesse Flores, Mistress Mina, Nefertiti and Vicki Richter. Adriana Rodrigues has since filmed a scintillating solo scene for Joey Silvera's Evil Angel production SM XTC #6 (2009) and she has been featured in the Third World Media DVD Spanking The Monkey #4 (2017). Adriana Rodrigues has also starred in the Reality Kings compilation titles Tranny Surprise #8 (2009), Tranny Surprise #35 (2014) and Tranny Surprise #45 (2017) starring Camyli Victoria, Fernanda Castro (aka Kessia Brunelly) and Viviane Silva.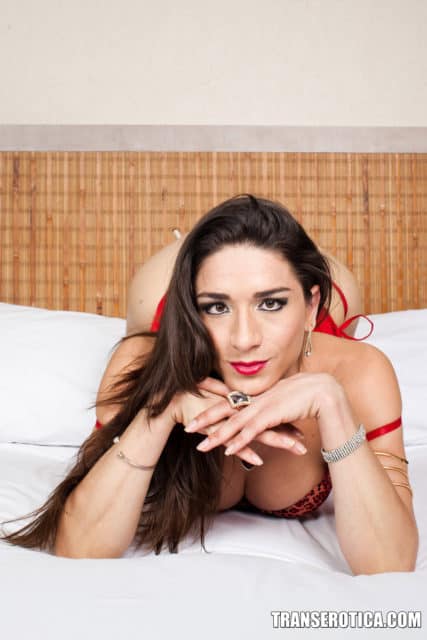 Throughout her prolific porn career, Adriana Rodrigues has been a popular cast member in Sammi Mancini/Rodney Moore's long running TS DVD series SM Strokers. As such, in 2015 Adriana Rodrigues was the natural choice for the latest Rodnievision/Mancini Productions cinematic project Tranny Panty Busters. Adriana first appeared in Tranny Panty Busters #1 (2015) alongside fan favorite TS porn stars Aubrey Kate, Bianca Hills, Cherry Mavrik, Holly Parker and Isa Mendes. When he was asked about this upcoming production during an October 2015 AVN press release, Mancini Productions founder Sammi Mancini enthused how;
"I think this new title will be well received by fans of gorgeous transgender adult actresses…I'm really happy with how the movie tuned out and that it features some of the most unique and talented models in the industry".
You'll be happy to hear that Adriana Rodrigues has since starred in Tranny Panty Busters #6 (2017) alongside Bruna Castro, Grazi Cinturinha, Lara Machado and Mara Nova. A must see movie for Adriana Rodrigues fans!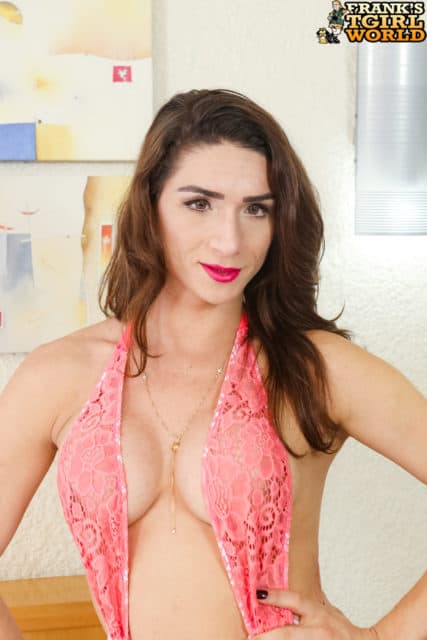 Adriana Rodrigues : Comeback Career & Recent Releases
A landmark moment in Adriana Rodrigues's adult film career occurred in July 2018 when she made her triumphant return to Brazilian Transsexuals. Adriana Rodrigues filmed an alluring hardcore scene with Raica Lima that was directed by Louie Damazo. As the scene description hotly hints;
"You guys have been asking for it for ages on our forum but Adriana was in London for years. You've been asking for me to make a TS ON TS scene with our huge cock ts TOTALLY BOTTOM. Well, she is back and I just convinced her make this unusual performance. She totally prefers topping her partners but wants to show that she can be great bottom also. But let's put an extra dose of pepper here by pairing her with other well hung TS – Miss Raica Lima. This is a REALLY KICK ASS mix we're offering just you with exclusivity. Enjoy another fabulous t-lesbian scene full of super naughty action".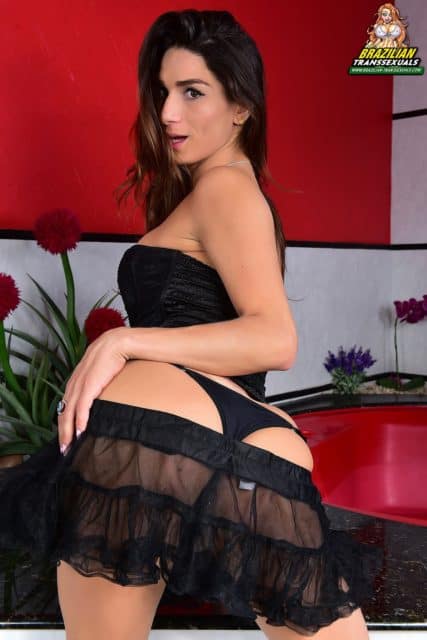 But that's not all. Adriana Rodrigues also treated fans to a sultry Adriana Rodrigues Returns In New Solo scene in August 2018 and she filmed an amazing three-way with Eveline Moura and Hilda Brasil that was released via Brazilian Transsexuals on Christmas Eve 2018. As Louie Damazo eagerly expressed;
"Well, you guys deserve a REALLY EXCITING Xmas gift so we saved this spectacular awesome 3some just for this special date. We put 3 of our best t-models in the same bed and ask them to have fun with no restrictions. The result was just fabulous and you guys will be driven insane with such wild hot action. Get ready for another fabulous hardcore scene with impeccable ejaculations . HO HO HO – You're welcome".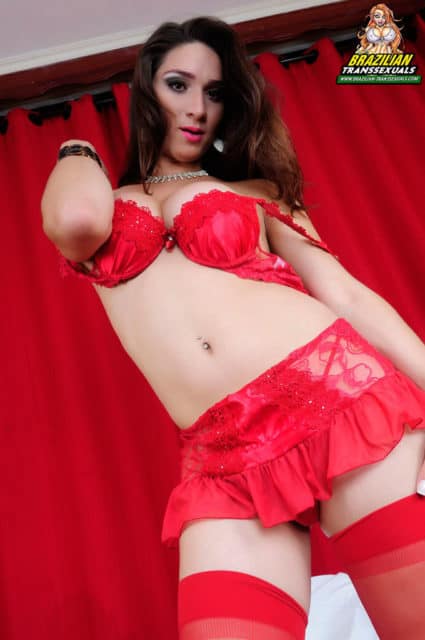 Louie Damazo also filmed Adriana Rodrigues's highly anticipated comeback scene for Brazil TGirls XXX. Titled Adriana Rodrigues & Peter Rocket, this hot hardcore scene was unveiled via Brazil TGirls in July 2018 with the hot description;
"After a long time in the U.K. our monster cock super star Adriana is back and proving that she's in great shape, so horny and virile. She shoots a perfect TS ON GUY scene making her partner Mister Peter feel SO DEEP her enviable big Rocket. If you enjoy intense and nasty action then this is what you're looking for; a really fabulous and impressive performance from Adriana culminating in a fucking insane cum shot".
These sizzling scenes reminded fans of why they were captivated by Brazilian beauty Adriana Rodrigues in the first place; her stunning looks, cheeky bravado and wild, uninhibited talents!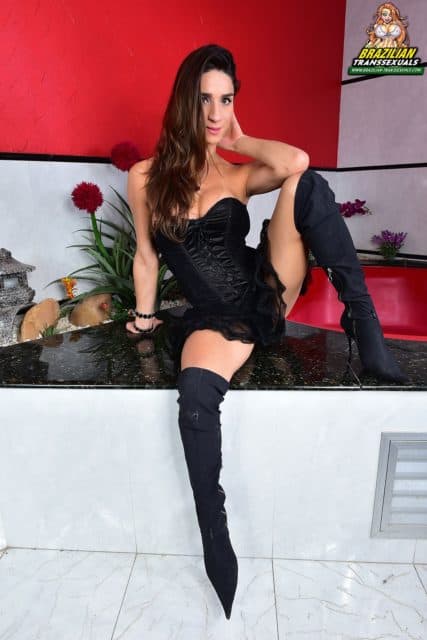 Eager to discover Adriana Rodrigues's truly tantalizing talents in a more personal setting? Then use the links provided below to discover all of Adriana Rodrigues's hottest sex scenes, saucy social media updates and exclusive web content!
Adriana Rodrigues – Social Networks
Twitter : @TsDriRodrigues
Brazilian Transsexuals : Adriana at Brazilian Transsexuals
Brazil TGirls XXX : Adriana at Brazil TGirls XXX
Evil Angel : Adriana at Evil Angel
Frank's TGirl World : Adriana at Frank's TGirl World
Tranny Surprise : Adriana at Tranny Surprise
Trans Erotica : Adriana at Trans Erotica
Adult Empire : Adriana's DVDs