Allie Nicole
Allie Nicole Twitter : @allienicolexxx   VR Bangers : Allie Nicole VR Scenes   Fantasy Massage : Allie Nicole Sex Scenes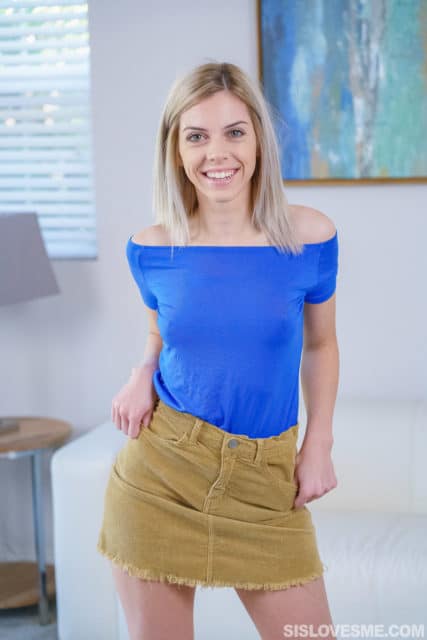 Allie Nicole in Snatch Me If You Can – Sis Loves Me – Team Skeet
Allie Nicole – Personal Info
Name : Allie Nicole
Date of Birth : January 11th
Star Sign : Capricorn
Hometown : East Texas (US)
Measurements : 32B – 24 – 32
Height : 5'2 (1.57m)
Hair Colour : Blonde
Eye Colour : Green
Shoe Size : Women's 6 (US)
Years Active : 2018 – present
Number of Scenes : 20+
Allie Nicole is a rapidly rising starlet who has been performing in porn since October 2018. In this short space of time, Allie Nicole has already attracted a keen fan following due to her saucy scenes for VR Bangers, Team Skeet and Hustler Video. Definitely one to watch out for in 2019!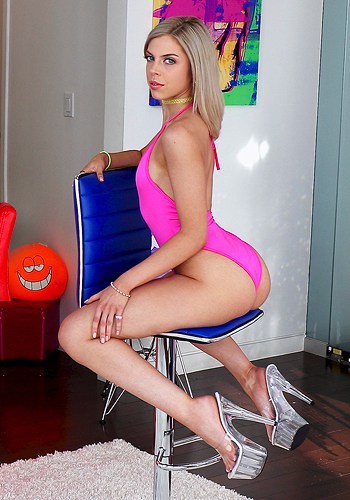 Allie Nicole at Swallowed.com
So where did it all begin? Hailing from East Texas, Allie Nicole was raised in a very religious family. In fact, Allie Nicole is a preacher's daughter. Talking about her upbringing during her January 2019 Adult DVD Talk interview, Allie Nicole revealed that;
"I'm from Texas, very, very east Texas, almost Louisiana. I come from a very religious family, I'm a preacher's daughter. I'm the epitome of the girl from Footloose. 100%. I've accepted it. I am her. It's so weird to me having this double life on social media. I'll go on my personal account under my legal name back to my porn stuff. When I first started, I was so careless with it. I would post a porn picture on my regular account and have a mini heart attack while I delete it and pray to God that nobody saw it. My whole family knows what I do…I'm ostracized. I'm just a very open and blunt person so a month into it, I said, 'Look, I talk to you guys all the time. I can't just keep having these conversations with you and not tell you what's going on in my life.' I didn't want to give somebody the opportunity to be vengeful or hateful and threaten to tell my family. I'd rather they hear it from me".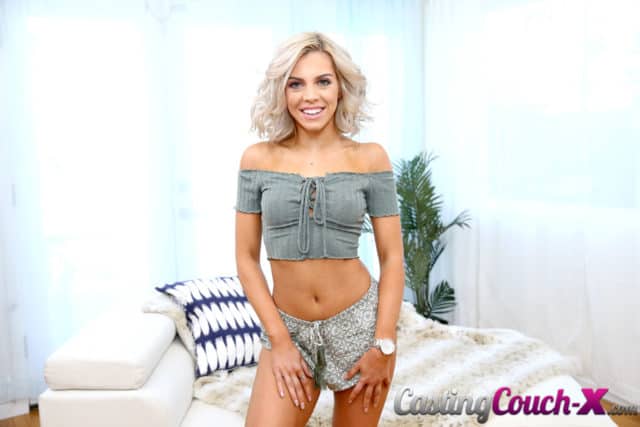 Allie Nicole at CastingCouch-X.com
Allie Nicole decided to pursue a career in the adult film industry after she found out that an old school friend of hers (April Aniston) was already performing in porn. As Allie Nicole explained during her January 2019 Adult DVD Talk interview;
"When I was 16, I was in this all-girl Christian boarding school. I met a girl and we're all still connected. She got into porn about 5-6 months ago. When she was 3 months in, I said, 'You look so good! You're glowing! What are you doing?' She said she does porn. I thought, 'You know what? I'm in this God awful relationship with this ugly guy, I like her personality but I think about it now and I want to vomit. I was in that relationship for a month and I was miserable. He left for a business trip on a Thursday and Friday I was flying out. I texted him when I was on my last flight. 'Hey, I'm moving out to California. Bye'".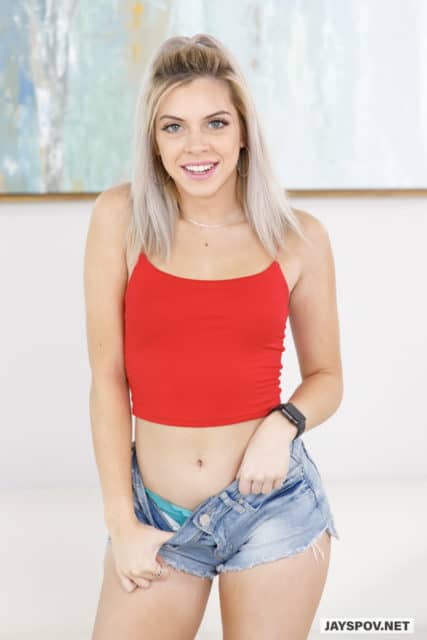 Allie Nicole at JaysPOV.net
Allie Nicole : Adult Film Career
Allie Nicole made her official adult film industry debut in October 2018 when she filmed a saucy scene for Exploited College Girls. Allie Nicole is credited in her first ever sex scene as 'Nicole'. When Allie Nicole was asked about shooting her porn debut during her January 2019 Adult DVD Talk interview, she recounted how;
"I was shaking like a leaf, I was so scared. I was scared shitless! I can tell watching myself. It was a lot more intense. Being in front of the camera, everything is exaggerated. My first scene was good. It was the best sex I have ever had up until that point. I never finished more than one time in my life. Ever. More than one time in a day. I just didn't think it was possible. This guy had me seething on the bed. I had never seen anything like it. After that scene, I was hooked. I was, 'Why didn't I do this before?'".
Allie Nicole in Teens Love Cream – Naughty America
From this point onward, Allie Nicole started shooting a wealth of saucy sex scenes for many popular porn sites including AMKingdom, Swallow Salon and Jay's POV. We recommend checking out Allie Nicole's raunchy oral three-way with Lenna Lux and Mike Adriano that was released via Swallowed.com in December 2018, her kinky Snatch Me If You Can scene with Jay Rock which was promoted via Team Skeet's Sis Loves Me web channel in December 2018 and her immersive Santa's Naughty Elves (Parts 1 and 2) virtual reality sex scenes with Astrid Star, Carmen Caliente, Kira Noir, Mazzy Grace, Milana May and Xandra Sixx that were unveiled via VR Bangers in December 2018 and January 2019. Not to be missed!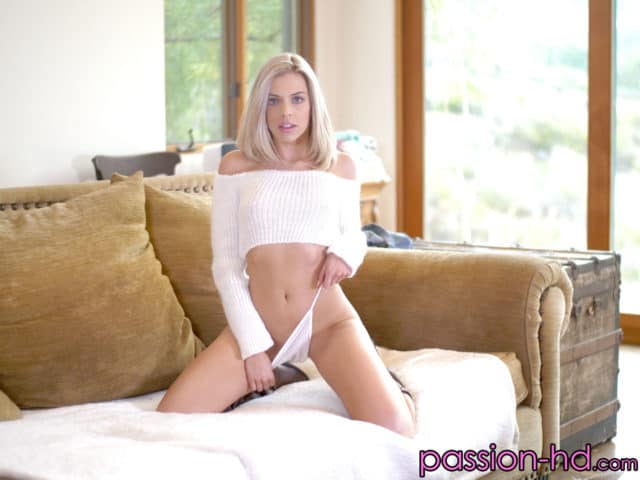 Allie Nicole in Longest Ride – Passion-HD.com
Fans of Allie Nicole will also love watching her intensely alluring 99 Problems But A Bone Ain't One virtual reality experience that was released via WankzVR in January 2019, her raunchy Shoplyfter role-play with Wrex Oliver in February 2019, her kinky Teens Love Cream shoot with Alex D which was uploaded via Naughty America in February 2019 and her sizzling Longest Ride scene with Danny Mountain that was promoted via Passion HD in February 2019. Performing in porn has boosted Allie's sexual confidence and she saucily stated in her January 2019 Adult DVD Talk interview that;
"I did [watch porn] a few times [before getting into the industry]. Mostly for curiosity. I've never been a big porn watcher but now I'll watch to do homework…When I first started, I was very closed off. I was very conservative, like I didn't want to be cum slut nasty kind of a thing. I said I wanted to do pretty porn. But, now, I don't know what it is, but I love balls. I always thought it was a dirty thing before like 'Balls? Ewww.' Then I got into porn and I freaking love balls right now. I'm a pleaser and if I can help a guy get off like that, I want to do it. I want to fuck a man better than any woman has ever fucked him. I also love to swallow…I'm very submissive. But if I can tell the guy isn't very dominant, I will take charge. I guess it goes both ways. But if the man is very dominant, we're going to have some crazy sex because I love to submit. But, if he's a little lacking in that department, I have no problem taking charge".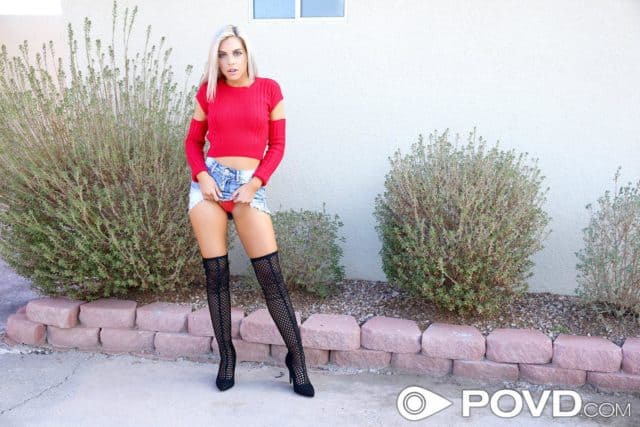 Allie Nicole in BJ Hustler – POVD.com
What's more, when Allie Nicole was asked about her favorite sexual position during her Teen Fidelity interview, she hotly hinted that;
"I LOVE to be in control so my favorite position is cowgirl. A close second would be doggy because I love a good face down ass up fuck. I love a confident man who takes control in bed. But at the same time I'm a huge pleaser so if you're hard, 99% of the time I will be wet simply because I know you're pleased".
You'll be happy to hear that Allie Nicole has since shared a saucy Slumber Party Snatch scene with Sam Shock that was released via Team Skeet's Exxxtra Small web channel in March 2019, she filmed a titillating Casting Couch X shoot in March 2019 and she shot a steamy Shhh, My Girlfriend's Outside scene with Van Wylde which was promoted via Nuru Massage in March 2019. Allie Nicole has also treated her fans to a raunchy BJ Hustle shoot that was uploaded via POVD in March 2019 and a scintillating Desire Me scene with Codey Steele which was aired via Teen Fidelity in March 2019. Must see sex scenes for Allie Nicole fans!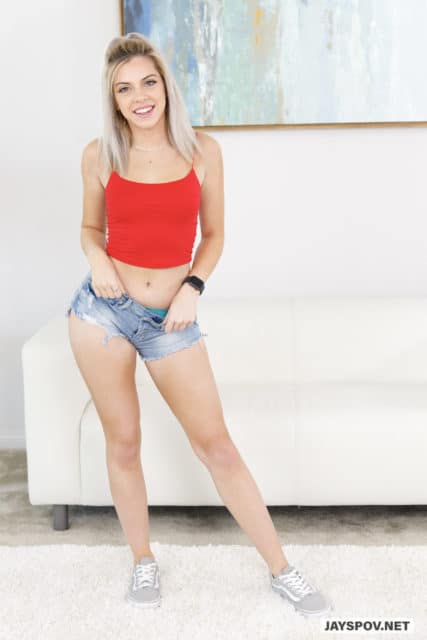 Allie Nicole at JaysPOV.net
But that's not all. Alongside her compelling web clips, Allie Nicole has started to appear in some best-selling movies. Most recently, Allie Nicole has filmed a raunchy scene with Brad Knight for the Reality Junkies release Too Big For Teens #24 (2019) and she has been featured in the Hustler Video DVD Barely Legal #166: Little Peaches (2019) alongside Naomi Blue, Serena Avary and Vienna Rose.
When she isn't starring in these popular porn productions, Allie Nicole enjoys interacting with her fans via social media, playing tennis, practising yoga and cooking. As Allie Nicole mentioned in her January 2019 Adult DVD Talk interview;
"I like to play tennis a lot. I do a lot of yoga because I don't like to work out. Who really likes to drain their bodies like that? But whatever. I do yoga because I like to stay flexible. Other than that, I'm pretty chill. I like to cook. It's the Southern in me. Especially during the holidays".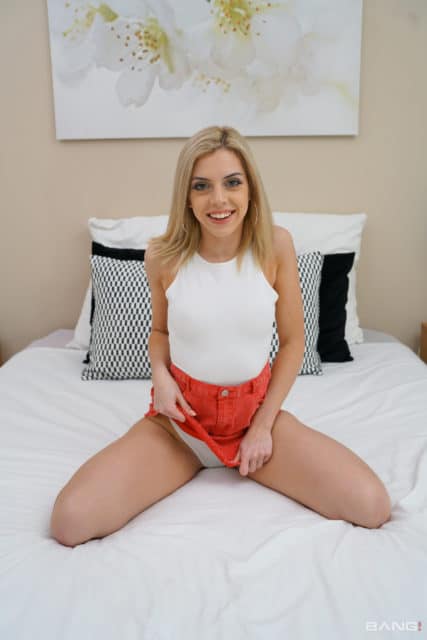 Allie Nicole – Bang! Real Teens – Bang! Originals
Keen to stay connected with rapidly rising starlet Allie Nicole? Then use the links provided below to discover all of Allie Nicole's hottest sex scenes, exclusive web content and upcoming productions!
Allie Nicole – Social Networks
Twitter : @allienicolexxx
VR Bangers : Allie's VR Scenes
Bang : Allie at Bang! Originals
Casting Couch X : Allie at Casting Couch X
Naughty America : Allie at Naughty America
Fantasy Massage : Allie at Fantasy Massage
Passion HD : Allie at Passion HD
POVD : Allie at POVD.com
Swallowed : Allie at Swallowed.com
Team Skeet : Allie at Team Skeet
Teen Fidelity : Allie at Teen Fidelity
WankzVR : Allie at WankzVR
 The Nude : Allie at The Nude
Babepedia : Allie at Babepedia