Ariella Ferrera
Ariella Ferrera Official Website : AriellaFerrera.com   Brazzers : Ariella's Sex Scenes
Twitter : @AriellaFerrera   VR Bangers : Ariella's VR Scenes
Ariella Ferrera – Personal Info

Name : Ariella Ferrera
Date of Birth: January 15th
Star Sign : Capricorn
Home Town : Medellin, Antioquia (Colombia) / Chicago, Illinois (US)
Measurements : 34E – 25 – 34
Bra/ Cup Size : 34E (75E)
Boobs :  Enhanced
Height : 5'7 (1.70m)
Hair Colour : Brunette
Eye Colour : Brown
Years Active : 2009 – present
Number of Scenes : 250+
Colombian by birth but raised in Chicago, Illinois, meet Ariella Ferrera! Over the years, Ariella Ferrera became one of the most popular MILF pornstars in the industry! So where did it all begin? Well, this Latina lovely was born in Medellin, the capital city of Antioquia in Colombia. However, Ariella Ferrera and her family moved from Colombia to the United States of America when she was five years old. whereupon they settled in Chicago, Illinois. In this manner, Ariella Ferrera has always described herself as a;
"Mid-west chick with a Colombian cultural influence…I was born there and I like visiting with family. The country itself has such a natural beauty that it always finds a way to overwhelm me. Colombians are of a warm and welcoming heart to all. Btw the food isn't too bad either ;-)".
Ever since she was a child Ariella Ferrera has always been an energetic girl with a vibrant personality. As Ariella Ferrera conveyed during an 2010 XCritic interview with column writer Apache Warrior;
"You could say I was a bit of a tom boy. Many of my childhood photos will show one of my arms in a cas. Due to an overactive imagination…Pretending to be superwoman with my bed sheet-made capes. I would jump from bunk beds. Stairways. Trees. You name it! Attempting to fly only to experience a not so smooth landing. I was born in Colombia, South America. And at the age of 5, my parents decided to permanently reside in Chicago, Illinois. I first learned how to speak Spanish, which made me pretty shy around kids. As I was not confident in my English speaking abilities…Needless to say I broke out of my shyness!".
After learning to speak English, Ariella Ferrera attended school in Chicago. From the age of 15 years onwards, Ariella Ferrera began to work a series of waitressing, babysitting and retail jobs. Popular Colombian pornstar Ariella Ferrera explained during an interview with Barelist how;
"I started working at the age of 15 and I had several jobs. Including but not limited to: Babysitting. Restaurant hostess. Rehabilitative aid. Security loss prevention personal for several retail stores. PC technician. And I can't remember any more but I think I'm missing one in there!".
Ariella Ferrera's longest pre-porn star career was working as a registered dental hygienist. In fact, voluptuous vixen Arielle Ferrera remained in this profession until she was 30 years old. However, little did this Latina lovely know that a single client was about to change her entire life! As sexy MILF Ariella Ferrera put it in her own words during her 2010 XCritic interview;
"I was bored with my profession as a RDH (registered dental hygienist) and looking for a change…Swearing that before I turned 30 I'd find something that would be more…fulfilling…And then walked in my patient who happened to be an adult performer. After, a couple of dates and a new perspective on the adult industry, I decided I had found a new profession. So I moved out to California to pursue it full-time".
This adult performer turned out to be the male porn star Devon Savage who was instrumental in changing Ariella Ferrera's personal perspective of the adult film industry and helping her to forge a thriving career as a successful female porn star. With Devon's ongoing support and his exclusive industry insights in mind Ariella Ferrera moved to Tarzana, California, in the summer of 2009 whereupon she began modelling for porn production companies on a full-time basis.
At the advent of her porn star career, Ariella Ferrera was nervous about revealing her adult film exploits to her family. After all, Arielle Ferrera had always maintained an extremely close relationship with her family. Consequently, busty beauty Ariella Ferrera highlighted during her interview with Barelist that;
"I have a close relationship with my parents who I love very much. At first like any concerned parents they were concerned for my safety. And apprehensive about possible future repercussions I might suffer or be exposed to. My parents respect my decision(s) and still show their support through their unconditional love for me. As do the rest of my siblings and true friends".
Having gained the support of her family, Ariella Ferrera continued to pose for adult modelling shoots and starred within various porn movies and online sex scenes from 2009 onward. And the rest is history!
Ariella Ferrera : Adult Film Career
Hottest thick and curvy pornstar Ariella Ferrera made her official porn debut in 2009. Throughout her prolific porn career, Ariella Ferrera established herself as one of the leading MILF porn stars within the adult entertainment industry. Some of Ariella Ferrera's most captivating performances include; Sexy Senorita 6 and 7. Seduced By A Cougar 15 and 27. As well as My Friend's Hot Mom 29, 40 and 52.
Moreover, Ariella Ferrera was featured in Moms Teach Sex 1, 2, 5, 6 and 7. Moms Bang Teens 2, 8 and 13. Lesbian House Hunters 1 and 5. Furthermore, Ariella Ferrera appeared in Field of Schemes 8. Dirty Wives Club 4. Escaladies 1 and 2. Fan-favorite domme Arielle Ferrera also showcased her kinky side in Bitches Behind Bars. BDSM. Ariella's Adventures 1 and 2. Anal Intensity 3. Adam & Eve's Legendary Latinas and Ahead of the Class. The list goes on! Many of Ariella Ferrera's most popular porn productions were filmed for Brazzers. As Ariella Ferrera's official Brazzers profile hotly hints;
"Three months after she started in the industry back in 2009, Ariella Ferrera said in an interview that she would stop making porn if she ever stopped having fun doing it. Well, 2010 has long since come and gone, and she's still at it. So you know this sexy MILF loves to fuck! And considering that the busty starlet was a dental hygienist when she met a porn star and decided to give the porn life a try, the poor girl must have been seriously lacking excitement! It's good for us that she did, though. Because now we can all watch those big titties bounce all day long while she fucks the hottest porn stars around. Oh, and as if her banging body and sexy attitude weren't enough of a turn on, don't you worry…Ms. Ferrerra loves the ladies, too!".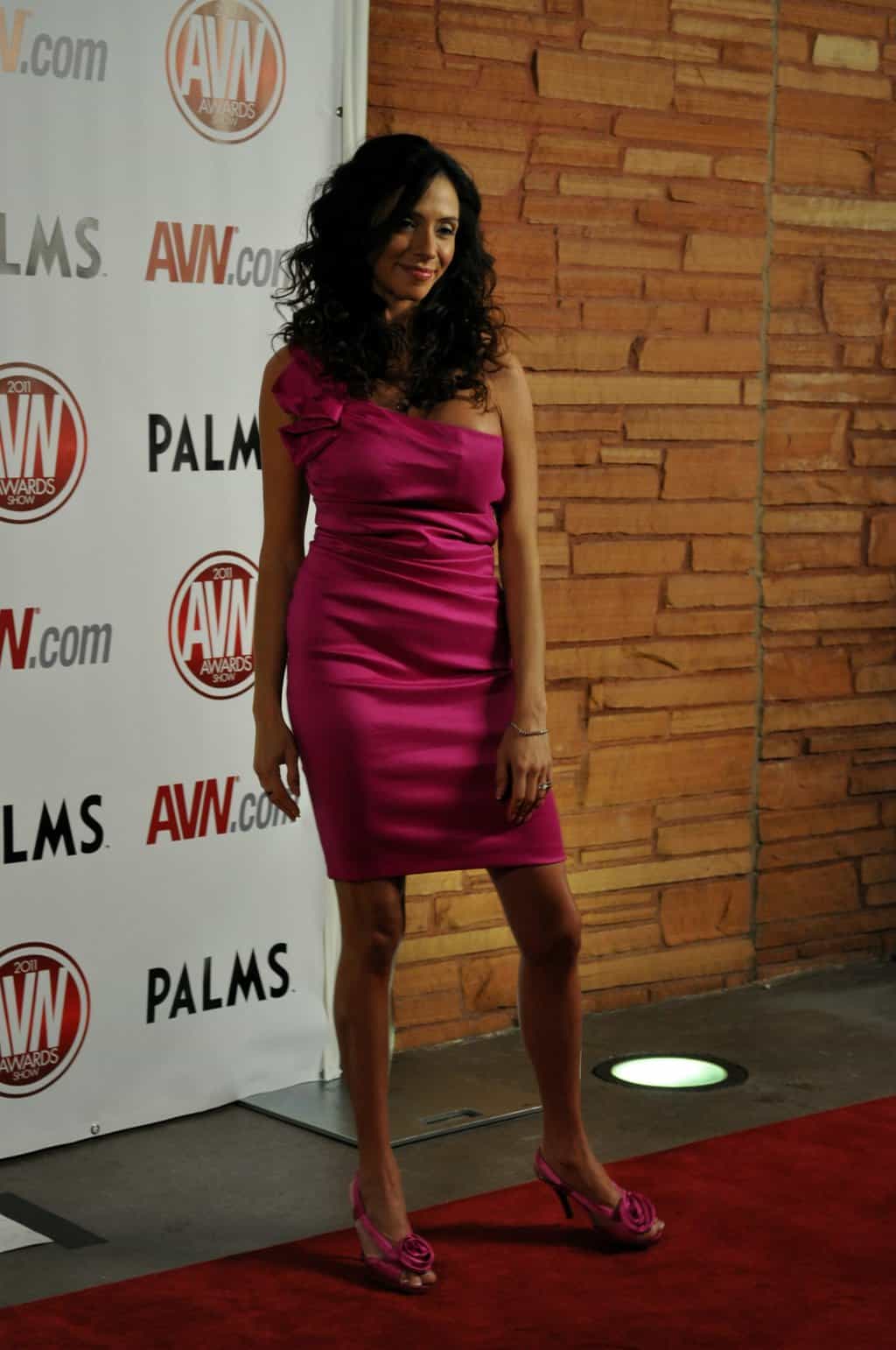 Ariella at AVN Awards
As mentioned above, busty brunette stunner Ariella Ferrera's most successful porn appearances were productions in which she appeared as a MILF. When Ariella Ferrera was asked about her thoughts on the term 'MILF' during a 2010 AIP Daily interview, she explained how she finds the term to be somewhat misleading;
"I understand the purpose for which this term is used. MILF has certain implications which allow those that are selecting a movie or website to have somewhat of an idea of what to expect. These expectations will include a female who is at least in their mid to late 20's and up. Voluptuously figured. Well-experienced sexually and is a mom…Now, having stated the above, I'll throw a wrench in the whole concept by playing 'devil's advocate'. And say what about a 15 year old who loses her virginity, gets pregnant and becomes a mom from that first experience? What category would she be placed in? The term in the manner that it's used in the adult industry is somewhat misleading".
But that's not all. For instance, when Ariella Ferrera was asked during her 2010 AIP Daily interview whether there were any pornstars whose careers she would like to emulate, she explained that;
"My initial response is that there is no 'one' individual that I wish emulate in the adult industry. I would like to be able to reach a 'level' of success, which many have done…Actually anyone who is in their late 50's if not 60 yet, who is still actively doing something they truly enjoy with no regrets and making a living out of it. That is the career I would like to emulate".
One of Ariella Ferrera's most successful porn performances occurred in 2010. During this time, Ariella starred alongside Lux Cassidy, Alexis Texas and Tori Black in the Girlfriends Films production Field of Dreams 8. XCritic column writer Apache Warrior enthused about Ariella's performance in Field Of Dreams 8, expressing how;
"Ariella is a tender seductress whose kissing activity with the blond student is sweet…Ariella's beautiful body is eye-popping gorgeous…All three women sizzle. But it is Ariella who stands out in this scene…With a batch of porn superstars included in this film, it is Ariella Ferrera who will continue to linger in the minds of the audience. Her beauty and good acting range solidifies her as a true treasure".
Ariella Ferrera : Industry Accolades & Award Nominations
Throughout her adult film career Ariella Ferrera's epic MILF porn performances have earned her numerous award nominations. Listed below are some of Ariella Ferrera's most impressive accomplishments so far;
2014: XBIZ Awards nominee "MILF Performer of the Year"
2015: AVN Awards nominee "Hottest MILF (Fan Award)"
2015: AVN Awards nominee "MILF Performer of the Year"
2016: AVN Awards nominee "Hottest MILF (Fan Award)"
2016: Spank Bank Awards nominee "Most Magnificent MILF"
But wait, there's even more. For instace, busty brunette stunner Ariella Ferrera received the following notable award nominations;
2016: XBIZ Awards nominee "MILF Performer of the Year"
2016: XBIZ Awards nominee "Girl/Girl Performer of the Year"
2018: XBIZ Awards nominee "MILF Performer of the Year"
2019: Spank Bank Awards nominee "Most Voluptuous Vixen"
2019: Spank Bank Awards nominee "Baroness Of Licking Lady Ass"
2020: Spank Bank Awards nominee "Horny Housewife of the Year"
In addition to receiving these impressive adult film award nominations, Ariella Ferrera also launched her online store; AriellaFerreraStore.com. A 2013 AVN press release reported on the launch of this new store and how it enabled Ariella Ferrera's fans to order;
"Various items from Ferrera's career including worn lingerie. 8x10s. Autographed DVDs and other memorabilia. Ferrera's exclusive DVDs and custom video orders ranging from solo to hardcore are also available".
Brunette beauty Ariella Ferrera expressed her excitement about the launch of her new store within this AVN press release, noting how;
"I always have a great time at shows interacting with my fan base…However, I wanted to have a medium to transact with them after the shows are complete. As well as have a way to reach my foreign fans as well, and this endeavour provides that. I am excited about the scripts for custom videos I've been receiving. And I am working on even more exclusive DVD titles that will only be available via mail order from my store". 
Ariella Ferrera : Personal Projects
Alongside her thriving porn career, Ariella Ferrera continues to collaborate on a wealth of personal and professional projects. For example, in 2013 busty brunette MILF Ariella Ferrera teamed up with renowned porn director Nica Noelle in order to co-host a Valentine's Day Erotic Workshop at Excitement Video in Woodland Hills, Los Angeles. By attending this exclusive erotic event, workshop attendees could receive industry insights from adult film veterans.
Moreover, attendees learned how to use erotic films to spice up their love lives and how to increase their sexual intimacy with their partners. Furthermore, this workshop and its accompanying lecture from Nica and Ariella Ferrera was free, open to all. In fact, attendees were also able to purchase some of Nica's hottest porn productions at reduced rates. Speaking about this event within an AVN press release, Nica Noelle commented that;
"Ariella and I are excited to talk to fans about how viewing the right porn with their partner can enhance, rather than threaten, a relationship…I chose Ariella to host the workshop with me because she embodies the kind of passion and sexual authenticity I strive for in my films. And she's also the star of our current hit movie, Mother Superior [from Girl Candy Films]…
When I first started shooting romance porn, everyone said it would fail. Nobody thought there was a market for it…But fast-forward five years later, everyone's got a romance line. And ABC News wants to interview me about it! It's very exciting to be recognized for influencing my industry in such a profound way…
Many people—women in particular—are still suspicious of porn. They fear it will ruin their relationship or turn their partner into a [porn] addict…Hopefully, this workshop will shed some much needed light on the positive aspects of erotic film. And demonstrate the new, exciting ways it can help couples to connect".
Ariella Ferrera : Porn Expos & Nightclub Events
In addition to hosting workshops and featuring within porn productions, Ariella Ferrera continues to attend multiple adult entertainment expos and hosts numerous nightclub events. For instance, in June 2014 Ariella Ferrera hosted Rebecca Love's Karaoke XXX at the Red Label nightclub in Las Vegas, Nevada. Ariella Ferrera is also eager to discover new hobbies and interests that challenge her. As Ariella Ferrera divulged during her 2010 XCritic interview;
"I enjoy physically challenging activities outdoors. You can find me biking. Swimming. Running. Camping and hiking. Indoors: In the gym you'll catch me strength training. Whether it be with weights or practicing some form of mixed martial arts. I also enjoy reading. Cooking. Watching and or making movies for my site. My hobbies are always changing as I get bored easily and always enjoy new challenges…I have my eyes set on taking on wakeboarding and target shooting next".
But that's not all. For instance, in February 2015, sexy Latina pornstar Ariella Ferrera collaborated with Pornstar Platinum in order to launch her new official website. This epic website features a wide range of Ariella Ferrera's video content and modelling shoots. When Ariella Ferrera asked if she prefers video content or photo shoots during an interview with Barelist, she emphatically replied;
"VIDEO!!! VIDEO!!! Just in case you didn't hear me… VIDEO!! I don't really care for posing still in front of a camera. I equate it with posing in front of a mirror. And while I have no problem being in front of a mirror the most common expression I'm giving the mirror is a tongue out or some silly facial gestures that I equate with being a…Jackass!! I don't pose for the mirror trying to be sexy because I honestly would just want to roll my eyes at myself. I know I should learn to pose. So that my poses are maybe more flattering to me and or my body. But… well I just haven't gotten around to it. Add it to my list of things to do and pardon the weird poses as I continue my journey in the adult biz!".
But hold on, it gets even better! Alongside her phenomenal porn performances and modelling shoots, busty brunette MILF Ariella Ferrera also intends to continue her career from behind the camera. For example, during her 2010 AIP Daily interview, Ariella Ferrera revealed that;
"I would love to direct movies someday. As a matter of fact that is one of my future goals and one that I'm currently working on. I realize it's different than producing movies but I've launched three sites. And shooting for them has given me a taste of what I could potentially contribute to the adult movies".
Eager to discover all of beautiful Latina babe Ariella Ferrera's hottest sex scenes, exclusive web content and upcoming projects? Then use the links provided below to stay connected with your favorite thick and curvy Colombian pornstar Ariella Ferrera!
Ariella Ferrera – Social Networks
Official Website : AriellaFerrera.com
Twitter : @AriellaFerrera
Brazzers : Ariella at Brazzers
VR Bangers : Ariella's VR Scenes
Naughty America : Ariella at Naughty America
IMDB : Ariella's Filmography
The Nude : Ariella at Nude EU
Babepedia : Ariella at Babepedia