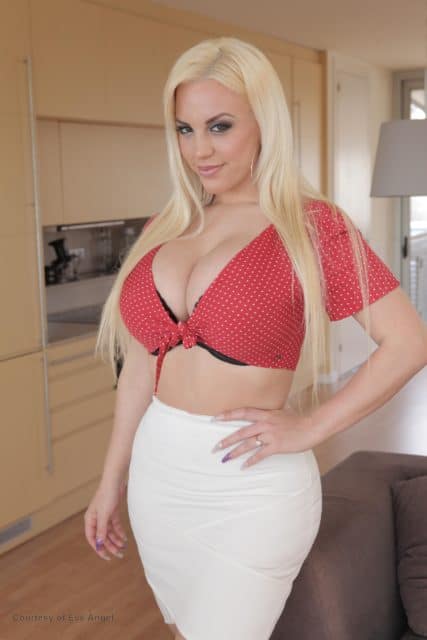 Blondie Fesser in Nacho Loves MILFs – Evil Angel
Blondie Fesser – Personal Info
Name : Blondie Fesser
Date of Birth : September 14th
Hometown : Bueno Aires (Argentina)
Measurements : 34FF – 27 – 44
Height : 5'3 (1.60m)
Hair Colour : Blonde
Eye Colour : Hazel
Tattoos : Dark red roses on her lower left calf and ankle
Piercings : Navel
Years Active : 2010 – present
Number of Scenes : 50+
Blondie Fesser is a gorgeous busty blonde porn star, cam girl and model who made her industry debut in 2010. Over the years this Argentinian stunner has attracted an avid fan following due to her sizzling scenes in a wide range of European and American porn productions.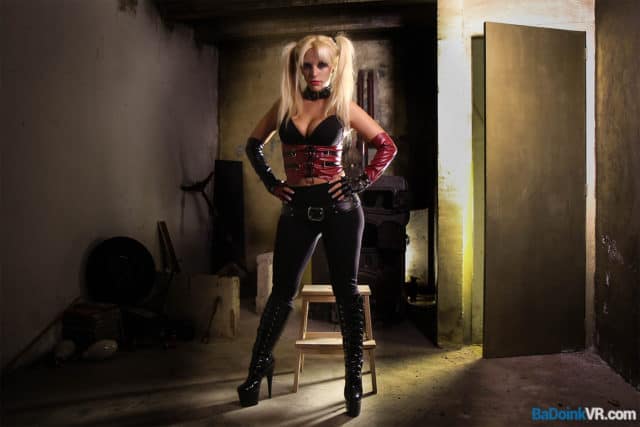 Blondie Fesser in Harley Gets A Tune-Up – Badoink VR
So where did it all begin? Originally from Buenos Aires, Argentina, Blondie is a fan-favorite international porn star who speaks English, Spanish, Basque and German. You may be interested to learn that Blondie had fantasised about performing in porn for many years prior to making her industry debut. As Blondie revealed in her April 2014 Boobs Realm interview;
"Well, it's been my fantasy for a long time. I knew from very little that I liked teasing guys, I used to do it at school, wearing tight clothes and curving my lashes. I wanted to be desired by men, it makes me feel kinda powerful I guess".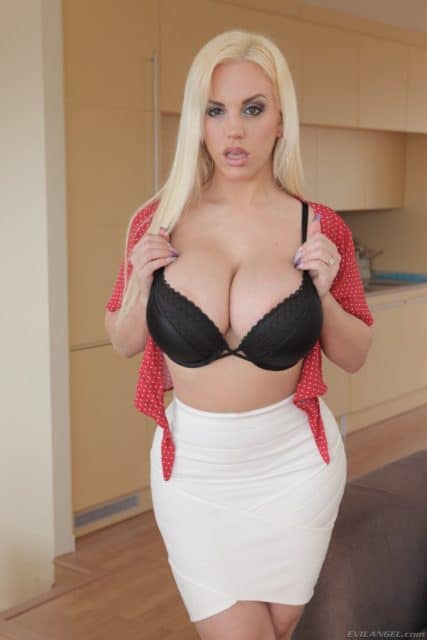 Blondie Fesser in Nacho Loves MILFs – Evil Angel
Blondie Fesser : Adult Film Career
Blondie filmed her first ever sex scenes in 2010 for the popular porn sites CNFM and Harsh Handjobs. Blondie was living in London, England, at the time and she is credited in these initial porn productions as 'Laura Hernandez'. Blondie's porn debut was directed by Charlie Johnson and she shared some sultry scenes with fan-favorite British performer Renee Richards. Talking about these early days of her adult film career during her April 2014 Boobs Realm interview, Blondie recounted how;
"I did something in 2010 for Charlie Johnson in the UK. I did a couple of scenes for CFNM.com and HarshHandJobs.com. But I was under the name of Laura Hernandez. It was so fun and that was really my first time doing porn…I was a little bit nervous. I was living in London, and I contacted Charlie Johnson by email. He gave me the scripts and the clothes I had to prepare for the scenes. I had to travel one hour to a place I'd never been. And nobody knew I was there, I was quite nervous about that. The scenes went very good, I felt very comfortable with all of them. I had the pleasure of working with Rene Richards, and she was really nice with me. It was a very respectful atmosphere. I really liked it, and from then, I decided to do what I'm doing".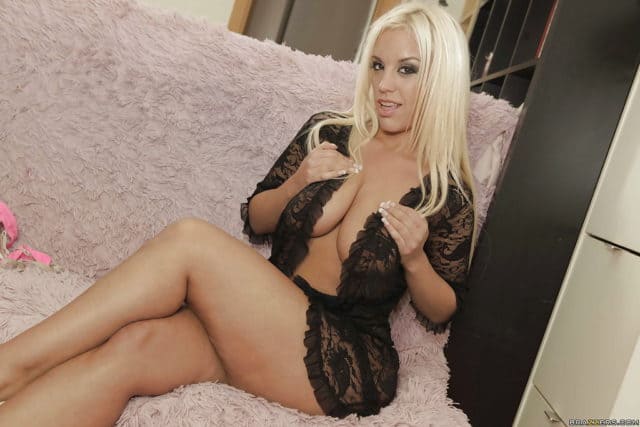 Blondie Fesser in She's On The Prowl – Brazzers
Wondering about the origins of her sultry stage name 'Blondie Fesser'? Well, Blondie explained in this April 2014 Boobs Realm interview how;
"I really needed a last name 'cause there're a lot of Blondies out there. I wanted something different, so I thought of a German surname, my grandma is from Stuttgart and I wanted to have something from my family".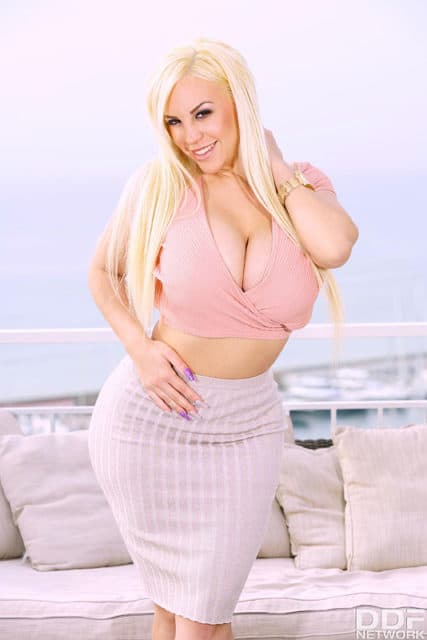 Blondie Fesser in Busty Blondie Blows Dick – DDF Network
In no time at all, Blondie attracted an avid global fan base due to the wealth of raunchy web clips that she filmed for the Spanish porn site Putolocura.com. In particular, Blondie amassed an keen fan following in 2014/2015 when she started to shoot some sizzling scenes for the popular porn networks Team Skeet, Bang Bros, Mofos and Reality Kings. We recommend checking out Blondie's saucy Curvy Latina Anal shoot which was promoted via Mofos in January 2015, her raunchy Big Tit Blondie Pounded Outdoors romp with Alberto Blanco that was uploaded via Bang Bros in March 2015 and her steamy Cock Thirsty Titty Fucker scene with Max Cortes which was filmed for Team Skeet's This Girl Sucks web channel in May 2015.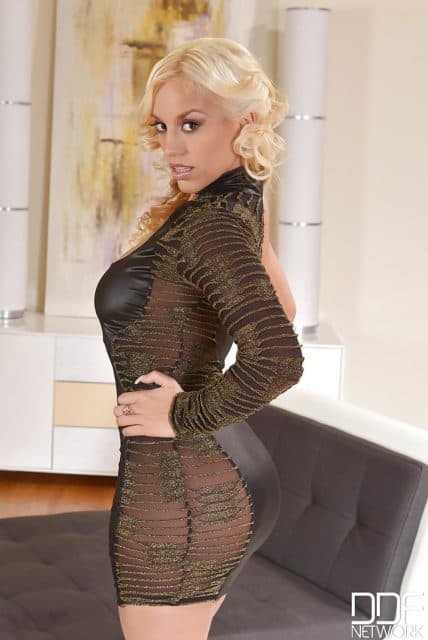 Blondie Fesser in Don't Cry For Me: Girl From Argentina Gets Fucked Hard – DDF Network
Wait, there's even more! Fans of Blondie Fesser will also love viewing her titillating She's On The Prowl role-play with Pablo Ferrari that was released via Brazzers in May 2015, her kinky I've Never Fucked A Fan Before scene with Robin Reid which was filmed for Team Skeet's Oye Loca web series in December 2015, her sizzling Blondie Fesser Public Fuckfest shoot that was unveiled via Bang Bros' Public Bang web series in November 2015 and her raunchy Fake Cop role-play with Monty Memphis in November 2016. You also have to check out Blondie's scintillating Blondie Fesser And Her Magnificent Ass scene with Markus Dupree that was uploaded via Bang Bros in August 2016 and her mesmerizing Bubble Butt Beach scene with Nick Moreno which was promoted via Bang Bros in February 2016 as part of their Ass Parade web channel. Must see sex scenes for Blondie Fesser fans!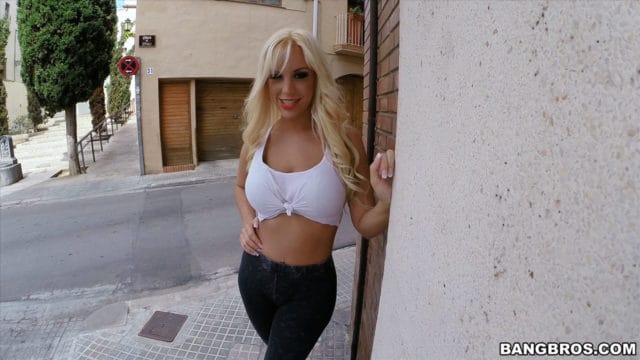 Blondie Fesser – Public Bang – BangBros.com
In fact, Blondie filmed so many sizzling scenes for Bang Bros' fan-favorite Ass Parade, Big Tits Round Asses, Public Bang and Mr. Anal web channels that she was featured in her very own Bang Bros star showcase Girls Of Bang Bros #50: Blondie Fesser (2015)! You'll be happy to hear that Blondie continues to be featured in many best-selling Bang Bros DVD compilation titles including Public Bang #3 (2016), Mr. Anal #20 (2016), Big Tits Round Asses #43 (2016), Public Bang #5 (2017) and Public Bang #7 (2017) also starring Ava Dalush, Franceska Jaimes, Sandra Milka and Satin Bloom.
But that's not all. Blondie's compelling web clips have also been featured in the Mofos DVDs Stranded Teens #8 (2015) and Let's Try Anal #21 (2016) starring Ava Campos, Kaylee Banks, Lexi Dona and Sophia Torres. You can also discover some of Blondie's hottest web collaborations in the Team Skeet compilation titles Teenage Cocksuckers #8 (2015), Latinas Like It Big #3 (2017) and Spring Break Fuck Parties #11 (2018) which showcased Blondie's sensational group sex scene with Lucia Nieto, Medusa, Zoe Doll and Miguel Zayas. Not to be missed!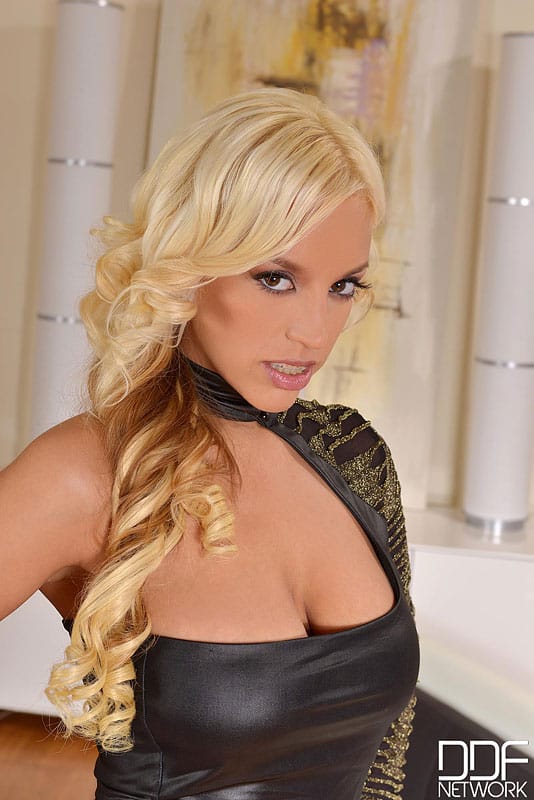 Blondie Fesser in Don't Cry For Me: Girl From Argentina Gets Fucked Hard – DDF Network
Blondie Fesser : Popular Porn Productions
In addition to her wealth of raunchy web clips, Blondie has appeared in a steady stream of critically acclaimed movies throughout her prolific porn career. Many of Blondie's most popular porn productions have been those that she has filmed with the award-winning Spanish director Nacho Vidal for Evil Angel. We recommend watching Blondie's epic gangbang in Nacho's Fucking Amateurs #2: Gangbangs (2015) and her steamy scenes with Nacho in Nacho's Monster Tits (2015), In My Room #4 (2016) and Nacho Loves MILFs (2018) that was nominated for "Best MILF Movie" at the 2019 AVN Awards. Blondie posed as the box cover model for Nacho Loves MILFs which also starred Bianka Blue, Frida Sante, Helena Kramer and Sofia Star. This magnificent MILF movie was even recommended by XCritic column writer John Boy who stated in his September 2018 film review that;
"Mega porn super stud Nacho Vidal is exchanging his hardcore fucking, choking, spitting, and destroying of pussies and asses for a more passionate way of making love to mature women. No more rough sex acts. In his flick Nacho Loves MILFs, he says he has learned after 24 years of fucking on film that the best way to have sex with a woman is to connect with her sensuality. He wants to allow the mature babes in this flick to control the way they want to be penetrated, and that's what these MILF starlets say turns them on the most. Blondie Fesser, Frida Sante, Bianka Blue, Helena Kramer, and Sofia Star fall in love with Nacho's new love-making strokes and they each reach a moist peak. The five scenes in this movie run for over 3 hours, showcasing the big cock monster's softer side. I recommend this movie. It's a departure for Nacho, taking him away from the hardcore, rough sex action we're used to, but he worships each babe and shows a softer side of his sexual manhood".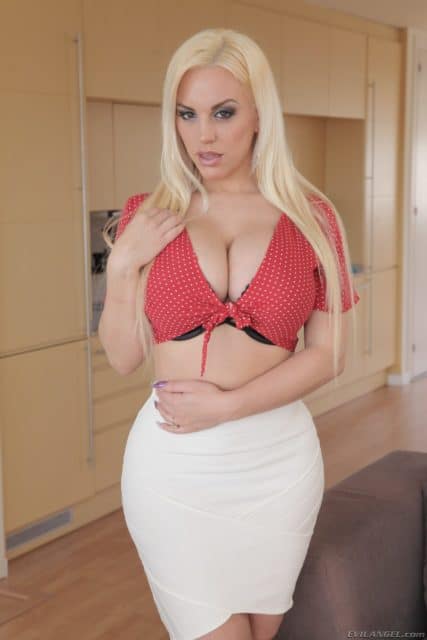 Blondie Fesser in Nacho Loves MILFs – Evil Angel
During this time also shared a sizzling scene with Nick Moreno in the Porndoe Premium/Bitches Abroad production Just Arrived, Fucked Already (2015), she was featured in the Hardcore Lust movie Lust For Nookie (2015) and she shared some sizzling scenes with Juan Lucho and Clark Kent for the Harmony Films releases Xposed (2016) and Summer Fucking (2016). Blondie has also starred in (and posed as the box cover model for) the Spizoo release Big Booty Blondes (2017) featuring Jessa Rhodes, Iris Rose and Danielle Davidoso.
We also recommend viewing Blondie's her sizzling scene in the Private Specials DVD Cute White Girls Love Big Black Cocks (2016), her raunchy group shoot in the Porndoe Premium movie Crowd Bondage #3 (2018) and her steamy scenes with Alberto Blanco in the Reality Kings DVD compilation titles RK Prime #5 and #6 (2017) starring Abella Danger, Aubrey Rose, Cory Chase, Jessie Lynne, Keisha Grey, Keren Delgado and Rina Ellis.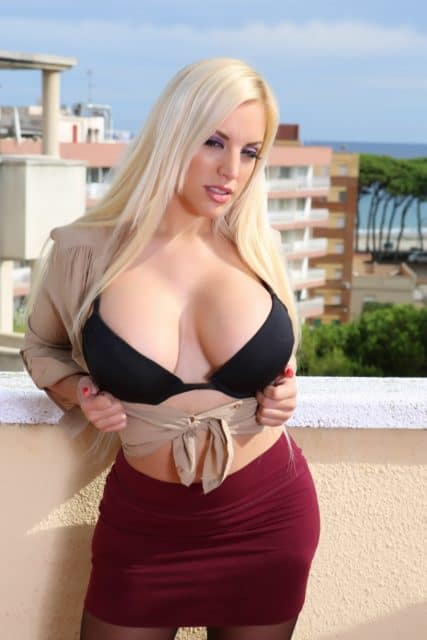 Blondie Fesser in Amateur Meeting (featured in Big Booty Blondes) – Spizoo
Hold on, it gets even better. You'll also want to watch Blondie's sensational scenes in the Taboo Dream Studios DVD Ralph Invades Spain (2018) that features her on its box cover, her epic group sex scene with Marta La Croft, Rob Diesel and Alberto Blanco in the Reality Kings movie Fucking With Friends #5 (2018) and her immersive scenes in the CumLouder DVDs Breaking Asses #7 (2017), BoobDay #9 (2018) and POV #8 (2019). The list goes on!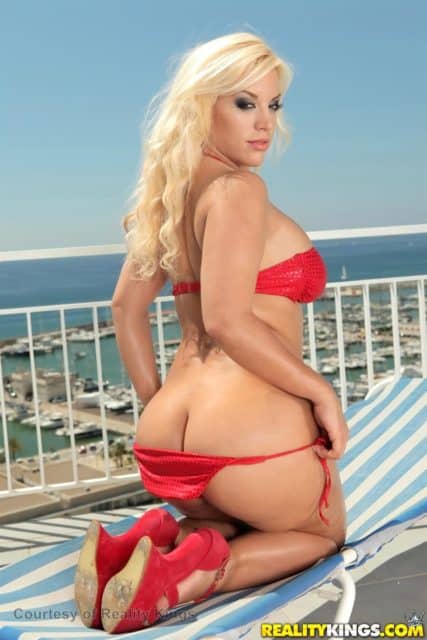 Blondie Fesser in Thick And Ready – Reality Kings
Never one to rest on her laurels, Blondie has shared a seductive Movie Night three-way with Nekane and Kai Taylor that has been featured in the Babes movie Sharing With Stepmom #4 (2018) and she has filmed a trio of terrific scenes for the European porn site DDF Network. You have to check out Blondie's seductive Don't Cry For Me shoot with Kid Jamaica in December 2014 and her raunchy Busty Office Sexperience and Busty Blondie Blows Big Dick role-plays with Emilio Ardana in June and July 2018. It's no wonder why Blondie was featured in the DDF Busty sequel release Busty Sex Maniac #2 (2018) and Sinful Juggs #2 (2018)!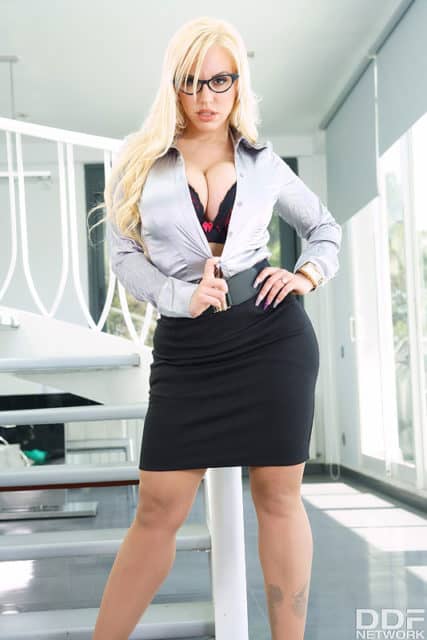 Blondie Fesser in Busty Office Sexperience – DDF Network
Blondie Fesser : Immersive VR Porn Scenes

Always wanted to share a scene with Blondie Fesser? Well, it's your lucky day! Blondie has filmed some immersive virtual reality sex scenes for BaDoink VR that make it feel like she's in the room with you. You'll love immersing yourself within Blondie's kinky Harley Gets A Tune-Up scene in October 2015 which showcases Blondie's impressive portrayal of Harley Quinn. Blondie has also treated fans to a scintillating Cookies N' Cream scene which was unveiled via BaDoink VR in November 2016. When it comes to busty housewife fantasy shoots, no-one does it better than Blondie Fesser!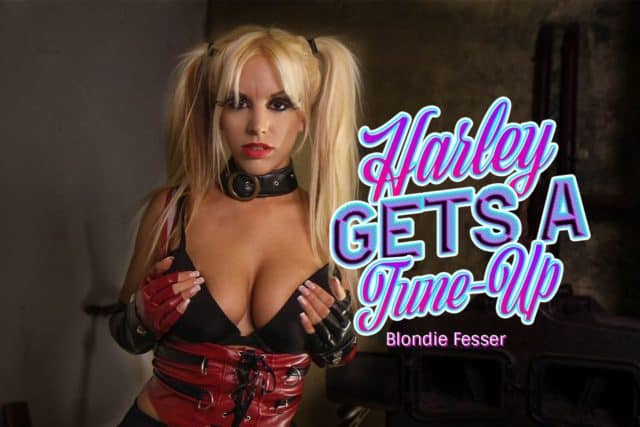 Blondie Fesser as Harley Quinn in Harley Gets A Tune-Up – BaDoinkVR
If you're a fan of Blondie's cosplay shoots then you have to experience her raunchy Super Mario CUM: A XXX Parody experience which she filmed for VR Cosplay X in January 2017. As the tantalizing scene description states;
"The Princess seems very excited to see you. It's been a while since you last rescued her and she's missed that ol' Italian charm that not even your brother can give her. As you walk in small form, she gives you a needed super mushroom to turn you into the Super Mario you've both come to know, but that's certainly not the only way she has to get you growing! This Princess has been hiding some magical double Ds under that dress, and she can't wait to tittyfuck you with them. Make this hot blonde come all over you as you hit that pink wet pussy in virtual reality. Never mind Koopa; you're the only King of this world".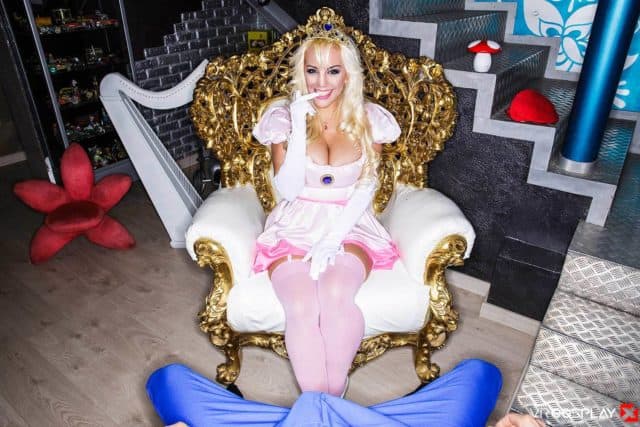 Blondie Fesser as Princess Peach in Super Mario CUM: A XXX Parody – VR Cosplay X
Following her sensational scene as Princess Peach, Blondie was invited back to VR Cosplay X in March 2018 to shoot an intensely alluring Jessica Rabbit: A XXX Parody experience. As the scene description hotly hints;
"Jessica Rabbit has come to you because you're the best private dick in town. She's got a sneaking suspicion that Roger is cheating on her and she needs you to confirm that. What kind of short-sighted rabbit asshole would cheat on such a babe? Jessica can't pay you in cash without risking her covert investigation being exposed, so she suggests another form of payment. You usually only accept cash, PayPal, or MasterCard, but in this case, you'll accept pussy. When her plump lips are wrapped around your cock, all you can think is "Oh, Roger, how the tables have turned." If Jessica thought you were a good dick before, imagine what she thinks about you now".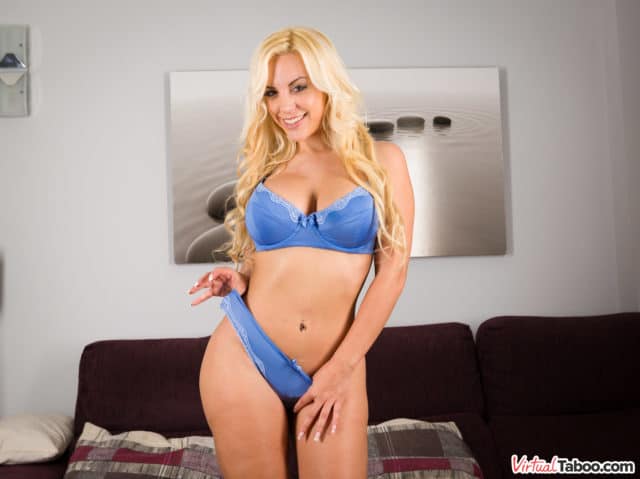 Blondie Fesser in CAUTION: Curves Ahead! – Virtual Taboo
If you're a fan of Blondie's raunchier content then you'll also love exploring her kinky VR scenes for Virtual Taboo. Die-hard Blondie Fesser fans have to experience her sultry Blondie Fesser's JOI and Blondie Fesser Strips For You! one-on-one sessions which were first released via Virtual Taboo in February 2016. Blondie has since shared a seductive Blondie Fesser's Solo Fun VR striptease in July 2016 and a raunchy CAUTION: Curves Ahead! scene in November 2016. Captivating kinkster Blondie Fesser has even treated fans to a titillating Lesbian Taboo 2 voyeur experience with Kitana Lure in April 2016 and a thrilling Tainted Love VR three-way with Carly Rae Summers in November 2016. It doesn't get much better than that!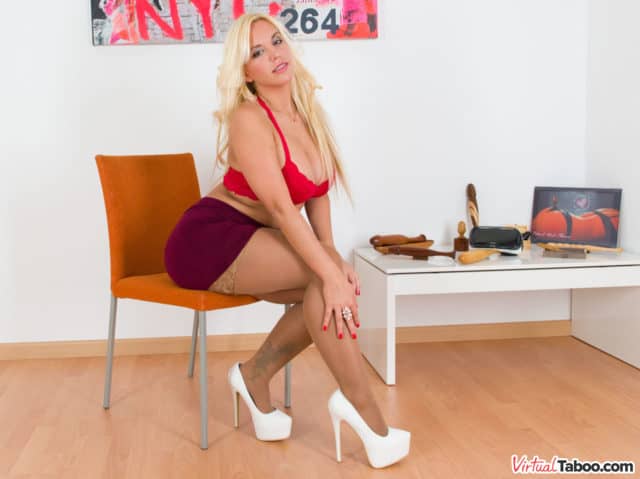 Blondie Fesser's JOI – Virtual Taboo
Blondie Fesser : Recent Releases & Cam Shows
In recent years Blondie has starred in a steady stream of Airerose Entertainment releases. For instance, Blondie filmed a sultry solo scene for the Airerose Entertainment release Alone Time #5 (2017). Also starring Alba de Silva, Anastasia Lux, Nekane Sweet, Misha Cross, Katrina Moreno, Lucia, Frida Sante, Victoria Summers and Penelope Cum, Alone Time #5 was ardently endorsed by Pure Play Media's Vice President, Adam H, who conveyed in a May 2017 AVN press release how;
"These stars absolutely love their fans. And they're always performing with other stars—but what happens when they're alone? This film is shot beautifully, and the girls are simply gorgeous as they play with themselves. Fans will definitely not be disappointed in these 'just for you' scenes".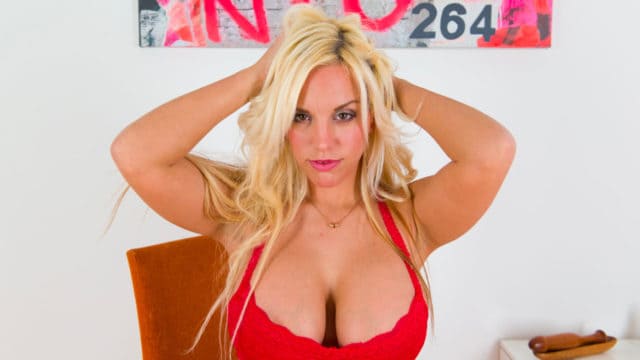 Blondie Fesser's Solo Fun – Virtual Taboo
Blondie was subsequently featured in the Airerose Entertainment sequel release Big Ass Crush #2 (2017) alongside fellow bubble butt beauties Isabella DeSantos, Lucia, Alexa Tomas, Misha Cross, Nekane Sweet and Apolonia Lapiedra. Blondie and her fellow cast members received high praise from Pure Play's Vice President, Adam H, who highlighted in a June 2017 AVN press release how;
"These stars are so friendly and welcoming! They love to show off their amazing curves, and they love pleasing and being pleased by their partners. This film is shot beautifully, and the girls are simply gorgeous".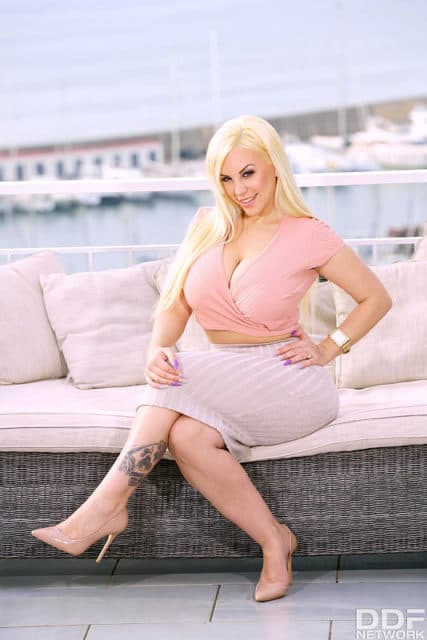 Blondie Fesser in Busty Blondie Blows Dick – DDF Network
Big Ass Crush #2 was also highly recommended by Inked Angels reviewer Pornvert and AVN reviewer Iris Blocks who wrote in their respective reviews that;
"Big Ass Crush…gives four of the nicest asses in porn a workout in two anal and two vaginal sex scenes. Big butt lovers, this is a must-have…4 1/2 Hard Ons Out of 5" [Inked Angels reviewer Pornvert].
"It's time to make room for a new subsection in your all-sex department…This title features four top stars and offers a well-balanced mix of tease, talk and hardcore fucking" [AVN reviewer Iris Blocks].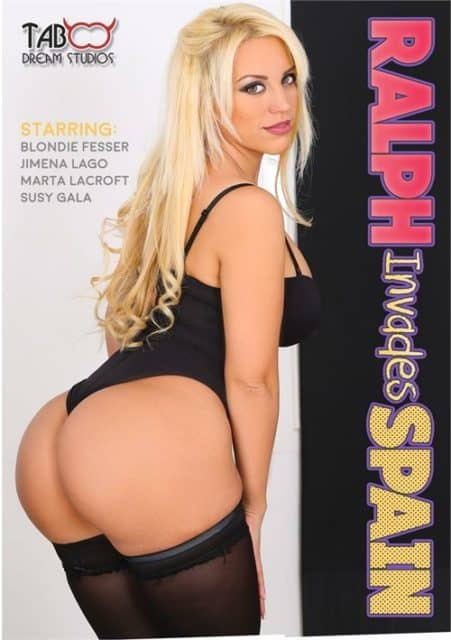 Blondie Fesser on the cover of Ralph Invades Spain – Taboo Dream Studios
Most recently, Blondie has shared a thrilling three-way with Lucia in the Airerose Entertainment production Threeways (2019). Featuring Valentina Nappi, Anya Olsen, Eliza Jane and Abella Danger, Threeways was highly recommended by Pulse's Vice President of Sales, Hyland C, who stated in a February 2019 AVN press release that;
"These six performers are stone-cold foxes; seeing them play with each other is a guaranteed good time for any guy who wants to join in. Fans of threesome releases are going to be thrilled with these pairings—they're going to wish they were the guy in every hot, sexy scene".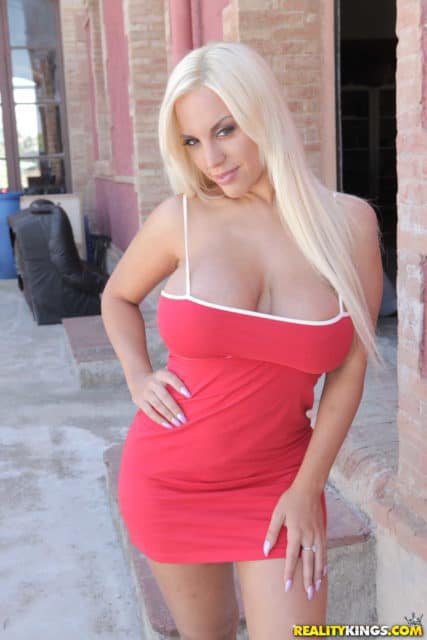 Blondie Fesser in Fucking Euro MILF – Reality Kings
When she isn't starring in these popular porn productions, Blondie enjoys interacting with her fans via social media and hosting lusty live cam shows via Camsoda (as 'BlondieFesser') and Chaturbate (as 'blondiefesser'). Blondie has always been incredibly grateful to her fans for their ongoing support and praise. As Blondie sincerely stated in her April 2014 Boobs Realm interview;
"Thank you for being there! For supporting me and saying beautiful things to me!".
Keen to stay connected with your busty blonde bombshell Blondie Fesser? Then use the links provided below to discover all of hottest Argentinian pornstar Blondie Fesser's hottest sex scenes, exclusive web content and upcoming live cam shows!
Blondie Fesser – Social Networks
Twitter : @blondie_oficial
Camsoda : BlondieFesser
Chaturbate : blondiefesser
Virtual Taboo : Blondie Fesser VR Scenes
BaDoink VR : Blondie Fesser VR Scenes
Brazzers : Blondie Fesser at Brazzers
Evil Angel : Blondie Fesser at Evil Angel
Reality Kings : Blondie Fesser at Reality Kings
Spizoo : Blondie Fesser at Spizoo
Team Skeet : Blondie Fesser at Team Skeet
VR Cosplay X : Blondie Fesser at VR Cosplay X
Babepedia : Blondie at Babepedia
The Nude : Blondie at The Nude