Brandi Mae
Official Website : BrandiMae.com   Kink : Brandi's BDSM Content   Brandi Mae Twitter :  sexybrandimae   Adult Empire : Brandi's Movies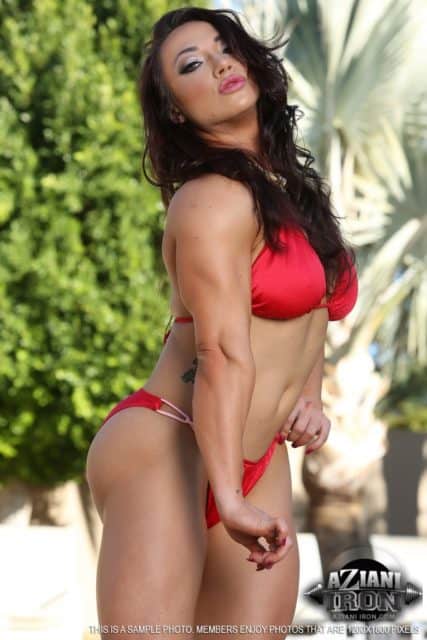 Brandi Mae in Aziani's Iron Girls #5 (2017) – Aziani Iron
Brandi Mae – Personal Info
Name : Brandi Mae
Alias: Brandi Mae Akers
Date of Birth: April 23rd
Hometown : Dallas, Texas (US)
Measurements : 36D – 25 – 38
Height : 5'1 (1.55m)
Hair Colour : Brunette
Eye Colour : Green
Tattoos : 'Brandi' design on the left side of her chest
Piercings : Nipples
Shoe Size : Women's 7.5 (US)
Years Active : 2011 – present
Number of Movies : 20+
Love muscular women who exude a raw femininity and seductive charm? Then behold Brandi Mae! Born and raised in Dallas, Texas, Lone Star State girl Brandi Mae Akers has amassed a huge fan following within the adult entertainment industry as a muscular yet eminently feminine adult film star.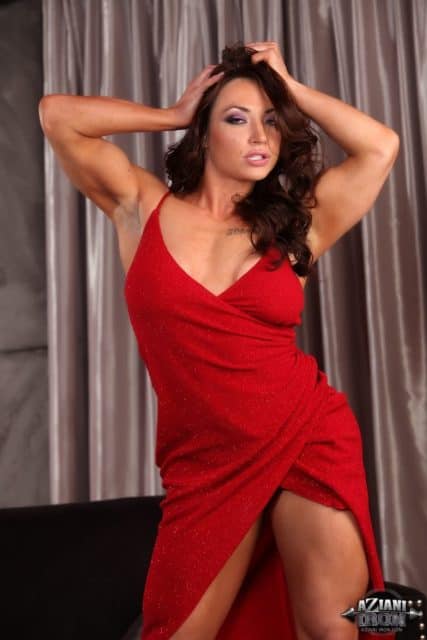 Brandi Mae – Aziani's Iron Girls – Aziani Iron
Brandi Mae has always been a keen athlete ever since childhood but it was during her twenties that she discovered her potential as a fitness model. Inspired by her boyfriend at the time, who was a natural bodybuilder, Brandi Mae began to hone her weightlifting skills, learn the art of posing and soon started to enter bodybuilding competitions in 2004. As Brandi Mae explained during an AMG Lite interview;
"I have been athletic since I was 7 or so. The very first sport I played was softball for a team called the STARBURSTS with the colours of bright royal blue and hot pink..it was honestly very funny… I started weight training many years ago as well when I was still in my teens; I always liked to play with the boys, lol….An ex-boyfriend of mine actually was a Natural Bodybuilder and encouraged me to compete; what stimulated my real ambition was when he and I broke up and he said I couldn't do anything without him, YEAH RIGHT, lol…I love feeling and overall just being healthy; our society is structured to be unhealthy and to perpetuate obesity so the "eat clean and work out regularly" works great for me".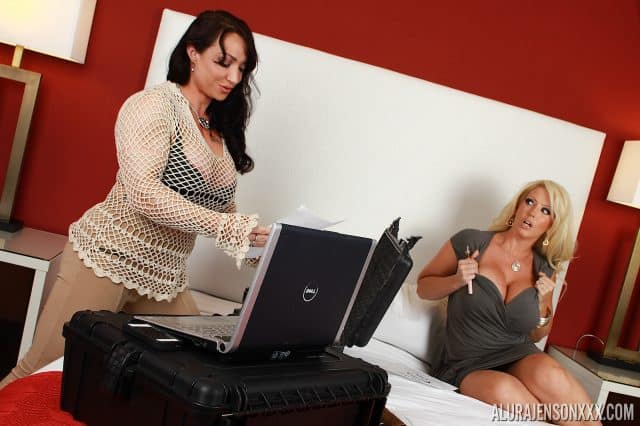 Brandi Mae and Alura Jenson at AluraJensonXXX.com
During this interview Brandi Mae also listed her personal bests for weightlifting exercises and her current muscle measurements;
Squat – 250lbs/ 5 Reps
Leg Press – 500 + lbs / 2-5 Reps
One Arm Curl – 45lbs / 2-5 Reps
Biceps – 14inches
Thighs – 20inches…
I honestly don't feel any of these competitions were a big success as I have always been so thick and muscular so that motivated me to transition to bodybuilding. I feel in bodybuilding I will have much more success and hopefully accomplish what I aspire to accomplish long term".
Brandi Mae first began competing in the light to middle weight section of the NPC Bodybuilding Championships in 2004 and has stuck with this organisation throughout the years due to the fact that;
"It was the original organization I was introduced to when I first began competing; just stuck with it!".
Aspiring to emulate her bodybuilding idols Lenda Murray, Denise Masino and Collette Nelson, Brandi Mae's competition rankings to date are listed as follows:
2004: NPC Heart of Texas Championships — 7th place
2005: Ronnie Coleman Classic — 5th place
2006: NPC Europa Championships — 4th place
2007: NPC Lone Star Classic — 2nd place
2009: NPC Excalibur Championships — Bodybuilding Debut
2010: NPC USA Championships — 12th place
When she was asked why she continues competing despite her successful adult film career,  Brandi Mae has enthused;
"Well certainly the appearance of the physique is incredible but I am competitive in nature so winning first place feels great!".
Brandi Mae : Adult Film Career
Although she has considered becoming a professional kick boxer and IFBB Pro bodybuilder, in 2011 Brandi Mae discovered the adult entertainment industry and soon established a thriving career as a muscular porn star.
During her first year working within the adult entertainment industry, Brandi Mae was a highly sought after performer and she appeared in many successful DVD series and web clips for Muscle Elegance, JuicySoloChicks.com, Venus Girls, Female Muscle Network and Kinky Exploits. Some of these fan-favourite productions included; Kinky Clits 3: When Too Much Is Not Enough, Muscle Kink II, Home All Alone 7, Monster Mommies 5, Muscle Foxes, Monster Mommies Vol. 5 and Brandi Mae Is A…Muscled Monster Mommy & Bitch.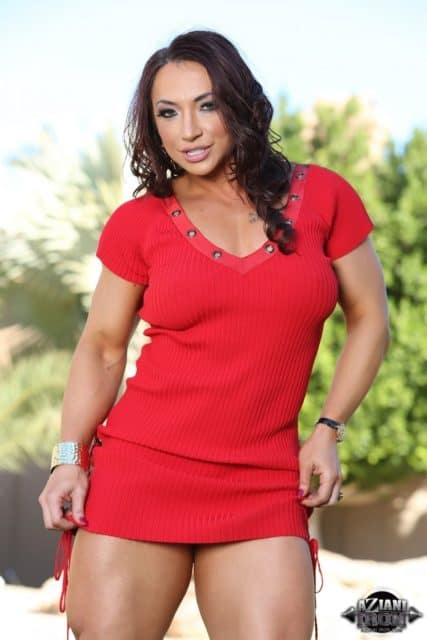 Brandi Mae in Aziani's Iron Girls #5 (2017) – Aziani Iron
Throughout her prolific porn career Brandi Mae has been featured in a broad spectrum of solo, boy/girl, lesbian, three-way, soft-core, hardcore and TS sex scenes for most of the major production companies and distributors within the adult entertainment industry; from seasoned institutions such as Desperate Pleasures and Pornstar Platinum to rising adult film companies such as Trans500 Studios and Pure-XXX. If you are a fan of Brandi Mae the brunette bodybuilding beauty then we strongly recommend you check out Brawn Bewitchment which Brandi produced for her solo website BrandiMae.com in 2012, as well as Trans at Play: She Male Exclusive 3 and Ms. Lux Makes A Deal both of which featured Brandi in saucy sex scenes with TS superstar Venus Lux.
Additional fan-favorite shoots from Brandi Mae's extensive adult film portfolio include; The Muscle Bitch, Blackmailing Black Widows, Overpowered By Muscle, Scissorhold Submission, Hump My Legs, Muscle Bitch, Sybian Sluts 2, Couples Seek Third 4 and FBB Goddess Brandi Mae Squeezes the Cum Out. Brandi Mae's open minded and strong muscular physique has earned her a cult following of adoring fans as a femdom mistress.
Dominatrix Brandi Mae,"The Muscle Queen" or however she chooses to allow you to address her – Mistress Brandi Mae is adored by submissive men all over the globe. Muscle Goddess Brandi Mae has shot femdom, BDSM and alternative scenes for most major kinkster studios; including Mean Dungeon, Kink.com and Mean Bitches among others.
Most of Brandi Mae's boy/girl sex scenes have seen her paired with fellow bodybuilder Quincy Taylor aka "Big King QT". However, Brandi Mae has always defined herself as "pansexual" and as such has been happy to film raunchy sex scenes with transsexual co-stars including Tiffany Starr and Venus Lux.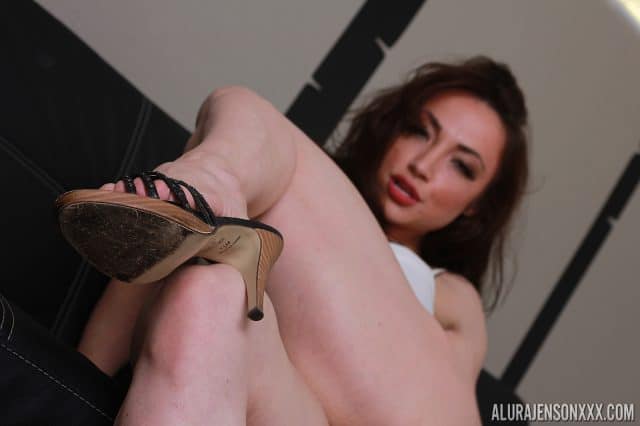 Brandi Mae at AluraJensonXXX.com
Brandi Mae : Bodybuilding Regime And Charitable Campaigns
Never one to neglect her physical training, Brandi Mae continues to combine her adult film projects with training six to seven days a week during her on-season and five days a week during her off-season. In addition to her bodybuilding regime Brandi Mae also loves Muay Thai training, Yoga and Thai Chi meditation which have taught her poise, balance, relaxation and discipline. When asked by AMG Lite about her favorite and least favorite exercises Brandi Mae responded;
"I do not like to do walking lunges but I do make myself do them anyway; my favorite would be squatting or leg press, my lower body is thick and strong so I love going heavy…I enjoy the way that I look while I am training for a show; I start off loving the training but come show time..I am ready for a break…Off season I love EATING and fighting Muay Thai".
Brandi Mae's fitness regime was also discussed in a June 2015 article that was posted via The Daily Beast titled "How To Get Fit Like A Porn Star: Looking Good Naked Ain't Easy". Written by Aurora Snow, this article highlighted the perseverance, determination and strong work ethic that porn stars must possess in order to maintain their stunning looks, on-screen stamina and the flexibility needed to carry out intricate sexual positions. As the article stated;
"Being a porn star takes more than good looks; it requires an athletic performance and the stamina to match. It takes a great deal of strength and muscular endurance to achieve some of those awkward-yet-camera-friendly positions. Holding certain positions for camera in the midst of a sex scene made me thankful I'd gotten into fitness".
As well as speaking with fellow porn stars Yurizan Beltran, Lana Violet, Foxxy, Misty Stone and Riley Steele, writer Aurora Snow also paid tribute to Brandi Mae's impressive physique, stating that;
"While many porn stars can dish out savvy fitness tips, few are as qualified as BrandiMae, also well-known for her work as a female body builder. Featured on HBO's Real Sports and the Katie Couric show for her bodybuilding expertise, Brandi Mae has broken through the few barriers that separate fitness from the world of adult entertainment…As a certified personal trainer and nutritionist, BrandiMae acknowledges that getting into or staying in shape is easier said than done. Her favourite type of client to train is one that is serious about their fitness goals and prepared to do whatever it takes to achieve them".
As Brandi Mae herself stated within this article;
"There aren't huge careers and financial rewards for a lot of female competitors, so the adult work actually keeps me personally motivated to train harder and keep that pizza out of my mouth…There is something about the strength and power encompassed in a female bodybuilder that tends to drive fans crazy—in a good way. It's like a hidden pleasure or fantasy to be sensually overpowered by a domineering woman who knows how to take control…
A fitness lifestyle is something that has to be self-motivated. It can't be something a trainer has to twist your arm to achieve…It's frustrating as a personal trainer when a client lies about their eating habits then wants to complain that they aren't seeing any changes in weight or fat loss…
It's really about mastering self-discipline…Eating donuts and fast food isn't going to help you accomplish your physical agenda. However, going balls-to-the-wall crazy with a restrictive diet isn't the most realistic, either".
Keen to pass these athletic insights onto younger generations, Brandi Mae founded a non-profit organization for At Risk Children which supports low income families to participate in healthy exercise regimes. As Brandi Mae explained during her AMG Lite interview, the goal of her non-profit organisation is;
"to eliminate obesity throughout schools and to assist with low income families whose children wish to participate in sports and or activities but are not able to do so because of lack of funds".
When she isn't training or inspiring others, Brandi Mae also enjoys participating in a wide range of hobbies including;
"Drawing or cartooning, reading, hiking, fighting, of course spending time with the family, volunteering, pole dancing, watching pointless VHI reality T.V. shows, MAKING MONEY, I also just started research and study on the philosophy of Taoism (people don't realize it is more of a philosophy versus religion)…I also used to play the Saxophone; I aspire to start again once I am finished with my degree…My competition goals are to definitely turn PRO in the IFBB for bodybuilding…I also aspire to become a professional female kick boxer".
As matters stand, Brandi Mae continues to develop her personal pornographic website and also performs public and private chat sessions. Having recently obtained her Bachelor's degree in business, Brandi Mae continues to expand her extensive adult film portfolio whilst also forging a successful career as a fitness model, bodybuilding competitor and personal trainer. Is there anything this bodybuilding beauty can't do?!
If you have been inspired by Brandi Mae's porn exploits, her alluring presence when she takes control in her femdom scenes and her bodybuilding prowess then you'll be happy to hear that she hosts live web camming sessions for her fans. Not only does Brandi Mae shoot live cam sessions for her fans, Brandi Mae also runs one-on-one personal training sessions if you are serious about committing to a healthier, more muscular lifestyle! Whether you want to watch, chat or train with Brandi Mae, all you have to do is click on her official links provided below to get started!
Brandi Mae – Social Networks
Official Website : BrandiMae.com
Twitter :  sexybrandimae
Instagram : buffbrandimae
Kink Profile : Brandi Mae BDSM, Femdom & Fetish Content
Adult Empire : Brandi Mae Movies
Erotic Muscle Videos : Brandi Mae at Erotic Muscle Videos
The Nude : Brandi at Nude.EU
Babepedia : Brandi at Babepedia