Bunny Colby
Bunny Colby Twitter : @bunnycolby   Kink : Bunny Colby BDSM Scenes   Naughty America : Bunny Colby VR Scenes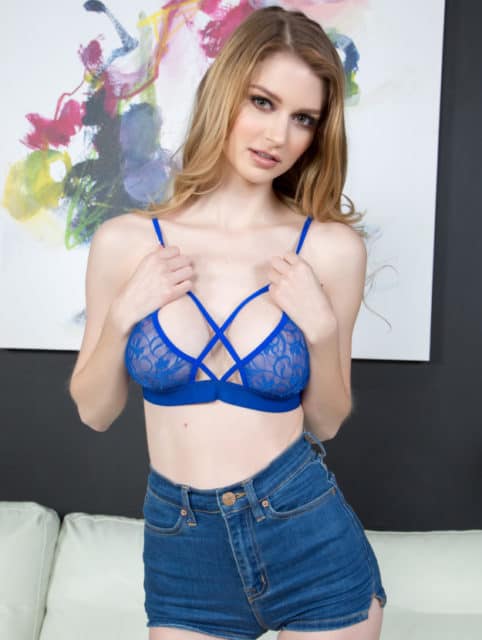 Click here to watch Bunny Colby in "Welcome Voluptuous Nadya Live!" at Cherry Pimps/Wild On Cam
Bunny Colby – Personal Info
Name : Bunny Colby
Alias : Nadya Nabakova
Date of Birth : December 1st
Star Sign : Sagittarius
Hometown : Austin, Texas (US)
Measurements : 36F – 24 – 36
Height : 5'7 (1.70m)
Hair Colour : Blonde
Eye Colour : Green
Tattoos : A bluebird on her ankle
Piercings : Tongue and both nipples
Shoe Size : Women's 6 (US)
Years Active : 2017 – present
Number of Scenes : 100+
Bunny Colby (formerly Nadya Nabakova) is a stunning adult film star, cam girl and glamour model who first started performing in porn in late 2017. During this time Bunny Colby has attracted a keen fan following due to her sizzling scenes in several Girlsway, Team Skeet, Vixen and Naughty America porn productions.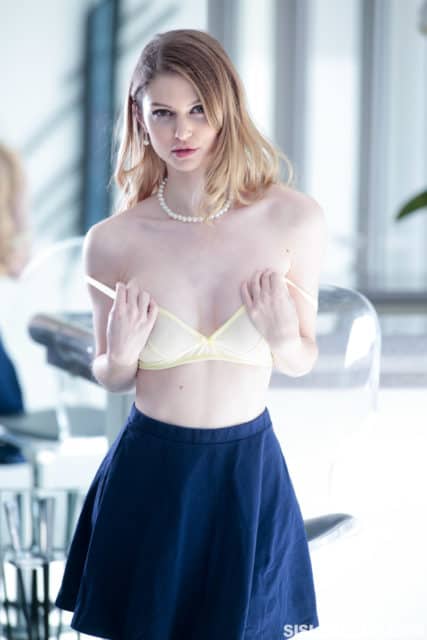 Click here to watch Bunny Colby in "Giving Stepbro A Boner" at Sis Loves Me/Team Skeet
Wondering where it all began? Born and raised in Pennsylvania, Bunny Colby has also lived in Massachusetts and Austin, Texas, before moving to Portland, Oregon. A self-described 'nerdy girl' in high school, Bunny Colby divulged during her March 2018 AVN: Fresh Faces interview that;
"I'm sure some people from high school would be like, 'Oh my god, that nerdy girl went and did porn.' I'm not really worried about anyone's opinion…I would probably call myself a slut but I don't know how much of a slut I actually was or am…
I don't have a lot of hang-ups about sex, so I feel like for some people, yeah you'd be a slut or a whore…I've had sex with quite a few people and I try to be safe and conscious about everything I'm doing. But yeah I guess I am a bit of a slut. I'm just an open person and if I'm on a date with someone or hanging out with someone and I feel like that's what I want to do and it's what feels natural right then, I'll just do it. I don't feel any pressure not to just because of some societal thing".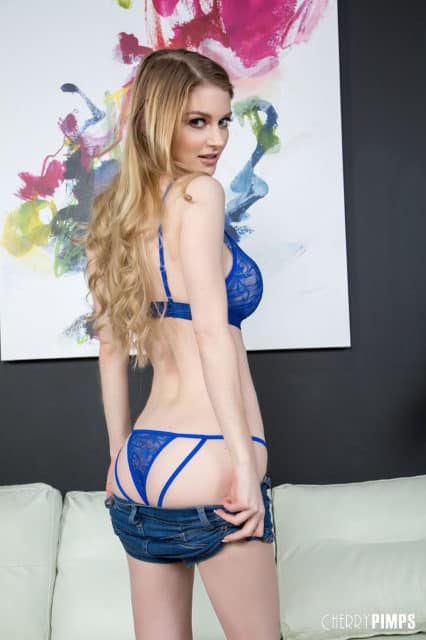 Click here to watch Bunny Colby in "Welcome Voluptuous Nadya Live!" at Cherry Pimps/Wild On Cam
Whilst living in Portland, Oregon, Bunny Colby used to work for the Department of Human Services. Unfulfilled with her 9 to 5 job, Bunny Colby started working as a webcam model in April 2017 which opened her eyes to the possibility of performing in porn. (You'll be happy to hear that Bunny Colby continues to host lusty live cam shows via MyFreeCams under the screen name 'bunnycolby'). Talking about the progression of her adult film career in her March 2018 AVN: Fresh Faces interview, Bunny Colby explained how;
"I worked for the Department of Human Services…The office that I worked at serves the elderly and people with disabilities and we helped them get food stamps and medical insurance coverage…Everyone that I worked with just really hated their job and didn't really care about the mission of what we were doing…It was like everyone's so mean and upset and doesn't care about these people that we're helping, and you just become really numb to everything you're seeing, too…
[Camming] It's completely contrary to the preconception I would have—that oh, there's all these creepy pervs on there…They're all like really nice people. And I can just get on and talk about stupid stuff…So I thought OK, maybe it's going to be like that. I'll try porn and see if I can be slutty and get paid for it and meet some other interesting people who like the same things. So far it's turned out to be correct. It's a lot of really great, slutty people".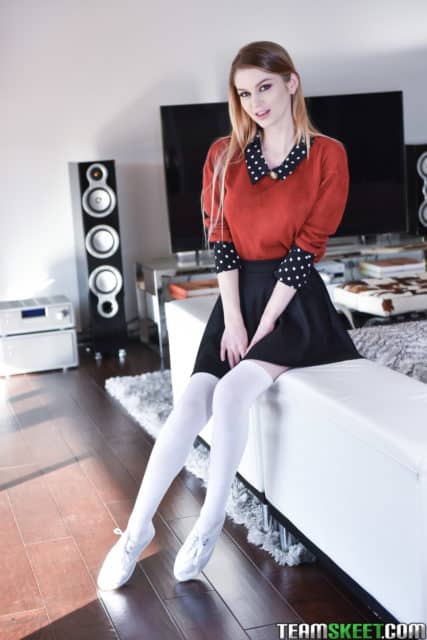 Click here to watch Bunny Colby in "Titty Attack" at Team Skeet
Bunny Colby : Adult Film Career
Bunny Colby first started working in the adult film industry in September 2017 and for the first year of her porn career she performed under the stage name 'Nadya Nabakova'. This sultry stage name was inspired by her Eastern European look (you can thank her Polish, Lithuanian and Italian heritage for that!). As Bunny Colby explained in her March 2018 AVN : Fresh Faces interview;
"Everyone thinks I'm very Russian all the time…I figured I would lean into it because everyone always thinks I am, so might as well".
Bunny Colby's first ever sex scene was a kinky Shoe Horny shoot with Ryan McLane that was released via Babes.com in November 2017. Talking about shooting her porn debut in her March 2018 AVN: Fresh Faces interview, Bunny Colby revealed that;
"I don't watch porn so I didn't know who the performer was going to be. I didn't know anything about the website or the company…So we get into the whole thing and everyone was really nice and really professional. I told everyone, 'OK, this is my first scene just so you know. I just want to put it out there in case it seems like I'm fucking up. Just so you know I'm not terrible, I'm just new'…It was my first foot job ever so that was weird. I was just like, 'How does this work?' But I made it work".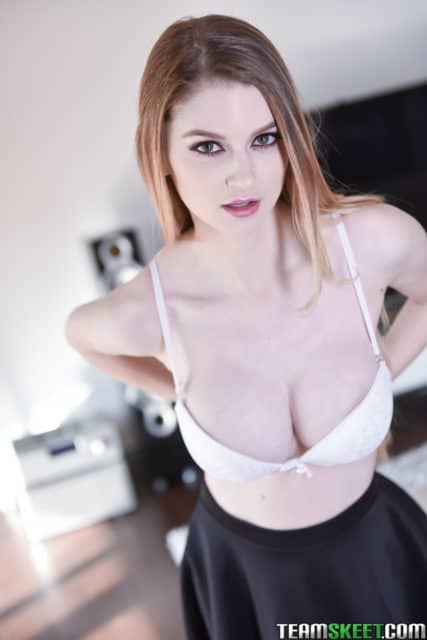 Click here to watch Bunny Colby in "Titty Attack" at Team Skeet
During this time Bunny Colby also filmed a steamy One Night Stand Sex Tape scene with Xander Corvus which was directed by Lorenzo Sky and released via Greg Lansky's critically acclaimed Vixen.com in December 2017. Bunny Colby enjoyed shooting this sultry scene and divulged during her March 2018 AVN: Fresh Faces interview that;
"I really loved working with Vixen; it's just a whole crazy, professional, insanely polished production…It was with [director Lorenzo Sky] and he was great. I love his personality. He knows exactly what he wants and I appreciate that".
Interested in checking out some of Bunny Colby's hottest sex scenes? Then you'll love viewing her lusty Welcome Voluptuous Nadya! Live session with Jake Adams that was first broadcast via Cherry Pimps' Wild On Cam web series in December 2017, her sensual Five Star Delivery scene with Alex Davis which was uploaded via KellyMadison.com in January 2018, her raunchy The Sluts In The Hall group shoot with Alyce Anderson, Jade Kush and Alex Davis that was promoted via Dare Dorm in February 2018 and her sizzling My Friend's Hot Girl scene with Dylan Snow that was released via Naughty America in March 2018.
Fans of Bunny Colby will also want to watch her immersive My Girlfriend: Nadya Nabakova VR experience that was released via Naughty America in March 2018, her kinky golf-themed shoot for Bang!.com in April 2018 and her raunchy Whipped Ass femdom scene with Chanel Preston which was unveiled via Kink.com in May 2018. Not to be missed!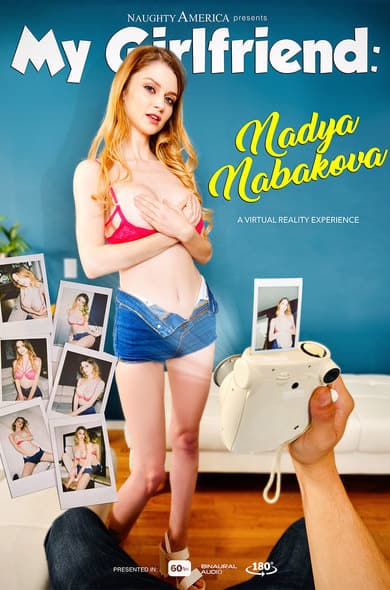 Click here to experience "My Girlfriend: Nadya Nabakova: A Virtual Reality Experience" with Bunny Colby at Naughty America VR
During this time Bunny Colby started to shoot a wide range of saucy sex scenes for many of Team Skeet's most popular web channels. Our top picks? They'd have to be Bunny Colby's sizzling Giving Stepbro A Boner POV shoot for Sis Loves Me in March 2018, her raunchy Shoplyfter role-play with Chad White in June 2018, her titillating Daughter Swap group shoot with Romeo Price, Raven Reign and Tommy Gunn in May 2018 and her sensational Titty Attack scene with Tyler Nixon in April 2018. Must see sex scenes for Bunny Colby fans!
A landmark moment in Bunny Colby's adult film career occurred in November 2018 when she officially announced that she had changed her porn star stage name from 'Nadya Nabakova' to 'Bunny Colby'. Bunny Colby has also become a self-booking performer and conveyed in a November 2018 AVN press release how;
"The end of 2018 and 2019 are all about transformation for me—I've not just changed my stage name, but I am also making big plans to do some amazing projects and things I haven't done yet in the industry and beyond…I'm very excited about the future and can't wait to make some upcoming announcements".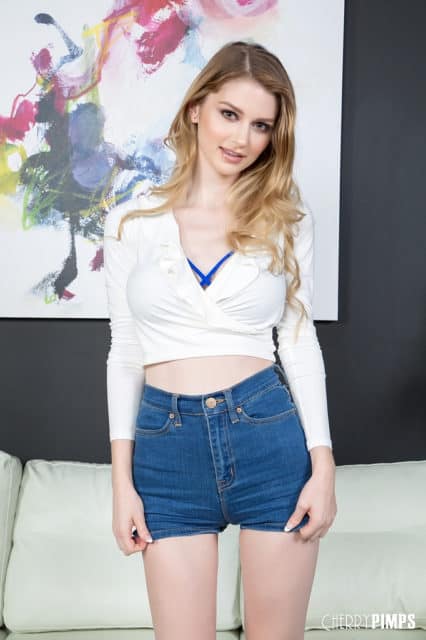 Click here to watch Bunny Colby in "Welcome Voluptuous Nadya Live!" at Cherry Pimps/Wild On Cam
When she isn't performing in porn, Bunny Colby is an ardent animal lover who helps out at local rescue centres. In fact, Bunny has extensive experience in fostering neonatal kittens and hospice animals as well as co-managing a cat foster program and processing dog adoptions. Talking about her charity work in her March 2018 AVN: Fresh Faces interview, Bunny Colby explained how;
"So if you're going to come in and adopt a dog—I only did dog adoptions for some reason—you'd have to talk to me and I would counsel you on owning a dog…I'm a quick learner. I picked it up…Then I started co-managing the cat foster program. We had people fostering cats and you have to make sure that they're taking care of them, getting them ready for adoption, doing all of their medical. And then after that I was offered a position on running a study on the feline leukaemia virus, which is what I do now…
So we have all this data for every animal that's ever been in our care…It's like they've been at this appointment and got this medical treatment and they were diagnosed with this or that. And then I compute all that, put it in a spreadsheet and we're tracking and seeing overall compared to like a healthy cat population that doesn't have this virus, what sort of care are they getting? What's it costing? And then we're going to be able to show this to other shelters and rescues and say, if you're trying to institute this kind of program this is the sort of expense you're looking at per cat compared to like a normal population. Just trying to show people it's still worth it to save these animals…
I think it's just I strongly believe you need to be part of making the world a better place even in a small, tiny little way and with animals it's really easy because they're eternally grateful no matter what…They're never going to be like, 'Oh, thanks a lot.' I've always loved animals. I've always had them growing up. We had tons of animals and I just feel like getting to improve their life even in this really abstract way is really important. It's really meaningful I think. You need to put positive energy into the world. You can't just be a negative, upset person all the time. This is my way of doing it. It's my good karma…I find it incredibly rewarding and it's also very selfish of me to get to do it. I just love doing it even though I'm just putting stuff in a spreadsheet. I can feel so good about what I'm doing and I know a lot of people can't say that".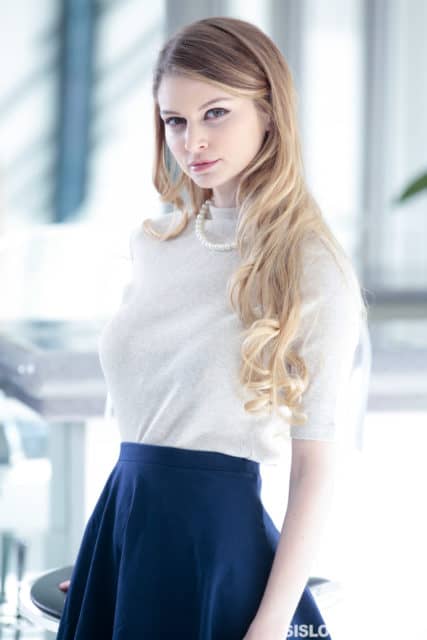 Click here to watch Bunny Colby in "Giving Stepbro A Boner" at Sis Loves Me/Team Skeet
Wondering what the future holds for rising starlet Bunny Colby? Well, you'll be happy to hear that Bunny Colby has no plans of retiring anytime soon! In fact, Bunny divulged during her March 2018 AVN: Fresh Faces interview that;
"I'm ready to be in it for the long haul, be a MILF in several years, hopefully…I'm excited to be in it as long as I can, as long as I'm happy with the sort of work that I'm getting. I definitely think that it's a great thing that I want to do for a while, but also monetarily…
The money that I can get from it I can use for other things. I can have more of an impact in animal rescue and do that sort of stuff. … If I can be doing this for a while then maybe when I'm done with porn in several years I'll retire and have my own little animal thing to do…But for now I really love doing this. I'm young and people will hopefully keep booking me. So I'm just trying to enjoy it while it lasts".   
Want to keep yourself updated on all of Bunny Colby's hottest sex scenes and upcoming projects? Then use the links provided below to stay in touch with your favorite blonde beauty Bunny Colby!
Bunny Colby – Social Networks
Twitter : @bunnycolby
Instagram : @bunnycolby
MyFreeCams : bunnycolby
Naughty America VR : Bunny Colby's VR Scenes
Babes : Bunny Colby at Babes
Bang! : Bunny Colby at Bang! Originals
Kink Profile : Bunny Colby's BDSM, Femdom & Fetish Scenes
Cherry Pimps : Bunny Colby at Cherry Pimps/Wild On Cam
Team Skeet : Bunny Colby at Team Skeet
 The Nude : Bunny (Nadya Nabakova) at The Nude
Babepedia : Bunny (Nadya Nabakova) at Babepedia