Crystal Malone
Crystal Malone Twitter : @CrystalM7597ts   Chaturbate : tscrystal10malone
VRB Trans : Crystal's VR Scenes   Grooby Girls : Crystal's Sex Scenes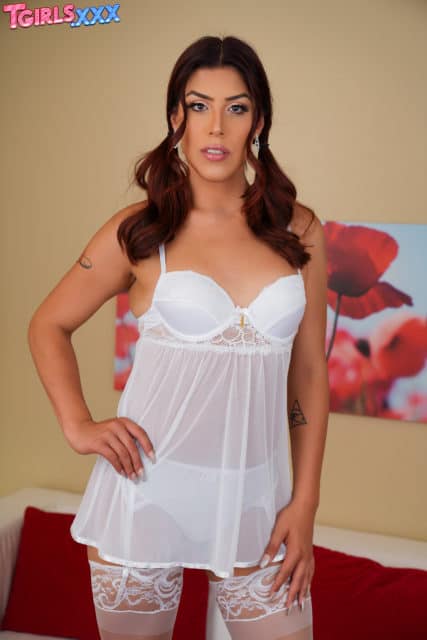 Cumshot Friday: Crystal M! – TGirls.XXX
Crystal Malone – Personal Info
Name : Crystal Malone
Date of Birth : April 12th
Star Sign : Aries
Measurements : 36C
Height : 6'2 (1.88m)
Hair Colour : Brunette
Eye Colour : Brown
Tattoos : A flame and infinity symbol on her upper right arm and a triangle design on the inside of her left forearm
Years Active : 2017 – present
Number of Scenes : 10+
Crystal Malone is a busty brunette beauty who first started performing in porn in the spring of 2017. A multi-talented pornstar, cam girl and glamour model, Crystal Malone continues to star in a wide range of Grooby and Gender X productions which have earned her a keen fan following as well as a notable "Best Boy/Girl Scene" nomination at the 2019 Transgender Erotica Awards. Watch this space!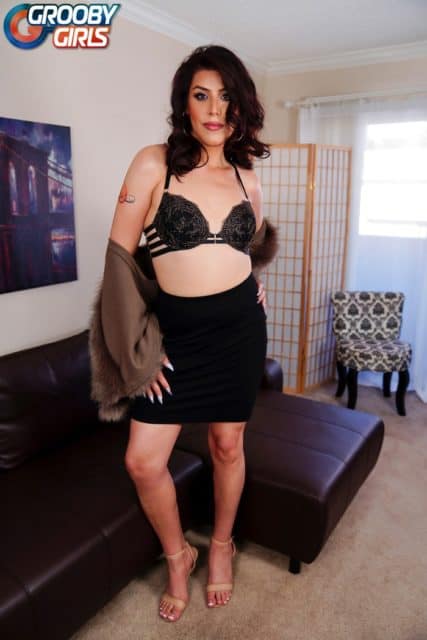 Beautiful Crystal M! – Grooby Girls
Crystal Malone : Adult Film Career
Crystal Malone made her adult film modelling debut in May 2017 when she filmed a saucy Beautiful Crystal Plays On The Couch! solo scene for the Grooby Network porn site TS Casting Couch. Crystal Malone's porn debut was directed by Buddy Wood who enthusiastically stated via Crystal Malone's official Grooby profile that;
"I met Crystal over the internet and she was very eager to get in front of my cameras and show me what she could do…so I got her in on the couch right away. A gorgeous face, a hot body and an insatiable sexual appetite…this girl was born for porn. She loves to moan and she loves the camera. I think this girl is gonna do very well".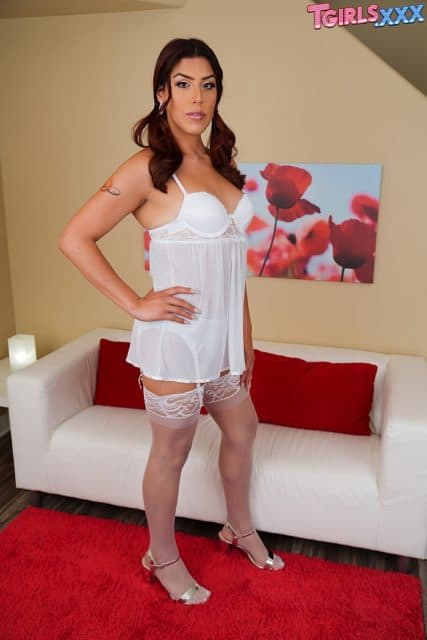 Cumshot Friday: Crystal M! – TGirls.XXX
Following her successful porn debut, Crystal Malone collaborated with Buddy Wood on some sizzling Crystal M Gets Naughty! and Crystal's Yummy Load! solo scenes which were unveiled via Grooby Girls in July 2017. As the descriptions hotly hint;
"Gorgeous Crystal M for the first time on Grooby Girls! This cutie was discovered by Buddy Wood in Los Angeles and she was introduced to the world two months ago when she made her debut on TS Casting Couch. Now, Buddy brings her back for her Grooby Girls debut and she looks gorgeous! She really enjoys being in front of the camera and she's eager to show off her curvy body and her beautiful natural boobs!…
Los Angeles beauty Crystal M returns for her second scene! Introduced to the world by Buddy Wood, this sexy girl made her Grooby Girls debut two weeks ago, now she's back for a follow-up solo scene! She looks gorgeous dressed in that sexy black dress! Watch her stripping down to show her sexy curvy body".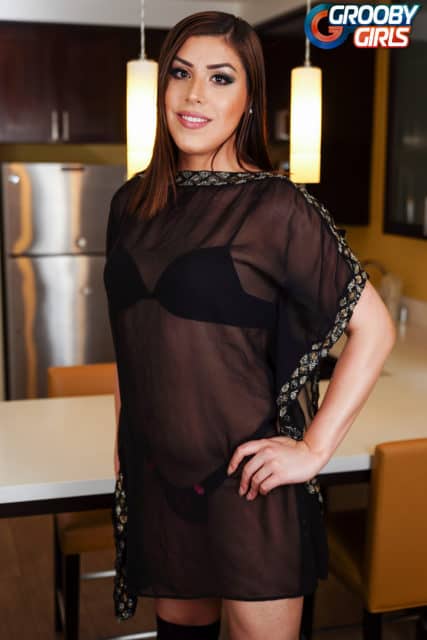 Cumshot Monday: Crystal M! – Grooby Girls
In addition to her ongoing collaborations with Buddy Wood, Crystal Malone started to work with award-winning director Radius Dark on some saucy solo scenes for the Grooby Network porn sites Grooby Girls and TGirls.XXX. Fans of Crystal Malone will love viewing her kinky Cumshot Monday: Crystal M! shoot in December 2017, her seductive Beautiful Crystal M! and Beautiful Crystal Cums For You! scenes in April 2018 as well as her steamy Cumshot Friday: Crystal M! shoot in July 2018. In particular, Crystal Malone's alluring Beautiful Crystal M! solo scene was highly recommended by adult film blogger Caramel Black who eagerly expressed in her April 2018 online review that;
"Her producer for this set is Radius Dark who also captures Crystal's beauty superbly. She suggests that while dressed in this outfit you could have sex with her on your office table. She says it's been so long since anyone has touched her 6'2″ body…She talks incredibly seductively through her striptease and gazes at you with a set of big brown eyes that could just make you melt…Crystal makes you wait so long before you get to see her with nothing but her tall sandals on. But it's so well worth the wait!".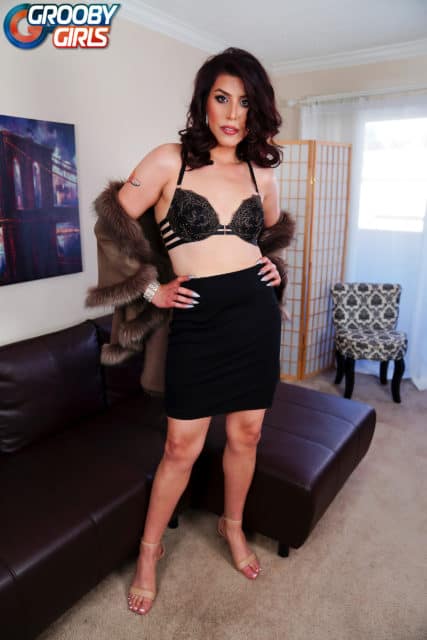 Beautiful Crystal M! – Grooby Girls
Hold on, it gets even better! In recent months Crystal Malone posed as the cover model for the second issue of the new Grooby Girls digital magazine. As Grooby Network CEO Steven Grooby explained in an October 2018 press release;
"The second issue of Grooby Girls includes a fun interview I did with our cover model, Crystal Malone…We've also included information and resources we found relevant to share with our performers. Although this magazine is mostly aimed towards our Grooby Girls, we've included lots of fun content for our fans as well".
Eager to explore even more of Crystal Malone's sizzling sex scenes? Then you'll love immersing yourself within Crystal Malone's intensely alluring UP-ASS virtual reality experience that was released via VRB Trans in June 2018 as well as watching her sensual scenes in Rodney Moore's Transational Fantasies #6 (2018) and her raunchy role-play with Dante Colle in Transsexual Hitchhikers (2018) for Gender X starring hot TS pornstars Khloe Kay, Jamie French and Valentina Mia. In fact, Crystal's sizzling scene with Dante Colle in Transsexual Hitchhikers was nominated for "Best Boy/Girl Scene" at the 2019 Transgender Erotica Awards. Not to be missed!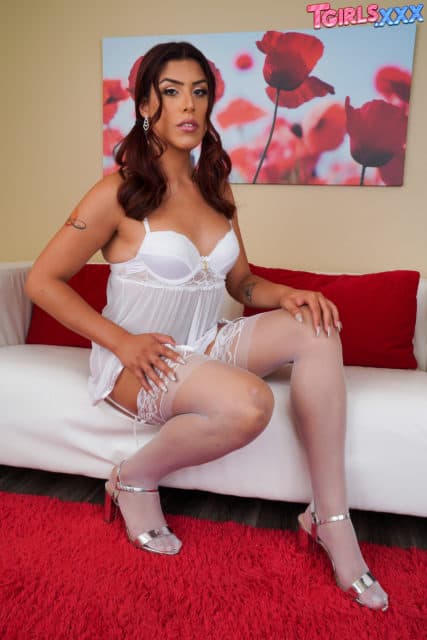 Cumshot Friday: Crystal M! – TGirls.XXX
When she isn't performing in these popular porn productions, Crystal Malone enjoys chatting with her fans via social media and hosting lusty live cam shows via Chaturbate under the screen name 'tscrystal10malone'. Want to stay connected with your favorite TS pornstar Crystal Malone? Then use the links provided below to catch up on all of Crystal Malone's hottest sex scenes and exclusive web content!
Crystal Malone – Social Networks
Twitter : @CrystalM7597ts
Chaturbate : tscrystal10malone
VRB Trans : Crystal's VR Scenes
Grooby Girls : Crystal at Grooby Girls
TGirls.XXX : Crystal at TGirls.XXX
TS Casting Couch : Crystal at TS Casting Couch
Adult Empire : Crystal's DVDs