Daisy Taylor
Daisy Taylor Twitter : @HereOnNeptune   Grooby Girls : Daisy's Sex Scenes
Pornhub : Daisy's Porn Scenes   Grooby VR : Daisy's VR Scenes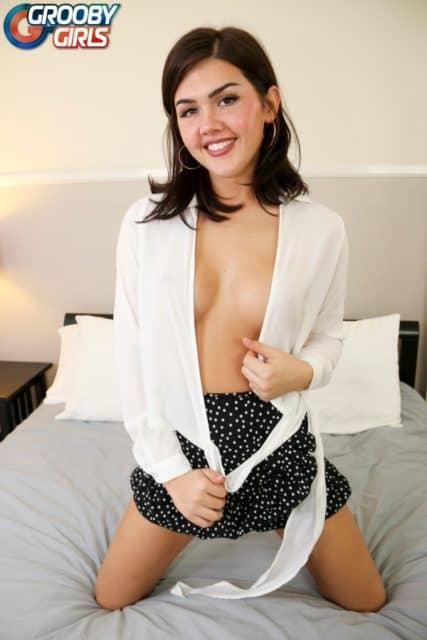 Cumshot Monday: Daisy Taylor! – Grooby Girls
Daisy Taylor – Personal Info
Name : Daisy Taylor
Date of Birth : May 28th
Star Sign : Gemini
Hair Colour : Brunette
Eye Colour : Brown
Tattoos : A flower on her upper right arm
Years Active : 2018 – present
Number of Scenes : 20+
Daisy Taylor is a stunning porn star, cam girl and model who took the adult film industry by storm when she made her debut in late 2018. In this short space of time, Daisy Taylor was named as Grooby Girls' "Model of the Month" for December 2018 and she won the coveted "Fan Choice Award" accolade at the 2019 Transgender Erotica Awards. Moreover, Daisy Taylor became the first ever Trans Angels contract star in 2019. Definitely one to watch out for in the near future!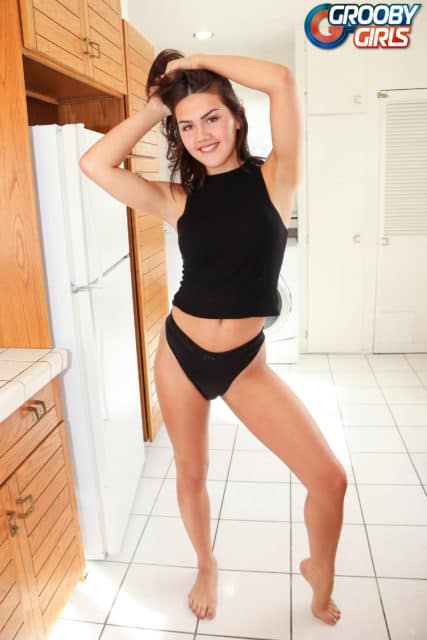 Stunning Daisy Taylor! – Grooby Girls
Daisy Taylor : Adult Film Career
Hailing from Los Angeles, California, Daisy Taylor first started working in the adult entertainment industry as an independent performer. Daisy Taylor quickly attracted an avid international fan following due the hardcore videos and sultry photo sets that she shoots with her partner as Here On Neptune. You can discover all of their compelling content via PornHub (Daisy Taylor) and ManyVids (HereOnNeptune). Daisy Taylor and her partner also host lusty live cam shows via Chaturbate (as 'HereOnNeptune') and they share exclusive videos and daily photo sets via their official Patreon account (HereOnNeptune). As their Patreon account states;
"Hey there! We're a couple making sexy videos of ourselves and sharing it all on the internet! We also make fools of ourselves on YouTube…Ultimately we're looking to do this full time, and need to upsize to a bigger space to film, shoot and stream! Again, Daisy and I are endlessly grateful for our Patrons; none of this would be possible without you. Thank you so much for helping us make our lives just a little less stressful, and a little more joyful".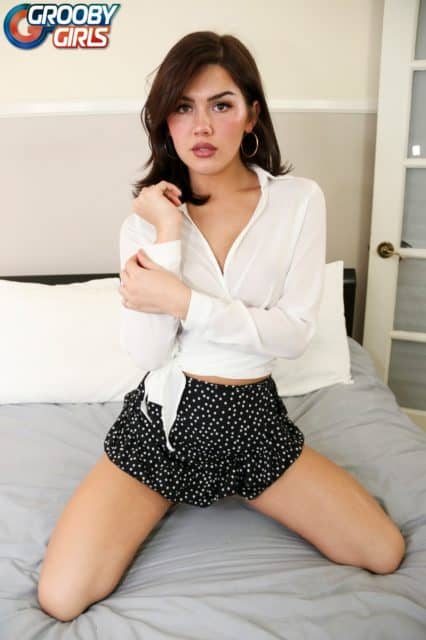 Cumshot Monday: Daisy Taylor! – Grooby Girls
Daisy Taylor made her official adult film industry debut in October 2018 when she filmed a sultry solo scene for the Grooby Network porn site TS-CastingCouch.com. Titled A Star is Born – Meet Daisy Taylor!, Daisy Taylor's porn debut was directed by Buddy Wood who enthusiastically states via Daisy's official TS Casting Couch profile that;
"A transsexual porn star is born!! Daisy Taylor is definitely something special and one of the hottest girls I've ever shot! And I've shot a lot! She has a bright future ahead of her if she wants! Pretty damn perfect from head to toe. Drop dead gorgeous face, curvy body with perky tits, an amazing ass that just begs to get eaten or fucked…and a surprisingly big cock. And on top of it all she's incredibly sweet, funny and charming. A great model! We'll be seeing much more of Daisy Taylor!!".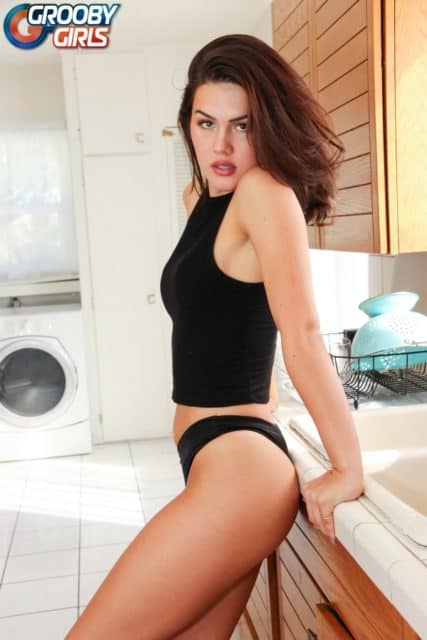 Stunning Daisy Taylor! – Grooby Girls
Daisy Taylor's TS Casting Couch debut also received a rave review from prominent porn critic Caramel Black who stated in her October 2018 TS Dreamland review that;
"Daisy has been having a lot of fun creating porn and her goal is to increase her fan base. That's true with most models, yet I never thought I'd see her in a major studio video because she clearly does so well with her own productions. But his is fantastic – the best way to increase her current stardom. So let's move on to how well Daisy performs with one of the most celebrated trans porn producers since its inception. If you're expecting to sense any nervous tension, you're most likely only going to feel sexual tension. Daisy masturbates with techniques I consider to be a bit rare. In other words, Daisy doesn't need sex toys to make a fap session exciting. I know I'm being vague, but I don't want to spoil this update's eroticism for you…
There are spectacular rear, aerial and full frontal views with Daisy jerking off with a look of tension on her face that reveal she's most likely going to cum by the end of this shoot. Then it happens! A copious amount of cum fires from the head of Daisy's big cock! If you get this TS-CastingCouch.com 16:39 minute HD video and 118 image hi-res photo set into your collection, they might make most of your others feel extremely jealous".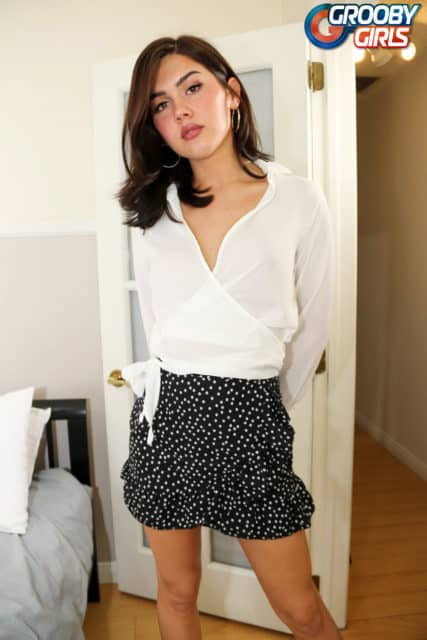 Cumshot Monday: Daisy Taylor! – Grooby Girls
Following her successful porn debut, Daisy Taylor filmed a sensational solo scene for the Grooby Network porn site Grooby Girls. Titled Stunning Daisy Taylor!, this sensual solo scene was directed once again by Buddy Wood and it was released via Grooby Girls with the tantalising description;
"Daisy Taylor is without a doubt one of the hottest new models this year…and quite honestly one of the hottest girls I've ever worked with! Absolutely stunning from head to toe! Drop dead gorgeous face, beautiful body with a killer ass and a really surprisingly big cock. She's pretty damn perfect! And on top of it all she's sweet and funny but knows how to work that camera like a true pro. When we shot for ts-castingcouch.com I proclaimed, 'A Star is Born' and I think her shoots here will only show how much that is true. Lots more of Daisy to come!".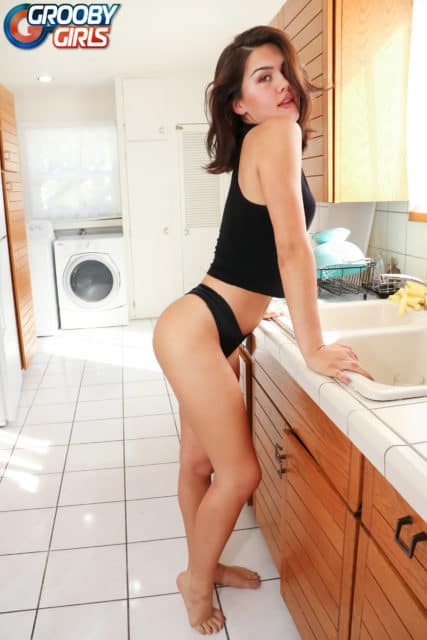 Stunning Daisy Taylor! – Grooby Girls
Daisy Taylor also received an ardent endorsement from Grooby representatives who eagerly expressed in a December 2018 Grooby News press release that;
"Every so often a model comes along who has that something special, the "wow factor," and Daisy Taylor definitely has that in spades and is going to skyrocket to fame as she makes her Grooby Girls debut with a set that is turning a lot of heads! It's easy to see why Daisy was named December's Grooby Girls Model of the Month with her drop-dead gorgeous looks featuring a lush mane of chestnut colored hair, an absolutely angelic face, a killer ass, voluptuous breasts, and a truly magnificent tgirl cock! After stripping off her skimpy outfit to revel her luscious body, Daisy gets busy stroking her meaty tgirl cock as she builds up to a satisfying orgasm and cums just for you! Daisy is a natural in front of the camera and knows all the right moves to show off every inch of her beautiful body, so stay tuned for a lot more from this sexy lady!".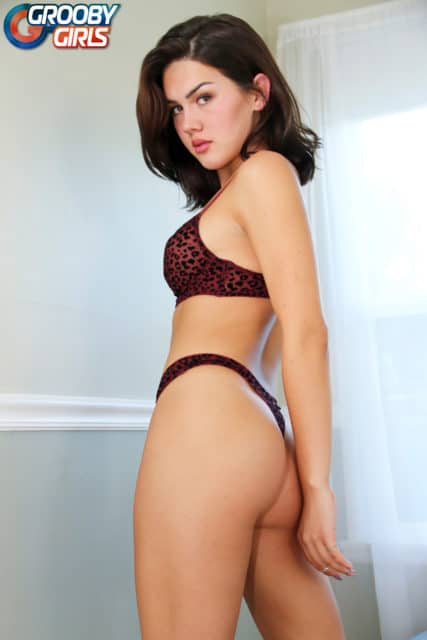 Daisy Taylor Cums For You! – Grooby Girls
In fact, Daisy Taylor's Grooby Girls debut proved so popular that she was named as Grooby Girls' "Model of the Month" for December 2018. What's more, Daisy Taylor's amazing solo debut was featured in the Grooby DVD Grooby Girls Model of the Month 2018 (2019) also starring sexy new TS pornstars Carrie Emberlyn, Ally Sparkles, Mia Bellamy, Melanie Brooks, Sylvie de Sade, Mohka Latte, Lexy Valentine, White Chinaa, Alethia Dreams, Gia Staxxx and Kendall Vuitton.
You'll be happy to hear that Daisy Taylor has continued to collaborate with Buddy Wood on several Grooby Girls solo shoots including a seductive Daisy Taylor Cums For You! scene in December 2018 and a steamy Cumshot Monday: Daisy Taylor! scene in January 2019. During this time Daisy Taylor also filmed a saucy Pumping Like Daddy solo scene which was released via Bob's TGirls in December 2018. Must see sex scenes for Daisy Taylor fans!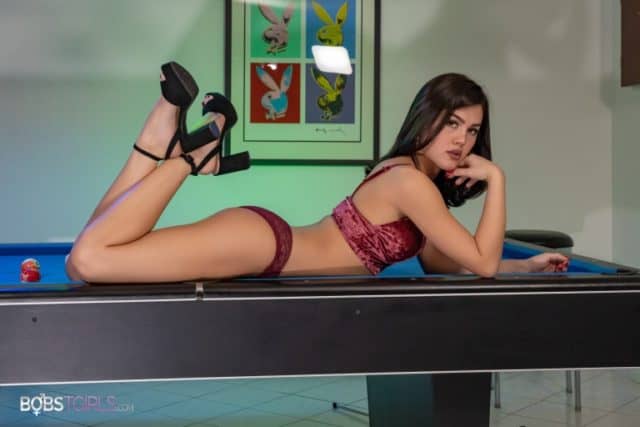 Daisy Taylor in Pumping Like Daddy – Bob's TGirls
Most recently, Daisy Taylor has treated her fans to an immersive Deep Inside Daisy Taylor virtual reality experience that was unveiled via Grooby VR in March 2019. It's like Daisy Taylor is in the room with you! Unsurprisingly, Deep Inside Daisy Taylor was highly recommended by Caramel Black who conveyed in her March 2019 TS Dreamland review how;
"I try not to use the term 'impossibly good looking' too often, but I can't help it in the case of Daisy Taylor. I find it truly puzzling that a human can come so close to physical perfection that I'm always mesmerized by the sight of her. There's no sense in getting jealous because she's a bright light, too. If she has any competition, they must be from another planet… Watch the Daisy Hardcore Trailer to experiment with the VR process. It pretty much sums up the action of this update on a lower-res scale. In full HD, GroobyVR updates are incredible experiences not to be missed. When first launched, I thought of Grooby's TGirls.XXX as an upscale version of GroobyGirls.com. These days, I see GroobyVR.com as queen of the brand. Their mission statement says it all: GroobyVR brings you closer to transsexual sex than ever before with the hottest tgirl models on the scene right now. Our immersive virtual reality videos put you right into the action, in full high-definition and spacial binaural sound for a truly stunning sexual experience. Join NOW".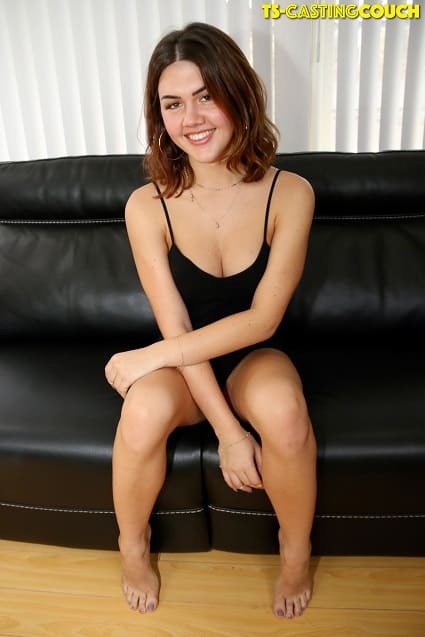 A Star Is Born: Meet Daisy Taylor! – TS Casting Couch
Starring in so many popular porn productions has earned Daisy Taylor some coveted industry accolades and notable award nominations including;
2018: Grooby winner "Model of the Month – December 2018"
2019: Transgender Erotica Awards winner "Fan Choice Award"
2019: Transgender Erotica Awards nominee "Best Cam Model"
2019: Transgender Erotica Awards nominee "Best Clipsite Star"
2019: Transgender Erotica Awards nominee "Best Website Model"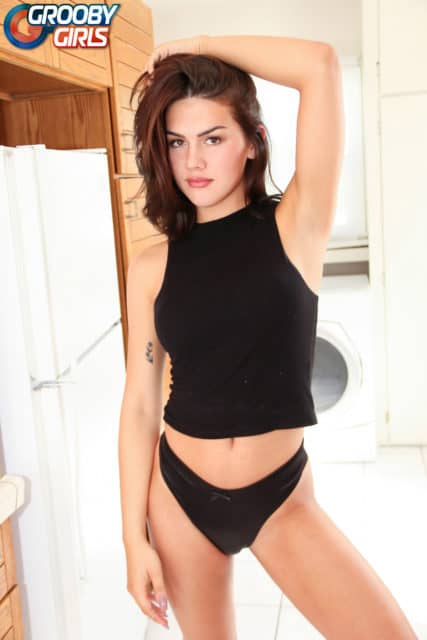 Stunning Daisy Taylor! – Grooby Girls
As matters stand, Daisy Taylor continues to star in a wide range of popular porn productions as well as shooting her own exclusive web content with her partner. If you'd like to learn more about Daisy Taylor then you should also check out her YouTube channel (HereOnNeptune). We recommend watching the first episode of Daisy Taylor's new podcast Bad Shit In A Car where she talks about everything from smoking weed to dependency issues and movies.
Keen to stay connected with rapidly rising TS pornstar Daisy Taylor? Then use the links provided below to discover all of Daisy Taylor's hottest Trans Angels, Grooby, Gender X, Transfixed and TransSensual sex scenes, exclusive web content and upcoming projects!
Daisy Taylor – Social Networks
Twitter : @HereOnNeptune
Instagram : @hereonneptune
Chaturbate : HereOnNeptune
Grooby Girls : Daisy at Grooby Girls
Grooby VR : Daisy's VR Scenes
ManyVids : HereOnNeptune
Patreon : HereOnNeptune
Pornhub : DaisyTaylor
TS Casting Couch : Daisy at TS Casting Couch
YouTube : HereOnNeptune
Babepedia : Daisy at Babepedia
Fapnado : Daisy Taylor