Eliza Ibarra
Eliza Ibarra Twitter : @Eliza22Ibarra   Naughty America VR : Eliza's VR Scenes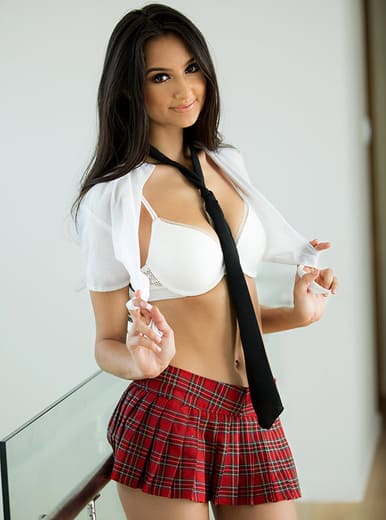 Eliza Ibarra in Schoolgirl Striptease – Brazzers Network
Eliza Ibarra – Personal Info
Name : Eliza Ibarra
Date of Birth : March 22nd
Hometown : Riverside, California (US)
Measurements : 34B – 25 – 37
Height : 5'9 (1.75m)
Star Sign : Aries
Hair Colour : Brunette
Eye Colour : Brown
Years Active : 2018 – present
Number of Scenes : 80+
Eliza Ibarra is a popular adult film star, glamour model and the latest performer to sign with exclusive adult film talent agent Mark Spiegler. Even though Eliza Ibarra has only been performing in porn for a few months she has already attracted a keen fan following due to her sizzling scenes in several Brazzers, Twistys, Girlfriends Films and Reality Kings porn productions. Watch this space!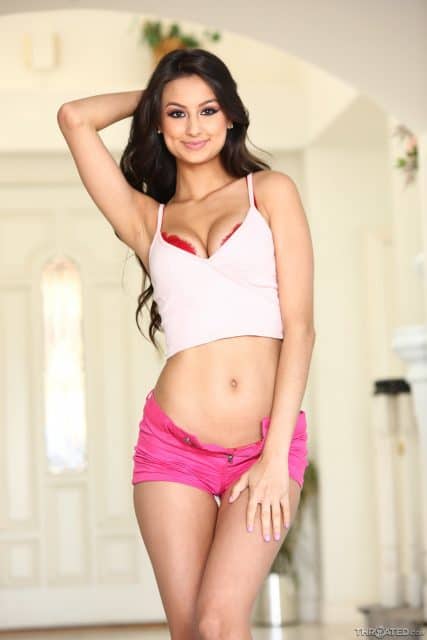 Eliza Ibarra at Throated.com
Hailing from Riverside, California, Eliza has Mexican-American heritage and held several waitressing and retail jobs at Pizza Hut and Harley Davidson before she started working in the adult entertainment industry. Talking about these early years during her May 2018 AVN: Fresh Faces interview, Eliza revealed that;
"My mom worked there for a while when I was younger…She sold bikes there and I would go in with her all the time when I was a little baby. So when I grew up I went there and most of the same people were there and they were like, 'Oh my god, you're so grown up. Of course we'll give you your first job.' They all remembered me so I immediately got the job there and I worked in the motor clothes department as a cashier…So I was where they have helmets, leather jackets, the boots, all the stuff like that. That was actually a great job, too. It's really like a family. It was hardly like a job…
After that I worked at Pizza Hut for a little while, but that was also very short-lived. It was like less than a year I believe. I did that mainly because I wanted to work in the retail industry and the food industry. I wanted to try both to see which I liked more. Definitely should've stuck with the retail, but Pizza Hut was still fun. I like pizza…The people there were nice, too".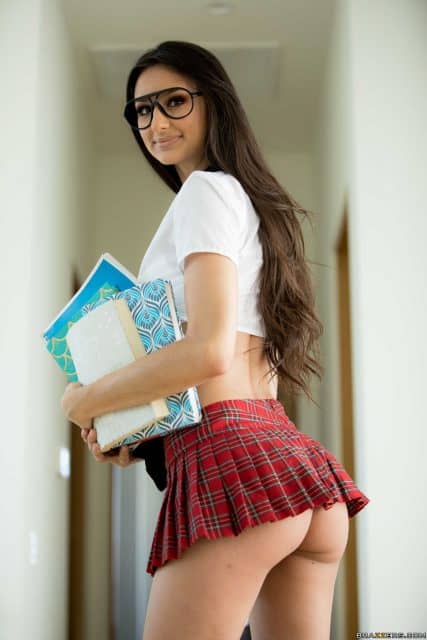 Eliza Ibarra in Schoolgirl Striptease – Brazzers Network
Eliza Ibarra first started working in the adult film industry in early 2018 when she signed with the exclusive adult film talent agent Mark Spiegler. However, before she was signed as a Spiegler Girl Eliza contacted male talent Bruce Venture via Snapchat. After all, Eliza Ibarra wanted to make sure she could 'play in the major leagues' before she pursued a career in porn! As Eliza Ibarra saucily explained within her May 2018 AVN: Fresh Faces interview;
"[Decided] to hook up with a porn star to see if I can do this…Because I know they're a lot bigger than most people and I don't want to get my first really big dick on camera and be like, 'Ouch. Never mind I can't do this,'…
We had talked a little bit but never met…But he [Bruce Venture] was down to meet me and come to my place, so that was cool…But it really was just to see, can I do this? Can I do this or not? Because what if [Spiegler] takes me on the team and I disappoint him. I go on camera and I'm like crying like, 'Oh I can't do it.' That would make me look so bad. I don't want to make him look bad. I don't want to make me look bad…That was kind of my first introduction to it. … Before that though I was just kinda considering it and then after I did that I was like, 'Alright, I got this'".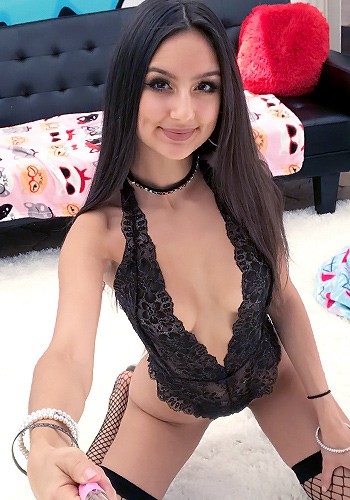 Eliza Ibarra at Swallowed.com
Prominent male talent Bruce Venture discussed meeting Eliza Ibarra for the first time during this May 2018 AVN: Fresh Faces interview, recounting how;
"Originally, she had actually sent me a photo of her ID on her 18th birthday and said that she was interested in the business…Of course she is smoking hot and I was quite interested and booked her a flight, which she didn't show up for and told me after that she changed her mind…
It was quite some time before she messaged me again (I think a couple years), but she was already in LA at the time. It wasn't awkward but I was just hoping nothing had changed for the worse in the course of time and was pleasantly surprised to see she was looking even better than before (and trust me she looked great from the start) when I saw her…
She is definitely made for porn…I didn't get to test 'every aspect' but she started with a four-hour blowjob without breaking and I came like six times. Definitely no complaints here…I hope I get the chance to perform on camera with her sometime. Really sweet and sexy girl. Very enjoyable in private and beautiful…I don't think she's in it for the money as much as the experience, which is always the best reason in my experience. Plus she's with Spiegler, who has always been my first choice for booking girls. It would be hard to imagine anything but success for her given such a strong start. The guy really knows how to pick 'em".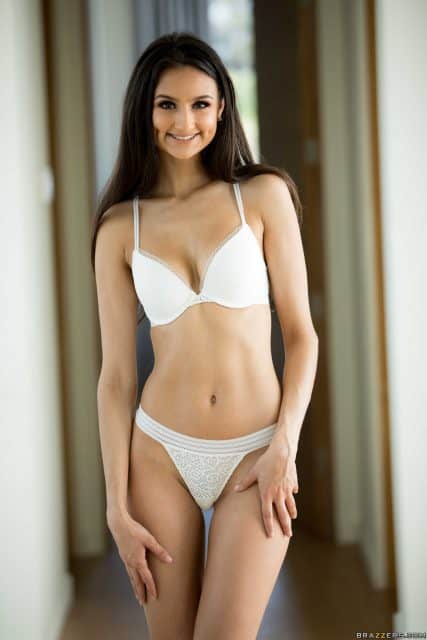 Eliza Ibarra in Schoolgirl Striptease – Brazzers Network
Spurred on by her encounter with Bruce Venture, Eliza Ibarra decided to sign with the exclusive adult film talent agent Mark Spiegler. Eliza Ibarra has high praise for Mark Spiegler and conveyed in this May 2018 AVN: Fresh Faces interview how;
"He was very up front about everything from the beginning…He wasn't all like sunshine and rainbows. He was like, 'You're probably going to have work with people you don't like. You might catch an STD…'He was telling me all these things that would probably scare people away, just to make sure I was very serious about that. I really respected him for that because I was like, OK, at least you're not trying to make me believe it's something that it's not. So I was really happy that he was being honest…It was very overwhelming but also very exciting at the same time because I was like my whole life's about to change right now. Everything's about to revolve around this. It's not going to be anything close to what it used to be".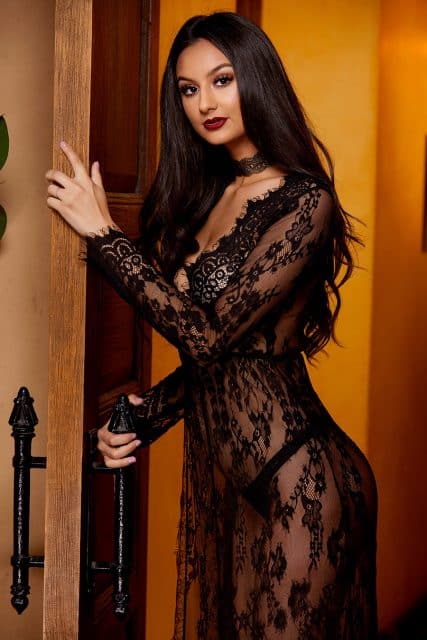 Eliza Ibarra at HollyRandall.com
Now signed as a bona fide Spiegler Girl, Eliza Ibarra has been thrilled meet several Spiegler Girls whom she used to watch before she made her official industry debut – especially Abella Danger! As Eliza Ibarra raunchily revealed within her May 2018 AVN: Fresh Faces interview;
"Oh my god, I was so excited to finally meet her [Abella]. She's my biggest crush…When I met her I was so nervous; she's so pretty…Most of them I was really familiar with, like Asa [Akira] and Riley [Reid]. They really made a name for themselves not just because of what they do, but also because they're really good people and they actually make a business out of their name".
Eliza Ibarra has also received high praise from Mark Spiegler himself who advocated during this May 2018 AVN: Fresh Faces interview how;
"She's doing great…[Brazzers director/performer] Keiran Lee says she gives the best blowjobs since Jenna Haze. That's definitely impressive. He told Manuel [Ferrara], 'She's going to be the new Riley Reid.'…She does really good scenes. Everybody who's booked her has pretty much rebooked her…She's tall and all-natural with no tattoos…She's very bubbly and really polite. That's what everyone keeps telling me. … I think honestly being polite and having manners is the reason why girls like Riley Reid and Angela White go even further".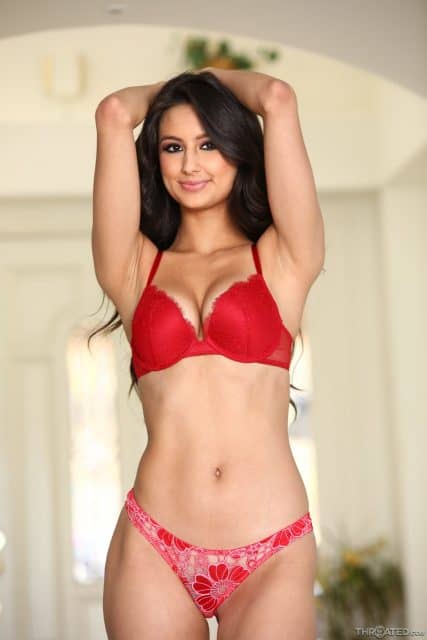 Eliza Ibarra at Throated.com
Eliza Ibarra : Adult Film Career
Eliza Ibarra filmed her first ever sex scenes in 2018 with Logan Pierce for the popular porn site Passion-HD. Eliza Ibarra enjoyed collaborating with Logan and director Tony Profane on her official porn debut, highlighting in her May 2018 AVN: Fresh Faces interview how;
"That was a really fun scene actually because everyone was nice to me and courteous…They weren't treating me mean or anything. Everyone was gracious towards me, making sure I was comfortable the whole time. It was a lot more nice than I thought it was going to be…
Because I knew that this was what I wanted to do. I chose to do this and it was because I'm comfortable with my sexuality and not embarrassed to show those kinds of things…And I wanted to have a platform for everyone to see, to enjoy it. Because I know I like watching porn. I like seeing what it's like, so I want to be able to give somebody else that joy that I get from when I watch it…
That was an exciting part, too, like oooh, somebody's going to watch this and they're going to like it as much as I like it…But after I got over the first one I was just really eager to keep doing it over and over again".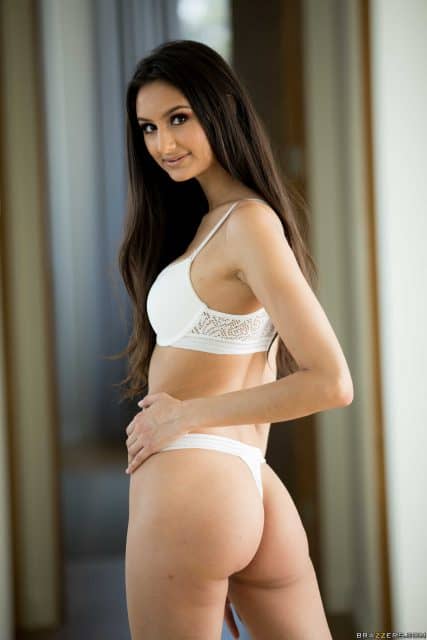 Eliza Ibarra in Schoolgirl Striptease – Brazzers Network
Eliza Ibarra's second scene was a sizzling scene Drenched Panties session with Chris Strokes that was released via the fan-favorite porn site Lubed in June 2018. Eliza Ibarra enjoyed shooting with Chris and mentioned in her May 2018 AVN: Fresh Faces interview that;
"He's like a real goofy, silly guy…So that was fun, too, working with someone that reminded me of my brothers, which is funny because the next scene I did with him was a step-brother scene…I worked with him three times actually. I think it's because I'm so tall. They want me to work with guys that I don't make them look like a little kid, so since he's a really tall guy it was easy for me to work with him I guess".
Over the past few months Eliza has starred in several popular porn productions including Kayden Kross' Trenchcoatx production Control Freak (2018) and the Zero Tolerance DVDs Babysitters Taking On Black Cock 6 (2018) and She Wants Us Both (2018) featuring Alexa Grace, Karma Rx and Sadie Holmes. Eliza Ibarra has also starred in, and posed as the box cover model for, the Amateur Allure DVD compilation title Cum Swallowing Auditions #32 (2018) and she shared a sultry scene with Chanel Preston that was featured in the Girlfriends Films production Women Seeking Women #155 (2018).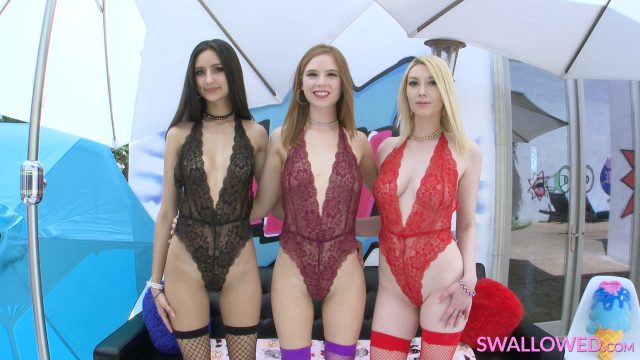 Eliza Ibarra, Pepper Hart and Gia Love at Swallowed.com
Just can't get enough of rapidly rising starlet Eliza Ibarra? Then you'll love viewing her raunchy Schoolgirl Striptease role-play with Keiran Lee that was released via Brazzers in May 2018, her thrilling oral group shoot with Gia Love, Pepper Hart and Mike Adriano which was uploaded via Swallowed.com in May 2018 and her sizzling scene with Jason Luv that was showcased in Greg Lansky's Blacked production My First Interracial #12 (2018) also starring Kira Noir, Misha Cross, Sinderella and Eva Parcker. Eliza Ibarra has even treated her fans to an intensely alluring After School virtual reality sex experience with Ashley Adams that was released via Naughty America VR in June 2018. Not to be missed!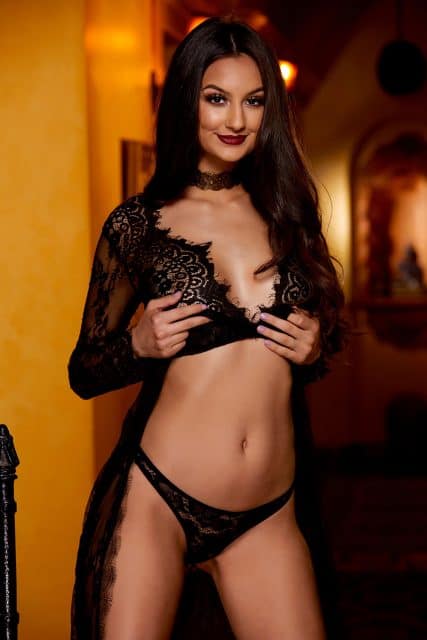 Eliza Ibarra at HollyRandall.com
When she isn't performing in porn Eliza Ibarra enjoys painting and practising yoga. As Eliza Ibarra divulged during her May 2018 AVN: Fresh Faces interview;
"It varies—I'll either do a coloring book or a full-on painting…I actually enjoy watching Bob Ross because he has shows on Netflix. So I will watch Bob Ross and paint with him and that's way better for me personally than painting on my own because sometimes it's hard to get those creative juices flowing and just start from scratch on something. And if you do it with him you're like, 'Oh, it'll never turn out as good as his.' But you do it step by step and you surprise yourself at the end, like oh my gosh this actually looks so nice…
I like doing that and then giving the paintings as gifts to people. Like my grammy and papa have one of my paintings in their house and it's a Bob Ross one. That's really fun to do. I also like playing around with makeup and stuff. I'll watch the beauty gurus, YouTube tutorials and do the makeup with them, too. I think that's fun…
[Yoga] It's like a really peaceful way of working out…Not only does it work out your body and you feel energized for the day but it calms your mind. It really makes you feel at one and at peace. Like I feel like after I'm done with Yoga I'm kind of on a spiritual high".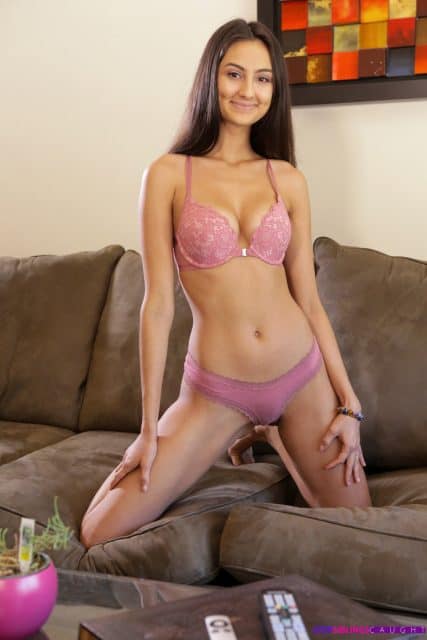 Eliza Ibarra at StepSiblingsCaught.com – Nubile Films Network
Want to keep yourself updated on all of Eliza Ibarra's upcoming projects and exclusive web content? Then use the links provided below to stay connected with your dream Spiegler girl Eliza Ibarra!
Eliza Ibarra – Social Networks
Twitter : @Eliza22Ibarra
Instagram : @eliza22ibarra
Naughty America VR : Eliza Ibarra VR Scenes
Brazzers : Eliza Ibarra at Brazzers
Swallowed : Eliza Ibarra at Swallowed
Throated : Eliza Ibarra at Throated
IMDB : Eliza Ibarra Filmography
The Nude : Eliza at The Nude
Babepedia : Eliza at Babepedia