Twitter : @DellaDaneXXX   Camsoda : delladanexxx   MILF VR : Della Dane VR Scenes   Evil Angel : Della Dane Sex Scenes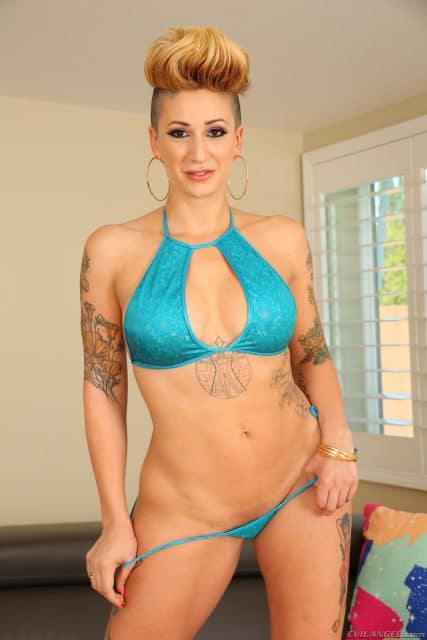 Della Dane in Anal Deviant – Evil Angel
Personal Info
Name : Della Dane
Date of Birth : June 6th
Hometown : Portland, Oregon (US)
Measurements : 34D – 28 – 42
Height : 5'7 (1.70m)
Hair Colour : Blonde
Eye Colour : Brown
Tattoos : A pair of multi-coloured floral designs across her arms and shoulders, a floral design along the side of her rib cage, a circular design in the centre of her chest featuring a Vitruvian Man and a pair of 'naughty' and 'nice' pin-up girls on her outer thighs.
Talking about her alluring body art in her December 2017 V Porn Blog interview Della mentioned that; "My first tattoo was the one on my ribs, and I got it when I was 24. My favorite tattoo is actually the pair of tattoos I have on my arms/shoulders. They are a representation of where I come from (Oregon) and where my home is now (California). Plus they are really colorful and I think accentuate the angles of my upper body".
Piercings : Left nostril
Years Active : 2017 – present
Number of Scenes : 10+
Devilishly delightful Della Dane is a popular adult film star, feature dancer and model who has been performing in porn since 2017. A multi-talented writer and former therapist, Della has already amassed an avid fan following due to her raunchy Evil Angel, ArchAngel Productions and Burning Angel productions as well as her SluttyGirlProblems.com advice column and her fabulous feature dancing shows. It's no wonder Della won "Miss Congeniality" at the 2018 Nightmoves Awards!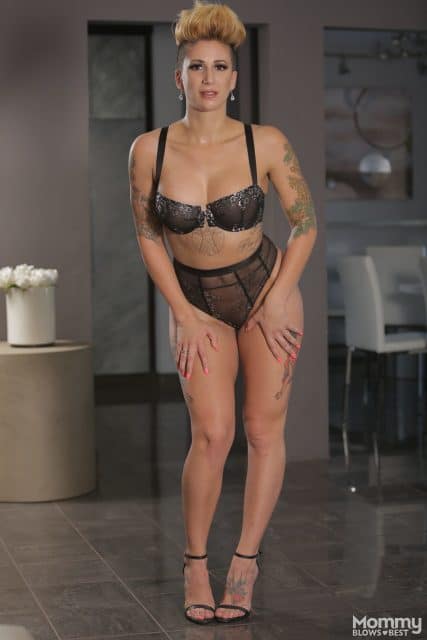 Della Dane in Miss Parker – Mommy Blows Best – My XXX Pass Network
Raised in Portland, Oregon, but currently based in Los Angeles, California, Della was raised in a strict Christian household but has always had a mischievous, sexually curious nature. As Della herself explained within her December 2017 V Porn Blog interview;
"I was raised in a very conservative Christian family, but I always had a mischievous, fun-loving side. As I got older, I definitely started to indulge that part of myself as well as my sexual curiosity when I could. Music, performing, and artistic expression was always important to me as well".
Before she started working in the adult entertainment industry Della attended college where she graduated with an undergraduate's degree in English as well as a master's degree in Couples and Family Therapy. In fact, Della worked as a therapist, specializing in sex therapy, in Los Angeles, California, for several years before she decided to pursue a career in porn. When Della was asked about how her experiences as a therapist have influenced her adult film career during her March 2018 SluttyGirlProblems.com interview she highlighted how;
"I feel that every experience I have had up to this point, whether that is education, professional, or relationships have influenced my work as a performer. I don't necessarily feel there is a direct correlation, but certainly, I try to learn from all my experiences and integrate them into my own self-awareness and insight into who I am as a sexual being. The one direct influence I feel has been my work with the LGBTQ+ community when I was a sex therapist and how much I have learned about sexual fluidity, gender fluidity, and how I can honor each person's experience as well as be a voice for those who may be marginalized or discriminated against".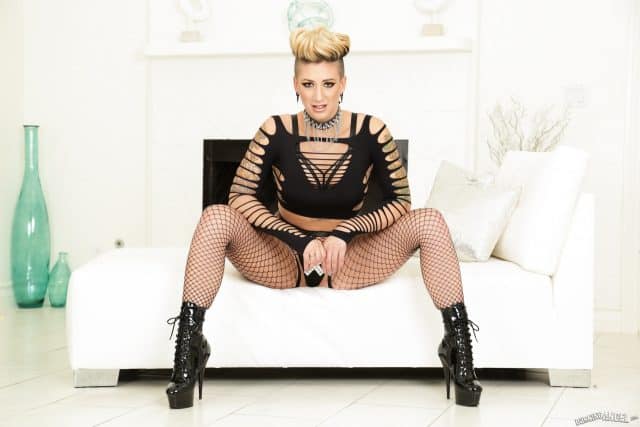 Della Dane in Big Black Cock FTW – Burning Angel Entertainment
But that's not all! Before she launched her own therapy practice Della held several jobs in publishing, retail, hospitality and medical device marketing. Della was also a Music major in college for two years and she continues to sing and write her own music in her spare time. What's more, Della has even worked as a nude model and as an exotic dancer in San Francisco whilst she was establishing herself as a pre-licensed therapist. Della discussed these early years during her HotMovies.com interview, divulging that;
"Yes I did work as a Couples and Sex Therapist. I have a Master's degree in Couples and Family Therapy and worked on and off in the field for almost five years. In addition to being a therapist, I've also worked in restaurants, sales and retail, publishing, and in the medical-imaging industry. Because I've had so many different types of roles over the years, I have been able to develop a broad skill set such as interpersonal skills, time management, and just general professionalism. My training as a therapist in particular allowed me to really gain personal insight about who I am as a sexual being and certainly contributed to my adventurous and open sexual nature".
Wondering how Della first discovered her porn star potential? Well it all began when Della started dancing at the topless sports bar Dames 'n' Games in Van Nuys. Performing at the bar paved the way for Della to take part in a cage match performance with an adult film star which also introduced her to many more adult film professionals. Unfulfilled with her career as a therapist and increasingly intrigued by the adult entertainment industry, Della decided to shoot her first ever sex scenes in 2017. Talking about this definitive period of her life during her December 2017 V Porn Blog interview, Della conveyed how;
"I have been dancing in a strip club for a while and met some people in the industry. It's been something I had considered for a long time, but I finally just made the leap when I realized how much I wanted to do it and was passionate about being a performer!…I feel more free to be myself, am more motivated to make a career for myself, and I have a sense of community".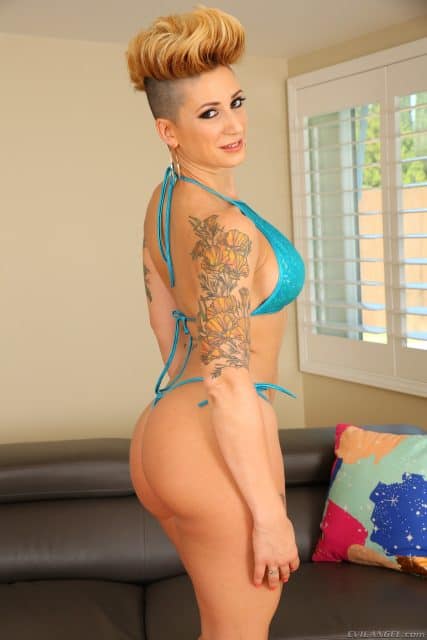 Della Dane in Anal Deviant – Evil Angel
Della Dane : Adult Film Career
Della filmed her first ever sex scenes in November 2017 with Nathan Bronson. Titled Don't Fuck Up My Hair, Della's hardcore debut was shot by award-winning director MimeFreak for his Beginner's Luck web series. Della has since collaborated with MimeFreak on the ArchAngel Productions DVDs I Have What It Takes (2018) and #My Ass 4 (2018) featuring Brandi Bae, Liv Revamped and Karly Baker. Della enjoys collaborating with MimeFreak and enthused within her HotMovies.com interview how;
"I shot my very first scene with MimeFreak for the Beginners Luck series, so it was great to work with him again! We have great camaraderie and I enjoy his style of directing. I also really love ArchAngel films so I'm honored to be included on their list of performers".
Wondering how Della chose her sultry porn star stage name 'Della Dane'? Well, Della mentioned in her December 2017 V Porn Blog interview that;
"I used to use Stella Danae as a pseudonym when I did nude modeling years ago, so when I was brainstorming with a friend, we eventually landed on Della Dane. The alliteration and the uniqueness of the name I feel helps me be more memorable".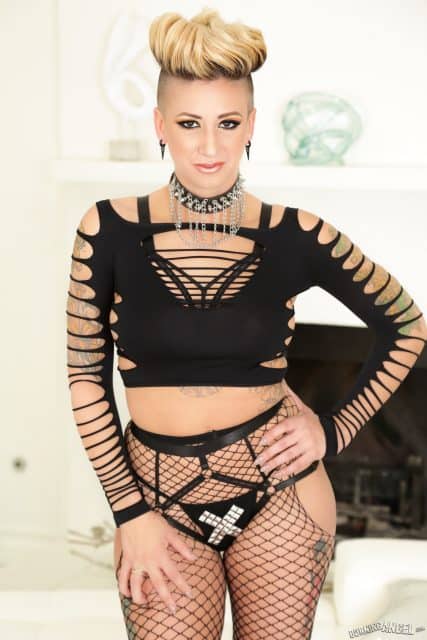 Della Dane in Big Black Cock FTW – Burning Angel Entertainment
Since making her porn debut Della has starred in a series of raunchy web clips. We recommend checking out Della's saucy Miss Parker scene with Ricky Johnson that was uploaded via the My XXX Pass Network web series Mommy Blows Best in January 2018, her Della's First Gloryhole Video shoot that was released via GloryholeSecrets.com in March 2018 and her raunchy Liking It Rough scene with Brad Knight which was released via Pornstar Platinum in April 2018. Della has also filmed an intensely alluring Pleased to Tease virtual reality experience that was unveiled via MILF VR in January 2018. Della enjoyed shooting her VR porn debut and hotly hinted in a January 2018 AVN press release that;
"Filming VR is very exciting, fun, and different from most shoots—there are many angles and things to keep in mind, so you need to be on your toes…Please join MilfVR, watch my scene, and give it a thumbs-up, so you will see more of me on MilfVR in the future".
In March 2018 Della collaborated with Isiah Maxwell on her first ever sex scenes for Burning Angel. This saucy shoot has since been featured in the Burning Angel DVD Big Black Cock FTW (2018) also starring Arya Fae, Brenna Sparks, Ivy Lebelle, Joanna Angel and Romi Rain. Della has always wanted to collaborate with Joanna Angel for Burning Angel and she enthusiastically stated in a March 2018 AVN press release how;
"Before I even got into the industry, it was my dream to work with Joanna and BurningAngel. Who says dreams can't come true…I'm really happy with how the scene turned out, and I hope my fans enjoy the chemistry that Isiah and I had. Please let BurningAngel know how much you liked it, so they will have me back again!".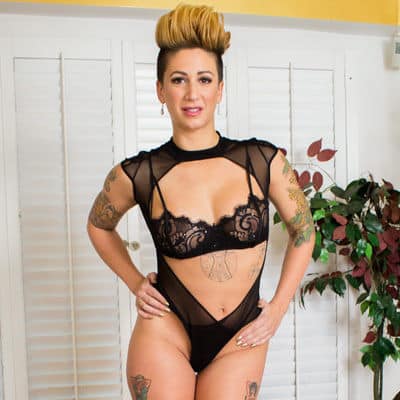 Della Dane in Pleased To Tease -MILF VR
Want to know the best part? Della proceeded to shoot a series of 'firsts' throughout March 2018 including her first ever gangbang with Chris Cock, Eddie Jaye and Jack Blaque that was included in Savana Styles' Alpha Females/Lexington Steele Media Group DVD Interracial Playground (2018) featuring Karen Fisher, Raven Hart and Trina Rush. But wait, it gets even better! Interracial Playground was also the first time that Della was showcased on the cover of a DVD.
During this time Della also filmed her first ever anal scene with Mark Wood which served as her Evil Angel debut. Titled Deviant Della's First Anal Scene, this raunchy shoot was directed by Francesca Le and it has since been featured in the Lewood/Evil Angel DVD Anal Deviant (2018) starring Katrina Jade, Leigh Raven and Maxim Law.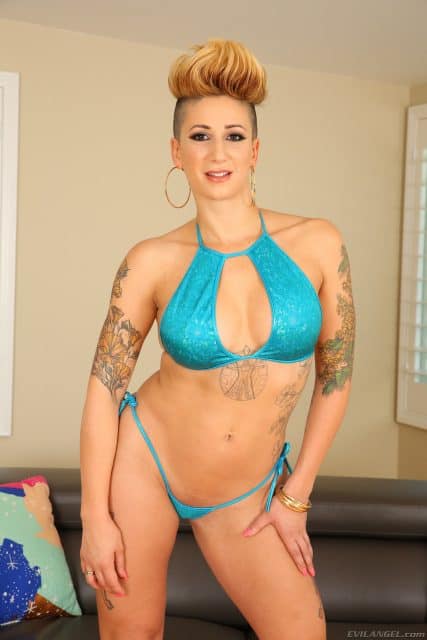 Della Dane in Anal Deviant – Evil Angel
Della Dane : Webcam Model, Feature Dancer & Future Plans
Currently represented by Kendra Lust's exclusive modelling agency Society 15 and The Rub PR, Della continues to star in a wealth of popular porn productions as well as interacting with her fans via social media, hosting lusty live cam shows via Camsoda (under the screen name 'delladanexxx') and shooting her own exclusive web content for ManyVids and her upcoming solo site DellaDane.com.
Never one to rest on her laurels, Della has appeared on James Bartholet's popular radio talk show Inside The Industry, she has hosted and made guest appearances at numerous club events including the NYE 'Eyes Wide Shut' Mardi Gras Soiree, and she has even started performing as a feature dancer at exclusive gentlemen's clubs such as Spearmint Rhino's Blue Zebra Adult Cabaret.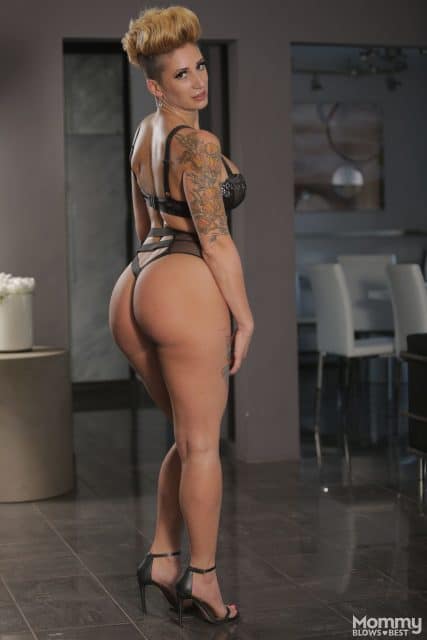 Della Dane in Miss Parker – Mommy Blows Best – My XXX Pass Network
Most recently, Della was featured on her first magazine cover for Xcitement in May 2018 and she has starting writing a monthly advice column for the mainstream website SluttyGirlProblems.com. Thus far Della has written an insightful "Ask a Kinkster" advice column which asked "Is Cheating in a BDSM Relationship OK?". Della enjoys writing this advice column and divulged in an April 2018 AVN press release that;
"I really love helping people and that's one of the reasons that I became a therapist…I'm excited to have this column and can't wait to see what people need advice on. I'm here to help … one reader at a time".
You'll be happy to hear that Della has no plans of slowing down anytime soon. In fact, Della would like to launch her own production company in the future. As Della stated during her December 2017 Forbes interview that;
"Eventually, I want to have my own production company…because I want to be my own boss…For me, sex is a hobby…It just happens to be my job, as well".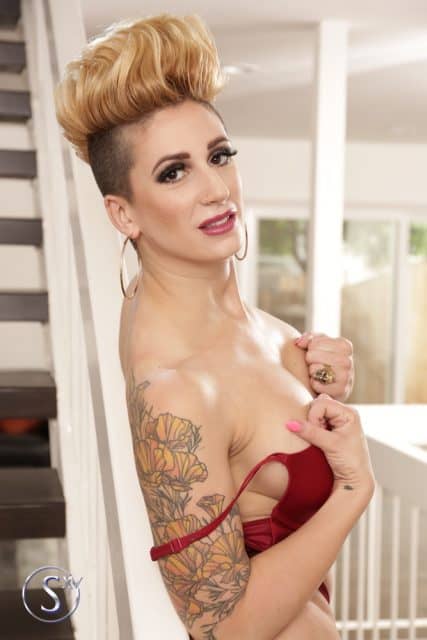 Della Dane – Society 15
Want to keep yourself updated on Della's thriving adult film career? Then use the links provided below to stay in touch with ravishing rising star Della Dane!
Social Networks
Twitter : @DellaDaneXXX
Instagram : @Therealdelladane
Camsoda : delladanexxx
MILF VR : Della Dane VR Scenes
FanCentro : Della Dane
ManyVids : DellaDaneXXX
Evil Angel : Della Dane at Evil Angel
Burning Angel : Della Dane at Burning Angel
My XXX Pass Network : Della Dane at My XXX Pass Network
IMDB Profile : Della Dane Filmography