Ivy Lebelle
Ivy Lebelle Twitter : @IvyLebellexxx  Camsoda : Ivylebelle  Brazzers : Ivy Lebelle's Sex Scenes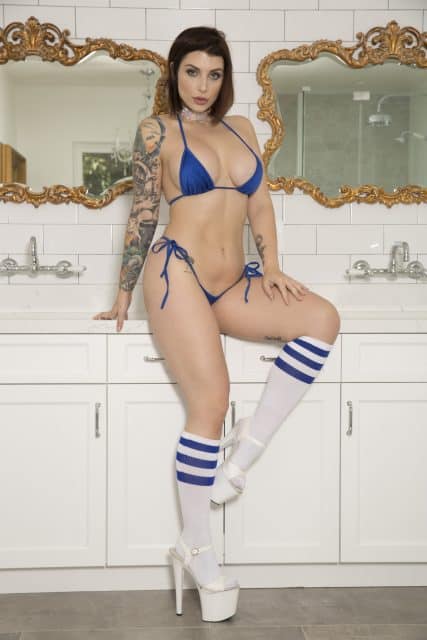 Ivy Lebelle in Anal Nymphos Anal Legends 2 – Jules Jordan Video
Ivy Lebelle – Personal Info
Name : Ivy Lebelle
Date of Birth : June 15th
Hometown : Los Angeles, California (US)
Measurements : 34D – 27 – 36
Height : 5'7 (1.70m)
Hair Colour : Brunette
Eye Colour : Blue
Tattoos : Matching roses on the backs of her thighs, Jesus and Mary designs on her feet, script across her upper thigh and a vibrant Halloween themed full sleeve on her right arm
Piercings : Nose
Years Active : 2017 – present
Number of Scenes : 90+
Ivy Lebelle is a terrifically tattooed pornstar who began performing in porn since 2017. A multi-talented makeup artist, dancer, cam girl and fetish performer, Ivy Lebelle quickly attracted a devoted fan following and earned herself the "Best Butt (Fan's Choice)" accolade at the 2018 Nightmoves Awards. In fact, Ivy Lebelle also won "Best Three-Way Sex Scene" at the 2020 AVN Awards and "Best Sex Scene – Feature Movie" at the 2020 XBIZ Awards due to her thrilling three-way with Maitland Ward and Manuel Ferrara in the Deeper movie Drive (2019).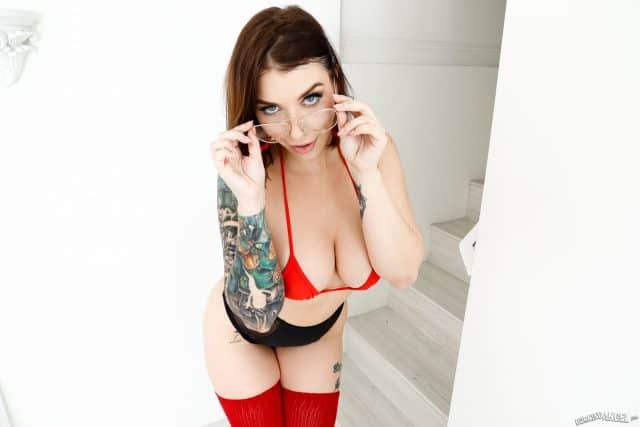 Ivy Lebelle at Burning Angel
Born and raised in Los Angeles, California, Ivy Lebelle grew up in Studio City with her Italian father and Texan mother. Ivy Lebelle had a strict religious upbringing and she explained in her March 2017 Adult DVD Talk interview that;
"I grew up in L.A., born and raised. My dad is from Italy and my mom is from Texas. I grew up in Studio City. It was a very Christian household and a strict upbringing. When I was 15, I got my first fake ID and started going to goth clubs. (laughs) From there, I got really immersed in the goth music scene. When I was 19, I started doing makeup and did that for a really long time".
A self-described 'goth girl', Ivy Lebelle discussed these younger years in her May 2017 Fleshbot interview, highlighting how;
"I was 100 percent a goth girl. I wore my 20 hole Doc Martins. Listened to a lot of Bauhaus. Dimmu Borgir. And of course Marilyn Manson. I was a cute goth girl though, haha. At least in my opinion. I hung out with people much older than me. Seeing as I had a fake ID and would go to goth clubs instead of house parties. I loved metal boys. Any guy with long hair and a Deicide shirt made my heart melt when I was in high school. Honestly, some of them still do…
I was very sheltered and didn't really have access to porn when I was young. In high school, my boyfriend at the time turned me on to Jenna Jameson. I became obsessed. I read her autobiography, collected photos of her and would practice her porno poses in the mirror. Along with legends like Jenna, I also thought Tera Patrick and Janine were insanely hot. As I got a bit older, I discovered Burning Angel and Joanna Angel's 'Re-Animator' porn parody and was mesmerized by her. I was friends with Skin Diamond a few years before entering the industry and I always admired her and her wonderful attitude and intense sexuality. Skin Diamond is a legend in my book".
Curvy and thick pornstar Ivy Lebelle is a natural born performer who was a dancer "on-and-off for pretty much my entire adult life". In fact, Ivy Lebelle commented in previous interviews that she worked in practically every bikini bar in Los Angeles! From the age of 18, Ivy Lebelle started working as a makeup artist. First for a makeup company, before freelancing for several years. During this time, brunette beauty Ivy Lebelle actually worked as a makeup artist for prominent porn companies such as Amateur Allure for whom she would ultimately shoot her first ever sex scenes. Top PAWG pornstar Ivy Lebelle discussed what led her to shoot her porn debut for Amateur Allure within her May 2017 Fleshbot interview, elaborating upon how;
"I've always been curious and had the desire since my high school days and my Jenna Jameson obsession. I held off for many years, pursuing and succeeding in different careers including makeup artistry. I did makeup on occasion for porn sets and one of those sets was Amateur Allure. Ray became a good friend of mine and when I was ready to take the dive into performing, I did my first scene ever with Amateur Allure".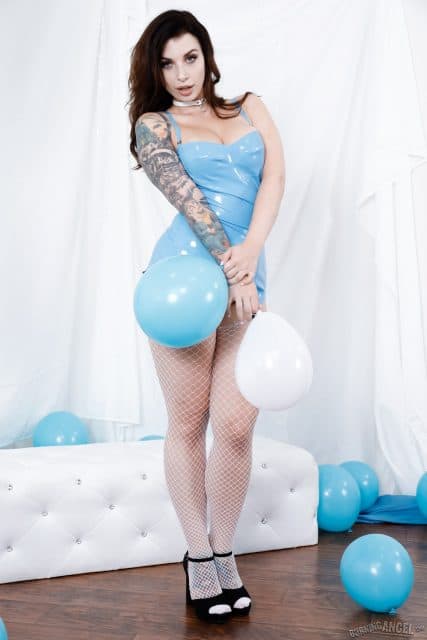 Ivy Lebelle at Burning Angel
Ivy Lebelle : Adult Film Career
Ivy Lebelle filmed her first ever sex scenes in early 2017 for the popular porn site Amateur Allure. In fact, Ivy Lebelle's porn debut was showcased in the Amateur Allure DVD Amateur POV Auditions 28 (2017) that was nominated for "Pro-Am Release of the Year" at the 2018 XBIZ Awards. Talking about shooting her adult film industry debut during her March 2017 Adult DVD Talk interview, thick tall pornstar Ivy Lebelle divulged that;
"I think, for me, it was being in my late 20s, I had the confidence that I didn't have when I was younger. It took me a long time for me to feel ok with making such a dramatic choice. There are life consequences when you get into porn. People find out, people judge you and it can be pretty hard. I think I finally came to a point where I don't really care about the negative feedback.
Because I have so many good people in my life that support me regardless. And I'm confident enough to do it. And I'm not getting any younger and I always wanted to do it so I should do it now. Now is the perfect time. I am in my personal prime as far as my mental and physical state of being. I think it's a great time for me. So I just pulled the trigger and went for it…
I know it's been mentioned in my scenes that I was a makeup artist in porn for a while before I decided to do it. That's another way I was connected to the industry. I did make up for Amateur Allure quite a few times. Ray from Amateur Allure is one of my good friends and when I decided to do porn, he was the first person I hit up. 'Hey! Do you want to shoot me?' And he was beside himself. He thought I was fucking with him. He shot my first scene and it was fun and exciting to be the makeup artist and now I was performing for the same company…
(laughs) He was more nervous than me, I think. We have a good connection and, of course, there were some butterflies just because he's my friend and we hadn't ever hooked up in real life or anything. I think he was a great first experience for me because I felt safe and I felt comfortable. It was my first time doing anything on-camera. It was a POV scene so it was very private. I couldn't have asked for a better first scene".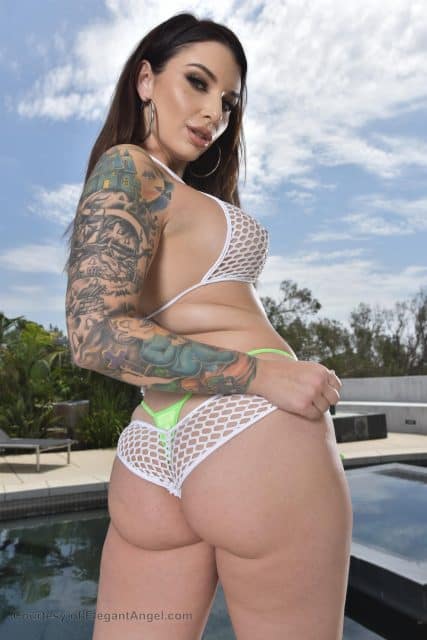 Ivy Lebelle in Battle of the Asses 7 – Elegant Angel
Wondering how she chose her sultry stage name 'Ivy Lebelle'? Well, fit inked starlet Ivy Lebelle explained in her March 2017 Adult DVD Talk interview that;
"I'm a big fan of The Cramps and the two main members of the band are Lex Interior and Poison Ivy. Poison Ivy is the female in the group and she's a super fiery redhead. I've been a huge fan of hers forever. I took Ivy from here. And LeBelle, I just think it's pretty and it rolls off your tongue. And it sounds French and I have a Euro look to me. I'm Italian but I can really be anything".
Ivy Lebelle's second ever porn shoot was for Brazzers – a sizzling Secret Sauna Sex session with Kyle Mason that was first released in February 2017. Consequently, Ivy Lebelle filmed a wealth of compelling content for Brazzers including The Pleasure Of Business Trips with Xander Corvus in April 2017 and a thrilling Wait Your Turn oral three-way with Monique Alexander and Isiah Maxwell in April 2017. Moreover, Ivy Lebelle shared a steamy Candid Camgirl sex scene with Keiran Lee in December 2017 and she filmed a fantastic Fasshionably Late sex scene with Bill Bailey in January 2018. You may be interested to learn that Ivy Lebelle was actually more nervous about shooting her Brazzers debut than her actual porn debut! As busty brunette stunner Ivy Lebelle puts it in her own words;
"My second scene was for Brazzers—and it was very, very different. I was very nervous. It was exciting and nerve-wracking, because it was with a whole crew. I didn't even meet the male talent until I was halfway through my pretty-girls—he just came on when it was time. I thought, OK, this is different… it was really fun".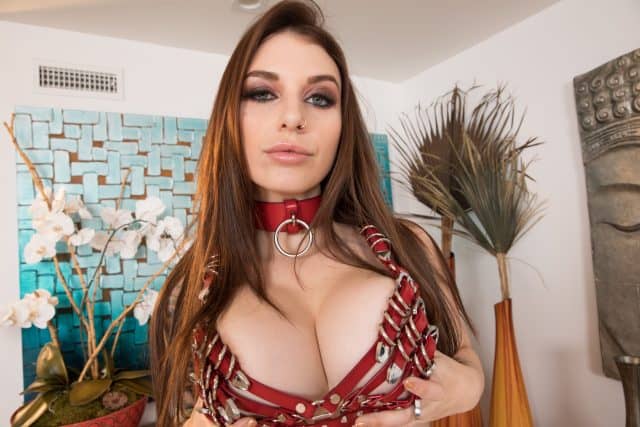 Ivy Lebelle in Dredd 3 – Jules Jordan
Ivy Lebelle : Popular Porn Productions
From this point onward, Ivy Lebelle began to star in a wealth of bestselling Evil Angel DVDs. Our top picks? They'd have to be Mike Adriano's Anal Interviews 3 (2017) and the LeWood/Evil Angel production Open My Ass 2 (2017). Furthermore, Ivy Lebelle shared a raunchy lesbian romp with Chloe Cherry in Aiden Starr's Lesbian Anal Sex Play (2017) and she appeared in Lex's Breast Fest 8 (2017). It was nominated for "Best Interracial Movie" at the 2018 AVN Awards.
During this time, Ivy Lebelle was also featured in Mick Blue's Evil Angel/BAM Visions collaborations Fill Me Up 2 (2017) and Real Anal Lovers 2 (2017). Inked Amazonian pornstar Ivy Lebelle loved collaborating with Mick Blue on these raunchy anal scenes, enthusiastically stating in an October 2017 AVN press release that;
"I loved having anal sex with Mick Blue. He's a true anal professional, and made the entire experience wildly pleasurable. I think it comes across how much I enjoyed myself on camera in the scene. Maestro Claudio and Mick Blue, and their whole team, always make being on set so relaxed and fun. And thanks to Claudio's magical eye behind the lens, you get to see all the really good stuff. People watching the scene seem to be able to really feel the heat and see how much fun I'm having, thus making it a rather fap-worthy watch".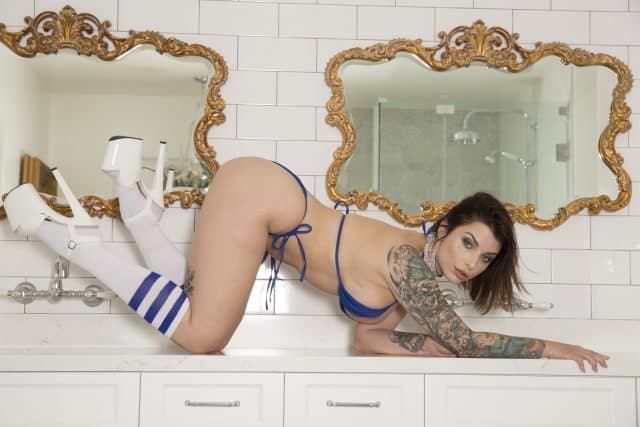 Ivy Lebelle in Anal Nymphos Anal Legends 2 – Jules Jordan
But hold on, it gets even better. In fact, Ivy Lebelle's vibrant body art and raw sexual charisma earned her starring roles in several critically acclaimed Burning Angel productions. For instance, you'll love viewing Ivy Lebelle's saucy sex scenes with Small Hands in Curves For Days 2 (2017) and her kinky shoot in Leather and Latex (2017) starring Riley Nixon, Holly Beth, Honey Gold and Tana Lea. Furthermore, you'll love watching Ivy Lebelle's thrilling three-way with Karlee Grey and Xander Corvus in My Stepsister And I Share Cock (2017). It was nominated for "Best Sex Scene – Taboo Release" and "Taboo Release of the Year" at the 2018 XBIZ Awards.
Interested in exploring even more of Ivy Lebelle's thrilling taboo relations titles and formidable fetish content? Then you'll want to watch her raunchy Hard Luck Anal BDSM shoot with Derrick Pierce for Kink.com's Sex & Submission web series in February 2017. Moreover, Ivy Lebelle shot an epic group sex scene for Mike Quasar's 3rd Degree production Wife Swap Orgy (2017). Ivy Lebelle even shared a kinky Families Tied three-way with Penny Barber and Xander Corvus which was released via Kink.com in December 2017. When she was asked about her submissive/dominant preferences during her March 2017 Adult DVD Talk interview, tall curvy pornstar Ivy Lebelle saucily stated that;
"I think I have a very commanding sexuality. I think that people can really sense my sexuality from me. It's been a big personality trait of mine my entire life. When I thought I should do porn, everyone who was asked, 'How do you describe Ivy?' They would say, 'She's sexual!' I was never the 'cute' girl, I'm always the 'sexy' girl. I'm never cute! I mean I can be cute. Now, saying that, I think that I might have a dominant side but I prefer to be dominated in the bedroom. It's kind of like an unspoken agreement. You can see that I'm sexually intense but you're going to dominate me because I want you to. So, technically, I'm being dominant in making you dominate me. (laughs)".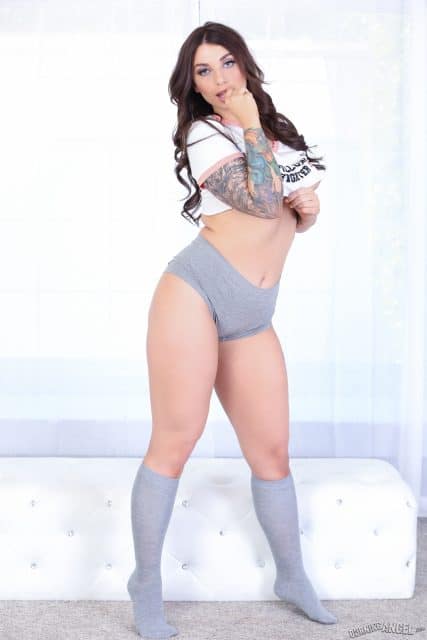 Ivy Lebelle at Burning Angel
When she isn't performing in these popular porn productions, big booty inked pornstar Ivy Lebelle enjoys interacting with her fans on social media, conveyed within her May 2017 Fleshbot interview how;
"My fans are so sweet and loyal they honestly brighten my day. I ignore lewd and disrespectful 'fans' but the ones who are there to support me and my career are very important to me. They are fun to interact with and I wouldn't have the following or success I do now so quickly without them…Thank you for taking interest in me and my career and I look forward to making more awesome content for you guys to *enjoy* 😉 xoxo".
In fact, Ivy Lebelle continues to host many lusty live chat sessions with her fans on Camsoda (under the screen name 'Ivylebelle'). As busty brunette beauty Ivy Lebelle eagerly enthused in an August 2017 AVN press release;
"Broadcasting myself on Camsoda has always been something that I've wanted to do. It provides me with a unique opportunity to intimately interact with my fans, and I'm especially excited for tonight's show…I encourage all my fans to tune in and experience me in all my glory. I assure you it will be an experience unlike anything you've seen before".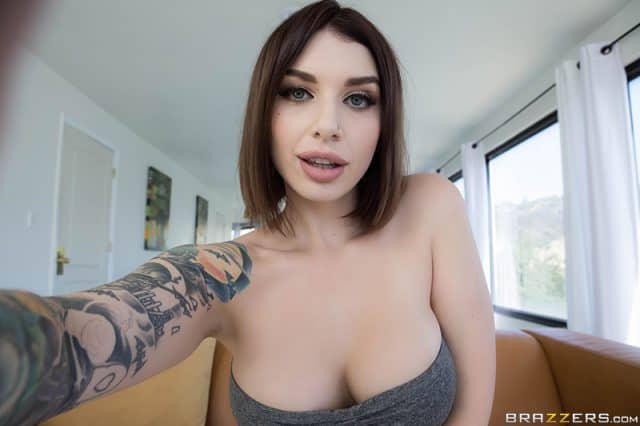 Ivy Lebelle at Brazzers
In her spare time, natural curvy cutie Ivy Lebelle loves to indulge her passion for music and art, commenting within her July 2017 AVN: Fresh Faces interview that;
"I really love art at any time. I like checking out exhibits, museums. I'm a big music fan. My taste is dark wave, post-punk, I like to play that kind of music. I also like travelling a lot. Whenever I have some money I will find a way to get out of town. I love experiencing other cultures. I've been in Southeast Asia, Australia, lots of Europe".
Wondering what the future holds for rapidly rising starlet Ivy Lebelle? Well, when she was asked about her future career plans during her May 2017 Fleshbot interview Ivy Lebelle mentioned that;
"I love sex, I love sex so much. I love performing, I love the extremes. The silly plot lines, I love giving my all in front of the camera and letting the world see me doing what I love…I'd love to make a name for myself, reach a lot of personal goals and milestones and eventually use whatever fame I gain as a platform to be a positive influence and help educate women AND men on sex work, taking the shame out of it, staying safe and empowering yourself through your sexuality…I want to explore latex fetish both on and off camera. The feeling of oiled up latex on latex is soooo erotic to me. I also would love to experiment with getting tied up, flogged and gagged".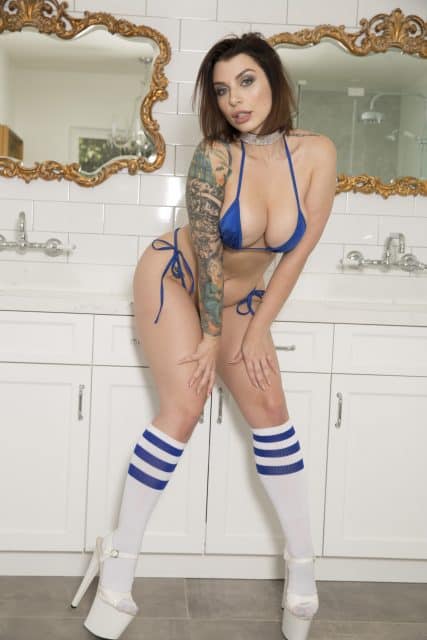 Ivy Lebelle in Anal Nymphos Anal Legends 2 – Jules Jordan
Want to stay updated on all of Ivy Lebelle's upcoming porn productions, exclusive web content and lusty live cam shows? Then use the links provided below to stay connected with your favorite curvy tattooed pornstar Ivy Lebelle!
Ivy Lebelle – Social Networks
Twitter : @IvyLebellexxx
Instagram : @ivylebelle
Camsoda : Ivylebelle
Brazzers : Ivy at Brazzers
Burning Angel : Ivy at Burning Angel
Evil Angel : Ivy at Evil Angel
Jules Jordan : Ivy at Jules Jordan
Kink : Ivy's BDSM, Femdom & Fetish Content
The Nude : Ivy at The Nude