Website : Officialfelicityfeline.com   Twitter : @felicityxfeline   Wankz VR : Felicity Feline VR Scenes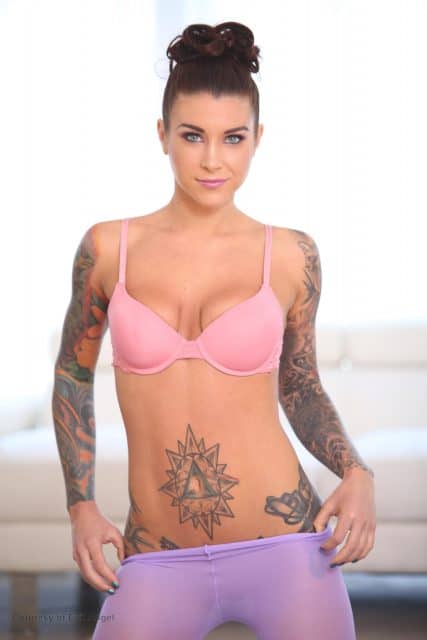 Felicity Feline in Fucking Flexible 2 – Evil Angel – Adult Empire Galleries
Personal Info
Name : Felicity Feline
Date of Birth : July 21st
Hometown : Long Island, New York (US)
Measurements : 34C – 27 – 32
Height : 5'6 (1.68m)
Hair Colour : Brunette
Eye Colour : Blue
Tattoos : Full arm sleeves incorporating various flowers, symbols, lion, chameleon, fox, trees, river, moth, biomechanical, Yin/Yang and butterfly designs. Felicity has an upper back tattoo which features some of her favourite bands – Metallica, Corrosion of Conformity, Opus and Megadeth.
Felicity also has matching eyes on her hips, a Pink Floyd – Dark Side of the Moon design on her stomach with a prism around it, a large soundwave butterfly and Lamb of God – Wrath designs across her hip/upper thigh, a Pantera – Cowboys From Hell design with Cherokee feathers on her upper thigh, a demonized Caduceus symbol across her hip, a skull on the back of her calf and a flower on the back of her calf.
Four of Felicity's tattoos were created at the same time by artists on the Spike TV series Ink Masters. Felicity talks about her tattoos in greater detail via her YouTube Channel.
Years Active : 2015 – present
Number of Scenes : 30+
Felicity Feline is a multi-talented drummer, adult film star, writer, nutrition and fitness expert who has been performing in porn since 2014. Alongside her role as the drummer for the sludge metal band GarBeast, Felicity remains a fan-favorite adult film star who was nominated for "Hottest Newcomer (Fan Award)" at the 2017 AVN Awards and she won "Best Girl/Girl Scene" at the 2018 Inked Awards due to her sizzling Bloodthirsty Biker Babes scene with Anna Bell Peaks.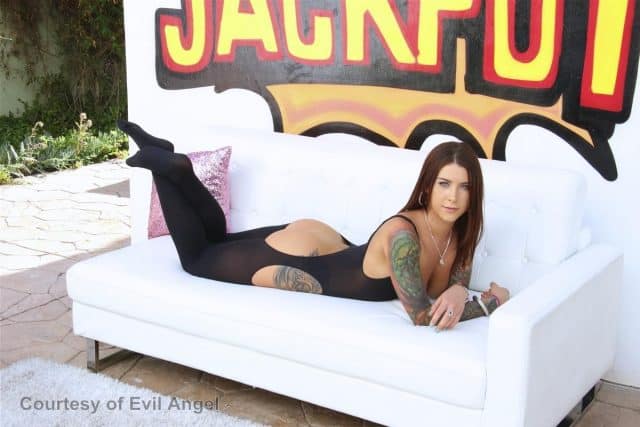 Felicity Feline in Anal Encores – Evil Angel – Adult Empire Galleries
So where did it all begin? Hailing from Long Island, New York, Felicity comes from a close-knit family who actively encouraged Felicity's athletic and artistic interests growing up. From gymnastics to playing drums, Felicity has always been an incredibly energetic individual. After high school Felicity attended college where she studied Photography and Graphic Design for two years. Felicity ended up transferring majors and focused on Sociology and Nutrition for the remainder of her academic studies. Talking about these early years and her relationship with her family within her December 2016 Adult DVD Talk interview, Felicity explained how;
"I grew up on Long Island. I have a really amazing family, we're all really close. My parents threw us into sports so I was a really active child. I had a lot of energy. I was playing drums in elementary school and my parents were glad about that because that was another way for me to get my energy out. (laughs) I'm still very close to my family. I haven't lived in New York for some time but I still visit them regularly…
They know everything about me, I don't hide anything. My parents know I do porn. They understand why I'm doing it but it just took them a little while to understand. I went to college for photography and graphic design for 2 years then I transferred and went for sociology and nutrition so I have a good academic background. My parents are very successful people so they were kind of hurt at first. They didn't understand why I would do porn but I explained to them that I have a fallback and can go into nutrition if I wanted to but I'm an entertainer. I want to play music and I want to do art. Porn is a really good promotional tool. I'm not passionate about it. I look at it as an art. Well, I am passionate in a sense but it's not my main priority. It's a really good fueling force for my other projects".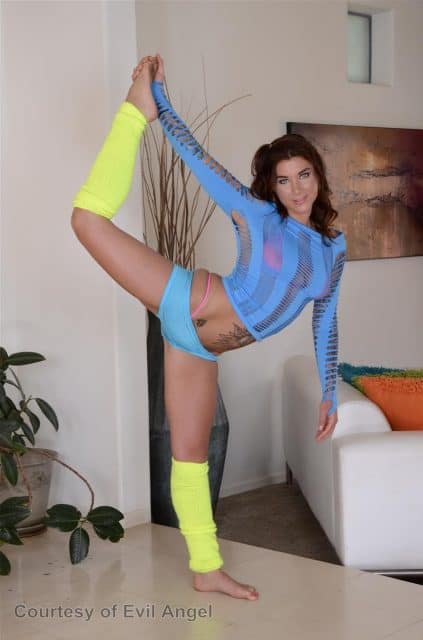 Felicity Feline in Mick's Anal Teens 4 – Evil Angel – Adult Empire Galleries
Wondering how Felicity first started working in the adult entertainment industry? Well, Felicity had already pursued various fashion and alternative modelling work when she was younger which eventually progressed to lingerie and nude modelling shoots. Whilst working as a promotional model at a car show in San Diego, Felicity was approached by the owner of an amateur porn site who asked her if she had ever considered performing in porn. This chance meeting led to Felicity filming her first ever sex scenes in 2015. Felicity discussed this pivotal period of her life during her December 2016 Adult DVD Talk interview, elaborating upon how;
"I was doing a lot of modeling when I was younger. More alternative modeling. I did fashion stuff too, I was even in wedding catalogues before I got a lot of tattoos. Then I started doing implied nudes, risqué stuff, a lot of lingerie. I was working this car show in San Diego. I was standing in front of this 1967 Corvette and this guy came up to me. He was very attractive and wealthy looking…I could tell that he was successful. He said, 'Have you ever thought about shooting pornography? I own an amateur site, you would be really great for it.' We were talking and I was a little shy. I told him I had never shot porn but I was always curious about it. I guess you could say I was always an exhibitionist, one way or another. It didn't really seem that farfetched for me to do. He gave me his card and I checked out the website. I was doing sales jobs for nutritional companies and I was free lancing. I wasn't making that much money and I wanted to make enough money to buy this new motorcycle. So I thought about it for a while and then I called him a few months later. I told him that I'm interested and he offered me a really good rate for my first boy/girl scene. I got tested and he sent me photos of the male talent and bought my plane ticket. So that was the first time I did it…
I did my first one when I was 20 then I didn't do another one for almost a year. I did a couple more and then I went on Ink Master on Spike TV and met my ex on there. We started working tattoo expos together and eventually started dating. He basically told me that he wasn't comfortable with me shooting porn while we were dating. I totally understood so I quit for another year. When we broke up, I decided that I would take it seriously this time and get an agent and start getting good work with good companies. I permanently moved out to Los Angeles because I was going back and forth for a long time. Just started building more connections, working with good companies and I've grown a lot".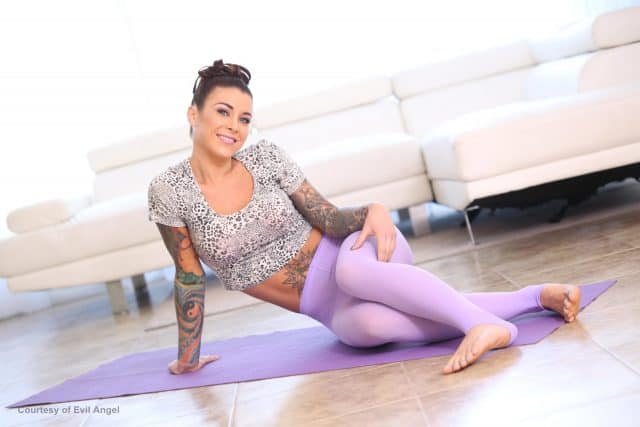 Felicity Feline in Fucking Flexible 2 – Evil Angel – Adult Empire Galleries
Felicity Feline : Adult Film Career
Felicity first began working in the adult film industry in 2015 and some of her earliest porn productions include her sizzling scenes with Gage Sin and Xander Corvus in the Burning Angel DVDs Cum On My Tattoo 6 (2016) and Professional Anal Whores (2016), her raunchy Feline Licks shoot with Small Hands that was released via Throated.com in August 2016, her saucy scene with India Summer in the Addicted 2 Girls production Lesbian Stepdaughters (2016) and hot hardcore shoot with Tommy Gunn in Spoiled Brats (2016) for Diabolic Video also starring Alexa Grace, Charlotte Cross and Harley Jade.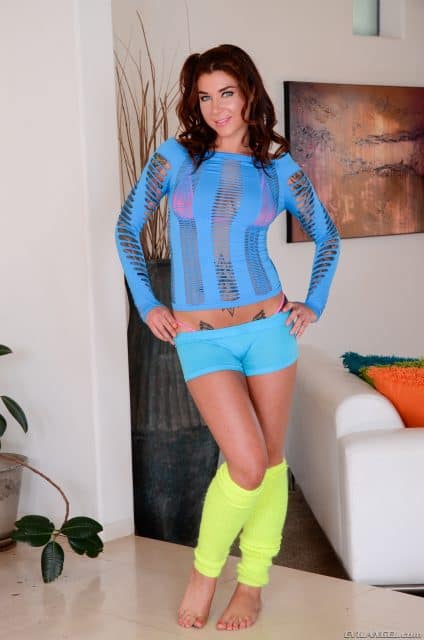 Felicity Feline in Mick's Anal Teens 4 – Evil Angel
Wondering how Felicity chose her sultry stage name 'Felicity Feline'? Well, Felicity divulged during her December 2016 Adult DVD Talk interview that;
"Felicity means 'state of happiness' which I strive for in everything I do. Feline, obviously, catlike. I always felt like my movements and energy were very cat-like. I know I was a cat in many of my past lives. My sexuality often is very catlike. Just how I move and how I feel. My mom always called me a black cat growing up. I wanted to create a stage name that was kind of animated, like an animated character. And that's actually the next project that I'm starting. I'm working with a couple of comic book artists and I want to develop a comic character of Felicity Feline. Then I can drop out of the picture and can be focused more on my character".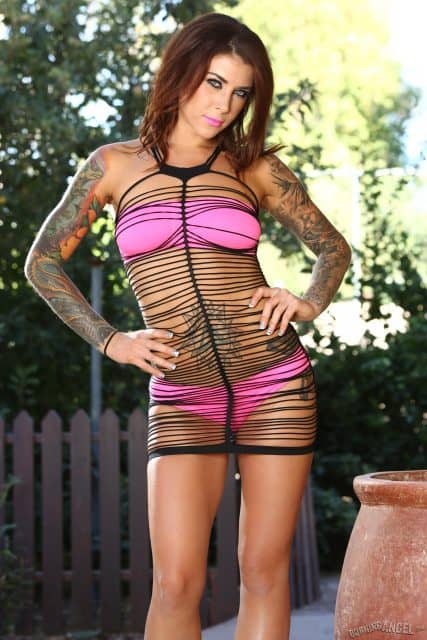 Felicity Feline at Burning Angel
Rising starlet Felicity Feline quickly garnered a devoted fan following due to her sensational scenes in many best-selling Evil Angel DVDs. We recommend checking out Felicity's scintillating scenes with Owen Grey in Aiden Starr's Anal Sex Slaves 2 (2016) which was nominated for "Gonzo Release of the Year" at the 2017 XBIZ Awards, her steamy scenes with Jessy Jones in Fucking Flexible 2 (2016), her sizzling scenes with Mike Adriano in Anal Encores (2016) and Full Anal Service 2 (2016), her saucy shoot with Mark Wood in the LeWood production Up My Booty 2 (2016) and her compelling collaboration with Mick Blue in Mick's Anal Teens 4 (2016) featuring Angel Smalls, Emma Hix and Iris Rose.
Ever eager to broaden her horizons, in January 2017 Felicity filmed her first ever virtual reality porn production, titled All About That Bass, which was released via Wankz VR. Felicity has since starred in the intensely immersive Semen Demons VR experience alongside Audrey Royal, Franchezca Valentine, Gia Paige, Gina Valentina, Jennifer White and Moka Mora that was unveiled via Wankz VR in October 2017. Felicity received high praise for her VR porn debut from Assistant Director Nick who eagerly expressed in an AVN press release how;
"I've been wanting to shoot a scene with a bona fide 'rocker chick' for a while. I had to wait for the right girl to come along and Felicity Feline definitely fits the bill. She has these really intricate sleeves on both of her arms and has actually been a musician her whole life, so her performance comes across as really authentic. Felicity is an extremely confident and cool girl to know and work with. I dedicated this scene to all you alt-porn fans out there who are into alternative, tattooed, exotic and otherwise".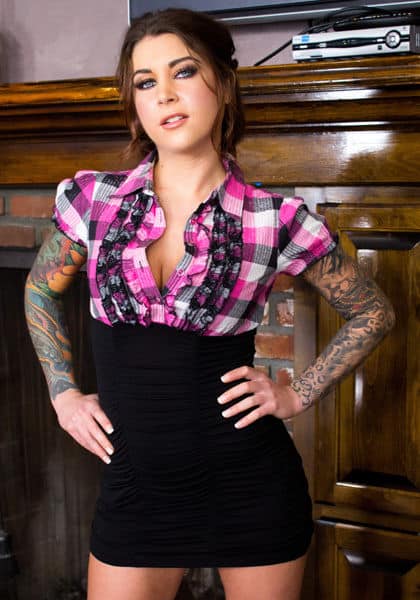 Felicity Feline in All About That Bass – Wankz VR
Interested in checking out some of Felicity's hottest hardcore collaborations? Then you'll love viewing her two-part Bloodthirsty Biker Babes shoot with Anna Bell Peaks which won "Best Girl/Girl Scene" at the 2018 Inked Awards, her formidable femdom pegging session with Keisha Grey in Strap-On Anal (2017) for Zero Tolerance, her epic group sex scene with Alexa Grace, Amber Ivy, Kasey Warner, Summer Day, Derrick Pierce, Dylan Snow, Tommy Pistol and Tyler Nixon in Mike Quasar's 3rd Degree production Yoga Class Orgy (2017) and her scintillating scenes in the Amateur Allure DVD Cum Swallowing Schoolgirls (2017). Felicity loved collaborating with Amateur Allure and stated in a November 2017 AVN press release that;
"I thoroughly enjoyed shooting with Amateur Allure…Everything and everyone from the makeup artist to the producer to the wardrobe was fantastic. The shoot allowed me to use my imagination, creativity, and personal dialogue, which gave it a more intimate approach. I enjoy doing shoots where I get to express myself in a way that's beyond physical, and this was a great example of that. The photography and video came out great with their unique use of lighting and lenses".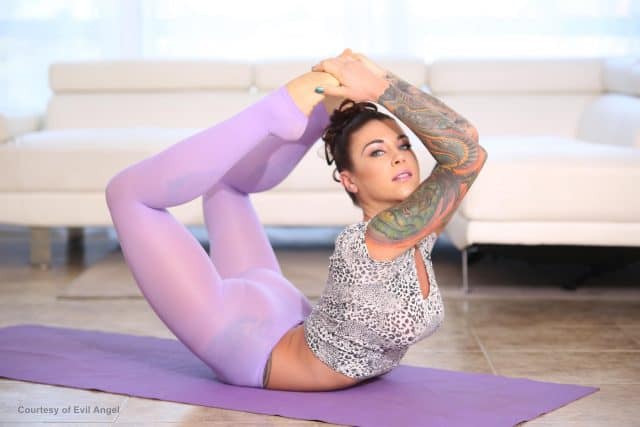 Felicity Feline in Fucking Flexible 2 – Evil Angel – Adult Empire Galleries
Fans of Felicity Feline also have to check out her titillating Jolly Good Time group shoot with Eden Sin, Haley Reed, Nickey Huntsman, Dylan Snow and Logan Long that was uploaded via DareDorm.com in January 2017, her kinky reunion with Mick Blue in Fantasy Anal Play (2017) for Evil Angel/BAM Visions, her sizzling shoot with John Strong in Perv City Universal Anal Majors 3 (2017) for Evil Angel and her raunchy Bisexual Bride role-play with Abigail Mac which was promoted via Brazzers in May 2018. Felicity enjoys tackling these acting roles and mentioned in her September 2016 Fleshbot interview that;
"I love to actually ACT in scenes and play some type of role! I have done theatre and I do mainstreaming acting whenever I can, and I always have so much fun getting into character. I love story lines and plots and creative scenes".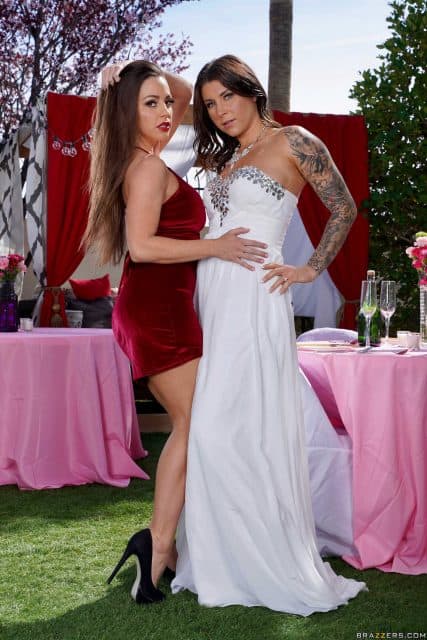 Abigail Mac and Felicity Feline in Bisexual Bride – Brazzers Network
Felicity Feline : Musician & Personal Projects
In addition to her thriving adult film career Felicity is also a talented drummer and music producer who plays with the sludge metal band GarBeast. Talking about her passion for music via her official website, Felicity mentioned that;
"I began my involvement in music (percussion) starting at elementary school. In addition to 7-8 years of private lessons, I have been in various performing concert, orchestra, and jazz bands playing percussion. In addition to school functions, I have played rudimentary snare drum solos in NYSSMA, SCMEA, and was a part of NY State All County Band. In college I continued to expand my music passion by playing in bands outside of school, and getting involved in electronic music as well. I also produce on Ableton and am a progressing DJ".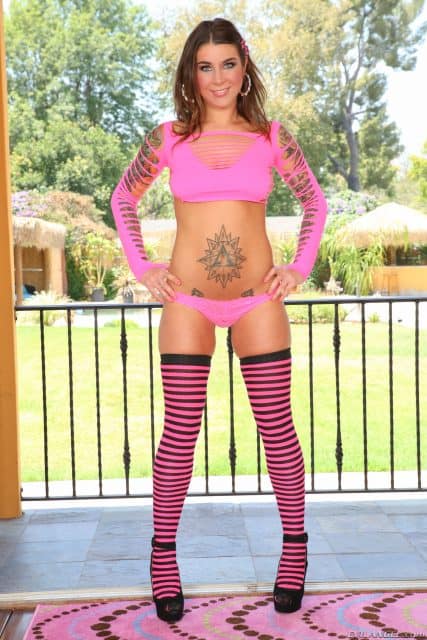 Felicity Feline in Up My Booty 2 – Evil Angel
But wait, there's more! Felicity is also an incredibly versatile writer, dancer and photographer who is a trained plant-based nutrition and yoga expert. In her spare time Felicity is an avid motorcycle and dirt bike rider who loves exploring the great outdoors, hiking, travelling, skateboarding, reading and discovering new artistic endeavours. Despite her impressive performing portfolio, Felicity always finds time to interact with her fans via social media. Felicity is very grateful to her international fan following for their ongoing support and conveyed in her September 2016 Fleshbot interview how;
"I have to say, it is really gratifying watching my fan base grow, especially since I have been working my ass off to build it. I am very grateful for my fans, because essentially they are what brings me success and more shoots. I look at my fans as people and friends, and as long as they respect me, I have nothing but love and appreciation for them…I just want to say THANK YOU for supporting me and being with me on my journey. I will continue to work my ass of for you guys, and for myself".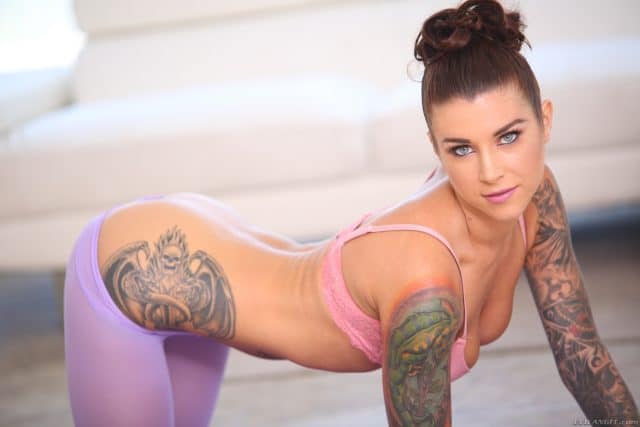 Felicity Feline in Fucking Flexible 2 – Evil Angel
Want to keep yourself updated on all of Felicity's upcoming projects and exclusive web content? Then use the links provided below to stay in touch with terrifically tattooed superstar Felicity Feline!
Social Networks
Official Website : Officialfelicityfeline.com
Twitter : @felicityxfeline
Instagram : @felicityxfeline
Wankz VR : Felicity Feline VR Scenes
Brazzers : Felicity Feline at Brazzers
Burning Angel : Felicity Feline at Burning Angel
Evil Angel : Felicity Feline at Evil Angel
Many Vids : Felicity Feline
YouTube Channel : Felicity Feline
IMDB Profile : Felicity Feline Filmography