Twitter : @SiziSev   MyFreeCams : SiziSevxx   Devil's Film : Sizi Sev Sex Scenes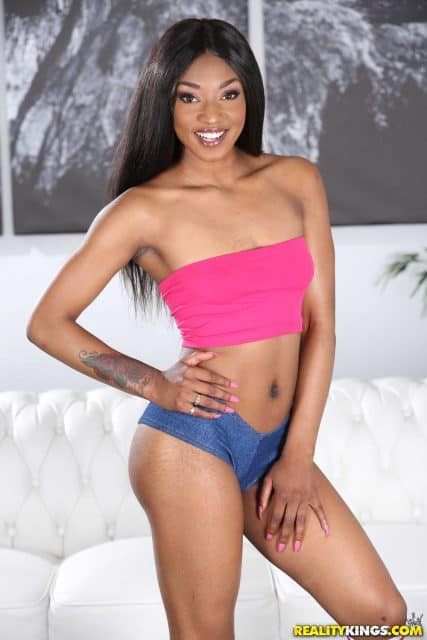 Sizi Sev in Hula Hoop – Reality Kings
Personal Info
Name : Sizi Sev
Alias : Sizi Seviyorum
Date of Birth : January 3rd
Hometown : Inglewood, California (US)
Measurements : 32B – 26 – 34
Height : 5'4 (1.63m)
Hair Colour : Black/Brunette
Eye Colour : Brown
Tattoos : 'Cat' script with two roses on her right forearm, stars above her right ankle and a flower on her right shoulder blade
Shoe Size : Women's 8 (US)
Years Active : 2017 – present
Number of Scenes : 10+
Sizi Sev, aka Sizi Seviyorum, is a fan-favorite adult film star, glamour model and cam girl who has been performing in porn since 2017. Over the past few years Sizi has attracted a keen international fan following due to her lusty live cam shows and her sizzling scenes in several Devil's Film, Crave Media and Dogfart Network movies. Watch this space!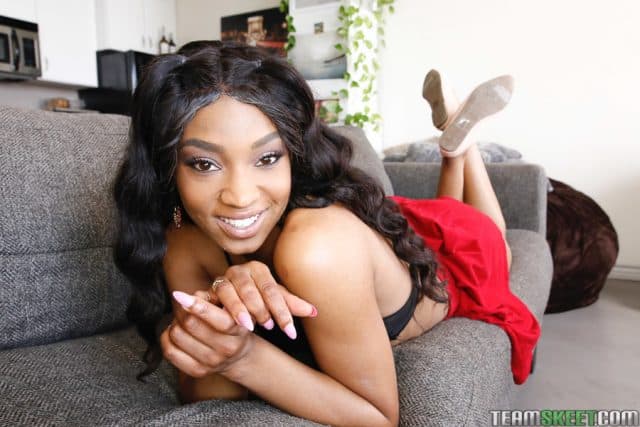 Sizi Sev in Sizi's Sizzling Seduction – Team Skeet
Wondering where it all began? Hailing from Inglewood, California, Sizi first started working in the adult entertainment industry in December 2016 as a webcam model. You'll be happy to hear that Sizi continues to host lusty live cam shows via MyFreeCams under the screen name 'SiziSevxx'. Sizi also used to dance online via Periscope and she quickly attracted a keen international fan following because she danced to Turkish songs that she was sent by a Turkish DJ. In fact, you may be interested to learn that 'Sizi' Sev' is short for 'Sizi Seviyorum' which actually means 'I love you' in Turkish.
Spurred on by the positive reception to her dancing, Sizi created a Snapchat Premium account and also started to shoot some exclusive online content for her solo website SiziSevXX.com. Talking about her progression from dancing to performing in porn during her February 2018 AVN: Fresh Faces interview, Sizi explained how;
"I used to dance, and I had thousands of people watching me dance to their music. They'd never seen a black girl dancing to Turkish music and they were loving it…I was getting a lot of views. I realized people were getting paid for this. I opened up a Snapchat Premium account and made a lot of money in a week. I shot some scenes for online and my website, and then I took a short break before I got together with 360 Models…I'm still dancing, because I can make a lot of money dancing every day while waiting for a booking. Dancing and porn is a plus. Guys want a dance and I can sell them a DVD".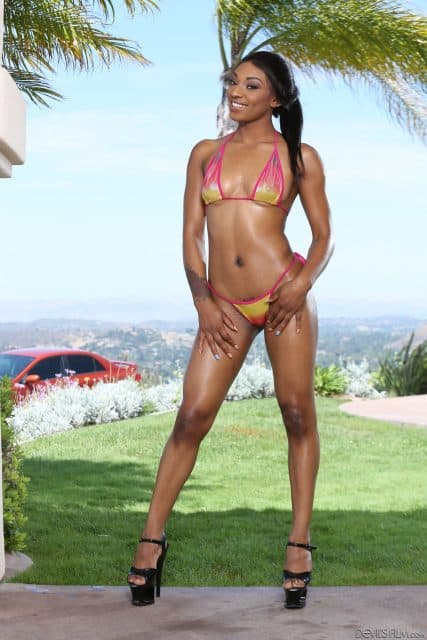 Sizi Sev in I Like Black Girls #5 – Devil's Film
Sizi Sev : Adult Film Career
Sizi first started working in the adult film industry in February 2017 and some of her earliest porn productions include her saucy Sizi's Sizzling Seduction scene for Team Skeet in March 2017, her sizzling Hula Hoop shoot with Logan Long that was released via Reality Kings in June 2017 and her raunchy Return Of The Skin Flute scene for Team Skeet in May 2017 within which Sizi played a recorder with her pussy! Sizi enjoyed shooting these initial sex scenes – especially her Return Of The Skin Flute shoot for Team Skeet and her Hula Hoop scene for Reality Kings. As Sizi saucily stated in her February 2018 AVN: Fresh Faces interview;
"It's a comfortable environment. I like that people are professional and nobody asked me to stay after. If the house is nice, I may stick around and swim [laughs]".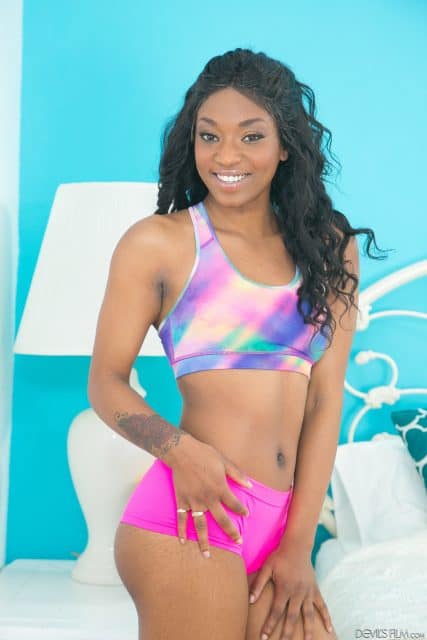 Sizi Sev in My New White Stepdaddy #17 – Devil's Film
During this time Sizi started to appear in a wide range of best-selling DVDs. We recommend checking out Sizi's sizzling scenes in Anacondas & Lil Mamas #11 (2017) for DEF Entertainment, in the Juicy Entertainment DVDs Sistas Love It Big #5 (2017) and Sistas Love White Cock #5 (2017) as well as in the Devil's Film movies My New White Stepdaddy #17 (2017) and I Like Black Girls #5 (2017) also starring Mya Mays, Honey Gold and Zoey Reyes. Sizi and her fellow cast members received an ardent endorsement from XCritic column writer J.W. Sharp who commented in his September 2017 film review that;
"The director of these scenes is uncredited, which is a shame. The man, or woman, has some amazing talent, setting up each scene to give us the clearest shot of the action possible. While I really liked this whole disc, I especially liked the last two scenes because they were shot outside, making the Ultra 4K sparkle, and giving them just the right amount of natural light for each scene. And what else can I say about the performers. Sizi Sev is just a marvel to watch with all of her energy and electricity. This is a girl who simply loves fucking and her performance was incredible. Mya Mays with her sweet, almost romantic delivery along with Honey Gold's and Zoey Reyes incredible beauty makes this a release not to miss, and Highly Recommend it".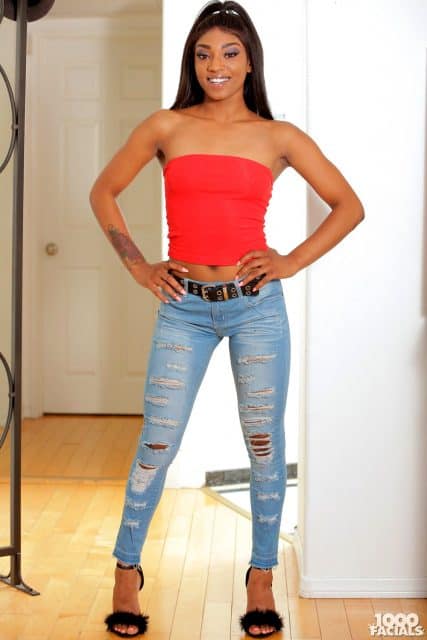 Sizi Sev in Moby Dick – 1000 Facials
Want to know the best part? Sizi has continued to star in many fan-favorite movies including the Crave Media DVDs Petite Black #3 (2018) and Black Valley Girls (2018) as well as the Fallout Films productions POV Mania #13 (2018) and Miles Long's Full Service POV #3 (2018) featuring Cameron Canela, Makayla Cox, Nicky Ferrari, Ryan Conner, Shavelle Love and Tara Ashley.
But hold on, it gets even better! In addition to her hot hardcore scenes Sizi is a popular girl/girl performer. Fans of Sizi's sultry girl/girl scenes will love watching her saucy sessions with Cherie DeVille and Rachael Cavalli in Pussy Crazy #4 (2017) for Little Dragon Pictures and her steamy scene with Chloe Scott that was featured in the Dogfart DVD Zebra Girls #5 (2017). Most recently, Sizi has starred in the Little Dragon Pictures movie Squirt Monsters #2 (2018) and she was featured on its box cover alongside her co-star Savana Styles. Sizi has also shared a sizzling scene with Alex Chance for Georgia Jones's upcoming Filly Films movie Lesbian CEOs And Office Hos (2018). Not to be missed!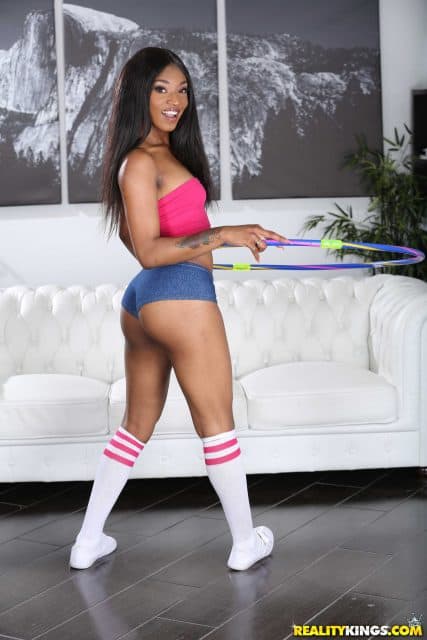 Sizi Sev in Hula Hoop – Reality Kings
What does the future hold for sensational rising starlet Sizi Sev? Well, when Sizi was asked about her dream sex scene during her February 2018 AVN: Fresh Faces interview she hotly hinted that;
"I would like to get fucked by a Turkish man with my veil on, while he smokes a hookah and blows it in my mouth".
Sizi also revealed within this February 2018 AVN: Fresh Faces interview that she would love to collaborate with Wicked Pictures, Sweetheart Video and Elegant Angel in the near future, highlighting how;
"I like acting, and I like that they're making movies".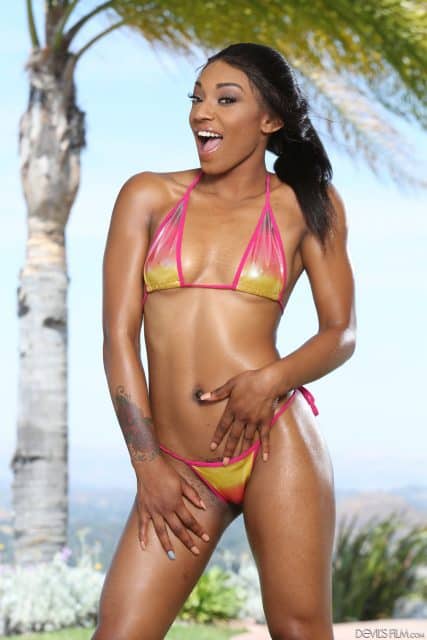 Sizi Sev in I Like Black Girls #5 – Devil's Film
Want to to keep yourself updated on all of Sizi's upcoming live cam shows and exclusive web content? Then use the links provided below to stay connected with your dream girl Sizi Sev!
Social Networks
Twitter : @SiziSev
MyFreeCams : SiziSevxx
Devil's Film : Sizi Sev at Devil's Film
Filly Films : Sizi Sev at Filly Films
Reality Kings : Sizi Sev at Reality Kings
Team Skeet : Sizi Sev at Team Skeet
1000 Facials : Sizi Sev at 1000 Facials
Official Website : SiziSevXX.com
Adult Empire : Sizi Sev DVDs
IMDB Profile : Sizi Sev Filmography