Twitter : @xAlixLovellx   VR Hush : Alix Lovell VR Scenes   Reality Kings : Alix Lovell Sex Scenes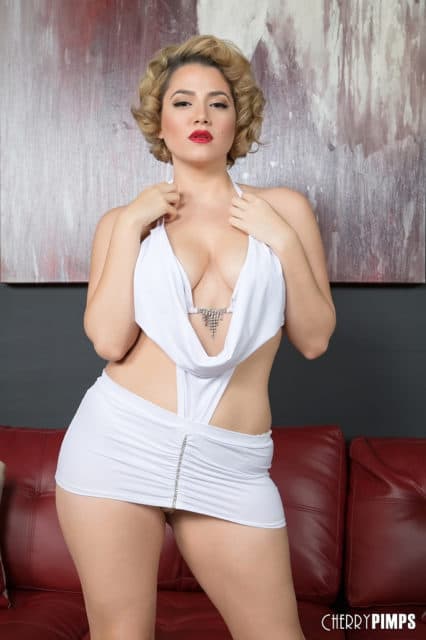 Alix Lovell Getting That Facial Live – Cherry Pimps/Wild On Cam
Personal Info
Name : Alix Lovell
Date of Birth : February 6th
Hometown : Southern California (US)
Measurements : 36DD – 31 – 38
Height : 5'5 (1.65m)
Hair Colour : Blonde
Eye Colour : Brown
Tattoos : Three blackbirds in flight across her left foot. Alix discussed the inspiration for her tattoo during her February 2017 AVN: Fresh Faces interview, explaining how it represents;
"The anxiety I've struggled through for years and how I've overcome it [Lovell says she plans to supplement the birds with a quote from Erin Hanson] What if I fall? Oh but my darling, what if you fly?".
Piercings : Navel and left nostril
Years Active : 2015 – present
Number of Scenes : 40+
Alix Lovell is a stunning adult film star, business owner, content creator and social media director who has been performing in porn since 2015. Over the years Alix has attracted an avid international fan following due to her sultry stage presence, her amazing all-natural curves and her sensational scenes in several Little Dragon Pictures, Fallout Films and Reality Kings productions. Watch this space!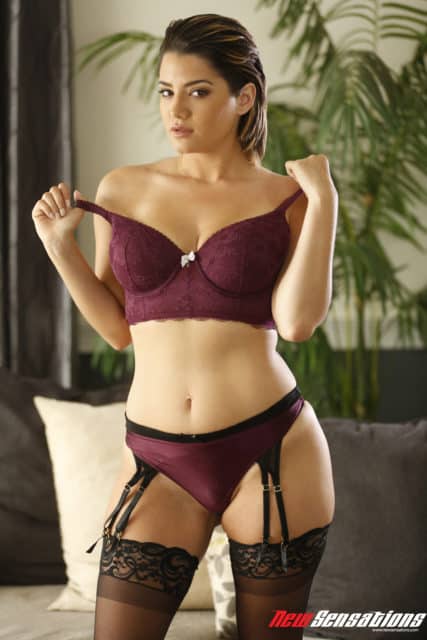 Alix Lovell in Hotwife Bound #3 – New Sensations
So where did it all begin? Born and raised in a small town in Southern California, Alix comes from a religious family and she used to work for her local church before she decided to pursue a career in porn. An intelligent individual, Alix was a straight A student who majored in Forensic Anthropology in college. Talking about these early years within her February 2018 Fleshbot interview, Alix recounted how;
"In high school and college, I was the girl that would befriend every group. I wouldn't stick to one. I was a straight-A student in both high school and community college in advanced classes, especially in college. I was a full-time student with 5 classes and I was majoring in forensic anthropology for two years. I was always physically more attractive growing up so, at a younger age, it made me more popular, but I was always a bit deeper and more of a thinker and intellectual, personality wise. So it's why I got along with everyone but didn't have a lot of close friends…
I preferred to be an introvert and kept to myself and focused on school. I had a couple really close friends that remain my friends to this day but I didn't like to group myself up with people. I only had two boyfriends before I was an adult. Both were high school relationships that only lasted for 6 months…I started watching [porn] when I was, like, 16, still a virgin but I would use a vibrator and I loved g/g stuff. I loved Alexis Texas and I would like watching the parodies and story line porn".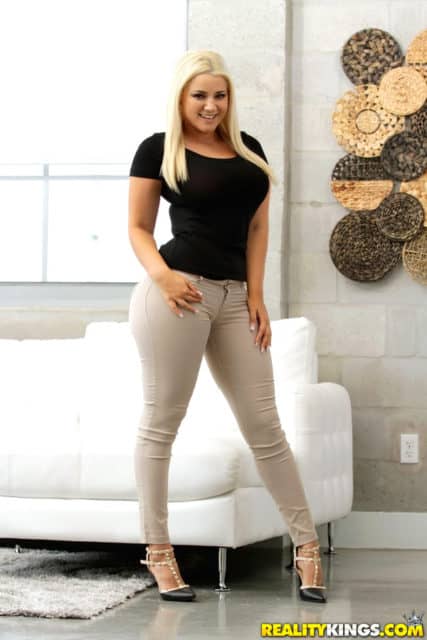 Alix Lovell in Curves And Head – Reality Kings
After 3 years of working for the church and attending college, Alix felt the need to explore new career avenues. In this manner, Alix contacted Hayden Winters – her old best friend and a former adult film star in her own right. With Hayden's help, Alix contacted various adult film talent agencies and she was booked to shoot her porn debut for Net Video Girls in 2015. And the rest is history! Talking about this pivotal period of her life during her July 2016 Adult DVD Talk interview, Alix explained how;
"I was working at a church for the past 3 years and I decided that I was in a rut in my hometown. I was 23, 24 years old, going to college, living with my parents and working at this church. I needed a change in my life. My mom and me had a falling out and I tried to figure out what I could do to make money. My old best friend was a porn star and she had already gotten out of the business at that point. I thought I could do that because I was already a sexual person. I love to have sex anyways on my own time, so why not get paid for it? (laughs) That's why I got into it originally. Then I had a few setbacks with my first agency and that was a nightmare. It was harder than I thought it would be at first…
I feel like I'm a pretty strong woman, I'm pretty smart, I learn pretty quickly and what I have right now, I pretty much built it up on my own. I've been in 8 months now, I've had a Porn Fidelity scene, I've had a Brazzers scene, I've had 4 Reality Kings scenes and a Hustler scene and I've had some help here and there from some people. Stoney Curtis has helped me a lot. I've had connections, like numbers and emails, but in the end, I'm the one who had to initiate contact. I've had to impress people, I've had to put forth why I felt I was worthy".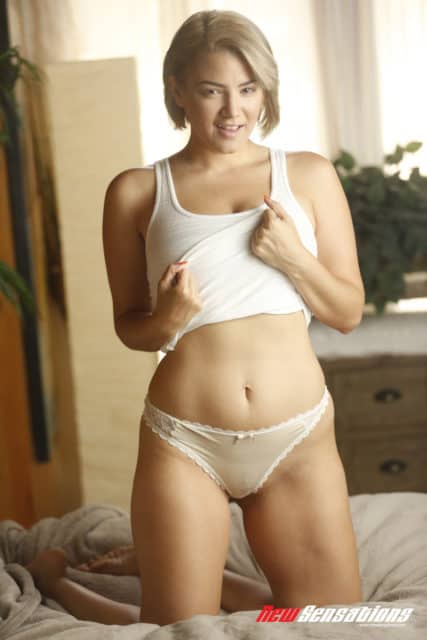 Alix Lovell in A Stepfather's Desires – Digital Sin/New Sensations
Alix Lovell : Adult Film Career
Alix filmed her first ever sex scenes in 2015 for the popular porn site Net Video Girls. Alix's hardcore debut was a sizzling scene with Danny Mountain and she has enthusiastically stated in her February 2017 AVN: Fresh Faces interview that;
"It was amazing. Danny Mountain is awesome and amazing and he's hot and he's great and he's a good performer. He did everything the right way, especially for a new girl. It was nerve-wracking—not the sex, I'm comfortable in my sexuality—but the acting was hard. I never acted before. I had to be the anxious innocent. I was, like, 'Can we get to the sex?' The producer liked me a lot and they still use me now and then".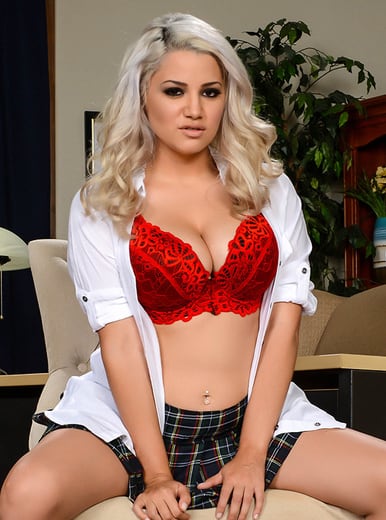 Alix Lovell in Good Moaning Fellow Students – Brazzers
Some of Alix's earliest porn productions have been her saucy scenes in Stoney Curtis' Lethal Hardcore production Cheeks For Weeks #2 (2016), her raunchy Good Moaning Fellow Students role-play with Xander Corvus that was released via Brazzers in May 2016 and her steamy shoot with Savana Styles in the Lethal Hardcore movie Cougars Crave Young Kittens #16 (2016). One of Alix's favorite scenes to shoot has been her compelling Sweet Titties collaboration with Bruce Venture which was uploaded via Reality Kings in August 2016. Talking about this scintillating scene in her February 2017 AVN: Fresh Faces interview, Alix revealed that;
"My favorite scene was with Bruce Venture. It was just us, and I was on an ottoman and I hung my head back and he was over me, missionary style, going at my face as if it was my vagina. Looking back, I did not realize I could do that. I'm very proud of it".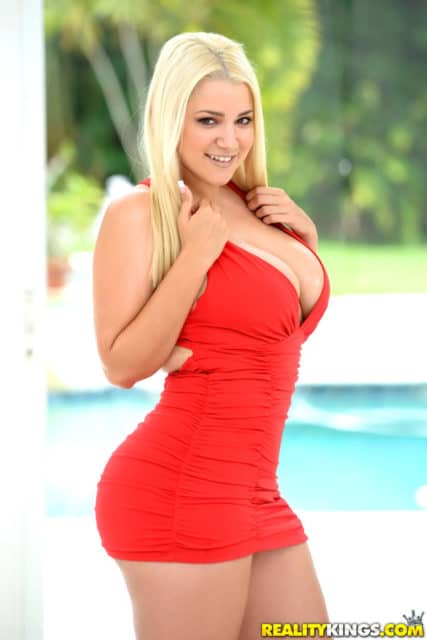 Alix Lovell in Sweet Titties – Reality Kings
Eager to explore some of Alix's most popular porn productions? Then you'll love watching her raunchy Loving Lovell scene with Bambino that was unveiled via Reality Kings in September 2016, her immersive No Going Back, Once You Go Black virtual reality sex experiences which were released via VR Hush in October and December 2017, her sizzling Shower Robber scene with Jessy Jones that was uploaded via Reality Kings in April 2017 and her kinky Sweet Alix oral scene with Dylan Snow which was promoted via 1000Facials.com in November 2017. Fans of Alix Lovell will also love viewing her titillating scenes with Ramon Nomar, Mick Blue and Damon Dice which were showcased in the Digital Sin/New Sensations taboo relations titles A Stepfather's Desires (2017), Hotwife Bound #3 (2017) and Young, Married & Available #2 (2017). Alix has enjoyed shooting these raunchier porn productions and mentioned in her February 2018 Fleshbot interview that;
"I am freaky and sexual but not so kinky – the only fetish I have that everyone knows about is some mild bondage. I like the mental stimulation of someone taking control of me".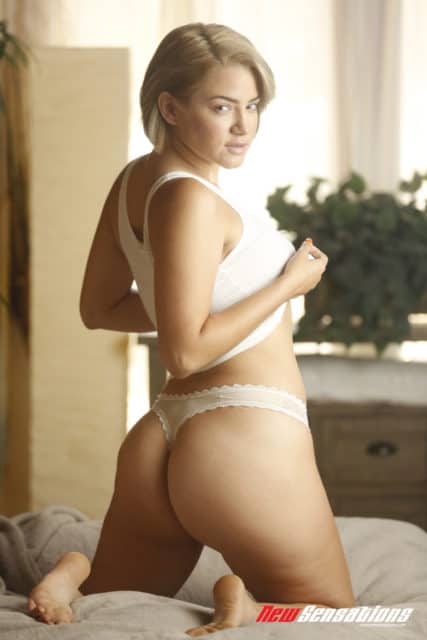 Alix Lovell in A Stepfather's Desires – Digital Sin/New Sensations
Many of Alix's hottest hardcore scenes have been those that she has filmed with Miles Long for Fallout Films. We recommend checking out Alix's sizzling POV scene with Miles Long in POV Mania #9 (2017) that was nominated for "Best Oral Movie" at the 2018 AVN Awards, her thrilling three-way with Lauren Phillips and Miles Long in POV Mania #10 (2017), her epic group shoot with Rachael Cavalli, September Reign and Miles Long in POV Mania #12 (2017) and her saucy three-way with Cherie DeVille and Miles Long in Full Service POV #4 (2018). Not to be missed!
In addition to her sizzling hardcore scenes, Alix is a talented girl/girl performer who has shared many sensational lesbian scenes throughout her adult film career. Our top picks? They'd have to be Alix's steamy scenes with Savana Styles and Mindi Mink in the Little Dragon Pictures productions Girl Attack #3 and #4 (2017), her saucy shoot with Savana Styles in the Pornstar Platinum movie Lesbian Guilty Pleasures #6 (2017), her thrilling three-way with Anya Ivy and Lucky Starr in Lesbian XXX Games (2017) for Little Dragon Pictures and her scintillating scene with Pamela Morrison in the Girlfriends Films movie Women Seeking Women #151 (2018). Alix loves shooting these sultry girl/girl scenes and divulged during her February 2018 Fleshbot interview that;
"I loved women long before porn; I knew I was sexually aroused by the female body. I had lots of sexual experience with women before my career and I knew because even when I was younger, I was already entranced with boobs LOL. So again the thing I value the most is when you have true chemistry with a female and she is really enjoying the kissing and touching. I think it's harder to find it with girls especially on camera and I love to go down on a woman and see them be shocked at how skilled I can be with my tongue".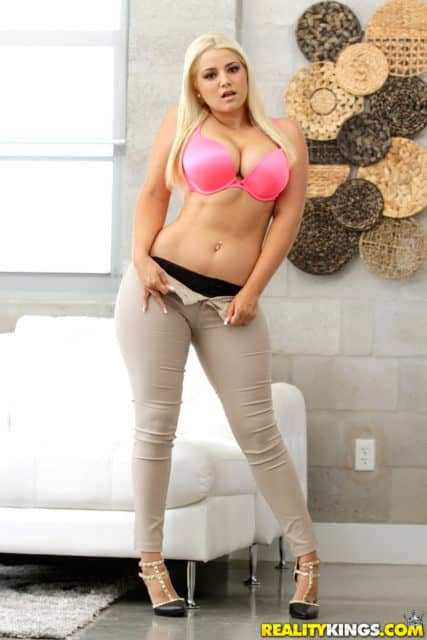 Alix Lovell in Curves And Head – Reality Kings
Alix Lovell : Business Owner, Social Media Director & Future Plans
In addition to her impressive porn portfolio, Alix is the President of her own business – New Verticals Consulting (NVC LLC). As Alix explained during her Many Vids magazine interview;
"I just started my own LLC (New Verticals Consulting) as a social media director and I am managing multiple companies' and individuals' social media-industry accounts as well as personal channels like ManyVids among others. I also just started shooting again after taking the year off to build this business. I'm going  to be finally able to update my channels again and hopefully hit a few firsts for top companies like my first anal and first Tgirl scene".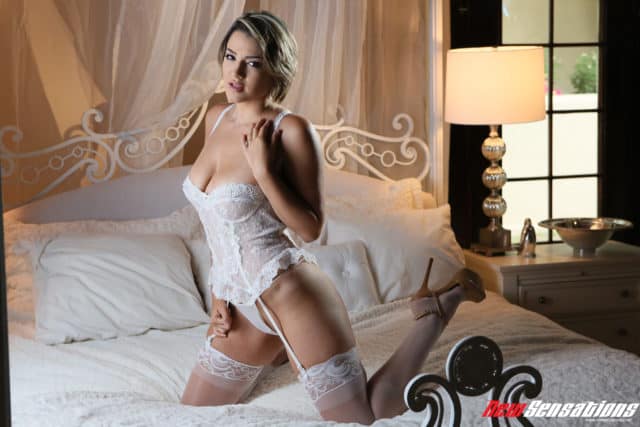 Alix Lovell in Young, Married & Available #2 – New Sensations
Most notably, Alix was appointed as TransErotica's new Director of Social Media in July 2018. In this prominent role, Alix and NVC LLC will be managing all of TransErotica's social media outlets. Alix was thrilled to take on this important role, eagerly expressing in a July 2018 AVN press release that;
"I'm so excited to see the hard work, time and effort pay off, and yes, thank you to TransErotica for giving me the freedom to create a unique and fresh strategy…Thank you also for giving a random porn girl a chance to show I also have a beautiful brain and love to use it.  More importantly, I'm grateful I get to work in a way that works for the care of the performers themselves. As a performer myself, I truly care and trust that this will continue to thrive both for the companies and the performers that mean so much to them! I love it".
Alix also received high praise from Daniel Hogue, the Director of Operations for TransErotica, who advocated via this July 2018 AVN press release how;
"Alix has been a joy to work with, giving us her fresh ideas and diligence across the board. She has taken a very unique and profitable approach to monetize SnapChat for TransErotica. This approach has brought more revenue for the company and, most of all, cash to the stars we work with; also, getting the stars more involved".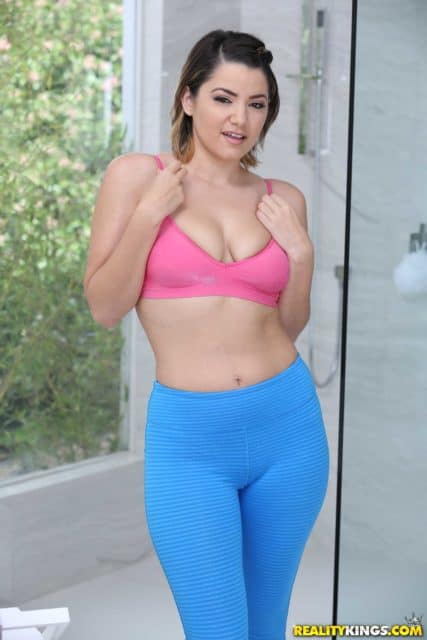 Alix Lovell in Shower Robber – Reality Kings
Wondering what the future holds for multi-talented adult film star Alix Lovell? Well, in recent months Alix posed for a glamourous photo shoot that was featured in Issue 21 of ManyVids' MV Mag in November 2018. Alix has also mentioned in various interviews that she intends to shoot some exciting new content in the near future. Talking about her future career plans in greater detail during her February 2018 Fleshbot interview, Alix elaborated upon how;
"I have worked incredibly hard this past year on myself and my career, doing lots of shoots for the content on my own channels and I finally have all my channels up and running and I am excited to see them grow. I want to continue to always be a part of this industry in one way or another. I jokingly said to someone (but also meant it) as long as my stuff sells, I want to continue to shoot. I am so down with granny porn if I can make it happen LOL…
There are so many aspects of my career that I value and make me happy. If I have to choose the top one, I would say it's creating a piece of art I can go back and look at and feel proud of having created. That feeling after each video or photo is equivalent to how any artist feels after a piece of work they have created. It truly a rewarding feeling, especially when you see the growth in your ability to perform better and better…I love you guys, and thank you for continuing to support my career and I will continue to create the art that I know you all love to watch".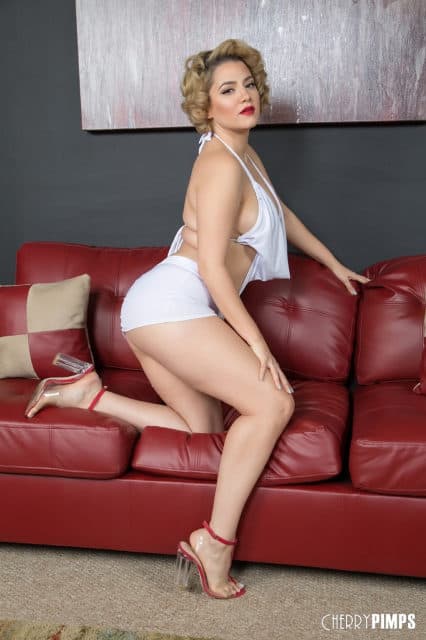 Alix Lovell Getting That Facial Live – Cherry Pimps/Wild On Cam
Want to keep yourself updated on all of Alix's latest projects, exclusive web content and upcoming productions? Then use the links provided below to stay connected with your dream girl Alix Lovell!
Social Networks
Twitter : @xAlixLovellx
VR Hush : Alix Lovell VR Scenes
Brazzers : Alix Lovell at Brazzers
Girlfriends Films : Alix Lovell at Girlfriends Films
Instagram : @xalixlovellx
Many Vids : xAlixLovellx
New Sensations : Alix Lovell at Digital Sin/New Sensations
Reality Kings : Alix Lovell at Reality Kings
Spizoo : Alix Lovell at Spizoo
Wild On Cam : Alix Lovell at Cherry Pimps/Wild On Cam
1000 Facials : Alix Lovell at 1000Facials.com