Hadley Viscara
Hadley Viscara at Brazzers : Sex Scenes   Kink : Hadley Viscara BDSM & Fetish Content   Camsoda : hadleyviscara1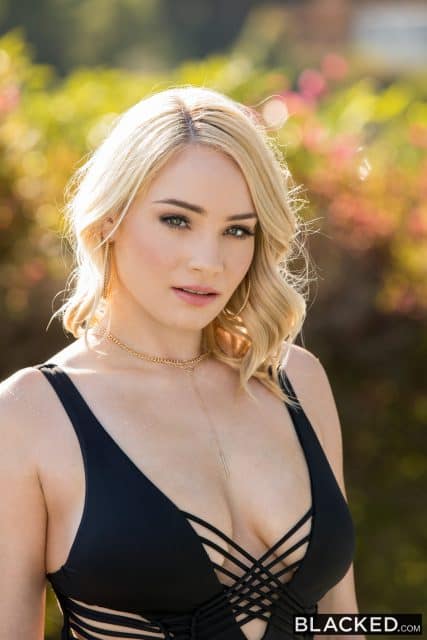 Hadley Viscara – My First Interracial Volume 9 – Blacked.com – Adult Empire Galleries
Hadley Viscara – Personal Info
Name : Hadley Viscara / Hadley Mason
Date of Birth : May 11th, 1994
Hometown : Omaha, Nebraska (US)
Measurements : 34DDD/36D – 28 – 36
Height : 5'4 (1.63m)
Hair Colour : Blonde
Eye Colour : Green
Shoe Size : Women's 8 (US)
Tattoos : Script on the inside of her arm, a design behind her left ear, a design on the back of her neck, a large rose across the back of her hip/butt and two interlocking female gender symbols on her upper arm. Talking about this tattoo in her July 2017 Adult DVD Talk interview, Hadley mentioned that;
"It's a lesbian tattoo. I got it when I was 20 on the day of my grandfather's funeral. I would say it was more of an emotional tattoo rather than a well thought out one. I'm not gay. I don't have a label for my sexuality. I fall in love with people's souls. I got the tattoo because I thought I was gay before I knew who I really was".
Years Active : 2017 – present
Number of Scenes : 50+
Introducing Hadley Viscara (aka Hadley Mason); a fan-favorite pornstar, cam girl and model who first began performing in porn in the summer of 2017. Even though she has only been working in the adult industry for less than a year, Hadley has already shot for such prominent production companies as Kink, Brazzers, Naughty America, Blacked and Hard X. Watch this space!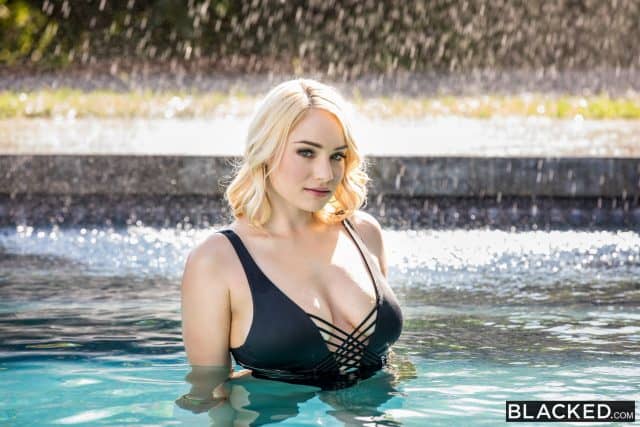 Hadley Viscara – My First Interracial Volume 9 – Blacked.com – Adult Empire Galleries
So where did it all begin? Born and raised in Omaha, Nebraska, Hadley had a small town upbringing and explained within her July 2017 Adult DVD Talk interview that;
"I grew up in a tiny town in Nebraska, about 700 people. It didn't even have a school! It just had a bar and a post office. (laughs) I had to take an hour and a half bus ride every morning to go to school. It even got worse at school because I was an easy target for bullying because I was the nicest kid ever. And I was really weird too. (laughs) I was bullied really bad in school so much so that by the 6th grade, I had to be pulled out of school and be home schooled while my mom tried to get me into a different school district. We had to move to a different town so that I could go to school. My family growing up was really, really Christian. They still are. We lived next to a church in an old pastor's house. Everything about my family screamed Christianity. My dad was one of those fathers who are "children should be seen and not heard." He'll hit you over the head with a bible. I was always the rebellious one, my sister was the angel. She actually ended up marrying a pastor. I always questioned things. 'I don't think that's right! I don't think we should judge people!' (laughs) I was a good little church girl. I had a purity ring on my finger, I was a good kid who was kind of a closet whore. (laughs)".
Hadley lost her virginity when she was 16 years old and from this point onwards she began to explore her sexuality. As Hadley put it in her own words during her July 2017 Adult DVD Talk interview;
"I lost my virginity when I was 16…Oh my gosh. I got so promiscuous! I would have sex with anyone!…It's more like people. I had the list including boys and girls and it was in the 30s…My first time with a girl was when I was 18. I really ended up falling in love and being with her for a little bit. She was my first long term relationship. I consider that losing my virginity more than I do losing my virginity at 16 to a man because she got me a nice hotel room, she romanced me, we went out to dinner…It was so sensual and beautiful. It wasn't what it was when I was 16. It was beautiful. And this was back when I was still pretty Christian at this point. After I orgasmed, I looked up at the ceiling and started crying. I thought to myself, 'How can something be so wrong and feel so right?!".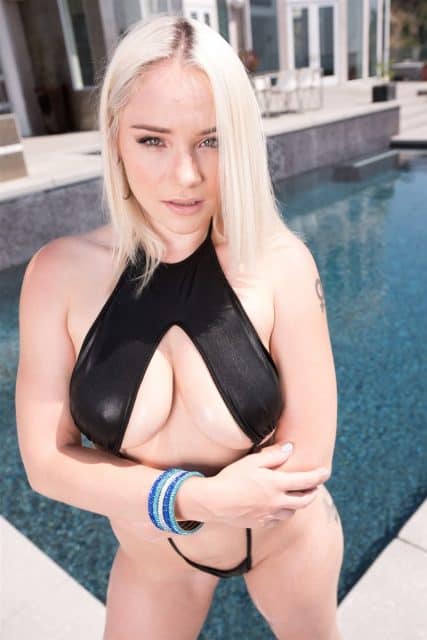 Hadley Viscara – Stacked 8 – Hard X – Adult Empire Galleries
Wondering how Hadley first decided to pursue a career in porn? Well, it actually began when Hadley was 15 years old and she watched her first ever porn scene; a BDSM shoot for the fetish lifestyle network Kink.com. From this point onwards Hadley wanted to shoot for Kink.com and submitted several applications to them. Even though these initial applications were denied, Hadley ended up shooting her adult film industry debut for Kink.com after meeting Kink director Fivestar at a Phoenix Forum event. Hadley discussed this fortuitous meeting within her July 2017 Adult DVD Talk interview, highlighting how;
"I started watching porn when I was 15. The first porn I ever watched was Kink.com, BDSM porn. (laughs) I wanted to do a scene with them ever since I was 15. It looked like so much fun! (laughs) So over the past year, I submitted my application to Kink 3 times. They never got back to me. Somehow, randomly, I got invited to an event called The Phoenix Forum in Phoenix because that's where I was living. I met James Deen who introduced me to Fivestar, who is a director for Kink. I went to her and told her about sending in my application and told her I want to shoot a scene for Kink. She gave me her email address so we could talk it out. We did that on May 9 of this year. I was in the middle of a really intense orgasm when I realized this is what I wanted to do for my career".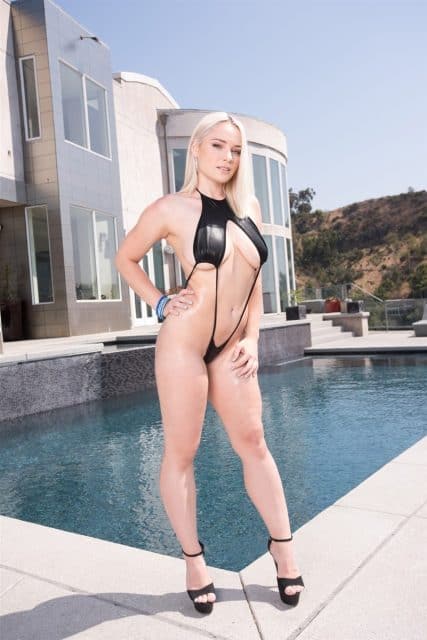 Hadley Viscara – Stacked 8 – Hard X – Adult Empire Galleries
Hadley Viscara : Adult Film Career
Hadley made her official adult film industry debut in June 2017 when she filmed a sizzling Natural Born Electroslut: 1st Porn Shoot EVER For Blonde Bombshell scene with femdom superstar Mona Wales that was promoted via Kink.com as part of their Electro Sluts web series. Talking about her curious kinkster side and shooting her first ever sex scenes in her July 2017 Adult DVD Talk interview, Hadley divulged that;
"I got off the plane, I was so nervous. I thought, 'Oh my God, there's no turning back now! Am I going to get beat up? Am I going to get traumatized for life?' But Fivestar and I had been talking for a while and even when I was getting my hair and makeup done and waiting for the shoot to start, I would not talk. At all. And I'm a talker. (laughs) I was so nervous! Then the shoot started and after I had my first orgasm, which was pretty quick. It's not like I was trying to orgasm but it's pretty forced. I was in ropes and there was a vibrator on my clit and I couldn't help but cum. (laughs) Then I realized, 'You know, I'm really enjoying myself having sex in front of people! I think I'm an exhibitionist!' My first time having sex in front of the camera was a lot of fun. I ended up enjoying myself. Extremely!…
I started to explore my BDSM kink earlier this year because I had a friend who was into it and she had a dominant. They started by tying me up with ropes and that's all that would really happen, just rope bondage. I love being a rope bunny, I love being tied up, it's awesome. (laughs)…I haven't done anything in BDSM other than my Kink scene except for zip ties here and there and a little bit of unconsensual consent, if that makes sense, but I haven't done too much. Mainly because I don't have anyone to do it with. (laughs)".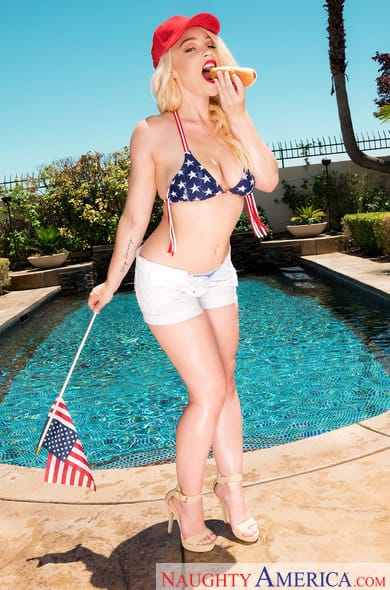 Hadley Viscara at Naughty America
During this insightful July 2017 Adult DVD Talk interview Hadley revealed that she chose the porn star persona 'Hadley Viscara' because;
"I was in a creative writing class and we had a 3-5 short story we had to write or we could start writing a longer piece but 3-5 pages every week. It was literally an hour before I had to go to this class and I had to write something. I've always been a creative writer when I was bullied. When I was younger, I used to go home and write and get it all out, get rid of the pent-up energy. I was sitting at my desk and I got the word 'corset' in my head so I ended up going with it. I ended up writing a chapter to a book called "The It Girl Incorporated" about a girl who was a five-star escort in New York City and her name was Hadley Viscara. That's how I ended up with the name".
From this point onwards Hadley began to shoot a wide range of captivating web clips for Blacked, Naughty America, Brazzers, Twistys and Mofos among many more popular porn sites. Fans eager to explore some of Hadley's sauciest sex scenes will want to watch her sizzling A Natural Distraction scene with Charles Dera that was released via Brazzers Network in July 2017, her Boob Wash 2 three-way with Sofi Ryan and Ramon Nomar that was promoted by Reality Kings in August 2017 as part of their Big Naturals web series, her immersive Tonight's Girlfriend scene with Brad Knight which was filmed by Naughty America in August 2017 and her Backstage Ass shoot with Britney Amber that was uploaded via Twistys in September 2017.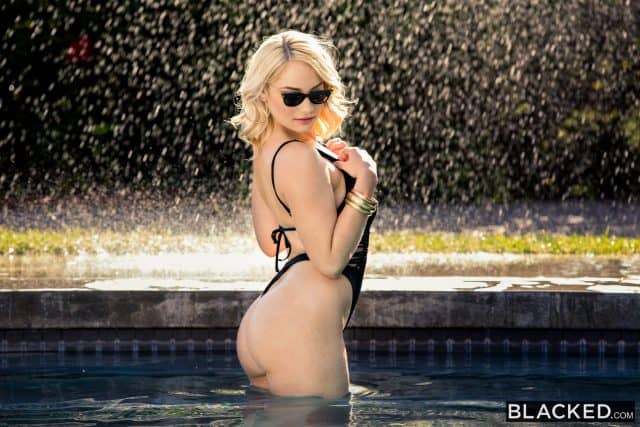 Hadley Viscara – My First Interracial Volume 9 – Blacked.com – Adult Empire Galleries
But wait, it gets even better! Hadley has also been featured within several best-selling DVDs among which include Stacked 8 (2017) for Hard X within which Hadley was showcased alongside fellow big bust beauties Kylie Page, Natasha Nice and Ella Knox, Schoolgirls In XXX Training (2017) for Lethal Hardcore, Tight 'N' Ready (2017) featuring A.J. Applegate, Lena Paul and Lilly Ford, Mandingo: The King of Interracial 7 (2017) for Blacks On Blondes starring Aidra Fox, Piper Perri, Sierra Nicole and Pepper Hart, Bad Lesbian 9 (2017) for Girlfriends Films and My First Interracial 9 (2017) for Blacked that was nominated for "Best Interracial Movie" at the 2018 AVN Awards.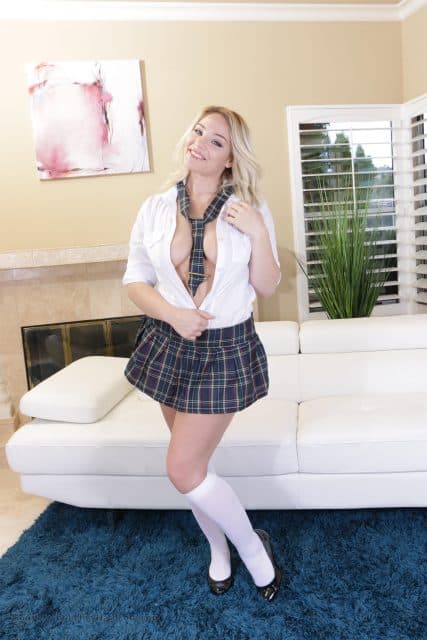 Hadley Viscara – Schoolgirls in XXX Training – Lethal Hardcore – Adult Empire Galleries
Currently represented by the exclusive adult film talent agency LA Direct Models, Hadley shows no signs of slowing down in 2018. As a matter of fact, Hadley has already filmed a steamy Yoga Boner scene with Preston Parker for Naughty America and she has shared a hot Mouth For Rent shoot with Van Wylde for Reality Kings.
Want to keep yourself updated on all of Hadley's recent releases, lusty live cam shows and upcoming porn productions? Then please feel free to use the links provided below to stay connected with your favourite all-natural busty beauty Hadley Viscara aka Hadley Mason!
Hadley Viscara – Social Networks
Kink : Hadley's BDSM Content
Camsoda : hadleyviscara1
Naughty America : Hadley at Naughty America
Brazzers : Hadley at Brazzers
Cherry Pimps : Hadley at Cherry Pimps
Twistys : Hadley at Twistys
Reality Kings : Hadley at Reality Kings
Mofos : Hadley at Mofos
The Nude : Hadley at The Nude