Twitter : @IsabelleDeltore   Camsoda : Isabelle   Cherry Pimps : Isabelle's Sex Scenes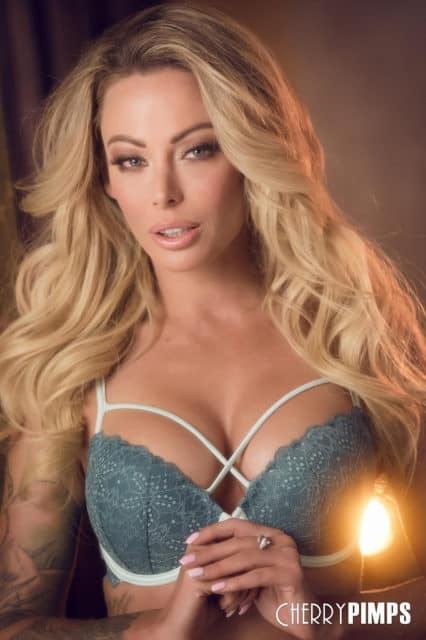 Isabelle in Her Sweet Seduction – Cherry Pimps
Isabelle Deltore – Personal Info
Name : Isabelle Deltore
Date of Birth : March 6th
Hometown : Melbourne (Australia)
Measurements : 34B – 26 – 30
Height : 5'4 (1.63m)
Hair Colour : Blonde
Eye Colour : Blue
Tattoos : A full right arm sleeve featuring rabbits in grass, script across her right side, three lines of script across her left side, various multi-coloured designs across her entire back and an eye on the inside of her left wrist
Piercings : Navel and both nipples
Years Active : 2018 – present
Number of Scenes : 10+
Isabelle Deltore is a multi-talented adult film star, glamour model, showgirl and cam girl who has been performing in porn since July 2018. A fan-favorite performer, Isabelle Deltore was the first Australian to win "Miss Nude World" two times (in 2015 and 2018), she was named "Miss ExoticDancer.com of the Year" at the 2015 ED Awards and she has been nominated for "Hottest Newcomer (Fan Award)" at the 2019 AVN Awards. Definitely one to watch out for in the years to come!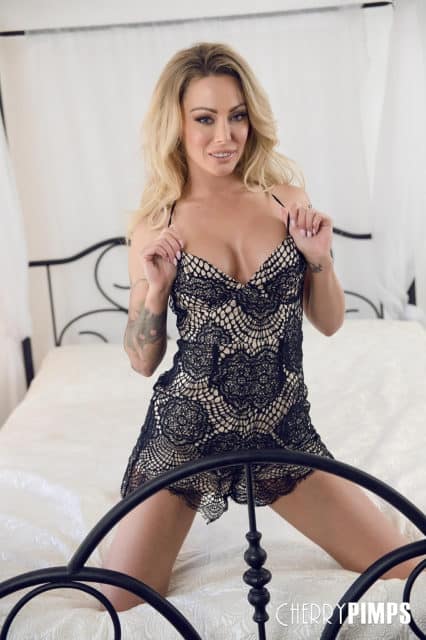 Isabelle in A Dreamy Day In Bed – Cherry Pimps
So where did it all begin? Born and raised in Melbourne, Australia. Isabelle Deltore used to work as a prison officer before she decided to pursue a career in the adult industry. Unfulfilled with her job in the prison system, Isabelle Deltore started performing as an exotic dancer at the exclusive strip club Spearmint Rhino. As Isabelle Deltore explained in her June 2018 News.com.au interview;
"I was managing units of 20-40 inmates and staff so I know how to deal with people who are a little bit difficult, how to be assertive without being aggressive…I was a screw, an officer, in youth justice and I was in maximum security for five years. I was in the army reserves as well…I was very good at what I did but I was constantly fighting to move up the chain and I was never going to win…I was just sick of the violence, sick of the sexual innuendo; I was constantly being objectified and was like 'why not make money out of (being objectified)'?…
I couldn't figure out what I was going to do so I decided to be a secret stripper until I could get another job with my degree. But I just liked stripping too much…This is definitely more lucrative. I wasn't on the (prison) roster, I'd done my last shift, and then I went into Spearmint Rhino and made what I would have made into two weeks in one night…At 4am, I sent the prison an email saying I resign. I was like, see you later…I've had (ex) prisoners come see me and say they just can't work out where they know me from…And once I had the general manager of a prison see me when I was doing a pub show…He said to me, 'you seem much happier now' and I was like, 'I feel much happier now".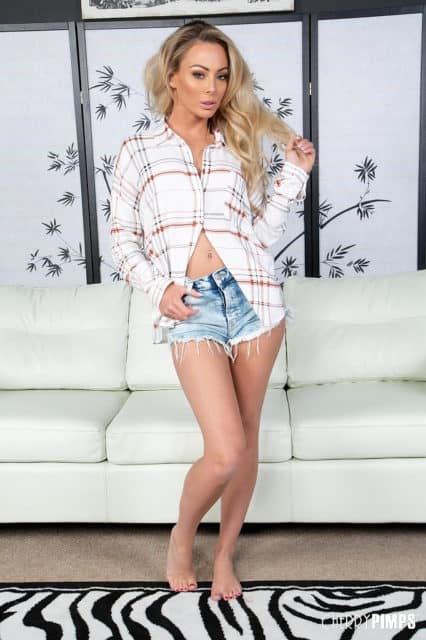 Bombshell Aussie Babe Isabelle  – Cherry Pimps/Wild On Cam
From this point onward, Isabelle Deltore started working full-time as an exotic dancer, glamour model and cam girl. In fact, Isabelle Deltore was the cover model for Penthouse BlackLabel in July 2016 and December 2016/January 2017 as well as being named as AAIA's "Best Webcam 2017" due to her captivating live cam shows on Camsoda (under the screen name 'Isabelle Deltore') and MyFreeCams (under the screen name 'IsabelleD').
A natural born performer, Isabelle Deltore was soon named "Miss Nude World 2015" and she also won "Miss ExoticDancer.com of the Year" at the 2015 Exotic Dancer (ED) Awards. Isabelle Deltore has attributed these prestigious industry accolades to her ambitious nature and determined work ethic, highlighting in her June 2018 News.com.au interview; how;
"I don't know when to stop working. I will set goals and I will do everything I can to achieve them to the detriment of everything else…When I wanted to win Miss Nude World I tried for months. I had to learn aerial hoop from scratch so one of my trainers was from Cirque du Soleil and it was 30 hours a week as well as dance classes, choreography and costume making. It almost cost me my relationship because I was overly focused…Miss Nude World is not just about doing the pole and taking your clothes off. You have to be an all-round show girl; you're judged on if you have that pizzazz factor. I had some massive props including a two metre high horse that spun on a disc and spat water out of its nose…I'm not even joking; it's for sale if anyone wants it".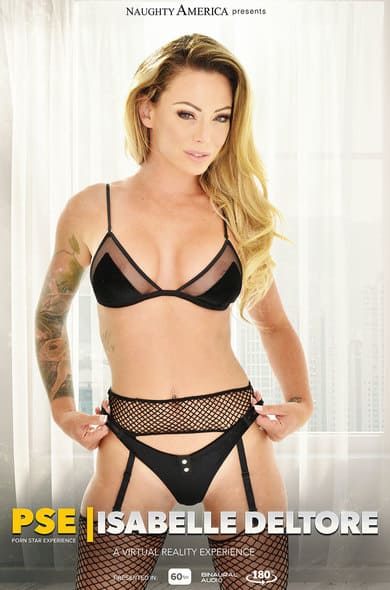 PSE (Porn Star Experience) : Isabelle – Naughty America VR
 You'll be happy to hear that Isabelle Deltore has since won "Miss Nude World 2018" – making her the only Australian to win this coveted title twice. Isabelle Deltore has also been nominated for "International Showgirl of the Year" at the 2018 ED Awards. Isabelle Deltore loves performing on stage and conveyed in her October 2017 Daily Mail interview how;
"There's a huge difference between giving a lap dance and being on stage and performing…Being on stage is amazing, whether you're performing for a crowd of two people – which I've done before – or for thousands on the main stage of a convention or an expo…It's electrifying having a sea of faces, and you can hear them all singing to the music. It's amazing".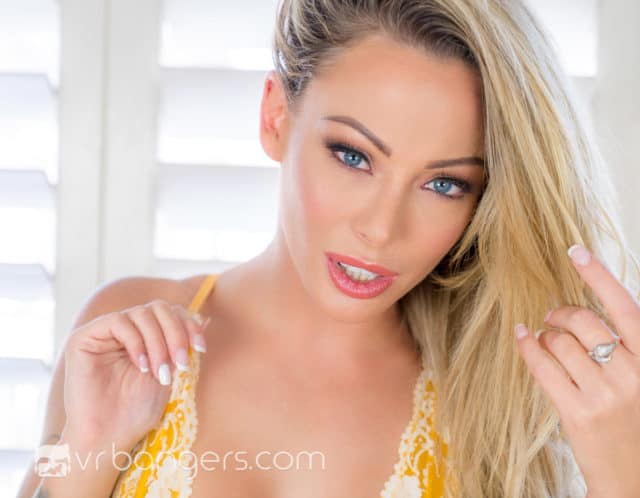 Isabelle at VR Bangers
Isabelle Deltore : Adult Film Career
Spurred on by her successful modelling and dancing career, Isabelle Deltore decided to set her sights on the adult film industry. It all started in July 2018 when Isabelle filmed her first ever boy/girl scene with Ryan McLane which was released via Naughty America's critically acclaimed Tonight's Girlfriend web series. Talking about her porn debut via her official website, Isabelle Deltore explained how;
"Having graced the covers and centerfolds of many men's magazines, I have been able to share some of my heightened sexuality with the world but I have always wanted more. So when I decided to bring my animalistic nature to film, it was so natural and felt so right. And now I get to share my every intimate desire with you and take you on a journey, exploring my erotic secrets. The way they were always meant to be, raw yet beautiful, and just for you".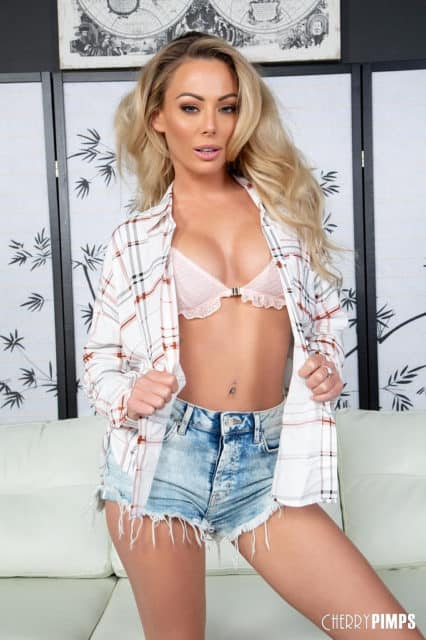 Bombshell Aussie Babe Isabelle – Cherry Pimps/Wild On Cam
You'll be happy to hear that Isabelle Deltore has continued to collaborate with Naughty America on some sensational virtual reality sex scenes. You'll love experiencing Isabelle Deltore's sultry True Slut Stories: Isabelle Deltore and PSE: Isabelle Deltore VR scenes which were both unveiled via Naughty America VR in September 2018. Eager to share a scene with blonde bombshell Isabelle Deltore? Then you also have to check out Isabelle Deltore's incredible Real Girls Never Cook and Roommates Share Secrets VR experiences which were both filmed for VR Bangers in September and October 2018. It's like you're in the room with her!
In addition to her intensely alluring VR scenes, Isabelle Deltore has filmed an impressive collection of raunchy web clips for Cherry Pimps. We recommend watching Isabelle Deltore's titillating Bombshell Aussie Babe Isabelle Deltore Live shoot with Ryan McLane that was first broadcast via Cherry Pimps' Wild On Cam web series in August 2018 as well as her steamy collection of Daringly Beautiful Tease Isabelle Deltore, Her Sweet Seduction and A Dreamy Day In Bed solo scenes which were all released via Cherry Pimps in October 2018.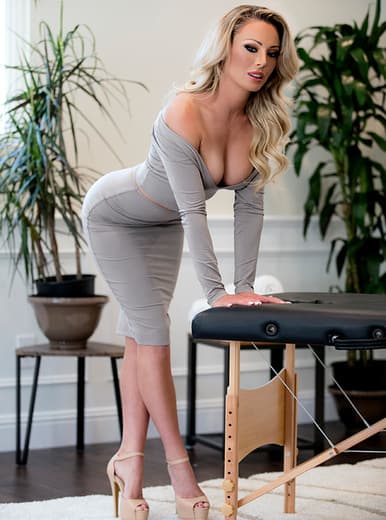 Isabelle in Sex Over Stress – Brazzers
After you've watched these saucy scenes, you'll see why Isabelle Deltore was named as Cherry Pimps' "Cherry of the Month" for October 2018. Receiving this prestigious title resulted in Isabelle filming a trio of thrilling scenes for Cherry Pimps – namely her sultry Bombshell Cherry Of The Month solo shoot which was produced by Dean Capture, her sensational Isabelle Tastes Reena For The First Time girl/girl debut with Reena Sky, and a hot Giving Some Of That Australian Love hardcore session with Johnny Goodluck. Isabelle Deltore was thrilled to receive this coveted industry accolade and enthusiastically stated in an October 2018 AVN press release that;
"When I found out that Cherry Pimps had selected me to be the COTM, I was blown away! I actually couldn't believe it. It's been the hardest secret to keep. I just wanted to tell all my girlfriends back home. We are all going out for dinner and drinks to celebrate. Working with Dean was absolutely amazing. He is one of my favorite humans ever. He knew precisely which angles to shoot and is so talented. The scenes look sooooo good. Reena Sky was actually my first ever girl/girl scene. I was so shy at first, but as soon as Reena got a hold of me, it was on. All I can say is, that scene was hot as hell to shoot. Johnny was also a lot of fun to shoot with. We hit it off straight away, so I knew the scene was going to be good. We almost fell off the chaise lounge we were filming on, the scene got so intense".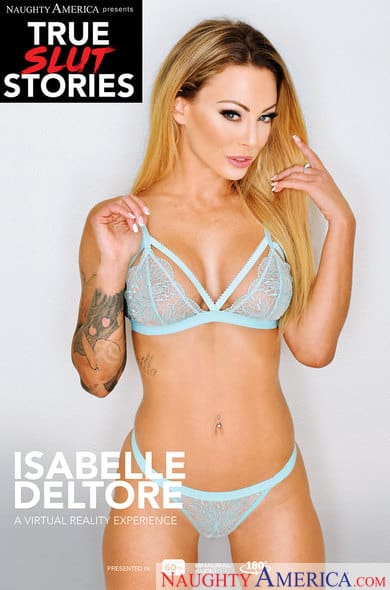 True Slut Storie : Isabelle at Naughty America VR
Hold on, it gets even better! Isabelle Deltore also received an ardent endorsement from Brent, Cherry Pimps' Production Manager and Talent Coordinator, who advocated within this October 2018 AVN press release how;
"We were introduced to Isabelle this year at AVN, and we were instantly impressed by her enthusiasm and how gorgeous she is. At the time she was considering entering the adult business, and we knew we had to snap her up as a Cherry of the Month as soon as she crossed over. We were so fortunate to get her first ever girl/girl scene plus one of her earliest hardcore scenes with male talent".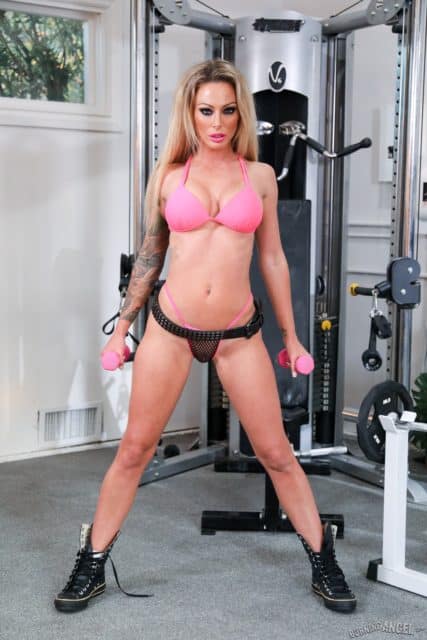 Isabelle in Cum On My Tattoo – Burning Angel
Never one to rest on her laurels, Isabelle Deltore starred alongside Keiran Lee in a raunchy Sex Over Stress scene which was uploaded via Brazzers in September 2018, she filmed a steamy Oiling Up The Secretary shoot with Alex De La Flor for Nuru Massage in October 2018, she shot a raunchy Cum On My Tattoo romp with Small Hands for Burning Angel in November 2018 and she shared a scintillating Stepson Surprise! scene with Tyler Nixon that was released via Nuru Massage in November 2018. It's no wonder why Isabelle has been nominated for "Hottest Newcomer (Fan Award)" at the 2019 AVN Awards!
When she isn't starring in these popular porn productions Isabelle Deltore enjoys interacting with her fans via social media and shooting new content for her official website IsabelleDeltore.com. If you keen to share an intimate live chat session with Isabelle Deltore then you'll also want to check out the captivating live cam shows that she hosts via Camsoda (under the screen name 'Isabelle Deltore') and MyFreeCams (under the screen name 'IsabelleD').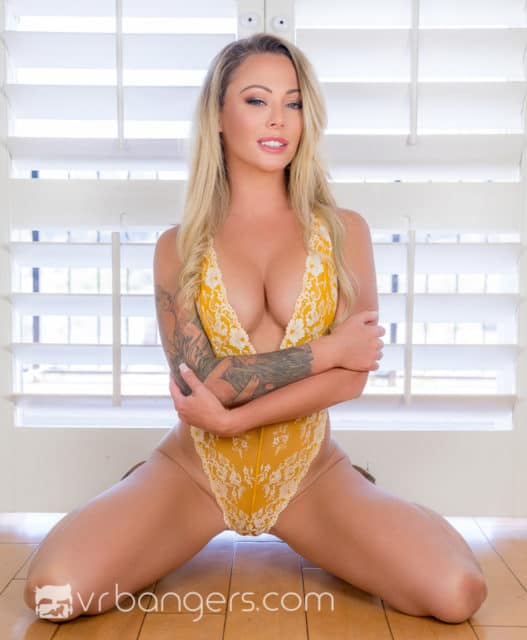 Isabelle at VR Bangers
Want to keep yourself updated on all of Isabelle Deltore's hottest sex scenes, exclusive content and upcoming live cam shows? Then use the links provided below to stay connected with amazing Aussie model Isabelle Deltore!
Isabelle Deltore : Social Networks
Twitter : @IsabelleDeltore
VR Bangers : Isabelle Deltore VR Scenes
Instagram : @isabelledeltore
Camsoda : Isabelle Deltore
MyFreeCams : IsabelleD
Brazzers : Isabelle at Brazzers
Burning Angel : Isabelle at Burning Angel
Cherry Pimps : Isabelle at Cherry Pimps/Wild On Cam
Fantasy Massage : Isabelle at Fantasy Massage
Naughty America : Isabelle at Naughty America
Tonight's Girlfriend : Isabelle at Tonight's Girlfriend
 Babepedia : Isabelle at Babepedia
The Nude : Isabelle at The Nude