Jolee Love
Jolee Love Twitter : @joleeloveberlin   Brazzers : Jolee Love Sex Scenes   Virtual Real Porn : Jolee Love VR Porn Scenes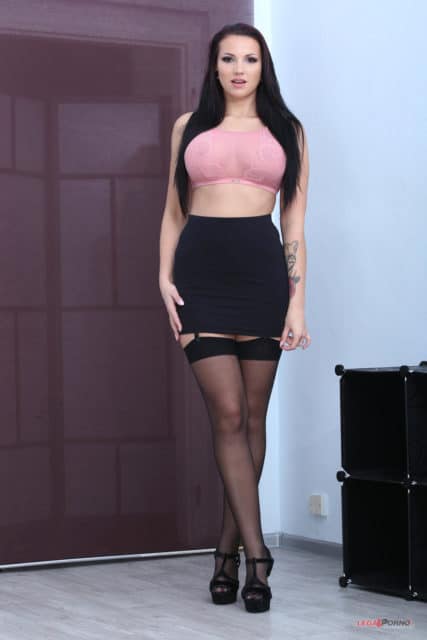 Click here to see more of Jolee Love's hottest sex scenes at Legal Porno
Jolee Love – Personal Info
Name : Jolee Love
Date of Birth : January 4th
Hometown : Berlin (Germany)
Measurements : 36D
Height : 5'9 (1.75m)
Hair Colour : Brunette/Black
Eye Colour : Brown
Tattoos : A lion and red flower designs on the inside of her left forearm, a floral design across her upper back and music notes behind her right ear
Piercings : Nipples and tongue
Years Active : 2017 – present
Number of Scenes : 30+
Jolee Love is a gorgeous German porn star and glamour model who has been thrilling fans since 2017. Best known for her raunchy web clips and immersive VR porn scenes, busty tall pornstar Jolee Love continues to star in a wide range of fan-favorite Let's Doe It, Legal Porno, Wicked All-Sex and Sexy Hub porn productions.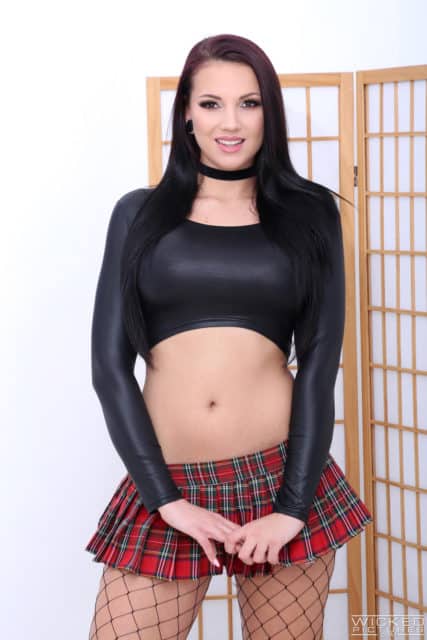 Click here to watch Jolee Love in "Good Things Come In Threes (2019)" at Wicked All-Sex/Wicked Pictures
Jolee Love : Adult Film Career
Hailing from Berlin, Germany, Jolee Love made her official porn debut in 2017 and many of her earliest sex scenes were filmed for the European porn network Lets Doe It. Over the years Jolee has filmed a wealth of raunchy web clips for the Let's Doe It web channels Bums Besuch, Badtime Stories, Bums Buero, Porno Academie and Bums Bus. We recommend checking out Jolee Love's saucy Bum Bus sex scene with Mark Aurel in 2017 and her sizzling Bums Besuch sex scene with Malte in December 2017. Jolee Love also shot some epic two-part Xmas Office Orgy group sex scenes with Lilli Vanilli, Mia Blow, Conny Dachs and Mark Aurel that were both promoted via Bums Buero in December 2017 and she shared a kinky Badtime Stories porn scene with Dylan Brown and Smorlow which was first released via Lets Doe It in March 2018.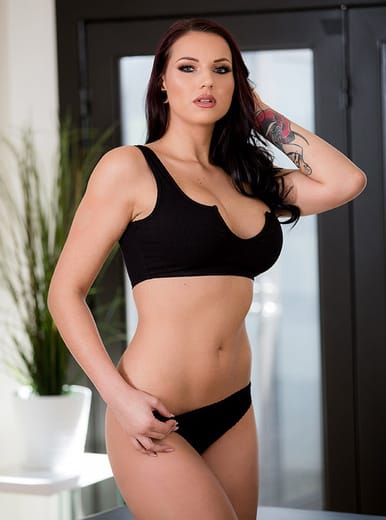 Click here to watch Jolee Love in "Anal Day With Jolee" at Brazzers
Most notably, Jolee Love shared a raunchy Anal Punishment roleplay porn scene with Lorenzo Viota that was uploaded via Porno Academie in August 2018. This amazing anal sex scene has since been featured in the Let's Doe It DVD Porno Academy #7: Lesson Of The Day: Ass Fucking (2019) starring Christina Shine, Kristy Black and Rebecca Volpetti. Many of Jolee Love's hottest Let's Doe It web clips have been showcased in the Porndoe Premium compilation titles Bumsbuero #9 and #10 (2019) featuring Kylie Kay, Lilli Vanilli, Mia Blow, Vanda Angel, Victoria Pure, Fitness Angel and Wild Vicky.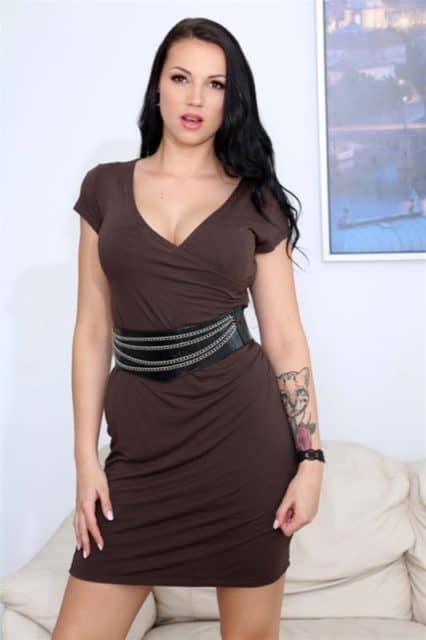 Click here to watch Jolee Love in "Anally Retentive Teens #2 (2019)" at Wicked All-Sex/Wicked Pictures
But that's not all. Jolee Love was actually one of the first few pornstars ever to shoot for the Let's Doe It web channel Horny Hostel alongside Barbara Bieber, Anhaida Star, Lovita Fate and Julia Parker. Jolee Love shared a steamy Anal Loving Hippie sex scene with Jason Steele which was uploaded via Horny Hostel in December 2018. This exciting new Let's Doe It web channel was discussed by Yannick Ferreri, the Head of Production for Let's Doe It, in a November 2018 AVN press release. As Yannick eagerly expressed;
"As one of Europe's top brands in adult, LetsDoeIt always wanted to add a European staple to its ranks by having a hotel site. We all have a sultry memory of a chance encounter with another budding hormonal young adult in one of these shared dwellings. LetsDoeIt wants to keep this memory and fantasy alive by using real hostels and mixing up the cast to be as international as possible".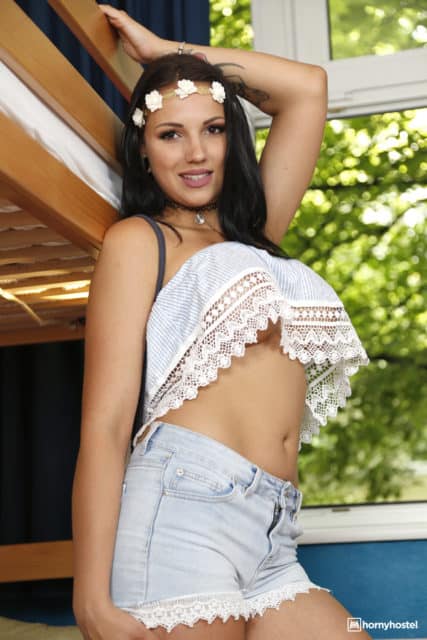 Click here to watch Jolee Love in "Anal Loving Hippie" at Horny Hostel/Lets Doe It
Eager to explore even more of big tits brunette pornstar Jolee Love's hottest sex scenes? Then you'll love watching Jolee Love's sizzling Sexy Big Tits German Lusts For Cock sex sene with Michael Fly that was released via the Fake Hub porn site Fake Taxi in April 2018 and her steamy Big Tits German Gives Oily Tit Wank sex scene with Kristof Cale which was filmed for the Sexy Hub porn site Massage Rooms in April 2018. Jolee Love also shot a kinky Squirting Sex In Lingerie And Heels porn scene with Steve Q that was uploaded via the Sexy Hub porn site Dane Jones in May 2018 and she shared a raunchy Toilet Fuck With Sexy Big Tits Babe roleplay porn scene with Martin Gun which was promoted via the Fake Hub porn site Public Agent in May 2018. Jolee Love has since shared a saucy Anal Day With Jolee sex scene with Keiran Lee that was unveiled via Brazzers in May 2019 and she has filmed a broad spectrum of amazing anal, DP and DAP group sex scenes with Amirah Adara, Monika Wild, Dee Williams, Syren De Mer, Simony Diamond, Selvaggia, May Thai, Nicole Black and Nikky Dream for the prolific European porn network Legal Porno. Not to be missed!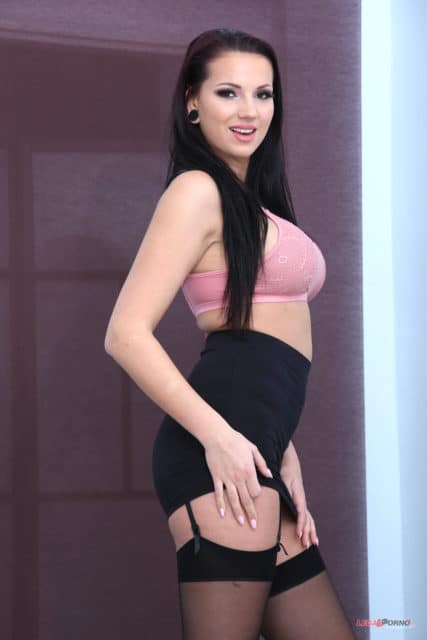 Click here to see more of Jolee Love's hottest sex scenes at Legal Porno
Hold on, it gets even better. In addition to these compelling web clips, sexy big ass pornstar Jolee Love has been featured in several best-selling movies. You'll love viewing Jolee Love's sizzling sex scene with Rick Angel in the Marc Dorcel/La Banane Production release My Sexologist Is a Pervert (2018) and her spectacular sex scenes in the Hitzefrei productions Fan-Alarm #2 (2018) and Fuck On Arrival Berlin (2018) starring Holly Hunter, Sophie Logan and Kylie Kay. We also recommend watching Jolee Love's thrilling three-way with Michael Fly and Thomas Crown in the Wicked All-Sex movie Good Things Come In Threes (2019) that features Jolee Love on its box cover. What's more, Jolee Love has starred in the Daring DVD My Personal Plaything (2019), she filmed a sensational anal sex scene with Ennio Guardi for the Wicked All-Sex release Anally Retentive Teens #2 (2019) and she shot a sensual sex scene for the Private production Just Between Us (2019) featuring Georgie Lyall, Alessa Savage, Ella Hughes and Luna Rival. Must see movies for Jolee Love fans!
Never one to rest on her laurels, in February 2019 busty German pornstar Jolee Love was featured in the Huippukiva production Sexy Weekend (2019). Directed by Mr. Sunny, this fantastic Finnish flick showcased Jolee Love alongside Cindy Sun, Lena Nitro, Darla Delovely and Puma Moore. As a February 2019 AVN press release hotly hinted;
"The movie claims to hark back to the 'golden age of porn and erotica, to a time when strong storylines support a seamless blend of pure joy, lustful sex and hardcore pornography'. It also bears the distinction of having a production team that includes a certified sexologist who ensures that the twists in the story are 'as natural as can be'".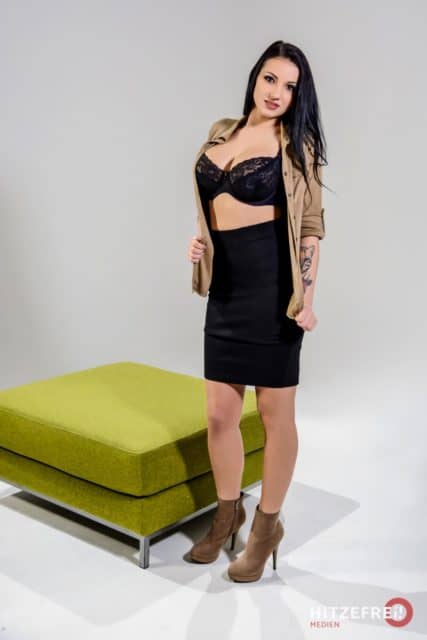 Click here to see more of Jolee Love's hottest sex scenes at Hitzefrei
Just when you thought it couldn't get any better, Jolee has started to shoot some immersive virtual reality sex scenes for the prominent porn sites CzechVR, Virtual Taboo and Virtual Real Porn. You'll love immersing yourself within Jolee Love's amazing Live Chat Girl Caught VR fantasy sex scene that was uploaded via CzechVR in April 2018, her titillating Enjoying Jolee's Pussy session for CzechVR Fetish in December 2018 as well as her kinky How We Shot Banana Challenge and Curves And Toys VR roleplay porn scenes which were both released via Virtual Taboo in March 2018. Fans of Jolee Love also have to check out her sizzling Hot Pizza VR fantasy porn scene and her steamy Birthday Surprise VR group porn shoot with Katrina Moreno and Sasha Rose that were both unveiled via Virtual Real Porn in October and November 2018. It's like Jolee Love is in the room with you!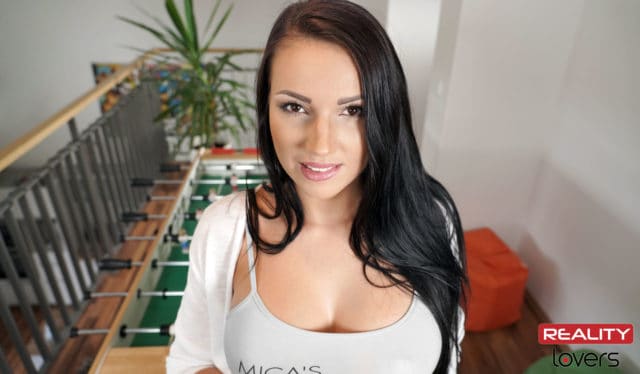 Click here to experience "Mica' Sommerhaus Der Pornostars (Mica's Summer House Of Porn Stars)" with Jolee Love at Reality Lovers
During this time, sexy tall pornstar Jolee Love filmed some steamy sex scenes with Micaela Schaefer which were released via Reality Lovers as part of their Mica's Sommerhaus Der Pornostars spoof series. This raunchy VR porn experience brought together some of the industry's hottest German pornstars to parody one of the country's most popular reality TV shows. As a September 2018 AVN press release explained;
"As summer draws to a close, Reality Lovers has brought some of Germany's adult industry's hottest performers under one roof to parody one of the country's most popular reality shows…That reality show is Das Sommerhaus der Stars, and it's attracted over 12 million viewers in Europe's largest economy. Reality Lovers' re-imagined version is called Mica's Sommerhaus der Pornostars ('The summer house of pornstars')…In the suspenseful mainstream reality show, the stars were often pitted against each other as they shared a villa for a full week—but perhaps the best part is that the show is shot in a mix of stunning virtual reality and 2D for that one-of-a-kind experience…
The list of Mica's houseguests reads like a German Who's Who of the adult industry, including top performers and moderators: Micaela Schaefer as host, with Texas Patti, Jason Steel, Lilli Vanilli, Mark Aurel, Jolee Love, Dylan Brown, Kimber Lee, Bailey Paris, and Aische Pervers as the housemates, and Conny Dachs as moderator…When a bunch of pornstars are thrown together for several days, sooner or later the discussion turns to shop. From there, it soon turned to risqué questions, and from there it was only a small step to all kinds of kinky challenges. And Conny had a bunch of them ready up his sleeve, including a sexy coconut roll, naughty spin the bottle, or guess your partner's boobs, among many more to turn the heat up…There were also more philosophical moments when one evening, the discussion over barbeque turned to what it really means to be a porn star. And as some are aware, when German (porn) stars discuss something, it can get rather serious".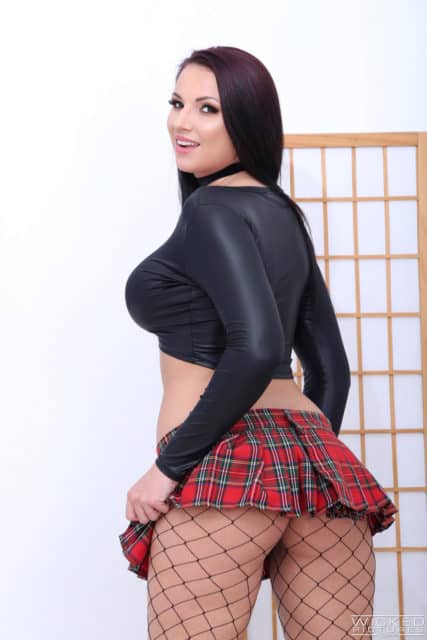 Click here to watch Jolee Love in "Good Things Come In Threes (2019)" at Wicked All-Sex/Wicked Pictures
As part of Mica's Sommerhaus Der Pornostars, hot big tits pornstar Jolee Love starred alongside Micaela Schaefer in Episode 2 – Playroom Seduction which was promoted via Reality Lovers in September 2018 and Episode 5 – The Pleasure House that was unveiled via Reality Lovers in October 2018. These fan-favorite parody VR porn scenes were ardently endorsed in an October 2018 AVN press release which highlighted how;
"The studio has gathered Germany's hottest porn performers under one roof, dispensed some ground rules, and flipped on the cameras to see what happens. The last episode featuring an erotic act by Micaela Schaefer and Jolee Love has really stirred up controversy…Micaela Schaefer, Texas Patti, Conny Dachs, Jason Steel, Jolee Love and Kimber Lee have all had to get comfortable with each other at the villa really quick. Otherwise, their existence would be hell. There was nothing to be taken for granted, no script to go by, each participant only had their partner to rely on, well almost. In short, Mica's house was one anything-goes kind of experience…
Reality Lovers' reality show was hosted by the presenter, erotic model and well-known personality Micaela Schaefer. The biggest production for the studio to date, with 10 adult stars, the reality show includes four hardcore scenes and one soft lesbian erotic scene between Micaela Schaefer herself and Jolee Love…The production has brought Reality Lovers a four-fold increase in DACH visitors over the previous period…The success of the reality show only underscores the public's openness and curiosity in exploring human sexuality, even alternative lifestyles. And that is a good thing—that also serves as an encouragement for the studio to pursue similar projects in the future".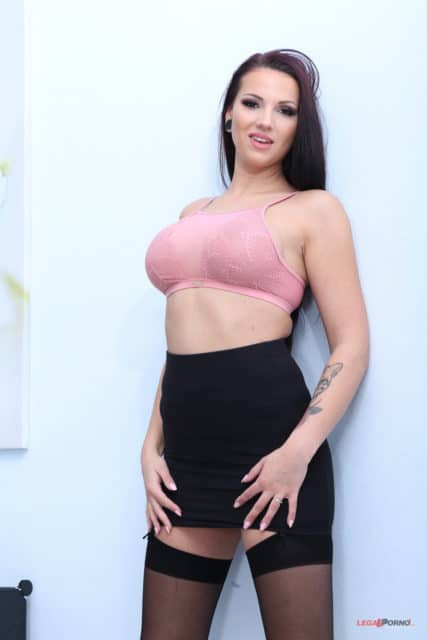 Click here to see more of Jolee Love's hottest sex scenes at Legal Porno
Keen to stay connected with busty German beauty Jolee Love? Then use the links provided below to discover all of Jolee Love's hottest sex scenes, exclusive web content and upcoming porn productions!
Jolee Love – Social Networks
Twitter : @joleeloveberlin
Virtual Real Porn : Jolee Love's VR Porn Scenes
Brazzers : Jolee Love at Brazzers
Czech VR : Jolee Love at Czech VR
Czech VR Fetish : Jolee Love at Czech VR Fetish
Fake Hub : Jolee Love at Fake Hub
Instagram : @joleelove_berlin
Legal Porno : Jolee Love at Legal Porno
Let's Doe It : Jolee Love at Lets Doe It
Reality Lovers : Jolee Love at Reality Lovers
Sexy Hub : Jolee Love at Sexy Hub
Virtual Taboo : Jolee Love at Virtual Taboo
Wicked : Jolee Love at Wicked Pictures
Official Website : JoleeLove.com
Adult Empire : Jolee Love's DVDs
 Babepedia : Jolee at Babepedia
The Nude : Jolee at The Nude