Katana – Personal Info
Name : Katana
Date of Birth : June 11th
Hometown : Barcelona (Spain)
Measurements : 32B – 28 – 34
Height : 5'4 (1.63m)
Hair Colour : Black
Eye Colour : Brown
Years Active : 2016 – present
                                 Number of Scenes : 20+
Katana is a popular adult film star and glamour model who has been performing in porn since 2016. Over the years Katana has starred in a wide range of European and American porn productions which have earned her a devoted global fan base. Definitely one to watch out for in the near future!
                      Katana in Geisha Girl – VR Hush
So where did it all begin? Hailing from Barcelona, Spain, Katana has mixed Spanish, Chinese and Japanese heritage. Katana discussed her diverse roots within her August 2017 Sugar Cookie interview, highlighting how;
"I'm the three of them. I consider myself Spanish since I was born and raised in the lovely city of Barcelona. But of course, from my features you can see I'm Asian. My mother is Japanese from Kyoto and my father is from China, Shanghai…Asian culture and mentality is very different from European. My parents are from an old generation which is very traditional, conservative and close-minded. They gave us (my brother and me) a very strict education…I think the more you try to control [your children], the more you are gonna lose it. My brother and I were raised in a restricted and oppressed environment so that only helped to increase our curiosity…
So, I think parents should talk and teach about sexuality with their children openly since is something natural, instead of avoiding it and forbidding it…I love the discipline and the high quality education my culture believes in, but things has changed and we are now living in the 21st century, there is no longer the old-fashioned thoughts of women staying pure until marriage, waiting their husband at home cleaning and taking care of the kids as servants without any value…We are fighting for human equality and Asian culture still thinks women are weak, valueless themselves and can´t enjoy their sexuality openly".
Katana has always had a sexually curious nature and she used to watch a wide range of porn productions before she made her official industry debut. As Katana explained during her August 2017 Sugar Cookie interview;
"I've always been a big porn fan, I like to watch all kinds of porn because I think it can be considered entertainment or art and it's educational. It opens your mind to new experiences alone or in company…However, never in my life did I imagine I will be the one on the screen! It was nothing planned at all, it was totally spontaneous the way I entered in this industry".
Wondering how Katana first discovered her porn star potential? Well, it all started in 2016 when Katana was having coffee with a friend who had connections in the adult film industry. Katana's friend introduced her to a director who was shooting nearby and before you know it Katana had arranged to film her first girl/girl scene! Talking about this pivotal moment in her career within her August 2017 Sugar Cookie interview, Katana revealed how;
"I was having a coffee with a friend and he is in touch with some people of porn industry. By chance a director was shooting nearby and he invited my friend to visit him. I went with him super excited, never could imagine I will be in a real porn scene…
I was so impressed because everything was so new for me but I was really fascinated with the good vibes of the people and then I couldn't believe the director was interested in me when he saw me…So we switched numbers and the next day we had a coffee and gave me the chance to start in this business. I tried first with a light girl-girl scene. I felt really comfortable in front of the cameras and now it's already nine months since I've started! Incredible how the time passes so fast!…I have to say I'm really happy about my decision, I love what I do and being in this industry I am able to meet lot of incredible people from all around the world".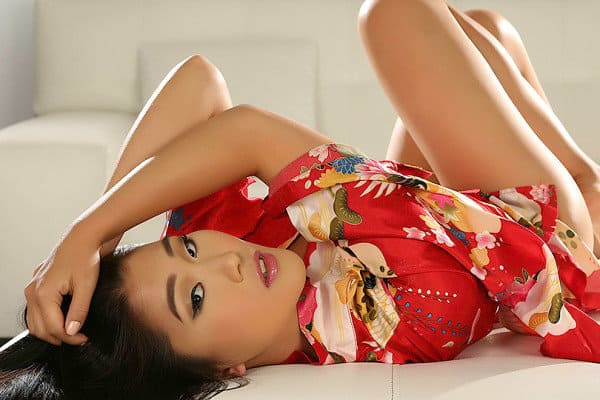 Katana in Geisha Girl – VR Hush
Katana : Adult Film Career
Katana made her official adult film industry debut in 2016 and some of her earliest porn productions include her Dare To Dream group shoot with Alexa Tomas, Apolonia Lapiedra, Alberto Blanco, Emilio Ardana and Ramiro Lapiedra as well as her Nightmare Before XXXMas group sex scene with Apolonia Lapiedra, Claudia Bavel, Alberto Blanco and Emilio Ardana that were both released via CumLouder Network in December 2016.
Due to her mixed Chinese and Japanese heritage Katana has been featured in a wealth of fan-favorite Asian-themed DVDs including Pho King Asians 2 (2017) for Devil's Film starring Jade Luv, Cindy Starfall and Ember Snow, Asian Sex Training (2018) for Fitness Rooms and the New Sensations production My Asian Hotwife 3 (2017) featuring Saya Song, Ember Snow and Rina Ellis. Katana enjoyed shooting her saucy scene with Tyler Nixon for My Asian Hotwife 3 and eagerly expressed in a November 2017 AVN press release that;
"I had a lot of fun shooting for My Asian Hotwife 3…Everyone on-set was great and the scene was very hot—I loved being tied to the stairs while Tyler Nixon teased me!".
Starring in these best-selling DVDs has earned Katana a coveted "Asian Empress of the Year" nomination at the 2018 Spank Bank Awards. Katana has also been named as "Miss Sugarcookie of the Month" for September 2017 by famous British performer Harriet Sugarcookie. As Harriet advocated in her September 2017 Sugar Cookie blog;
"Katana is beautiful, fun, kind and passionate. And that's why she's Miss Sugarcookie for September, she represents everything we love about our favourite pornstars. Katana is very new to the business. Not a lot is known about her yet. So as well as seeing her adult videos this month you can also read this interview to find out more about the sweetest new girl in porn".
During this time Katana was featured in several European DVDs such as Private Specials 176: Social Media Sluts (2017), Private Specials 184: Naughty Maids 2 (2017) and Private Specials 196: First Time Black (2017). When Katana was asked about the differences between shooting European and American porn productions during her August 2017 Sugar Cookie interview she conveyed how;
"I do like American shoots more, even though shooting can be longer, but the professionalism and the little details they take care of are worth it".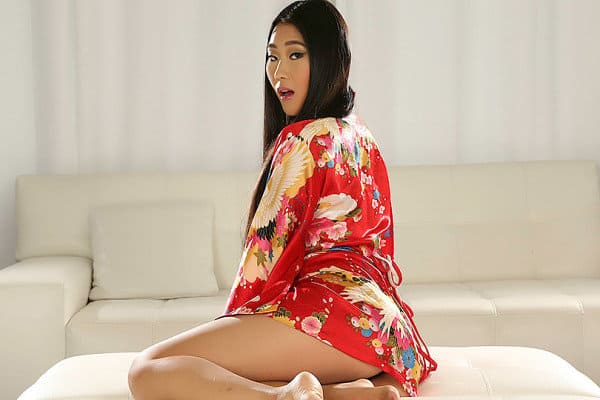 Katana in Geisha Girl – VR Hush
Interested in discovering some of Katana's sauciest sex scenes? Then you have to check out her sultry Dreaming shoot with Melody Mae, her seductive Hold Me Baby scene with Max Dior, her steamy Target shoot with Cherry Kiss, her compelling Pool collaboration with Stasy Rivera and her sizzling Two Of Us scene with Max Dior that were all released via SexArt.com between August 2017 and March 2018. Fans of Katana will also love viewing her captivating Screwbox solo shoot in April 2017 and her raunchy Public Pickups scene for Mofos in November 2017.
Want to know the best part? Katana continues to be cast in many best-selling DVDs including Nacho Love Tits (2017) for Evil Angel, Lesbian Stepsisters Volume 6 (2017) for Sweetheart Video within which Katana shared a kinky role-play with Ayumi Anime, and the Harmony Films productions Thirst For Sex (2017) and Young Harlots: Summer Camp (2017) featuring Stella Cox, Kira Queen, Francesca Di Caprio, Elle Rose and Mary Kalisy.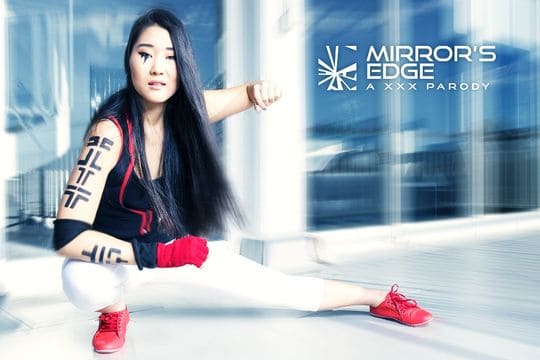 Katana in Mirror Edge: A XXX Parody – VR Cosplay X
Just when you thought it couldn't get any better, Katana has begun to shoot some intensely alluring virtual reality sex scenes for VR Hush. Fans of Katana will love viewing her incredibly immersive A Bachelor Party Orgy To Remember virtual reality collaboration with Marica Hase and Ember Snow as well as her Geisha Girl solo VR experience that were unveiled via VR Hush in November 2017 and January 2018. Katana has even filmed some kinky Mirror's Edge: A XXX Parody and Mulan: A XXX Parody cosplay clad VR scenes for VR Cosplay X in February 2017 and April 2018. Must see sex scenes for diehard Katana fans!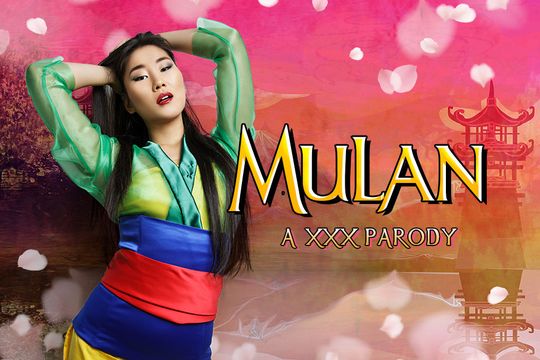 Katana in Mulan: A XXX Parody – VR Cosplay X
Most recently Katana has appeared in Stormy Daniels' Wicked Pictures feature release Never Forgotten (2018). Starring Casey Calvert, Ella Nova and Maddy O'Reilly, Never Forgotten was an instant hit that has received an ardent endorsement from XCritic column writer J.W. Sharp who enthused in his April 2018 film review how;
"As Kyle sits outside enjoying the sunlight he reflects more on his life. Elizabeth has given his locket back to him, and thinking there's nothing to keep him in his small town he joins the Navy. He gets sent overseas to the Orient where he's approached by a beautiful Asian hooker played by Katana. With the memory of his true love still on his mind he turns her down and drinks himself into a stupor. Katana turns her attention to Robbie's shipmate Ryan Driller, who's MORE than happy to get a taste of the Orient…The beautiful Katana's cries of pleasure are incredibly hot…Beautifully shot scene with wonderful newcomer Katana…
The best scenes for me are when there's no dialog, when the actors take you on a roller coaster of emotions without hardly ever saying a word. The scene where the older Robert curses the younger for trying to force himself on Elizabeth. The look in his eyes as he fights back the tears while gazing at the photo of his beloved. The gravesite scene where apologizes to her and pronounces his undying love for her. It's performances like these that don't just break your heart, it obliterates it, ripping it right out of your ribcage… In this reviewer's humble opinion, this is my favorite film Stormy Daniels has made since Wanted. She has given us such beautiful bittersweet love story that truly deals with the human condition, and goes beyond your typical porn film. It's just such a gorgeous piece of work and I give it the XcriticPick. And let me just say that I know it's early in the game and there are many more wonderful performances to come this year, but if Kyle Stone doesn't win his second AVN Award for best non-sex performance two years in a row, I will be absolutely shocked and mortified".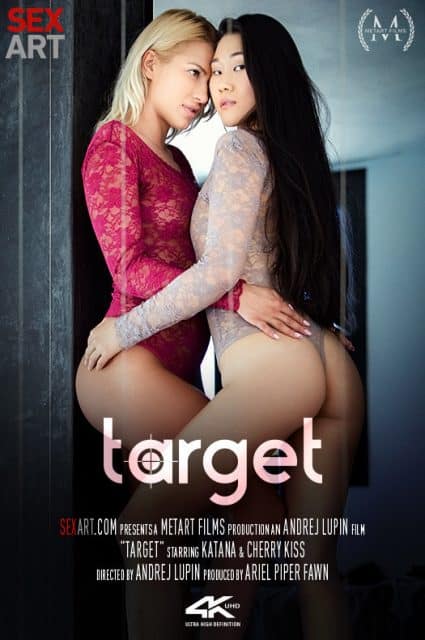 Cherry Kiss and Katana in Target – SexArt.com
But what have been Katana's favourite porn experiences? Well, when Katana was asked to name her career highlights during her August 2017 Sugar Cookie interview she revealed that she loved collaborating with Erika Lust on her XConfessions productions Hot Power Couple (2017) and My Abduction Fantasy (2017). As Katana put it in her own words;
"Highlights is not the exact word I would use but even before being in porn industry I have always followed and wanted to meet Erika Lust…She is one of the few female porn producers and she is more focused on women's feelings, pleasure and fantasies. Her scenes have a history behind them based on diversity, passion and a crafted work from all her incredible crew. It was a really great experience being surrounded with their joy and good vibes, not to mention the beautiful film; it's one I'm most proud of".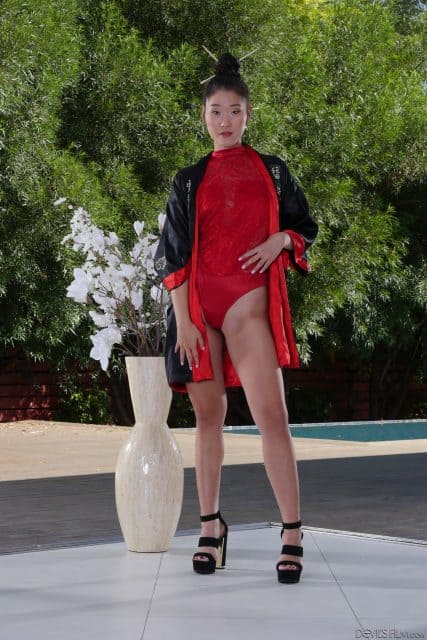 Katana in Pho King Asians 2 – Devil's Film
So, what does the future hold for rapidly rising starlet Katana? You'll be happy to hear that Katana has no plans of slowing down anytime soon. In fact, Katana has even hinted that she may launch her own solo website in the future. As Katana suggested within her August 2017 Sugar Cookie interview;
"In my mind there is the vague idea to have my own website, be able to direct my own scenes and content so I can express my ideas instead of always be the one who is told to what to do".
Want to keep yourself updated on all of Katana's exclusive web content and upcoming projects? Then use the links provided below to stay in touch with your favourite rising starlet Katana!
Katana – Social Networks
Twitter : @Katanapornx
Instagram : @katanax_official
Devil's Film : Katana at Devil's Film
Evil Angel : Katana at Evil Angel
New Sensations : Katana at New Sensations
Mofos : Katana at Mofos
Screwbox : Katana at Screwbox
SexArt : Katana at SexArt.com
VR Bangers : Katana VR Bangers
VR Cosplay X : Katana at VR Cosplay X
VR Hush : Katana at VR Hush