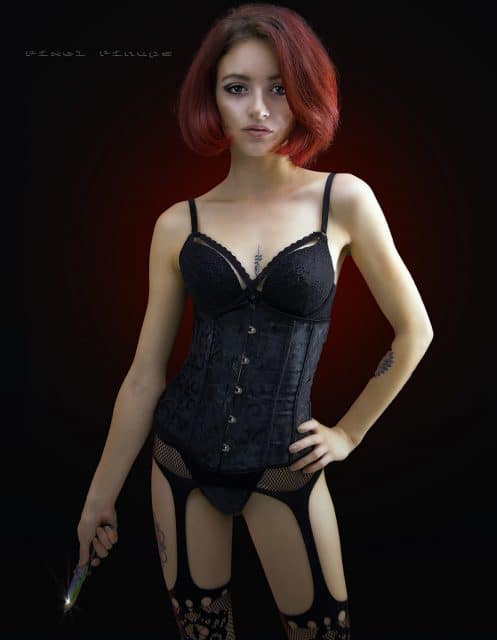 Lola Fae via Niteflirt
Lola Fae – Personal Info
Name : Lola Fae
Date of Birth : May 13th
Star Sign : Taurus
Hometown : Fort Lauderdale, Florida (US)
Measurements : 28A – 22 – 28
Height : 4'11 (1.50m)
Hair Colour : Red
Eye Colour : Brown
Tattoos : Lotus flower in the center of her chest, an intricate design travelling up the center of her chest, 'It's all in your head' script underneath her breast, a Sun on the back of her calf, a Mandala lotus flower on her upper thigh, an intricate circular design on the inside of her forearm and pink hearts around her nipples
Piercings : Lower lip, both nipples and right nostril
Shoe Size : Women's 5 1/2 (US)
Years Active : 2017 – present
Number of Scenes : 60+
Lola Fae is a fan-favorite porn star, fetish performer and cam girl who has been working in the adult film industry since 2016. Best known for her raunchy BDSM content, Lola Fae has already attracted a devoted global fan base and she was named "Best Kinbaku Model" at the 2017 Suzy Awards.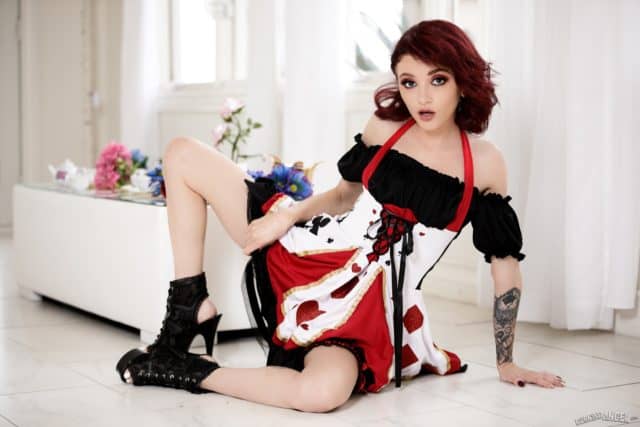 Lola Fae in Lola's First Blowbang – Burning Angel
Hailing from Fort Lauderdale, Florida, Lola has always been a studious and creative individual. You may be interested to learn that Lola has an Associate's degree in Art and originally intended to pursue a career in illustrations before she made her porn debut. Lola has also studied Environmental Bio Security and can see herself pursuing a career in the biological sciences industry in the future. Talking about her academic studies within her February 2018 Adult DVD Talk interview, Lola explained how;
"I grew up in South Florida with a relatively normal family. I really liked school especially science and the arts. I got my Associate's in Art because I was going to do illustrations but I'm going for Environmental Bio Security, it's in the biological sciences".
Wondering how Lola first discovered her porn star potential? Well, Lola has actually been modelling since she was 16 years old and she first started nude modelling when she was 18. Lola has always been intrigued by porn so she decided to take the next step and research job opportunities online. And the rest is history! Lola has discussed this important period of her life during her February 2018 Adult DVD Talk interview, highlighting how;
"I had been modeling since I was 16 and I was nude modeling at 18. I had always been interested in porn, I watched a lot of it, so I figured my ass was already on the internet and any job in the future that would bar me because of porn would also bar me because I was nude on the internet. So I thought, 'Why not?'…
OK, I'll tell you the progression. It started with Hentai. That's probably how I got into porn. From there, I liked watching more extreme things like gangbangs and Kink.com and hardcore gangbangs. That's what I tended to like…I had a favorite star to masturbate to and that was Owen Grey and Goth Charlotte. And then in mainstream, I liked learning about ethical porn".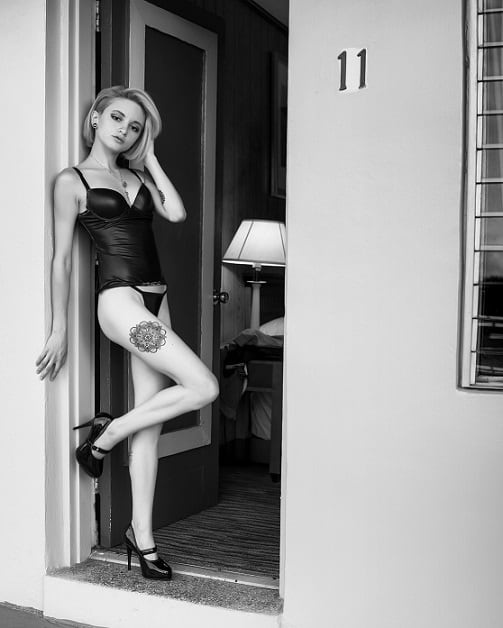 Lola Fae via Niteflirt
Lola Fae : Adult Film Career
Lola first began working in the adult film industry in the spring of 2017 and her first ever shoot was an outdoor oral scene with Tyler Steel. Titled Freak In The Streets, this sizzling scene was released via Reality Kings in March 2017 as part of their Street Blowjobs web series. When she was asked about shooting her porn debut in her February 2018 Adult DVD Talk interview, Lola revealed that;
"My first scene was a street blowjob scene and I was super nervous about the acting part. But when it came down to the whole sex-on-camera thing, I was comfortable. It was a one-on-one thing so it was easier. I was also used to being naked in front of people so it wasn't a big deal to have sex in front of other people".
During this February 2018 Adult DVD Talk interview, sexy goth girl Lola also divulged the origins of her porn star stage name 'Lola Fae', conveying how;
"There's a song by the Kinks called 'Lola' that I really liked. Fae comes from ferries, very petite, whimsical. I thought it sounded catchy".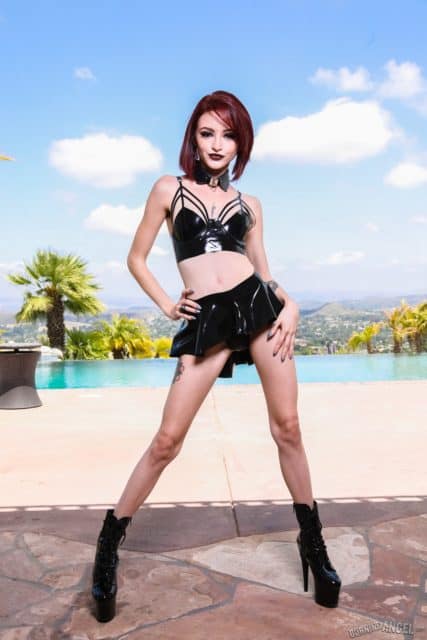 Lola Fae in Bratty Teen Lola Fae – Burning Angel
Many of Lola's earliest porn productions were filmed for the Florida based production companies Bang Bros, Reality Kings, Mofos and Team Skeet. We recommend checking out Lola's Anal Sesh on the Bus scene with Tyler Steel that was released via Bang Bros in May 2017, her Don't Break Me shoot with J-Mac that was uploaded via Mofos in July 2017 and her steamy scene with Sara Jay that was featured in the Team Skeet DVD compilation title Make Her Submit 3 (2017).
Want to know the best part? Lola has starred in several best-selling DVDs including the Bang Bros compilation title Bang Bus #67 (2017) that featured Lola on its box cover, Disciplined Teens 9 (2018) for Team Skeet, Mike Quasar's Diabolic Video production Stepbrother Massage (2018) and Bryan Gozzling's Evil Angel sequel release Hookup Hotshot: Sex Tapes 2 (2018) featuring Holly Hendrix, Ava Parker and Eva Yi.
In recent months Lola has shot a series of raunchy web clips for the prominent porn networks Nubiles-Porn, Swallow Salon and Tug Pass. Fans of captivating kinkster Lola Fae will love viewing her Wrapped and Punished BDSM session for TugPass.com in January 2018, her sizzling Daddy's Friend shoot with Dick Chibbles and Tyler Knight that was released via Nubiles-Porn in March 2018 as part of their My Family Pies web series and her Wet Hot American Spring Break three-way with Chloe Foster and Nova Cane for BFFS.com in March 2018.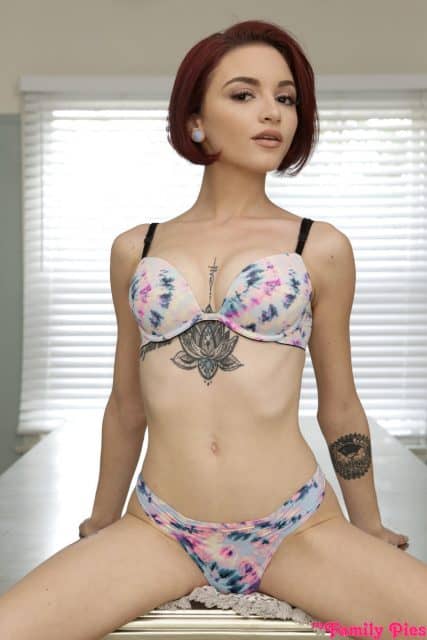 Lola Fae in Daddy's Friend – My Family Pies – Nubiles-Porn Network
Most recently, Lola has filmed an epic oral shoot for SwallowSalon.com in April 2018. Lola has also joined Daizy Cooper, Chloe Foster, Alexis Avery, Jane Wilde, Kenzie Reeves, Ember Snow, Zoey Foxx, Alexa Nova, Emily Blacc, Devon Green and Ryan Keely in taking part in a kinky VRB World Cup 2018 virtual reality sex experience that was unveiled via VR Bangers in June 2018. Lola and her fellow performers each represent participating World Cup countries such as Argentina, Brazil, England, France, Germany, Italy, Japan, Mexico, Netherlands, Russia and USA. In case you were wondering, Lola represents Team Argentina! Lola enjoys shooting these types of raunchy sex scenes and hotly hinted in her February 2018 Adult DVD Talk interview that;
"It really depends on the person. I'm very fluid. I like a lot of mental stimulation then I like a lot of physical stimulation so if someone's very dominant with me, for example, I like being choked and spanked and stuff like that. I really like being choked, that's my thing. (laughs) I like kissing a lot, that's always nice…
I'm definitely a switch. I'm more dominant. I'm very particular on who I submit to in real life. When it comes to porn, it's awesome because it's all discussed and everyone's a professional but when it comes to one-on-one interactions, I'm actually the more dominant person…I'm super flexible so I have more interesting sex. I like rough sex, I'm used to being manhandled a lot! (laughs)… I can put my ankles behind my head. I'm certified as a yoga instructor".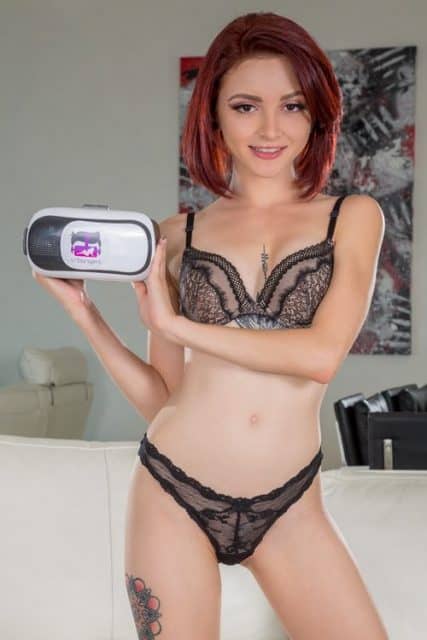 Lola Fae – VR Bangers
As a matter of fact, Lola identifies as bisexual and she enjoys shooting a broad spectrum of custom BDSM and fetish content for her fans under her succubus alter ego Domina Lola Fae. As Lola herself states via her official Tumblr;
"I am a 21 year old queer BDSM lifestyle switch. I primarily identify as dominant but with a few wonderful people I feel blessed to allow my sexual submission. In my work, as a porn actor, I allow myself to explore anything that sounds enticing, be it as a top or bottom. I enjoy exploring my sexual body's capabilities within porn as a bottom, and as a petite youthful woman I get casted as such, although, I do love working in fetish porn as a top. I love interacting with submissives and revel in giving pain, therefor I offer in-person Domination time. I am exploring the online realm of domination and am in the works of creating a platform for interacting with submissive fans online".
Want to know the best part? Captivating kinkster Lola Fae was named "Best Kinbaku Model" at the 2017 Suzy Awards. Kinbaku is a type of tight bondage, with the word 'kinbaku' literally translating from Japanese as "the beauty of tight binding".
Currently represented by East Coast Talent, Lola continues to shoot a wealth of popular porn productions as well as interacting with her fans via social media. Lola is also a fan-favorite cam girl who grants her fans access to her very own voyeur's house webcam channel 'voyeurcam-lolafae-01'.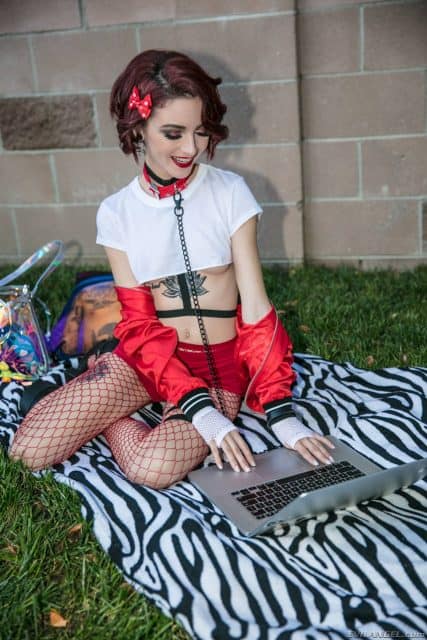 Lola Fae in Hookup Hotshot: Sex Tapes #2 – Evil Angel
Wondering what the future holds for fan-favorite porn starlet Lola Fae? Well, Lola has saucily stated within her February 2018 Adult DVD Talk interview that she has a few fantasies she wants to live out on camera. As Lola Fae puts it in her own words;
"I did my first DP, that's something I've definitely fantasized about. I've dressed up as a cat. (laughs) And I've done other things I've liked. I definitely want to do hardcore things like Kink, like bondage. I have a gangbang fantasy".
So what are you waiting for? Use the links provided below to discover Lola Fae's exclusive web content and to stay updated on all her upcoming projects!
Lola Fae – Social Networks
Twitter : @LolaFaeXXX
Instagram : @lola.fae
Camsoda : voyeurcam-lolafae-01
VR Bangers : Lola's VR Scenes
Burning Angel : Lola at Burning Angel
Evil Angel : Lola at Evil Angel
Mofos : Lola at Mofos
Reality Kings : Lola at Reality Kings
Many Vids : LolaFae
Niteflirt : 

The Nude : Lola at The Nude
Babepedia : Lola at Babepedia