Nicolette Shea
Nicolette Shea's Twitter : @Nicolette_Shea   Camsoda : nicolette   Brazzers : Nicolette's Sex Scenes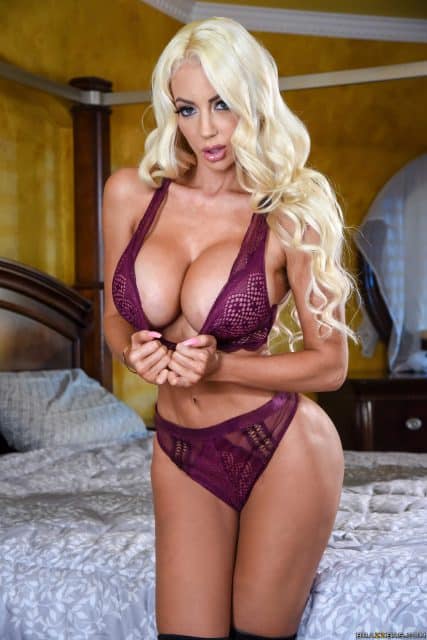 Click here to see more of Nicolette Shea at Brazzers
Nicolette Shea : Personal Info
Name : Nicolette Shea
Date of Birth : November 18th
Hometown : California (US)
Measurements : 34F – 22 – 36.
Bra/Cup Size : 34F. Talking about her amazing assets in a May 2017 AVN interview, Nicolette Shea saucily stated; "My boobs… I went to Victoria's Secret and I was able to fit into a 36DDD [bra] but I really think I'm a 34F. So that's the size, but they don't have an F at Victoria's Secret".
Height : 5'11 (1.80m)
Hair Colour : Blonde
Eye Colour : Green
Piercings : Navel
Years Active : 2011 – present
Number of Scenes : 100+
Meet Nicolette Shea; a stunning rising starlet, former professional poker player and Playboy magazine's "CyberGirl of the Month" for October 2011. Since making her official adult film industry debut in April 2017 Nicolette Shea has already won "Social Media Star of the Year (Fan's Choice)" at the 2018 Nightmoves Awards and she continues to thrill millions of fans across the globe with her raunchy Brazzers Network sex scenes and saucy social media updates. One look at Nicolette Shea's captivating curves and it's no surprise that she has 2.1 million Instagram followers!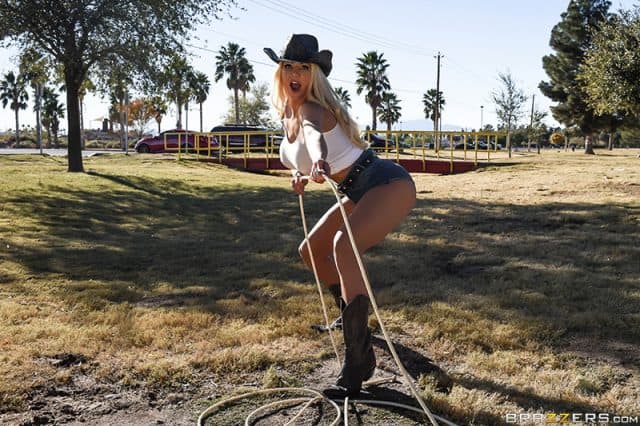 Click here to see more of Nicolette Shea at Brazzers
So where did it all begin? Hailing from Northern California, Nicolette Shea moved to Las Vegas, Nevada, when she was 18 years old to become a professional poker player. Nicolette Shea loves the psychology of playing poker and explained in her May 2017 AVN interview how;
"I love the actual thinking about it, the intense kind of mind game that it is because if you really think about it I'm playing you, I'm not playing the cards that you have or the cards that I have…
I'm trying to show you that my cards are better than yours by the way that I'm betting. So it's really interesting, almost communicating without actually having to speak. So from the pre-flop to the flop to the turn to the river everything is a story. So you're telling a story all along when you're betting throughout the entire hand essentially. If you're bluffing it's whether or not that person is going to believe your story, and if you really have the nuts they could still be calling you down…
Now I just play recreationally when I have time which with my schedule recently I haven't had a lot of time. But definitely this year I want to do the main event for World Series of Poker…And the main event is 10 grand but the prize is a couple million. And I always do the ladies' event, every year. So the ladies' event is a $1500 buy-in tournament".
It was during this time that Nicolette Shea first began working in the adult entertainment industry as an exotic dancer and she has since danced in clubs in Sacramento, Reno, San Francisco, Hawaii and New York. Nicolette Shea has always had an adventurous sexual nature and she has raunchily reminisced in AVN interviews that;
"I was always so adventurous sexually…I don't let anybody tell me what to do. I never have. I'm very free spirited…So I've kind of taken a different path in life. I've been able to travel a lot".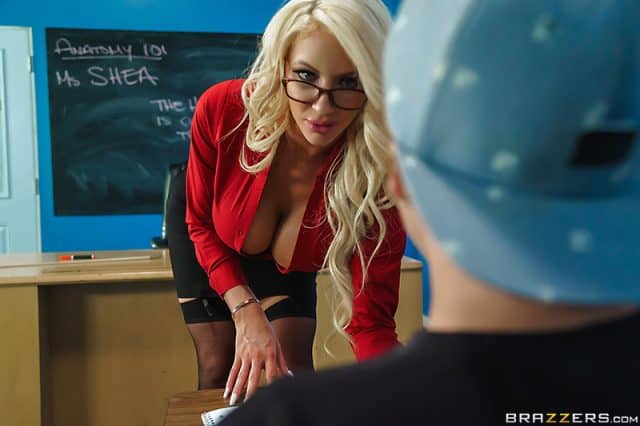 Click here to watch more of Nicolette Shea at Brazzers
Eager to broaden her sexual horizons, Nicolette Shea was playing online poker one day when she decided to search how to become a Playboy Playmate. This one-off Google search led to Nicolette Shea attending an open casting call in Dallas, Texas, over the course of the Superbowl weekend and before you know it Nicolette Shea was recruited and named as Playboy's "CyberGirl of the Month" for October 2011! Talking about this fortuitous chain of events in her Playboy magazine interview, Nicolette Shea conveyed how;
"I went to an open casting call in Dallas during the Super Bowl. I was shot by Rick Moore. I was so nervous but once I got there I just felt like there was nothing to be nervous about. Everyone made me feel so comfortable and I was just blown away by how nice everyone was. I really wasn't expecting that at all because it was my first time being in front of a camera, professionally shot. It was an awesome experience…I was so nervous up until the point that I actually got in front of the camera, and then everything just went away. I was thinking about it so much beforehand and once I actually did it, it was like, 'what was I worrying about?'".
Nicolette Shea described her first visit to the famous Playboy Mansion in greater detail during her May 2017 AVN interview. As Nicolette Shea puts it in her own words;
"I was with Jessa Hinton and we went to the Playboy Mansion together and the room that we stayed in was completely covered in Pamela Anderson…Pamela Anderson wallpaper, Pamela Anderson sheets, Pamela Anderson posters, magazines. Even the telephones—Pamela Anderson. It was crazy…
Her and I shared that room for a week and ordered whatever we wanted. Literally it was 24-hour room service. And we would order brownies and ice cream in the middle of the night. Like at 2 o'clock in the morning the butler would come knocking on the door. It was amazing. I would be so fat if I lived there…
I'm really a big fan of the circa—from like 1997 to 2002—all of those Playmates during that time. I really love the look of that time. I live for that".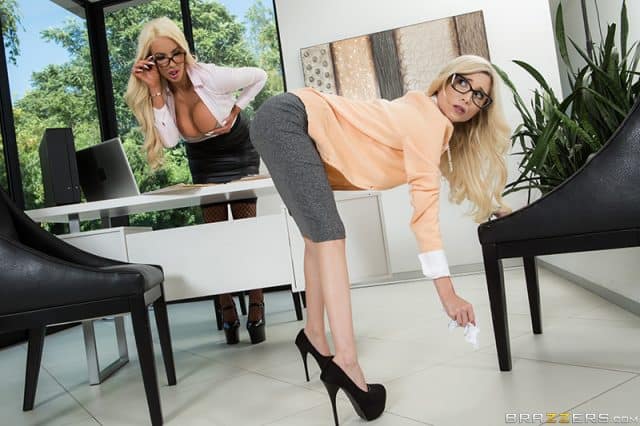 Click here to see more of Nicolette Shea and Piper Perri at Brazzers
A fan-favourite Playboy Plus model, although Nicolette Shea began posing for Playboy in 2011 she did not film her first ever sex scenes until April 2017. During this time Nicolette Shea posed as a gorgeous glamour model and established an ardent fan following via Instagram. Nicolette Shea has discussed why she decided to progress from modelling to performing in porn during her May 2017 AVN interview, highlighting how;
"I've always been super sexual but I wanted to be more of an exhibitionist sexually. I really like the cameras and so that was what pushed me forward. It was a natural progression because I've always been super into photography and I love doing videos. So I hit a million followers on Instagram and I always do viral videos. I record those with a lot of photographers and travel around doing a lot of different shoots. So it was actually easy for me. I don't really have to get used to the camera because I love the camera. I've worked with the camera for a long time".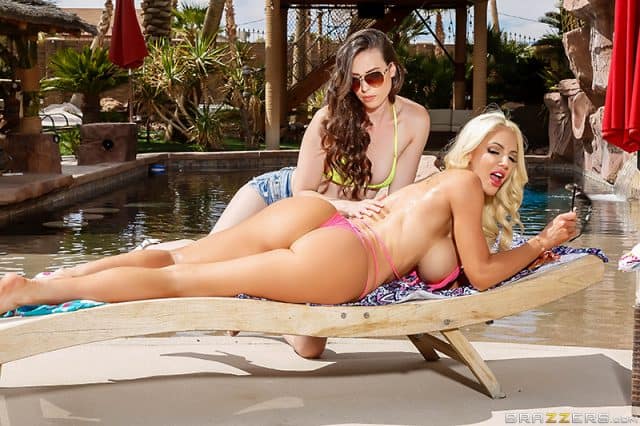 Click here to watch Casey Calvert and Nicolette Shea in "Tasting The Tophy Wife" at Brazzers
Nicolette Shea : Adult Film Career
Nicolette Shea filmed her first ever hardcore shoot with Keiran Lee, titled Don't Bring Your Sister Around Me, and it was promoted via Brazzers Network in April 2017. Nicolette Shea discussed shooting her hardcore debut within her May 2017 AVN interview, divulging that;
"When I do things I want to go to the top…I'm a huge perfectionist so when I decided to do this I wanted every scene to be the best that it possibly could be because I don't do anything half-assed…I knew full well going into this what it was going to require…Actually, I took a full year to think about it before I got into the industry. And then I started asking people's opinions and getting people's advice on the best way to go about it because if I'm going to do it, then I want to do it the right way".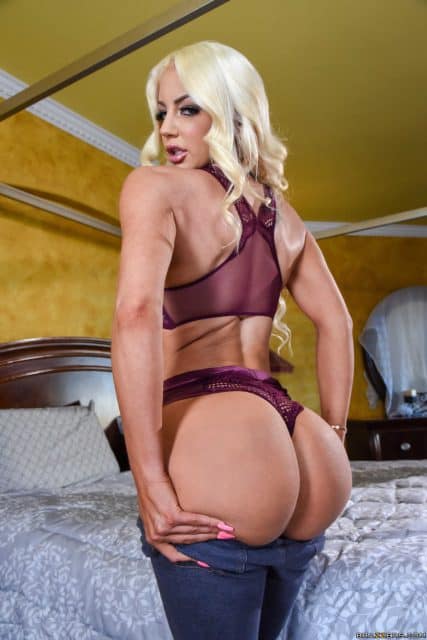 Click here to see more of Nicolette Shea at Brazzers
Nicolette Shea first ever sex scenes were directed by her co-star Keiran Lee who mentioned in this AVN interview how impressed he was by Nicolette Shea's beauty and personality;
"I couldn't believe it was her first scene…Nicolette is basically the ideal Brazzers girl. Brazzers was built on big boobs and big butts. She's everything in one girl. It's like OK, we want the perfect Brazzers girl, here you go and that's what we got with Nicolette…
For me I don't get nervous, but in my head I always think worse-case scenario because you deal with so many pretty girls and some are a bit of a bitch on set…I was a little bit nervous thinking please don't be like that I've got a long day ahead. And she was just laughing and joking from the moment she got there. And after that first scene the office was calling me, 'OK, how did it go?' I was like, 'She's amazing'…Originally we did a nine-scene deal over a two-month period. But after the first scene we said we're going to extend this. And she's going to be signing at AVN [in Las Vegas in January] for us".
From this point onwards Nicolette Shea began to star in a steady stream of hot hardcore scenes for Brazzers Network. We recommend checking out Nicolette Shea's raunchy BabeZZ Watch: A XXX Parody role-play with Bridgette B. and Charles Dera that was released in June 2017 as well as her steamy He Makes Wifey Watch three-way with Adriana Chechik and Mick Blue, her kinky Showing Her Who's Boss shoot with Piper Perri and her sizzling Ms. Shea's Summer School scenes with Tyler Nixon that were all uploaded via Brazzers Network in July 2017. Talking about her career thus far in her AVN interview, Nicolette Shea commented that;
"Everyone has treated me so well. I'm just super thankful…I'm excited to do more scenes and meet everyone in porn because I don't know a lot of people and I'm so new…I think it's going to be exciting to get to know everyone and everyone I've met so far has been super awesome. I couldn't ask for better co-workers honestly. I'm also very impressed with Keiran's team I've worked with—the makeup and the hair [by Peggy], the locations, the level of professionalism has been out of control".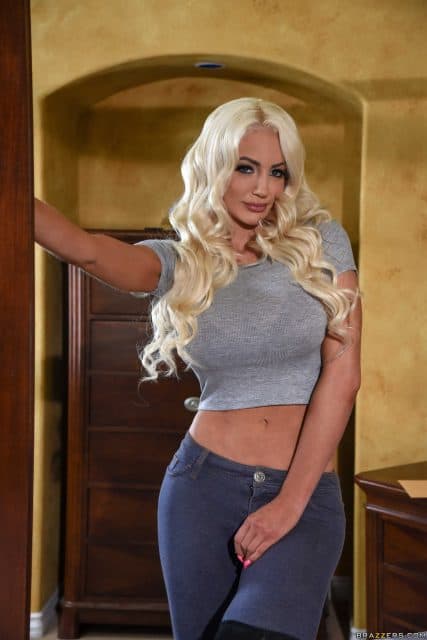 Click here to see more of Nicolette Shea at Brazzers
Want to know the best part? Nicolette Shea has continued to feature within a wide range of raunchy Brazzers Network scenes. Fans of Nicolette Shea will love viewing her hot Off The Rack shoot with Ramon Nomar and her saucy Double Occupancy three-way with Lana Rhoades and Xander Corvus that were both released in August 2017, her steamy Massage Mirage role-play with Johnny Sins in September 2017, Tasting The Trophy Wife which Nicolette Shea filmed with Casey Calvert and Charles Dera in October 2017 and her Office 4-Play: Christmas Bonuses festive romp which enabled Nicolette Shea to collaborate with fan-favourite Brazzers performers Monique Alexander, Ava Addams, Romi Rain and Keiran Lee.
A multi-talented model, porn star and dancer, in June 2017 Nicolette Shea signed an exclusive feature dance contract with The Lee Network which has seen her perform in such exclusive gentlemen's clubs as Sapphire 39 in New York. Nicolette Shea was thrilled to sign with The Lee Network and she ardently enthused in a June 2017 AVN press release how;
"I am happy to be joining the Lee Network, it is an outstanding gateway to the gentleman's clubs across the country and has helped me facilitate meeting my new fans since diving into the adult world, but also my longtime fans of my modeling work with Playboy…I have danced before which gives me some advantage and experience and I'm putting together a unique routine for all of my special guests to enjoy. You will see my statuesque figure dominating the stage very soon and I am looking forward to spending this very sexy time with all of you".
Most recently Nicolette Shea has appeared in a costume-clad Cock Hungry Cowgirl shoot with Johnny Sins that was unveiled via Brazzers Network in January 2018. When she hasn't been collaborating with Brazzers Network, Nicolette Shea has been shooting some kinky web clips for Reality Kings and Digital Playground such as Dirty Dicking with Markus Dupree that was released via the Reality Kings porn site RK Prime in July 2017 and Flixxx: Angela and Nicolette Get Wet with Angela White and Keiran Lee which was promoted via DigitalPlayground.com in April 2017.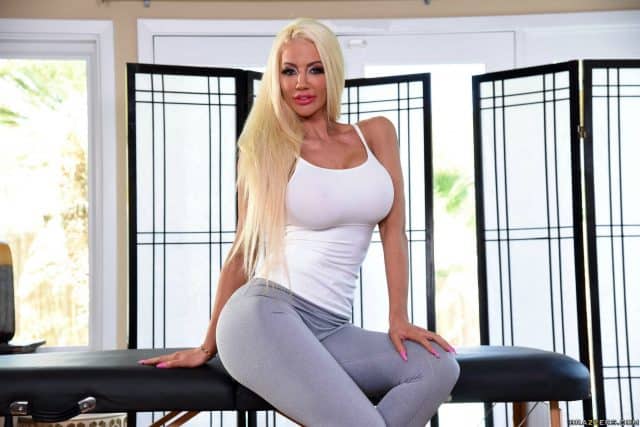 Click here to see more of Nicolette Shea at Brazzers
You may be interested to hear that this saucy scene has since been featured in the Digital Playground DVD Fuck Me Silly Volume 2 (2017) for which Nicolette Shea posed as its box cover model alongside Angela White. In recent months Nicolette Shea has also been showcased within the Digital Playground porn production Fly Girls: Final Payload (2017) alongside fellow popular pornstars Aletta Ocean, Jasmine Jae and Jai James, and she has posed as the box cover model for the Brazzers DVD compilation titles Pornstar Paradise Volume 3 (2017) and Happy Endings Volume 2 (2017).
So what does the future hold for rapidly rising starlet Nicolette Shea? Recently nominated for "Hottest Newcomer (Fan Award)" at the 2018 AVN Awards, Nicolette Shea has her sights set on adult film superstardom and she boldly stated in her AVN interview that;
"I love the bleached blonde, big fake tits. Just really hot, sexy. I want to bring that back, but I want to bring it back into the porn world and I want to show that I can be a different look than just the teeny bopper. I want to be like a porn star—a real porn star. I look up to Jenna Jameson. I think that's like the goal. Because I own it. I own how tall and curvaceous I am…I'm committed to it…I had a long time to think about it and I want to really make a brand and a name".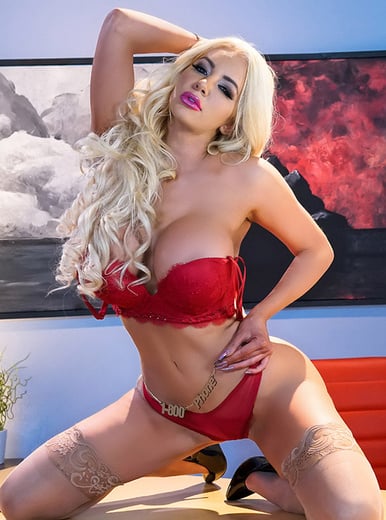 Click here to see more of Nicolette Shea at Brazzers
Want to keep yourself updated on Nicolette Shea's ever-evolving adult film career? Then please feel free to use the links provided below to stay connected with your favourite busty blonde bombshell Nicolette Shea!
Nicolette Shea : Social Networks
Official Website : NicoletteSheaVIP.com
Twitter : @Nicolette_Shea
Instagram : @nicolette_shea
Snapchat : sheabooty
Brazzers : Nicolette Shea at Brazzers
Reality Kings : Nicolette Shea at Reality Kings
Camsoda : nicolette
IMDB : Nicolette Shea Filmography
The Nude : Nicolette at Nude.EU
Fapnado : Nicolette Shea