Pink Von Dee
Twitter : @pinkvondee   Grooby Girls : Pink's Sex Scenes  GroobyVR : Pink's VR Scenes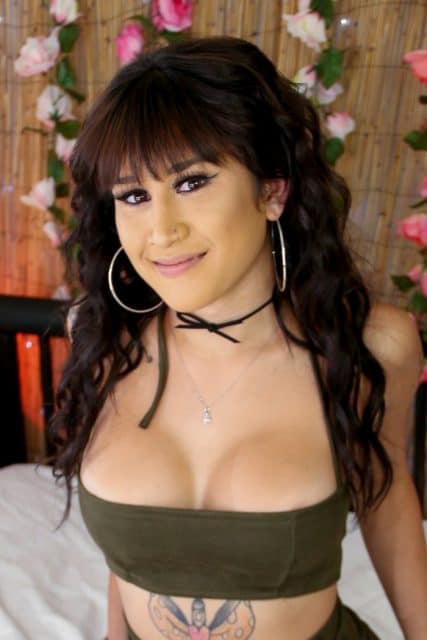 Pink Von Dee – Personal Info
Name : Pink Von Dee
Alias : Pinky
Date of Birth : June 9th
Star Sign : Gemini
Hometown : Fort Lauderdale, Florida (US)
Hair Colour : Blonde / Brunette / Red
Eye Colour : Brown
Tattoos : 'Lucky You' script above her bikini line, two hearts either side of her navel, a large ribbon design in the centre of her abdomen, script with a small red heart design on the inside of her wrist, a Hello Kitty design on her upper arm, 'II' and 'Gemini' script across her lower back and script with a small red heart design underneath her breast
Piercings : Navel, nostril and both sides above her upper lip
Years Active : 2014 – present
Number of Scenes : 10+
Over the past few years terrifically tattooed TS starlet Pink Von Dee has established herself as a fan-favorite Grooby Network and Trans 500 performer. In fact, Pink Von Dee was nominated for "Best Hardcore Model" at the 2018 Transgender Erotica Awards. Definitely one to watch out for in the years to come!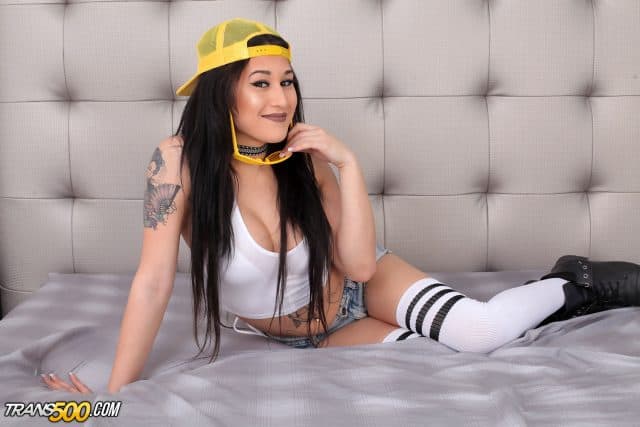 Pink in Selfie Sexing – I Kill It TS – Trans 500
Hailing from Fort Lauderdale, Florida, Pink Von Dee made her official porn debut in November 2014 when she filmed a sultry solo shoot, titled Sexy Rocker Pink Von Dee!, that was promoted via the Grooby Network porn site Grooby Girls. Pink Von Dee's debut solo shoot was filmed by prominent porn director Jack Flash who mentioned via her official Grooby Network profile that;
"Transgirl Pink Von Dee is a sexy and horny tgirl with a hot slim body and a great ass! TS Pink works as a pole dancer and has the body to match!…Meet Pink Von Dee in her very first photo shoot! Pink is cute, petite and very pretty! Pink is a sexy mix of Irish and Filipino heritage. She currently lives in South Florida and is a dancer at a local Trans Bar. She is a great pole dancer!…She fantasizes about having sex in a Tattoo Shop. Being a dancer she had no problem in falling out of her clothes to reveal her sexy fair skin body…Pink had no problem and put up a sexy performance in both her sets with a very nice orgasm at the end. I hope to work with Pink again in the future".
In the months that followed Pink Von Dee continued to collaborate with Jack Flash on some sensational solo scenes for Grooby Girls such as Pretty In Pink Von Dee! in December 2014, Vixen Pink Von Dee  in July 2015 and Beautiful Pink Von Dee Jacks Off in October 2015.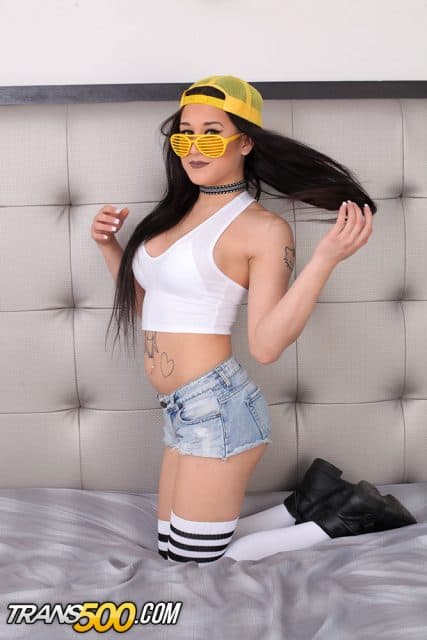 Pink in Selfie Sexing – I Kill It TS – Trans 500
In addition to her ongoing Grooby Girls web content, Pink Von Dee also began to work with Jack Flash on some sizzling Meet The Stunning Pink Von Dee and Pink Von Dee Enjoys Her Dildo! solo scenes that were promoted via the Grooby Network porn site TGirls XXX in August 2016. In fact, Pink Von Dee has even been showcased with Jack Flash's Grooby Presents DVD compilation title SM XXX: Florida Road Trip #3 (2016) alongside sexy new TS pornstars Jenna Tales, Josie Wails, Jamie Croft and Sasha Ivy.
Alongside her sensual solo scenes, Jack Flash has directed many of Pink Von Dee's hottest hardcore scenes for Grooby Girls and TGirls XXX. Fans of Pink Von Dee will love viewing her Pink Von Dee's Steamy Hardcore scene with male porn star Goody that was promoted via Grooby Girls in August 2015. Pink Von Dee has since starred in some raunchy Pink Von Dee Rides Odysseus scenes in August 2016 and a steamy Insane Fuck With Pinky And Brad shoot in June 2017 that were both promoted via TGirls XXX. Not to be missed!
But that's not all! Pink Von Deehas also filmed some Selfie Sexing for the Trans 500 porn site I Kill It TS in February 2017. Gorgeous Grooby Girl Pink Von Dee has also teamed up with Jack Flash in order to shoot some sensational Pink's Amazing Kitchen Play! and Pink Von Dee Gets Wet! solo scenes which were both uploaded via TGirls XXX in July 2017. Pink Von Dee has received high praise for her intensely alluring solo shoots, with her official Grooby Network profile divulging that;
"Raven haired Grooby girl Pink Von Dee is a gorgeous tgirl with an amazing body that curves in all the right places! A long-time Grooby favourite, Pink just keeps on looking better with each appearance. In this sexy scene Pink Von Dee gets in the pool and starts stroking her delicious cock! Jack Flash brought an underwater camera to capture her beauty and I think it worked well! A great scene!".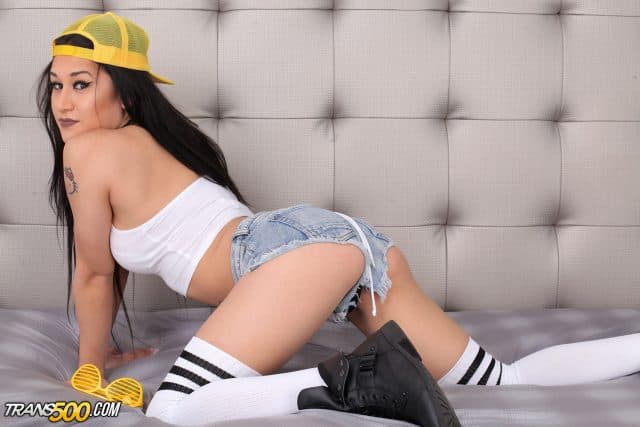 Pink in Selfie Sexing – I Kill It TS – Trans500
Never one to rest on her laurels, Pink Von Dee has recently filmed some scintillating Grooby Girls content among which includes her Pink Von Dee Returns! solo shoot in February 2017, her scintillating Gorgeous Pink Von Dee Cums! solo scenes in March 2017 and her hot Happy Ending With Pink Von Dee! hardcore collaboration with Brad in September 2017. This titillating massage parlour role-play scene was raunchily revealed via Grooby Girls in September 2017 with the saucy statement that;
"Gorgeous masseuse Pink Von Dee specializes in Happy Endings, so Brad comes for massage and gets the surprise of his life! But who can resist Pinky? Watch her as she fucks Brad good and then he fucks her too! Both parties had a Happy Ending in this amazing hardcore scene brought to you by Jack Flash!".
Want to know the best part? Starring in these popular porn productions earned Pink Von Dee a notable "Best Hardcore Model" nomination at the 2018 Transgender Erotica Awards.
Most recently Pink Von Dee has treated fans to an incredibly immersive Dick The Pink virtual reality sex scene that was unveiled via Grooby VR in May 2018. Want to keep yourself updated on all of Pink Von Dee's raunchy recent releases and upcoming porn productions? Then please free to use the links provided below to explore all of Pink Von Dee's official social networking channels. Stay connected with your favorite TS pornstar online today!
Pink Von Dee – Social Networks
Twitter : @pinkvondee
Grooby VR : Pink's VR Scenes
Grooby Girls : Pink at Grooby Girls

TGirls XXX: Pink at TGirls XXX
Trans 500 : Pink at Trans 500