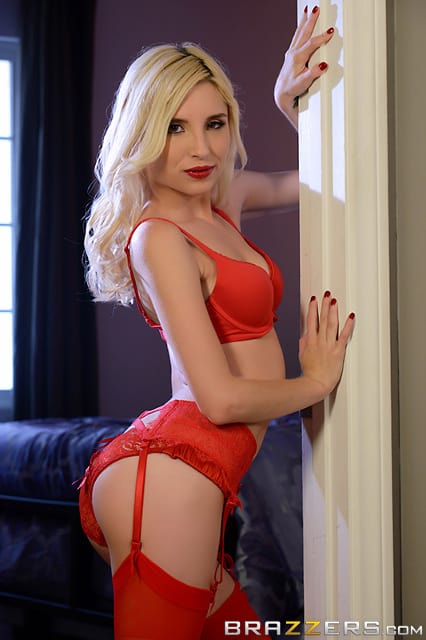 Click here to see more of Piper's hottest sex scenes at Brazzers
Piper Perri – Personal Info
Name : Piper Perri
Date of Birth: June 5th, 1995
Star Sign : Gemini
Hometown : Harrisburg, Pennsylvania (US)
Measurements : 32A – 24 – 34
Height : 4'10 1/2 (1.45m)
Hair Colour : Blonde
Eye Colour : Brown
Tattoos : 'Carpe Diem' script on the inside of her left wrist (which means 'Seize the day') and 'Carpe Noctem' script on the inside of her right wrist (which means 'Seize the night')
Piercings : Navel and tongue
Years Active : 2014 – present
Number of Scenes : 150+
Over the past few years petite princess Piper Perri has established herself as one of the most popular rising starlets in the adult film industry. Famous for her small yet stunning 4'10 1/2 frame, this sensational starlet continues to thrill fans across the globe with her teen porn productions, taboo relations titles and kinky Camsoda live cam shows. Definitely one to watch in the years to come!
So where did it all begin? Born in Harrisburg, Pennsylvania, Piper Perri has mixed Irish, Sicilian, Ukrainian and Native American heritage. Piper Perri's parents divorced when she was three years old whereupon she moved to Maryland with her mother. When she was five years old Piper Perri moved from Maryland to Florida with her mother and father-in-law. In fact, throughout her childhood Piper Perri has lived all over the United States in New Orleans, Hawaii, Louisiana, Texas and Arizona before returning to Pennsylvania. Piper Perri has often joked that moving around a lot throughout her childhood has made her a bona fide 'All American Girl'. Talking about these early years during her June 2015 Adult DVD Talk interview, Piper Perri commented that;
"I grew up all over the place. I was born in Harrisburg, Pennsylvania on a very nice summer day, I've been told. (laughs) I lived there until about 3 with my mother and my father. He wasn't always the best father so my mother left him. It wasn't that long after that she met the person I call my father today. I was in Maryland and then we moved to Florida, when I was about 5. Then it was to New Orleans, Hawaii and then back to Pennsylvania. I finally left there at the end of 5th grade and I think we went back to New Orleans. At some point, I experienced Hurricane Katrina. Then we moved to Texas and Arizona and back to Texas. Once more in Pennsylvania and I just moved from there recently and I live in New Orleans".
Piper Perri lost her virginity when she was 13 years old. She revealed within her June 2015 Adult DVD Talk interview that;
"I had actually been masturbating for a while. Maybe a year before that although I didn't go crazy. I remember using a hair brush handle and I masturbated all day long. One day, I did it so long that I actually bled a little bit. It was horrible! (laughs) So I was a little bit rebellious. I was always an A++ student, a nerdy girl, very quiet, very book warmish, very self-conscious, very shy. One day, I was at a Skate Center with some friends.
We decided to leave from there and go to a party. Some dude was turning 18 or something like that. I lied and said I was 16. I met this guy and got his number. We flirted a bit and two weeks later, he invited me to come over. My best friend was encouraging me to lose my V card and join the club. I wanted to be bad soo bad. I wanted to fit in and be able to hang, I went over and he put on the Exorcist. This was about 9pm. I remember the movie and the time and we had sex. After that, we did it 6 more times…
I had a super duper crush on someone else and I was constantly talking to him and I took his virginity. Then I took someone else's virginity and I said, 'Fuck! I'm breaking everybody's virginity!' I guess you could say I got promiscuous because once I had sex, I wanted to fuck. All. The Time. In high school, they called me a little nympho. (laughs)".
The question on everyone's lips; when did Piper Perri first begin performing in porn? Well Piper Perri initially discovered the adult industry during her teenage years. Piper Perri creating her Model Mayhem account when she was 15 years old as well as exploring various dating sites and fetish lifestyle networks since she was 16. Piper Perri mentioned during her June 2015 Adult DVD Talk interview how visiting these websites introduced her to Lana Landry. Lana would open her eyes to the possibility of pursuing a career in the adult industry. As Piper Perri puts it in her own words;
"I just got out of a really bad relationship. I kicked him out. And I had all these bills and I wasn't sure what I was going to do. I was also on different social media websites. And I just wanted to talk to different people. I was on OK Cupid and I had enough of guys. I could post an innocent picture of myself. Even just my face. And guys would flood my inbox with sexual suggestions! I'd have 200 guys in my inbox and it was annoying and they only wanted one thing. I was sick of it…
I talked to this one girl [Lana Landry] who was really hot. She messaged me back. And we flirted a little bit. She told me I had the perfect body and face for adult films and magazines, she asked me if I ever considered doing it. She worked for an agency and had done some videos herself. I had been approached with offers like this in the past…But this one was perfect. I thought maybe this was a sign. I'm very spiritual but not religious. So I felt like this had to be something good. My ex and I were pretty freaky and he loves taking pictures of me. So I kind of learned how to pose from him…
I took these really hot pictures and sent them in. And, by the way, I had braces. I walked down two flights of stairs at my house and before I hit the floor, I had a phone call. It was a 544 number and I thought it was a bill collector. I thought for a second and decided to answer it. It was an agent and he asked when I could down to Miami. I had animals to take care of and after a day or so, I flew down there. It was totally random. I had pursued modeling in the past and was starting to embrace my sexual side. I just had a 'fuck it' in me".
Piper Perri : Adult Film Career
Rapidly rising starlet Piper Perri made her industry debut in November 2014 merely five months after her 19th birthday. In fact, sexiest young pornstar Piper Perri still had braces when she started performing in porn! Piper Perri discussed shooting her first ever sex scenes in her June 2015 Adult DVD Talk interview, divulging how;
"My first scene wasn't actually sex. It was more of a fetish scene and the first one was a foot fetish scene. It was a lot of fun, actually, it was great for your first experience. I think doing a straight boy/girl scene for your first scene could be a little bit overwhelming. But to have that experience of having someone else watching you was good. I was in theatre before and I've been in front of an audience. You just have to embrace your freaky side. You just have to let go and be comfortable. It was good because I got to be naked in front of a camera without actually having sex".
Following her adult film industry debut via a foot fetish porn site, Piper Perri quickly began to attract a devoted fan following with her terrific teen porn productions. Among some of Piper Perri's most popular porn productions include Two Tiny Teen Spinners (2015) for IKnowThatGirl.com, Tight Sweet Teen Pussy 10 (2015) for Devil's Film, Teen Hitchhikers 2 (2016) for Reality Junkies. Don't miss Piper Perri's Moms Lick Teens 5 and 6 (2016-2017) for Reality Kings which enabled Piper Perri to collaborate with Veronica Vain, Alison Tyler and Zoey Parker.
Piper Perri has also performed in Interracial Teens (2016) for Dark X for which her hot hardcore collaboration with Jon Jon was nominated for "Best Sex Scene – All-Sex Release" at the 2017 XBIZ Awards as well as Manhandled Teens (2016) for Lethal Hardcore that was nominated for "Best Ingénue Movie" at the 2017 AVN Awards. Piper Perri enjoys showcasing her petite frame within these teen porn productions and has jokingly started during her June 2015 Adult DVD Talk interview that;
"(laughs) My license says 4'11" but I'm actually 4' 10 ½", that ½" is important! (laughs)…I'm super duper tiny, yep!".
As a matter of fact, Piper Perri's fresh-faced beauty, sizzling sexual charisma and stunning figure have earned her multiple adult film awards nominations including;
2017: AVN Awards nominee "Best All-Girl Group Sex Scene" Violation of Piper Perri (with Anya Olsen and Holly Hendrix)
2017: AVN Awards nominee "Best New Starlet" and "Hottest Newcomer (Fan Award)"
But wait, there's even more. For example, Piper Perri received the following notable nominations;
2017: XBIZ Awards nominee "Best Sex Scene – All-Sex Release" Interracial Teens (with Jon Jon)
2017: XRCO Awards nominee "New Starlet of the Year"
2018: AVN Awards nominee "Best Virtual Reality Sex Scene" Sorority Hookup 2 (with Elena Koshka, Jaye Summers, Kenzie Reeves and Ike Diezel)
2018: XBIZ Awards nominee "Best Sex Scene – Virtual Reality" An Action Is A Go (with Holly Hendrix and Shreddz)
Never one to rest on her laurels, Piper Perri was also nominated for the following coveted industry accolades;
Piper Perri has attributed many of these adult film industry successes to her loyal internationally fan following, having stated within her Wow Girls interview that;
"I'm really excited about it. I mean I am kind of a newbie because I only got into the porn industry at the end of 2014, but already I people like you interviewing me. So I must be doing something right. I'm kidding, of course. I have been really fortunate, and I owe it all to my fans".
But wait, it gets even better! Alongside her fresh-faced beauty, Piper Perri also harbours a devilishly delightful kinkster side and she has filmed a wealth of fetish web content, taboo relations titles and raunchy group sex scenes for such prominent production companies as Kink.com, Fetish Network, Lethal Hardcore and Girlfriends Films.
If you're eager to explore some of Piper Perri's kinkiest sex scenes to date then we recommend viewing her saucy sex scenes in the Juicy Entertainment porn productions. Firstly Break My Hymen: Her First Time (2015) and Bang My Braces (2015) are worth watching as well as watching Family Transgressions (2016) for Girlfriends Films . Piper Perri stars together with famous MILF stars India Summer, Bridgette B. and Nina Elle. Next you'll love Bullied Bi Cuckolds 35 (2016) for Kick Ass Pictures. You don't want to miss Evil Lesbian Stepmother (2016) for Filly Films within which Piper Perri shared a terrifically taboo three-way with Lily Cade and Renee Roulette.
Die-hard Piper Perri enthusiasts will also love watching her thrilling three-way with Anya Olsen and Holly Hendrix in Violation of Piper Perri (2016) for AMK Empire that was nominated for "Best All-Girl Group Sex Scene" at the 2017 AVN Awards and her saucy sex scenes with Carter Cruise in Don't Tell Daddy (2016) for Girlfriends Films also starring August Ames, Ana Foxxx, Abella Danger and Teanna Trump which was nominated for "All-Girl Release of the Year: Non-Feature" at the 2017 XBIZ Awards. We also recommend checking out her phenomenal My Stepmother Is A Secret Sex Slave and Piper Perri's Sex Slave Initiation BDSM three-ways with Phoenix Marie, Casey Calvert, Ramon Nomar and Marco Banderas that were both distributed via Kink.com's The Upper Floor web series in October 2015 and January 2016. Not to be missed!

Piper Perri enjoys shooting these types of raunchy web clips which have enabled her to indulge her curious kinkster side. After all, when Piper Perri was asked to name her kinkiest ever sexual experiences within her June 2015 Adult DVD Talk interview, Piper Perri saucily stated that;
"Oh boy. (laughs) There's a few. When I was younger, I was interested in male prostates and male orgasms. I wanted to make my boyfriend cum harder. So I fingered my boyfriend's prostate gland while I was giving him a blowjob. His dick was actually harder and he came 10 times harder and 10 times more cum…
The second craziest thing I did was with the 48 year old. You're familiar with the website FetLife, right? I had made an account on FetLife. I said I was 18 but I was 16 when I made the account. By the time I met the guy, I was 17. I was really into the whole daddy/daughter and slave/master thing. I was looking for someone to dominate me, I read a lot of erotic stories about BDSM…It was what I was into and he was very much aware of it. He pushed my limits and it was fun".
Want to know the best part? Throughout 2017 Piper Perri has continued to feature within a steady stream of teen porn productions, taboo relations titles and fetish web clips. Most recently, Piper Perri has starred in Corrupted Cuties 6 (2017) for PornPros. Don't miss Piper Perri's AMK Empire porn production Too Tight For Daddy (2017). Nor Piper Perri's New Sensations DVD title Dirty Dolls (2017) starring Aidra Fox, Eliza Jane and Kristen Scott. If I were you, I couldn't miss Piper Perri's Family Members (2017) shoot for Zero Tolerance featuring fellow teen porn starlets Ella Nova, Lena Paul and Kimber Woods.

When she isn't shooting these sensational sex scenes, Piper Perri has been filming regular instalments for Wood Rocket's Ask A Porn Star web series. Many of Piper Perri's insightful interview clips for this fan-favourite web series have even been featured within articles for Crave Online, Maxim, Ask Men and Elite Daily among many more prominent media publications.
Want to catch up on Piper Perri's latest hardcore web clips and learn more about her upcoming porn productions and intimate live cam shows? Then why not use the links provided below to check out all of Piper Perri's official social networking channels? With just a few quick clicks you can stay connected with your favourite petite princess Piper Perri online today!
Piper Perri – Social Networks
Twitter : @PerriPiper
Brazzers : Piper Perri at Brazzers
Camsoda : piperperri
Cherry Pimps : Piper at Cherry Pimps
Evil Angel : Piper at Evil Angel
Girlsway : Piper at Girlsway
Instagram : @piper_perri
Kink : Piper's BDSM & Fetish Content
VR Bangers : Piper's VR Scenes
The Nude : Piper at Nude EU
Babepedia : Piper Perri at Babepedia