Sailor Luna
Sailor Luna in She Loves Anal #3 – Evil Angel
Sailor Luna – Personal Info
Name : Sailor Luna
Date of Birth : May 26th
Hometown : Sioux Falls, South Dakota (US)
Measurements : 34B – 26 – 34
Height : 5'9 (1.75m)
Hair Colour : Brunette/Blonde
Eye Colour : Hazel
Tattoos : Some Full Metal Alchemist octogramme designs on her upper left arm, upper right arm and upper left breast, script above her right knee, a heart on her right butt cheek and a French bulldog with red flowers underneath it on her upper left arm
Shoe Size : Women's 9 (US)
Years Active : 2017 – present
Number of Scenes : 20+
Sailor Luna is a fan-favorite adult film star, fetish performer, cam girl and model who has been performing in porn since 2017. Best known for her raunchy web clips and compelling BDSM content, Sailor Luna continues to star in an impressive collection of Evil Angel, Desperate Pleasures, Kink and Team Skeet productions.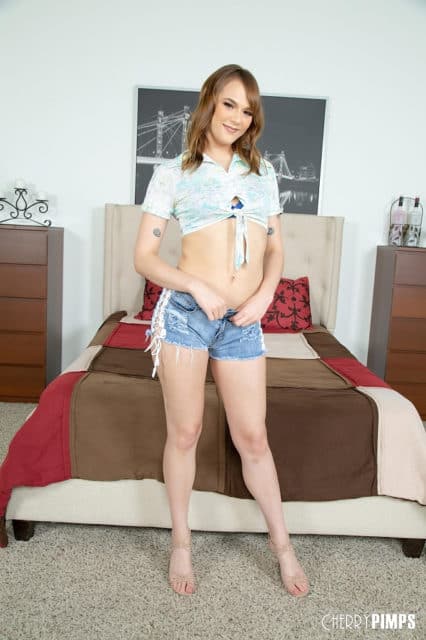 Hottie Sailor Luna Fucking Live – Cherry Pimps/Wild On Cam
But where did it all begin? Originally from Sioux Falls in South Dakota but currently based in Los Angeles, California, Sailor Luna is a natural born performer who played bass in her high school orchestra and state symphony. Sailor Luna was also a part of her middle school and high school choirs. Talking about these early years in her August 2018 Fleshbot interview, Sailor Luna recounted how;
"I'm pretty sure I was known as some sort of a slut but not only as that, I hope! LOL I hung out with all sorts of crowds. I started a gay/straight alliance; I played in my high school orchestra and state symphony as a bass player. I also did chorus every single year in middle school and high school. I didn't really have any boyfriends in high school and the few guys I did date and fuck were much, much older. I'm not sure why guys my own age never liked me growing up".
You may be interested to learn that Sailor Luna was an ardent porn fan before she decided to pursue a career in the adult industry. As Sailor Luna raunchily revealed in her August 2018 Fleshbot interview;
"I was a mega porn fan. Actually, I was honestly probably addicted. I would watch for hours and not even touch myself. I would be up alllll night watching until I heard my dad wake up for work and I'd rush into my room and pretend to be asleep. A personal favorite of mine was Riley Reid because she had such a perfect pussy for fucking. I enjoy fat vaginas with long and big lips because they have more movement when they are being fucked. I had another porn crush but I never learned his name, even to this day but I know he doesn't shoot anymore. He was a tall, dark haired, foreign-looking man, big pink dick. I don't know….that doesn't really narrow it down LOL!".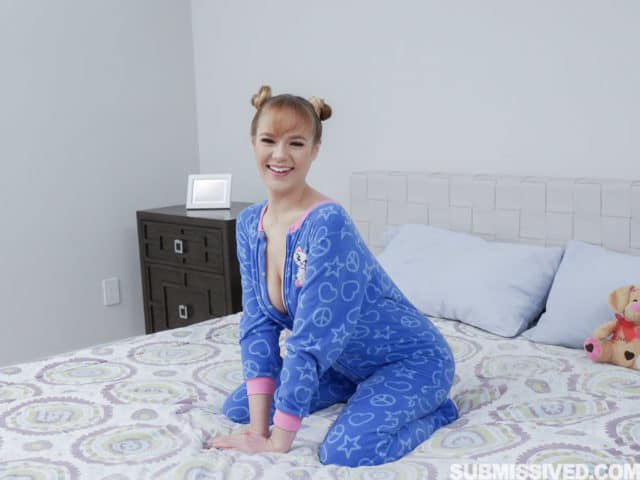 Sailor Luna in The Pajama Fuck Out – Submissived – Team Skeet
Sailor Luna first started to dabble in the adult film industry by shooting some amateur videos with her former boyfriend which were released via XVideos.com. Spurred on by the success of these initial scenes, Sailor Luna signed with an agency and began performing as a fetish model. In fact, Sailor Luna was featured on the cover of Kittens magazine (Volume 5) and was featured in a glamourous 8 page spread! From here, Sailor Luna started to shoot more and more sex scenes, eventually progressing from amateur videos to hardcore professional scenes for leading porn networks. Talking about this pivotal period of her life in her August 2018 Fleshbot interview, Sailor Luna divulged that;
"I started porn as an amateur in my home town of Sioux Falls, South Dakota. My now ex-boyfriend approached me on Facebook and I started my first thirteen scenes with him. From there, I moved forward and signed to an agency that hooked me up with a lot of fetish scenes so I then somewhat graduated to a fetish model, if you will. From there, I kept moving forward and started to book more boy/girl and hardcore pro porn scenes and I have been at it ever since. I am currently self-booking, independent and living in the Valley. I still enjoy shooting amateur and fetish content as well".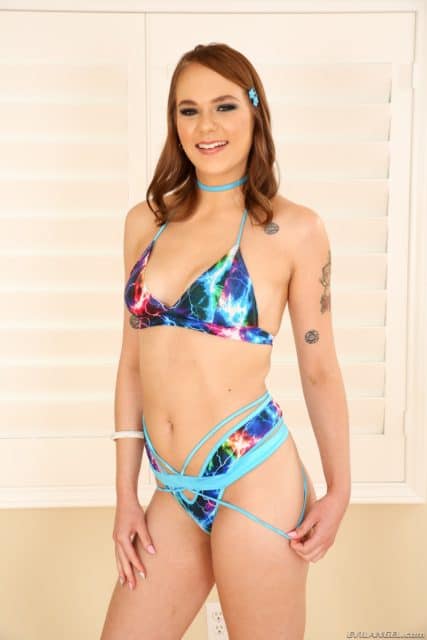 Sailor Luna in She Loves Anal #3 – Evil Angel
Sailor Luna : Adult Film Career
Sailor Luna made her official adult film industry debut in the summer of 2017 and some of her earliest porn productions include her raunchy Deep Throat Sirens shoot in August 2017, her sizzling Sleepover And A Fuck group shoot with Maria Jade, Conor Coxxx and Patrick Delphia that was released via Philavise.com in September 2017 and her saucy scene with Connor Coxxx in the Reality Junkies sequel release Big Dicks Tiny Chicks #2 (2017). Sailor Luna also appeared in Tarantino XXX's Stranger Things parody movie Porno Things: A Stranger Parody (2017) alongside Riley Nixon, Betty Blaze, Maci May, Lena Starr and Veronica Valentine.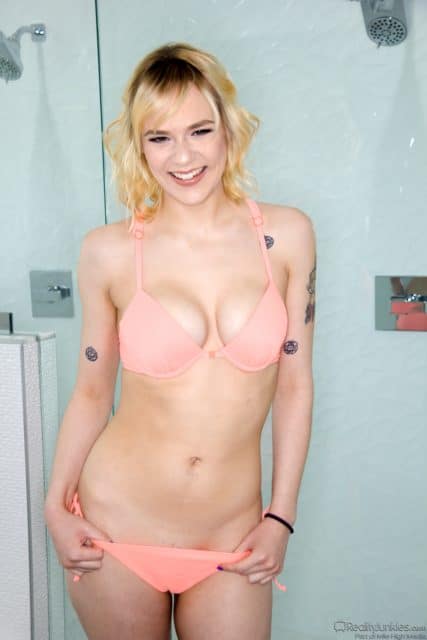 Sailor Luna in Big Dicks Tiny Chicks #2 – Reality Junkies – Mile High Media Galleries
Over the years Sailor Luna has attracted an avid fan following due to her impressive collection of fetish, femdom and BDSM content. Fans eager to explore Sailor Luna's captivating kinkster side will love watching her raunchy Wings bondage session which was filmed for Infernal Restraints in February 2018 and her titillating Brutal Sessions BDSM scene with Tommy Pistol that was released via Kink.com in December 2018. Sailor has also starred in, and posed as the box cover model for, the Desperate Pleasures movie Family Anal Adventures #4 (2018). This taboo relations title was endorsed by Pulse's VP of Sales, Hyland C, who stated in an October 2018 AVN press release that;
"Desperate Pleasures' family is one of the most twisted I've seen. And their dedicated fan base shows how popular this perverted family is! Fans of anal porn and of taboo family relations scenes are sure to doubly enjoy this release. The girls are cute yet naughty, the paternal figures completely without shame; this is a definite must-see release".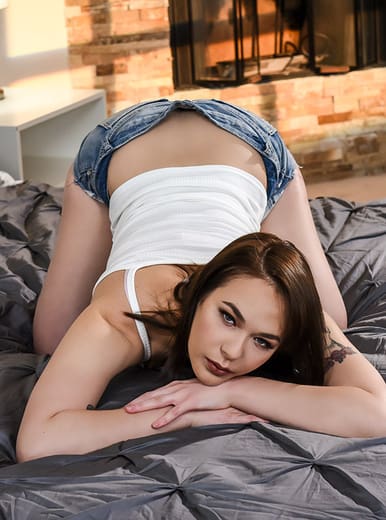 Sailor Luna in You've Changed – Brazzers
Hold on, it gets even better! Sailor Luna has since starred in the Desperate Pleasures DVD Boondock Sluts #4 (2018) alongside Bellah Dahl, Zelda Morrison, Roxxxie Blakheart and Violet Myers. Once again, this raunchy release was recommended by Hyland C who advocated in a December 2018 AVN press release how;
"TruckstopHookups is all about public sex between Jay and the girls who are eager to please him as he travels across the country in his RV…Amateur random hookups and pickup scenes are always popular tropes, and a popular fantasy with the long-distance / OTR / trucker crowd; fans will love the POV interaction between Jay and these sexy ladies".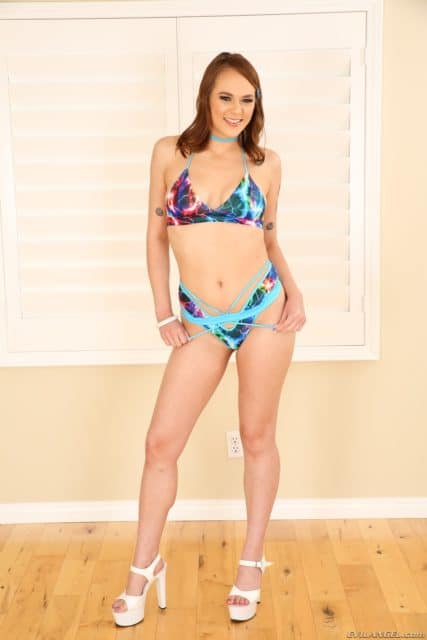 Sailor Luna in She Loves Anal #3 – Evil Angel
Never one to rest on her laurels, Sailor Luna has continued to shoot many fan-favorite fetish porn productions including the ATKingdom DVD ATK Holy Hairy (2017), Neighborhood Bush Watch #3 (2018) for Little Dragon Pictures within which Sailor Luna shared a steamy scene with Lauren Phillips, Bush Master Confidential (2018) for AMK Empire and the 3rd Degree production Hair Supply 5 (2018) also starring Gia Paige, Keira Croft and Sophia Leone.
Wait, there's even more! Fans of Sailor Luna will love watching her amazing anal scene with Billy Bailey in the LeWood/Evil Angel movie She Loves Anal #3 (2018), her steamy scenes in Tarantino XXX's Bad Wives (2018), her raunchy submissive scene with Pascal White in Vegas Sub Sluts (2018) that was nominated for "Best BDSM Movie" at the 2019 AVN Awards and her immersive POV scenes in Miles Long's Fallout Films movies POV Mania #15 (2018) and Full Service POV #7 (2018). Sailor Luna has enjoyed shooting these raunchier sex scenes and enthusiastically stated in her August 2018 Fleshbot interview that;
"My favorites are when my co-star can really fuck me hard and rough, it really brings me out of my shell. Once they kind of let loose on me it makes it easier for me get into the sex and fully enjoy my partner. I had a great shoot with Bill Bailey for Evil Angel! I like that he was rough with me but was polite and he read my body language appropriately…I love the fact that I can get paid to have sex, usually good sex too, on top of that. I feel like I was going to have sex for free anyways so why not use it to my advantage? I love that the adult industry has opened me up to new experiences that I never would have tried before. I think I am a better person and more open minded because of it. I have learned so much about human sexuality and psychology as well…I also love exploring BDSM, bondage, roleplay and age play on camera. I have been hitting up many BDSM companies trying to shoot for them so fingers crossed some more come through soon!".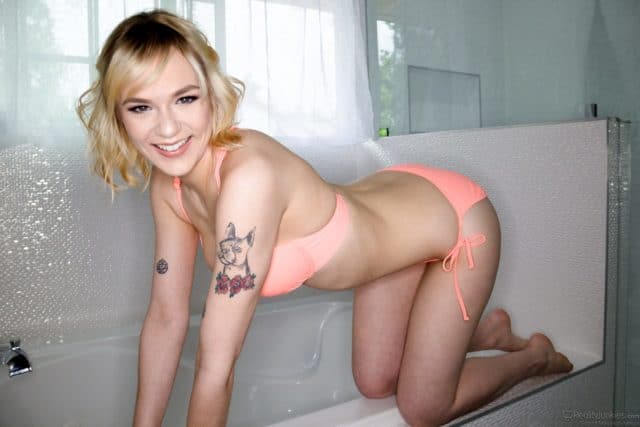 Sailor Luna in Big Dicks Tiny Chicks #2 – Reality Junkies – Mile High Media Galleries
In addition to her feisty fetish scenes, Sailor Luna has filmed many sizzling sex scenes for the popular porn network Team Skeet. In fact, Sailor has shot for many of Team Skeet's most popular web channels! We recommend checking out Sailor Luna's titillating The Pajama Fuck Out scene with Brad Knight that was filmed for Submissived in May 2018, her raunchy Anal Money Pit scene with Marcus London for Teens Love Anal in July 2018 and her saucy Dicks Over Selfie Sticks shoot with Brother Luna for She's New in August 2018.
But that's not all. Sailor Luna has also shared an amazing Pajama Party #2 group sex scene with Alexa Nova, Kyra Rose and Brad Knight which was released via Team Skeet's BFFS web series in March 2018, she shared a sizzling Sloppy Cock Worship shoot with Brother Love for This Girl Sucks in March 2018 and she shot a raunchy Unpure Family Thoughts scene with Matt Bailey that was promoted via Family Strokes in June 2018. Must see sex scenes for Sailor Luna fans!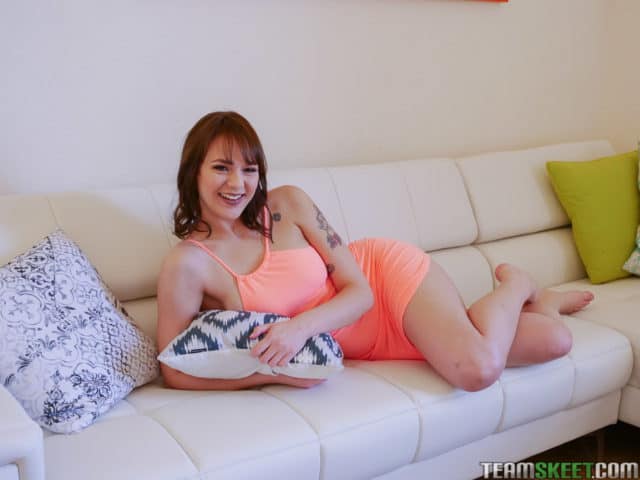 Sailor Luna at Team Skeet
Just can't get enough of sensational rising starlet Sailor Luna? Then you'll love viewing her thrilling You've Changed three-way with Kira Noir and Johnny Sins that was unveiled via Brazzers in May 2018, her epic oral POV shoot with Makayla Cox which was released via Deepthroat Sirens in October 2018 and her titillating Hottie Sailor Luna Fucking Live session with Jay Smooth that was first broadcast via Cherry Pimps' Wild On Cam web series in November 2018.
But what have been Sailor Luna's favorite scenes to shoot? Well, when Sailor Luna was asked to name her favorite co-stars during her August 2018 Fleshbot interview, she highlighted how;
"OMGGGG this is too hard! I mean everyone was great in their own way. Lauren Phillips was so kind, helpful and talkative on set. I loved licking on her toes, omg she has perfect feet. I am not kidding. OH LORD and Kira Noir???? Amazing. Experience. She genuinely enjoys sex with women, she recognized my Full Metal Alchemist tattoos right away and I melted. Makayla Cox was hilarious on set; I love open people with open minds. I hit it off with her right away. Oh god and I can't forget Alexa Nova. I had wanted to work with her for a long time and I was ecstatic when I found out we were doing a girl/girl/girl/boy together. She was friendly, fuckin' sexy and approachable. I licked her butthole and ate her pussy; I made very good use of my time on set that day. I have to stop or I'll just keep going; I have been so lucky to work with so many amazing men and women".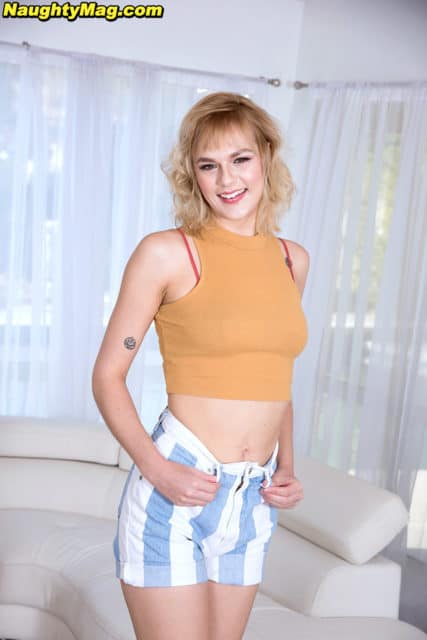 Sailor Luna in Hit Me! – Naughty Mag
When she isn't starring in these popular porn productions Sailor Luna enjoys hosting kinky live cam shows via Camsoda (under the screen name 'sailorlunaxxx') and sharing exclusive videos via FanCentro ('sailorluna') and ManyVids ('sailorluna'). Sailor Luna loves interacting with her fans online and sincerely stated in her August 2018 Fleshbot interview that;
"I like having just real world conversations the most; I try to be as honest as I can be without overindulging. I am human and I do have feelings and a life outside of porn and I want to share those things but at the same time; sometimes it's best to not overshare".
Wondering what the future holds for rapidly rising starlet Sailor Luna? You'll be happy to hear that Sailor has no plans of slowing down anytime soon. In fact, when Sailor Luna was asked about what she wants to achieve in the adult film industry during her August 2018 Fleshbot interview, she conveyed how;
"At first, I thought I wanted an audience, someone to listen to me and care about what I had to say. It sounds sort of weird and conceited but now what I think I truly want is to just make a decent living doing what I love. Of course I want to shoot for all of my 'dream' companies but I have accepted that I might not get to shoot with everyone that I want and sometimes you will want to shoot with people who don't want to shoot with you. It hurts a little bit but that's okay; I can't be everyone's favorite cup of tea and vice versa. For every company that might not be interested at the moment, there will be another great company that DOES want to book you. It's about putting yourself out there so those producers can find you. I would love to save my money and experience from porn and invest in other industries and build my brand. I would really like to get involved with charity and change the world around us for the better".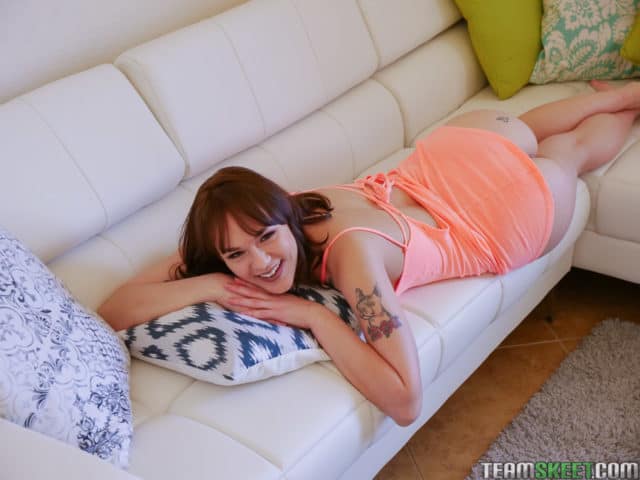 Sailor Luna at Team Skeet
If you'd like to stay connected with Sailor Luna then feel free to use the links provided below to discover all of her hottest sex scenes, exclusive videos and upcoming live cam shows!
Sailor Luna – Social Networks
Twitter : @sailorlunaxxx
Instagram : @sailorlunaofficial
Camsoda : sailorlunaxxx
Kink Profile : Sailor Luna's BDSM Scenes
FanCentro : sailorluna
Brazzers : Sailor Luna at Brazzers
Cherry Pimps : Sailor Luna at Cherry Pimps/Wild On Cam
Evil Angel : Sailor Luna at Evil Angel
Mile High : Sailor Luna at Mile High Media
Naughty Mag : Sailor Luna at Naughty Mag
Pascal's Sub Sluts : Sailor Luna at Pascal's Sub Sluts
Team Skeet : Sailor Luna at Team Skeet
 The Nude : Sailor at The Nude
Babepedia : Sailor at Babepedia