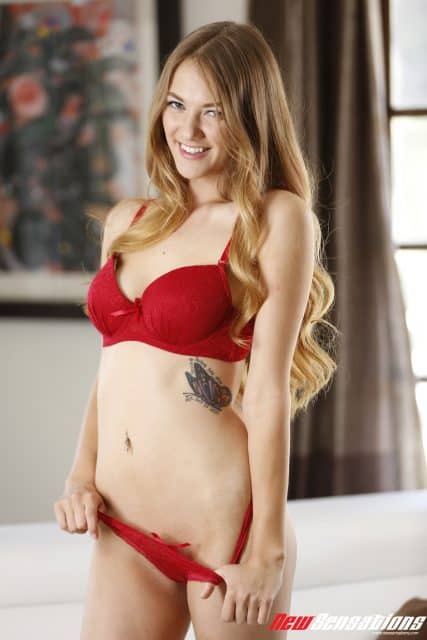 Samantha Hayes at New Sensations
Samantha Hayes – Personal Info
Name : Samantha Hayes
Date of Birth : November 28th
Star Sign : Sagittarius
Measurements : 32C – 24 – 34
Height : 5'6 (1.68m)
Hair Colour : Golden Brunette
Eyes : Blue
Tattoos : Butterfly on the left side of her rib cage
Piercings : Navel and tongue
Pets : A cat. As Samantha enthused within her November 2016 AIP Daily interview; "I am also obsessed with my cat in all honesty and anytime I'm not working I'm probably busy annoying her".
Years Active : 2014 – present
Number of Scenes : 100+
Samantha Hayes is a popular adult film star, cam girl and model who first started performing in porn in 2014. A fan-favorite cam girl and actress, Samantha Hayes has already amassed an avid fan following as well as a "Best Actress – All-Girl Release" nomination at the 2017 XBIZ Awards due to her role in the Girlsway feature movie Clairvoyance (2016). Watch this space!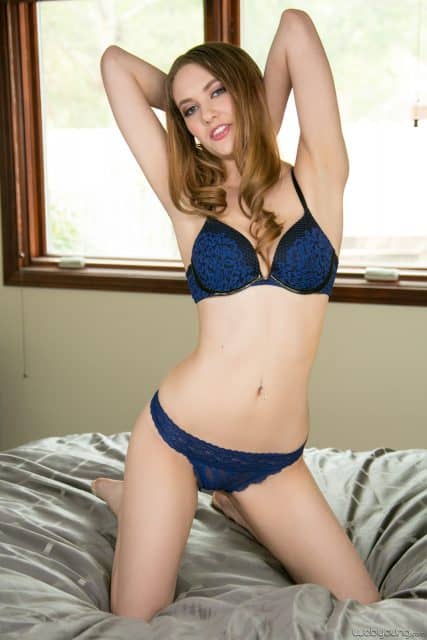 Samantha Hayes at Web Young
So where did it all begin? You may be surprised to learn that, despite her confident stage presence, Samantha was pretty shy during her younger years. As Samantha explained during her July 2016 Fleshbot interview;
"Honestly, I was very shy and quiet in high school. I was described as the awkward emo goth girl who preferred to keep her nose in a book [rather] than stir up anything. I started college at 16 and finally came out of my shell a bit and started hanging out with a lot of incredible people. My group hung out in the commons playing hacky sack and singing rap songs on acoustic guitars. For my first few years of high school, I had an incredible, sweet boyfriend from Catholic school, but once we broke up I was not in a rush to be in a relationship or date—I was more into work and hookups when I got horny, and I had one other serious relationship that really ignited my sexuality".
Wondering how Samantha first discovered her porn star potential? Well it all started when Samantha turned 18. Before then, Samantha had started college at 16 and she was working as a manager at Panera by the time she was 17. However, Samantha did not enjoy working for this company so she decided to treat herself on her 18th birthday by quitting! After leaving Panera, Samantha started investigating modelling jobs via Model Mayhem – in particular nude modelling shoots. After appearing in her first non-explicit artistic nude modelling shoot, Samantha was hooked!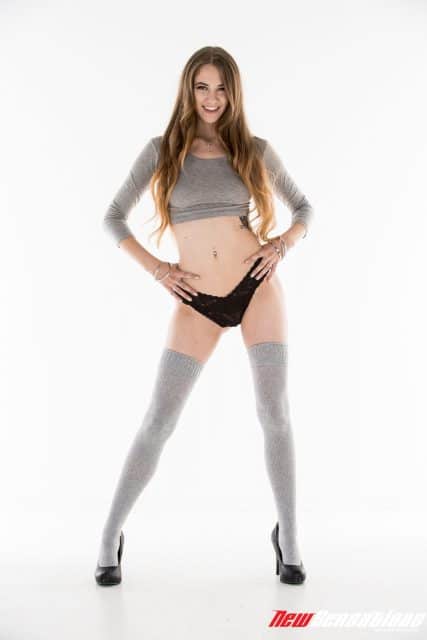 Samantha Hayes at New Sensations
From this point onward Samantha started seeking more local nude and fetish modelling work. Samantha's modelling work, combined with her personal relationships within the BDSM scene, meant that she had connections who could help her forge a career in the adult entertainment industry. And the rest is history! Talking about this pivotal period of her life within her November 2016 AIP Daily interview, Samantha elaborated upon how;
"I started a job at Panera and got promoted to manager by 17.  My managers and the entire company was so corrupt (there is evil in those bagels, and also somebody's flu sneeze, you can quote me) that I decided for my 18th birthday present to myself, I would quit.  I had always been interested in modeling, and when I turned 18 changed by Model Mayhem to available for nudes. I figured, I'm only going to be 18 once, it'll be cool to be 80 years old able to see my young, fresh innocence.  I got a huge influx of mostly repetitive messages, but after weeding through them found a photographer who had written everything out clearly.  It was a non-explicit artistic nude shoot, so while I was fully naked there were no straight up crotch shots.  He was incredibly professional while chatting over email and the phone, and I had my boyfriend at the time come with me.  The hour flew by and when his alarm went off, I didn't want to stop!…
Over the next nine/ten months or so, I started booking local nude and fetish shoots.  It got to the point that my modeling jobs were paying the  bills and my part time job was only paying enough for the gas to get there.  It was also during this time I was in my first serious sexual relationship with my first Dom.  I was trained to have multiple orgasms, working my way up to twenty or more in a row.  He was more comfortable with my bisexuality than any previous partners, and with his acceptance, began my first relationship with a woman.  I had been with women prior to that, mostly one night stands, but the passion she and I shared is unforgettable.  She was also in an open relationship, which made the connection that much stronger.  Eventually, it was time for her to move on as she and her primary partner were living out of state.  As much as I missed her, I couldn't believe how badly I missed sex with women in itself.  I had tasted heaven, and I was pussy starved!  I had the connections to get into the industry since I let it be known I was open to shooting nudes, but up until then wasn't interested.
The idea of being able to:
Have sex with pretty girls
2. Get paid to have sex with pretty girls
3. Get paid to have sex with pretty girls who are already tested and STD free
and most importantly, 4. Get paid to have sex with pretty tested girls AND have photographic and video evidence to watch forever?
I was ready to be flown out to California and eat for free, but obviously it doesn't work like that.  I shot a handful of Girl/Girl scenes, loving every second, and decided since I love oral, I'd do a BJ scene.  Everything about my new job turned me on and excited me in ways I had never felt before, and I fell in love with an industry that allows me to explore my sexuality in a safe way, while being able to support myself doing what I love".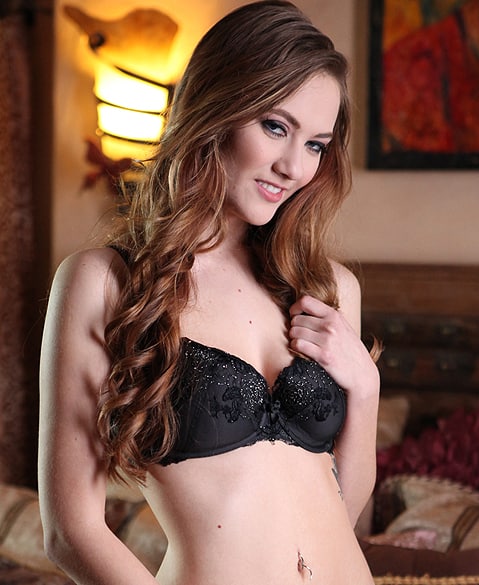 Samantha Hayes at New Sensations
Samantha Hayes : Adult Film Career
Samantha first started working in the adult entertainment industry in 2014 when she was 18 years old. A multi-talented porn star, cam girl and model, Samantha quickly amassed a devoted fan following due to her intimate live cam shows and custom video content. In fact, Samantha continues to host regular lusty live cam shows via MyFreeCams (under the screen name 'Sam_Hayesxo'), via Chaturbate (under the screen name 'letsgethazyxxx') and via Camsoda (under the screen name 'samanthahayesxo'). Samantha also shares saucy snaps with her fans via her private SnapChat profile (Samantha Hayes). Talking about her camming career and sizzling social media updates via her official FanCentro profile, Samantha explains how;
"I started porn and webcamming when I first turned 18 and fell in love with how free I was able to express myself and my sexuality.  I feel like I've truly been able to blossom! I've taken a lot of time in building up content I shot and edited all by myself, and getting to know my fans on a more personal and intimate level on webcam, phone, and text chat, but I honestly feel like SnapChat is where it's at!  I'm traveling back and forth to LA every few weeks and my snapchat is now loaded with tons of solo shots, BTS on set, sexy selfies, occasional explicit filth, a first look at new content coming out, but most of all a more intimate look at my day to day life!".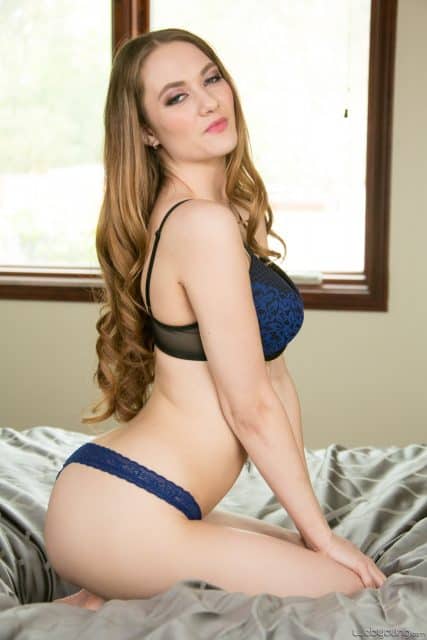 Samantha Hayes at Web Young
Interested in checking out some of Samantha's earliest porn productions? Then you have to watch her saucy scene with Christie Nelson in Kissing Cousins 3 (2014) for Filly Films, her raunchy scenes with Ryan Madison in Better Than Mom (2015) for Juicy Entertainment/Kelly Madison Networks which was nominated for "Best Taboo Relations Movie" at the 2016 AVN Awards and her thrilling three-way with Mick Blue and Ramon Nomar in What's Next? (2015) for New Sensations. Most notably, Samantha shared a kinky three-way with Karmen Karma and Anthony Rosano in Jacky St. James's Digital Sin production Me, My Brother and Another (2015) that won "Best Taboo Relations Movie" at the 2017 AVN Awards. Samantha has enjoyed shooting these raunchier sex scenes and divulged during her July 2016 Fleshbot interview that;
"I like BDSM scenes the best by far, but lesbian scenes and scenes with two male talent I need more of in my life. I like being dominated and whether I'm in a BBG or BBGG without a BDSM or kink aspect to it, having double the masculine energy definitely ups the ante in my submission because I want to please both of them. I got into porn because I love women and wanted more pussy in my life, so every time I'm booked for a lesbian scene I'm basically cumming in my panties until the day of, LOL".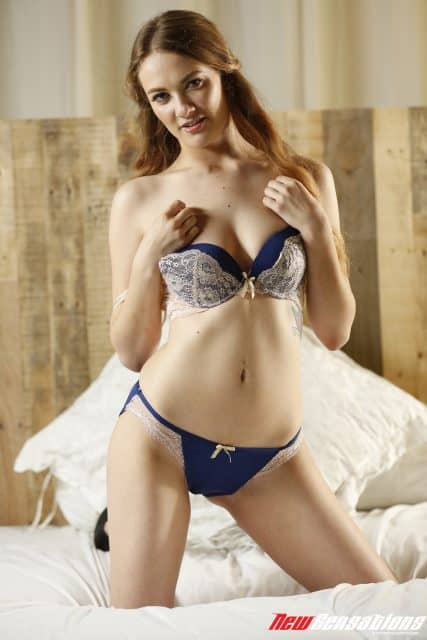 Samantha Hayes at New Sensations
In fact, Samantha hotly hinted within her July 2017 Inside The Porn interview that she plans to shoot even more BDSM content and group sex scenes in the near future! As Samantha puts it in her own words;
"I am planning to have a lot of new content out this year, types of scenes that fans haven't seen me in just yet. I want more men, give me all the blow bangs and orgies! I've been working a lot more with Kink.com and hope to continue, as I LOVE BDSM and want to expand my work to more hardcore and intense shoots to show my fans that side of me".
Fans of Samantha's captivating fetish, femdom and BDSM content will love viewing her The Upper Floor group sex scene with Zoey Monroe and John Strong that was first released via Kink.com in December 2015, her epic blowbang in My First Blowbang (2016) for New Sensations that was nominated for "Best Oral Movie" at the 2018 AVN Awards and her captivating collaboration with Sara Luvv and Richie Calhoun in Jacky St. James' New Sensations feature movie The Submission of Emma Marx 3: Exposed (2016) which won "Best Screenplay", "Best Cinematography", "Best Editing" and "Best Soundtrack" at the 2017 AVN Awards.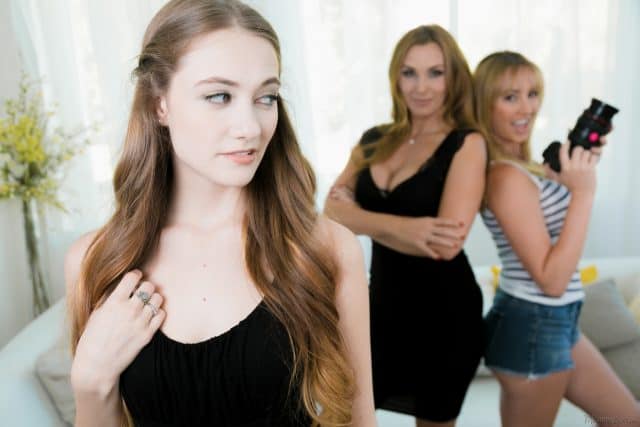 Samantha Hayes, Tanya Tate and Brett Rossi in The Family Portrait (featured in the Girlsway DVD Mom's Shrink)
Most of all, we recommend checking out Samantha's sizzling scene with Rachel Midori in the Digital Sin production Dominance and Submission (2016) which was nominated for "BDSM Release of the Year" at the 2017 XBIZ Awards. Samantha and Rachel both appeared on the box cover for Dominance and Submission and Samantha eagerly expressed in a June 2016 AVN press release how;
"'Dominance & Submission' was an incredible and exciting new experience for me…Most of my BDSM partners have been male and to be able to be ordered around by a Goddess as superior as Miss Madori… it was like a dream come true. 'Dominance & Submission' is the kind of porn I joined the industry to shoot, and I couldn't be more grateful to Digital Sin for giving me such numerous incredible opportunities to explore myself and my sexuality".
Rachel had similarly high praise for Samantha, enthusiastically stating within this AVN press release that;
"I can't even say enough about Samantha Hayes…From the moment we were on set, she was kind and just adorable. Her sexual energy is undeniable and we worked very well together whether the camera was on or off. She's a special kind of performer, one that has a lot more to her than just her sexual abilities. She was able to play that submissive role so well that she pushed me to up my dominance. From the stunning photographs to the behind the scenes interview – 'Dominance & Submission' is something nobody should be missing out on".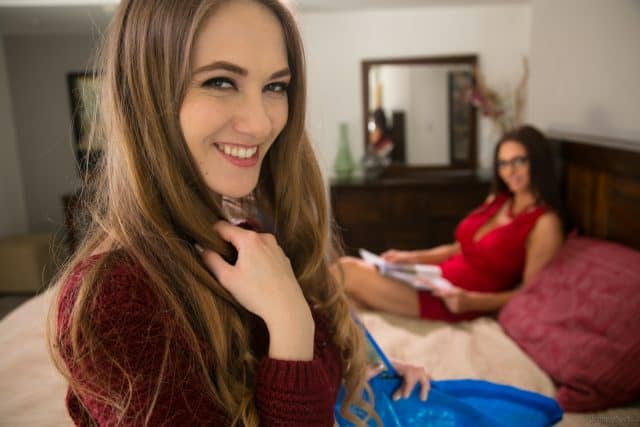 Samantha Hayes and Mindi Mink in Subliminal Parenting – Girlsway
But hold on, it gets even better! In addition to her compelling BDSM content, Samantha is also a talented girl/girl performer. Some of Samantha's sauciest girl/girl collaborations include her group shoot with Aria Alexander, Jayden Cole and Rachele Richey in Teachers 2 (2015) for Digital Playground, her steamy scene with Ariana Marie in Yoga Girlfriends (2016) for Web Young which was nominated for "Best All-Girl Movie" at the 2017 AVN Awards, her thrilling three-way with Brett Rossi and Tanya Tate that was featured in the Girlsway production Mom's Shrink (2017) and her sultry scene with Alura Jenson in the Girlfriends Films sequel release Mother-Daughter Exchange Club 52 (2018).
One of Samantha's best all-girl movies has Clairvoyance (2016) for Girlsway which earned Samantha a "Best Actress – All Girl Release" nomination at the 2017 XBIZ Awards due to her steamy scenes with Dahlia Sky and Charlotte Stokely. Directed by Stills by Alan and also starring Elsa Jean, Darcie Dolce and Adriana Sephora, Clairvoyance was a critical and commercial success that was nominated for "All-Girl Release of the Year: Feature" at the 2017 XBIZ Awards. Not to be missed!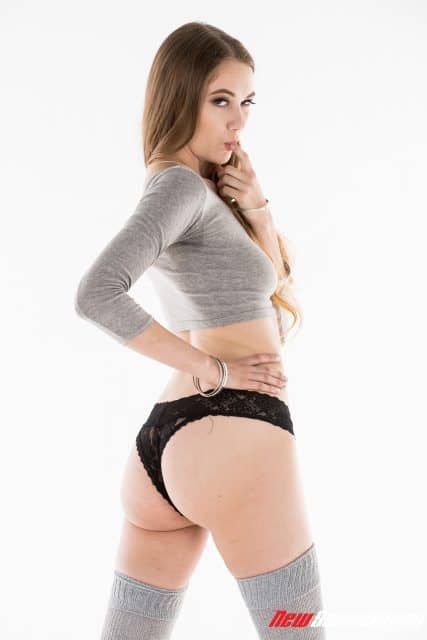 Samantha Hayes at New Sensations
When she isn't performing in these critically acclaimed porn productions, Samantha Hayes loves interacting with her fans via social media and hosting lusty live cam shows. You can chat with Samantha Hayes via MyFreeCams (under the screen name 'Sam_Hayesxo'), via Chaturbate (under the screen name 'letsgethazyxxx') and via Camsoda (under the screen name 'samanthahayesxo'). When she was asked about the close connection she has with her fans during her July 2016 Fleshbot interview, Samantha Hayes sincerely conveyed how;
"It's so important to me—I have the best fans! Honestly, prior to getting into porn, I had no expectations of what 'fans' would mean, and now I have people who message me every day just to tell me they hope I have a good day, and it genuinely puts a smile on my face! I could be feeling kinda crappy and I have someone checking in, just to say hey and I like checking in with them too. Many don't even write anything sexual! I like that social media has allowed my fans to get to know me in an intimate way, and that they hold conversations about things other than my on camera escapades. I really did not have any expectations about fans in porn, but I definitely did not imagine that I'd have such great conversations and make such sweet connections.:)…Thank you thank you thank you for being a fan! It means a lot to me and you guys are so sweet:) I hope you enjoyed getting to know a little more about me and that I can hear from you soon on Twitter.:)".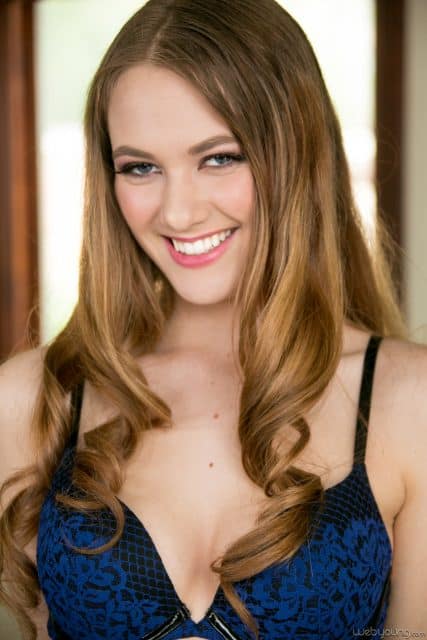 Samantha Hayes at Web Young
So what are you waiting for? Use the links provided below to stay in touch with your favorite captivating cam girl Samantha Hayes!
Samantha Hayes – Social Networks
Twitter : @SamanthaHayesxo
Instagram : @samanthahayesxo
MyFreeCams : Sam_Hayesxo
Chaturbate : letsgethazyxxx
Camsoda : samanthahayesxo
FanCentro : Samantha Hayes
WankzVR : Samantha Hayes VR Scenes
Girlsway : Samantha Hayes at Girlsway
Kink : Samantha Hayes Femdom, BDSM & Fetish Content
Mile High : Samantha Hayes at Mile High Media
New Sensations : Samantha Hayes at Digital Sin/New Sensations
Niteflirt : 

Official Website : SamanthaHayesXXX.com
The Nude : Samantha at The Nude
Babepedia : Samantha at Babepedia