Scarlett Bloom
Scarlett Bloom Twitter : @scarlettinbloom   Camsoda : scarlettbloom
WankzVR : Scarlett VR Scenes   Mofos : Scarlett Sex Scenes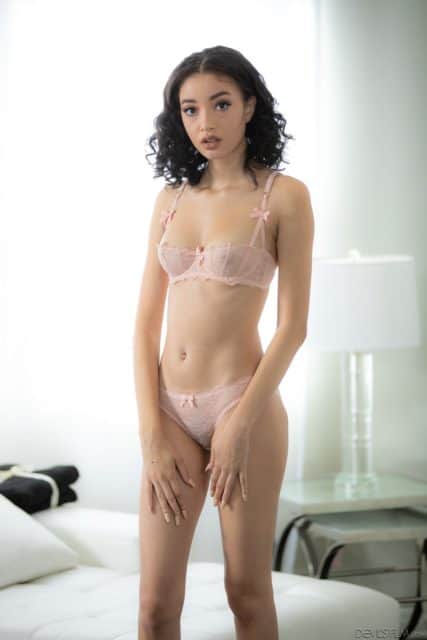 Click here to watch Scarlett in "Dark Divas #3 (2019)" at Devil's Film
Scarlett Bloom – Personal Info
Name : Scarlett Bloom
Date of Birth : October 24th
Star Sign : Scorpio
Hometown : Chicago, Illinois (US)
Measurements : 34B – 25 – 34
Height : 5'9 (1.75m)
Hair Colour : Brunette/Blonde
Eye Colour : Brown
Shoe Size : Women's 10 (US)
Years Active : 2018 – present
Number of Scenes : 20+
Scarlett Bloom is a rapidly rising starlet who has been performing in porn since 2018. A multi-talented adult film star, cam girl and model, Scarlett Bloom has already attracted a keen fan following due to her sizzling scenes for Devil's Film, Mofos, Reality Kings and Team Skeet.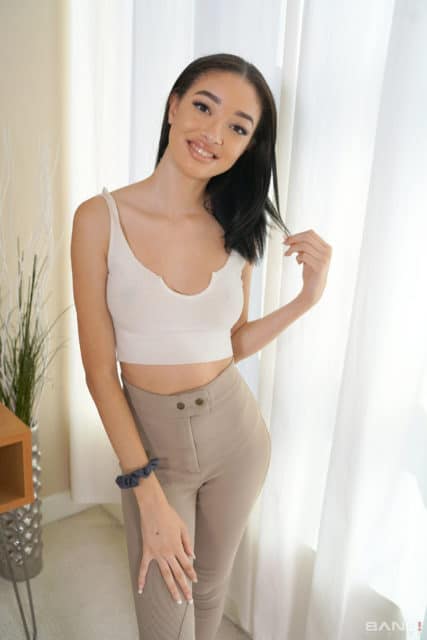 Click here to watch Scarlett in "Bang! Real Teens" at Bang! Originals
So where did it all begin? Hailing from the Southside of Chicago, Illinois, but currently based in Los Angeles, California, Scarlett Bloom speaks English and Mandarin. Scarlett Bloom worked in retail and she briefly pursued a mainstream modelling career prior making her adult film industry debut. However, Scarlett Bloom did not enjoy mainstream modelling and she mentioned during her September 2018 interview with Dave Naz that;
"I started mainstream modelling a couple of years ago and didn't like it too much and then I started adult work in about May of this year, so really recently…Mainstream modelling is very cutthroat and not forgiving [laughs], it's not as fun and just feels more like work".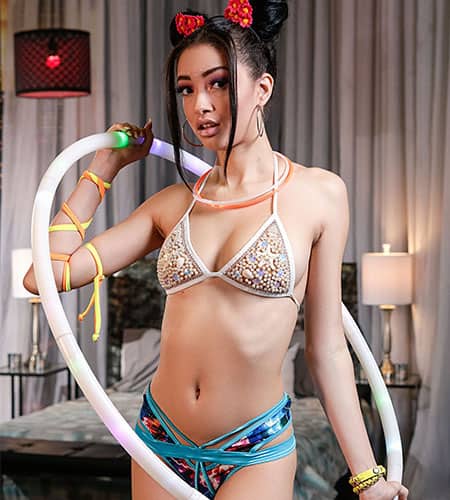 Click here to watch Scarlett in "Festival Chicks Don't Need Dick" at Reality Kings
During this insightful interview with Dave Naz, Scarlett Bloom explained how she decided to pursue in porn due to her exhibitionist nature and sex positive attitude. As Scarlett Bloom puts it in her own words;
"I think what I like about adult is that I have always been kind of an exhibitionist, and I've always owned my sexuality and been very proud of it, and not someone who was very reserved when it came to that kind of thing. I like how, in this work, I can do that freely and make a living from it and just, I dunno, it's just really fun for me".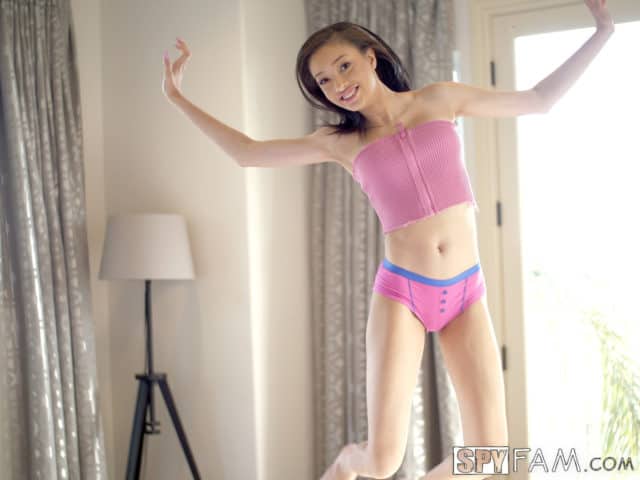 Click here to watch Scarlett in "Steamroom Stepsister" at Spy Fam
In fact, the only issues that Scarlett Bloom dislikes about performing in porn are the misconceptions that other people, and society in general, often have towards the adult industry. As Scarlett Bloom highlighted during her September 2018 Dave Naz interview;
"One thing I would change is the stigma around it [porn] and having to, like, explain myself all the time, or the initial reactions I might get from some people, just because people generally don't have the same respect for sex work as they do for other work or they don't see it as a valid career…Overall I think I've gotten a lot more support than I expected but then again I think that just speaks to the people I surround myself with, they're open-minded, so I've been fortunate in that sense".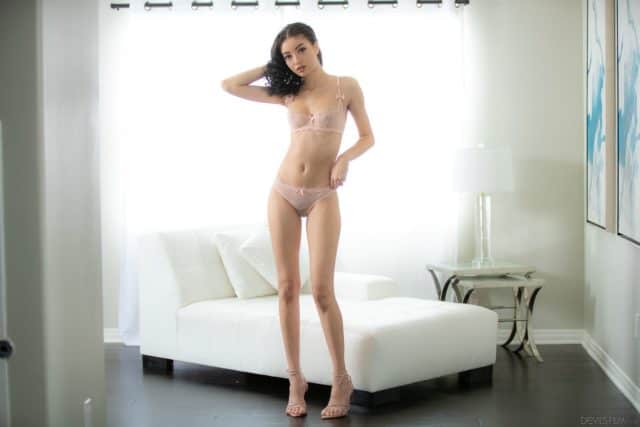 Click here to watch Scarlett in "Dark Divas #3 (2019)" at Devil's Film
Scarlett Bloom : Adult Film Career
Scarlett Bloom made her official adult film industry debut in May 2018 and some of her earliest sex scenes were filmed for Amateur Allure, AMKingdom and ATKExotics. When Scarlett Bloom was asked about how it felt to be naked on camera for the first time during her September 2018 Dave Naz interview, she recounted how;
"I guess it didn't feel too weird, it was kind of natural I guess [laughs] cos I like taking pictures of myself naked and I did like clip sales before I joined the adult industry so I was kinda used to it. The big difference is I wasn't in my bedroom filming anymore, but I felt natural because everybody was really casual about it so I was kinda casual about it…I try to be confident in my work and give a good performance, I do feel as confident as possible and even if I am nervous usually that feeling kinda goes away after the first couple of minutes".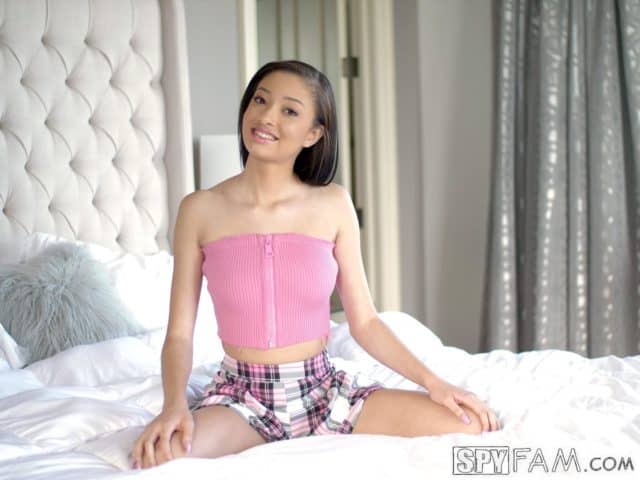 Click here to watch Scarlett in "Steamroom Stepsister" at Spy Fam
Fans of Scarlett Bloom will love viewing her raunchy Shoplyfter role-play with Romeo Price that was filmed for Team Skeet in October 2018, her kinky My Stepdad The Snitch shoot with Ike Diezel which was released via Team Skeet's Dad Crush web channel in November 2018, her immersive POV scene for Jay's POV in December 2018 and her titillating Sex With My Ex scene with Stirling Cooper that was promoted via Team Skeet's Submissived web series in December 2018.
Wait, there's even more. We also recommend watching Scarlett Bloom's steamy Sparkling Scarlett scene with Logan Long which was unveiled via Exotic 4K in December 2018, her saucy Cum Downstairs shoot with Ryan Driller for Cum 4K in December 2018 and her sizzling Jogger Neighbor Loves Dick scene with Brad Knight which was promoted via Mofos in December 2018. Not to be missed!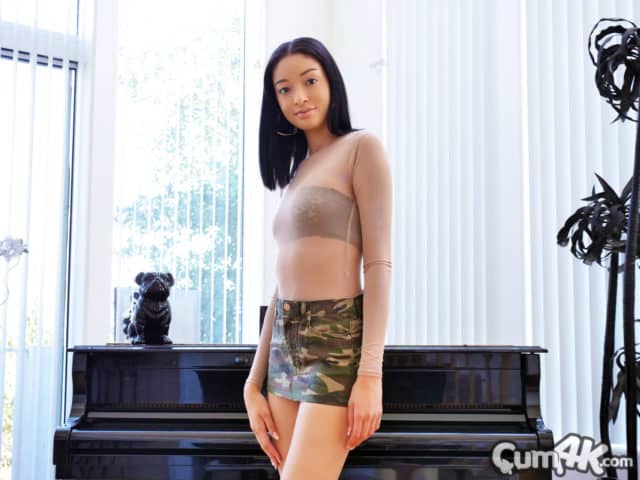 Click here to watch Scarlett in "Cum Downstairs" at Cum 4K
As well as starring in these popular porn productions, Scarlett Bloom is a talented model who posed for a glamorous layout that was featured in the May 2019 issue of Hustler magazine. Scarlett Bloom also appeared alongside Jordan Hazel and Alex De La Flor in the MV Selfies section of MV Mag #17: Heat Wave and she was named as Penthouse Cyber Cutie for March 2019. What's more, Scarlett Bloom has attended several adult film conventions such as the Exxxotica Expo. Scarlett Bloom has enjoyed meeting her fellow performers at these industry events and she mentioned in her September 2018 Dave Naz interview that;
"I had my first experience meeting stars when I went to Exxxotica earlier this year and that was really cool for me because I was seeing these people in person for the first time that I had only seen on the Internet. It was really cool, some of them were very willing to take me under their wing, sex workers in general are just typically very supportive of each other. One of the first things I realized was how open and accepting the community was. I went from one day, like, fangirling over one star or something to the next day we were hanging out and they were trying to help me and give me any tips or anything I wanted to know so I really loved that…Nina Kayy she was really sweet to me and was giving me a lot of insights, there were a lot of others that I recognized and it felt very real to be in their presence".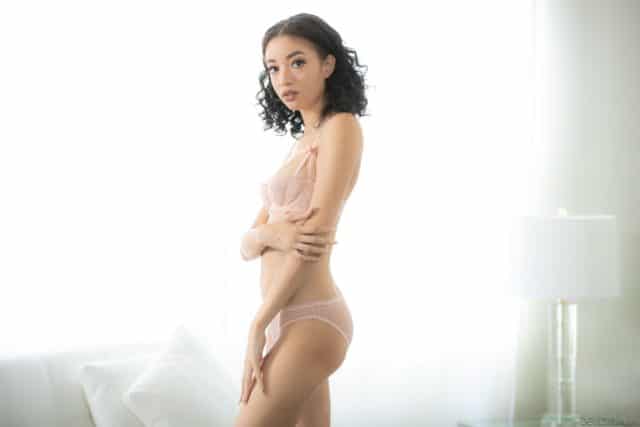 Click here to watch Scarlett in "Dark Divas #3 (2019)" at Devil's Film
You'll be happy to hear that Scarlett Bloom has continued to star in a wealth of raunchy web clips. Our top picks? They'd have to be Scarlett Bloom's steamy New Year's Party and Wet And Waiting scenes with Danny Mountain and Chad White that were both uploaded via Passion HD in January 2019, her Steamroom Stepsister role-play with Justin Hunt which was filmed for Spy Fam in February 2019, and her sultry Cotton Candy Cuties and Festival Chicks Don't Need Dick scenes with Riley Anne and Natalie Knight which were both released via Reality Kings in March 2019.
But that's not all. Scarlett Bloom has also filmed an immersive Snap A Snatch POV three-way with Daisy Stone for Mofos in January 2019, she shared a raunchy Let Her Lick The Wrapper scene with Logan Pierce which was filmed for Team Skeet's Sis Loves Me web channel in January 2019, she shot an immersive Slutty Audition scene for POVD.com in February 2019 and she treated fans to an intensely alluring Smokin' Hot virtual reality experience that was unveiled via WankzVR in January 2019. It's like Scarlett Bloom is in the room with you!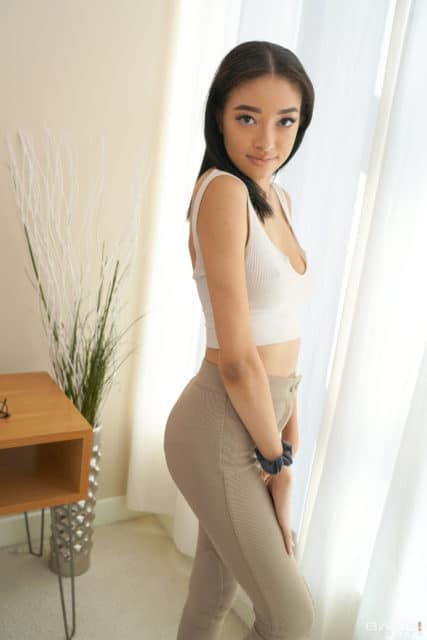 Click here to watch Scarlett in "Bang! Real Teens" at Bang! Originals
Alongside these compelling web clips, Scarlett Bloom has started to appear in some fan-favorite movies. You'll love viewing Scarlett Bloom's titillating scenes in the Hustler Video DVD Barely Legal #165: Teen Cam Girls (2018) and in the Reality Junkies sequel release He's My Stepdad #2 (2019) starring sexy teen pornstars River Fox, Lexi Lore and Kenzi Ryans. Scarlett has also been showcased in the Devil's Film movie Dark Divas #3 (2018) alongside gorgeous black pornstars Maya Bijou, Osa Lovely and September Reign. Scarlett Bloom and her fellow Dark Divas #3 cast members received an ardent endorsement from Maggie Metz, Pulse's Vice President of Sales, who enthusiastically stated in a November 2018 AVN press release that;
"The third installment of our All-Black series is filled with beautiful, sexy ebony women. It's one of our best-selling series by far. The cast is amazing and super sexy".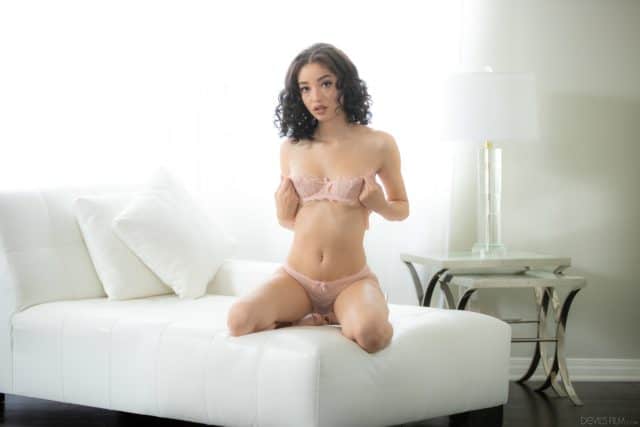 Click here to watch Scarlett in "Dark Divas #3 (2019)" at Devil's Film
When she isn't starring in these popular porn productions, Scarlett Bloom enjoys interacting with her fans via social media and hosting lusty live cam shows via Camsoda (as 'scarlettbloom'). Scarlett Bloom is also very interested in fashion design and she revealed during her September 2018 Dave Naz interview that;
"I actually am very into fashion design. I took a few classes, when I was in high school I took college level classes but for high schoolers at the art institute in Chicago. I've taken sewing classes and I make my own garments and stuff like that and it's something that hopefully I'll pursue more in the future. Also I was into makeup for a while, I've kinda had a lot of phases, or like, different things that kind of go together. I was here in June actually training with Priscilla Ono and she is Rihanna's makeup artist, she's a global artist for Fenty beauty so that was a real honour to work with her".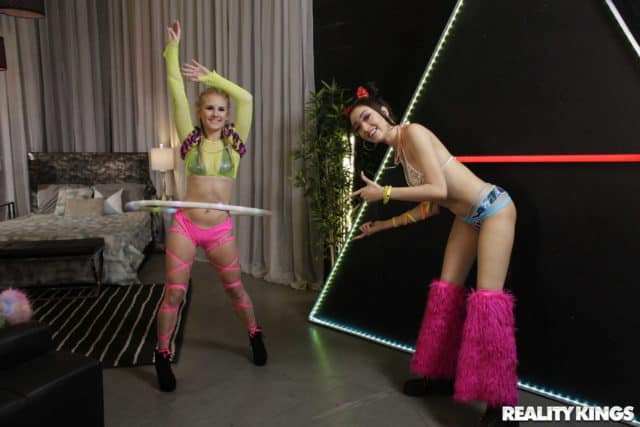 Click here to watch Natalie Knight and Scarlett Bloom in "Festival Chicks Don't Need Dick" at Reality Kings
Wondering what the future holds for rapidly rising starlet Scarlett Bloom? Well, when Scarlett Bloom was asked about where she sees herself in the next ten years during her September 2018 Dave Naz interview, she suggested that;
"I just hope that I am successful and comfortable and established…I always think one minute I want something and the next I'm on a new thing so it's hard for me to predict that far ahead, what I'm going be into or where I want to be settled. I'm just taking things, maybe not day by day, but just kinda letting myself explore different things".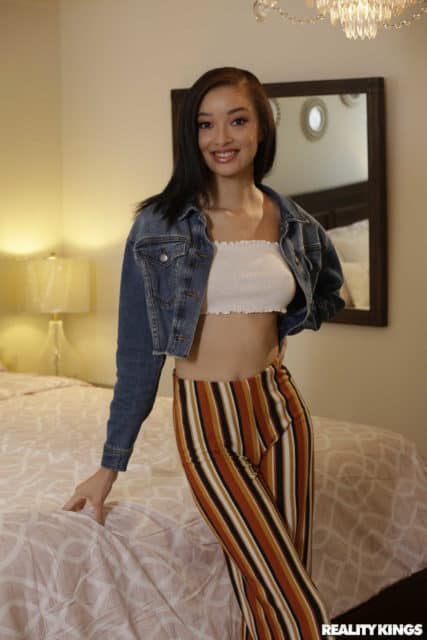 Click here to watch Scarlett in "Cotton Candy Cuties" at Reality Kings
You can discover all of Scarlett Bloom's hottest sex scenes, exclusive web content and upcoming live cam shows using the links provided below. So what are you waiting for? Stay connected with stunning rising starlet Scarlett Bloom online today!
Scarlett Bloom – Social Networks
Twitter : @scarlettinbloom
Camsoda : scarlettbloom
Instagram : @scarlettinbloom
WankzVR : Scarlett's VR Scenes
Bang! Originals : Scarlett at Bang! Originals
Devil's Film : Scarlett at Devil's Film
Exotic 4K : Scarlett at Exotic 4K
ManyVids : ScarlettBloom
Mofos : Scarlett at Mofos
Passion HD : Scarlett at Passion HD
POVD : Scarlett at POVD
Reality Kings : Scarlett at Reality Kings
Babeapedia : Scarlett at Babeapedia
 The Nude : Scarlett at The Nude