Top 10 Crossover Stars
Glitz, glamour and gorgeous women; the adult film industry and the mainstream movie circuit have a lot in common! In fact, there are a select few female performers who have mastered the art of the crossover and have pursued thriving acting careers outside of the adult entertainment industry. So if you've always been curious about the current careers of your favourite former adult film stars then listed below are 10 of the most successful crossover stars;
Top 10 Crossover Stars #10 – Katie Morgan
Instantly recognizable by her cute voice and captivating curves, busty blonde bombshell Katie Morgan is a fan-favorite former porn star, AVN "Hall Of Fame" Inductee and feature dancer whose adult film expertise have earned her feature roles within such HBO TV documentaries as A Real Sex Xtra: Pornucopia – Going Down in the Valley, Katie Morgan on Sex Toys, Katie Morgan: Porn 101, Katie Morgan's Sex Tips: Questions, Anyone? and Katie Morgan: A Porn Star Revealed; many of which she would host completely naked wearing only a pair of high heels!
As well as her raunchy HBO TV documentaries, Katie has starred in Black Cravings 4 (2001), Babysitter 10 (2002), Another Man's Wife (2007), Zack And Miri Make A Porno (2008), Desperate Housewives All Stars (2009), Shoot the Hero (2010) and she has even made a guest appearance on HBO's popular TV series Entourage where she played a fictionalized version of herself. As such, Katie has received numerous adult film and acting accolades throughout her career including "Crossover Star of the Year" at the 2009 AVN Awards and "Best Porn Star Gone Hollywood" at the 2009 Mr Skin Anatomy Awards for her role in Zack And Miri Make A Porno.
Top 10 Crossover Stars #9 – Traci Lords
Traci Lords is one of a select few performers whose mainstream acting career has surpassed her former adult film projects. Traci first began pursuing mainstream acting credits in 1987 after three years working within the adult entertainment industry. Traci made her mainstream acting debut in the comedy horror film Not Of This Earth (1988) which she swiftly followed with a prominent appearance as 'Wanda Woodward' in Cry Baby (1990) also starring Johnny Depp, Ricki Lake and Iggy Pop.
Over the course of her Hollywood acting career Traci has starred in a wealth of big budget feature films including Serial Mom (1994), Blade (1998), I Hope They Serve Beer in Hell (2009) and Devil May Call (2013) as well as the TV shows Gilmore Girls, Roseanne, Married… With Children, MacGyver, Melrose Place, Tales from the Crypt and Will & Grace; the list goes on! If you're eager to learn all about Traci's meteoric rise to fame then you'll be happy to hear that Traci has catalogued the amazing progression of her acting career within her autobiography Traci Lords: Underneath It All (2003) which made its debut on the New York Times' extended best-seller list.
Top 10 Crossover Stars #8 – Jenna Jameson
No top 10 crossover stars list would be complete without mentioning Jenna Jameson! Between 1993 and 1997, Jenna Jameson starred in a wealth of award-winning porn productions which earned her over 35 adult film awards and inductions into the AVN and XRCO Awards "Hall Of Fame". Once she conquered the adult entertainment industry Jenna set her sights on the mainstream media and began to make regular appearances on Howard Stern's popular radio talk show from 1997 onward. At the same time Jenna unveiled her autobiography which spent six weeks on the New York Times bestseller list.
Over the years Jenna has become famous for her voiceover work; appearing as an animated version of herself for an episode of Family Guy titled 'Brian Does Hollywood', voicing the secret playable character of 'Daisy' for the Tony Hawk's Pro Skater 4 video game and voicing Candy Suxxx in Grand Theft Auto: Vice City which earned her the coveted "Best Live Action/Voice Performance Award – Female" accolade at the 2003 G-Phoria Awards.
With regards to her acting career, Jenna has played herself in Comedy Central's first feature length TV movie Porn 'N' Chicken, she appeared in the music video for Eminem's song 'Without Me' (2001), she starred in two episodes of the NBC prime-time TV show Mister Sterling (2003) as the girlfriend of a political financier and she featured within the horror movie Evil Breed: The Legend Of Samhain (2005) alongside fellow porn star Ginger Lynn Allen. One of Jenna's most popular feature film performances has been her starring role in the comedy horror film Zombie Strippers (2008). A must see movie for die-hard Jenna Jameson fans!
Top 10 Crossover Stars #7 – Bree Olson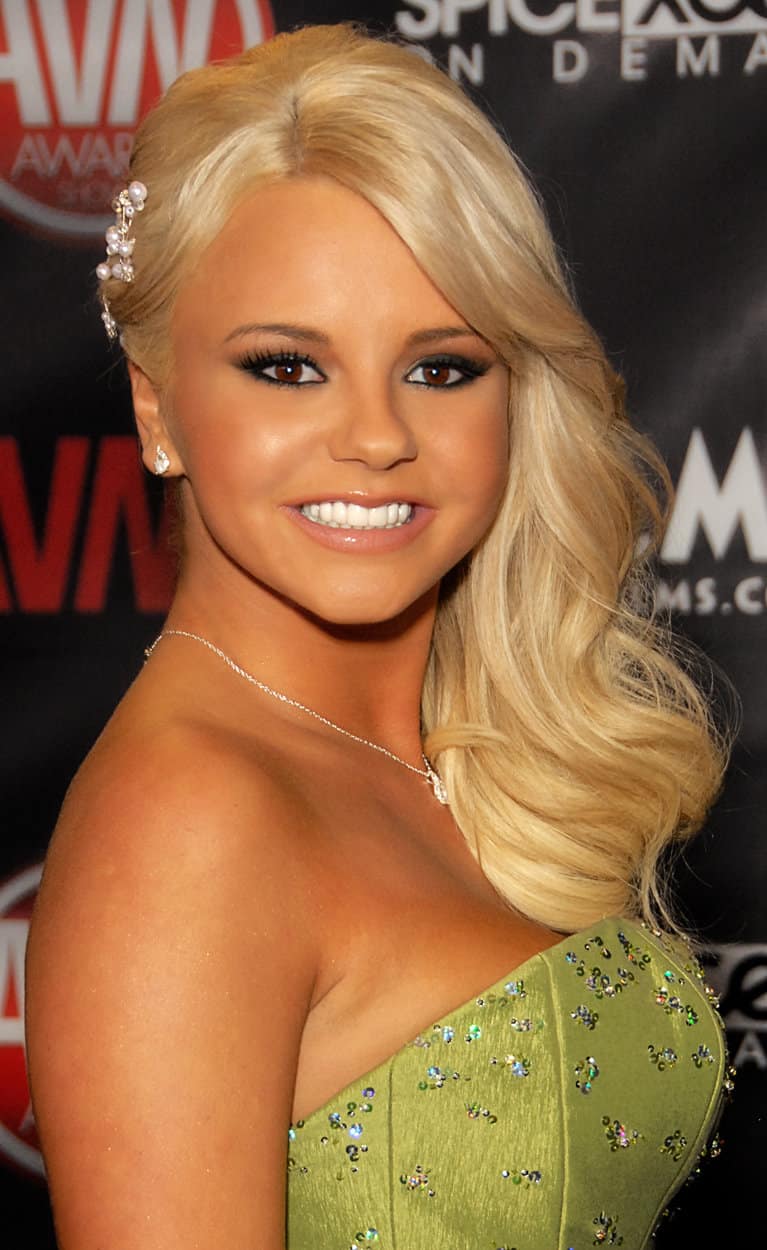 Image Sourced from Wikimedia, Attribution :  © Glenn Francis, www.PacificProDigital.com
If you have watched an episode of Keeping Up With The Kardashians and thought that you may have spotted a blonde babe who looked like Bree Olson then don't worry you're not mistaken! In the midst of her rising porn star career Bree was actually hired by the reality TV dynasty as a babysitter but she was fired on her first day after Kris Jenner objected to her 'inappropriate' behaviour and dress style. Following her successful seven year adult film career Bree decided to pursue some mainstream acting credits from 2013 onward and she was cast as 'Daisy' in the horror film sequel The Human Centipede 3 – Final Sequence (2013).
Bree has continued to star in horror films such as Camp Massacre (2014) as 'Hailey', Director's Cut (2016) wherein she played a 'Sexy Nurse' and most recently Kingdom Of Sin (2017) as 'Kat'. A multi-talented actress and TV personality, Bree has appeared in numerous comedy movies including Not Another Comedy Movie (2013), Don Jon (2013) starring Joseph Gordon Levitt, Julianne Moore and Scarlet Johansson, Live New Girls (2014) as well as her own humorous TV series Bree Does Comedy (2014) and Burt Paxton: Private Detective (2014). Bree has even played Divatox in the short Power/Rangers web film; there's just no stopping this beautiful blonde babe!
Top 10 Crossover Stars #6 – Riley Steele
Riley Steele is no stranger to the glitz and glamour of Hollywood Boulevard; in fact busty blonde bombshell Riley Steele flew out to Hollywood in order to attend the signing of Pirates (2005) which is where she met Jesse Jane who helped her break into the adult film industry. This content was published on XXXBios.com. If it appears on any other website, it is a violation of the copyright owned by XXXBios.com.
Fast forward five years and Riley Steele is an award-nominated porn star whose prominent adult film reputation earned her a supporting role as 'Crystal' in the horror-comedy feature film Piranha 3D (2010) also starring fellow porn stars Ashlynn Brooke and Gianna Michaels. Due to her impressive performance in Piranha 3D, Riley has since appeared in a multi-episode arc as 'Tippi' for the Cinemax TV drama series Life On Top (2011), as well as another multi-episode arc as 'Kaylie' for the Cinemax TV comedy series The Girl's Guide To Depravity (2012) and a credited role as 'Erica' in Season 1 Episode 7 of the police procedural parody series NTSF:SD:SUV (2011).
Due to her ongoing TV and feature film roles, Riley has remained a prominent figure within both the adult film industry and the mainstream media so it is no surprise that she has won "Crossover Star of the Year" at the 2011 AVN Awards and "Mainstream Adult Media Favorite" at the 2011 XRCO Awards.
Top 10 Crossover Stars #5 – Jenna Haze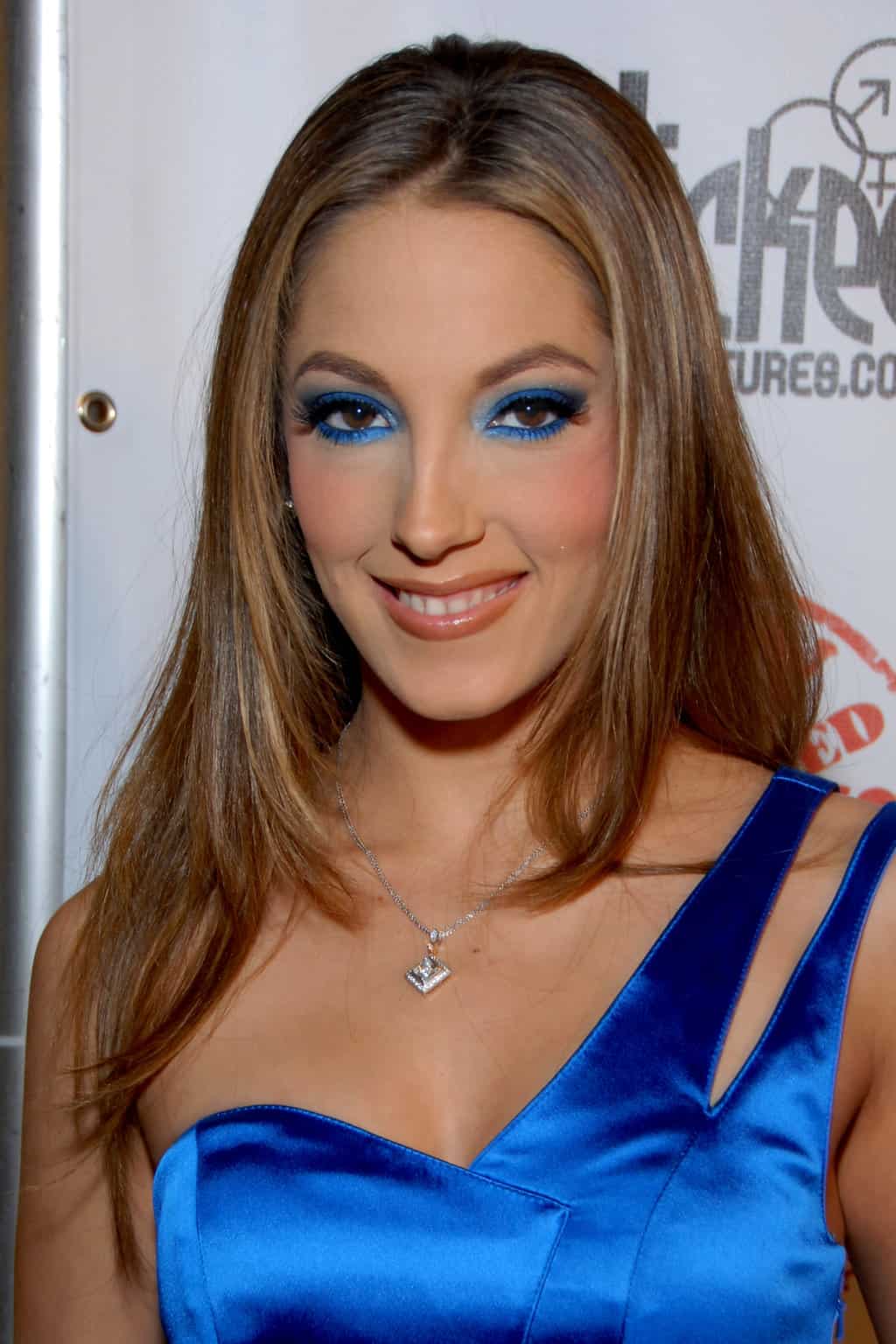 Another popular porn star who had a cameo as a 'Vagtastic Voyage Girl' in Superbad (2007) was brunette beauty Jenna Haze. After dominating the adult film industry for over 10 years, Jenna began to pursue several mainstream acting credits among which include her brief role as a porn star on strike in the action thriller feature film Crank: High Voltage (2009) starring Jason Statham.
In addition to her Hollywood acting performances, crossover star Jenna Haze has also dabbled in the music industry; posing with former Gossip Girl star Taylor Momsen in a layout for FHM Magazine. Following this raunchy modelling shoot Jenna was featured in the music video for Taylor Momsen's band The Pretty Reckless for their song My Medicine (2012). In fact, Jenna even appeared onstage with The Pretty Reckless during their performance at the House Of Blues in Los Angeles, California, where she was spotted giving Taylor a cheeky lap dance!
Top 10 Crossover Stars #4 – Aurora Snow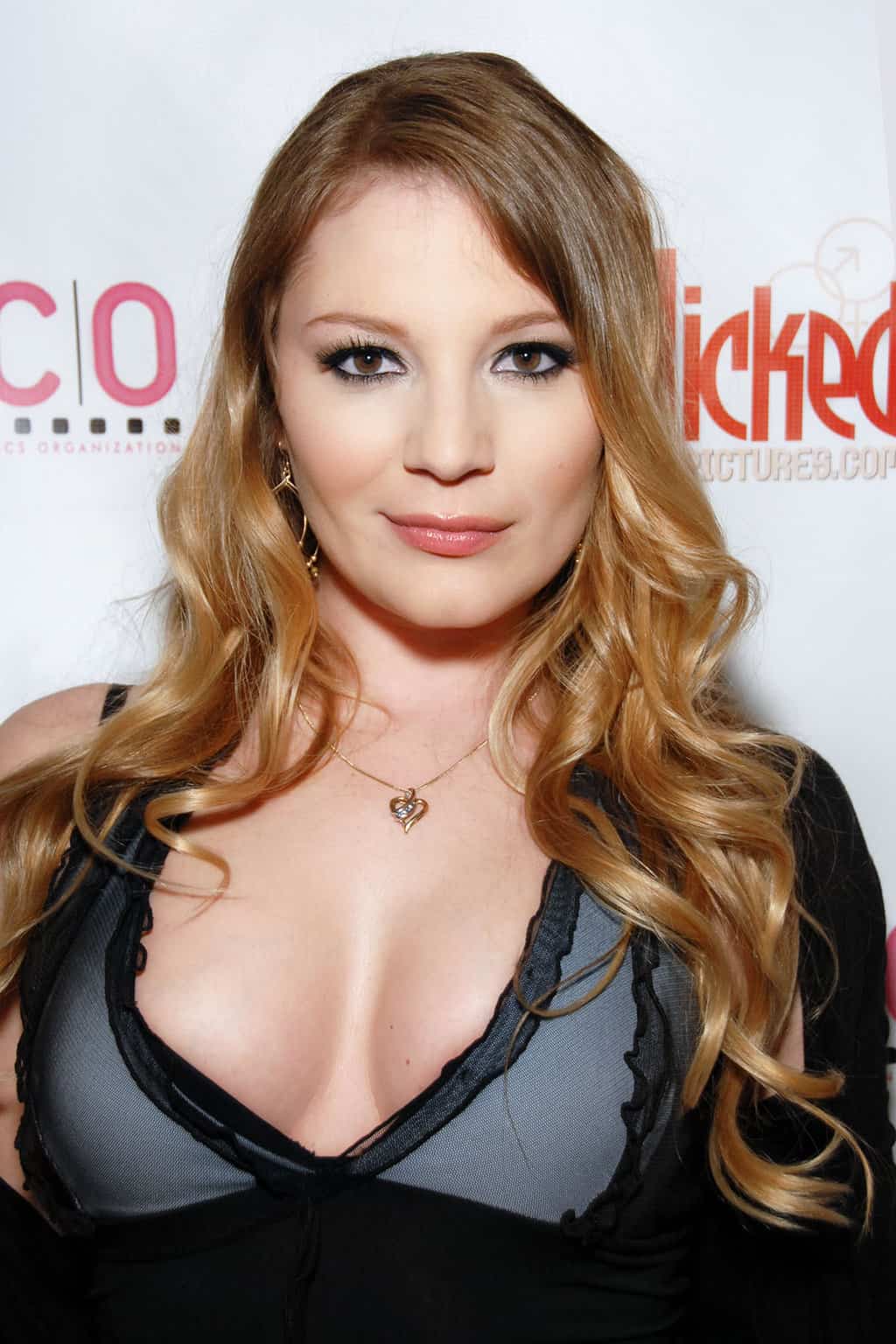 Image Sourced from Wikimedia, Attribution :  © Glenn Francis, www.PacificProDigital.com
AVN and XRCO Awards "Hall Of Fame" Inductee Aurora Snow is an award-winning porn star turned mainstream actress and writer. Thus far Aurora has appeared in The Rules Of Attraction (2002) as a masked naked girl at a party, she was credited as a 'Mistress' in the horror thriller film Lizzie (2012) and she appeared as 'Lacey' in multiple episodes of the comedy romance TV series Co-Ed Confidential (2007).
One of Aurora's most well known mainstream movie performances has been her cameo in Judd Apatow's smash-hit comedy Superbad (2007) as a 'Vagtastic Voyage Girl'. Aurora has since starred in the 'Death On Arrival' episode of comedy docu-drama 1000 Ways To Die (2010) wherein she discussed the perils of edible underwear in the saucy segment 'Way To Die #444: Deadliest Munch'. Definitely worth a watch!
Top 10 Crossover Stars #3 – Sophie Dee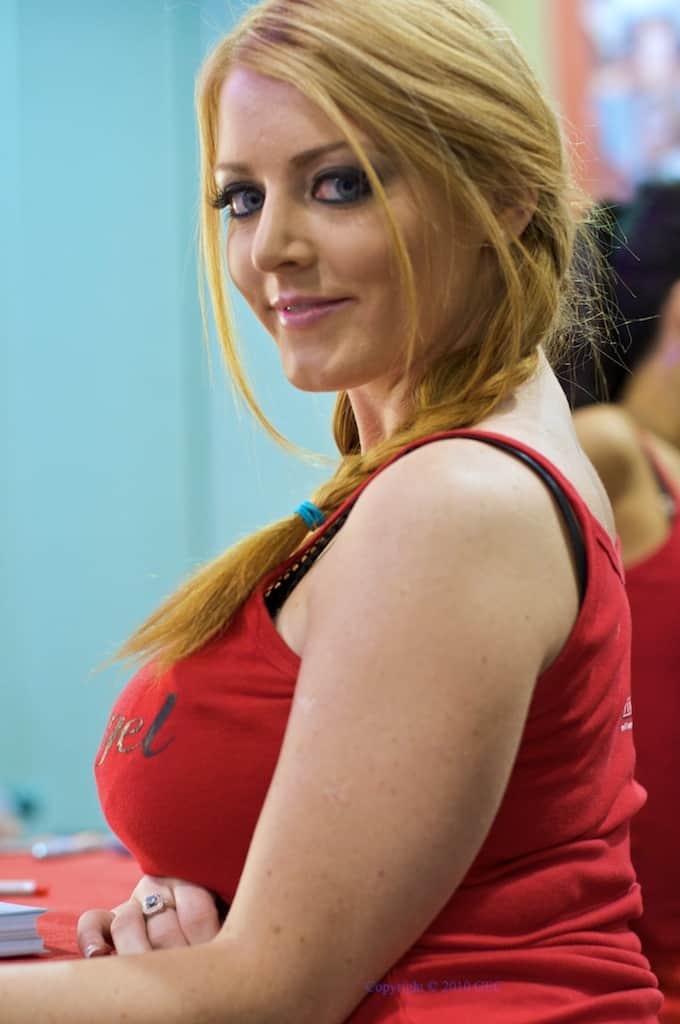 Sophie Dee is a fan-favorite porn star, glamour model and fetish performer who has appeared in several independent horror films such as Theatre Of Derange 1 (2012) and 2 (2015) as well as Cannibal Blood Girl (2011) and Unmimely Demise (2011). In recent years Sophie has put her hardcore porn career on hiatus in order to appear in several mainstream movies and TV shows under the stage name 'Kirsty Hill'.
Fans of Sophie Dee should keep an eye out for their favorite busty British babe in Season 3 Episode 7 of the smash-hit Fox Network comedy TV series New Girl (2011-present), the comedy feature film Hungover Games (2014), the action/adventure movie Bad Ass 2: Bad Asses (2014) and within the horror/comedy parody sequel A Haunted House 2 (2014) starring Damon Wayans. Whilst discussing her acting career and 'semi-retirement' from the adult industry during her August 2014 Wales Online interview, crossover star Sophie Dee commented that;
"The industry has given me other avenues, other movies…I still dance on the weekend and I do adult conventions and meet-and-greets with fans. But I don't shoot hardcore anymore".
Top 10 Crossover Stars #2 – Sunny Leone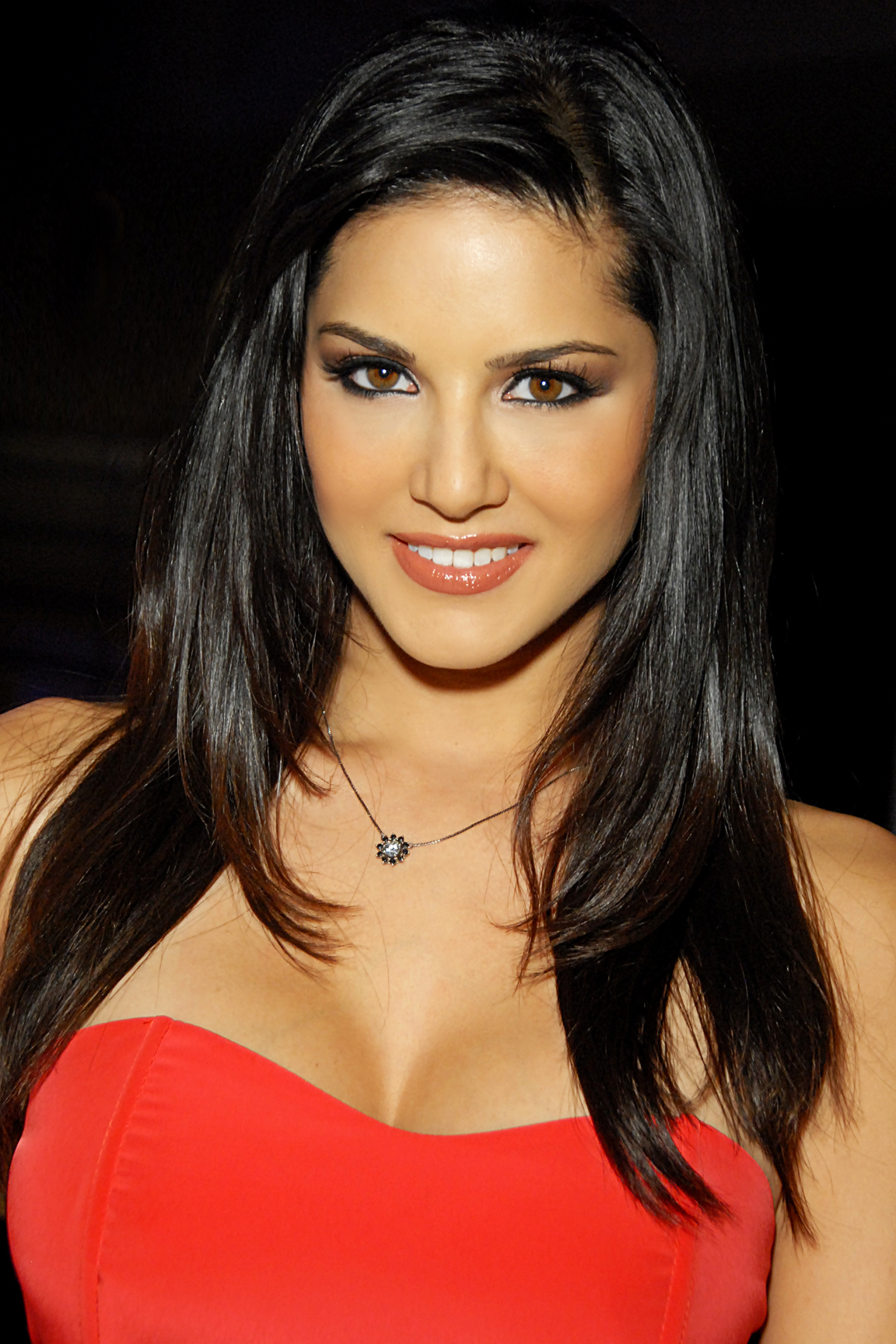 Sunny Leone is alluring former porn star who has since established a glowing reputation as a popular Bollywood actress, producer, director and TV personality. Whilst appearing in the Indian reality TV series Big Boss in 2011, Sunny was approached by Bollywood film-maker Mahesh Bhatt who offered her the lead role in Jism 2 (2012) which proved to be a commercial success.
From this point onward, Sunny began to perform in a steady stream of best-selling Bollywood films such as Ragini MMS 2 (2014), Vadacurry (2014), Ek Paheli Leela (2015) and Noor (2017) among many others; all of which have cemented her status as a fan-favorite Bollywood actress and sensational crossover star.
Top 10 Crossover Stars #1 – Sasha Grey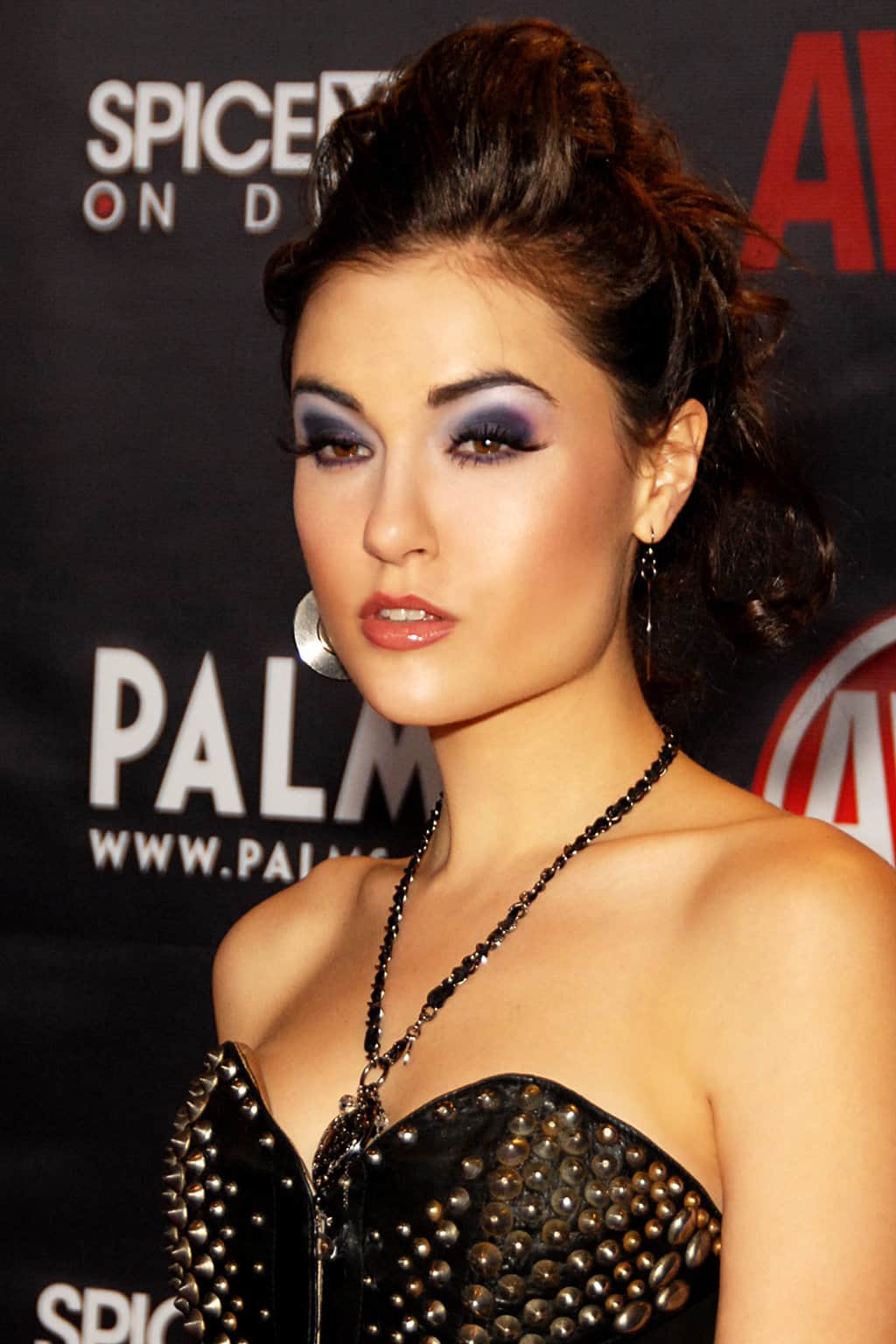 Image Sourced from Wikimedia, Attribution :  © Glenn Francis, www.PacificProDigital.com
When it comes to crossover stars, Sasha Grey stands out from all the rest. After five years of working in the adult film industry, within which time she won "New Starlet of the Year" at the 2006 XRCO Awards, brunette beauty Sasha Grey began to appear in several mainstream media productions such as the black comedy/horror film Smash Cut (2009) and the horror movie Hallows (2010). Sasha's big break came when she was cast as the escort 'Chelsea' in Academy Award winning director Steven Soderbergh's feature film The Girlfriend Experience (2009). Talking about his decision to cast Sasha in this leading role, Soderbergh conveyed within a Los Angeles Magazine interview how;
"She's kind of a new breed, I think. She doesn't really fit the typical mold of someone who goes into the adult film business…I'd never heard anybody talk about the business the way that she talked about it".
Following her starring role in The Girlfriend Experience, Sasha won "Crossover Star of the Year" at the 2010 AVN Awards. In the years that followed Sasha's acting career went from strength to strength as she was cast in a multi-episode arc for the seventh season of the hit HBO TV show Entourage (2004-2011) wherein she played a fictionalised version of herself. Sasha has also starred alongside Jeremy Piven, Rob Lowe and Thomas Jane in the thriller I Melt with You (2011), she has voiced the character of 'Violet DeWynter' in the Saints Row: The Third (2011) video game and she has been featured within several music videos including Eminem's Space Bound (2011); there's just no stopping sensational crossover star Sasha Grey!
So what did you think of our top 10 crossover stars list? Who are your favorite crossover stars? Let us know your thoughts in the comments section below!