Tori Montana
Tori Montana on Twitter : @torimontanaxxx   Evil Angel : Tori's Movies
Reality Kings : Tori's Sex Scenes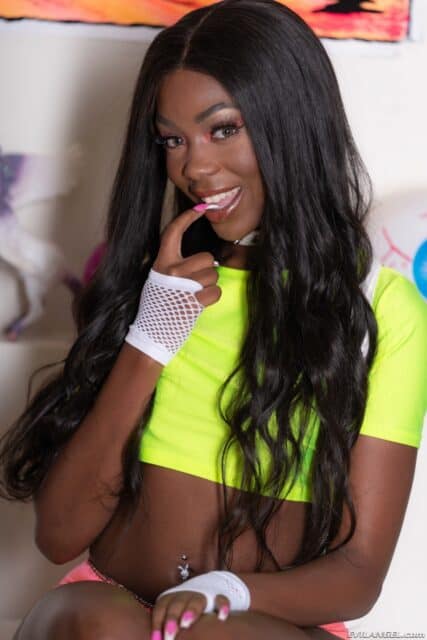 Click here to watch Tori in "Hookup Hotshot: The Whore Wide Web" at Evil Angel
Tori Montana – Personal Info
Name : Tori Montana
Date of Birth : August 9th
Star Sign : Leo
Measurements : 32DD – 28 – 34
Height : 5'4 (1.63m)
Hair Colour : Black
Eye Colour : Hazel
Tattoos : 'LOVE' script across her left side (just underneath her left breast) where the 'O' is a sad face. Talking about the inspiration behind her tattoo during her May 2019 AIP Daily interview, Tori Montana revealed that;
"If I had to choose my idol would definitely be Lil Peep my I even have a tattoo dedicated to him. He was an amazing person and his music has and will continue to get me through rough moments in my life. I feel I owe a lot to him".
Piercings : Navel and septum
Shoe Size : Women's 8½ (US)
Years Active : 2019 – present
Number of Scenes : 20+
Tori Montana is a popular rising pornstar, exotic dancer and model who made her industry debut in early 2019. In this short space of time, Tori Montana has attracted a keen fan following due to her sizzling sex scenes for Brazzers, Evil Angel, Reality Kings and Team Skeet. Watch this space!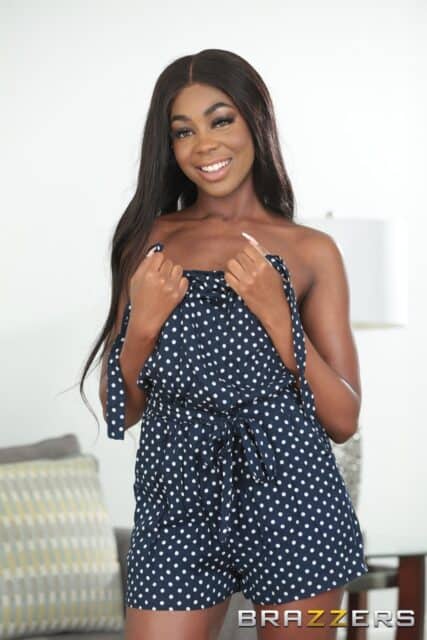 Click here to watch Tori in "Sibling Rivalry 4" at Brazzers
So where did it all begin? Hailing from Miami, Florida, pretty petite pornstar Tori Montana was home-schooled as a child and she mentioned in her July 2020 Fleshbot interview that;
"I was actually homeschooled so I was a loner. I didn't really have any friends and no guys were interested in me…I've always loved porn and did a bunch of research before joining the industry. My fave porn stars are Ana Foxxx, Ava Devine, and Chanell Heart".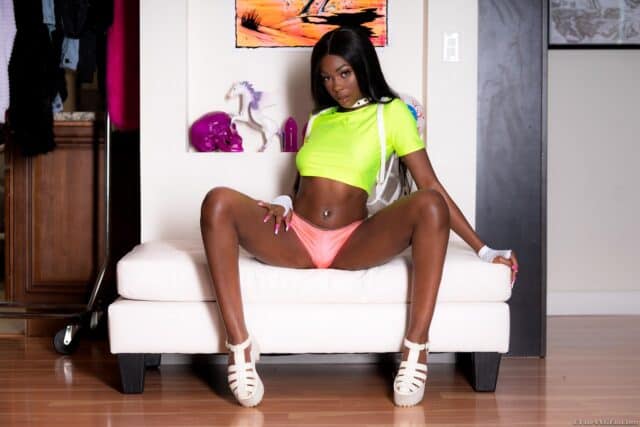 Click here to watch Tori Montana in "Hookup Hotshot: The Whore Wide Web" at Evil Angel
Stunning natural beauty Tori Montana first started working in the adult entertainment industry as an exotic dancer and she also shared some nude photos on Reddit. Tori Montana loved the positive reception that her photos garnered on Reddit so she decided to progress to performing in porn. As Tori Montana explained during her May 2019 AIP Daily interview;
"I got into the adult industry through stripping about 4 days after I turned 18. My primary reason for dancing was the money but then I eventually started posting nudes on reddit. I loved the attention and all the fans I had so naturally my next step was porn".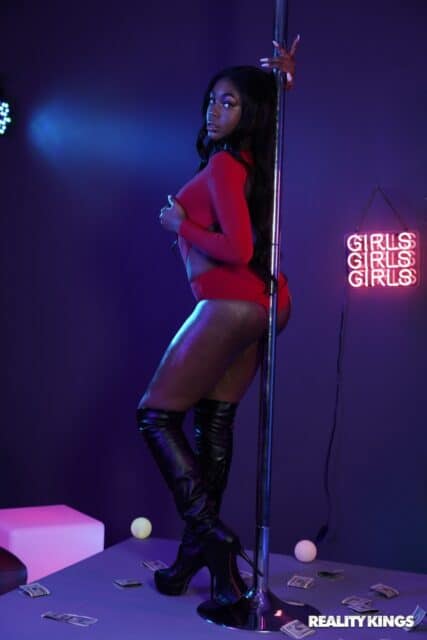 Click here to watch Tori in "The Private Room" at Reality Kings
Tori Montana : Adult Film Career
Tori Montana made her official porn debut in the spring of 2019 and she is represented by Hussie Models. Some of Tori Montana's earliest porn productions include her sizzling Tori Montana 18 Year Old In First Porn sex scene with Tyler Steel that was released via ShotHerFirst.com in March 2019 and her steamy Tori Montana Takes A BBC hardcore porn shoot with Louie Smalls which was promoted via HussiePass.com in March 2019. Sexy tiny spinner Tori Montana enjoyed shooting for Hussie Pass and she conveyed in her May 2019 AIP Daily interview how;
"My favorite scene would probably be my Hussie Pass one. I think I did really good in it and it has my most views. I have some really amazing scenes that haven't come out yet that I'm super looking forward to".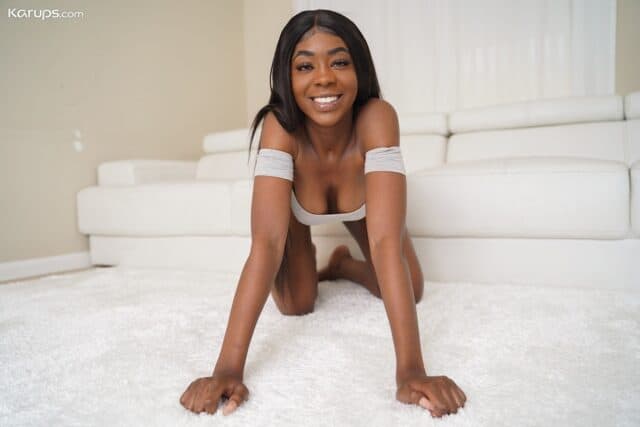 Click here to see more of Tori's hottest sex scenes at Karups Hometown Amateurs
Fans of hot teen pornstar Tori Montana will also love viewing her sultry solo scenes for ATK Exotics in April 2019 and her saucy Cumsumer Credit scene with Oliver Flynn for Karups Hometown Amateurs in June 2019. Tori Montana also shared an amazing Milk And Nookies group sex scene with sexiest pornstars Alina Belle, Natalie Porkman and Peter Green for Team Skeet's BFFS web channel in August 2019, she filmed a kinky Shoplyfter sex scene for Team Skeet in November 2019 and she shot a spectacular Sibling Rivalry 4 threeway porn scene with Harmonie Marquise and Duncan Saint that was uploaded via Brazzers in January 2020. As the scene description saucily states;
"Tori Montana and Harmonie Marquise are bickering sisters who are always getting on each other's nerves. One day while they are fighting over clothes, their mom's boyfriend, Duncan Saint, breaks it up. He tries to encourage them to get along but they don't want to listen – they're more interested in competing for his attention. As he bounces back and forth between the sexy sisters, he winds up teaching them a very important lesson – sharing is caring!".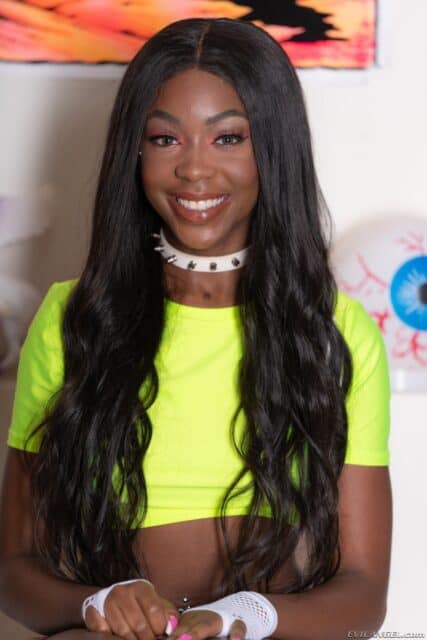 Click here to watch Tori in "Hookup Hotshot: The Whore Wide Web" at Evil Angel
Tori Montana : Popular Porn Productions
Many of Tori Montana's most popular porn productions have been those that she has filmed for Reality Kings. You'll love watching sexy big ass pornstar Tori Montana's fantastic The Private Room scene with Van Wylde in May 2019, her sensational Smokin' Booty scene with Seth Gamble in June 2019, her steamy Busted At Ballet scene with Sean Lawless in September 2019 and her raunchy Impounding Her roleplay sex scene with Duncan Saint in December 2019. As the scene description hotly hints;
"It's a glorious day for shopping, and Tori is going ALL. OUT. Swipe that card, drop that stack, buy pretty things to make pretty girls smile. Except when she's heading home, seems like her car has been impounded. And Quinton might be open to letting things slide with a little encouragement. A quick flash of those perky tits, shaking that bountiful ass…Oh, not enough? Maybe top it off with some sloppy toppy on the hang low? Tori is guaranteed getting her ride back. That's not an issue. But she doesn't need to leave her without getting a little something for herself either, right? A nice white cock spreading apart her chocolate lips…".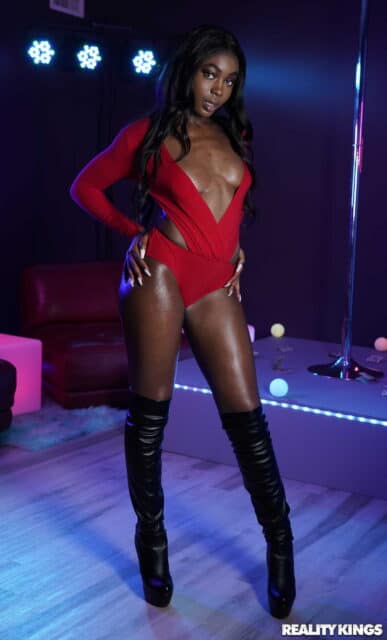 Click here to watch Tori in "The Private Room" at Reality Kings
Hold on, it gets even better. Hot all natural pornstar Tori Montana has also filmed a wealth of sizzling sex scenes for the popular Bang Bros web channel Brown Bunnies. You have to check out Tori Montana's raunchy Tori Gets Fucked Deep romp with Jonathan Jordan in October 2019, her steamy Tori's Bathtub Fuck scene with Johnny The Kid in December 2019 and her titillating Breaking The Bank For Some Pussy scene with Lil D in March 2020. As the scene description raunchily reveals;
"Tori Montana caught her stepbrother Lil D playing with his dick in the bathroom. She started recording him. Once he noticed, he confronted her and told her that he would give her 200 bucks if she deleted the video. But she liked what she had seen. So for those $200, he instead got to fuck her pussy. He ran to his room to smash his piggy bank. From there, it was all fun and games. He shoved his face in her ass for some time. Soon after, she was choking on his cock. His dick then penetrated her tight little pussy in several different positions before busting a huge load all over her pretty little face".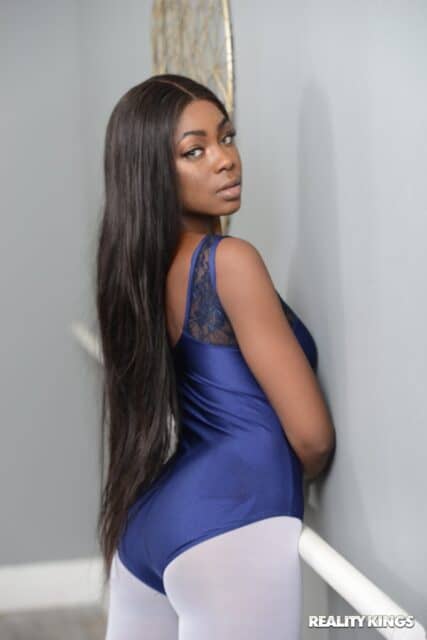 Click here to watch Tori in "Busted At Ballet" at Reality Kings
Tori Montana : Bestselling Movies
Alongside her fantastic web content, Tori Montana has appeared in several bestselling movies. You'll love viewing Tori Montana's terrific sex scene with Small Hands in the Evil Angel production Hookup Hotshot: The Whore Wide Web (2020) and her sensual scene with Jason Moody in the Hustler Video release All Natural Black Titties (2020) starring all natural black pornstars Daizy Cooper, Jenna Foxx and Kinsley Karter. Tori Montana enjoys performing in porn and she highlighted in her July 2020 Fleshbot interview how;
"I really enjoy the rough ones or scenes where my abilities are put to the test. I love being able to do things I wouldn't think I could…My favorite [performer] so far has been Small Hands. He's amazing to work with! Definitely lives up to his reputation and then some…I love getting to have sex with hot people and get paid for it! What's a better job than that?…[Favorite fetishes to explore on camera are] Being submissive! I'm not in a relationship so I don't get to explore this much so it's super fun to do it on camera".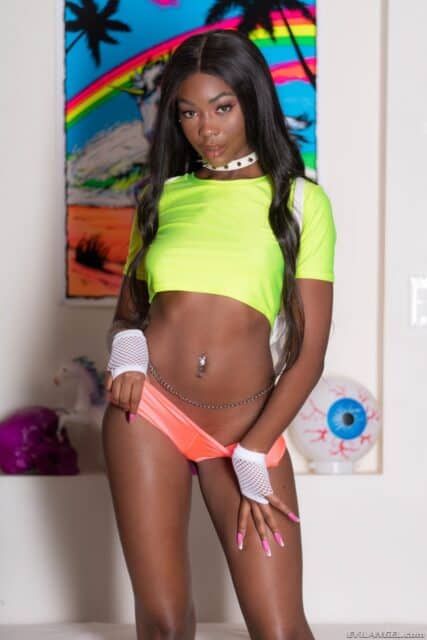 Click here to watch Tori in "Hookup Hotshot: The Whore Wide Web" at Evil Angel
Tori Montana has since filmed an amazing Oral Antics With Tori And Joseline oral threeway sex scene with Joseline Kelly and Mike Adriano that was showcased in the Evil Angel/Mike Adriano Media movie Swallowed #36 (2020) featuring sexy blonde pornstars Allie Addison, Athena May, Avery Cristy and Bella Jane as well as blue haired beauty Jewelz Blu and hot brunette pornstars Adriana Maya, Iris Ivy, Leda Elizabeth, Megan Marx and Valentina Jewels. Tori Montana had been keen to shoot for Mike Adriano for a while and she eagerly enthused in her May 2019 AIP Daily interview that;
"I'm literally dying to shoot for Mike Adriano/his sites. They look so fun and they all come out beyond perfect. I can't say anything bad about them and I really hope I get the opportunity one day".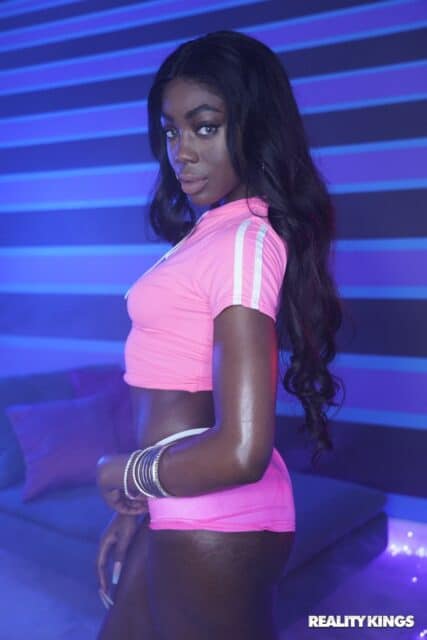 Click here to watch Tori in "Smokin' Booty" at Reality Kings
When she isn't starring in these sensational sex scenes, gorgeous black pornstar Tori Montana enjoys chatting with her fans on social media. As Tori Montana sincerely stated in her July 2020 Fleshbot interview;
"They get to see the real side of me. In porn, we're pretty much playing parts. On Twitter, you get to see us as more normal people…Thank you for all the support keep an eye out for what's coming!".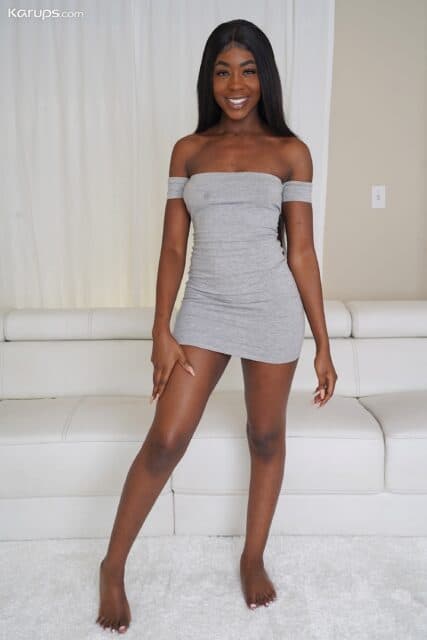 Click here to see more of Tori's hottest sex scenes at Karups Hometown Amateurs
Wondering what the future holds for rapidly rising pornstar Tori Montana? Well, you'll be happy to hear that sexy petite pornstar Tori Montana has no plans to slow down anytime soon. In fact, when Tori Montana was asked about her future plans during her May 2019 AIP Daily interview, she mentioned that;
"I've only shot regular BG but I love sex so it's a lot of fun for me. I really want to shoot a blowbang I can't wait for that…I've never tried camming before but I think I'd like to try it eventually if enough people wanted me to…My dream scene would be a huge gangbang of like epic proportions but I'll probably save that for the end of my career as a final hurrah…I have a few scenes that haven't come out and will hopefully be dropping soon. So if you want more of me keep an eye out!".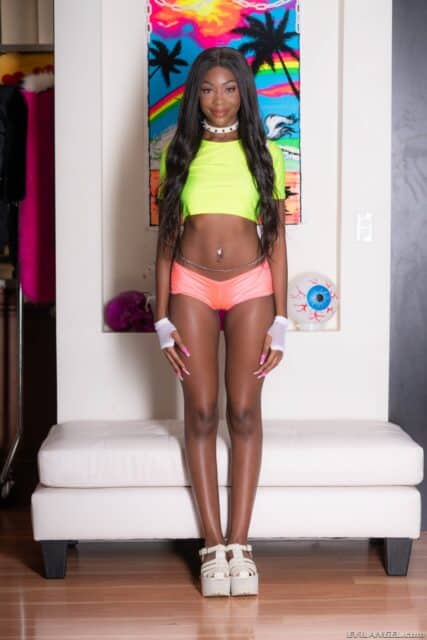 Click here to watch Tori in "Hookup Hotshot: The Whore Wide Web" at Evil Angel
Eager to discover all of Tori Montana's hottest sex scenes, exclusive web content and upcoming productions? Then use the links provided below to stay connected with your favorite rising starlet Tori Montana!
Tori Montana – Social Networks
Twitter : @torimontanaxxx
BFFS : Tori Montana at BFFS
Brazzers : Tori Montana at Brazzers
Evil Angel : Tori Montana at Evil Angel
Instagram : @torimontanax
Karups : Tori Montana at Karups
OnlyFans : torimontanaxxx
Reality Kings : Tori at Reality Kings
Swallowed : Tori at Swallowed
The Nude : Tori at Nude.EU
Babeapedia : Tori at Babeapedia