Black TGirls : Megan Snow at Black TGirls   TGirls.XXX : Megan Snow at TGirls.XXX
Superstar Megan Snow! – Black TGirls
Personal Info
Name : Megan Snow
Alias : Megan Kummings
Date of Birth : February 22nd
Hometown : Phoenix, Arizona (US)
Measurements : 36DD – 28 – 38
Height : 5'6 (1.67m)
Hair Colour : Black / Blonde / Red
Eye Colour : Brown
Tattoos : Chinese characters across her right forearm, a large ribbon design above her left breast, a flower on her left foot and various floral designs around her left wrist and hand
Years Active : 2015 – present
Number of Scenes : 10+
Megan Snow is a stunning TS webcam model and adult film star who has been performing in porn since 2015. Famous for her captivating curves, sultry solo scenes and hardcore Grooby Network web collaborations, Megan has garnered a devoted global fan base, she has been ranked as the #1 most popular performer on Black TGirls and she was named "Black TGirls Model of the Year" at the 2019 Transgender Erotica Awards.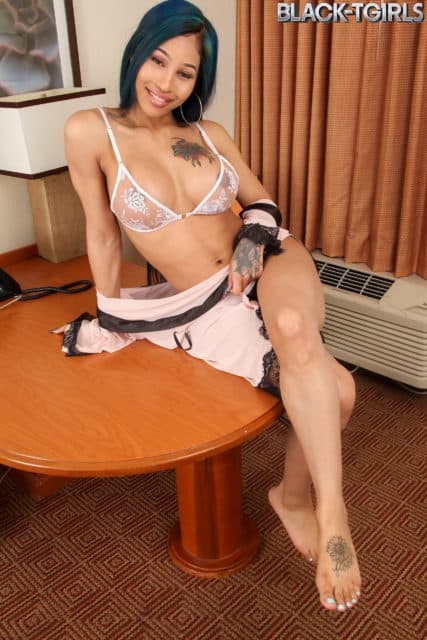 Megan Snow Cums! – Black TGirls
Born and raised in Phoenix, Arizona, but currently living in Kansas City, Missouri, Megan has mixed Dominican and Filipino heritage. Megan first began working in the adult entertainment industry as a webcam model and she quickly garnered a loyal fan following due to her lusty live chat sessions.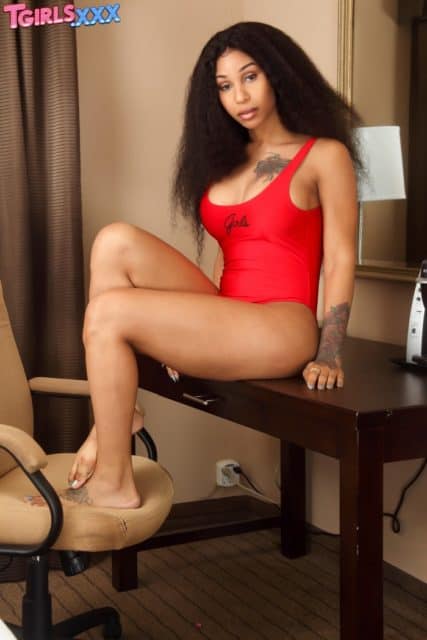 Megan Snow's Back! – TGirls.xxx
Megan Snow : Adult Film Career
Megan made her official adult film modelling debut via the Grooby Network porn site TGirls.XXX in March 2015when she filmed some sexy solo scenes titled Sexy Well Hung Megan Snow! and Stunning Megan Snow Jacks Off!. Megan's debut solo scenes were directed by prominent porn photographer KilaKali who has collaborated with Megan on a wealth of captivating web content for TGirls.XXX. We recommend checking out Megan's hot hardcore scenes with Ninth Wonder and Mister that were both promoted via TGirls.XXX in July 2012 and December 2015.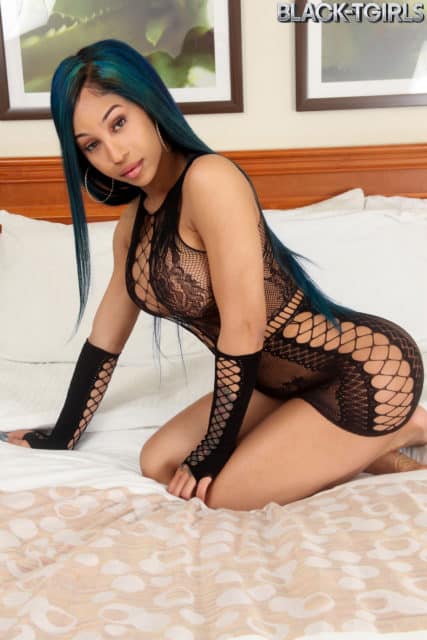 Beautiful Megan Snow! – Black TGirls
Megan's compelling TGirls.XXX web clips have proved incredibly popular among fans and film critics alike. As matters stand, Megan has been ranked as the #48 most popular performer on TGirls.XXX and she continues to receive rave reviews from adult film blogger Caramel Black who has eagerly enthused within her TS Dreamland reviews that;
"Kila Kali presents Dominican/Filipino Megan Snow back for her fifth TGirls.XXX solo performance. She also has a hardcore scene on the most coveted Grooby website amongst adult transsexual models. This versatile top who started out as a webcam performer is described by her photographer as "A real nice sweet girl and drop dead beautiful in person…. An instant new favorite of mine."…Megan conveys the sweetness that Kila Kali mentioned when she introduces herself. As for the drop dead gorgeous part, I'm in total agreement and Megan gets down to stripping right away. She's truly exquisite from head to toe. Megan seems more relaxed than ever in this solo scene. I don't think I've ever seen her smiling so much. She moves through a variety of poses while masturbating and her beauty is captured with the sort of angles a world class stunner demands".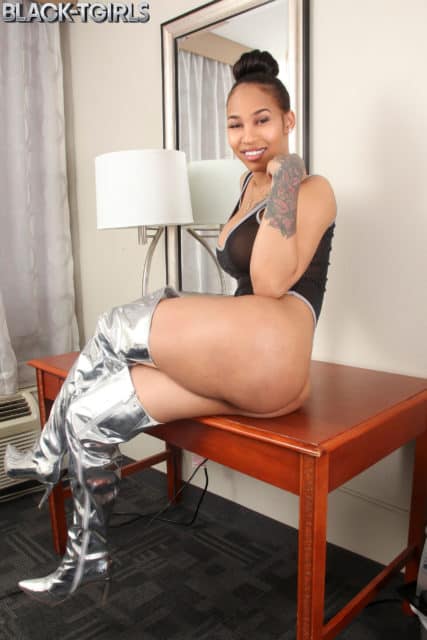 Superstar Megan Snow! – Black TGirls
In addition to her ongoing TGirls.XXX web content, Megan has collaborated with KilaKali on an impressive collection of saucy sex scenes for the Grooby Network porn site Black TGirls. Megan's first ever Black TGirls shoot was a sultry solo scene titled Megan Snow – Sexy Bubble Butt which was first released in March 2016 and it earned Megan to coveted title of "Model of the Week".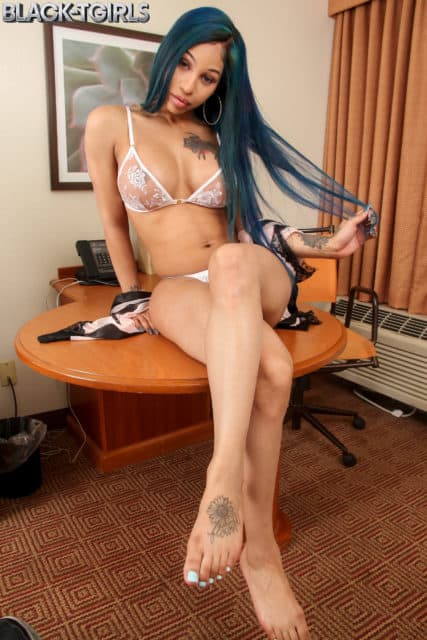 Megan Snow Cums! – Black TGirls
As a matter of fact, Megan was one of a select few Grooby Girls who was chosen to appear in the annual Grooby Charity Calendar for 2016. Megan was showcased in this glamorous charity calendar alongside famous TS performers Aubrey Starr, Domino Presley, Diana Love, Miran, Holly Parker, TS Foxxy, Aubrey Kate, Madison Montag, Kate, Luna Rose and Honey Foxx. All of the funds raised from the sale of the 2016 Grooby Charity Calendar were donated to the Trans Adult Industry Foundation (TAIF), with Grooby Productions CEO Steven Grooby stating in a September 2015 XBIZ News press release that;
"This is our second annual calendar and the choice for whom to include this year was even harder than last…We trawl through 12 months of content, looking not only for 12 models but for the perfect image of them all, and I believe our 2016 calendar represents the some of the finest transsexual adult models in the world. Although we make it as a promotional gift for the industry, we do a limited run which we offer to the public for sale".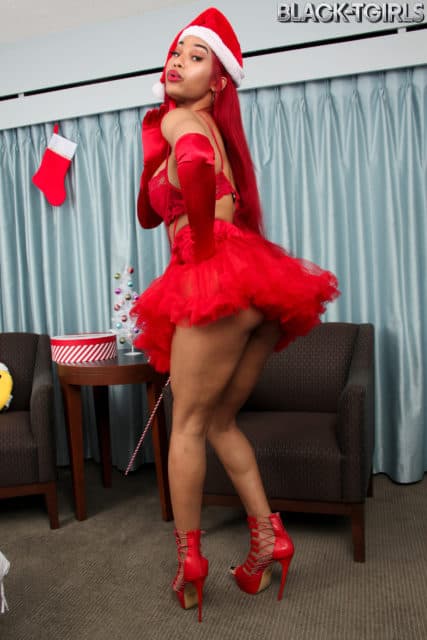 Xmas Special: Megan Snow! – Black TGirls
Among some of Megan's hottest Black TGirls shoots to date include Megan Snow Fucks A.B.! which was unveiled in May 2016 and Megan Snow And Mini Styles Getting It Done! that was released in January 2017, as well as her sensual Megan Snow Is Back! and Megan Snow's Sticky Load! solo scenes which were both uploaded via Black TGirls in August 2017. Megan's Black TGirls scenes continue to be ardently endorsed by Caramel Black who has conveyed within multiple TS Dreamland reviews how;
"You may have "met" Megan many times before and if so, you might feel that she just gets better and better like I do. I'm really glad that her photographer got Megan to open up with a little personal information this time around…She blushes when called beautiful which is quite charming and modest. When asked, she says she gets the most compliments on her face, her knockers and her ass. Then of course there's the infamous "snowsicle" which I've read measures about 9″(22 cm) when fully erect. The warm-up interview is a great way to slowly evolve into a sizzling hot striptease that begins about 4 minutes into this scene. If you download a Megan Snow video, or all of them, be prepared to keep them for good. You'll never want to lose one".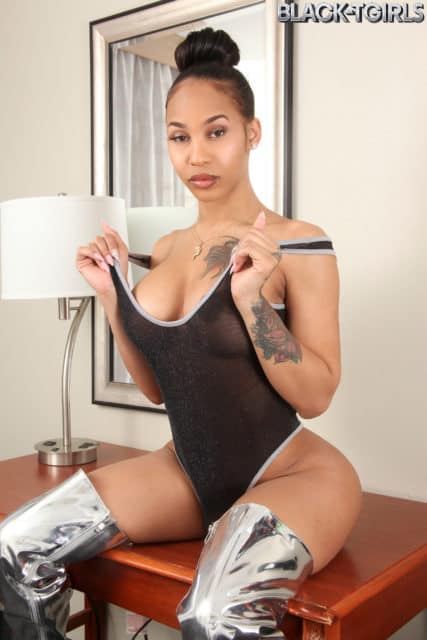 Superstar Megan Snow! – Black TGirls
Many of Megan's hottest Grooby Network web clips have been featured within the Third World Media DVD compilation titles Black Tranny Jizz Jam 4 and 5 (2016) also starring famous TS performers Brooke, Megan Porter, Alana Longcawk, China Sweet Cheeks, Salina Simone, Kandii Redd and Diamond Karatz. Most recently, Megan has starred in some raunchy Megan Snow Tops Mister! hardcore scenes that were filmed by KilaKali for Black TGirls in September 2017. Megan's sensational Black TGirls web clips have earned her a devoted fan following. In fact, Megan has been ranked as the #1 most popular performer on Black TGirls!
Alongside her fan-favourite Grooby Network web collaborations, Megan has filmed a spectacular Meet Ms. Snow solo shoot which was filmed for the Trans 500 porn site Transatplay.com in April 2017. This seductive solo scene has since been featured in the Trans 500 DVD compilation title TS Cock Strokers 24 (2017) also starring Korra Del Rio, Raven Roxx and Destiny Williams. Megan's Trans 500 debut received high praise from Caramel Black who highlighted in her April 2017 Caramels TGirls review how;
"As far as "Meet Ms. Snow" goes, I've been a fan of hers for a couple of years but this is the first time I've seen her on the Trans500 network. She looks ridiculously stunning in the preview video, but I wanted to see how her full-length debut here turned out. It's a semi-hypnotic scene with high production values and a trance soundtrack that goes well with Megan stripping nude and pointing her hefty boobs and hard cock at you… as far as models go, Megan Snow is as exquisite as adult models come".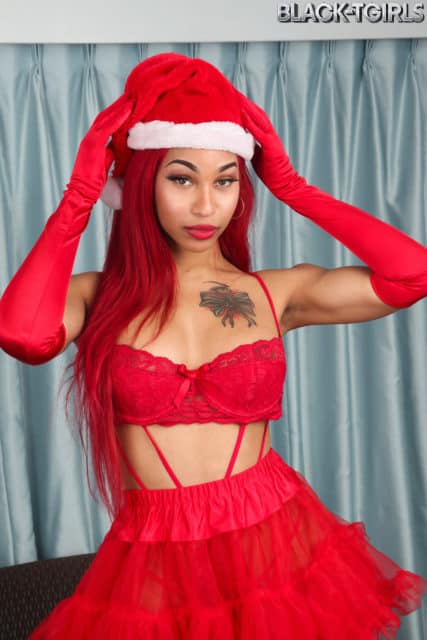 Xmas Special: Megan Snow! : Black TGirls
In recent months Megan has starred in the Trans 500 sequel release Transsexual Sexcapades 10 (2017) for which Megan posed as its glamorous box cover model alongside Korra Del Rio. Want to learn more about this upcoming porn production? Or are you keen to catch up on Megan's sensational online sex scenes? Not to worry; simply use the links provided below to begin exploring all of Megan Snow's exclusive web content online today!
Social Networks
Black TGirls : Megan Snow at Black TGirls
TGirls.XXX : Megan Snow at TGirls.XXX
SM Porn : Megan Snow at SM.porn
Trans 500 : Megan Snow at Trans 500.com