Korra Del Rio
Korra Del Rio's Official Website : KorraDelRioXXX.com
Grooby Girls : Korra's Sex Scenes   Chaturbate : korradelrio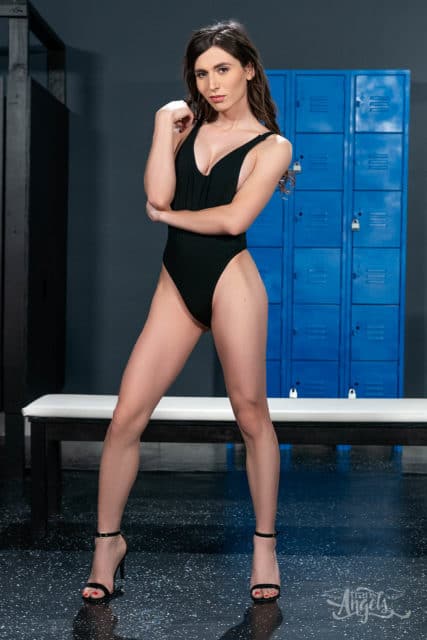 Korra in Locker Room Lurker – Trans Angels
Korra Del Rio – Personal Info
Name : Korra Del Rio
Hometown : Milwaukee, Wisconsin (US)
Date of Birth: April 27th
Star Sign : Taurus
Measurements : 34A – 28 – 36
Height : 5'9 (1.75m)
Hair Colour : Brunette / Red
Eye Colour : Brown
Years Active : 2015 – present
Number of Scenes : 30+
Korra Del Rio is a fan-favorite TS porn star, cam girl and model who has been working in the adult film industry since 2015. Within this short space of time Korra Del Rio has become a fan-favorite Gender X, Grooby Girls, Transfixed, TransSensual and Trans Angels performer, launched her own solo site KorraDelRioXXX.com and won "Cam Performer of the Year" at the 2018 TEAs in a tie with Casey Kisses and her Hypnotrans scene was named "Best VR Title" at the 2019 TEAs. Definitely one to watch in the years to come!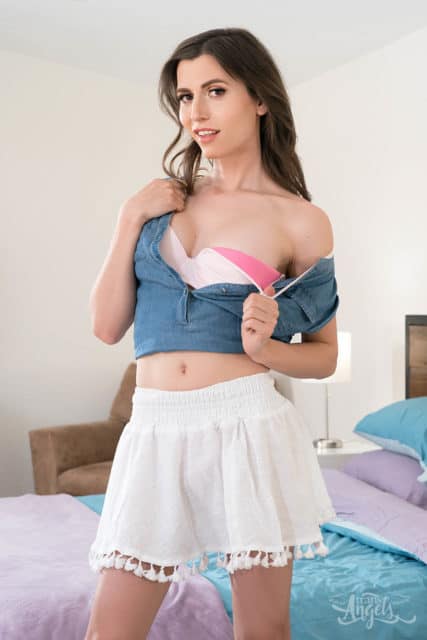 Korra Del Rio in Switching Sisters – Trans Angels
So where did it all begin? Born and raised in Milwaukee, Wisconsin, Korra Del Rio has always been an ambitious individual with a captivating personality and a determined nature. For instance, when she was asked what she wanted to be when she was younger, Korra Del Rio revealed via Tumblr how;
"I wanted to be a general like Patton, Eisenhower, Grant, and my great great grandfather Abner Doubleday. At the very least I wanted to be a war hero like my grandpas and their brothers".
Growing up Korra Del Rio was an ardent athlete and healthy eating expert; training with Mixed Martial Arts (MMA) from an early age and developing an aptitude for kickboxing and Brazilian jujitsu. Despite her athletic prowess, Korra Del Rio always felt that she was different from the children in her school and explained via her Tumblr how she started to embrace her true gender identity and began to embark upon her transition process in 2012; April 4th to be exact. As Korra Del Rio puts it in her own words;
"April 4th, 2012 is the day I discovered the words Transgender, Transsexual, and Transition. I spent the entire day looking through timelines. I spent the entire night on the phone with my sister who had to talk me out of killing myself. It was an intense day and the beginning of a really long and intense road for me…Looking back I only wish I could have taken more pictures".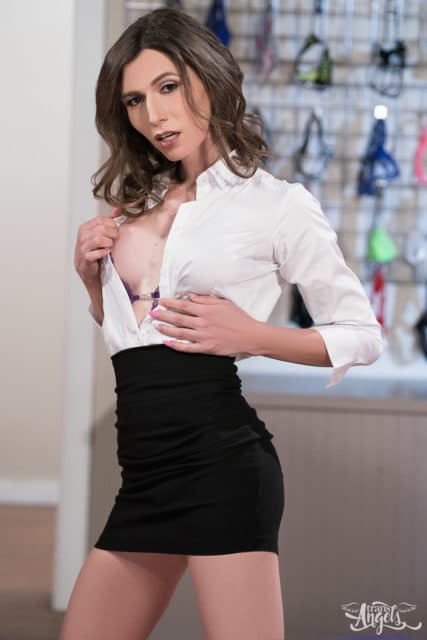 Korra Del Rio in Shop Til Ya Pop – Trans Angels
Korra Del Rio : Adult Film Career
Korra Del Rio filmed her first solo sex shoots in February 2014 for TGirls.XXX and Grooby Girls. After making her adult film debut with solo sex shoots such as Korra The Artist that was directed by Omar Wax, Korra Del Rio began to film for numerous trans-friendly porn sites including Latina Tranny, Bob's TGirls, TGirl Pornstar,  T-Girls.Porn, Frank's TGirl World, Black T-Girls and SM Strokers.
During this time Korra Del Rio began to feature within numerous best-selling TS DVD series including the a sex scene with Giovanni Francisco for the Devil's Film and Goodfellas Productions DVD feature release America's Next Top Tranny 20 (2014) which starred Korra Del Rio alongside fellow hot TS pornstars Tori Mayes, Kylie Maria, Katt Lowden and Johanna B. Korra Del Rio was also one of the rising TS starlets to be featured within SM Strokers 71 (2014) alongside sexy TS pornstars Kelly Klaymour, Lexa Harding, Nina Lawless, Penny Tyler and Jaslyn Lee. Directed by Sammi Mancini and distributed by Rodnievision, performing within this award-winning TS DVD series introduced Korra Del Rio to a whole new network of international fans.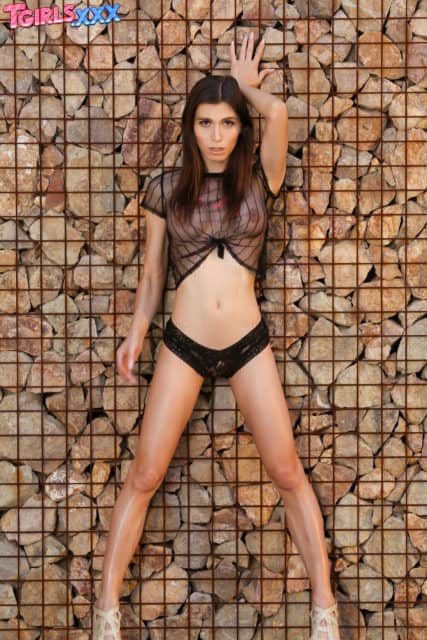 Korra Del Rio at TGirls.XXX
In January 2015 Korra Del Rio launched her official solo website KorraDelRioXXX.com through the Grooby Network which enabled her to host live chat sessions with her fans, upload exclusive video content and promote her personal blog posts. Ever the intrepid artist, Korra Del Rio even utilised her website to introduce fans to her series of self-penned modern fantasy trans stories titled 'Of Kings And Queens' and her 'A Basketball Life' comics! Korra Del Rio was thrilled to discuss the launch of her brand new solo site within a Grooby Network press release, expressing how;
"So what's it about and who does your daddy work for? Well, the about is me, of course!… Members can expect solo sessions, hardcore sessions, POV sessions, and glamour sessions! Keeping you informed on the latest shenanigans my brain takes me. Be it preparing for the movie 'Love and Lusting' or mine and Kelly's process through developing the documentary 'The T is Silent.'…Members can send me a message so we can learn a little more about each other…That way you can know when I'm in your area from the travel notices I post on my calendar. Most of all, join us and be a part of it as I build something special for the both of us. Can't wait to see you there".
Editorial Director of Grooby Productions, Kristel Penn, was equally enthusiastic about the launch of KorraDelRioXXX.com,  stating within this Grooby Network press release that;
"I'm so happy to have Korra as part of the Grooby Network…I think she's giving fans a great range of content and not just the sexy stuff. Her site is a great opportunity for fans to get to know her and what she's into".
In addition to her ongoing adult film projects with Grooby Productions, throughout 2015 Korra Del Rio collaborated with leading male porn star Christian XXX in order to shoot a variety of raunchy sex scenes for his trans-friendly porn site pure-ts.com. Some of Korra Del Rio and Christian's most captivating collaborations include; New TS Starlet Korra Del Rio Gets Loved Up and Barebacked, Korra Del Rio Enjoys Riding His Pathetic Face and Sensual Korra Del Rio Enjoys Some Intense Bareback Anal. Most recently Korra Del Rio and Christian have paired up to film some 2016 pure-ts.com sex scenes titled Have Your Way With Korra Del Rio, which were distributed in January 2016, Korra Uses Her Sex Appeal to Get You Off , which were released in February 2016, and Christian and Korra Del Rio get it on in a hotel room that was promoted in June 2016. As these scintillating pure-ts.com sex scenes demonstrate, Korra Del Rio has always been happy to film a broad spectrum of solo, soft-core, hardcore, fetish and BDSM content. When asked about her sexual fantasies and working within the adult entertainment industry, Korra Del Rio divulged via her official website that;
" As far as sexual preferences and kinks go… I'm bi and prefer to be submissive. I'm kind of a nymphomaniac and like doing just about everything under the sun(or moon). lol, but I don't have intercourse outside of work so I'm usually pretty close to going crazy by the time a shoot or video session comes around. My biggest fantasy is to have a devil's threesome, haha, but please be quiet and don't tell anybody… it's embarrassing!" .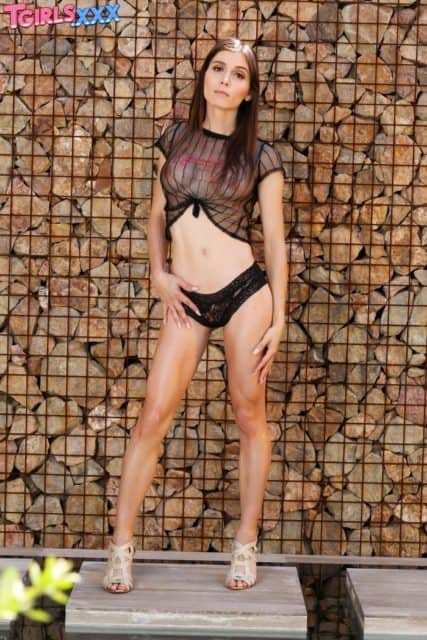 Korra at TGirls.XXX
Many of Korra Del Rio's steamy pure-ts.com sex scenes have been incorporated within Christian XXX's CX WOW Studios best-selling DVD titles. Some of Korra Del Rio's fan-favourite CX WOW Studios feature release collaborations with Christian XXX include; Popular T-Girlz 1 (2015) also starring Sienna Grace, Holly Parker and Kylie Maria, Smothered By A SM (2015) wherein Korra Del Rio featured alongside Aubrey Kate, Foxxy, Kylie Maria, Miran, Stefani Special, Kitty Doll, Kennadie Havoc and Demii D. Best, Tranny Handies 2 (2015) that showcased Korra Del Rio alongside famous TS stars Joanna Jet, Mia Maffia, Robbi Racks, Sienna Grace and Ariel Everitts among others, SM Hotel Sex (2016) with Britney Boykins, Kailee Keller and Brooklyn Roberts as well as Tranny POV 2 (2016) with Joanna Jet, Tyra Scott and Natalie Mars.
Over the course of her adult film career Korra Del Rio has filmed for several famous adult film directors including SM Strokers pioneer Sammi Mancini. To date Korra Del Rio has featured within such Sammi Mancini DVD classics as; Tranny Panty Busters 3 (2015) that was distributed by Rodnievision, Bang My Tranny As 14 (2016) for Mancini Studios wherein Korra Del Rio shared a saucy sex scene with fan-favourite transsexual performer Isabella Sorrenti which has been nominated for "Best Transsexual Sex Scene" at the upcoming 2017 AVN Awards, and most recently Korra Del Rio has reprised her role within Sammi Mancini's award-winning TS DVD series SM Strokers 81 (2016) alongside many of her friends and fellow rising starlets CiCi, Isabella Sorrenti, Stefani Special and Alexa Scout.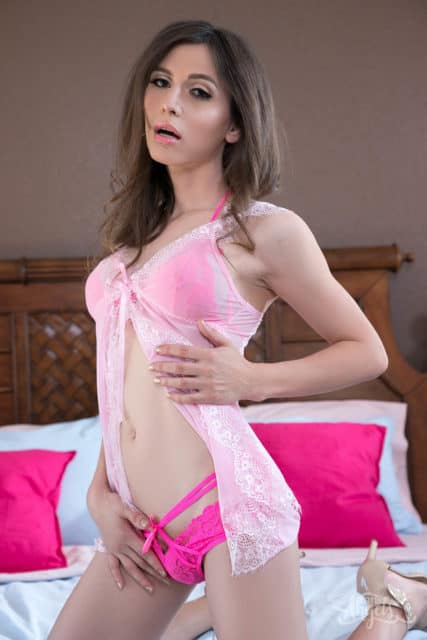 Korra n Lingerie Darling – Trans Angels
When asked to name her favourite sex scenes, Korra Del Rio divulged via her Tumblr how thrilled she was to share a steamy sex scene with Robert Christian for the Evil Angel DVD title TS Factor 4. Directed by Joey Silvera and also starring Aspen Brooks, Isabella Sorrenti and Natalie Mars, Korra Del Rio enthused how;
"I'd been asking to star alongside Robert Axel by name for over two years leading up to that. So you can only imagine how excited I was when I learned it was going to be him for my Evil Angel Shoot last April. :)".
Shooting all of these successful online sex scenes and performing within multiple best-selling DVD feature releases soon earned Korra Del Rio the attention of adult film critics and before long she was awarded the prestigious title of "SM Yum Model of the Month" in May 2014. Korra Del Rio's industry influence continued to soar into 2015 and before long she had earned herself two adult film award nominations at the 2015 Transgender Erotica Awards for "Best New Face" and "Ms. Unique 2014". Receiving these notable nominations even resulted in Korra Del Rio starring within the annual Third World Media DVD title TEA Show (2015) alongside her fellow nominees Kylie Maria, Miran, Jessy Dubai, Kelly Klaymour and Michelle Firestone as well as male porn stars Christian XXX and Robert Christian.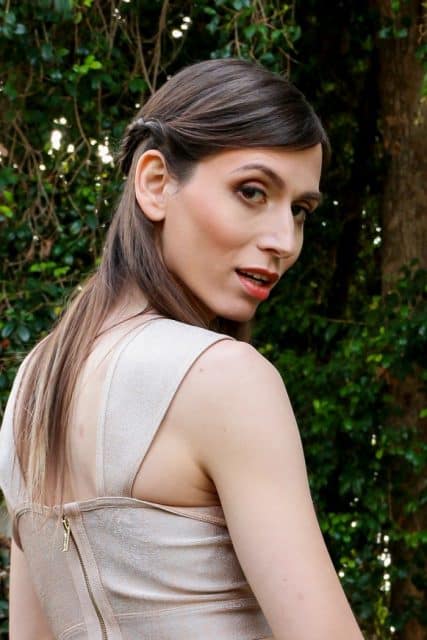 Korra Del Rio at Grooby VR
Throughout her adult film career Korra Del Rio has performed within a variety of foot fetish scenes for her official solo website KorraDelRio.xxx as well as filming some kinky foot fetish sex scenes with Jamie French for TGirls Porn alongside several solo fetish shoots for TGirls.XXX and TGirls.com. Korra Del Rio discussed shooting this type of fetish content via her Tumblr and confessed how;
"Haha, yeah feet can definitely be fun and I had a ton of fun with each of those performers. Honestly I love to just experience everything and anything I can while I've got the body to fully enjoy it. I'd hate to look back and lament being too afraid to try something…Stuff that really gets me? Domination. I'm like a little spit fire. Waiting for someone dominant to grab me by the hair and be like 'this is what's happening'".
Korra Del Rio collaborated with Jamie French once again in 2016 for her highly anticipated DVD sequel release Trans6uals 2. Distributed by Third World Media and Grooby Productions in July 2016, Transs6uals 2 starred Korra Del Rio alongside fan-favourite adult film stars Sarah Webb, Natalie Mars, Shiri Allwood, Jamie French and Kira Crash.
Most recently Korra Del Rio has filmed TGirl Porn Volume 4; a Grooby Productions and Exquisite DVD feature release that showcases Korra Del Rio alongside her friends and fellow trans performers Anya the Blushing Rocker, Scarlette Winters, Robin Thorn, Yuuki Trap, Jamie French, Emmy Jagger, Emily Pixue, Domina Vi and Fyrscha. Directed by formidable adult film trio Jamie French, Radius Dark and Omar Wax, TGirl Porn Volume 4 was a smash-hit among fans and film critics when it was first released in September 2016 due to its seductive selection of five hot transgirl-on-transgirl hardcore sex scenes.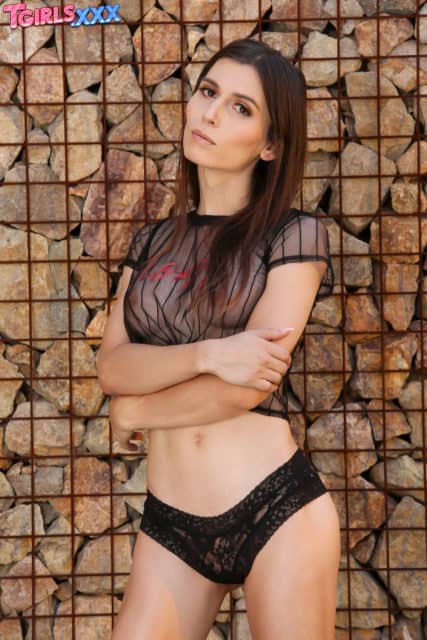 Korra Del Rio at TGirls.XXX
As matters stand, Korra Del Rio continues to film exclusive web content for numerous trans-friendly porn sites and in recent months has shared some saucy sex scenes with Dorian and Kelly Klaymour for Grooby Girls, filmed a raunchy TwoTgirls.com film shoot with Casey Sparkles and in October 2016 paired up with newcomer Casey Kisses in order to film an exclusive web session for SM Strokers titled Sexy Trans Girls on Vacation are Bangin' Each Other for Relaxation! Directed by Sammi Mancini, this seductive online sex scene received a rave review from TS Caramel who highlighted within her online film review how;
"If you're looking for a scene with real intimacy between two trans girls who are actually really into each other, this is it. The passion here can't be beat. The way that Casey and Korra kiss will be electrifying for men who love transbian lovemaking and sex. For actual transbian girls – it's a must see, must save".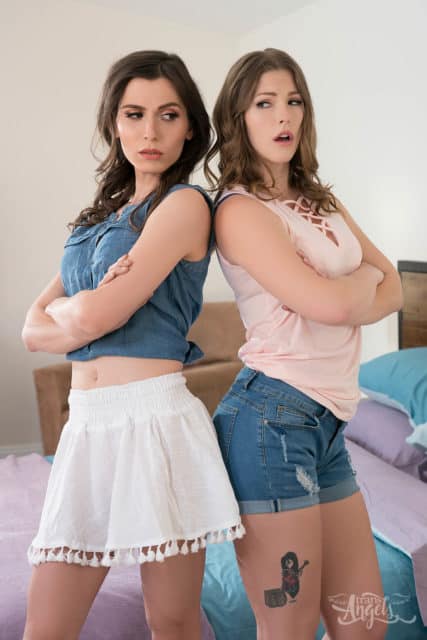 Korra Del Rio and Ella Nova in Switching Sisters – Trans Angels
Korra Del Rio : Transgender Spokesperson & Upcoming Projects
Throughout her adult film career Korra Del Rio has always maintained an open dialogue with her international fan base via her Tumblr and her official solo website. Korra Del Rio invites her fans to 'Ask Me Anything' and in so doing has always been happy to discuss her upbringing and home life, to reveal exclusive insights regarding her professional adult film projects and to express her personal views regarding important issues which impact the LGBT community. For instance, when asked about her opinions regarding the use of certain terms and their use within the adult entertainment industry, Korra Del Rio took to Tumblr to convey how;
"I don't like the word outside of pornography. I can accept the reality of our situation. That is that everyone has been calling transgender/transsexual porn SM and tranny porn for so long it's sort of ingrained into people's mind as a catchall keyword search and categorizing. Honestly, never trust a horny guy to be culturally sensitive when labeling things he likes jacking off too…That being said, I would never accept being called or labeled a SM outside of the pornographic institution. I am a proud transsexual woman who is comfortable enough in her own identity to do whatever the fuck she wants without worry it'll undermine or underpin her personal identity…
Honestly, the people I work with never call me a SM or tranny in person and they've all been so utterly polite and professional. The porn business is making progress however slowly. The awards show is now the Transgender Erotica Awards….I doubt I'll ever win one with how high the talent level is around me but I can definitely say this: I never cared for or wanted to win a Tranny Award but I would love to win and aspire to be in the running for a TEA".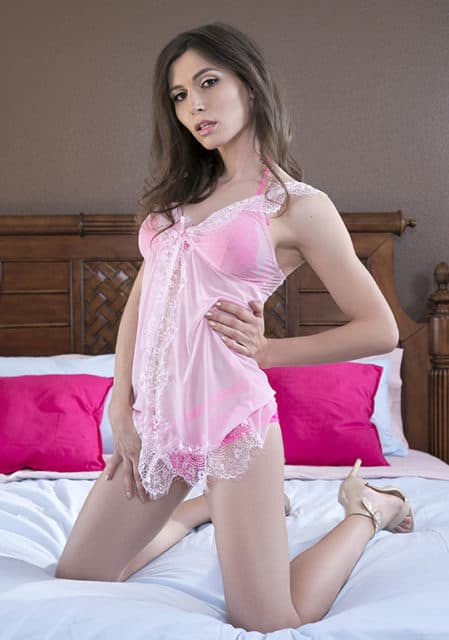 Korra Del Rio in Lingerie Darling – Trans Angels
As well as working on her latest adult film productions, Korra Del Rio remains a frequent feature at Jamie Jameson's nightclub events, titled Jamie's TGirl Saturday, which have been hosted by TGirl Nights at Hamburger Mary's in Long Beach, California. Korra Del Rio has been known to attend these exclusive nightclub events alongside her friends and fellow performers Tori Mayes, Kelly Klaymour, Jane Marie and Sofia Ferreira. However, despite her captivating on-screen presence and her firm friendships with her fellow transsexual performers, Korra Del Rio is actually a shy individual at heart who divulged via her Tumblr how she prefers to blend into the crowd when she isn't performing in front of the camera;
"I do my best to dye into the crowd and be as unremarkable as possible to avoid any sort of attention. If I apply myself I can and do intimidate people but that really doesn't happen very often. Intimidating people isn't something I desire. Being chill and kicking it over a cold one. Everyone having a good time. It's way more important to me".
Consequently, when she isn't filming her latest feature releases and online sex scenes Korra Del Rio has stated that she likes to;
"spend most of my free time helping out my family. I'm an accomplished cook (sous chef) and bartender. I'm sort of a gym rat, spending upwards of 3-4 hours a day at the gym. I have aspirations to play collegiate basketball once I've re-entered college. Over the summer I play in a women's collegiate basketball prospects league and workout with professional basketball players during their off season from playing in Europe".
Never one to rest on her laurels, Korra Del Rio has recently launched her official website KorraDelRioXXX.com and she continues to treat her fans to a wealth of exclusive video, photo and live cam content. Interested? Then use the links provided below to stay in touch with your favorite brunette beauty Korra Del Rio!
Korra Del Rio – Social Networks
Official Website : KorraDelRioXXX.com
Grooby VR : Korra's VR Scenes
Twitter : @korradelrio
Chaturbate : korradelrio
Two TGirls : Korra at Two TGirls
Grooby Girls : Korra at Grooby Girls
Trans Angels : Korra at Trans Angels
TGirls XXX : Korra at TGirls XXX
TransSensual : Korra at TransSensual
Babepedia : Korra at Babepedia