Official Website : PennyTylerXXX.com  Twitter : @pennytylerXXX  Kink Profile : Penny Tyler
Personal Info
Name : Penny Tyler
Alias : Penny Rose
Date of Birth: July 14th
Home Town : Orange County, California (US)
Bra Cup / Size : 34D
Height : 5'8 (1.73m)
Hair Colour : Black
Eye Colour : Green
Years Active : 2012 – present
Number of Scenes : 20+
 Penny Tyler is a stunning, seductive TS performer who is  scintillating to watch. And she has a string of prestigious adult film award nominations to prove it!
Born and raised in Orange County, California, Penny made her adult film debut in December 2012 when she filmed her first solo modelling shoot for the popular transsexual porn site Grooby Girls (formerly Shemale Yum). Directed by leading adult film director Buddy Wood, Penny's solo sex shoot was titled Penny Tyler In Sexy Fur!. When asked about what inspired her to become an adult film star during her December 2015 TS-Newsreel interview, Penny simply stated that;

"I'm from Southern California, and to be honest, nothing inspired me, I just needed the money, but I do enjoy it. There is however, girls who did inspire confidence in myself".
Performing in porn has enabled Penny to embrace her sensual nature and to explore some of her kinkier sexual fantasies. After all, as Penny herself mentioned via her official solo website;
"I'm a pretty shy girl in the streets, but once that camera starts to roll and the clothes come off, the true sensually sexual vixen that I am is released".
Consequently, in no time at all Penny soon began to film all manner of soft-core, hardcore, solo, group, gonzo and BDSM sex scenes for various leading adult entertainment networks such as Grooby Girls, Shemale Club, TGirl Network, Shemale.XXX and Bob's TGirls.com. Fans of Penny Tyler who are eager to discover some of her best web content should check out; Penny Tyler Gets Fucked! that was distributed via Grooby Girls in March 2013 and Penny Tyler and Wolf Hardcore that was directed by Blackula and promoted via Shemale.XXX in March 2013.
Throughout 2013 Penny began to establish a devoted fan following due to her show-stopping performances within multiple best-selling TS DVD series. Many of Penny's most popular DVD feature releases were directed by award-winning director Sammi Mancini for Rodnievision, Mancini Studios and Exquisite.
One of Penny's most popular DVD feature releases has been Bang My Tranny Ass 12 (2013) which starred Penny alongside famous transsexual performers Joanna Jet, Mandy Mitchell, TS Gina Hart, Candi McBride and Sammi Valentina. Penny also took centre stage within Sammi Mancini's best-selling solo sex DVD series Shemale Strokers. To date, Penny has featured within Shemale Strokers 59 (2013) which was nominated for "Best DVD" at the 2013 Tranny Awards and "Transsexual Release of the Year" at the 2014 XBIZ Awards, Shemale Strokers 61 (2013), Shemale Strokers 63 (2014), Shemale Strokers 66 (2014), Shemale Strokers 68 (2014), Shemale Strokers 71 (2014) and Shemale Strokers 78 (2016).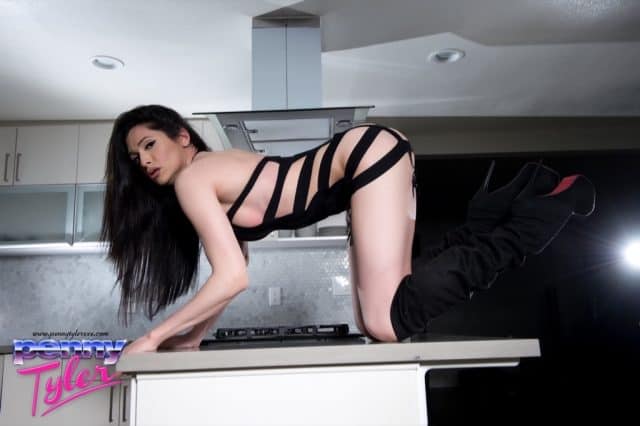 Penny Tyler at PennyTylerXXX.com
Penny Tyler : Hottest Porn Productions
Performing within multiple instalments of the Shemale Strokers DVD series earned Penny the "Shemale Strokers Model of the Year" accolade at the 2014 Tranny Awards and enabled Penny to collaborate with a plethora of popular TS performers such as Venus Lux, Tyra Scott, Sienna Grace, Eva Cassini, TS Gina Hart, Delia DeLions, Kendra Sinclair, Tori Mayes, Aubrey Kate, Brittney Markham, Tiffany Starr, Chelsea Poe, Lexa Harding, Jesse Flores, Naudy Nadia, Korra Del Rio, Jaslyn Lee, Kelly Klaymour, Nina Lawless, Jonelle Brooks and Iris Indigo; the list goes on! Sammi Mancini has always enthused about collaborating with Penny Tyler and his stellar Shemale Strokers casts, conveying within a January 2016 XBIZ News press release for Shemale Strokers 78 (2016) how;
"This is one of our most popular series, and it's definitely because of all the hot trans girls that make each guy watching feel like she's stroking it just for him…If you're a fan of 'She-Male Strokers,' this DVD is a must-have".
Following her 2014 "Shemale Strokers Model of the Year" Tranny Awards win, Penny was invited to star within the annual Grooby Productions DVD title 6th Annual Tranny Awards: The Winners 2014 that was directed by Blackula and starred Venus Lux, Gina Hart, Eva Cassini and Khloe Hart. Throughout 2013 and 2014 Penny also featured within multiple Devil's Film DVD titles such as Transsexual Cheerleaders 13 (2013) which showcased Penny in a saucy sex scene with Wolf Hudson, Tranny Hoes In Panty Hose (2014) that paired Penny up with popular male porn star Chad Diamond, and Transsexual Babysitters 26 (2014) that enabled Penny to collaborate with rising TS starlets Amy Daly, Kylie Maria, Riley Quinn and Mia Davina. Penny has also collaborated with award-winning director Joey Silvera on the 2013 Evil Angel feature release American She-Male X 4 that featured Penny in a sizzling three-way sex scene with Jamie Page and Christian XXX.
In addition to filming these best-selling DVD titles, Penny began to establish an avid fan base within the fetish lifestyle market due to her compelling BDSM content  that she filmed for Kink.com's TS Seduction web series. Fans eager to discover Penny's kinkier dominatrix side will not want to miss out on her October 2014 TS Seduction sex scene with Logan Vaughn titled Time Travel Sex With New Dom, Penny Tyler.

Following her significant string of adult film industry accomplishments in 2014, 2015 proved to be another landmark year for Penny Tyler during which time she underwent breast augmentation surgery, launched her official solo website, PennyTyler.XXX, and won "Best Solo Performer" at the 7th Annual Transgender Erotica Awards! Penny enthused via her official solo website how she has always wanted to manage her own website, ardently expressing that;
"It's been a big dream of mine to have my own site and now that we are here I'm excited to bring you my hottest content around! So drop your pants, grab your cocks and let us have some wet fun!".
Upon being congratulated about the launch of PennyTyler.XXX during  her December 2015 TS-Newsreel interview, Penny was asked about how her fans would receive this new business venture. Penny expressed her immense gratitude for the ongoing support of her international fan following , and conveyed how she was eagerly optimistic with regards to her adult film future;
"Thank you, that makes me so happy! I Don't know for sure yet, at this point I don't care. I'm just happy people are still looking at my work, I'm happy TO BE working. I'm content… A good content".
Similarly, upon being asked about her breast augmentation surgery and how she has been coping with the transition process, Penny revealed within her TS-Newsreel interview that;
"It's been hard, but it has been getting better. I never had any tranny mothers or sisters "guiding" me, so I kinda feel like a girl who's mother never told her about periods and now she's getting one for the first time and doesn't know what to do. I'm catching on".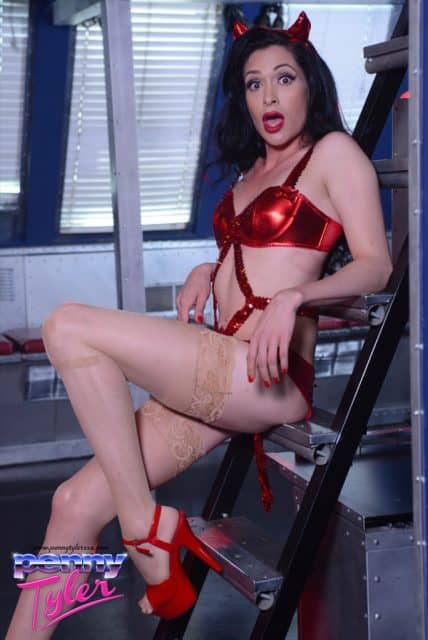 Penny Tyler at PennyTylerXXX.com
As well as winning "Best Solo Performer" at the 2015 Transgender Erotica Awards, Penny was also one of the first performers ever to be nominated for the "Transcendence Award". This brand new Transgender Erotica Awards category was created in 2015 in order to celebrate adult film stars who have acted as an ambassador for the transsexual porn industry. As a Grooby Network representative explained via a January 2015 press release;
"The Transgender Erotica Awards announced a new category for the upcoming show, now known as the Transcendence Award. The award was created by first-time sponsor, renowned plastic surgeon Dr. Alexander Sinclair. The Transcendence Award celebrates the accomplishments of the performer who has been an ambassador of the industry, embodying a positive appearance and attitude toward those she works with…'This award is about these special few who deliver an experience that takes us beyond our normal boundaries. These artists use their creative skill and imagination to produce a work that lets us revel in emotional and physical pleasure. These exceptional people make us forget our stresses and problems and entertain us with stimulation and excitement, taking us to a better understanding of who we are and what we want'…Nominees for this year include Brooke Zannell, Chelsea Marie, Eva Cassini, Jordan Jay, Michelle Austin, Penny Tyler, Sasha Strokes, and Tori Mayes".
Being nominated for this landmark "Transcendence Award" accolade demonstrates just how much Penny Tyler has impacted the transsexual porn industry as a whole. In fact, Penny has received a wealth of notable adult film award nominations throughout her prolific porn star career. Some of Penny's most impressive adult entertainment accolades have been listed below;
2013: Tranny Awards nominee "Best New Face"
2013: Tranny Awards nominee "Best Solo Model"
2014: Tranny Awards winner "Shemale Strokers Model of the Year" (tie with Gina Hart)
2015: Transgender Erotica Awards winner "Best Solo Performer"
2015: Transgender Erotica Awards nominee "Transcendence Award"
2016: AVN Awards nominee "Favourite Trans Performer (Fan Award)"
2016: AVN Awards nominee "Best Transsexual Sex Scene" Transsexual Housewives Of Hollywood (with Tori Mayes)
One of Penny's most popular DVD feature releases  in recent years has been the 2015 Grooby Productions feature release Transsexual Housewives Of Hollywood. Penny was featured in a captivating sex scene with Tori Mayes that was directed by Buddy Wood. As mentioned above, this compelling collaboration earned Penny and Tori a "Best Transsexual Sex Scene" nomination at the 2016 AVN Awards. What's more, Penny regards her Transsexual Housewives Of Hollywood sex scene with Tori Mates as one of her favourite sex scenes that she has ever filmed. As Penny conveyed within her TS-Newsreel interview;
"My two favorite scenes would have to be my ShemaleStrokers hardcore with Gina Hart, and my hardcore for Grooby with Tori Mayes. Both girls were the easiest to work with and blast to be around, I think it showed on camera!".
All in all, Transsexual Housewives Of Hollywood was a smash-hit among fans and film critics; featuring a stellar cast including Penny, Tori, Jessy Dubai, Foxxy, Gianna Rivera, Christian XXX and Giovanni Francisco who all earned the film multiple nominations for "Best Transsexual Release" at both the 2016 AVN and XBIZ Awards.
In recent months, Penny has continued to update her official solo website, PennyTylerXXX.com, with exclusive soft-core, hardcore and BDSM video clips including the unforgettable Penny Tyler In The Pleasure Chair that was uploaded in August 2015. Penny also continues to feature within numerous bestselling DVD feature releases such as performing with Sunshyne Monroe in her first signature showcase, The Adventures of Sunshyne: The Body 1, that was distributed by SMC Productions and Pulse Distribution in September 2016.
When asked about her future porn star plans during her TS-Newsreel interview, Penny divulged that she would like to continue filming for her official solo website and other production companies. Penny also took some time within this interview in order to thank her fans for their ongoing support throughout her entire adult film career;
"I'd like to shoot more for other companies, I've always had good relations with everyone. So we'll have to see… Right now I'm just taking my time…Thank you for sticking with me, thank you for watching my videos and looking at my pictures and supporting me these past few years! For bringing me into your life, You have no idea what any of you mean to me. You make me want to do more, you make me want to give you the best of me. I plan on being the best I can be for you! So a really big thank you to you and all of your support!".
Want to learn more about Penny Tyler? Then head on over to her official social networking channels online today to catch up with some exclusive online content! Penny continues to showcase her stunning beauty and natural charisma via a series of exclusive PenyTyler.XXX video clips and live chat sessions, as well as experimenting with some raunchier BDSM content for fetish porn sites such as Kink.com. What more could you ask for?
Social Networks
Official Website : PennyTylerXXX.com
Twitter : @pennytylerXXX
Grooby Girls : Penny Tyler at Grooby Girls

Shemale.XXX : Penny Tyler at Shemale.XXX

Kink Profile : Penny Tyler Femdom & BDSM Content

IMDB Profile : Penny Tyler Filmography