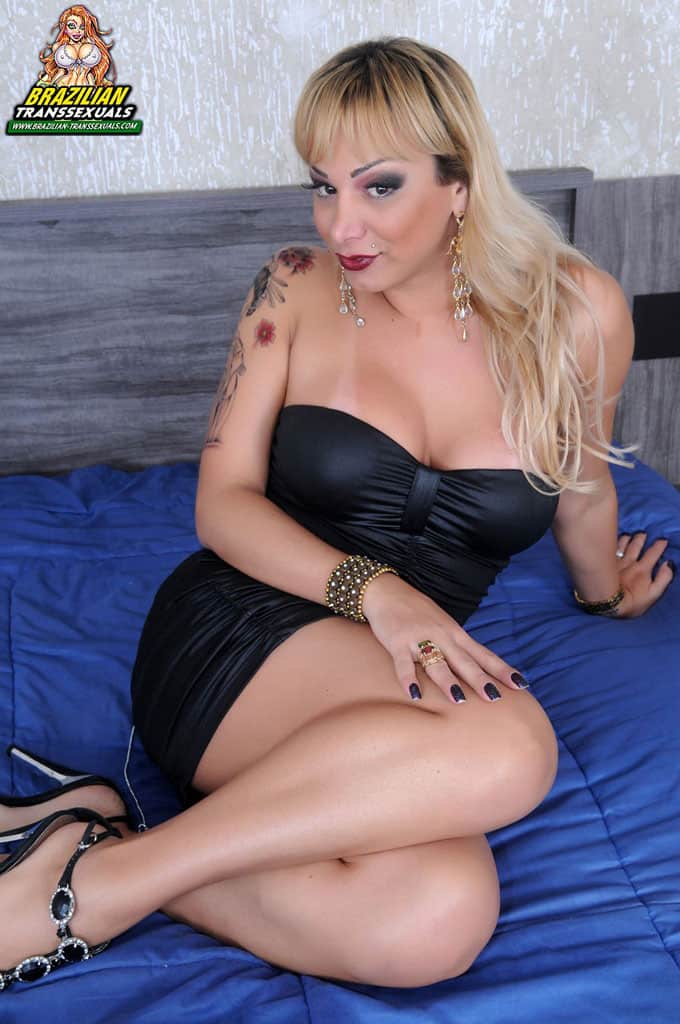 Walkiria Drummond at Brazilian Transsexuals
Walkiria Drummond – Personal Info
Name : Walkiria Drummond
Alias : Walkyria, Walkira, Valkiria, Walkiria Amarillo, Valquiria Amarillo, Walquiria Dumont,
Date of Birth: September 12th
Star Sign : Virgo
Hometown : Sao Paolo (Brazil)
Height : 5'8 (1.73m)
Hair Colour : Blonde / Brunette / Black
Eye Colour : Brown
Tattoos : Butterflies on her lower back, design on the inside of her right calf and a geisha design with flowers surrounding it across her upper right arm and shoulder
Piercings : Navel, tongue, Monroe (upper left lip) labret, (piercing on the right side of her bottom lip) and right nostril
Years Active : 2006 – present
Number of Scenes : 80+
Ever since she filmed her first sex scenes in 2006, Walkiria Drummond has remained one of the most popular Latina TS pornstars in the adult industry. Born and raised in Sao Paolo, Brazil, Walkiria has performed under a variety of seductive stage names over the years. Regardless of whether you know her as Walkiria Drummond, Walkira Amarillo, Valquiria Dumont or simply as Walkyria, one thing's for certain; this busty blonde Brazilian bombshell has dominated the Latina TS porn genre for the past 10 years.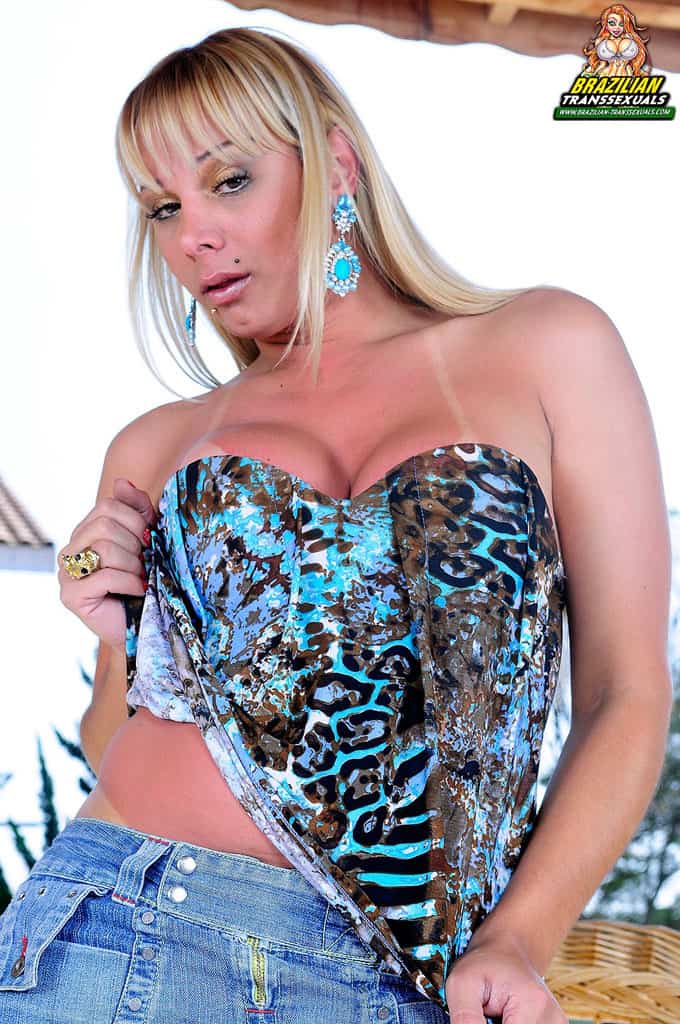 Walkiria Drummond at Brazilian Transsexuals
Walkiria Drummond : Adult Film Career
Walkiria Drummond first began working in the adult entertainment industry in 2006. Some of Walkiria's earliest porn productions include She Said Blow Me 7 (2006) for Evil Angel, Mundo Transex (2006) for Sexxxy Studios, Tranny Shop 4 (2007) for DVSX, My Daughter Has A Dick 2 and 4 (2007–2009) for Transerotica Studios, Fucked By A Tranny 3 (2007) for Wildlife, Damas da Noite (2008) for Introduction Pictures, the Northstar Associates and Zayne Entertainment DVD feature releases When Trannies Attack: Orgy Extravaganza 1 (2008) and Invasion Of The Tranny Strappers 3 (2008) which featured Walkiria in a raunchy three-way with Alessandra Marques and Andre Garcia and Sluts Packin' Nuts Volume 5 (2008) for Platinum X Pictures.
Want to know the best part? During this time Walkiria also began to appear in a steady stream of best-selling Robert Hill Releasing DVDs such as Gang Banged By Transsexuals 3 (2008), She Fucked My Ass Bareback 6 (2008), Transsexual Swingers 5 (2008), Transsexual Lesbians 5 (2008), Tranny Claus (2009), My Chemical Romance (2010) and TSPOV4U (2011) with sexy TS pornstars Carla Novaes, Leona Andrev and Thayana De Castro.

As well as her best-selling Robert Hill Releasing porn productions, Walkiria Drummond started to garner an international fan following due to her scene-stealing moments within several fan-favorite Magnus and Universal Trannies porn productions. Some of Walkiria's most popular Magnus and Universal Trannies DVD titles to date include Total Tranny Control: Walkiria Drummond (2008), Tranny Tasters 5 (2008), Tranny Cum Shots 7 (2009), I Love Chicks With Dicks 3 (2010), Big Butt Transsexuals Barebacking POV 4 (2010), Trannies With Fannies 1 (2010) and 2 (2012),  Trouble In Tranny Land 4 and Big Butt Trannies 3 (2012).
Performing in these best-selling DVD titles established Walkiria's reputation as one of the most popular Brazilian transsexual performers in the industry and also enabled her to perform alongside such famous Latina TS stars as Kalena Rios, Kelly Ohana, Dany De Castro, Isabelly Ferraz, Alaina Ferreira, Carla Renata, Laisa Lins, Tamarah Camargo, Adryana Suzuki, Renata Davila, Alana Ribeiro, Bianca Freire and Carla Novaes.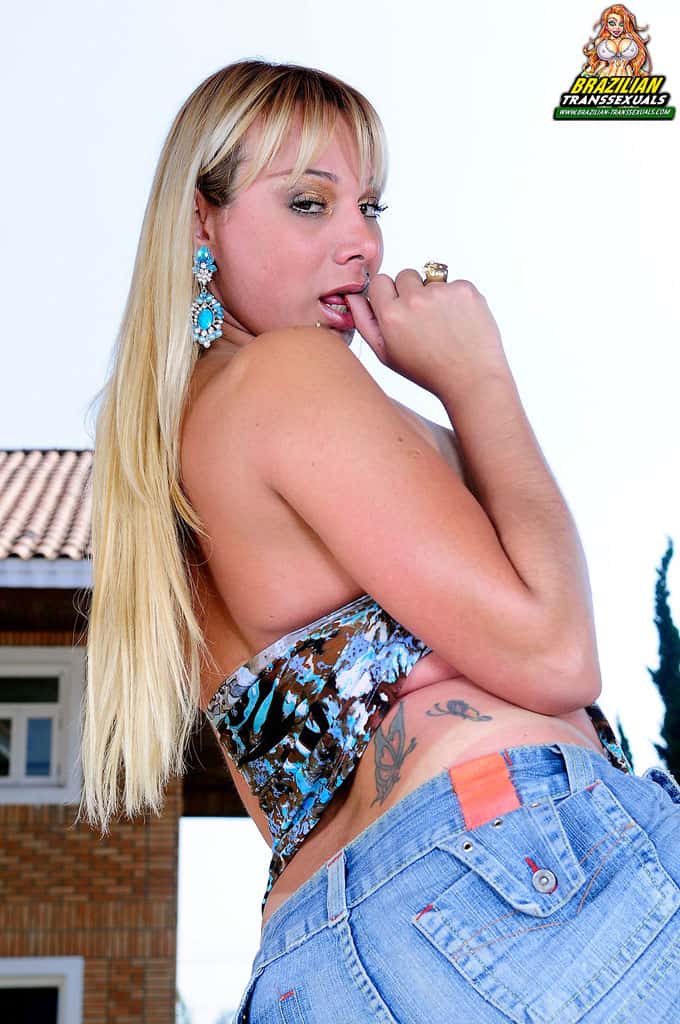 Walkiria Dummond at Brazilian Transsexuals
Walkiria Drummond : Hottest Web Content
In the summer of 2008 Walkiria Drummond began to shoot a broad spectrum of solo, POV, hardcore and fetish porn web content for the SMC Network porn sites SM Club, Interracial TGirl Sex and Latina Tranny. Among some of Walkiria's most popular SM Club web clips include her hardcore sex scenes with Pedro that were first released via the SMC Network in August and September 2008, her three-way with Latina porn stars Joy and Senna in May and June 2010, her hardcore sex scenes with Leticia in September and October 2010 and her hardcore sex scenes with Dani de Castro in October 2010. Fans should also check out Walkiria's Nikki Bangs Walquiria hardcore sex scenes that she filmed for Latina Tranny in July 2008 and her sizzling solo scenes that were distributed via Interracial TGirl Sex in April 2009.

Throughout 2009, Walkiria continued to appear in a broad spectrum of best-selling TS DVD series, MILF and cougar themed DVD feature releases and taboo relations titles such as Tiny Tasty Trannies 3 (2009) for Juicy Tranny Chicks, Grannies Love Trannies (2009) and Mature Trannies (2009) that were both produced by Channel 69, Nacho Vidal's Evil Angel TS DVD series Monster Cock SMs 1 (2009) and Fucking SMs 4 (2009), the Exquisite DVD titles Rock Hard TGirls 4 (2009), 3-Legged Bitches 5 (2009) and Transsexual Beef Cocks 5 (2011), Andreia Albertini: Ela é um Fenomeno (2009) for Icaro Studios, A Place In The Bum (2009) for Television X, Sluts With Nuts 5 (2009) for Bacchus Releasing, Touch My Tranny 2 (2009), Who's That Tranny? (2010), DD Trannies (2010) and Mega Cock Trannies (2011) that were all filmed for Legend Video.
Prolific porn star Walkiria has also been featured within The Transsexual Experience 2 (2010) for DVSX, Wild Cougar Transsexuals 2 (2010) for Meltdown for which Walkiria posed as the DVD cover model, Taking Her Meat (2010) for Caballero Home Video, Tranny Explosion 1 (2010) for Legend, Lick Her Dick 8 for Metabolic and Transsexual Ménage A Trois Bareback 1 (2009) for Juicy Entertainment that showcased Walkiria in two thrilling three-ways with Anne Castro and Kelly Amaral as well as Marcellinha Moraes and Rafael Angel. Many of Walkiria's sauciest sex scenes have been showcased within the Third World Media DVD feature release Thai Anteaters & Big Brazilian Boas (2010).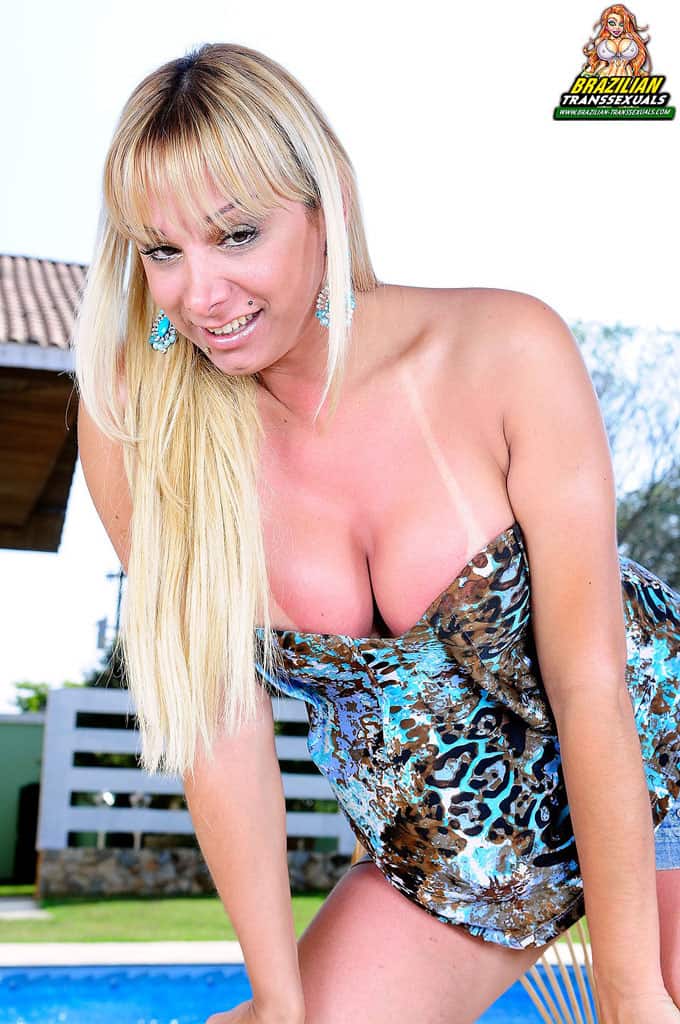 Walkiria Drummond at Brazilian Transsexuals
From the spring of 2010 onward, Walkiria Drummond began to shoot a wide range of solo sex shoots and hardcore web clips for several fan-favourite Grooby Network porn sites. Some of Walkiria's first ever Grooby Network sex scenes include her April 2010 Walkiria Amarilo Rides Her Man hardcore web clips and her July 2010 Walquiria Amarillo and Juliana Nogueira transbian sex scenes that were both filmed by Louie Damazo for Brazil TGirls.
Spurred on by the success of her hot hardcore web content, in August 2012 Walkiria filmed some raunchy Tamarah Camargo Rides Walkiria sex scenes for the Grooby Network porn site Brazilian Transsexuals that were directed by the popular porn cinematographer Khan. Walkiria and Khan have collaborated on several sultry sex scenes for Brazilian Transsexuals over the years including Fuck Buddies Lorena & Walkiria in October 2014, Big Cock TGirls Jhoany & Walkiria in November 2014, Two Legends Jhoany & Walkira Amarillo in May 2015 and Walkiria Fucks Natalia Avellar in July 2016.
Over the years Khan has also filmed Walkiria's Frank's TGirl World hardcore sex scenes with Thor Torine that were first released in September 2015, as well as shooting many of her sauciest sex scenes for Brazil TGirls including her Walkiria Amarillo Fucks Lucas hardcore web clips in August 2012, Walkiria Fucks Kampfer in October 2014, Fucked By Walkyria Amarilo in August 2015 and most recently her kinky Foot Play With Walkiria Amarillo solo sex shoot in June 2016.
In fact, over the course of her ten year porn star career, Walkiria has filmed for an impressive collection of trans-friendly porn sites including Bob's TGirls, Trans 500, , TS Raw, Mega Cock Tranny, Tranny Pack,, Tranny Surprise, Cum-Filled Trannys, Tranny Auditions, Tranny Cum Swappers, Tag Team Tranny, Solo Trannies, Tranny Access, SMs Fuck SMs, Fucked By SM, SMs Fuck Guys, She Max Network, TranSex Bareback and Third World SMs; the list goes on!
Many of Walkiria Drummond's raunchiest web clips have even been featured within the DVD compilation titles Tranny Surprise 3, 12 and 28 (2008-2013) for Reality Kings, Suck My Tranny Cock 5 (2008) for Rodnievision also starring hot TS pornstars Alaina Ferreira, Carla Bruna, Holly Sweet, Danielle Foxxx, Joanna Jet and Vicky Richter, Tranny Cum Swappers 2 (2009), Cum-Filled Trannys and Tranny Auditions 2 (2010) there were all filmed for Tranny.com, Perfect 10 T-Girl Volume 6 (2011) for Evolution Erotica, Tranny-Licious (2011) for Indulgence and Suck My TGirl's Cock 6 (2011) for Tranny Kingz.

During this time, Walkiria Drummond continued to collaborate with numerous award-winning adult film directors such as Josh Stone on his Trans 500 DVD title I Kill It TS 1 (2012) also starring Brittany St Jordan, Luz Adriana, Camila Poskam, Wendy Summers and Ramon. I Kill It TS 1 was a smash hit success among fans and film critics that was nominated for "Best DVD" at the 2013 Tranny Awards, "Best Transsexual Release" at the 2014 AVN Awards and "Transsexual Release of the Year" at the 2014 XBIZ Awards.
In recent years Walkiria has starred within a steady stream of fan-favorite DVDs including Transsexual Activity 1 (2010) for Jules Jordan Video that showcased Walkiria in an amazing group sex scene with Renata Araujo, Andre Garcia and Ricco Puentes, Girls Who Like Guys Who Like Trannies (2012) for Bacchus Releasing that featured Walkiria in a fantastic three-way with Carol Martins and Chelder Manzini, Wild And Horny Transsexuals 3 (2013) for Juicy Tranny Chicks, the Tom Thumb Productions releases My Girlfriend's Monster Cock 2 (2012) and 3 (2014), Monsters Of SM Cock 38 (2015) for White Ghetto, Tranny Panty Busters 2 (2015) for Rodnievision with Bruna Butterfly, Sasha Skyes, Carla Novaes, Hilda Brasil and Holly Parker, and the Third World Media DVDs Tranzilla 3 (2012) and Trisexual Asylum 5 (2014).
One of Walkiria Drummond's most popular porn performances to date has been her sultry sex scene with Christian XXX that were incorporated within Jay Sin's award-winning Evil Angel DVD series TS Playground 21 (2015). Also starring Adriana Chechik, Jenna Justine, Nina Lawless, Sheylla Wandergirlt, Vixxen Goddess, Thayla Cyclone and Alex Victor, TS Playground 21 proved to be a critical and commercial success that was nominated for "Best Transsexual Movie" at the 2016 AVN Awards. Fans of TS Playground 21 will be happy to hear that Walkiria has continued to collaborate with Christian XXX on some hot hardcore sex scenes for Pure-TS.com that were first distributed in December 2015 titled Walkiria Drummond Wants Intense Sex.
With such an extensive porn star portfolio to her name, it's no surprise that Walkiria Drummond has remained one of the most popular Brazilian TS stars in the industry throughout the past decade. So if you would like to catch up on some of Walkiria's raunchiest DVD titles, or if you would like to learn more about her upcoming saucy web clips, then please feel free to use the links provided below to explore Walkiria's official social networking channels online today!
Walkiria Drummond – Social Networks
Brazilian Transsexuals : Walkiria at Brazilian Transsexuals
Brazil TGirls : Walkiria at Brazil TGirls XXX
Frank's TGirl World : Walkyria at Frank's T Girl World
SMC Network : Walkyria at SMC Network

SMClub : Walkyria at SMClub
Bob's TGirls : Walkiria at Bob's T Girls
Trans 500 : Walkiria at Trans 500