Adriana Chechik
Adriana Chechik Official Site : AdrianaChechik.com   Evil Angel : Adriana Chechik Sex Scenes
Twitter : @adrianachechik   Camsoda : adrianachechik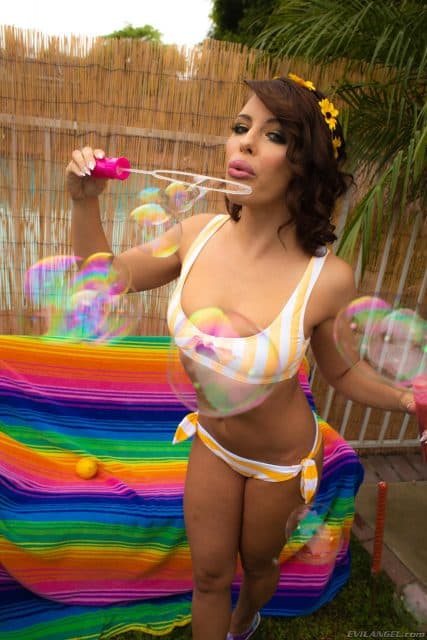 Adriana Chechik – Personal Info
Name : Adriana Chechik
Date of Birth: November 17th, 1991
Home Town : Downington, Pennsylvania (US)
Measurements : 32B – 24 – 32
Height : 5'2 (1.57m)
Hair Colour : Brunette
Eye Colour : Blue/Green
Shoe Size : Women's 7 (US)
Years Active : 2013 – present
Number of Scenes : 200+
Keep an eye out for this brunette beauty; Adriana Chechik is quickly becoming one of the biggest female performers within the adult entertainment industry due to her sensational sex scenes for Babes, Brazzers, Digital Playground, Evil Angeland Reality Kings.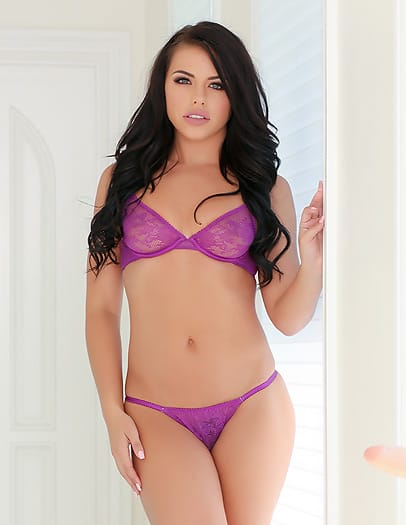 Before she began her ascent to adult film superstardom, Adriana Chechik was born and raised in Downington, Pennsylvania. Adriana Chechik is of Russian, Serbian and English descent. Adriana Chechik has stated in previous interviews that she does not know if this heritage is completely accurate;
"I'm told I'm Russian and Serbian with a little bit of English but I'm not 100% sure. So I'd be lying if I said that was true".
During her interview with Captain Jack, an adult film blogger for Adult DVD Talk, Adriana Chechik revealed that growing up in foster care meant that she never lived in one place for a prolonged period of time. As Adriana Chechik explained in her own words;
" I grew up in Pennsylvania. My life was pretty chill, I guess. I grew up in foster care for a while and I just moved around a bunch. I moved in with my best friend and they took care of me for a really long time. I started school and was dating my best friend's son, which was the family that was taking care of me. And then when we broke up, I was in school and I met a stripper, which I think is the worst thing for any girl. (laughs) We'd go constantly to the strip club. She asked, 'why aren't you stripping?' And I'd be, 'yeah! Why aren't I stripping?' (laughs) From there, we went to Miami and tried to take Miami by storm with our stripping skills. And after a little while there, I had some guy offer me a chance to be in a video. I wanted to have some fun and figured a video was a nice safe outlet".
In this manner, Adriana Chechik began to discover the adult entertainment industry as a potential career avenue during her teenage years. However, although Adriana Chechik was sexually adventurous with girls whilst growing up, she divulged during her Captain Jack interview that she had only slept with one man before becoming a porn star;
"I only sexually slept with one [guy] when I got into the industry. I had given plenty of blowjobs and done plenty of oral but sexually, I was a wuss. Not even so much that I was a wuss, but it never crossed my mind".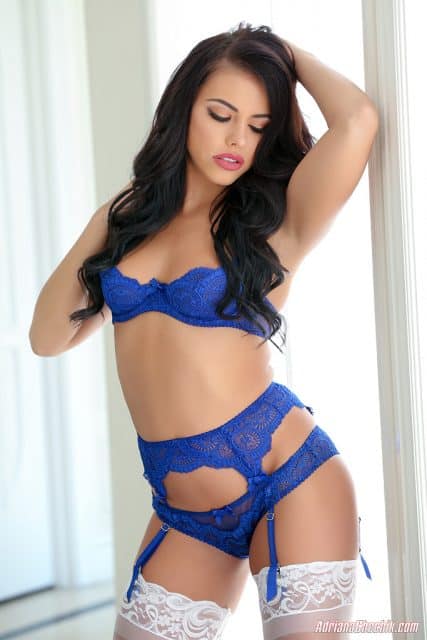 During this interview Adriana Chechik discussed her earliest sexual experiences with girls, revealing how;
 "We were literally making out and bumping and grinding. When I look back now, we were really perverted. I still haven't had as good a sex as I did in the 6th grade with a girl. That's how naughty it was! (laughs)".
Despite her unconventional upbringing, Adriana Chechik earned her GED and attended Drexel University where she majored in biochemistry. During this time, Adriana Chechik also started working as a stripper at the Scarlett's Cabaret club in Hallandale Beach, Florida. Adriana Chechik explained during her Captain Jack interview that she stumbled into a porn star career after being invited on set by one of her erotic dancer friends;
"I found out about the porn industry through a girlfriend working at the strip club with me. One day she invited me on set with her, and after watching the other girls I knew it was something I had to be a part of! Within two days of seeing my first porn live I had already started filming my first scene…The first scene I ever did was actually a threesome with one girl and one guy, which was so nerve-wracking because I had never hooked up with a girl let alone had sex on camera. But as soon as the camera started rolling all my nerves went away and we just had fun!".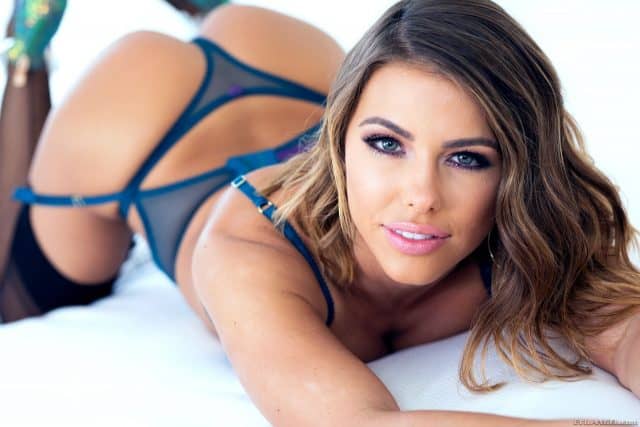 Adriana Chechik : Adult Film Career
In 2013 Adriana Chechik appeared in her first ever adult film shoot. Adriana Chechik described how she felt whilst filming her first ever sex scene in a September 2015 Adult DVD Talk interview. Within this exclusive interview Adriana Chechik revealed how;
"The terror was horrible. First of all, I get booked for a boy/boy/girl and I had never fucked a girl. What I'm learning through porn is that sex feels good but to be a good performer you have to feel good and there's acting. Not necessarily faking but acting. So in the beginning, I don't think I got the acting aspect. I was hoping they felt good and I wasn't even concerned about myself. I remember shaking so bad that the director had to ask if I was ok during the pictures. I told him I'm fine and I'm getting on top of this guy's cock and this other girl is licking my clit. I was so nervous but as soon as I got past the talking part of the scene and we actually got down to fucking, it was so easy, it was so nice. It was fun. I remember leaving set, screaming to myself in enjoyment, 'This is so good!'".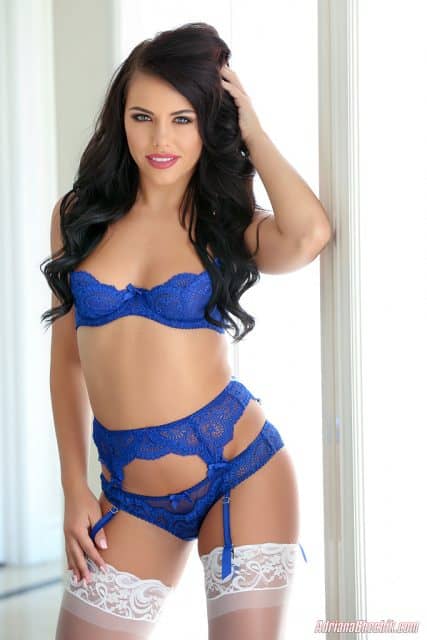 Within this interview Adriana also revealed her reasons for choosing Adriana Chechik as her porn star stage name;
"There was a guy named David Chechik who did a lot of directing. He did some horror movies, not anything big or popular but something that stuck in my head. I don't know why I got so obsessed with the name but I wanted something different. And I also thought A for Adriana, comes first in all the talent lists. (laughs)".
Equipped with a stage name and plenty of determination, Adriana Chechik commenced her porn star career in 2013 and by May had signed a non-exclusive one-year performance contract with the porn production company Erotique Entertainment. Within Adriana Chechik's first year as an adult film performer she also appeared in her first gangbang and double anal penetration sex scenes. These saucy shoots featured within the New Sensations DVD feature release This is My First…A Gangbang Movie that was distributed by Digital Sin in November 2013 and which was nominated for the "Best Group Sex Scene" accolade at the 2015 AVN Awards ceremony. As Adriana Chechik conveyed during a January 2014 AVN press release;
"My first gangbang for New Sensations was amazing. One of the best sexual experiences I have had in the industry…My dream scene would be another gangbang, but this time I want it to be an all-girl/girl gangbang. There's nothing more intense then letting a bunch of people just devour you. And what could be better than a bunch of sexy women doing so?".
Adriana Chechik embellished about this experience during a November 2013 XBIZ news article, stating that;
"You want your first experience to be epic—so I went into the gangbang hoping to get as much out of it as I possibly could…It wasn't just a highlight in my career, it was an unforgettable moment in my life. I wanted to shoot a gangbang because it's always been my ultimate fantasy. There's nothing hotter than watching a woman take on multiple guys! Everyone needs to watch this movie because it's the craziest, sexiest thing I've ever done".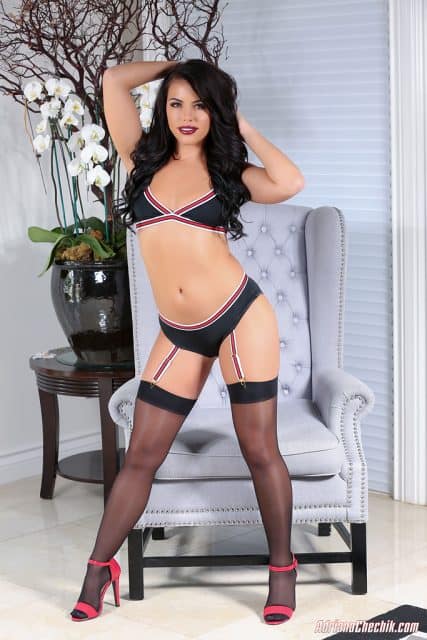 Adriana Chechik followed this popular pornographic production with her first ever triple anal sex scene that appeared in the 2014 DVD feature release Gangbang Me. Adriana Chechik's performance was praised by her fans and adult film critics; so much so that her gangbang sex scene with five male porn stars proceeded to win the "Most Outrageous Sex Scene" accolade at the 2015 AVN Awards!
In September 2014 Adriana Chechik launched her official solo website in collaboration with the Cherry Pimps Network. As Adriana Chechik explained during an XBIZ new article,  her new website, AdrianaChechik.com, would host all manner of hardcore content as well as serving as the hub for Adriana's live public and private chat sessions with her adoring fans. The founder of the Cherry Pimps Network, Avalanche, enthused about working with Adriana during this aforementioned XBIZ news article, stating;
"Adriana is one of the hottest women in the adult industry…Her beauty and sexual energy make for an unbeatable combination. We know that she will be an amazing addition to the Cherry Pimps and Streamate Network. I think her live shows are really going to blow people away".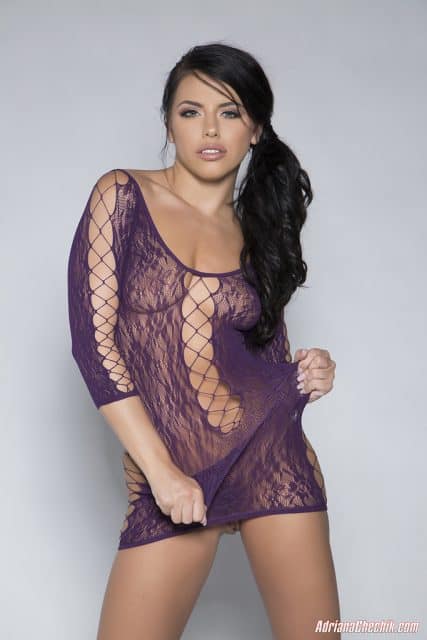 Since 2013 Adrianna Chechik has performed in a diverse array of boy/girl, lesbian, TS, interracial, anal , POV, gonzo, soft-core and hardcore sex scenes throughout her. As well as featuring within her own signature showcases Adriana's A Slut and Adriana Chechik: The Ultimate Slut, this buxom brunette beauty has also collaborated with some of the most popular female porn stars in the adult entertainment industry. Some of Adriana Chechik's most captivating adult film collaborations to date include; her sex scenes with Abella Danger in Buttslammers, her partnership with Aidra Fox in Polyamory 1 and 2, her appearances in the Alexis Texas lesbian-themed showcase Alexis Texas Loves Girls, her saucy shoot with Annika Albrite in Mick Blue Is One Lucky Bastard, her partnership with Penny Pax in Adriana Loves Penny and her sex scenes with Asa Akira in J.O.B.
Within merely three years of bursting onto the adult film scene, Adriana Chechik has already  amassed an ardent fan following. This is due in no small part to her captivating performances alongside Belle Noire in Paint and Amateur POV Auditions 10, her collaborations with Carter Cruise including Turning: A Lesbian Horror Story, All Access: Carter Cruise and Turning 4, her group sex scenes with popular pornstars Dana Vespoli, Misha Cross, Kayden Kross and TS Vaniity in the DVD feature releases Fluid 2, Lesbian Anal POV 5 and My Evil Stepmom Fucked My Ass 3, as well as her appearances with Dani Daniels in Orgy Masters 7, her MILF-themed shoots with Kendra Lust such as Our Son's Girlfriend, as well starring alongside seasoned MILF performer Veronica Avluv, rising star Riley Reid and fetish star Bonnie Rotten in Mommy Takes A Squirt and Pussy Acrobats 2. Adriana Chechik has also performed with many prominent male porn stars including Christian XXX in  Teens Take It Big 5 and Kayden Kross' partner Manuel Ferrara in Allie, Analized, Internal Damnation 8, Slutty and Sluttier 24 and Raw 26. Is there anything this brunette beauty can't do?!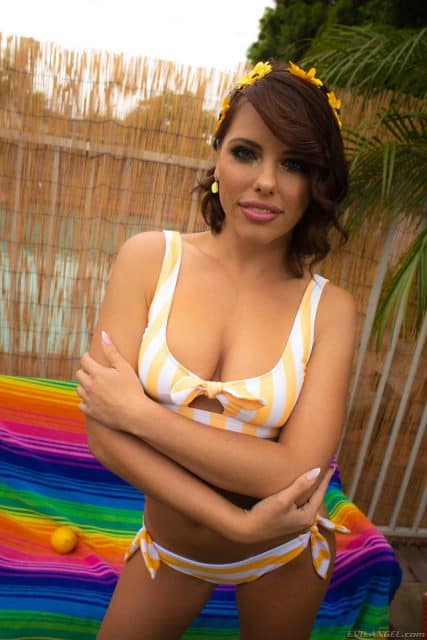 Adriana Chechik discussed some of her favourite pornographic productions during a September 2015 interview with Captain Jack. Speaking about the recent release of her first ArchAngel Productions showcase, Adriana's A Slut, Adriana Chechik enthused;
"Finally! I'm so excited! Finally, a company is doing a showcase on me and ArchAngel was the perfect studio for it! I had a couple offers from other people but I think with ArchAngel being a new company and they have something to prove, that they were a perfect fit. I just felt these other companies that didn't do a showcase on me for so long, that this newer company is willing to do it. I kind of wanted to prove to the other companies that I could do it. (laughs) But I'm super excited.  I did my first interracial DP and double vag, which was extremely awesome.  After the scene, it felt so amazing and so good. Doing a showcase, I feel like I accomplished something. I feel it's my big 'fuck you' to all the politics in porn. I'm just here to have sex and have fun. I finally got a company to corroborate and do that…
The cool thing about it was that Mimefreak let me pick what days I wanted to shoot and the times I wanted to shoot. We shot everything starting the scene at 10 at night. It gave a whole good vibe. It was cool to do something with your day and then go in and everyone's very chill. There's no rushing. And I got to have sex and go home and go to bed which was even better. (laughs) I filmed all the scenes in a row except for the DP one. It was awesome to work that many days back-to-back. You're excited and pumped up for it. You're on a high the whole time while you're filming the movie".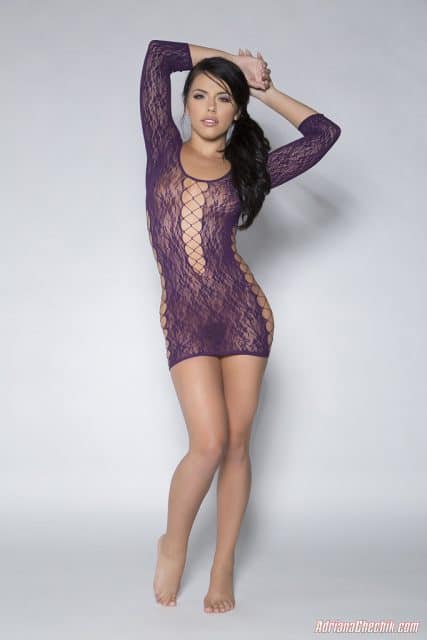 During a follow-up interview with Captain Jack in 2016, Adriana Chechik also highlighted one of her favourite DVD feature releases, The Turning. As Adriana Chechik herself explained;
"The Turning was probably my most exciting project of the year just because it was really outside of my realm and my normalcy. I don't think people expected me to act so well and it was such a different experience. I still get nervous for sex scenes but I really get nervous for acting. Bree Mills and Stillsby Alan were such good coaches. Honestly, I've done some acting after that and I don't think it was as good. I just had such good coaches talking me through it that it made for a whole different experience".
This extensive porn star portfolio, coupled with Adriana Chechik's seductive charm, have earned her a wealth of adult film award wins and nominations. Some of Adriana Chechik's most impressive industry accolades include;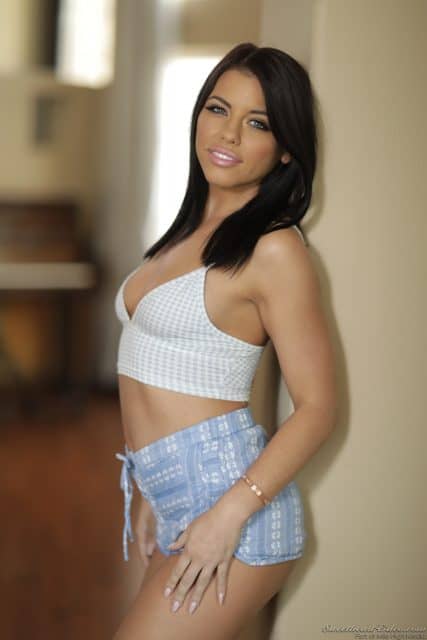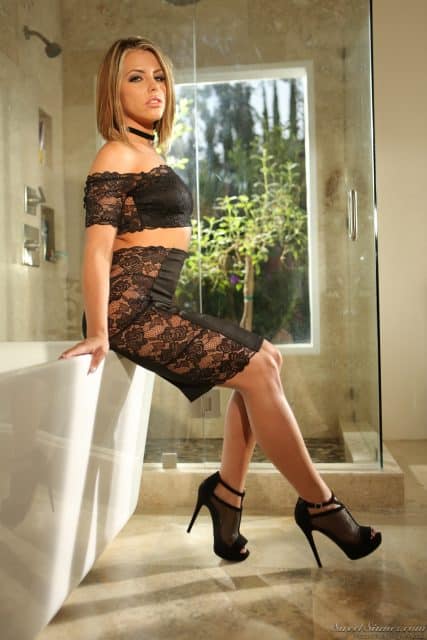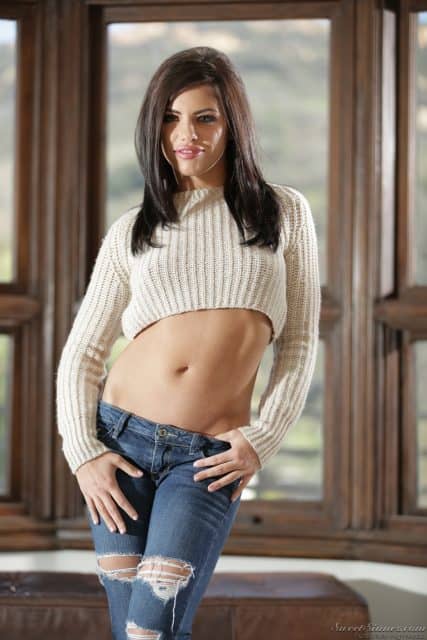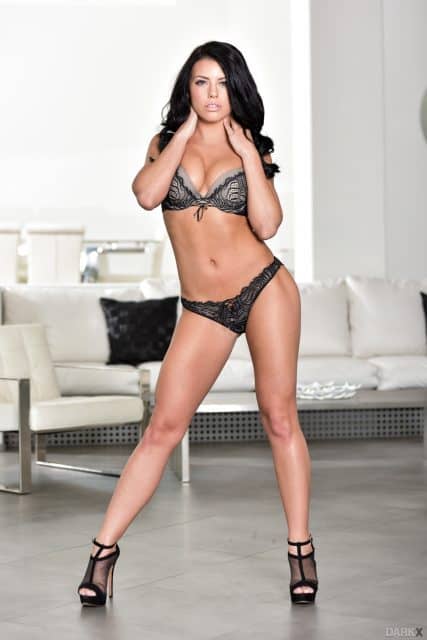 Adriana Chechik : Feature Dancer & Mainstream Media Projects
In addition to her adult film exploits, Adriana Chechik is also a frequent guest host at local nightclub events and has always been happy to meet and greet her fans at major adult entertainment conventions such as Exxotica Expo and Adult Con. Adriana Chechik continues to feature as a guest on numerous radio talk shows including The Howard Stern Show upon which she first appeared in August 2014 in order to promote the distribution of Gangbang Me and to discuss her upbringing in foster care, her Craigslist romantic relationships and other exclusive anecdotes from her personal life.
In September 2014 Adriana Chechik was featured within the "Sexy/Skanky" page of Cosmopolitan magazine. The following month Adriana Chechik also appeared alongside popular pornstars Bobbi Starr, Bonnie Rotten, Stoya and Aidra Fox within the Cosmopolitan pictorial article "13 Photos of Porn Stars Eating Junk Food".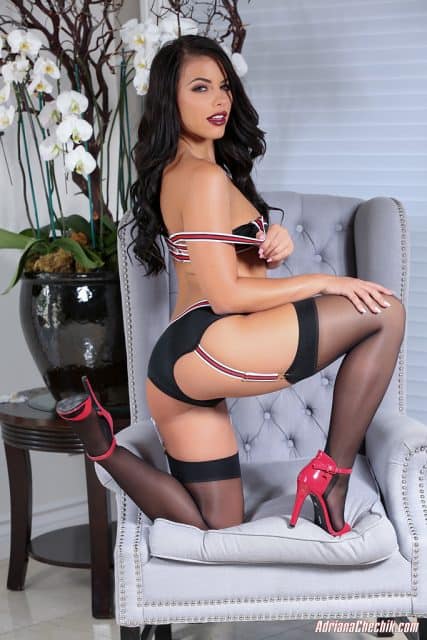 As matter stand, Adriana Chechik continues to work as a feature dancer in nightclubs across America. Most recently, Adriana Chechik appeared at the Sapphire Nightclub in New York City in June 2016. Represented by The Lee Network, Adriana's Sapphire Nightclub performance marked her triumphant return to feature dancing after an eight month absence due to her hectic filming schedule. Adriana Chechik performed her signature dance showcase as well as treating her adoring fans to lap dances, photos and autographs. Adriana Chechik enthused about this feature dance performance during an AVN press release, expressing how;
 "I always enjoy coming to Sapphire NYC…Not only do I love seeing the regulars who come out, but it's amazing when I get to make new fans. Sapphire is the classiest club, and everyone there treats me and all their feature dancers so well".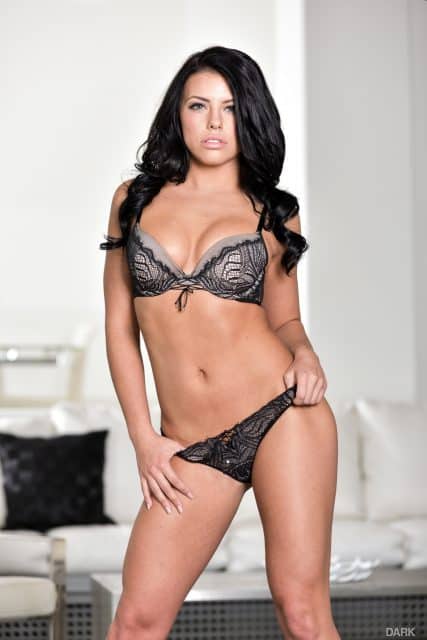 When asked about her future plans regarding her adult film career, Adriana Chechik has stated that she may consider pursuing a career as a director. Speaking to Captain Jack in 2015, Adriana Chechik expressed how;
" I feel like directing is the next step because I see so many girls doing it. But, honestly, I wish I was more of a creative person. I don't see that being too much in my future just because I'm more technical than directing. I'm not creative enough to direct and have sex. (laughs) I am putting out my own showcase that was done and directed by me. We'll see how that goes. I'm very confident in the scenes. I'm hoping the mashup of all the scenes will work together. This is when I first started in the industry. I started making my own scenes and making my own content. The second gangbang I ever did will be on there; you'll see my first technical DP. I shot this one first but it's coming out two years later. It's kind of awesome".
A dedicated and incredibly talented adult film performer, Adriana Chechik revealed to Captain Jack that she still has plenty of sexual fantasies which she would like to experience on-screen. As Adriana Chechik explained in her own words;
"There's always more goals. There's always more that I can accomplish. The further in porn I get, the more fantasies I have so you'll have to wait and see…I really want to work with Maddy O'Reilly, she's on my level of nastiness and I'm so surprised that we haven't been paired together yet. As well as Abigail Mac. Right now, I'm really into women so I want to work with only girl/girl performers because they eat pussy the best (laughs)".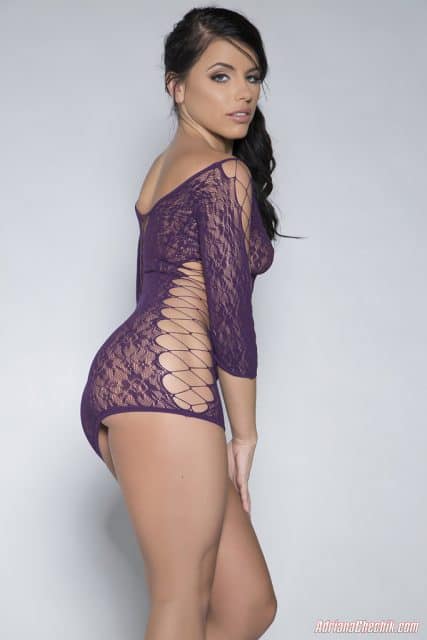 With these exclusive insights in mind, we think it's safe to say that Adriana Chechik's adult film career is only just beginning! If you'd like to remain updated regarding Adriana Chechik's latest DVD feature releases, upcoming public appearances and feature dance events, or if you'd like to arrange a public or private chat session with Adriana Chechik herself, then please do not hesitate to check out her official social networking channels that have been provided below!
Adriana Chechik – Social Networks
Official Website : AdrianaChechik.com
Twitter : @adrianachechik
Instagram : @bratnasty69
Camsoda : adrianachechik
Facebook : adriana.chechik
Brazzers : Adriana at Brazzers
Evil Angel : Adriana at Evil Angel
Mile High Media : Adriana's Mile High Media Movies
X Empire : Adriana's X Empire Movies
The Nude : Adriana at Nude EU
Fapnado : Adriana Chechik
Babepedia : Adriana at Babepedia