Aaliyah Hadid
 Aaliyah Hadid at Brazzers : Sex Scenes   Camsoda : aaliyahhadid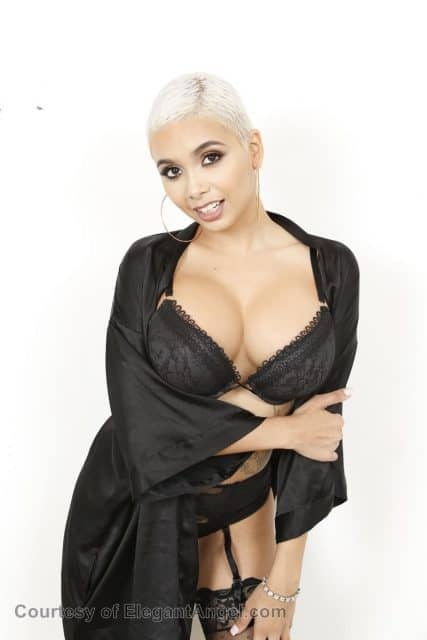 Aaliyah Hadid in Young Black Starlets – Elegant Angel – Adult Empire Galleries
Aaliyah Hadid – Personal Info
Name : Aaliyah Hadid
Date of Birth : October 19th, 1995
Hometown : Sanford, North Carolina (US)
Measurements : 34D – 26 – 38
Height : 5'6 (1.67m)
Hair Colour : Blonde / Brunette
Eye Colour : Brown
Tattoos : A cherry blossoms tree design along the left side of her rib cage
Piercings : Both nipples and right nostril
Shoe Size : Women's 8 (US)
Years Active : 2016 – present
Number of Scenes : 100+
Aaliyah Hadid is a stunning adult film star, model and cam girl who has been performing in porn since 2016. Even though she has only been shooting adult films for a couple of years, Aaliyah has already amassed a devoted global fan base and earned herself a coveted "Orgasmic Oralist" accolade at the 2017 Urban X Awards.
Born and raised in Sanford, North Carolina, Aaliyah Hadid attended the University of North Carolina in Greensboro where she studied Spanish, Political Science and Communications. However, Aaliyah left college and started performing as an exotic dancer in clubs in Virginia and the Virgin Islands. Aaliyah Hadid discussed these early years in greater detail during her June 2017 Adult DVD Talk interview, elaborating upon how;
"I was born and raised in North Carolina. I didn't really have the best home life because my mom's a junkie and my dad was never around. I moved around every single year of my life. I haven't lived in any single place for more than a year…I must have moved 20 times and I'm only 21. I was in college for Spanish, Political Science and Communications at the University of North Carolina at Greensboro. Basically, I decided that I didn't want to be broke and homeless and my family wasn't supporting me. I didn't even go to college for myself, I did that to make them proud of me because I was the first one to not have a kid as a teenager and I was the first one to go to college. Without their support, I wasn't even living my life for myself and I was already promiscuous in college. So I started escorting, and I danced. I don't know if you've heard of Eros or Backpage but that's how I started. I started getting better quality of clients when I danced in clubs and that's how I found my last sugar daddy…
Before I found the sugar daddy, I decided that I was going to stop escorting and try porn because porn seems like it would be safer and everything. Before porn, I had a friend who I went on tour with and the police raided her room. Since I was too young to pay for my own room (I was 20), she paid for my room. Since my room was under her name, they raided my room as well and I was in jail for 10 days. I decided that was not for me. We got arrested in Virginia and I went to the Virgin Islands to dance to get away from everything. The girl was homeless so I let her stay in my apartment. I left her with money for room and I sent her money to pay my rent. My rent was not getting paid and when I got home, there was a cop outside my door. That was my first ever apartment and I got evicted from it because I trusted in the wrong person. I had to live at a Motel 6 for a few months and that was really bad. This was not what I want to do or where I want to be".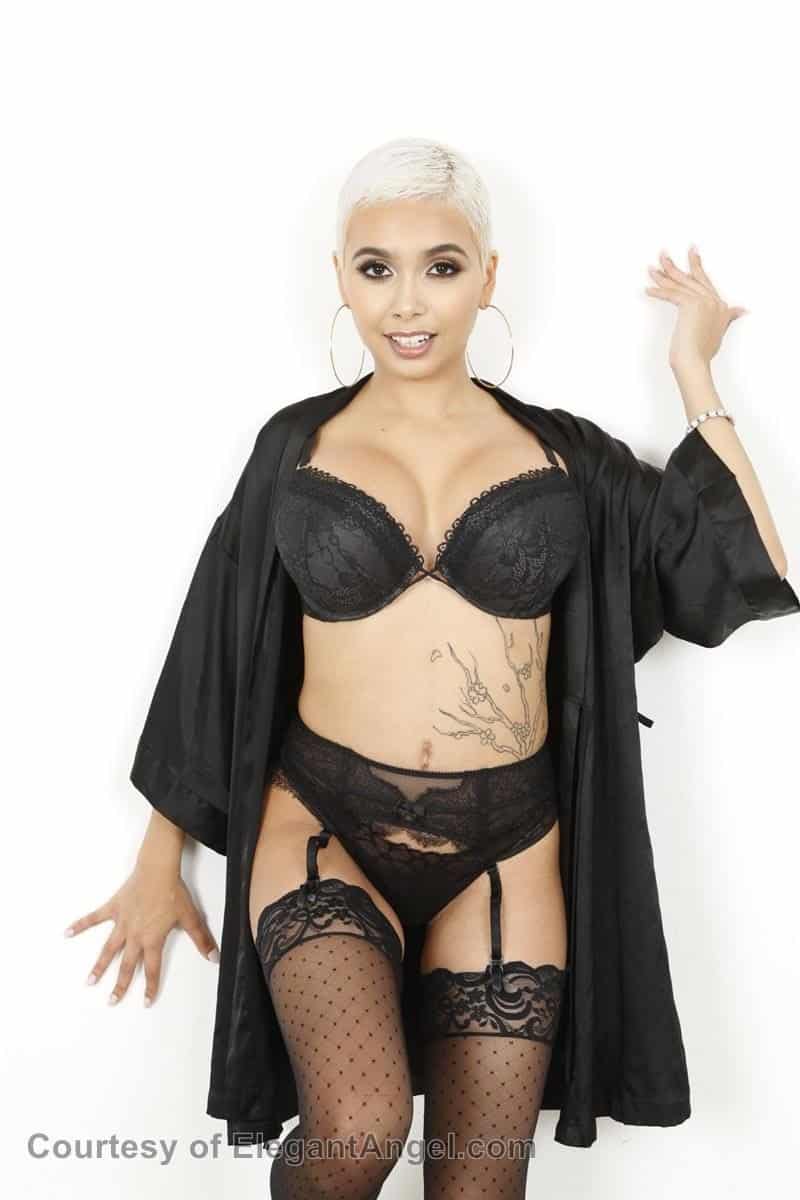 Aaliyah Hadid in Young Black Starlets – Elegant Angel – Adult Empire Galleries
During this time Aaliyah discovered the adult jobs listing site Sexy Jobs which introduced her to the possibility of adult films, modelling shoots and webcamming sites. Over the next few months Aaliyah travelled around Florida; working in Miami and Fort Myers before she ended up signing with the prominent adult film talent agency OC Modelling in Los Angeles, California. Aaliyah Hadid discussed this pivotal period of her life during her June 2017 Adult DVD Talk interview, recounting how;
"I didn't want to go back to college so I logged into Sexy Jobs, made a profile that said I was interested in adult modeling, adult videos and camming. I got all sorts of responses and one guy hit me up. I can't remember his name but he brought me down to Florida and he turned out to be a pimp! He wanted me to get his name tattooed on me and everything. Fuck that! I ran away from him but I didn't have any resources so I had to charge this other guy, Jay, who was a friend of a pimp. But he had connections and resources so that I could get money to pay for food and housing and everything. I was with this guy for 3 ½ weeks but he started getting crazy. I left with a family friend who was in the military with my mom but she lives in Florida. She picked me up from the club and I started working at another club…
I worked in Miami for a little bit then I went to Fort Myers to escort for a bit. That's when I found the sugar daddy because the girl who ran away from the same pimp as me, she got him first. I met him but she was still trying to steal money from him. She talked trash about me so I talked to the sugar daddy and filled him in on everything about her. He moved him and that's when I got my boobs. I got them October 3 of last year. He was a white guy and he was super racist. He didn't like black people but he liked having sex with black girls. I quit escorting and dancing to be with him but I couldn't be with him because of his attitude. We broke it off 2 days before my 21st birthday…
And that's when Riley from Hussie Models contacted me, actually, his recruiter contacted me. What made up my mind was the pimp I ran away from showing up at my hotel. That's when I ended up leaving. That's when I went to Coral Springs to the model house and signed with Hussie. I spent my first few months with Hussie but I ended up dropping him as an agent, and signed with OC. I have nothing good to say about my last agent. When he did try to book me, he would only book me for anal and I wasn't going to blow out my asshole because he needed the money. He thought it was because I couldn't do anal. To prove him wrong, my first scene with OC was a 5-guy anal gangbang for Dogfart. Then I did an anal with Mike Adriano 3 days later…My whole life is like a Lifetime movie!".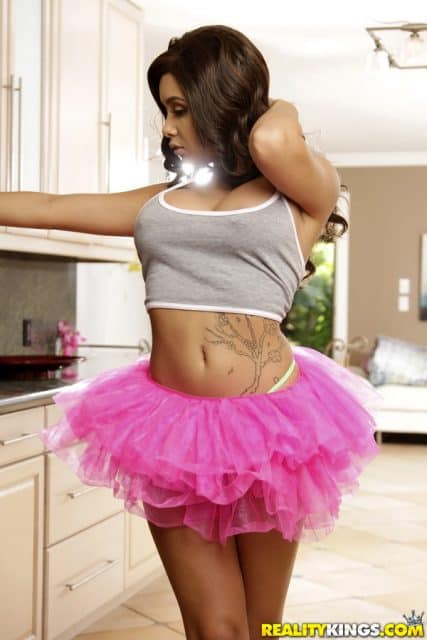 Aaliyah Hadid at Reality Kings
Aaliyah Hadid : Adult Film Career
Aaliyah Hadid first began working in the adult film industry in 2016 and her debut shoot was a basketball themed three-way with Kelsi Monroe and Sophia Leone. Talking about shooting her porn debut in her June 2017 Adult DVD Talk interview, Aaliyah revealed that;
"When I did my first shoot, we were all hungover. It was a threesome with me, Kelsi Monroe and Sophia Leone. I was a little bit lost because the only other threesome I had involved a penis. Any shoot, if I have a penis, the first thing my mouth goes to is the penis. There was nothing but butthole and vagina. I was at the point where I didn't want to lick anyone's butthole at that moment and I didn't know how to eat pussy. I didn't realize how much tongue strength it took. It wasn't even the aspect of someone watching, I just wanted to make it look good for the camera. Some people don't care what they look like on camera but I knew there would be a million people watching me. I don't want to be conceited when I say that but our stuff is pirated so much, it's going to be seen by millions of people and we just won't know".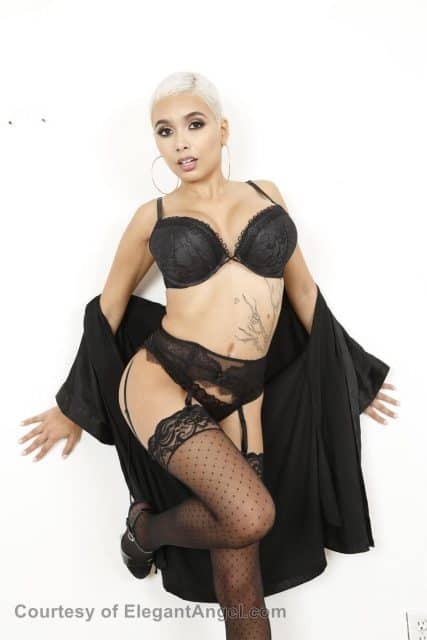 Aaliyah Hadid in Young Black Starlets – Elegant Angel – Adult Empire Galleries
In 2017 Aaliyah Hadid signed with the California based agency OC Modelling. Aaliyah Hadid's first ever sex scene with this LA representation was an anal gangbang with Dirk Huge, Moe Johnson, Rico Strong, Sean Michaels and Slim Poke that was released via the Dogfart Network porn site BlacksOnBlondes.com in May 2017. When she was asked about filming this raunchy web clip in her September 2017 AVN: Fresh Faces interview, Aaliyah explained how;
"I loved it. I told them [OC Modelling], 'My fans are calling me racist. I need a scene with black guys, big dicks, whatever you want me to do.' They wanted to know if I would do d.p. but I haven't done that, yet. I really, really want to. If I could say two names it would be Mandingo and Dredd. That would be really interesting".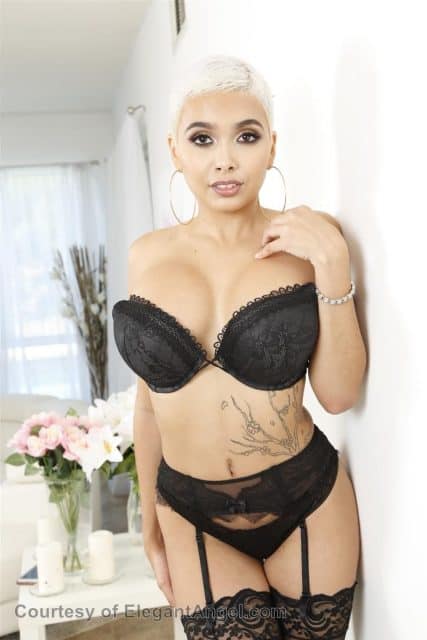 Aaliyah Hadid in Young Black Starlets – Elegant Angel – Adult Empire Galleries
During this time Aaliyah began to star in a steady stream of popular porn productions including The Big Black Cock Hunters (2017) for West Coast Productions, the Manipulative Media DVDs Brother Sister Perversions 3 and 7 (2017), Anal Hotties 3 (2017) for Evil Angel featuring Giselle Palmer, Adria Rae, Candice Dare and Blair Williams, Front Street Cheaters (2017) for Devil's Film, Interracial Family Affairs No. 5 (2017) for Desperate Pleasures and the Hard X sequel release Wet Curves 2 (2017) also starring Olivia Austin, Keisha Grey and Victoria June.
Interested in checking out some of Aaliyah's sauciest sex scenes? Then we recommend watching her amazing anal group shoots with Honey Gold, Adrian Maya, Julie Kay and Mike Adriano in his Evil Angel DVDs Swallowed 9 and 14 (2017-2018), her kinky My Friend's Hot Girl cop role-play with J-Mac which was promoted by Naughty America in March 2017, her compelling The Exxxceptions three-way with Cali Carter and Charles Dera that was uploaded via Brazzers Network in November 2017 and her first ever double penetration sex scene with Johnny Tattoo and Tyler Steel that was unveiled via LegalPorno.com in January 2018.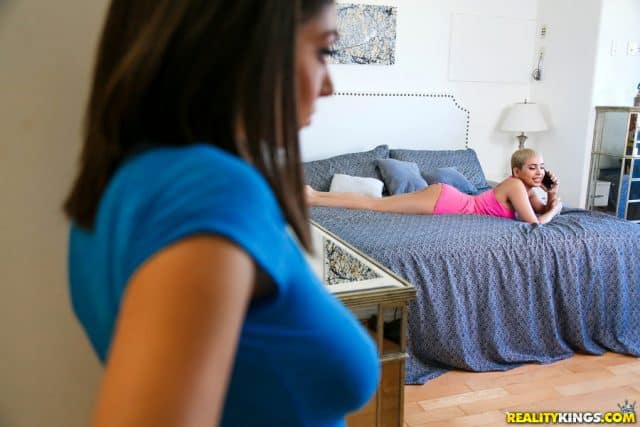 Darcie Dolce and Aaliyah Hadid in Make Me Moan – Reality Kings
Fans of Aaliyah Hadid will also love viewing her epic orgy in Lexington Steele and Savana Styles' DVD Orgy Heroes (2017), her taboo three-way with Marcelo and Nat Turnher in the Metro sequel Interracial Cuckold 2 (2017) that was nominated for "Best Polyamory Movie" at the 2018 AVN Awards and her saucy shoot with Ike Diezel in Axel Braun's Short Hair Don't Care (2018) for Wicked Pictures starring fellow cropped cuties Honey Gold, Riley Nixon, Nikki Hearts and Ava Little. Talking about her cropped hairstyle in her September 2017 AVN: Fresh Faces interview, Aaliyah Hadid stated;
"I shaved it off, and narrowed it—and I looked like a cancer patient, mixed with a glowworm. It was really bad. I let it grow out a little. My hair grows really fast, so I go every week to get it cut".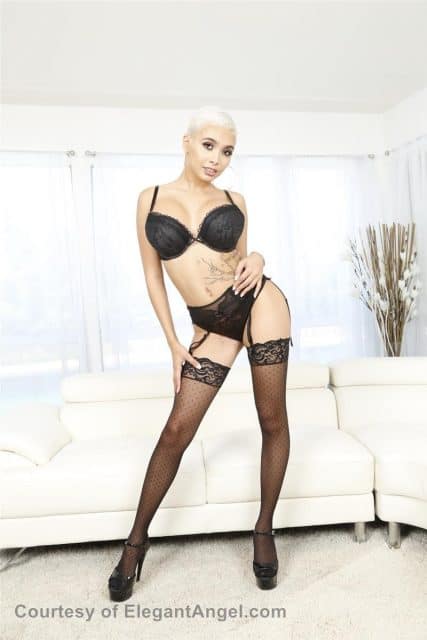 Aaliyah Hadid in Young Black Starlets – Elegant Angel – Adult Empire Galleries
Alongside her hot hardcore collaborations, Aaliyah has also established herself as a popular girl/girl performer. As matters stand, Aaliyah has filmed a thrilling Our Little Secret scene with Anna De Ville for Brazzer's Hot & Mean web series in October 2017, a sultry Make Me Moan scene with Darcie Dolce that was uploaded via Reality Kings in January 2018 and a steamy shoot with Keisha Grey which has been featured in the Devil's Film sequel release I Kissed A Girl And I Liked It 8 (2018). Aaliyah enjoys shooting these sizzling girl/girl collaborations. In fact, when she was asked about her favourite female co-stars during her June 2017 Adult DVD Talk interview, Aaliyah saucily stated that;
"I like the athletic type. Even though I have fake boobs, I like girls who have the all-natural vibe. I wanted boobs because I wasn't competing with a wall. I just had nipples with nipple rings. I wanted boobs because I wanted to fill out my outfits. When I feel like a tomboy, I'll wear baggie clothes or a onesie or whatever. I wanted boobs. I have the biggest porn crush on Abella Danger. Her ass is so nice. She is uh….man, she is just so beautiful. Holly Hendrix is my other porn crush. She's so tiny but she fits the world in her ass. She is an amazing performer. And my favorite person to work with is Honey Gold. People compare us so much. She's just so sweet and goofy like me".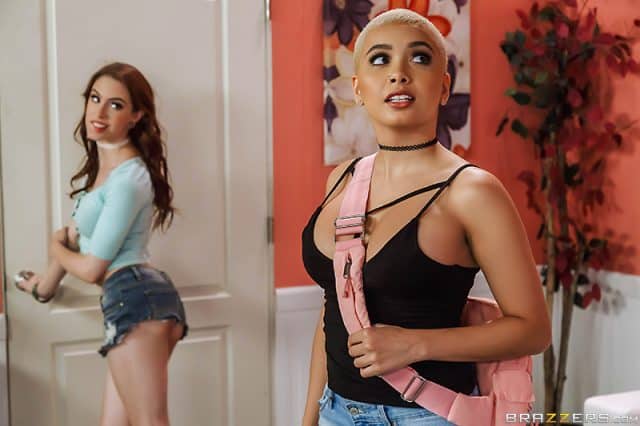 Anna De Ville and Aaliyah Hadid in Our Little Secret – Brazzers Network
Even though she has only been performing in porn for a couple of years, Aaliyah has already been named "Orgasmic Oralist" at the 2017 Urban X Awards and she was showcased in the Elegant Angel DVD Young Black Starlets (2017) alongside Honey Gold, Amethyst Banks, Mya Mays and Julie Kay. Aaliyah has since been featured in Black Anal All-Stars (2017) for Burning Angel with Nikki Darling, Kira Noir and Mya Mays. Director Joanna Angel had high praise for her star-studded cast, enthusing in an October 2017 AVN press release how;
"I love these intensely passionate sex scenes coupled with gorgeous horny babes with an affinity for anal…Every scene is unique to each performer, from oil being slathered on Aaliyah's juicy butt, to Small Hands and Kira Noir mischievously having anal sex on a stranger's bed…It's such a hot movie. I had a hard time keeping my hands out of my pants while directing this one!".
When she isn't performing in these best-selling DVDs Aaliyah enjoys interacting with her fans via social media and hosting lusty live cam shows via Camsoda (under the screen name 'aaliyahhadid').Aaliyah has never been afraid to speak her mind. After all, her Twitter handle is @letmesuckyadick! As Aaliyah explained in her September 2017 AVN: Fresh Faces interview;
"'I love sucking dick. Some people like painting, some people like watching TV shows, some people like working out. I love sucking dick. It's an art. That's my fetish, sucking dick'. She got the line from comic Kevin Hart: 'When a girl knows she's wrong, that's her first offer to a guy. It works for me'".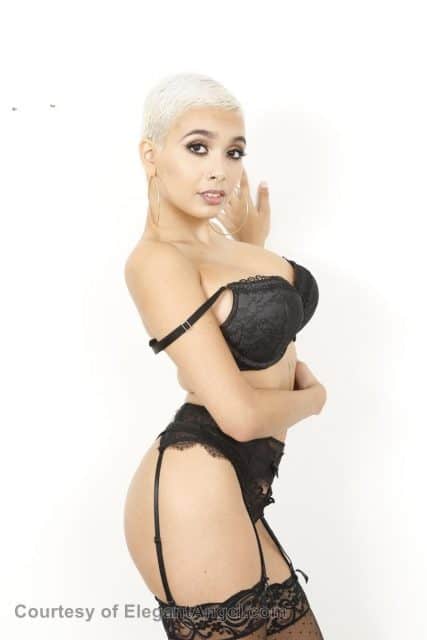 Aaliyah Hadid in Young Black Starlets – Elegant Angel – Adult Empire Galleries
Aaliyah has also mentioned in her June 2017 Adult DVD Talk interview that;
"Well, let's give credit where credit is due. LetMeSuckYaDick came from Kevin Hart in Let Me Explain. He was mimicking the woman after she was proven wrong by her husband. He kept says "Let Me Suck Ya Dick!" Someone on Twitter has the handle "lemme" suck ya dick which is what my Instagram is. So on Twitter, I had to go with 'Let me'".
So what does the future hold for rapidly rising starlet Aaliyah Hadid? Well, Aaliyah raunchily revealed in her  September 2017 AVN: Fresh Faces interview that;
"I'm actively stretching out my asshole, because I want to try fisting. Also a blow bang. I'll do anything once. I came into the industry not eating ass. Now I'm eating ass. I came into the industry not putting anything in my butt. Now I'm doing that…When you want to succeed as much as you want to breathe, then you will be successful".
Keen to catch up on all of Aaliyah Hadid's raunchiest releases, sultry solo shoots and exclusive web content? Then please feel free to use the links provided below to stay connected with your dream rising starlet Aaliyah Hadid!
Aaliyah Hadid – Social Networks
Camsoda : aaliyahhadid
Brazzers : Aaliyah Hadid at Brazzers
Reality Kings : Aaliyah Hadid at Reality Kings
Naughty America : Aaliyah Hadid at Naughty America
Cherry Pimps : Aaliyah Hadid at Cherry Pimps
IMDB Profile : Aaliyah Hadid Filmography
Fapnado : Aaliyah Hadid
 The Nude : Aaliyah Hadid at The Nude