Honey Gold
Honey Gold's Official Website : HoneyGoldxxx.com  Brazzers : Honey's Sex Scenes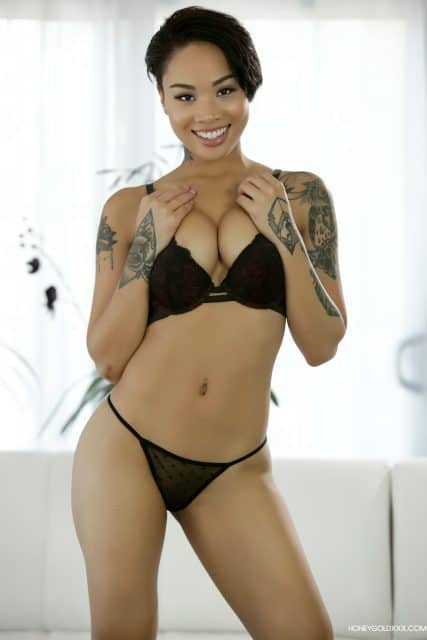 Click here to see more of Honey Gold's hottest sex scenes at HoneyGoldxxx.com
Honey Gold – Personal Info
Name : Honey Gold
Date of Birth : July 9th, 1993
Hometown : California (US)
Measurements : 32B – 25 – 34
Height : 5'4 (1.62m)
Hair Colour : Black
Eye Colour : Brown
Tattoos : Honey Gold has an amazing collection of tattoos including a baby owl on her left shoulder, a crescent moon above her right breast, a feather on the outside of her left forearm, a dream catcher on the inside of her right forearm, a lotus medallion on her right shoulder, a floral design around the back of her neck and a compass rose on her right forearm but to name a few!
Honey Gold's favorite tattoo is a geometric wolf on her left hand and she has talked about getting a steaming bowl of rice with chopsticks tattoo to celebrate her great grandmother who is from Canton, China. Talking about the origins of some of her intriguing body art in a September 2017 AVN Magazine interview, Honey revealed how;
 "Have you heard about how little baby owls will fall out of the nest or get kicked out of the nest? And they either survive or die? That's what happens to little baby owls…And I got this [baby owl on shoulder] because an owl doesn't only represent wisdom but the fact that I kind of relate to the whole concept of being kicked out of the nest or falling out of the nest in regards to my family. And I got this as a reminder to constantly push myself and fight to survive…
Her first tattoo, on her right forearm, is a 'compass rose' because Gold believes 'for some reason I feel like I never know where I'm going but I always end up right where I'm supposed to be'…Meanwhile, the lotus medallion on Gold's right shoulder is also special to her…'Everyone knows that a lotus grows in mud; it doesn't grow in beautiful circumstances and this relates a lot to my past because I didn't have the best upbringing but I feel I'm still able to thrive into something beautiful despite my background and my circumstances'".
Piercings : Hoop through nose and navel
Shoe Size : Women's 7.5 (US)
Pets : 2 dogs and a cat. Honey Gold commented in her March 2017 Adult DVD Talk interview that; "I have an all-black Pug and a new baby brindle Pit. She doesn't actually look like a Pit, she's so pretty. I have a cat too but my cat's getting old and he's getting kind of grouchy. I just feed him, pet him now and then but I keep my distance because I never know when he's in a bad mood".
Years Active : 2017 – present
Number of Scenes : 150+
Rapidly rising starlet Honey Gold is a popular pornstar, fetish performer and model who made her industry debut in 2017. During this time, inked angel Honey Gold amassed a devoted global fan following due to her stunning natural beauty, fun loving personality and epic porn scenes. In fact, Honey Gold quickly won "Best New Starlet" at the 2018 XBIZ, XCritic and Inked Awards. Definitely one to look out for in the years to come!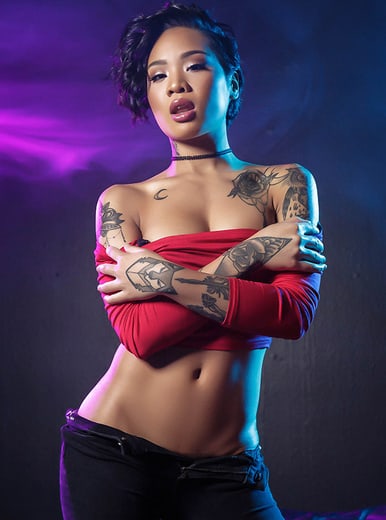 Click here to see more of Honey Gold's hottest sex scenes at Brazzers
Hailing from San Francisco, Honey Gold has mixed Cherokee, Chinese, Irish, Mongolian and African American heritage. Honey Gold comes from a very religious family and she was actually homeschooled for many years. Talking about her upbringing in her March 2017 Adult DVD Talk interview, Honey Gold mentioned that;
"Originally, I am from up north. I moved around to different areas. I was in Oakland, San Francisco, I spent a lot of time there. As far as school goes, I went to a public school for a couple years, then a private school. Then, from 3rd grade on, I was homeschooled through middle school and high school. Actually, I say I came from a very sheltered but not sheltered environment. Going into the typical middle school and high school, I was actually able to spend time in another country for various reasons. I got to do things that other people my age didn't get the opportunity to do. But, unfortunately, there was a bit of sheltering that happened because of the homeschooling. It was actually a Christian homeschool program. That's a very random fact about me. My parents are still married and they both are Christian. My father and mother are both heavily involved in the church. I come from a very hardcore Christian background. I'm starting to learn that people kind of expect that. (laughs) I was heavily involved in the Church myself prior to transitioning into porn. (laughs) It was just my family and I. I have 3 other siblings, I have an older brother, a younger sister and a younger brother who all know that I'm in porn".
Honey Gold left home just before she turned 19 and it was during this time that she lost her virginity. As pretty petite pornstar Honey Gold explained in her March 2017 Adult DVD Talk interview;
"Coming from a Christian background, you have that 'don't have sex before marriage' thing. So I was waiting until marriage and when I left home, I got to the point where I got sick of waiting. I wasn't meeting anyone, I wasn't dating. In fact, I don't understand the whole concept of dating, going out thing worked.  Apparently, the way I saw it, dating is when you were talking to people, getting to know them and you could "date" multiple people. That's apparently not how everything works. So not understanding any of that, I decided I just wanted to get fucked. I was thinking about banging the guy at my local Walgreen's or one of my co-workers at Chick-Fil-A. It ended up being the co-worker. He's my ex now so I got lucky. (laughs)".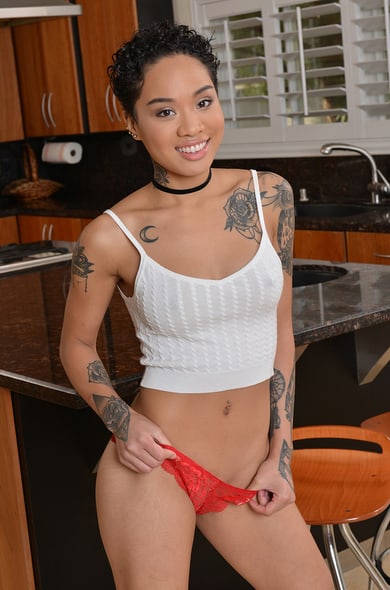 Click here to see more of Honey Gold's hottest sex scenes at Naughty America
After leaving home, Honey Gold held a series of 9 to 5 jobs before she discovered her porn star potential. From working in graphic design and being an apprentice for a draftswoman, to various coding, medical billing, dispensary, architecture and fast food jobs; you name it, Honey Gold's worked there! Unfulfilled by these jobs, Honey Gold started working as a freelance model and she discovered how empowering posing for erotic photography could be. Through her modelling work and the connections of her boyfriend, Honey Gold met several industry professionals who paved the way for her to shoot her first ever sex scenes for Burning Angel in early 2017. As inked rising starlet Honey Gold puts it in her own words;
"I was in graphic design, I was an apprentice for a draftswoman. I was in architecture, I was in medical billing, I did coding, I worked at a dispensary. I worked in fast food like Chick-Fil-A here in LA. I worked at a goat cheese place which I absolutely hate now because I got sexually harassed multiple times there….
I've had a very adventurous life and I've done a lot more things than most individuals my age. So, seeing that I've held a lot of professional jobs, a lot of unprofessional jobs, I just decided that I wanted to do something different and I just got tired of being bullied in the workplace. Either I was too black, too Asian, too young, too many tattoos…people always found a reason to overwork me and make sure I was underpaid because of my looks or my personality. It just got to the point where I was fed up with my life and I decided that I wanted to go into freelance modelling…
It was through doing erotic photography that I decided that this was what made me feel alive. I felt liberated doing that. It went from doing erotic photography to highly sexual photos that would be shipped out to high paying bidders that were outside the United States. I enjoyed how empowering it felt to the point where I thought I could take it to another level. When I met my current boyfriend, who is in the industry, he exposed me to a lot of other porn stars in the industry, the inner workings of everything and how it worked. Then I decided that, fuck, I wanted to do that. These people seemed happy, they are having a lot of fun and I had yet to explore my sexuality. This would be a really great place for me to explore my sexuality and cure this ridiculous sexual appetite that I have. (laughs)".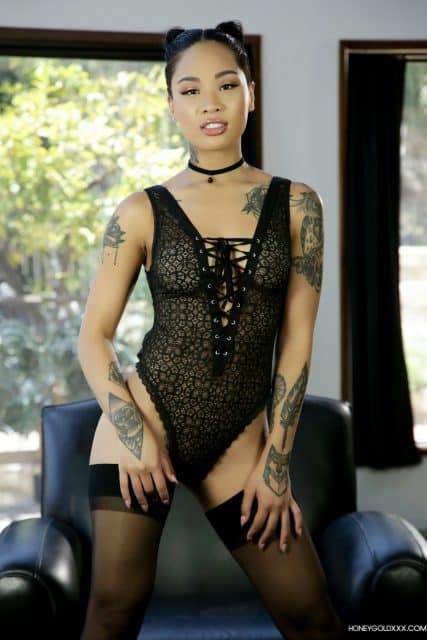 Click here to see more of Honey Gold's hottest sex scenes at HoneyGoldxxx.com
Honey Gold : Adult Film Career
Natural beauty Honey Gold filmed her first ever sex scenes with Small Hands in February 2017 for the Burning Angel DVD It's My First Time 5 (2017). Honey Gold's porn debut was an instant hit that was nominated for "Best Amateur/Pro-Am Movie" at the 2018 AVN Awards and "Pro-Am Release of the Year" at the 2018 XBIZ Awards. Honey Gold was thrilled to shoot her porn debut for Burning Angel and she ardently enthused in a February 2017 AVN press release how;
"Before I even decided to get into adult, BurningAngel was a company I really wanted to shoot for. Because I am a huge fan of Joanna. So to actually be able to do my first scene with her company was amazing. For me, I considered it one of the greatest accomplishments of my life. The experience was amazing, she's such a kind woman, and she just walked me through it every step of the way. Everything I hoped for with the adult industry was just confirmed when I shot for her. If I could repeat that whole experience, I would. I would love to relive that experience".
Popular inked pornstar Joanna Angel had similarly high praise for Honey Gold and enthusiastically stated within this AVN press release that;
"I know Honey Gold will go far in this industry…She's so horny and beautiful. Her scene was incredible. It didn't feel like a first at all—she was totally meant for porn".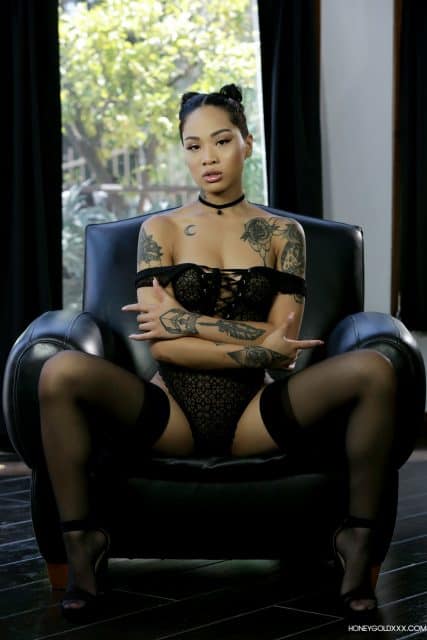 Click here to see more of Honey Gold's hottest sex scenes at HoneyGoldxxx.com
Consequently, Honey Gold starred in a steady stream of bestselling Burning Angel DVDs including Leather And Latex (2017) and My Stepsister And I Share Cock (2017). It was nominated for "Taboo Release of the Year" at the 2018 XBIZ Awards. Wondering how Honey chose her porn star stage name? Well, Honey Gold revealed in her March 2017 Adult DVD Talk interview that;
"There are two parts to this. The first time, I had this name in this head. Christina Perri has this song "Burning Gold". One of my ex's played this song for me when I was going through a really hard time. It finally hit home because if you listen to the lyrics and watch the music video, that is basically me in a nutshell. There is so much I wanted to do and I felt like I was trapped until "Burning Gold" got stuck in my head. I played it over and over again, I fucking loved it. So "Burning Gold" got branded in my brain.
Then, my Instagram followers were always commenting on how beautiful my skin tone was, my ex always commented on my skin tone and when someone would try to describe it, it's like a yellowish, brown, golden…like honey. People would struggle to describe my skin tone. I personally think I am Idaho Potato Brown. (laughs) After a while, people would tell me my skin was like honey because it was so rich with a golden undertone. So I was sitting with Donny and we had to come up with a stage name. This wasn't even for porn, this was just for an Instagram name. And I came up with some weird stuff. I came up with different names until I finally just came up with Honey and Gold. Honey Gold.
I thought that was stupid. Honey Gold, what the hell is that. And then I started googling it and I saw it was actually a color. It happened to be an apple. I thought Skin Diamond was different. She has a very unique stage name and it was probably weird when people first started saying it. Skin Diamond. What the hell is a Skin Diamond? But over time, people would accept it and get into it. So I haven't heard of Honey Gold. I love it because it matches my skin tone. I want it. So that's the weird way of how I came up with Honey Gold".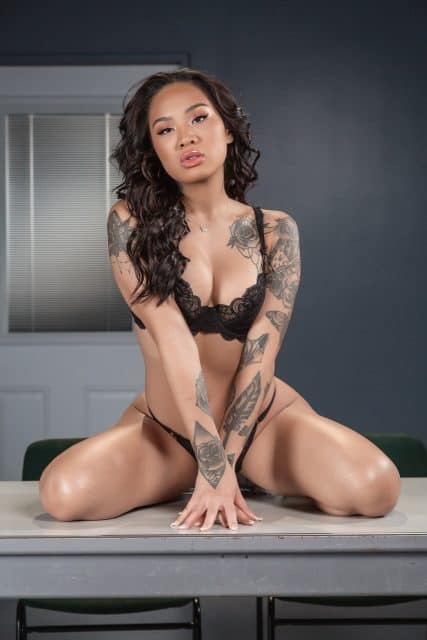 Click here to watch Honey Gold in "Fuck Christmas Part 3" at Brazzers
Upon making her porn debut, Honey Gold was signed with Mark Spiegler's exclusive adult film talent agency. Petite all natural pornstar Honey Gold carried out plenty of research before contacting Mark Spiegler and she conveyed in her March 2017 Adult DVD Talk interview how;
"I heard about different agencies and I did a lot of research and I read a lot of research. I really did a lot of research on Skin Diamond and Asa Akira in particular. I made sure I saw a therapist, I made sure I was emotionally stable and, after doing my research, watching movies, looking at the pros and cons AND looking up agencies, I decided I was going to contact Mark Spiegler, who is now my agent.
Most people ask, how did I find him? Well, after doing research, and reading about Asa and Skin, I thought Mark was the way to go and googled him. I contacted him and he knew, after our conversation, he knew that I had not released a single scene and was a complete virgin to the porn industry. I don't really know what he saw in me but he gave me an opportunity of a lifetime. He saw something in me and believed in me. He's been walking me through everything step-by-step which still, right now, blows my mind. For all he could have known, I could have been some lame that wanted to contact him. I don't know what it is that he saw but there's not a day that goes by that I'm not thankful for it".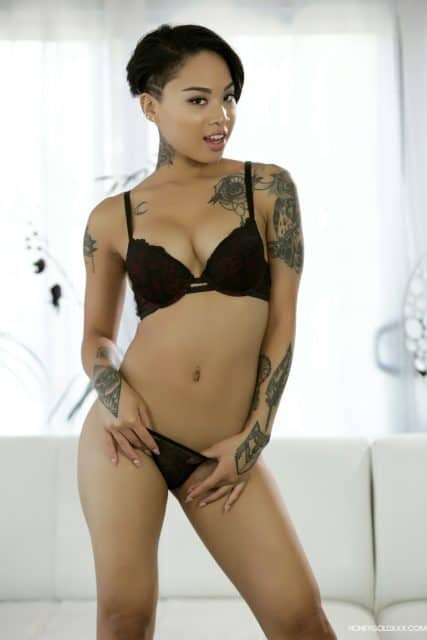 Click here to see more of Honey Gold's hottest sex scenes at HoneyGoldxxx.com
Honey Gold : Popular Porn Productions
As a bona fide 'Spiegler Girl', Honey Gold quickly began to collaborate with prominent porn directors such as Axel Braun. For example, you'll love watching Honey Gold's sizzling sex scenes in the Wicked Pictures DVDs Axel Braun's Inked 3 (2017) featuring Draven Star, Amber Ivy, Leigh Raven and Rizzo Ford. Moreover, Honey Gold starred in Axel Braun's Specs Appeal 2 (2017) and Axel Braun's Short Hair Don't Care (2018) with top short hair pornstars Riley Nixon, Nikki Hearts, Aaliyah Hadid and Ava Little.
During this time, Honey Gold was featured in the Elegant Angel DVD Swimsuit Calendar Girls 2017 with Jill Kassidy, Alexis Monroe and Karlee Grey. Furthermore, Honey Gold starred alongside Prince Yahshua in The Black Out (2017). In fact, it was nominated for "Best Ethnic Movie" at the 2018 AVN Awards. Consequently, Honey Gold filmed an epic group sex scene with Jessica Drake, Morgan Lee, Eric Masterson and Isiah Maxwell for the Wicked Pictures feature release An Inconvenient Mistress (2017). It was nominated for "Best Action/Thriller" at the 2018 AVN Awards and "Feature Movie of the Year" at the 2018 XBIZ Awards.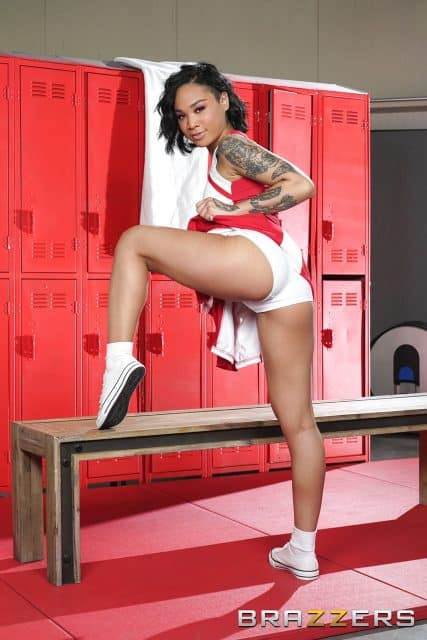 Click here to watch Honey Gold in "Fucking The Locker Room Perv" at Brazzers
But wait, it gets even better! In November 2017, sexiest rising starlet Honey Gold was featured within her very own signature showcase; Taste Of Honey (2017). Directed by Jonni Darkko for Evil Angel, Taste Of Honey showcased Honey in four fantastic squirt sex scenes with Violet Starr, Justin Hunt, Jonni Darkko and Markus Dupree, one of which was Honey's first ever double vag scene! Jonni Darkko enjoyed collaborating with Honey Gold and he highlighted in an October 2017 AVN press release how;
"When I met Honey, I knew something was special about her…She gives amazing performances, and it inspired me to do a showcase on her. I really wanted to give the fans a great taste of Honey—she's tasty sweet!…Honey trying double vag for the first time was fun to watch…I think her fans will love it. The energy level is really something—she gives 120 percent…Honey also does a super-high-energy, super-connected scene with Violet Starr".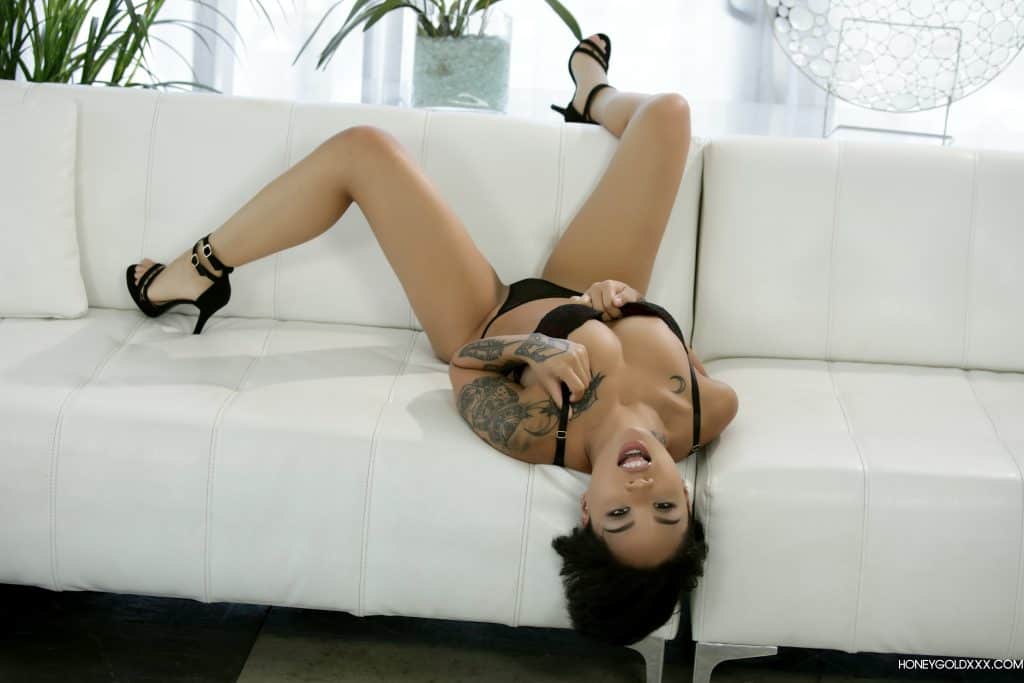 Click here to see more of Honey Gold's hottest sex scenes at HoneyGoldxxx.com
In fact, natural beauty Honey Gold's star showcase even earned her a glowing endorsement from prominent porn critic J.W. Sharp who commented in his December 2017 XCritic film review that;
"I am so happy for Honey Gold and her meteoric rise in the industry. She seems to have come out of nowhere and in just a few short months has become one of the most in demand performers today, turning up in title after title, and doing great quality work. Her beauty and amazing screen presence, along with her fantastic inhibition and willingness to try anything for the sake of performing, definitely makes her a force to reckon with.
I'm not ashamed to say my favorite parts of DVD were the modelling sequences before each scene, simply because she's so photogenic and the camera absolutely loves her. The rest of it is just great, beautifully photographed gravy from a true powerhouse. Jonni Darkko did a great job with this wonderful showcase DVD, and I Highly Recommend picking it up".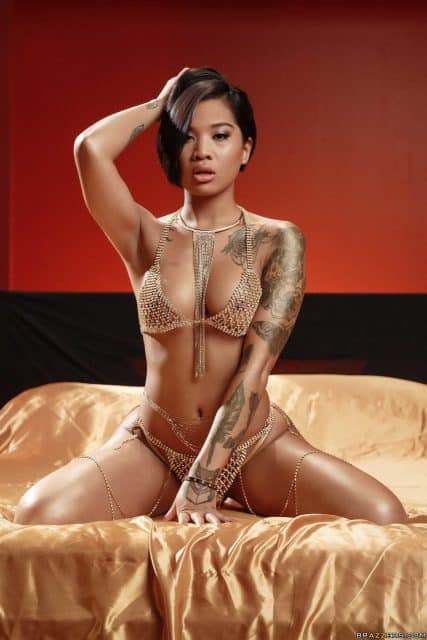 Click here to watch Honey Gold in "Gold Standard" at Brazzers
In addition to her hot hardcore productions, Honey Gold is also a phenomenal girl/girl performer. Fans of Honey Gold's lusty lesbian collaborations will love viewing her saucy sex scenes with Nikki Hearts in the Filly Films DVD Chopper Whores (2017) and her sultry shoot with Megan Rain in Women Seeking Women 143 (2017) for Girlfriends Films. Moreover, we recommend watching Honey Gold's raunchy session with Elsa Jean in Sexy On Set (2018) for Adam & Eve. One thing's for sure; Honey Gold loves her work! After all, as Honey Gold revealed in her March 2017 Adult DVD Talk interview;
"I don't have a guilty conscience at all. And it's not weird at all for me. It's probably the most fun I've ever had in my life. (laughs) I fucking love what I do. I'm genuinely passionate about it. I don't need to smoke weed, I don't need to take anything, I'm good to go on set because I genuinely love fucking and that's why I'm having so much fun. It's exciting to me".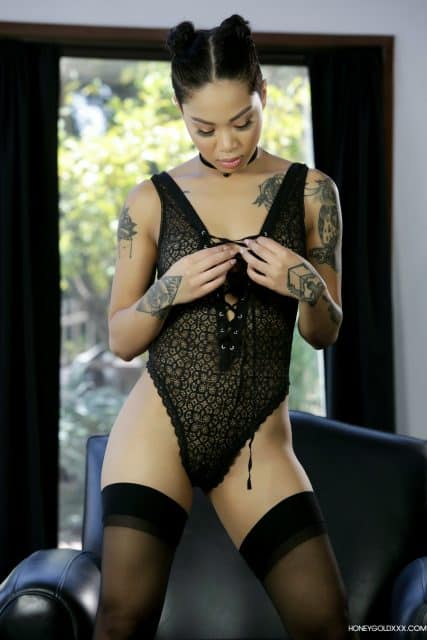 Click here to see more of Honey Gold's hottest sex scenes at HoneyGoldxxx.com
Honey Gold : Bestselling Movies & Industry Accolades
One of Honey Gold's must-see movies is Sacrosanct (2017). Directed by Kayden Kross for Trenchcoatx, this sensational four-part series was a critical and commercial success that won "Best Cinematography", "Best Anthology Movie" and "Best Director: Non-Feature" at the 2018 AVN Awards. In fact, it also earned Honey Gold a notable "Best Boy/Girl Sex Scene" nomination for her sultry shoot with Mick Blue. Kayden Kross loved collaborating with Honey Gold on this pioneering porn production and she conveyed in a June 2017 AVN interview how;
"Honey Gold is just amazing to watch…She has that enthusiasm and relentless energy that shines on screen. Plus she's absolutely gorgeous. I've never been more excited about a project. Each of the scenes in Sacrosanct are made to be dark and deeply personal. Katrina Jade was a perfect choice, and now Honey Gold has been a perfect choice. Both women are so willing to be raw on film…Making Sacrosanct was not only an adventure, but I got to explore my own erotic daydreams…I'm just grateful that people appreciate my work with Trenchcoatx and continue to support my dirty thoughts so I can keep making these movies".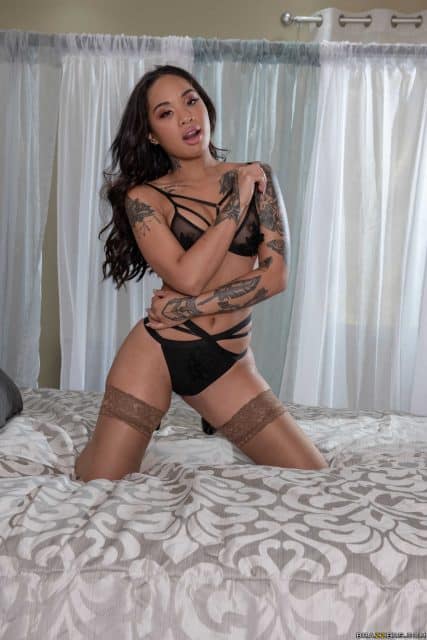 Click here to watch Honey Gold in "Head To Toe Perfection" at Brazzers
Want to know the most impressive part? In addition to receiving these notable nominations, Honey Gold was named "Best New Starlet" at the 2018 XBIZ, XCritic and Inked Awards! Honey Gold was thrilled to win these coveted titles and she sincerely stated in her 2018 XBIZ Awards speech that;
"I wasn't expecting this…My entire life I've done nothing but fight and struggle and face rejection. And when I got into this industry, I lost family. I lost friends…I want to thank each and every one of you I've worked with and those who have given me words of encouragement. I am a testament that your kindness has gone a long way. I've had good days and God knows I've had bad days. The encouragement I've received from so many of you has kept me going. I have found my passion and it is an honor to stand here among all my peers and accept this, because for once in my life I actually belong somewhere".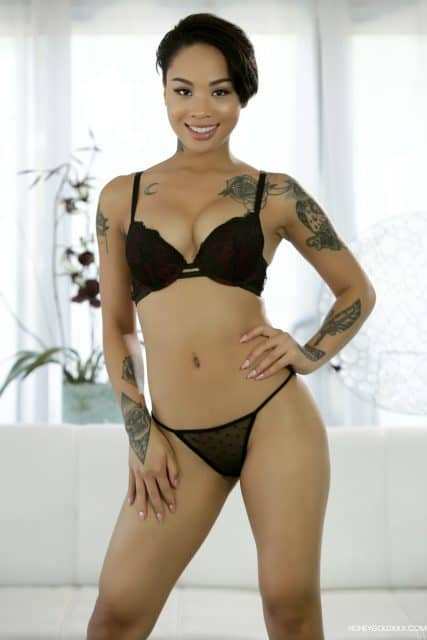 Click here to see more of Honey Gold's hottest sex scenes at HoneyGoldxxx.com
An incredibly deserving winner, Honey Gold continued to receive many coveted industry accolades and award nominations including;
2018: Inked Awards winner "Starlet of the Year"
2018: Inked Awards winner "Scene of the Year" Leather and Latex (with Xander Corvus)
2018: XBIZ Awards winner "Best New Starlet"
2018: Urban X Awards winner "Rising Star: Female"
2018: XCritic Awards winner "Best New Starlet"
2018: XCritic Awards winner "Best Girl/Girl Scene" Unleashed (with Eliza Jane, Jill Kassidy and Scarlett Sage)
2018: Spank Bank Awards winner "Exotic Femme Fatale of the Year"
2018: XBIZ Awards nominee "Best Scene – Feature Release" Agent 69 (with Mick Blue)
2018: AVN Awards nominee "Best Boy/Girl Sex Scene" Sacrosanct (with Mick Blue)
2018: AVN Awards nominee "Best New Starlet"
2018: AVN Awards nominee "Best Three-Way Sex Scene (Girl/Girl/Boy)" Naughty Black Housewives 4 (with Kira Noir and Prince Yahshua)
2019: AVN Awards winner "Best Three-Way Sex Scene (Boy/Boy/Girl)" Slut Puppies #12 (with Chris Strokes and Jules Jordan)
2019: Urban X Awards winner "Hottest Inked Star"
2019: Spank Bank Awards winner "Exotic Femme Fatale of the Year"
When isn't starring in these critically acclaimed porn productions, Honey Gold enjoys shooting kinky online content for Cherry Pimps  In fact, Honey Gold filmed some lusty live shoots with Small Hands and Tony Martinez that were broadcast live via Streamate as part of the Cherry Pimps'  raunchy Wild On Cam channel.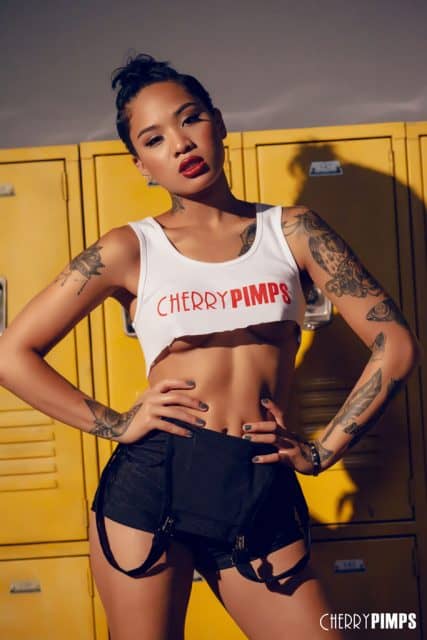 Click here to see more of Honey Gold's hottest sex scenes at Cherry Pimps
The best part? These kinky live shows proved so popular that petite all natural stunner Honey Gold became Cherry Pimps' "Cherry of the Month" for November 2017. Honey Gold enjoyed experimenting with this raunchy live content and she mentioned in an AVN press release that;
"It is such an honor to be named Cherry of the Month. Prior to this happening I would always scroll through the Cherry Pimps Instagram or Twitter dreaming that one day maybe I would be considered as a COTM. To me, it's a huge honor because Cherry Pimps is hands down one of my favorite companies to work for, and it was a huge dream of mine to be a COTM…The entire experience so far has surpassed any expectations I had and completely blew me away. Working with Dean is something I will take to my grave. Dean is incredibly patient, creative, and genuinely cares about what he does. My experience working with him has helped me gain a whole new level of confidence I never thought I had…
It was an absolute pleasure working with Small Hands for the second time. When I made my debut into the adult industry, he was the male talent that took my porn virginity! I am grateful that Cherry Pimps gave us the opportunity to reunite and bang out (literally) an amazing scene for you guys. The energy, chemistry, and overall flow of the scene is mind-blowing and I know that you guys will enjoy our scene as much as we enjoyed making it".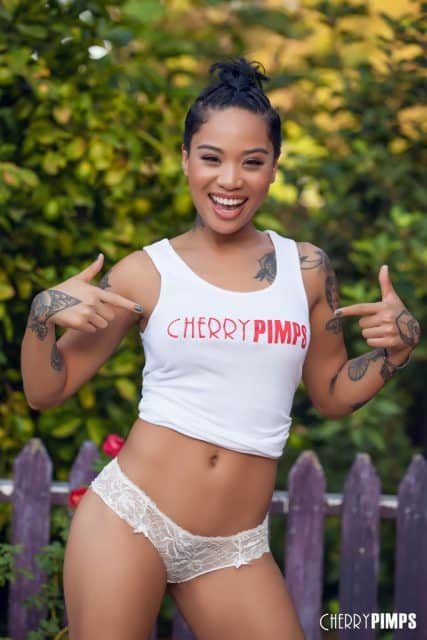 Click here to see more of Honey Gold's hottest sex scenes at Cherry Pimps
Another landmark moment in Honey Gold's porn career came in December 2017 when she became Bang.com's "Ambassador of the Month".  Ever eager to explore exciting new career ventures, in January 2018 Honey Gold launched her official website, HoneyGoldxxx.com, in collaboration with the CrushGirls.com Network. Talking about her official website in a January 2018 press release, prettiest fit and athletic pornstar Honey Gold hotly hinted that;
"I'm very excited to announce that HoneyGoldxxx.com is now live!…Fans will be able to keep up with my weekly blogs, live shows, steamy scenes, and so much more. My new website allows me to interact with fans in a much more intimate way while giving them a glimpse of life beyond the adult industry…
A lot of time, energy, and sex was put into creating this site, and I couldn't be prouder of the results…I had an amazing team behind me working with me every step of the way to make this possible. Now that I have partnered with Crush Girls, I'm looking forward to providing everyone with the content they will all love in one place".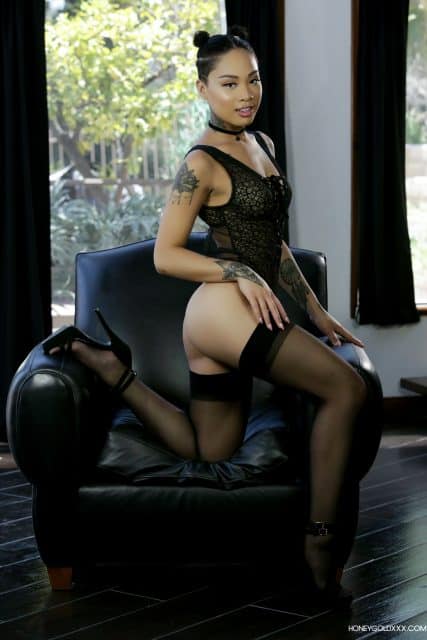 Click here to see more of Honey Gold's hottest sex scenes at HoneyGoldxxx.com
What does the future hold for rapidly rising starlet Honey Gold? Only time will tell! In the meantime you can discover all of Honey Gold's hottest sex scenes, exclusive web content and upcoming projects using the links provided below!
Honey Gold – Social Networks
Official Website : HoneyGoldxxx.com
Brazzers : Honey Gold at Brazzers
Burning Angel : Honey Gold at Burning Angel
Cherry Pimps : Honey Gold at Cherry Pimps
Instagram : @honeygoldlovexx
Naughty America : Honey Gold at Naughty America
The Nude : Honey Gold at The Nude