Allie Haze
Allie Haze Twitter: @alliehaze   Naughty America : Allie's Sex Scenes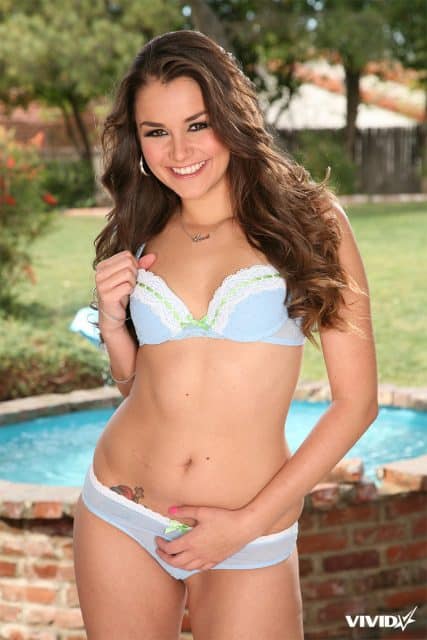 Allie Haze – Personal Info
Name : Allie Haze
Alias: Ally, Brittany Joy
Hometown : Redlands, California (US)
Date of Birth: May 10th, 1987
Star Sign : Taurus
Measurements : 34A – 26 – 38
Height : 5'7 (1.70m)
Hair Colour : Brunette
Eye Colour : Brown
Tattoos : Multi-colored design of the Sacred Heart with a scroll encircling it on her right hip
Pets : 2 English Bulldogs. As Allie mentioned in her Barelist interview;
"I have two dogs a boy named Smoke who is a white English Bulldog and a girl named Daisy who is a English Bulldog/Pit-bull Terrier mix and they brighten up my world!".
Years Active : 2009 – present
Once the wife of a preacher in San Bernardino County, now a bisexual porn star with a string of AVN and XBIZ Awards under her belt, there's no telling what Allie Haze will do next! Best known for her stellar performance as Princess Leia in the Vivid porn parody Star Wars XXX (2012), Allie Haze remains one of the most popular performers of the past decade.
This internationally acclaimed adult film performer was born and raised in Redlands, a city within San Bernardino County, California. Allie Haze's stunning looks can be attributed to her Dutch and Hispanic heritage, and from a very early age she had already begun modelling, performing in local theatre productions and competing within beauty pageants.
After graduating from high school Allie Haze held a series of jobs which ranged from babysitting to working as a manager at a local sandwich shop called Hogi Yogi and training as a veterinary technician. Allie Haze also attended Crofton Hills College and had originally intended to become a fire-fighter. However, as Allie Haze explained during a 2012 Hobo Trash Can interview, she never completed her fire-fighter training because;
"I was going to college to be a fire-fighter. I was studying at Crofton Hills College. I was in a really bad accident, so I only made it halfway through the program. The thing in those programs is once you start, you can't miss any days for any reason. I was in the hospital, they knew what was going on, but I would have had to restart the program over, so I just ended up being a bartender instead. Then I went to porn".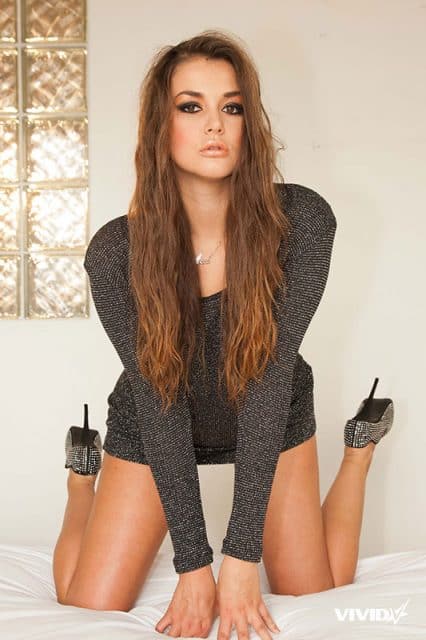 Discussing her significant shift in career during her Men's Mag Daily interview in March 2014, Allie Haze expressed how;
" I had a passion for fire fighting since I was about 15. I was in the youth program that you could do and in college that's what I did. But I love what I do now. There's so much more in the adult business than just being a performer and that's what I like. You can diversify. You can try so many different things".
Another aspect of Allie Haze's early life which may surprise you is the fact that she married a preacher when she was 18 years old! However, this relationship did not last and Allie  Haze was divorced by the time she was 20 years old. Allie Haze has always been happy to talk about this period of her life and in various interviews has stated that she was way too young to get married. As Allie Haze conveyed during her Miami.com interview;
"Being married was different. I thought that I was in love at the time. . . . . Things didn't work out. My family was real religious growing up any way. Being around religion and having religion in my life has been there ever since I was a kid. As I grew up, I just had a different take on life and different thoughts about things. Don't get me wrong, I still believe in God and things like that. I still have a religious part to my life. But I also believe that I should be able to do what I want. As long as I'm not harming anybody, robbing any banks or doing anything against the law, I should be able to be happy with what I do with my life".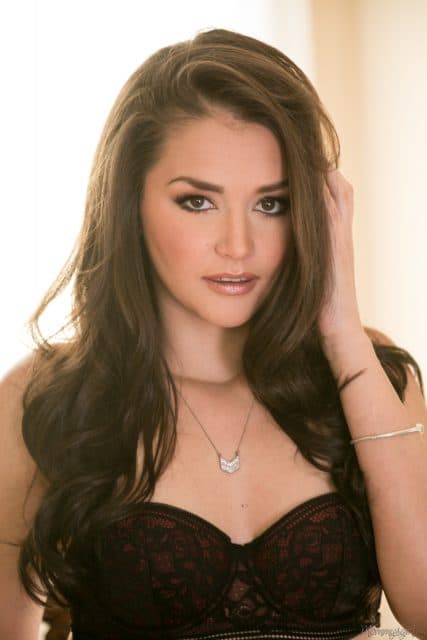 In fact, Allie Haze actually identifies as bisexual and has admitted in previous interviews that she only decided to work in porn because it provided a safe way to meet girls! As Allie Haze confessed during her March 2014 Boston Single Girl interview;
"Well I've always been into girls, and identified as a lesbian when I was younger, before my marriage. But I got sick of going out to bars, picking up women, taking them home, only to find out that they weren't really into girls and that it was all just for show in front of the guys at the bar. That wasn't what I wanted because I was really into girls and having sex with women. That's what pretty much led to me getting into the business because it provided a safe and fun way for me to have sex with other women who liked to have sex, not be a tease for a bunch of guys".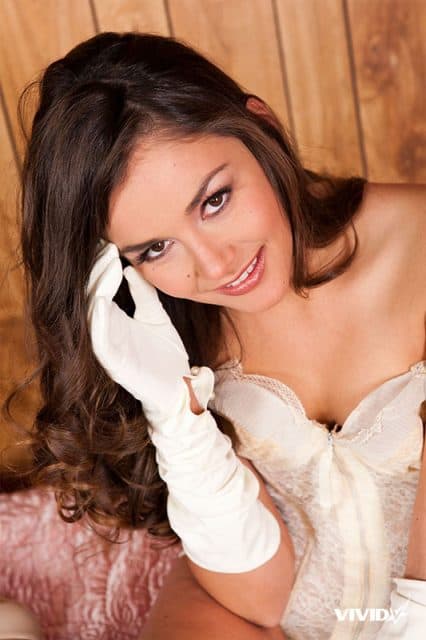 Allie Haze elaborated on this point during her May 2014 Fleshbot interview;
"Normally they just wanted to make out with me at a bar to impress other men, and I'd take them home and they'd be freaked out by the fact that I tried to have sex with them. (Laughs)…So I started to get frustrated with that, and I mentioned it to a couple of friends and they were like, "why don't you do porn or something," and I was like "what?" I'd never even watched it, I'd maybe seen a dirty magazine or two, but that was about it. It wasn't something that was a very relevant thing to me. I was married from the time I was 18 until I was twenty, I was raised in a very religious family, so it wasn't even something that had crossed my mind…
I was still in college, I was going to college to be a fire-fighter, so it's not something that I thought was going to my career, I figured I'm still going to college, and this is just something I can do on the side, for fun, and I can drive into LA every now and then, and shoot some scenes, it'll be fun. So the first time I shot a scene I was like, "All right, this is really cool." Everybody was super nice, the atmosphere was great, everybody was just having fun and it was a good time, and I just never turned back".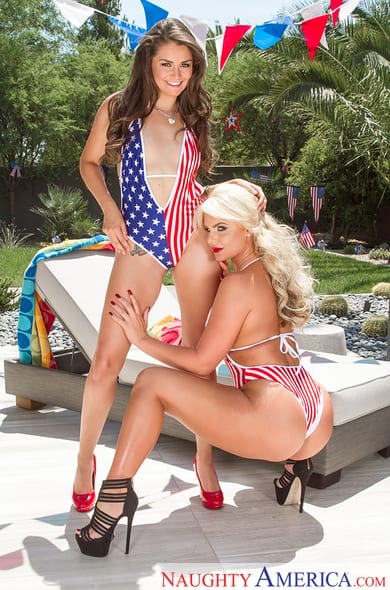 Allie Haze and Phoenix Marie – Naughty America
Allie Haze comes from a very conservative, religious household. As a result, her parents were initially very reluctant to accept her adult film career. As Allie Haze divulged in her Men's Mag Daily interview;
"There was a good year where me and my parents didn't have much communication, didn't really speak at all. That was hard for me but that was a time in my life where I was defining myself as a person. I'm an educated woman and when I made the decision that I wanted to do porn and not walk away from it I realized that part of that was that it was going to tick a lot of people off. I was kind of prepared for that. I tried to explain to them so they understood and they were just confused. I wanted to be a fire-fighter and that's what I was in college for and I chose such a different career path. They were more mind boggled than anything else I think. But it wasn't like I was changing; I'm still the same person. I'm just bringing my personality to porn; porn isn't taking my personality away from me".
As Allie Haze elaborated in her Crave Online interview;
"I'm very fortunate to have kept a lot of the same friends from High School and to have kept in touch with a lot of people who aren't in the porn business, but as far as my family goes they weren't very supportive in the beginning, but they've got used to the fact that I'm a porn star, that this is my job and I love it. A lot of people are either okay with it, or they just don't talk about it (laughs)".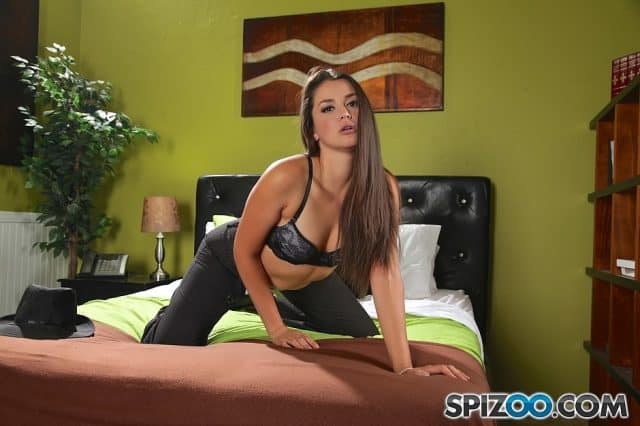 Allie Haze : Adult Film Career
In July 2009 Allie Haze filmed her very first sex scenes for Reality Kings which were released via the network's Pure 18 website in September. Originally Allie Haze had intended to work as a webcam model and thus chose her stage name because a friend of hers suggested choosing a name which would appear at the top of alphabetically ordered adult cam-site listings. Allie Haze combined this website listings tactic with her favourite soccer team as a child, the Albany Alleycats, and decided upon 'Allie'. Allie Haze's porn star surname 'Haze' was derived from her former fiancé's last name Hayes.
For the first six months of her adult film career Allie Haze only shot girl/girl sex scenes and performed alongside popular female porn stars such as Alexis Texas in Pound The Round POV 2 for Digital Sin, Kagney Linn Karter in Mother-Daughter Exchange Club 9 for Girlfriends Films and Britney Stevens in She's My Man 6 for L Factor.
By the end of 2009 had Allie Haze filmed her first ever boy/girl sex scene with Ramon Nomar which was distributed via the Reality Kings network website, Pure 18, under the title High Off Allie. 22 year old Allie Haze soon began to make a name for herself by appearing in boy/girl sex scenes for popular DVD feature releases such as Barely Legal 101 for Hustler Video alongside Joey Brass as well as High Off Asses 3 and Big Bodacious Knockers 7 for Lethal Hardcore alongside Criss Strokes. Allie Haze's solo sex shoot in the JM Productions DVD feature release Over Stuffed 10 was also extremely popular and the film itself was nominated for "Best Solo Release" at the 2011 AVN Awards.
What's more, Allie Haze's fresh-faced appeal meant that she was soon sought after to appear in a wide range of teen porn productions including Teens Like It Big 8 for Brazzers, Slumber Party 4 for Pure Play Media, Babysitters 4 for Mile High, Awakening To Love for New Sensations and Starlets 2010 for Elegant Angel which was nominated for "Best All-Sex Release" at the 2011 AVN Awards.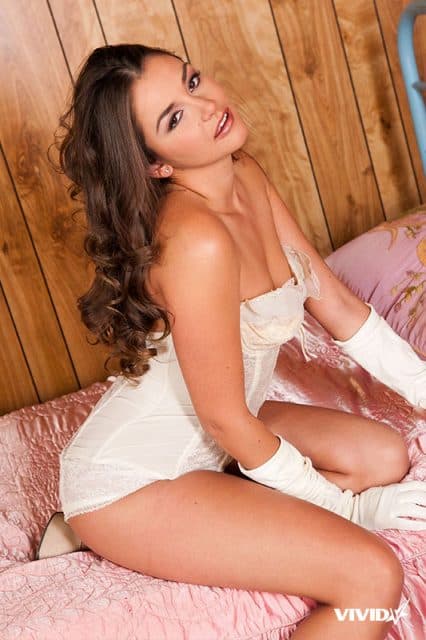 Allie Haze : Emmanuelle European Erotic Film Series
A pivotal moment in Allie Haze's adult film career occurred at the 2011 Cannes Film Festival when it was announced that she would play 'Emmanuelle' in a nine film European erotica series. Allie Haze was the talk of the town after this announcement; with French publication Le Nouvel Observateur reporting that;
"She succeeds Marcela Walerstein and…Syliva Kristel, the 'first' on-screen Emmanuelle," in a series that began some 40 years ago…filmed in 3D in 2010, the new series of films is being been promoted at Cannes. The little flirt doesn't perform under her porn-name (Allie Haze), but rather under her 'mainstream' screen name: Brittany Joy. Meanwhile, porn film studio Vivid has signed Allie Haze to an exclusive contract".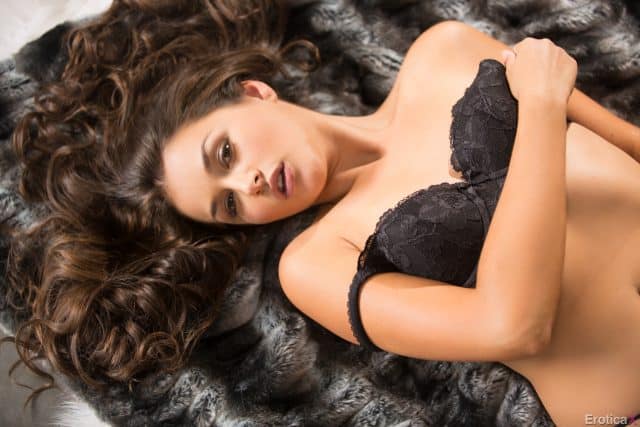 As XBIZ News reported at the time of this announcement;
"Her selection as Emmanuelle comes after Siritzky, who was producer and executive producer of the earliest films in the series, went on a worldwide search for an actress to star in the new nine-film series…
Media reports indicate that the "new" Emmanuelle retains the trademark eroticism of the coming-of-age series, but is designed to appeal to younger audience as it tells the fanciful story of a young woman's journey into adulthood. The series was be shot in 3D and, according to Siritzky, includes an appearance by a 700-foot long state-of-art blimp that promotes a green lifestyle as it travels the world from New York to Rio to Vietnam and finally to Paris".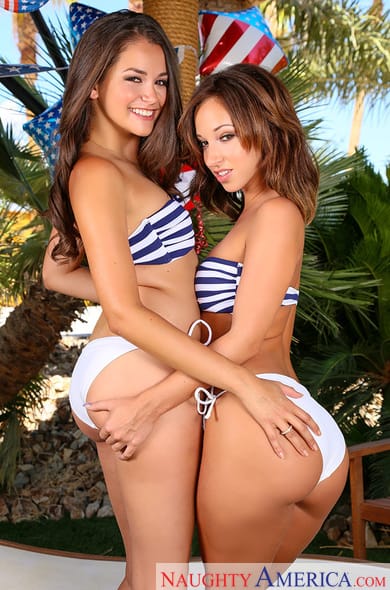 Allie Haze and Jada Stevens – Naughty America
Reflecting upon her role as Emmanuelle in her May 2014 Fleshbot interview, Allie Haze commented that;
"that was definitely intense and, I mean, we shot that in 2010 and I had just entered the business in 2009, so it was just this huge jump at the beginning of my career. I took four months off from shooting adult, because we shot six days a week for four months, and we shot seven feature films. So not only was there a lot of time and dedication, there was an over 800 page script, so there was a ton of memorization, and then, like you said, there was living up to this iconic character that just changed the whole wave of watching sexual things on TV in the 70s, it was a huge thing!…
I definitely made sure that I studied a lot of the original character, when Sylvia Kristel played it. Unfortunately she's passed away now, so I never got to meet her, which is really unfortunate, I really would have loved that. But I also got picked for the role by the producer. The producer was the original producer from the 70s, it's been the same producer all the way through, which is crazy, a lot of people don't know that, and he picked me. He felt that I was the most accurate representation of our day and age of Sylvia Kristel, which was very nice, that's a really great compliment".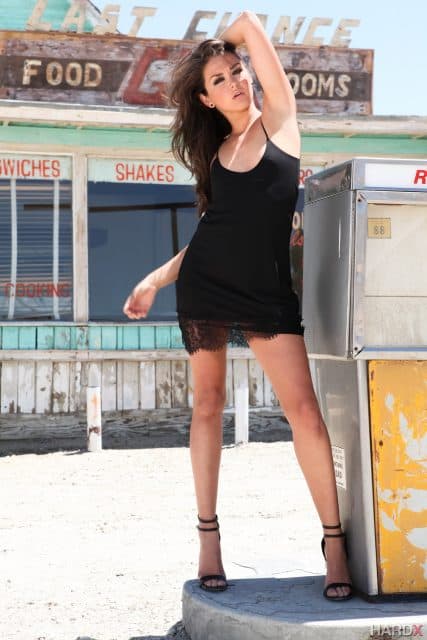 Allie Haze : Parody Porn Productions
After completing her nine film series role as Emmanuelle in late 2011, Allie Haze went on to shoot one of her most popular porn productions to date; the February 2012 Vivid sci-fi spoof Star Wars XXX: A Porn Parody. Directed by Axel Braun, Star Wars XXX was a critical and commercial success which won "Best Parody: Comedy" at the 2013 AVN and XRCO Awards as well as being named as "One of the Greatest Adult Films of All Time" in Showtime's 2015 X-Rated documentary. Allie Haze personally received a trio of "Best Actress" nominations at the 2013 AVN, XBIZ and XRCO Awards as well as a "Best Scene – Parody Release" nomination at the 2013 XBIZ Awards due to her raunchy group shoot with Rocco Reed and Seth Gamble.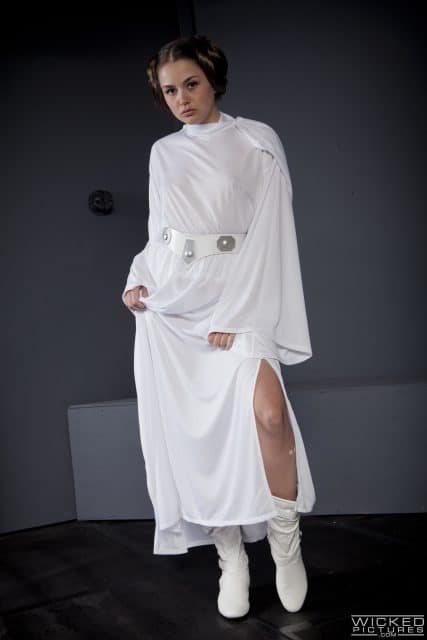 Allie Haze noted during her January 2012 AVN interview that she was particularly thrilled to work on this Star Wars parody because;
"I was definitely a fan of the movies, mostly because of Harrison Ford. I was a huge Harrison Ford fan growing up. I watched all his movies and that's how I got into Star Wars…Playing Princess Leia was incredible. Getting to work for a director and crew that wanted to stay as close as possible to the original material gave me a bigger challenge as an actress to interpret someone else's character in my own way while staying true to the role. I think it was as close as it could be but still being me and putting my own touch on it. I would freak myself out a little bit because I'd watch the originals and see how similar it was but playing the character in my own way…
When people think of the word parody, they think of comedy, or a humorous take on something. [Director] Axel [Braun] has such reverence for the originals that it's more of an homage, even though there are plenty of funny moments".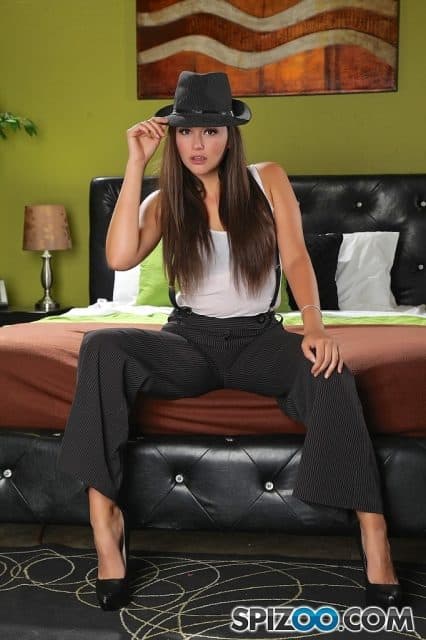 In fact, Allie Haze was so eager to land the role of Princess Leia that she turned up at her Star Wars XXX audition in full Leia makeup and hair! As Allie Haze stated within her January 2012 AVN interview;
"I did audition, and I came as Princess Leia, in street clothes, but with my makeup and hair done—you know, I had the buns! I wanted them to visualize me as the character already. I had never met Axel before that day. I knew who he was and wanted to be in one of his movies since I started in the business. A year and a half in and I had never auditioned before, so to do it for him, and to get this part, was just very special".
Furthermore, Allie Haze confessed within her 2012 Hobo Trash Can interview that;
"I grew up kind of a sci-fi geek. On weekends spending time with my grandma, my grandma loved the SyFy Channel. All we would do is lay in bed all day for eight hours and watch the SyFy Channel. I'm big on sci-fi stuff…If I could do one thing with my life – and don't get me wrong, I'm very happy with my life right now, I'm very successful and very blessed to have the opportunities I do – but probably like my one dream would be to have my own sci-fi series. I don't even care if it makes it two seasons. I just want one season. I want some strange sci-fi series, that would be the best thing ever".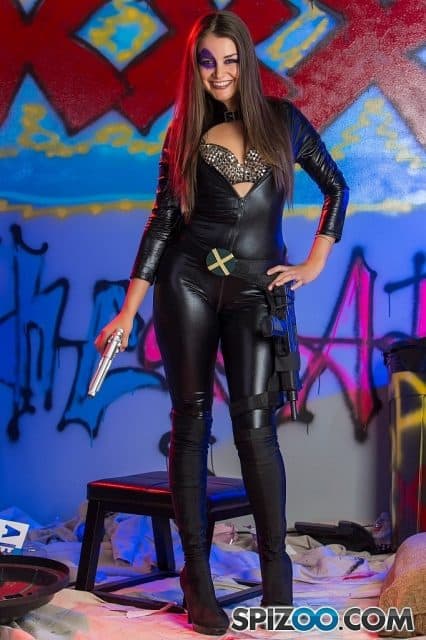 Allie Haze's performance as Princess Leia in Star Wars XXX was instrumental in her signing with Vivid Entertainment a few months later. As Allie Haze explained;
"I came to be contracted with Vivid about a month or so after Star Wars. I take pride in the fact that I wasn't a contract girl and I got this amazing role. It all came together in a cool way. Prior to the Star Wars audition I had never shot for Vivid before. However, I did have a booking for a B. Skow project, which was going to take place about a week or so after the audition. I got cast in Star Wars and then did my booking for B. Skow. After the scene B. Skow asked if I was interested in being contracted. At first I was sceptical, but being a contract girl was a goal of mine since I first got in the business. So we talked about it for a bit and he said he would talk to [Vivid co-founder/chairman] Steven Hirsch and that I'd be hearing from them. This was after my first time working for them! I got a phone call the following week that they wanted to meet with me…
I was truly excited about this, and of course, a little bit nervous. So when I went in Steven explained to me that the studio was only going to add a contract girl under special circumstances, but that since Axel and B. Skow came to him about me separately, he wanted to meet me".
Consequently, in May 2011 Allie Haze signed an exclusive performing contract with Vivid Entertainment . Allie Haze made her Vivid adult film debut in her November 2011 star showcase Allie Haze: True Sex before her performance in Star Wars XXX: A Porn Parody was unveiled in February 2012. As mentioned above, Star Wars XXX: A Porn Parody was an instant hit which has since been named as "One Of The Greatest Adult Films of All Time" in Showtime's 2015 X-Rated: The Greatest Adult Movies of All Time  documentary.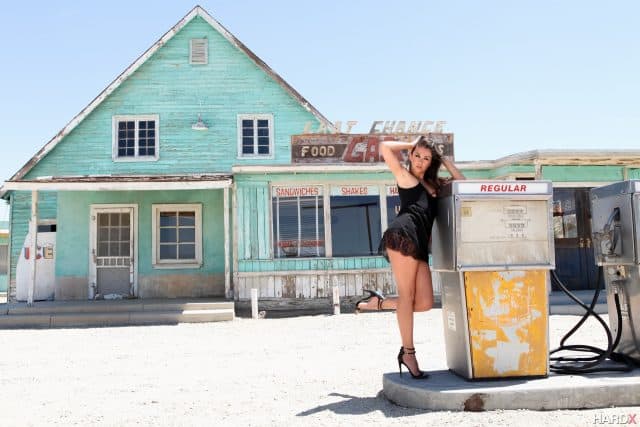 Want to know the best part? Over the years Allie Haze has starred in an impressive collection of porn parodies. Our top picks? They'd have to be Clerks XXX (2013) which won "Best Parody: Comedy" at the 2013 XCritic Editor's Choice Awards as well as earning Allie Haze a "Best Actress" accolade, Wolverine XXX (2013) that won "Best Parody: Drama" at the 2013 XCritic Editor's Choice Awards and which earned Allie Haze a "Best Three-Way Sex Scene" nomination at the 2014 AVN Awards for her thrilling three-way with Derrick Pierce and Xander Corvus, X-Men XXX: An Axel Braun Parody (2013) that earned Allie Haze a "Best Actress – Parody Release" nomination at the 2015 XBIZ Awards and Austin Powers XXX (2014) which won "Best Special Effects" at the 2015 AVN Awards. The list goes on!
Working on these types of popular parody productions has earned Allie Haze a whole new network of adoring fans. As Allie Haze enthused during her Men's Mag Daily interview;
"I love my fans, they're great. I spend a lot of time on Twitter giving my fans information about myself and letting them see my real personality. I get a lot of really down to earth fans because of those movies. People always ask me if I have any creepy or deranged fans and I'm really lucky because I have an amazing fan base. They're so respectful and encouraging. Like you said, I have a really diverse fan base and it's like every time one of the movies comes out I get to see this new group of fans and they're really interesting".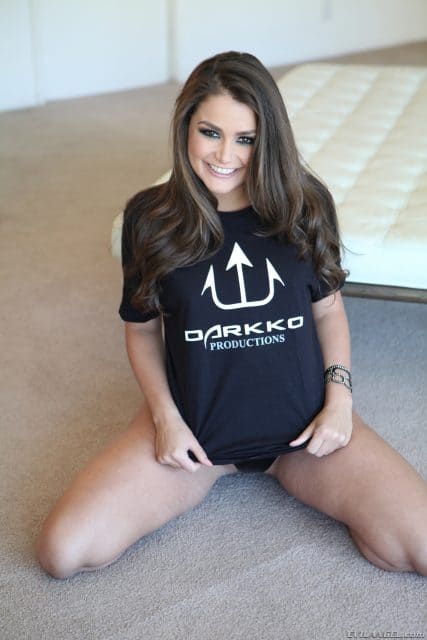 Allie Haze : Fetish Porn Productions & Signature Showcases
After parting ways with Vivid when her contract ended in May 2012, Allie Haze was represented by LA Direct Models until her contract expired in June 2015. During this time Allie Haze starred in a wide range of popular porn productions and she was named in CNBC's annual "The Dirty Dozen: Porn's Most Popular Stars" list in both 2012 and 2013. Pretty impressive!
Throughout her adult film career Allie Haze has experimented with various niche porn genres such as fetish, femdom, bondage and BDSM content. Branching out from her innocent teen porn image, Allie Haze began performing for the fetish porn website Kink.com in May 2010 when she appeared in Breathe for their Device Bondage web series. Allie Haze has since starred within multiple online sex scenes for Kink.com's Device Bondage series as well as shooting installments for their popular Foot Worship, Fucking Machines, Sex and Submission and Ultimate Surrender: Intense Brutal Sex Wrestling franchises. Allie's most recent Kink.com performance was in March 2015 when she teamed up with Brooke Aniston, Amy Brooke and Krissy Lynn in order to shoot 5150: The Most EXTREME Lesbian Anal Footing Ever!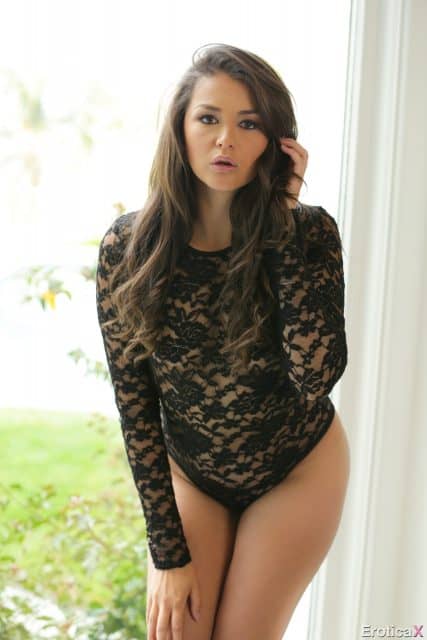 In addition to her Kink.com collaborations, Allie Haze has also featured within the Smash Pictures DVD feature releases Bound By Desire 1: A Leap Of Faith, Bound By Desire 2: Collared And Kept Well and Bound By Desire 3: Property Of Love. Directed by Jim Powers, these bondage themed productions received multiple nominations including "BDSM Release of the Year" and "Best BDSM Release" at XBIZ, AVN and Nightmoves Awards throughout 2014 and 2015.
When asked about her Kink.com performances, bondage themed DVD feature releases and her domination or submission porn preferences during her January 2016 Adult DVD Talk interview, Allie Haze defined herself as a switch and stated that;
"It depends on who I'm working with. I can tell if somebody that I'm working with if I can be more dominant with them. I like to take charge but I don't mind if somebody takes charge of me as long as they know what they're doing. (laughs)…
Most of the stuff that I do, I do it on camera. That's because it's a controlled, safe environment which makes me comfortable and allows me to push my limits a little bit further than I do in my bedroom. The kinkiest stuff I've done is on video. That's one of my favorite things because anyone who has been a watcher of mine from the beginning has shared this journey…Yes, I like to work with and do things with different performers and directors as long as that's what everybody else is comfortable with. I'm not into pegging in a demeaning manner but as a sexual manner. I find it very attractive that another man would allow me to do things with him sexually that may or may not be seen as a little bit more taboo".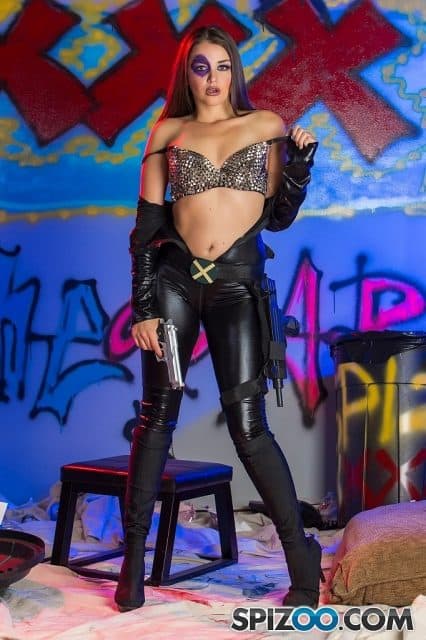 Throughout her adult film career Allie Haze has also performed with multiple signature showcases. Allie Haze's first ever signature showcase, Allie Haze: True Sex, was distributed in 2011 whilst she was still signed with Vivid Entertainment. Allie Haze: True Sex was a commercial success and Allie Haze's saucy sex scenes with Ella Milano, Lexi Belle, Barry Scott, Evan Stone, Marco Banderas and Jerry were nominated for "Best Vignette Release", "Best Group Sex Scene" and "Best All-Girl Sex Scene" at the 2013 AVN Awards.
Allie Haze filmed another signature showcase with Vivid Entertainment in 2013 titled All About Allie. Directed by B.Skow, this second signature showcase was also a smash-hit amongst Allie Haze's fan base and it received nominations for "Best All-Sex Release" at the 2013 Nightmoves Awards and "Best Star Showcase" at the 2014 AVN Awards.
Allie Haze filmed her next signature showcase for Mile High Productions in 2014 alongside the award-winning Hard X director Mason. This signature showcase was especially significant for Allie Haze because it featured her first ever anal sex scenes! Allie Haze enthused about working with renowned adult film director Mason on this landmark signature showcase in an April 2014 AVN press release, stating that;
"Working with Mason, we wanted to focus our attention on capturing this beautiful moment and experience," Haze said. "Everything fell into place so well, and working with Mason was icing on the cake. I am really excited to finally release my first anal, and what better way than on the fifth anniversary of my very first scene. This is just the beginning!".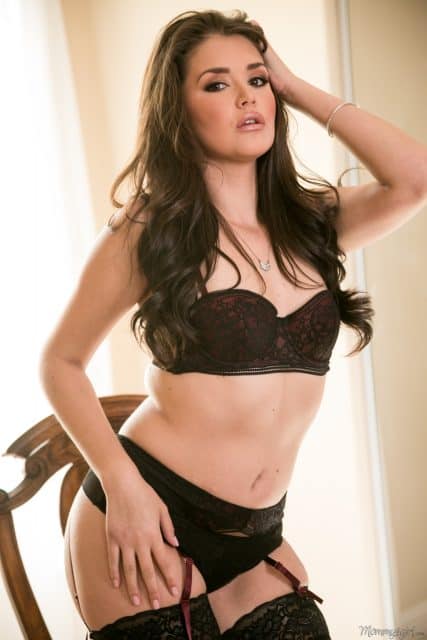 Moreover, when Allie Haze filmed her first anal sex scenes she didn't just deliver a few saucy shoots, she released an entire show-reel! Allie Haze explained her reasons for doing so during her May 2014 Fleshbot interview;
"My theory was, in my brain, that when girls release their first scene, whether it's DP or something, I feel like they release one scene of it, in one movie. To me, I've been waiting so long to do a movie like this, physically and mentally, just all of it, I've been waiting a very long time. So I thought, well that's like sending someone a box of chocolates and then telling them that they only get to eat one chocolate. So I figured, if we're gonna do this, let's give the fans a whole movie of anal. Let's not just do one scene, let's make a whole movie of anal, let's release it as that! So I'm really excited".
Once again, Allie Haze's signature showcase was a commercial and critical success; cementing her status as one of the most talented female porn stars in the adult entertainment industry and earning her a 2015 "Best Three-Way Sex Scene" AVN Award win for her saucy sex scene with Mick Blue and Ramon Nomar. Listed below are all of the prestigious adult film accolades that Allie Haze has been awarded throughout her phenomenal porn star career;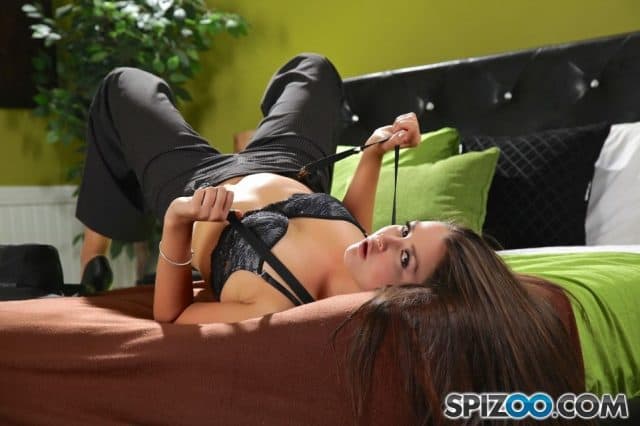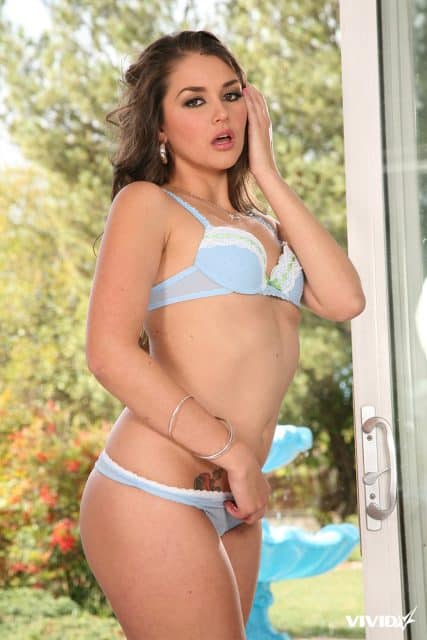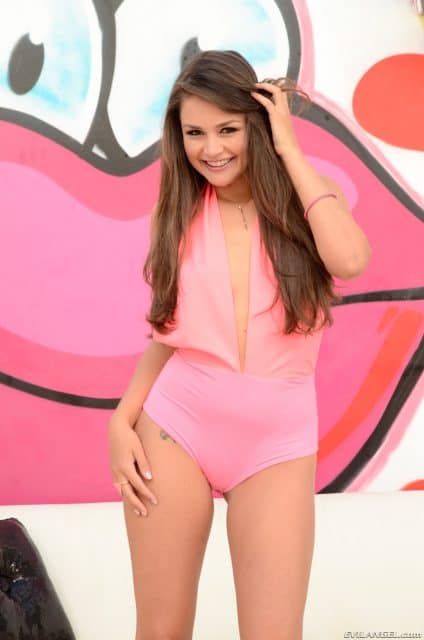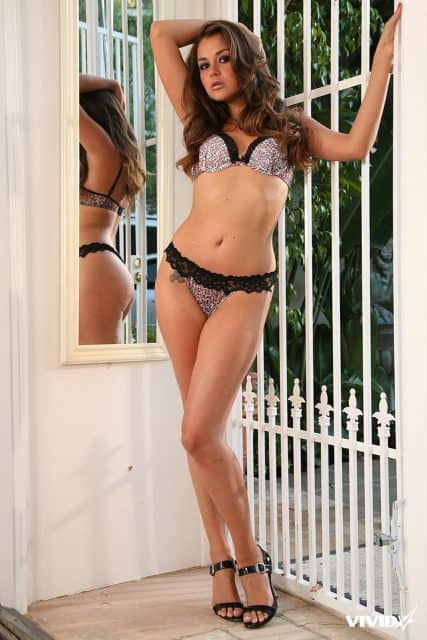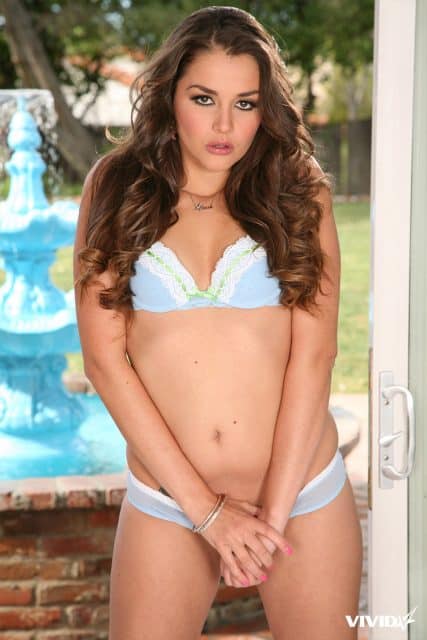 Allie Haze : Mainstream Media Projects & Feature Dance Performances
In addition to her adult film career, Allie Haze has also participated in multiple mainstream media projects. For instance, in 2013 Allie Haze was chosen to be one of sixteen female porn stars to feature within Deborah Anderson's feature length documentary Aroused which delved deeper into the inner workings of the adult entertainment industry and the lives of its most successful performers.
In January 2014 Allie Haze was named as Penthouse's "Pet of the Month". Allie Haze explained during her June 2014 AVN interview how winning this Penthouse "Pet of the Month" accolade and appearing on the cover of Penthouse Magazine was a defining moment in her adult film career which introduced her brand to a whole new network of fans;
"I am definitely getting a different group of fans from that. Being in Penthouse, when I first got into the business magazines, and being on the cover of magazines is still very popular but it was one of the biggest things you could do was get that magazine cover. It was an achieving moment when you got that magazine cover. It was one of those things I wanted to achieve. So to achieve it now, going on my fifth year is really amazing. It was such an honor. As a little girl we used to love to dress up as princesses. Being in Penthouse and being one of their girls, that was my porno princess moment. I was so, so excited and I'm hoping it doesn't stop there but it's up to the fans. I would love to follow one of my best girlfriends in the business Lexi Belle and be the next Penthouse Pet Of the Year".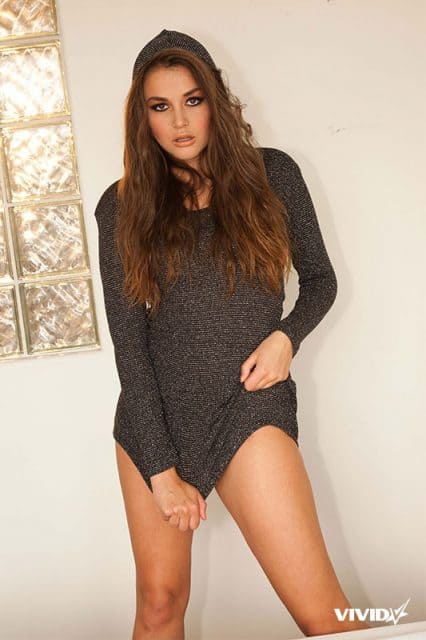 Allie Haze has also performed in B.o.B.(featuring Priscilla Renea)'s 2014 music video, John Doe, as well as playing the role of a military rescue worker in the 2014 Syfy film Age of Ice. When asked about her role within Age of Ice during her June 2014 AVN interview Allie Haze enthusiastically explained that;
"I got to play a military rescue worker which was really cool because we were shooting on the beach in Malibu and I was in my Army getup. At the beginning of the movie we got to shoot on the USS Iowa. So that was really cool. I got to shoot on the beach and I got to shoot on this big battleship. It was definitely a lot of fun to see the difference. I mean I've done some mainstream things before but this was definitely something on a bigger scale and on top of that, I'm the biggest sci-fi geek in the world. One of my overall achievements I would like to do for myself is, one day I would like to star in my own sci-fi series. I want to be in the next Stargate or something. [Laughs]… I'm hoping to work again with Asylum Films which is the one that did Age of Ice. I'm hoping to work again with them. Look for that in the future. I'm not giving up. I definitely want to do a lot more mainstream. So I'm putting my feelers out there".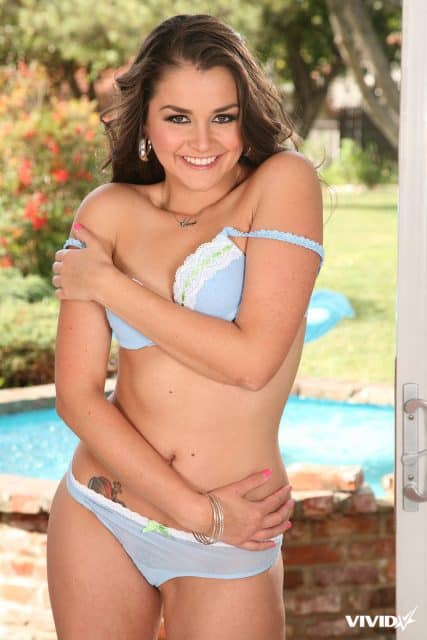 In addition to her mainstream acting performances, Allie Haze has used her adult film expertise to participate in numerous BuzzFeed informative videos such as Porn Stars Give Relationship Advice which was released in October 2014. This insightful video was also featured within an Independent online news article. Allie Haze has since participated within another Buzzfeed video, titled Women Watch Porn With Porn Stars, which was released in June 2015.
In her spare time Allie Haze loves chilling out with her two dogs, Smoke and Daisy, smoking marijuana and watching sports. Allie Haze loves hockey, football and baseball and supports the Kings, Vikings and Angels respectively. Allie Haze also continues to participate in multiple dating advice and sexual health segments for Cosmopolitan magazine such as the April 2014 article What It's Really Like To Date A Porn Star wherein Allie Haze and her boyfriend Mike Adkins discussed how they met, how Mike's family and friends reacted to their relationship, and how their relationship dispels some of the common misconceptions about adult film performers.
Allie Haze is a regular contributor to the popular Ask A Porn Star YouTube series which records famous porn stars, such as Anikka Albrite, Abigail Mac and Riley Reid, as they reveal their weirdest, wackiest and most wonderful adult film anecdotes! One of Allie Haze's Ask A Porn Star videos, Most Sex Scenes In One Day, was even featured within a Cosmopolitan magazine article in July 2016.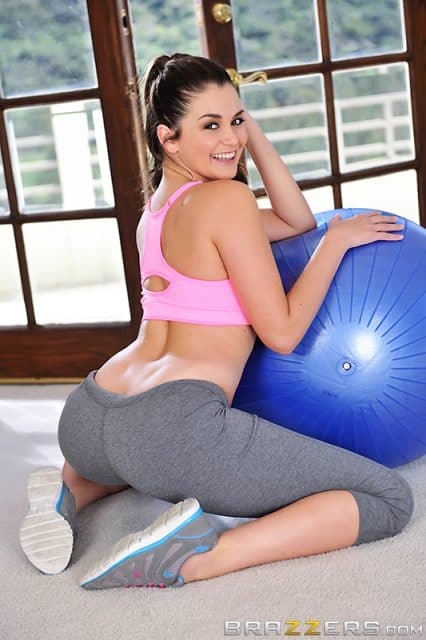 Allie Haze at Brazzers
Allie Haze is a keen dancer and in November 2015 made her featuring dancing debut at the iconic Sapphire Gentlemen's Club in New York City. Allie Haze continues to perform saucy dance sets in nightclubs across the country and has performed in Miami, Philadelphia, Washington, Chicago and New Jersey as well as hosting international feature dance tours in Poland, London and Australia. Whilst discussing her upcoming feature dance performances during her Gamelink interview, Allie Haze conveyed how she strives to maintain a good relationship with the house girls at the various clubs where she feature dances;
"If I'm there for the weekend I usually get in on Wednesday or Thursday…They're going to be my family for the weekend so I really want to get to know them. The driver, the manager, the girls, everyone. It's like being on a porn set; you want to have a good relationship with everyone…Is there ever a jealousy issue?…I try to kill everyone with kindness…But I've never had a problem on the road. But [feature dancers] control the outcome, I think. If you go in with a bad attitude you might find the house girls are more hostile. That's why I watch them dance and I tip".
Ultimately, when asked about her future plans during her Men's Mag Daily interview, Allie Haze expressed that she would like to direct her own porn productions in the near future;
"I'm hoping to get behind the camera and then expand my branding whether it is liquor, clothing, or perfume. The possibilities are really endless. It's up to me to get out there and find the deals".
In the meantime, why not keep yourself updated on all of Allie Haze's upcoming productions by using the links provided below? With so many projects in the pipeline, there seems to be no limit to Allie Haze's ever-expanding adult film career!
Allie Haze – Social Networks
Twitter: @alliehaze
Instagram : @alliehaze
Naughty America VR : Allie Haze – Bustin' Ass VR Scene
Vivid : Allie Haze's Hottest Sex Scenes
Brazzers : Allie Haze at Brazzers
Evil Angel : Allie Haze at Evil Angel
Girlsway : Allie Haze's Girl/Girl Sex Scenes
Kink : Allie Haze BDSM & Fetish Content
Naughty America : Allie Haze at Naughty America
Spizoo : Allie Haze at Spizoo
X Empire : Allie Haze's X Empire Movies
The Nude : Allie at Nude.EU
Babepedia : Allie at Babepedia