Bella Elise Rose Twitter : @BellaEliseRoseX   Instagram : @bellaeliserose   Camsoda : bellarose1
Bella Elise Rose – Personal Info
Name : Bella Elise Rose
Alias : Bella Rose
Date of Birth : November 5th, 1996
Star Sign : Scorpio
Hometown : North Carolina (US)
Measurements : 32B – 24 – 34
Height : 5'2 (1.57m)
Hair Colour : Blonde
Eye Colour : Blue
Tattoos : A butterfly design across her right shoulder blade
Piercings : Navel
Years Active : 2015 – 2017 (as a an adult film star) , 2017 – present (as a feature dancer)
Number of Scenes : 30+
Bella Elise Rose is a fan-favourite retired porn star and active feature dancer who was nominated for "Hottest Newcomer (Fan Award)" at the 2017 AVN Awards and "Best New Starlet" at the 2018 AVN Awards. She is a multi-talented dancer, actress and model. Bella Elise Rose has even been featured on the cover of Hustler's famous Barely Legal magazine in October 2017.
So where did it all begin? Born and raised in Boone, North Carolina, Bella Elise Rose first began working in the adult entertainment industry as a webcam model. She started to host live chat sessions via the adult cam site MyFreeCams under the screen name 'CupcakeBarbie'. Bella Elise Rose started webcamming on the day she turned 18 and six months later she took a fateful road trip which introduced her to the possibility of exotic dancing. As Bella Elise Rose herself explained within her October 2016 AVN: Fresh Faces interview;
"My town's way too Southern Baptist to have a strip club…So I went an hour an away to a strip club and they liked me in the parking lot and said, 'Do you want to dance?' I was just going to watch, but I knew my intent was to dance. I was like, 'yeah sure!' And so, that's where it began".
In this manner Bella Elise Rose started performing as an exotic dancer in this gentlemen's club in Charlotte, North Carolina. It was here that Bella Elise Rose met famous female porn star Courtney Cummz who provided Bella Rose with the connections she needed to sign with the prominent adult film talent agency LA Direct Models. As blonde beauty Bella Elise Rose puts it in her own words;
"Whenever Courtney Cummz came I just wanted to ask her how did you get into it? I was shy and nervous because she seemed like a big deal…She thought I was cute and everything and she mentioned that I stood out from the other girls. She said well I'm going to give you my agent's number. She told me to send pictures of myself to her which she sent to him. A month later I flew out here".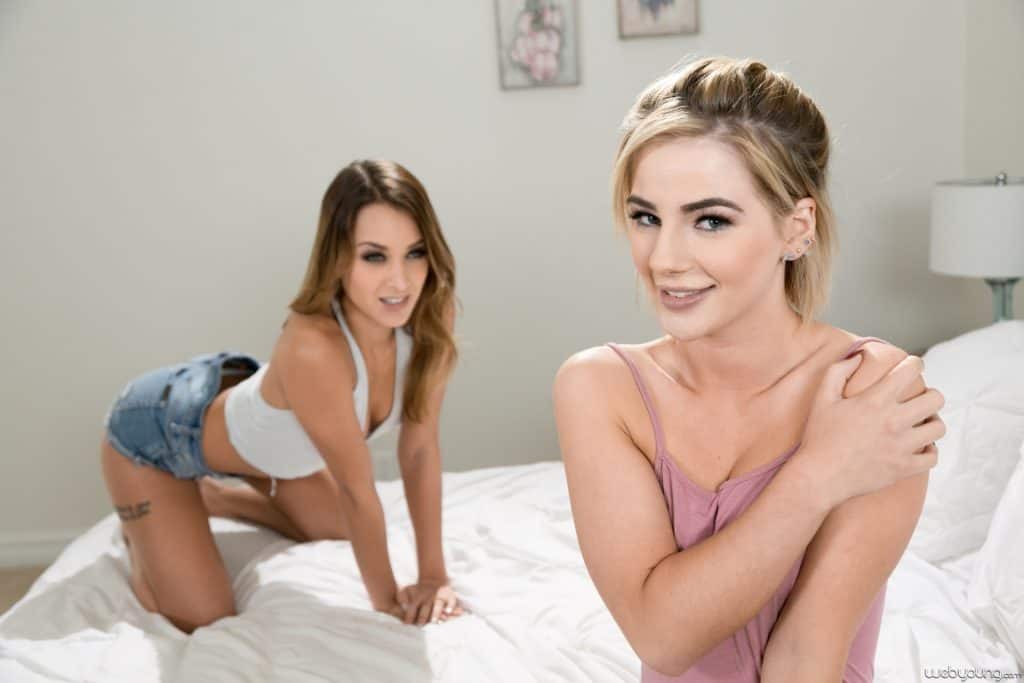 Bella Elise and Uma Jolie in The New Neighbour – Girlsway Network
Bella Elise Rose : Adult Film Career (2015 – 2017)
Bella Elise Rose made her official adult film industry debut in November 2015 when she filmed her first ever sex scenes with Seth Gamble, Johnny Castle and Mara for the popular porn site NetVideoGirls. As a matter of fact, Bella Elise Rose's porn debut was the first time she'd ever had sex with more than one person! Talking about shooting her first ever sex scenes in her October 2016 AVN: Fresh Faces interview, Bella Rose divulged that;
"I was very nervous but thankfully the scene had to do with me acting nervous so it fit well. Afterwards I was like heck yeah this is awesome I can't wait to do more!…
I just have tried really hard to do great performances and have fun and be as natural, but as entertaining as possible. So a lot of my new stuff is going to be really good when it comes out…Every time I do a scene I ask the producer or director, 'what do you think I can do better?' And I apply that to my next scene and I just strive to put on a better show and please people each time. I'm crazy".
From this point onwards Bella Elise Rose began to star in a wealth of popular porn productions including Cute Little Things 3 (2016) for Digital Sin which was nominated for "All-Sex Release of the Year" at the 2017 XBIZ Awards. Next came Kitten and Cougars 10 (2016) for Zero Tolerance, the Immoral Productions DVDs Teen Rampage 22 (2016) and Teens Trained To Squirt (2016). As well as the Lethal Hardcore DVDs Dirty Talkin' Stepdaughters 6 (2016) and Girl Scout Nookies (2016) which was nominated for "Clever Title of the Year" and "Best Ingénue Movie" at the 2018 AVN Awards. Bella Elise Rose was also showcased in the Digital Sin production Young & Curious (2016) alongside fellow rising starlets Violet Starr, Bree Daniels, Cece Capella and Joseline Kelly.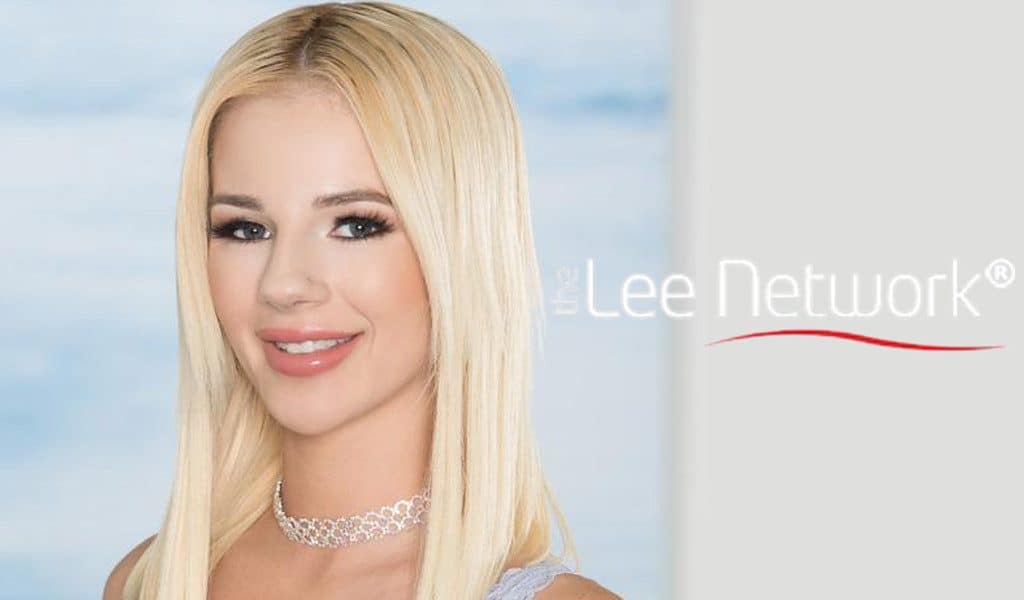 Bella Elise Rose – The Lee Network
During this time Bella Elise Rose also appeared in several fan-favourite DVDs for ATKingdom such as Dr Yes: Agent 0069 (2017), Daddy It Hurts So Good (2017) and Super Tight Pussy (2017) starring Elsa Jean, Elena Koshka, Jill Kassidy, Gia Paige and Kenzie Reeves. Bella Rose has enjoyed collaborating with ATKingdom on these popular porn productions and conveyed in a November 2017 AVN press release how;
"I love working with the guys over at ATKingdom…I'm thrilled that they asked me back again. This is my third movie for them and I hope it won't be the last. I like their straight forward style. No fuss, no muss; they just get down to business. I love it and I hope my fans will too".
Fans of Bella Rose will also love viewing her saucy scenes in the Elegant Angel DVDs It's A Daddy Thing 7 (2017) and It's A Sister Thing 2 (2017) as well as checking out her thrilling three-way with Jill Kassidy and Markus Dupree in the Jules Jordan Video production Ultimate Fuck Toy: Jill Kassidy (2018).
A fan-favourite performer, in June 2017 Bella Elise Rose was announced as the winner of Cherry Pop's "Schoolgirl Casting Contest". Bella Rose won this fan vote contest out of 24 starlets and received high praise from Jon Blitt, the Vice President of Cherry Pop's parent company Mile High Media. He commented in an AVN press release that;
"Congratulations to Bella Rose…Her fans proved to be ever dedicated, propelling her through four rounds of voting and a tough four-day championship round against our fellow Canadia, Emma Hix. Both Bella and Emma will be cast in Cherry Pop Films' upcoming feature, so really we all win with the two teens showcased in our new film for Cherry Pop. Fans have chosen the perfect schoolgirl casting".
Another landmark moment in Bella Elise Rose's career came in late 2017 when she was nominated for "Hottest Newcomer (Fan Award)" and "Best New Starlet" at the 2018 AVN Awards. Bella Rose was very happy to receive these notable nominations and commented in a January 2018 AVN: Starlet Letters interview that;
"I'm happy to be voted as a Best New Starlet [nominee]. It makes me feel very good about my work and it encourages me to keep succeeding!".
Bella Elise Rose : Official Retirement & Feature Dancing Career (2017- present)
In December 2017 Bella Elise Rose announced via her personal blog, Bellaeliserose.blog, that she would be officially retiring from performing in porn. As Bella Rose puts it in her own words;
"If you follow me, know me as a friend, or just really know me you know my beliefs, and ways are not really the "pornstar" way… I believe in Jesus Christ, I am a Southern Baptist! Main goals in life are to be a mom and wife! I don't do the whole drug thing, or sleeping around thing (unless it's in porn) I like trump, etc…. and it just does not mix well in an industry ruled by catty women and sometimes men…
I have quit and came back to porn at least 3 times! This time I plan on actually sticking to my gun and not going back. I remember being a little girl and watching that movie with the little orphan Annie and dressing up and singing all the songs for my family, I remember being in all the school plays and everyone always saying that was my talent that i was so amazing at acting… i used to make little makeup videos for YouTube, and loved social media at a very young age- i guess i thought being a porn star would feed my craving for entertainment, for making people notice me. That's all i really ever wanted- was to be noticed. Doing porn has not fed my craving for attention and the spot light. I just don't fit in…
I am sure i will get called out for something in this post, so why not just post what i want and not give a damn. before continuing the things i have to say about the industry, just know that when I'm talking about the industry its things i have witnessed, been around, heard and experienced with my eyes, with my body and my ears. That does not mean you will have the same experience Etc. I am not talking down on everyone in the industry but I am talking about the MAJORITY of people I have met. Congrats if you are still in porn and you've made it through the bullshit without going insane and wondering why people are so shitty. You also have to remember i am from a tiny tiny town in North Carolina.. a place not so superficial like LA or LV…
Okay so needless to say the girls in porn are what really ruin it for me personally. Especially the ones who are supposed to be "popping" right now and are supposed to be role models. Women like Alexis Texas, Teagan Presley, Brandi Love, Etc are great women and i did look up to them. No shame on women with class and that don't start crazy stuff cause they think they are the shit…. they just are the shit. It's the newer "stars" that i really have a problem with…
So to sum up all the shitty things and bullying that goes on in Porn i just want to say that i won't be returning to the industry unless i am getting paid extra extra (which i don't see happening right now) & I get to pick the talent i am working with! There is way too much CYBER and Regular in person bullying that goes on in the sex industry and you guys can listen to the girls all you want that say "porn is great and I've met the best people and everything is so amazing" of course stars want you to think there industry is the best, especially the adult industry that already has a lot of hate.. but its true! I won't be returning into the Adult Film Industry (not with those groups of people) anytime soon, not until the bullies are controlled!…
I however am thankful for some of the producers and girls/boys i have met you aren't all horrible..,but hate to say most of you are!…Till next time you guys can catch me at a strip club someplace feature dancing or just house dancing, or online @ myfreecams.com/#cupcakebarbie".
You can read Bella's entire It was an interesting run…now I am running far away blog post wherein she details her reasons for retiring from the adult film industry via her personal blog site Bellaeliserose.blog.
Even though she has retired from performing in porn, Bella Elise Rose fans will be happy to hear that she continues to host lusty live chat sessions.. You can watch her via MyFreeCams and Camsoda. Bella Elise also performs as a feature dancer in exclusive gentlemen's clubs across the United States.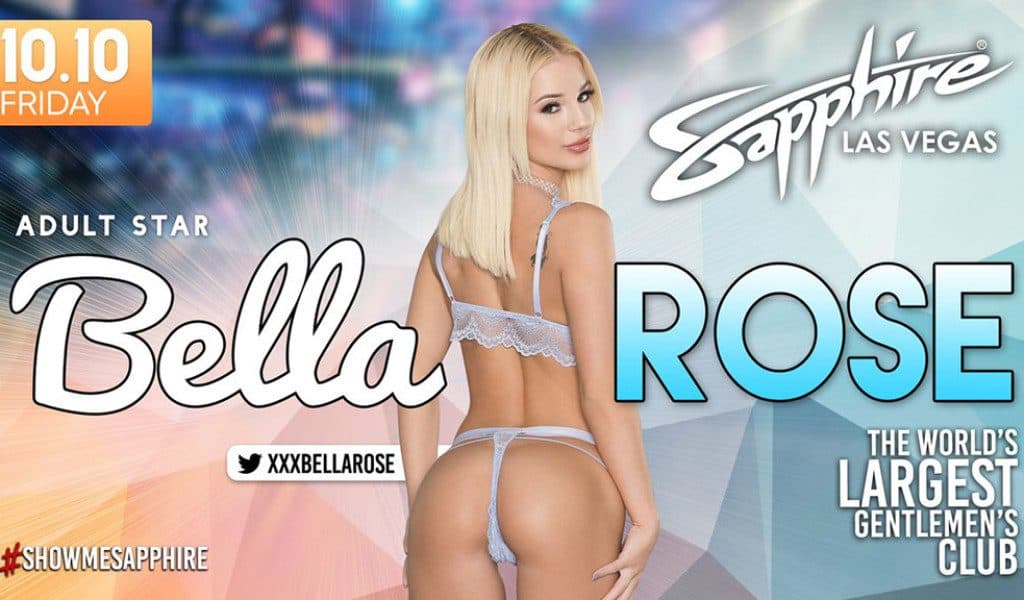 Bella Elise's Featuring Dancing Debut – AVN Press Release (November 2017)
Bella Elise Rose's fabulous feature dancing career began in November 2017 when she made her feature dancing debut at the exclusive Sapphire gentlemen's club in Las Vegas, Nevada. Bella Rose was excited to perform at Sapphire and she has since hosted some fabulous feature dancing shows at the Sapphire club in New York. Talking about her feature dancing performances in various AVN press releases, Bella Rose has enthused in various AVN press releases how;
"Sapphire Las Vegas is such a great club…I'm excited to do my feature dancing debut there. I've been working really hard on my show and can't wait to show it off. I hope my fans will come see me dance…
I'm still pretty new to feature dancing, so it's a huge honor to get to headline at such a great club…I'm really looking forward to giving my fans a show they won't soon forget. I just love exotic dancing—I even have a pole in my house!".
Currently represented by the exclusive feature dancing talent agency The Lee Network, Bella loves performing on stage and commented in a June 2017 AVN press release that;
"I love exotic dancing…I did this before porn, and I have poles even in my house I dance on all the time. I love entertaining—especially on a stage … and naked".
Want to keep yourself updated on all of Bella Elise Rose's upcoming feature dancing shows, modelling shoots and social media updates? Then please feel free to use the links provided below to stay connected with your dream feature dancer Bella Rose!
Bella Elise Rose : Social Networks
Twitter : @XXXBellaRose
Instagram : @bellaeliserose
Snapchat : bellaEliseRoseX
Camsoda : bellarose1
YouTube Channel : BellaRoseXXX