Violet Starr
Violet Starr Camsoda : violetstarr   Brazzers : Violet's Sex Scenes
Kink : Violet's BDSM & Fetish Content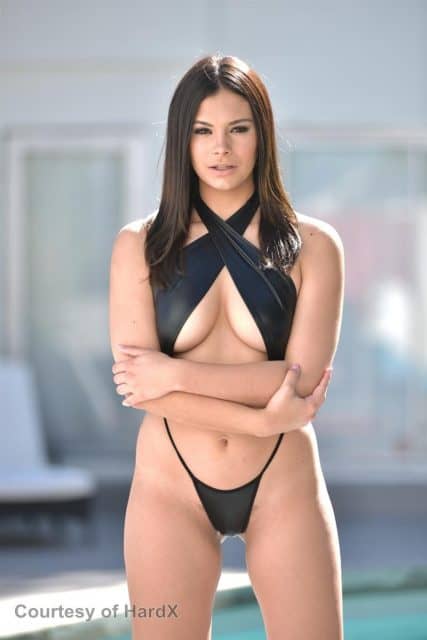 Violet in Stacked 6 – Hard X – Adult Empire Galleries
Violet Starr – Personal Info
Name : Violet Starr
Date of Birth : December 23rd, 1996
Star Sign : Capricorn
Hometown : Tampa, Florida (US)
Measurements : 36C – 26 – 38
Height : 5'5 (1.65m)
Hair Colour : Black
Eye Colour : Brown
Years Active : 2016 – present
Number of Scenes : 80+
Introducing Violet Starr; a sexy rising starlet who has been performing in porn since the summer of 2016. A multi-talented actress, model, cam girl and exotic dancer, Violet has already received multiple "Best New Starlet" and "Best Supporting Actress" nominations at the 2018 AVN and XBIZ Awards due to her sensational sex scenes for Brazzers, Mofos, Property Sex and Vixen. Watch this space!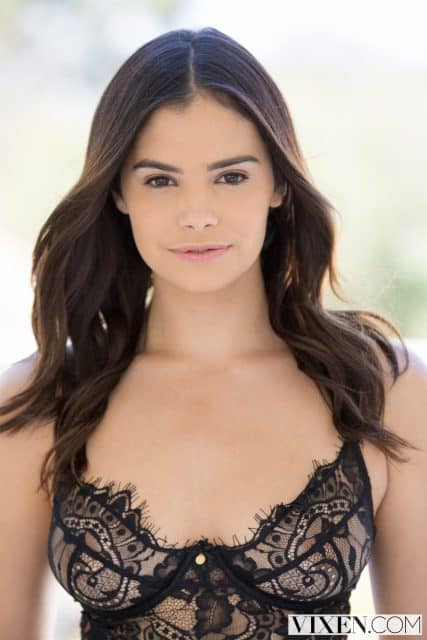 Violet in Natural Beauties Volume 3 – Vixen – Adult Empire Galleries
Wondering where it all began? Hailing from Tampa, Florida, Violet Starr has Spanish heritage and took theatre classes in high school. Violet Starr has recounted in her August 2016 Fleshbot interview how performing on stage during these early years had a 'truly life changing' effect upon her which has shaped her into the person you see today. As Violet Starr puts it in her own words;
"In high school, I would consider myself at a time where I gained more confidence and grew as a person. High school theatre will always have a special place in my heart. I never got caught up in any gossip or drama because theatre was everything I had, it was my safe place and my family. I learned a lot of valuable life lessons in this class and I know that four year experience shaped me into the person I am today. Performing on stage was the best feeling in high school. I forced myself to get out of my comfort zone to do this and I realized how much I liked it. When high school comes to mind, I think of theatre and genuine people that I have kept in my life–truly life changing. I had one boyfriend during my junior year and he was a cool guy who accepted everyone. I felt that I surrounded myself with pretty amazing people".
You may be interested to learn that Violet Starr has been intrigued by the adult film industry since high school. However, Violet Starr did not initially pursue a career in porn due to pressure from her family and friends who believed that it was 'morally wrong'. Instead, Violet Starr started performing as an exotic dancer during her first year of college.  As a matter of fact, Violet is also a talented aerial silks performer! Violet Starr mentioned in her September 2017 AVN: Fresh Faces interview that;
 "I do like aerial silks, like the ribbons from the sky and hoops, like in a circus…I've been out of it for a while because of travelling, but when I get back to Tampa, I'm going to start going at it really hard because I miss it. I'd love to work it into my career. I've seen porn like that, a few scenes. It's so fun. I'm also a SCUBA diver, though I've only done rivers and springs, because where I was from in Tampa, the water was very mucky, so I'd love to discover more but I can't wait to".
As fate would have it, whilst performing as an exotic dancer Violet Starr was paired with cam girl Eva Celeste who introduced her to the thrills of webcamming. Eva even recommended Violet Starr to an adult film talent scout which enabled her to shoot her adult film industry debut in the summer 2016. Talking about this important period of her life in her August 2016 Fleshbot interview, Violet Starr explained how;
"Ever since high school, l I have always had a draw to the adult industry. I became a dancer in my first year of college and was randomly paired with the webcam model Eva Celeste. We became best friends and I even got into camming. From there, an agent discovered her on cam and she recommended me. We went out to shoot and had a blast. I always had thoughts of doing porn but I let the morals of others hold me back. I am glad I overcame that and decided to be my own person. Also, the details of porn are not spread out well enough to educate the people; I feel this makes it harder for someone to get into porn…
One of the big things that's assumed is that we are forced to do something that we don't want to do. There is a difference between a girl doing things she doesn't enjoy for money and her being forced to do it. I love porn and to run into a video of a person obviously not enjoying the sex is terrifying, but unfortunately, it happens and it makes the industry look bad. Sure, there are probably bad stories about a time on set but just like any industry, bad things happen all the time. I am not blowing it off like it is okay, and one way to encourage better behavior is to educate people about the porn industry. People will look at videos that contain something like girls being slapped while a guy is spitting in her mouth and they assume that she hates it because they probably haven't experienced that sexually. A lot of people can't fathom the idea of a fetish and ignore the fact that a great sum of people love doing these things in their sex life".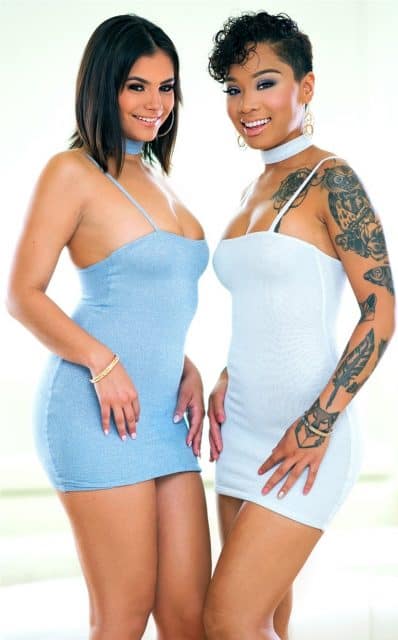 Violet Starr & Honey Gold in Taste Of Honey – Evil Angel – Adult Empire Galleries
Violet Starr : Adult Film Career
Violet Starr filmed her first ever boy/girl sex scenes with Manuel Ferrara in August 2016 that were featured in the Evil Angel sequel release Raw 27 (2016). Talking about shooting her hardcore porn debut in her September 2016 Adult DVD Talk interview, Violet Starr revealed that;
"My first boy/girl was for Raw 27 so it was just me and Manuel. It was more of a sex tape thing. He was trying to make me feel comfortable. He's a hot, handsome man so I was kind of intimidated but I was more excited than anything. I remember walking out of that house like 'Wow! I didn't know I could get fucked like that!' People say that porn sex and real sex are different and they are because you're putting on a performance and opening up but you can fuck like you can fuck in porn. It's just so intimate. Doing dirty, slutty things makes me feel great. I never felt like that outside of porn but now I do and it's great".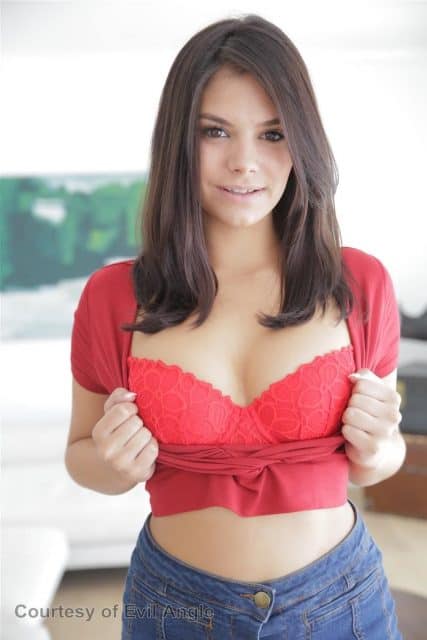 Violet in Raw 27 – Evil Angel – Adult Empire Galleries
Even though she has only been performing in porn for a couple of years Violet Starr has already starred in many critically acclaimed DVDs. We recommend checking out Violet Starr's sizzling scenes in Slut Auditions 2 (2016) for Evil Angel that was nominated for "Gonzo Release of the Year" at the 2018 XBIZ Awards, in the Digital Sin taboo relations title An Incestuous Affair (2016) which was nominated for "Best Taboo Relations Movie" at the 2018 AVN Awards and her steamy scenes in Sibling Seductions Volume 2 (2017) for Sweet Sinner also starring Gina Valentina, Kristen Scott and Carmen Caliente.
One of Violet Starr's favourite scenes to date has been with Logan Pierce for the Digital Sin DVD Young & Curious 1 (2016). Reminiscing on this saucy scene in her Hot Movies For Her interview, Violet Starr praised Logan Pierce's performance and advocated how;
"He is really romantic and good at paying attention to detail. That's the main thing that I like about him. He can be really rough, but he respects your boundaries. I've had people be rough and they're too rough, or they're rough but they're not rough enough. He's perfect. He pays attention to your reaction and what you say and what you want. He listens to your limits. He's also a fun person to be around. He can play into a conversation very well, and I like that. It makes the day on set really fun, rather than a guy just treating me like a piece of meat. You know? My pussy's not gonna get wet! [laughing] I need a little bit more than that!".
Just can't get enough of ravishing rising starlet Violet Starr? Then you'll want to watch her sultry three-way with Elena Koshka and Mick Blue in Threesome Encounters 2 (2017) for Erotica X, her thrilling three-way with Honey Gold and Jonni Darkko in Taste of Honey (2017) for Evil Angel and her epic group sex scene with A.J. Applegate, Keisha Grey and Mike Adriano in the Evil Angel sequel release Swallowed 10 (2017). Violet Starr has also been showcased in Greg Lansky's Vixen DVD Natural Beauties Volume 3 (2017) alongside Carter Cruise, Eva Lovia and Kimmy Granger.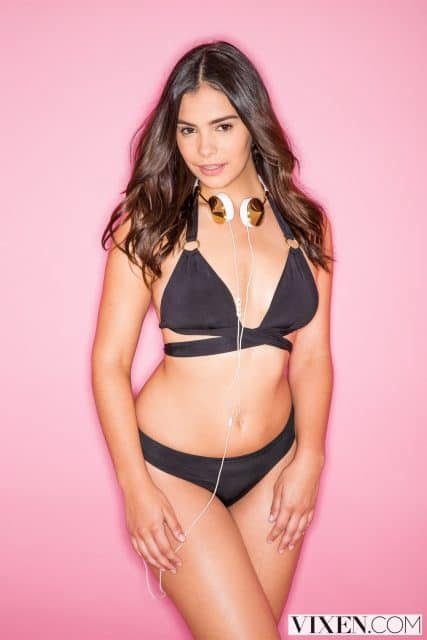 Violet in Natural Beauties Volume 3 – Vixen – Adult Empire Galleries
One of Violet Starr's most popular porn productions to date has been The Submission of Emma Marx: Evolved (2017) for New Sensations. Directed by Jacky St. James and featuring Penny Pax and Riley Reid, The Submission of Emma Marx: Evolved was a critical and commercial success. It was nominated for "Best BDSM Movie" at the 2018 AVN Awards and "Feature Movie of the Year" at the 2018 XBIZ Awards. The movie also earned Violet Starr several "Best Supporting Actress" nominations at the AVN and XBIZ Awards.
But wait, it gets even better! Violet Starr's phenomenal performance in The Submission of Emma Marx: Evolved also earned her an ardent endorsement from XCritic column writer cyber5 who stated in his September 2017 film review that;
"It looks like New Sensations has another award capable title here. The acting is great, Violet Star really showing off what "the new girl" is capable of when given a decent platform. Penny, as always, also shines in her role. Riley Reid is Riley Reid. Even when she's perhaps overplaying one of her many ethnicities, she just freaking shines onscreen! Van Wylde gets to reprise his role in the series and Damon Dice gets to play a character role that always fits him well. Jay Smooth is totally believable in his role and Mick and John fit right in theirs as well. People are either going to love this or write it off as some kind of money grab. I'm in the former camp. I think the title says it all: it's an evolution of Emma Marx. I think it's a heartfelt tale that is beautifully portrayed.  Overall, the look and feel of the flick is cinematic. It's well lit, well shot, and well acted. Feature film fanatics will find this a great fit for their collection. BDSM fanatics may find it a bit tame as far as hardware is concerned but the psychological exploration and explanation are well-covered and that should really play well to that crowd. There's not much else to say – totally worth owning. Highly Recommended".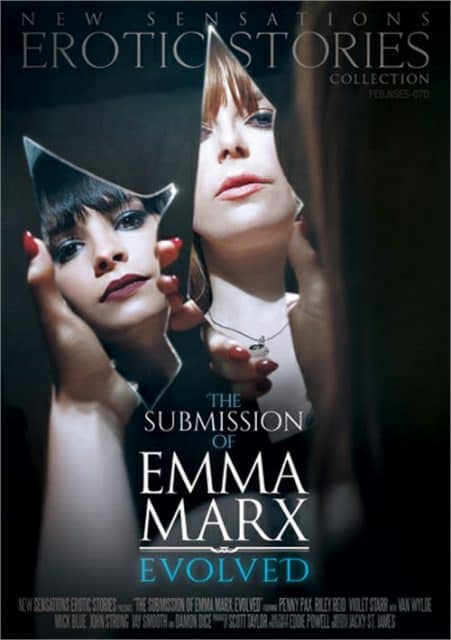 The Submission of Emma Marx: Evolved – New Sensations – Adult Empire Galleries
Violet Starr enjoys shooting these BDSM productions and she was actually in a BDSM relationship in her personal life. As Violet Starr raunchily revealed in her Hot Movies For Her interview;
"I did it and it was the best relationship I've ever had. There were some problems of course, just like in any other relationship, but it was the most intimate. It actually made me realize that I still like BDSM, but I don't think of myself as a submissive anymore. I do like that aspect of it, and I'm still a natural submissive, but I do like DD/lg, which is Daddy Dom/little girl. It's basically about the guy being the caregiver, and the girl being little. In life you have all of these responsibilities, and it feels good to let go. Especially if the person is very wise, intelligent, caring, and kind, and that's basically the only kind of guy who can do that job. So that's a very rare thing to find, let alone sharing a kink with someone. That's hard, if they're not interested in that. Even if you don't necessarily have a daddy, you can still be a little and you can still have your little space. You're still adulting all the time, but you can let go and have that child-like energy to you. I think it's a really cool thing. It's like an escape…
I just wish that people would know that when they say "daddy," a lot of people either think of [family fantasy] or they think "boss man." Like "ooh, daddy, ooh six-figures, daddy." Or sugar daddy! But they don't think of "daddy, take care of your little girl." Make sure I'm doing the right thing, and make sure I'm getting enough sleep. It's nice to have someone want to do those things for you. It's really caring, and I'm not used to that. I wanted that because my BDSM relationship wasn't caring enough; it was too strict, and I needed something a little bit more gentle. Hopefully since it is becoming more mainstream, people will see the different aspects of it".
In addition to her hot hardcore scenes and fantastic fetish porn productions, Violet Starr is a popular girl/girl performer who has starred in an impressive collection of Girlfriends Films DVD series. We recommend checking out Cheer Squad Sleepovers 19, 20 and 21 (2016-2017), Lesbian House Hunters 13 (2016), Lesbian Seductions 57 and 58 (2016-2017), Lesbian Triangles 36 (2016), Lesbian Psychodramas 24 and 26 (2017), Women Seeking Women 142, 147 and 149 (2017), Please Make Me Lesbian 14 (2017) and Lesbian Seductions 61 (2018) but to name a few!
Many of these all-girl DVDs have been nominated for "Best All-Girl Movie" at the AVN Awards and they have enabled Violet Starr to share some sultry scenes with famous female performers Romi Rain, Lana Rhoades, Reagan Foxx, Tanya Tate, Lauren Phillips, Blake Eden, Chanel Preston, Veruca James, Mercedes Carrera, Jayden Cole, Jelena Jensen and Vanessa Veracruz; the list goes on! But which performers are still on Violet Starr's wish list? Well, Violet Starr has saucily stated during her August 2016 Fleshbot interview that;
"I would love to work with Keisha Grey. I haven't met her but she went to my high school even though we did not attend at the same time. It has always been a fantasy of mine. She is a person who influenced me to not acknowledge what anybody thought about me and went on to carry out what I have wanted to do…
I really admire porn stars who love sex and have a good head on their shoulders. A current performer I look up to is Dani Daniels. She has a great personality and she is a great performer! She has done things behind the scenes and also has a lot of other interests".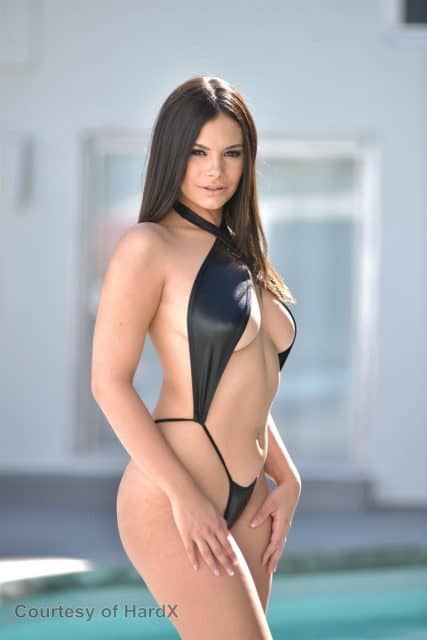 Violet Starr in Stacked 6 – Hard X – Adult Empire Galleries
Violet Starr : Awards Nominations & Future Plans
With so many fan-favourite DVDs under her belt, it was only a matter of time before Violet Starr started to receive some notable nominations at the AVN and XBIZ Awards. Listed below are some of Violet Starr's most impressive industry accolades to date;
2018: AVN Awards nominee "Best Girl/Girl Sex Scene" Cheer Squad Sleepovers 20 (with Anya Olsen)
2018: AVN Awards nominee "Best Solo/Tease Performance" Gushers 2
2018: AVN Awards nominee "Best Supporting Actress" Submission of Emma Marx: Evolved
2018: AVN Awards nominee "Best New Starlet"
2018: XBIZ Awards nominee "Best Scene – Feature Release" Submission of Emma Marx: Evolved (with Damon Dice)
2018: XBIZ Awards nominee "Best Supporting Actress" Submission of Emma Marx: Evolved
2018: XBIZ Awards nominee "Best New Starlet"
Violet Starr has been thrilled to receive these coveted awards nominations, enthusiastically stating within her January 2018 AVN: Starlet Letters interview how;
"Being nominated for AVN reminds me of the time we all come together. The beautiful people you meet matter most. After you get over the initial honeymoon phase of the porn industry, the people in the industry are the ones who still keep the fire going".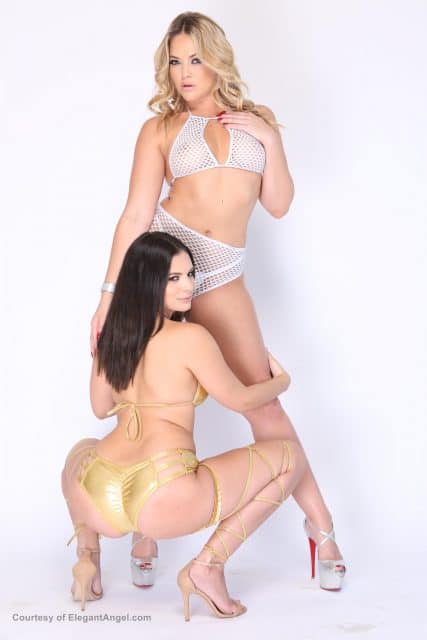 Violet Starr & Alexis Texas in Big Booty Tryouts – Elegant Angel – Adult Empire Galleries
When she isn't filming these critically acclaimed porn productions Violet Starr can be found interacting with her fans via social media and via Camsoda (where she performs under the screen name 'violetstarr'). Violet Starr loves communicating with her fans via these live multimedia platforms and she has sincerely expressed within her August 2016 Fleshbot interview that;
"I try to respond to all of my tweets. My favorite thing about talking to my fans is the fact that I can interact with them on a personal level and showing my appreciation for them. Often, I run contests for free videos on my twitter just for my followers…One of my favorite things to do for fun is logging on to Camsoda and enjoying my time with awesome people online…I just want to give a big thank you! I love you! None of us would be here without you".
So what does the future hold for rapidly rising starlet Violet Starr? Well, when she was asked about her future plans in her September 2016 Adult DVD Talk interview, Violet Starr suggested that;
"I really like porn and everything about it. I really want to be on camera still but also behind the scenes. I also want to go back to school so I don't put all my eggs in one basket…I'm going to start a YouTube channel soon because the porn industry is hush hush like you're not supposed to talk about it but I want to talk about it in a positive, fun way. Talk about sex and relationships and life!".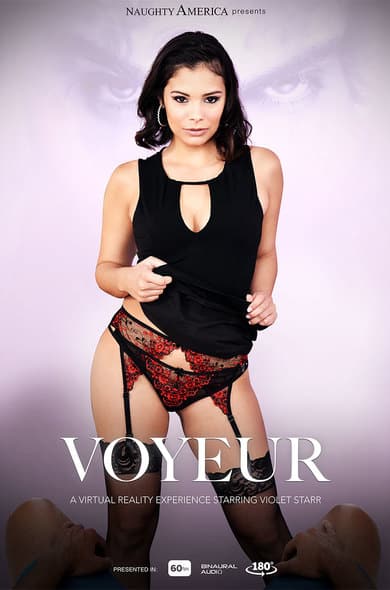 Violet in Voyeur – A Virtual Reality Experience – Naughty America VR
Keen to keep yourself updated on all of Violet Starr's upcoming porn productions, social media updates and kinky live cam shows? Not to worry; simply use the links provided below to stay connected with your favourite adult film actress Violet Starr!
Violet Starr – Social Networks
Camsoda : violetstarr
Kink Profile : Violet's BDSM & Fetish Content
Brazzers : Violet at Brazzers
Naughty America : Violet at Naughty America
Reality Kings : Violet at Reality Kings
IMDB : Violet's Filmography
The Nude : Violet at The Nude