Bianka Nascimento
Bianka Nascimento's site : BiankaNascimento.com   Twitter : @LegendaryBianka
TS Virtual Lovers : Bianka's VR Scenes   Brazil TGirls : Bianka's Sex Scenes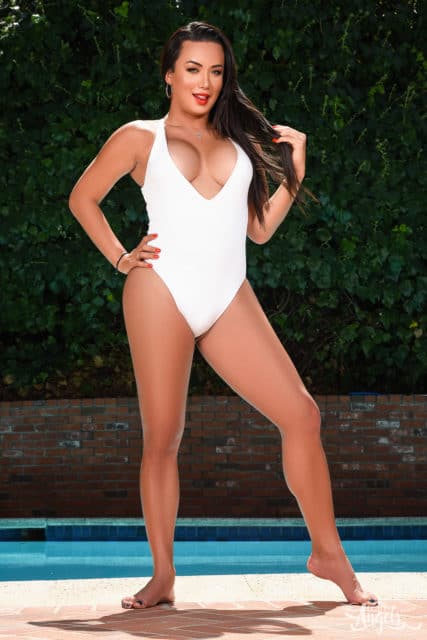 Bianka Nascimento in Poolside Peeper – Trans Angels
Bianka Nascimento – Personal Info
Name : Bianka Nascimento
Date of Birth: February 19th
Star Sign : Pisces
Hometown : Sao Paolo (Brazil)
Measurements : 36DD – 23 – 47
Height : 5'11 (1.80m)
Hair Colour : Brunette
Eye Colour : Blue
Tattoos : A star on her left shoulder, three stars and a moon design on the left side of her lower abdomen, 'Bianka Nascimento' script surrounded by six stars on her lower back and the Powerpuff Girls on her right butt cheek
Years Active : 2011 – present
Number of Scenes : 20+
When it comes to beautiful Brazilian babes, Bianka Nascimento stands out from all the rest. Famous for her captivating curves and saucy solo website, Bianka Nascimento is a fan-favorite performer who was nominated for "Best International Model" at the 2018 Transgender Erotica Awards.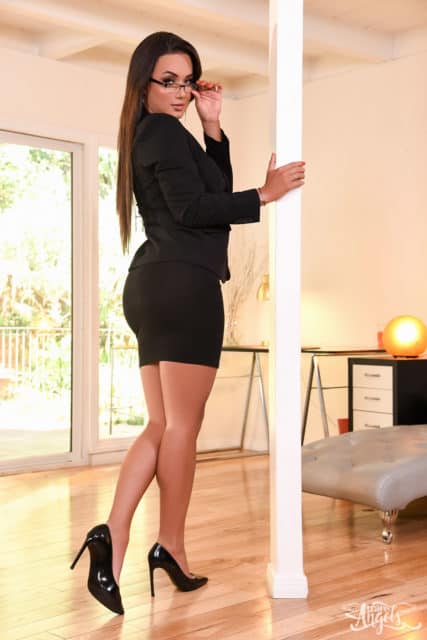 Bianka Nascimento in Doin' It For The Deed – Trans Angels
So where did it all begin? Hailing from Natal, the capital city of Rio Grande do Norte in Brazil, Bianka Nascimento grew up in Sao Paolo and has also lived in Dublin, Ireland. Talking about her upbringing during her January 2016 Transformation Magazine interview, Bianka Nascimento revealed that;
"Well my transition at the beginning was very hard. I started, stopped and re-started again. I was fighting thoughts that I was doing the wrong thing, but it was myself, my REAL SELF, in the wrong body. My parents didn't accept it in the beginning.  It was hard. It was difficult. Many times I decided to give up, but every time something at the end of the tunnel said to me, "You can't give up." I was fighting with all my power to live life honestly and finally they could see I wouldn't give up and then accepted me and tried to understand me. Today it's my family who always give me the best advice and they always tell me to follow my dreams and be honest with myself…
Acceptance for me means that when anything happens to you, you need accept yourself and understand yourself, your soul, your own truth. Being transgender is not easy, there are many ups and downs, but if you accept yourself and don't worry about what people think about you, you are ready to accept the world!".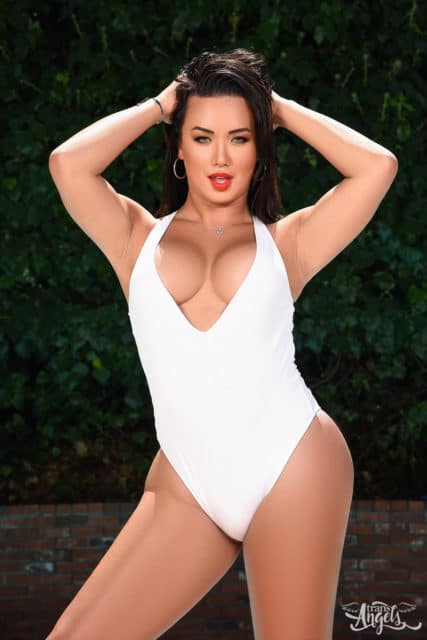 Bianka Nascimento in Poolside Peeper – Trans Angels
Bianka Nascimento : Adult Film Career
Bianka Nascimento made her US adult film industry debut in April 2011 when she shared a hot hardcore scene with Tony Lee (aka Marcus) which was released via the Grooby porn site Brazil TGirls. Bianka Nascimento's porn debut was directed by leading cinematographer Khan who she has collaborated with on several saucy sex scenes. Our top picks? They'd have to be her raunchy Bianka Nascimento & Matheus Mutual Anal Fucking! and Bianka Nascimento Tops Vinny! scenes which were first released via Brazil TGirls in January 2012 and March 2012.
You'll be happy to hear that Bianka Nascimento and Khan have also collaborated on some steamy solo scenes for the Grooby porn site Brazilian Transsexuals. We recommend checking out her saucy Beautiful Bianka Nascimento Toys Her Ass! shoot in May 2011 and her seductive Bianka Nascimento Jacks Off! scene in January 2012. But that's not all. During this time Bianka Nascimento teamed up with leading photographer Louie Damazo in order to shoot some sizzling Bianka Nascimento & Rafa Fuck and Bianka Nascimento! scenes that were released via TGirls.xxx in February and April 2012. Not to be missed!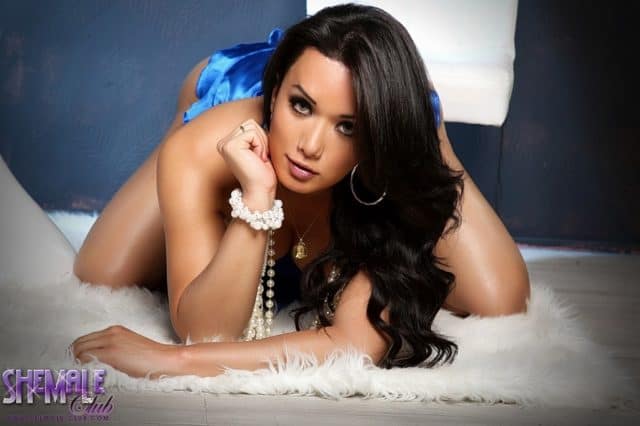 Bianka Nascimento – SMC Network
Want to know the best part? Alongside her raunchy web clips, Bianka Nascimento has starred in many fan-favorite movies such as the Androgeny productions Transsexual Beauty Queens #45 and #46 (2011), Just Turned 18 And Transsexual #5 (2011) for Juicy Entertainment and A Passion For Barebacking (2012) for Dream Tranny featuring hot TS pornstars Beatricy Velmont, Brenda Lohan, Carla Cardille and Michelle Cinturinha.
One of Bianka Nascimento's most popular porn productions has been the Trans 500 movie TS Girlfriend Experience #3 (2013) within which she shared a sultry Pure Elegance scene with Robert Chivas. Directed by Josh Stone and starring sexy TS pornstars Natassia Dreams, Sunshyne Monroe, Tyra Scott and Vaniity, TS Girlfriend Experience #3 was a critical and commercial success which won "Best Transsexual Release" at the 2015 AVN Awards and it was nominated for "Best DVD" at the 2013 Transgender Erotica Awards. This romantic release also received an ardent endorsement from XCritic column writer Apache Warrior who stated in his November 2013 online review that;
"I enjoyed this film since it gave a good representation of how an escort situation occurs in the room between the customer and the woman. I especially like seeing the trannies change into their outfits in the bathroom…TS Girlfriend Experience 3 is a recommended treat".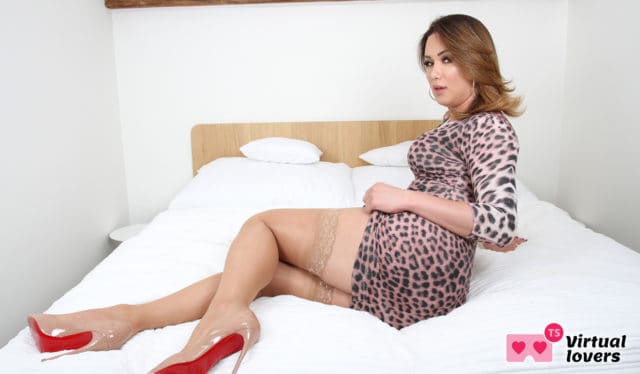 Bianka Nascimento in Alone And Wild – TS Virtual Lovers
Following the success of TS Girlfriend Experience #3, Bianka Nascimento shared a steamy scene with Melody Star that was featured in the Trans 500 movie Trans At Play: She Exclusive (2015). Also starring Angelina Castro, Angelina Valentine, Bruna Butterfly, Carla Novaes, Dany De Castro, Natassia Dreams, Priscilla Brandao and Venus Lux, Trans At Play: She Exclusive was another instant hit which was nominated for "Best Transsexual Release" at the 2015 Nightmoves Awards. Once again, Bianka Nascimento and her fellow cast members received high praise from XCritic column writer Apache Warrior who highlighted in his March 2015 review how;
"Trans at Play: She Exclusive is a transsexual porn flick that features some of the hottest trans babes in this studio's roster of playmates. After only several years on the scene, Trans 500 has become a very influential, successful, and well regarded transsexual adult production company. It is one of the "must have" studios in this genre that trans ladies want to work for…
Melody Star is teasing the camera in front of a spray-painted mural outdoors. Brunette Bianca Nascimento also does a teasing routine too. Later, they meet each other and their coming together leads to their indoor make out session… it's the toy play by Melody on Bianca that initiates the hottest moments in this scene. From her toy action to Bianca's remaining fucking delivery, their performance gets hotter and hotter. There is plenty of strokable value in seeing Melody get fucked. A big factor of the enjoyment value of this scene is the eye candy stimuli of seeing these two pretty ladies together and the chemistry they create…The four trans babes on girl performances along with the very steamy tranny on tranny scene make this film really hot. It is definitely one of the best DVDs that Trans 500 has put out…I highly recommend it".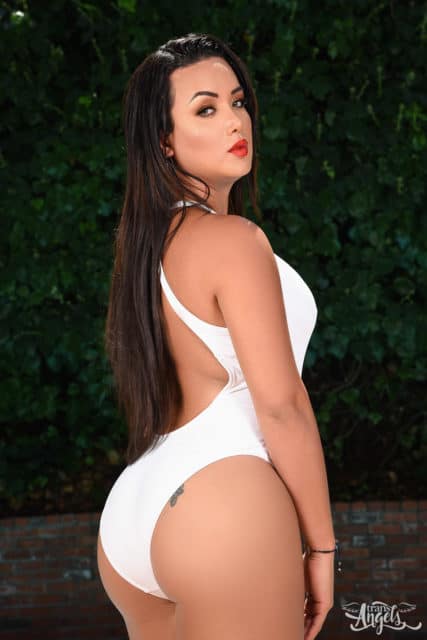 Bianka Nascimento in Poolside Peeper – Trans Angels
 Bianka Nascimento : Official Website & Recent Releases
A landmark moment in Bianka Nascimento's adult film career occurred in June 2015 when she launched her official solo website, BiankaNascimento.com, in collaboration with SMC Network. Bianka Nascimento was already a fan-favorite SMC Network performer – in fact she was named as their "T-Girl Network Special Featured Guest of the Month" for June 2015! Bianka Nascimento's sultry solo shoots and sensational collaborations with Kimber Lee, Eva Paradis and Martin Mazza for SMC Network have earned her high praise from fans and film critics alike. After all, as adult film blogger Caramel Black aptly put it in her June 2015 Caramels TGirls review;
"Bianka Nascimento comes from Sao Paulo, Brazil and currently lives in Ireland (Dublin). I should have guessed that Bianka Nascimento would have her own SMC Productions site launched after she was named T-Girl Network Special Featured Guest of the Month. I loved her performance in an incredibly hot threesome with gorgeous Italian Eva Paradis who lives in London and ruggedly handsome Martin Mazza from Madrid, Spain. Bianka and Eva were dressed for a night on the town, but their attraction led them to the bedroom".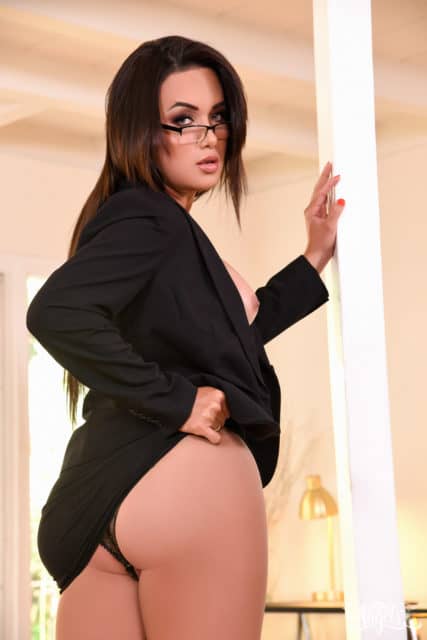 Bianka Nascimento in Doin' It For The Deed – Trans Angels
Having access to her very own solo site has enabled Bianka Nascimento to shoot all manner of sensational photo sets and hardcore scenes for her fans. If you just can't get enough of curvaceous cutie Bianka Nascimento then you have to check out her stunning Bianka By The Poolside photo set that was first released in December 2016, her kinky Tight Latex Makes Me Horny and Bianka Latex fetish scenes which were uploaded in October and November 2016 as well as her captivating Bianka Is The Fruit Of Lust solo shoot which was unveiled in January 2017. The list goes on!
With so many sensational scenes to her name, it should come as no surprise that Bianka Nascimento was featured in the first ever international issue of Transformation Magazine in January 2016.This pioneering publication listed Bianka Nascimento as one of the hottest TS performers in South America and she was showcased in a glamorous feature article alongside internationally renowned performers Lina Cavalli (Russia), Sadie Kross (Finland), Kimber Lee (Germany), Angelina Valls (France), Judith Wilde (Spain), Cleopatra Kambugu (Uganda), Audrey Mbugua (Kenya), Shelbe Chang (Taiwan), Jennifer Wang (Hong Kong), Fish (Thailand), Mimi Glamour (Philippines), Trixxy Von Tease (USA), Allison (Canada), Nikki Montero (Chile), Mona Vela (Mexico), Eva Cassini (USA), Jacquie Blu (Cherokee), Daveena Badree (Trinidad and Tobago) and Marissa Minx (Australia).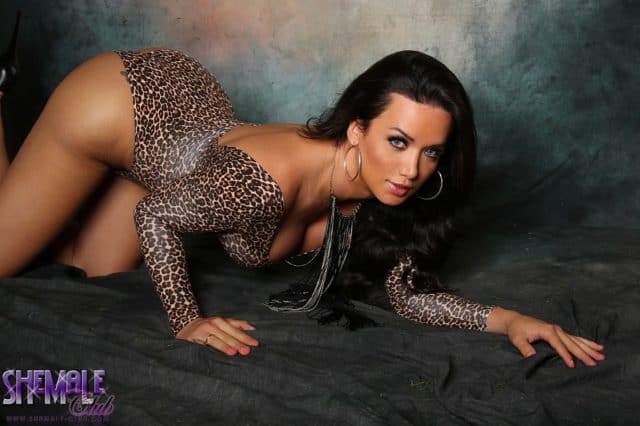 Bianka Nascimento – SMC Network
This international issue was created to shine a light on some of the most beautiful TS performers across the globe, with Transformation Magazine's Editor-In-Chief Hanna Rodgers highlighting how;
"The idea of an International Issue is to show how truly global trans beauty is. From the United States to France, from Brazil to Russia we searched for the best representatives to give a diverse look at what's going on in different landscapes…As you probably know we have been talking about gender identity and expression for over 20 years but it seems as though these topics are only recently coming to the surface for many others, especially those outside of the LGBT community, both domestically and abroad. And even though we have always been a U.S. based publication Transformation has always done its best to cover all aspects of gender from all corners of the globe, to show that the struggle for equality, understanding, and acceptance is universal".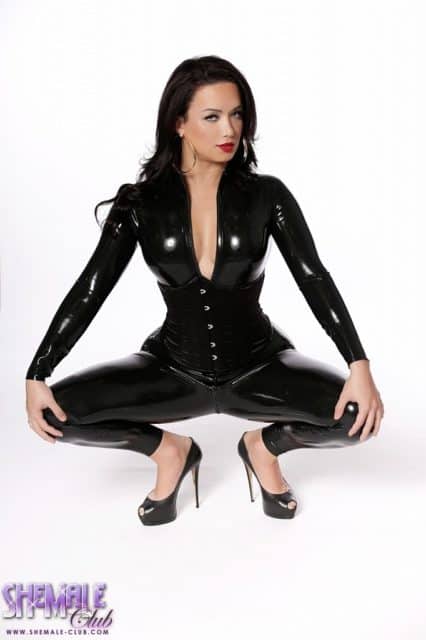 Bianka Nascimento – SMC Network
Never one to rest on her laurels, Bianka Nascimento has continued to star in many fan-favorite porn productions. You'll love viewing her titillating Bianka Nascimento Returns! solo scene which was uploaded via Brazilian Transsexuals in September 2017, her kinky latex-clad scene with Gabriel D'Alessandro in Joey Silvera's Evil Angel movie Trans X-Perience #7 (2017), her saucy scenes in the SMC Network star showcase Transsexual Superstars: Kimberlee (2017) which was nominated for "Best Transsexual Movie" at the 2018 AVN Awards and her raunchy Poolside Peeper and Doin' It For The Deed role-plays with D. Arclyte and Michael DelRay that were promoted via Trans Angels in December 2017 and March 2018. A fan-favorite Trans Angels performer, Bianka Nascimento has even been featured in the Trans Angels DVD Angels In Public (2018) alongside Aubrey Kate, Domino Presley and Foxxy.
Always wanted to share a scene with Bianka Nascimento? Well now you can! In recent years Bianka has started to shoot some intensely alluring virtual reality sex scenes for TS Virtual Lovers. You'll love immersing yourself within Bianka Nascimento's Barebacked Bianka scene in June 2017, her kinky The Underpanties Surprise shoot with Sasha Zima in July 2017, her steamy Alone And Wild scene in September 2017 and her amazing two part The Couchsurfer VR experience which was unveiled via TS Virtual Lovers in May and June 2018.
Hold on, it gets even better! Bianka Nascimento has treated her fans to some immersive Bathing With Bianka and My TS Escort one-on-one scenes which were released via VRB Trans. You'll also love experiencing her Good Girls Gone Bad VR romp with Barra Brass. It's like you're in the room with them!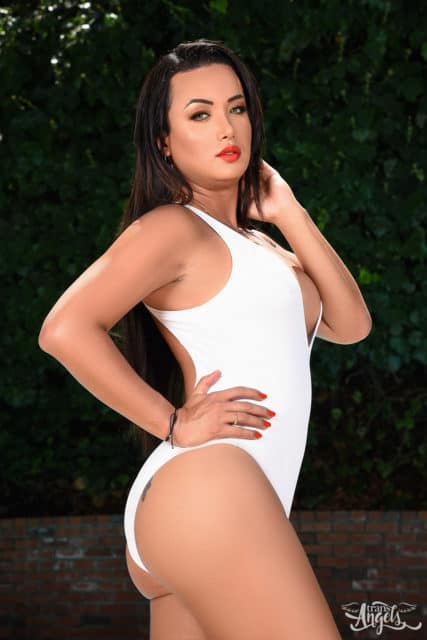 Bianka Nascimento in Poolside Peeper – Trans Angels
Eager to explore all of Bianka Nascimento's hottest sex scenes and exclusive web content? Then use the links provided below to stay connected with your favorite busty Brazilian babe Bianka Nascimento!
Bianka Nascimento – Social Networks
Official Website : BiankaNascimento.com
Twitter : @LegendaryBianka
Instagram : @biankanascimento_
TS Virtual Lovers : Bianka's VR Scenes
Brazil TGirls : Bianka at Brazil TGirls XXX
Brazilian Transsexuals : Bianka at Brazilian Transsexuals
Evil Angel : Bianka at Evil Angel
TGirls : Bianka at TGirls XXX
Trans Angels : Bianka at Trans Angels
Trans 500 : Bianka at Trans 500
VRB Trans : Bianka at VRB Trans