Marissa Minx
Official Website : MarissaMinx.com   Marissa Minx Twitter : @XXMARISSAMINX
TGirls XXX : Marissa's Sex Scenes   TransSensual : Marissa's Movies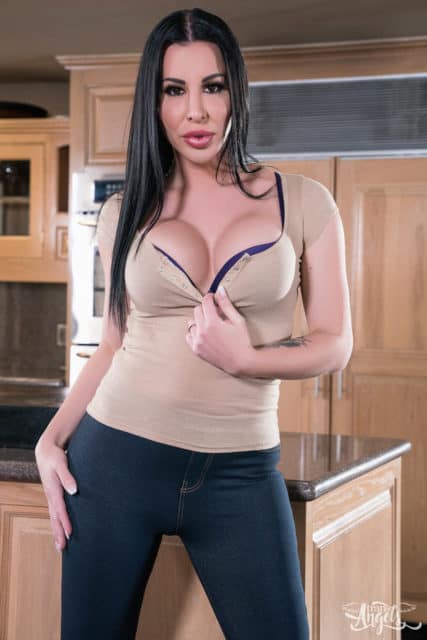 Marissa in MILF in the Morning – Trans Angels
Marissa Minx – Personal Info
Name : Marissa Minx
Date of Birth : December 8th
Star Sign : Sagittarius
Hometown : Queensland (Australia)
Height : 5'8 (1.73m)
Hair Colour : Black
Eye Colour : Hazel
Tattoos : An intricate floral design on the inside of her left forearm, a large butterfly and a small butterfly on her right hip, a centaur firing a bow and arrow in the centre of her lower back and a floral design across her right foot
Piercings : Navel
Years Active : 2015 – present
Number of Scenes : 20+
Marissa Minx is an amazing Australian TS porn star and glamour model who made her industry debut in late 2015/early 2016. Over the years, Marissa Minx's sensational scenes in many Grooby, Evil Angel, Devil's Film and TransSensual productions have earned her a devoted global fan base. Marissa Minx has also received numerous accolades, including "Transsexual Performer of the Year", "Best Scene" and "Best International Model" nominations at the AVN and Transgender Erotica Awards.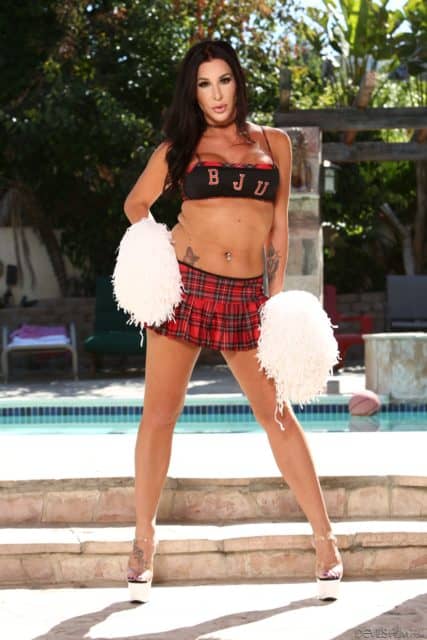 Marissa in Transsexual Cheerleaders #17 – Devil's Film
So where did it all begin? Originally from Queensland, Australia, Marissa Minx comes from a close knit family and conveyed during her February 2016 Transformation Magazine interview how;
"My family and I are incredibly close, and I'm very lucky to have such a understanding accepting family. I guess they always knew when I was growing up I was stuck in the wrong body. When I told my mum I was changing into a girl her first words were "About bloody time." Hahaha…
They have offered nothing but acceptance and loving feelings towards me still, which I treasure and don't take for granted. My sister and I are like best friends. She knows my life and I know what's happening with hers, and quite bizarrely, we are so open with each other, we know each other's sex life!!! Hahaha. It's a weird, close bond we have, but I wouldn't change it for the world. It's like having a best girlfriend in high school, all the convos we have!!…I was really big with being "accepted" when I first changed. But now I'm happy to say I'm so content with myself and comfortable and confident, if someone doesn't accept me for who I am, I will not give them the time of day".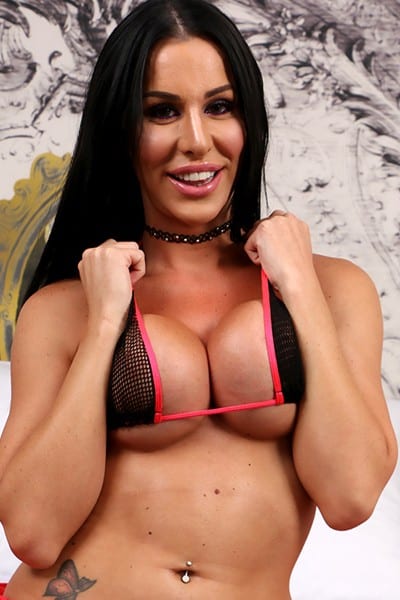 Marissa in It's A Photoshoot – Trans500.com
Marissa Minx : Adult Film Career
Marissa Minx first started working in the adult film industry in late 2015/early 2016 and many of her earliest sex scenes were released via Pure-TS.com. We recommend checking out Marissa Minx's sizzling Amateur Aussie Starlet Makes Her Hardcore Debut scene with Christian XXX in October 2016, her raunchy Horny Marissa Gets Fucked After A Bubble Bath role-play with Christian XXX in December 2016 and her thrilling Busty Brunette Best Friends Get The Pipe Together three-way with Paige London and Christian XXX which was released via Pure-TS.com in June 2017. Several of these saucy scenes have even been showcased in the CX Wow DVD compilation titles Soapy SM Sex (2017) and Up & Cumming TS Starlets (2017) starring sexy TS pornstars Bailey Love, Lena Kelly and Mackenzie Rae.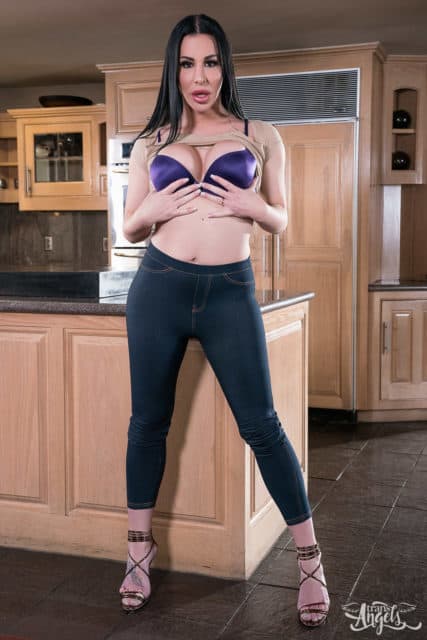 Marissa in MILF in the Morning – Trans Angels
A landmark moment in Marissa Minx's adult film career occurred in January 2016 when she was showcased in the first ever international issue of Transformation Magazine. This pioneering publication listed Marissa Minx as one of Australia's most prominent porn stars and featured her in a segment alongside internationally renowned performers Lina Cavalli (Russia), Sadie Kross (Finland), KimberLee (Germany), Angelina Valls (France), Judith Wilde (Spain), Cleopatra Kambugu (Uganda), Audrey Mbugua (Kenya), Shelbe Chang (Taiwan), Jennifer Wang (Hong Kong), Fish (Thailand), Mimi Glamour (Philippines), Trixxy Von Tease (USA), Allison (Canada), Nikki Montero (Chile), Mona Vela (Mexico), Eva Cassini (USA), Jacquie Blu (Cherokee), Daveena Badree (Trinidad and Tobago) and Bianka Nascimento (Brazil).
This international issue was created to shine a light on some of the most beautiful TS performers across the globe, with Transformation Magazine's Editor-In-Chief Hanna Rodgers highlighting how;
"The idea of an International Issue is to show how truly global trans beauty is. From the United States to France, from Brazil to Russia we searched for the best representatives to give a diverse look at what's going on in different landscapes…As you probably know we have been talking about gender identity and expression for over 20 years but it seems as though these topics are only recently coming to the surface for many others, especially those outside of the LGBT community, both domestically and abroad. And even though we have always been a U.S. based publication Transformation has always done its best to cover all aspects of gender from all corners of the globe, to show that the struggle for equality, understanding, and acceptance is universal".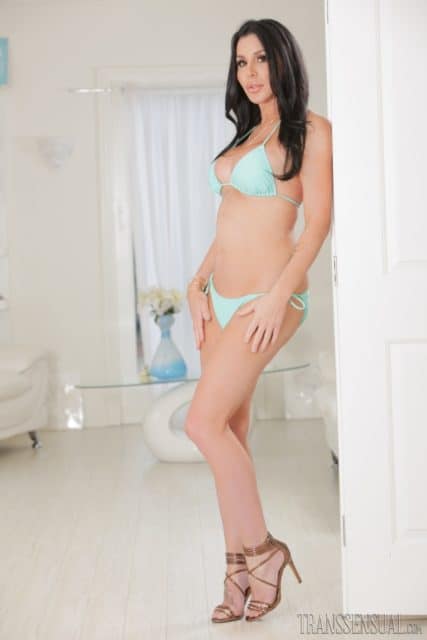 Marissa in TS Wife Swap – TransSensual Studios
Another definitive moment in Marissa Minx's adult film career occurred in November 2016 when she made her Grooby Network debut. Marissa Minx starred in a seductive Meet Gorgeous Marissa Minx! solo scene which was shot by Radius Dark for Grooby Girls. Marissa Minx and Radius have collaborated on several sensational Grooby Girls scenes including Marissa Minx's steamy Marissa Minx Jacks Off And Cums! solo shoot in November 2016 and her titillating Cumshot Monday: Marissa Minx Cums For You! solo scene in May 2017.
Wait, there's even more! Radius has also shot many of Marissa Minx's hottest TGirls.xxx scenes such as her raunchy Marissa Screwed Hard By Ruckus! hardcore scene in April 2017, her titillating Marissa In Sexy Bikini! and Marissa, Hot And Playful Babe! solo scenes in May 2017, as well as her kinky Cumshot Friday: Marissa Minx! solo shoot in February 2018. In fact, Marissa Minx's sizzling Grooby Network web clips have proved so popular among fans that she has been featured in the Grooby DVDs Radius Dark's TS Starlets #3 (2017) and TGirl Teasers #9 (2018) alongside gorgeous TS pornstars Aubrey Starr, Casey Kisses, Cassie Sparkles and Shiri Allwood.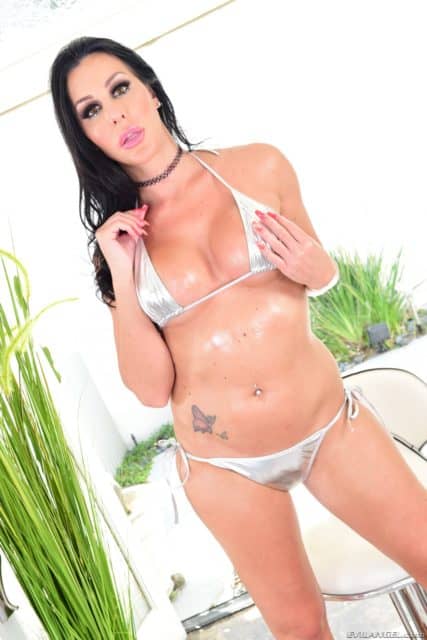 Marissa in Trans X-Perience #7 – Evil Angel
Marissa Minx : Popular Porn Productions & Award Nominations
In addition to her captivating web clips, Marissa Minx has starred in several critically acclaimed movies. Our top picks? They'd have to be Marissa Minx's sizzling scene with Jonah Marx in the Devil's Film sequel release Transsexual Cheerleaders #17 (2017) that was nominated for "Best Transsexual Sex Scene" and "Best Transsexual Movie" at the 2018 AVN Awards, her scintillating scenes with Moka Mora and Gabriel D'Alessandro in Joey Silvera's Evil Angel production Trans X-Perience #7 (2017), and her sensual scenes with D. Arclyte and Lance Hart in Dana Vespoli's TransSensual Studios release TS Wife Swap (2018). Must see movies for Marissa Minx fans!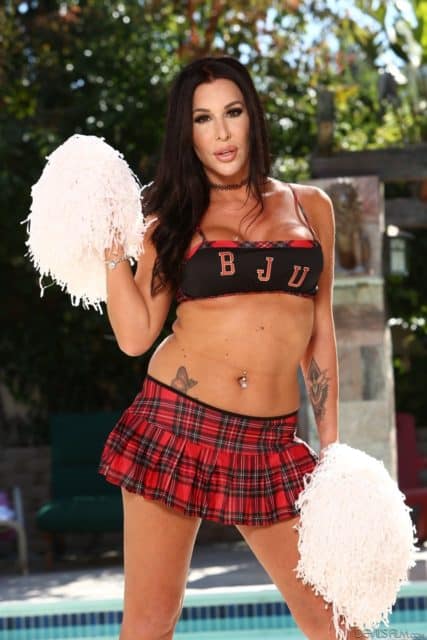 Marissa in Transsexual Cheerleaders #17 – Devil's Film
One of Marissa Minx's most popular porn productions has been Transsexual Girlfriend Experience #4 (2017) for Devil's Film within which Marissa Minx shared a sultry scene with Tori Avano. Directed by Jim Powers and starring Alexa Scout, Audrey Noir, Chanel Santini, Jessy Dubai, Kiki D'Aire and Trinity St. Clair, Transsexual Girlfriend Experience #4 was highly recommended by XCritic column writer Apache Warrior who conveyed in his July 2017 film review how;
"The set-up situations for these scenes feel personal and authentic. This studio's "Girlfriend Experience" wants to create a more personal and somewhat romantic chemistry between close romantic partners while other studios are really generic hook-up situations. We get a sense of sweet connections. It really shows well in the Jessy Dubai-Kiki Daire and Marissa Minx-Tori Avano scenes. Meanwhile, Audrey Noir has a gentle touch while Chanel Santini is a promising superstar in the making. I am sure we will see it come out more in the future. This series is my favorite "Girlfriend Experience" and this film deserves a highly recommended rating".  
Eager to explore even more of Marissa Minx's hottest sex scenes? Then you'll love viewing her raunchy Happy T-MILF's Day role-play with Annabelle Lane and her titillating MILF in the Morning scene with Michael that were both released via Trans Angels in May and August 2018, her kinky Anal Gymnastics shoot with Natalie Mars which was nominated for "Best Scene" at the 2018 Transgender Erotica Awards and her steamy It's A Photoshoot scene that has been featured in the Trans 500 DVD compilation titles Transsexual Sexcapades #8 (2017), Transsexual Eye Candy #3 (2017) and Monstercock Trans Takeover #23 (2018). Not to be missed!
Want to know the most impressive part? Starring in so many popular porn productions has earned Marissa Minx several notable awards nominations including;
2018: AVN Awards nominee "Best Transsexual Sex Scene" Transsexual Cheerleaders 17 (with Jonah Marx)
2018: AVN Awards nominee "Transsexual Performer of the Year"
2018: Transgender Erotica Awards nominee "Best International Model"
2018: Transgender Erotica Awards nominee "Best New Face"
2018: Transgender Erotica Awards nominee "Best Scene" Anal Gymnastics (with Natalie Mars)
2019: Transgender Erotica Awards winner "Best Non- US Performer"
Wondering what the future holds for sensational rising star Marissa Minx? Well, you'll be happy to hear that Marissa Minx has launched her official website – MarissaMinx.com – in collaboration with Trans Erotica. Having access to this online platform has enabled Marissa Minx to share all manner of exclusive photo, video and live cam content with her fans. Marissa Minx has already shared some sizzling scenes with Alexa Scout, Natalie Mars, Jasmeen LeFleur and Chanel Santini! Marissa Minx loves sharing this sensational content with her fans and enthusiastically states via her solo website that;
"I love working in this industry and have worked with many top adult companies such as Devils Film, Evil Angel and Shemale Club, just to name a few. I joined forces with Trans Erotica where I was able to get my own website for you to enjoy all of my exclusive content. Don't be afraid to message me and let me know what else you would like to see from me. I aim to please you all so I am open for suggestions and love to chat! I absolutely love my job and performing, so I hope you enjoy it as much as I have enjoyed making it for you!".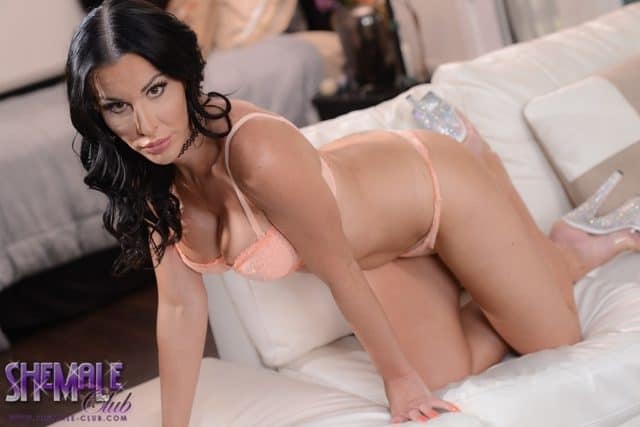 Marissa at SMC Network
Eager to explore all of Marissa Minx's hottest sex scenes and exclusive web content? Then use the links provided below to stay connected with your dream girl Marissa Minx!
Marissa Minx – Social Networks
Official Website : MarissaMinx.com
Twitter : @XXMARISSAMINX
Devil's Film : Marissa at Devil's Film
Evil Angel : Marissa at Evil Angel
Grooby Girls : Marissa at Grooby Girls
SMC : Marissa at SMC Network
TGirls : Marissa at TGirls.XXX
Trans Angels : Marissa at Trans Angels
TransSensual : Marissa at TransSensual Studios
Trans 500 : Marissa at Trans 500