Coco Dahlia
Coco Dahlia Twitter : @CocoDahlia   Devil's Film : Coco's Movies   Grooby Girls : Coco's Sex Scenes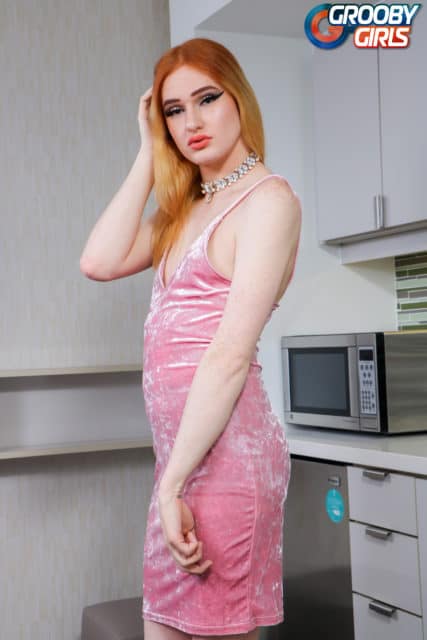 Gorgeous Coco Dahlia! – Grooby Girls
Coco Dahlia – Personal Info
Name : Coco Dahlia
Date of Birth : July 18th
Star Sign : Cancer
Hometown : Houston, Texas (US)
Hair Colour : Red
Eye Colour : Blue
Tattoos : A symbol on the left side of her lower abdomen, an owl on her upper right thigh, a Milhouse design on the inside of her left forearm (just below her elbow), a skeleton on the outside of her lower left leg (just below her knee), 'Live Fast' script on the inside of her left wrist and matching 'Die' script on the inside of her right wrist
Piercings : Navel
Years Active : 2016 – present
Number of Scenes : 10+
Coco Dahlia is a ravishing redhead who has been thrilling fans since early 2016. A multi-talented porn star and glamour model, Coco Dahlia continues to star in a wide range of Grooby Girls, Tgirls.porn, Two TGirls and Devil's Film productions. Watch this space!
Coco Dahlia : Adult Film Career
Hailing from Houston, Texas, Coco Dahlia made her adult film modelling debut in January 2016 when she filmed a sultry solo scene for the Grooby Network porn site Grooby Girls. Titled Redhead Newcomer Coco Dahlia!, this steamy solo shoot was directed by Omar Wax who has filmed many of Coco's hottest solo scenes for Grooby Girls. Our top picks? They'd have to be Coco Dahlia's saucy Redhead Coco Dahlia Cums shoot in March 2016 as well as her sizzling Sexy Redhead Coco Dahlia Gets Naked!  and Coco Dahlia Jerks Off! scenes in October 2016.
Wait, there's even more! Coco Dahlia has since worked with Omar Wax on a titillating Cumshot Monday: Coco Dahlia Cums For You! solo shoot that was released via Grooby Girls in July 2017 with the description;
"Guess who's back as the star of this week's "Cumshot Monday" special? Gorgeous Coco Dahlia returns to SMY after a few months rock hard and ready to show us what she got! She looks smoking hot all dolled-up in her sexy lingerie and high heels! It seems she really enjoys posing and stripping for Omar's camera! She even brought her pink dildo with her!".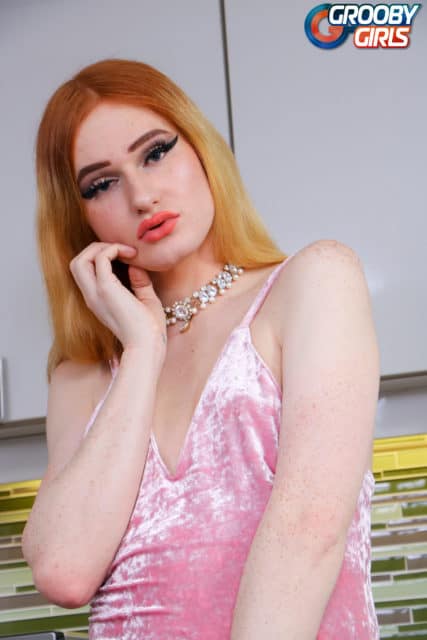 Gorgeous Coco Dahlia! – Grooby Girls
Coco Dahlia has also collaborated with Omar Wax on some hot hardcore scenes that were unveiled via the Grooby Network porn site Tgirls.porn. Fans of Coco Dahlia will love viewing her sizzling scene with Chanel Santini in March 2016 and her steamy sophomore shoot with Candy Licious in October 2016. In fact, Coco's Tgirls.porn scene with Candy even received high praise from adult film blogger Caramel Black who advocated in her October 2016 online review how;
"I think I have a sort of intangible built-in porn alarm in my head that tells me a scene is going to be a top favorite before I actually see it. Just hearing about the new hardcore set with CoCo Dahlia and Candy on TGirls.Porn set it off and it's still ringing somewhere in the background since the release. Have you seen the extended free trailer, streamed or downloaded this instant classic yet?…This display of transbian intimacy hits the ground running as Candy models her new sexy outfit for CoCo in the kitchen. CoCo is suddenly aware that she's being a little forward with her admiration of Candy's killer ass, but her friend doesn't mind. To let her know that she rather likes the attention, Candy exposes one of CoCo's pretty boobs and it's basically on after that move…
They start tongue kissing. It's electrifying. So is Candy's high-pitched voice and one of CoCo's trademark squeals once she feels a tongue swirling around one of her sensitive nipples. I've heard Coco's sexual noises a couple of times before, on Grooby Girls and here on TGirls.Porn. The response from Candy's Black-TGirls.com debut generated the most favorable response from members I've seen in ages. Producer Omar Wax is a talented and lucky man to capture this brilliantly conceived pairing".
Eager to explore even more of Coco Dahlia's compelling Tgirls.porn collaborations? Then you'll love watching her scintillating scene with Valentina Mia in January 2017, her compelling collaboration with Jenny Flowers in April 2017 and her titillating shoot with Robyn Flightsy in December 2017. Coco Dahlia's captivating Tgirls.porn collaborations have earned her many ardent endorsements from Caramel Black who eagerly expressed in her December 2017 TS Dreamland review that;
"The final update of 2017 for TGirls.Porn is delivered by a type porn Santa by the name of Omar Wax. This is Texas native Coco's fifth scene on the site and it's so obvious when you watch her scenes why she keeps being asked to return. She's not only super sexy and cute as a button. She's also incredibly versatile. She made her debut on this site with Chanel Santini, returned for a romp with Candi Licious, then back again with Valentina Mia…
Next up was a scene with blazing hot Jenny Flowers and now she's with gorgeous Robyn Flightsy of New Mexico who flew to Houston for this shoot. Mr. Wax introduced us to Robyn on AsianAmericanTGirls.com and her "Very Very Naughty Robyn Flightsy!" encore in July of 2017. As a Coco fan from her amateur days and through her major studio work also on GroobyGirls.com, I knew she'd knock this one out of the park".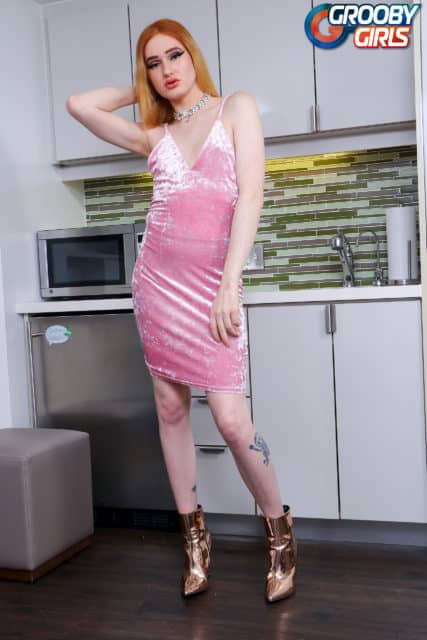 Gorgeous Coco Dahlia! – Grooby Girls
During this time Coco Dahlia started to shoot some steamy scenes for TwoTGirls.com including a saucy Strippers With Matching Outfits Fuck scene with gorgeous TS pornstar Kira Crash in August 2017. Coco Dahlia has since filmed a raunchy Online Hookup role-play with Bailey Love in September 2017 which was featured in the DVD compilation title Two TGirls #4 (2017). Not to be missed!
Most recently, Coco Dahlia has filmed a sensational scene with Melanie Brooks that was promoted via Tgirls.porn in August 2018. Coco Dahlia has also worked with Omar Wax on some sensual Gorgeous Coco Dahlia! and Coco Dahlia's Creamy Load! solo scenes in February 2018 as well as a raunchy Coco Dahlia & Kai Fuck Hard! romp which was promoted via Grooby Girls in March 2018. Must see sex scenes for Coco Dahlia fans!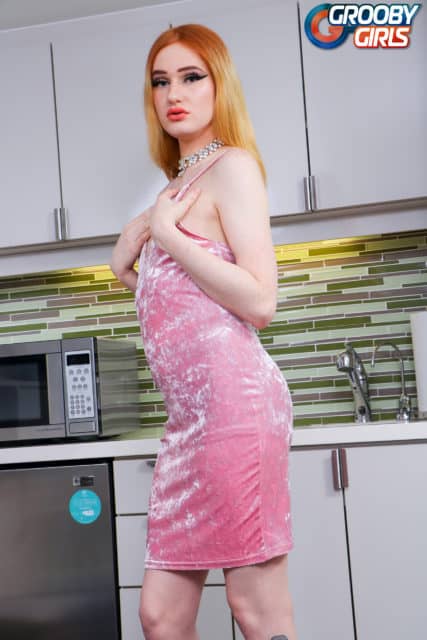 Gorgeous Coco Dahlia! – Grooby Girls
Just when you thought it couldn't get any better, Coco Dahlia has started to appear in many fan-favorite movies. You'll love watching Coco's saucy scene with Kai Bailey in the Devil's Film movie Tranny Hoes In Panty Hose #5 (2018) also starring sexy TS pornstars Sarina Valentina, Janelle Fennec and Lena Kelly. Coco Dahlia has also been featured in the Grooby compilation titles TGirls Porn #2 (2016), TGirl Teasers #6: Redheads (2017), TGirls Porn #10 (2017) and TGirl Teasers #10: Texas Edition (2018).
Want to keep yourself updated on all of Coco Dahlia's sauciest sex scenes and exclusive web content? Then use the links provided below to stay connected with your favorite strawberry blonde stunner Coco Dahlia!
Coco Dahlia – Social Networks
Twitter : @CocoDahlia
Devil's Film : Coco at Devil's Film
Grooby Girls : Coco at Grooby Girls
Tgirls.porn : Coco at Tgirls.porn
Two Tgirls : Coco at TwoTgirls.com
Adult Empire : Coco's DVDs