Official Website : JanelleFennec.com   Jannelle Fennec's Twitter : @JanelleFennec
VRB Trans : Janelle's VR Scenes   Trans Angels : Janelle's Sex Scenes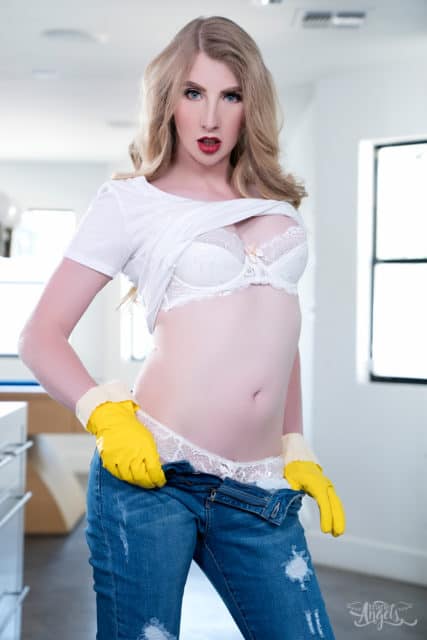 Janelle Fennec in Cheeky Clean – Trans Angels
Janelle Fennec – Personal Info
Name : Janelle Fennec
Date of Birth : June 6th
Star Sign : Gemini
Hometown : Denver, Colorado (US)
Height : 5'7 (1.70m)
Hair Colour : Blonde
Eye Colour : Blue
Piercings : Both nipples
Years Active : 2017 – present
Number of Scenes : 10+
Janelle Fennec is a busty blonde beauty who has been performing in porn since late 2017. A multi-talented adult film star, glamour model and cam girl, Janelle Fennec has already starred in an impressive collection of Grooby, Evil Angel, Devil's Film, Two Tgirls and Gender X productions. Janelle Fennec was also named "Transational Fantasy Girl of the Year" at the 2019 Transgender Erotica Awards. Definitely one to watch out for this awards season!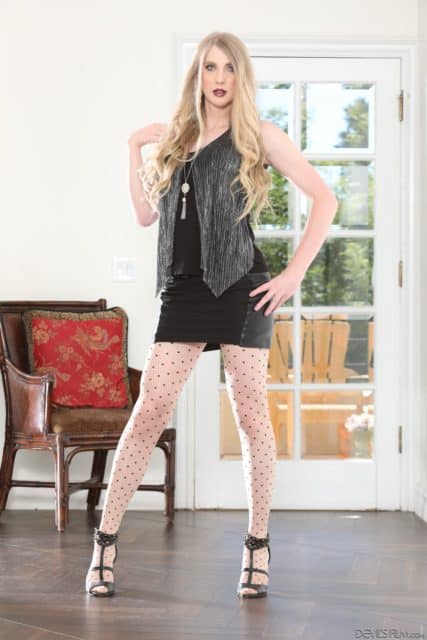 Janelle Fennec in Tranny Hoes in Panty Hose #5 – Devil's Film
Janelle Fennec : Adult Film Career
Hailing from Denver, Colorado, Janelle Fennec made her adult film industry debut in March 2017 when she filmed some sultry Meet Janelle Fennec! and Janelle Fennec Toys Her Sexy Ass! solo scenes for the Grooby Network porn site Grooby Girls.
Janelle Fennec's Grooby modelling debut was filmed by leading cinematographer Radius Dark who has shot many of her hottest Grooby Network sex scenes. We recommend checking out Janelle Fennec's fun Xmas Special: Janelle Fennec! festive romp which was released via Grooby Girls in December 2017, her sizzling Janelle Fennec & Mike Panic! hardcore scene which was promoted via Grooby Girls in April 2018 as well as her sensational Cumshot Friday: Janelle Fennec! and Cumshot Friday: Janelle Fennec's Encore! solo shoots which were unveiled via TGirls.XXX in March and August 2018.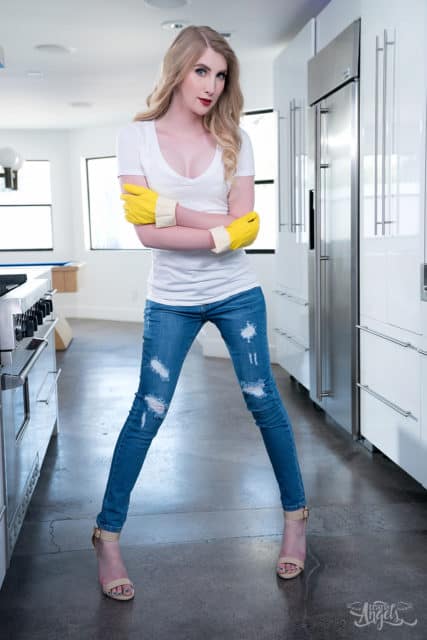 Janelle Fennec in Cheeky Clean – Trans Angels
Wait, there's even more! Radius has since filmed Janelle Fennec's raunchy Janelle Fennec Gets Creampied! scene with Colby Jansen that was uploaded via TGirls.XXX in October 2018 as well as shooting Janelle Fennec's captivating collaborations with hot TS porn stars Lianna Lawson, Chanel Noir and Alyssa Etain which were all released via Tgirls.porn in August 2017, January 2018 and March 2018. In particular, Janelle Fennec's sultry scene with Chanel Noir proved so popular that it was featured in the Grooby DVD Chanel Noir: TS Superstar (2018) also starring sexy TS porn stars Natalie Mars and Lianna Lawson as well as popular performer Kai Donec. Janelle Fennec and Chanel even received an ardent endorsement from prominent porn critic Caramel Black who highlighted in her January 2018 online review how;
"Watching the scene trailer on TGirls.Porn reveals mutual oral sex and Chanel fucking Janelle in two different positions. What the preview does not show is the build-up sequence in the hotel room where the girls come together and begin making out. From that moment until the closing make out scene with the girls standing naked, I feel that Chanel and Janelle share a chemistry that rivals any duo or threesome on this website. These models are exquisite separately but every time I see them together it's a reminder of how amazing they are as a team".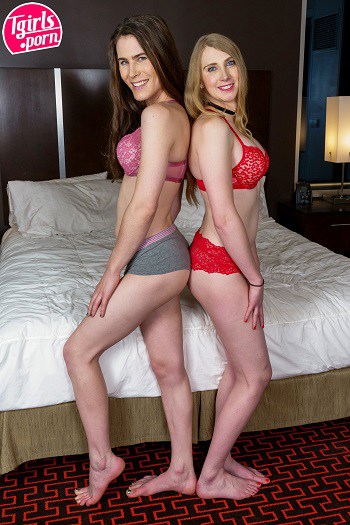 Chanel Noir and Janelle Fennec – Tgirls.porn
Just can't get enough of Janelle Fennec's sultry scene with Chanel Noir? Well you're in luck! This dynamic duo have also filmed some raunchy role-plays for TwoTgirls.com. You'll love watching Janelle Fennec and Chanel's steamy Getting Some Sugar And Dick scene as well as their saucy Fuck My Boss shoot which were both uploaded via TwoTgirls.com in November 2017.
You'll be happy to hear that Janelle Fennec has filmed many more sizzling scenes for TwoTgirls.com including some titillating Girly Sleepover Ends With Facial and Double Ended Dildo, Double The Fun scenes with Kayleigh Coxx in March 2018 as well as some compelling Fancy Fucking and Banging For A Boat Bargain scenes with Kami Kartel in October 2018. Not to be missed!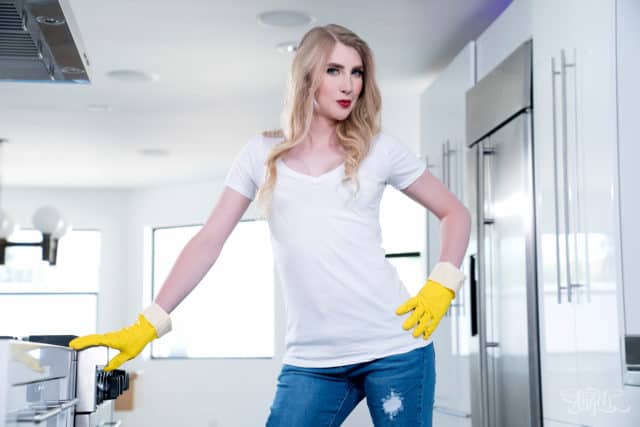 Janelle Fennec in Cheeky Clean – Trans Angels
Want to know the most impressive part? In addition to her captivating web clips, Janelle Fennec has started to appear in many fan-favorite movies. Our top picks? They'd have to be Janelle Fennec's raunchy scene with Pierce Paris in Tranny Hoes In Panty Hose #5 (2018) for Devil's Film, her epic group sex scene with Casey Kisses, Lena Kelly, Natalie Mars, Colby Jansen, Michael DelRay, Pierce Paris and Will Havoc in the Gender X movie Trans Pool Party (2018) and her intensely alluring scene with Damien Thorne in the Devil's Film production Transsexual Girlfriend Experience #6 (2018).
Fans of Janelle Fennec will also love viewing her kinky role-play with Pierce Paris in Trans School Girls (2018) for Gender X and her sizzling shoot with Chelsea Marie in Joey Silvera's Evil Angel production Trans Visions #12 (2018). In fact, Janelle Fennec and Chelsea's saucy scene received a rave review from Caramel Black who enthusiastically stated in her May 2018 online review that;
"The Chelsea Marie and Janelle Fennec scene is my favorite by far from Trans-Visions #12. The chemistry and lust between these actresses is the most convincing to me and I shouldn't even have to mention the caliber of eye candy. It begins with Silvera focused on and introducing Janelle with his usual hyperventilating when he's filming a hot model. She's fully dressed in luxurious lingerie until about the middle of the second minute…This EvilAngel.com update is fire!".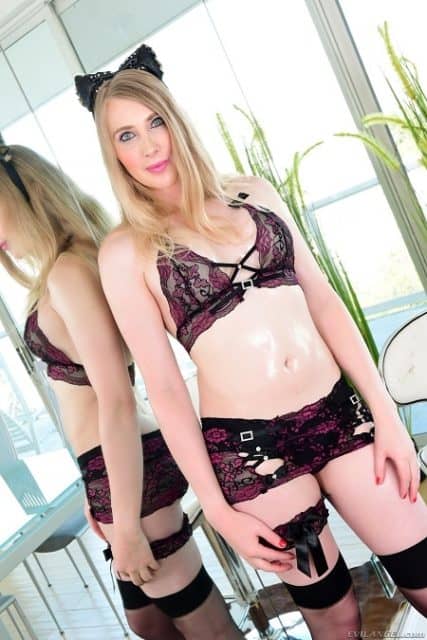 Janelle Fennec in Trans Visions #12 – Evil Angel
Eager to explore even more of Janelle Fennec's sauciest sex scenes? Then you'll love immersing yourself within Janelle Fennec's Secret Guru Succ-sex virtual reality sex scene which was unveiled via VRB Trans in June 2018 as well as treating yourself to her sizzling Cheeky Clean, Anal Archives and Fancy Facials scenes that all were released via Trans Angels in June, September and October 2018. Most notably, Janelle Fennec's kinky Fancy Facials group shoot with Aubrey Kate, Dante Colle and Pierce Paris received an ardent endorsement from Caramel Black who eagerly expressed in her October 2018 online review that;
"They're still surprising me with consistent top-notch updates. "Fancy Facials" on TransAngels.com is yet another masterpiece. It begins when we see Aubrey and Janelle enter the massage room. The production values are incredible and the moment Aubrey disrobes is scintillating. Then Janelle follows suit for a double whammy…Within the first minute, these beauties are laying prone – butt up and naked awaiting their masseuses to arrive. Enter handsome Pierce and Dante. They apply oil to their stunning client's backs and thighs, professionally working around their bare butts. When asked to turn over, Janelle is apprehensive, but Aubrey reassures her that it's okay…This TransAngels.com update is one of the finest since the website launched!".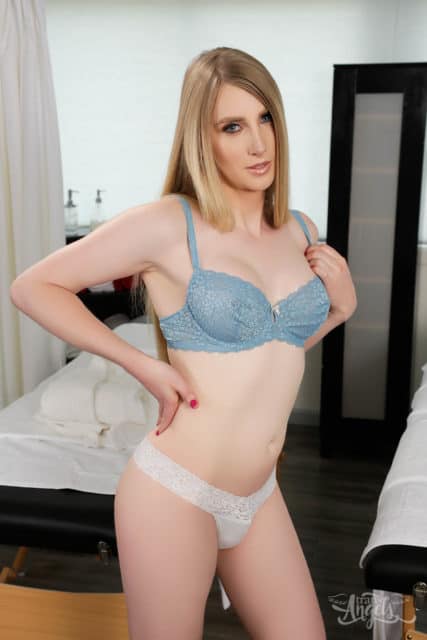 Janelle Fennec in Fancy Facials – Trans Angels
When she isn't starring in these popular porn productions, Janelle Fennec enjoys interacting with her fans via social media and shooting exclusive video, photo and live cam content for her official website JanelleFennec.com. As Janelle Fennec hotly hints;
"This website is the only place where I will post my most playful, secret, and exciting pics and videos. I built this especially for you guys, my fans, so if you want to be a part of the secret special moments of the fun I have, create an account now. This VIP account will provide you all my updates for new shoots, trips I am planning, and performance dates, so if you wanna keep up with me, make sure you're keeping up with all of me I try and do a little something special for my new fans, so expect some exclusive live shows for when you get inside.. I like being real-time for all my fans, and I really like having fun and enjoying myself! Why not come inside, and have some fun with me?".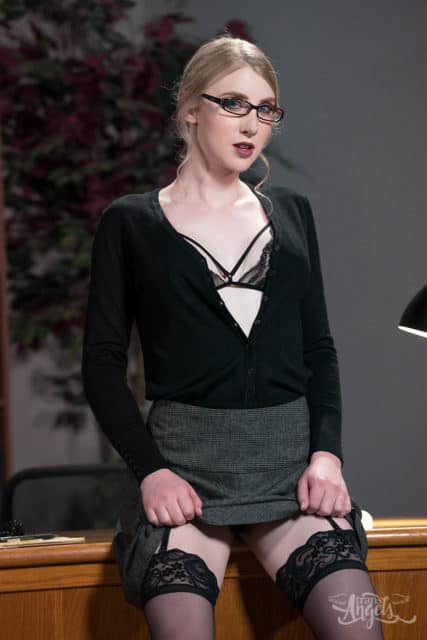 Janelle Fennec in Anal Archives – Trans Angels
Want to keep yourself updated on all of Janelle Fennec's hottest sex scenes and exclusive web content? Then use the links provided below to stay in touch with your favorite rising starlet Janelle Fennec!
Janelle Fennec – Social Networks
Official Website : JanelleFennec.com
Twitter : @JanelleFennec
Chaturbate : Sexysnowlover
Grooby Girls : Janelle at Grooby Girls
VRB Trans : Janelle's VR Scenes
Devil's Film : Janelle at Devil's Film
Evil Angel : Janelle at Evil Angel
TGirls : Janelle at TGirls XXX
Tgirls.porn : Janelle at Tgirls Porn
Trans Angels : Janelle at Trans Angels
TransSensual : Janelle at TransSensual
Two Tgirls : Janelle at Two Tgirls
Babepedia : Janelle at Babepedia