Olive Glass
Olive Glass Twitter : @GlassOlive   Instagram : @glassolive   YanksVR : Olive Glass VR Scenes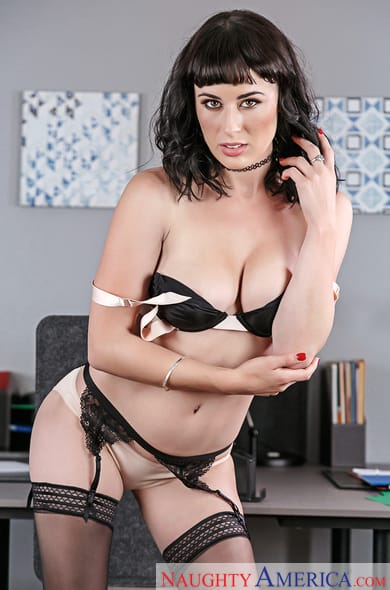 Olive Glass at Naughty America
Olive Glasss – Personal Info
Name : Olive Glass
Alias : Coco
Date of Birth : February 18th, 1990
Hometown : Logan, Utah (US)
Measurements : 34D – 24 – 31
Height : 5'7 (1.70m)
Hair Colour : Black
Eye Colour : Hazel
Tattoos : A gnome riding a goat on her upper thigh and designs on both of her ankles
Shoe Size : Women's 7 (US)
Pets  : A black cat called Shiva. Olive has jokingly stated in her October 2017 AVN interview that; "She's a little bit of a monster to everybody but me but she loves me so I don't care".
Years Active : 2013 – present
Number of Scenes : 30+
Olive Glass is a multi-talented mainstream model and actress as well as a popular porn star, artist and fetish performer who has been taking the adult film industry by storm in recent years. In fact, Olive has already been named as Penthouse magazine's "Pet of the Month" for June 2017 and she received a wealth of "Best Girl/Girl Sex Scene", "Best Virtual Reality Sex Scene" and "Best Sex Scene – Couples-Themed Release" nominations at the 2018 AVN and XBIZ Awards. Definitely one to watch out for in the near future!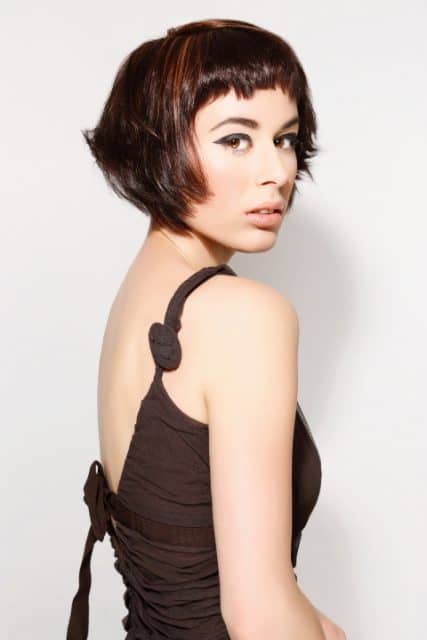 Olive Glass – Image Attribution : OfficialGlassOlive.com
Hailing from Utah, but currently based in Los Angeles, California, Olive was raised in a very religious household and attended several different schools throughout her high school years. Talking about these younger years during her June 2017 Fleshbot interview, Olive highlighted how;
"School was complicated for me! I went to four or five different schools, and it's sort of incredible how quickly I managed to become extremely unpopular wherever I went. I was really sweet, very naive, and lived in my own little world. It wasn't uncommon for me to skip all of my classes so I could go read books in a pine tree in the recess yard. I'd climb all the way up to the top so no one could see me, and stay there all day, getting covered in sap. I hung out with the art club kids- I'm still close to a few! We were an odd bunch, I remember wearing all black and listening to MCR and being really fucking hyper all the time. I didn't date anyone! Teenage boys kinda freaked me out, to be honest! I started dating my best guy friend a couple weeks before I left high school- I left early- and dated him until I was about 18…
I always thought the idea of women having sex on camera as a career seemed so powerful and bad ass to me. the first time I remember thinking 'I want to do that!' I was 18, and had just read an interview with Sasha Grey online somewhere, and was totally blown away by her. I thought she was so relevant, and sexy! i wanted to be just like her! I hadn't even seen any of her porn, and didn't have to. Just her openness and fierceness was enough to change my life and opened that Pandora's box- she encouraged me to start exploring my own sexuality, which was a big step for 18 year old me".
Olive did not graduate from high school but she earned her GED and started working as a mainstream model. Over the years Olive has been featured within many prominent publications including Sticks and Stones, Junnnk Tank, Surreal Beauty, Alt Noir, Votive, Fuzion UK, Womanroute, Magazine Senza Respiro, Silvershotz, Dark Beauty, Phoenix New Times, Vogue Italia and Black+Grey but to name a few! Working as a mainstream model for seven years enabled Olive to bolster her self-esteem and develop confidence with regards to her body and sexuality. As Olive herself explained within her October 2017 AVN interview;
"I grew up in a really religious, pretty suppressive environment as a kid and we weren't allowed to explore—not that you want kids exploring their sexuality, but I was definitely told growing up that women marry the first person they sleep with, they have children, they stay at home—it was pretty fundamentalist. I come from something more along the lines of FLDS; Fundamentalist Latter Day Saints. LDS broke off into the FLDS that went one direction in the state, and then my family started a community on the border of Nevada and Utah of their own branch of fundamentalist Mormon, and I grew up on a very small homestead out in the desert…
I was never really into that; that was never my style, so I guess my philosophy is, I'm curious about life and I want to explore all the different facets of it, and I think especially in the political climate going on right now, it's really important for women like myself, who love our sexuality, to take almost like an educational standpoint".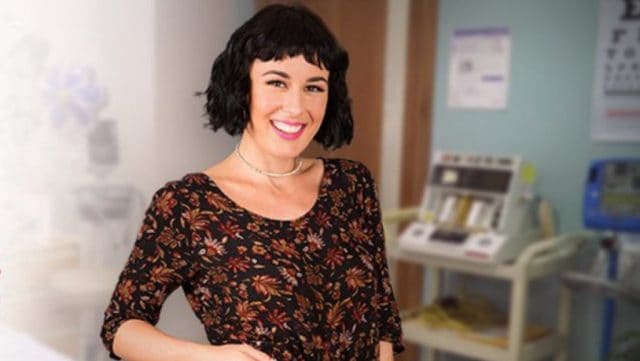 Olive Glass – Image Attribution : AVN Media Network
You may be interested to learn that Olive is also a talented actress who has appeared in several mainstream movies and music videos. As matters stand, Olive has appeared in Lauren Muller's short film The Woods, she starred in the music video for Baby Raptor's single Here We Are, she appeared in the music video for the Jeremy and the Harlequins single Right out of Love and she also made an appearance in the music video for Ellis Martin's single High on Monday. Olive's biggest mainstream movie role has been in Adam Sandler's comedy movie The Do-Over wherein Olive appeared as a body double for Catherine Bell and as a featured extra. Olive loved working on The Do-Over and revealed in her July 2017 Adult DVD Talk interview that;
"My first love is acting. I've been acting in indie films, music videos, and mainstream films, dance, and theater performance professionally for over a decade. I'll be an actress til the day I die!…I actually had two roles in the same movie! It's called 'The Do-Over', and it's on Netflix. I was Catherine Bell's body double for a fake threesome scene with Luis Guizman and David Spade (Guizman was pretending to fuck me from behind while I pretended to give David Spade a blow job. It was so funny.).  My second role was flashing my tits at Adam Sandler and David Spade on a yacht. It was such a funny scene, they even talked about it on the Tonight Show!…
It was an exciting summer. They flew me to Savannah, Georgia for a handful of days to work as Bell's body double. Then, they flew me to Puerto Rico for a week to shoot the boat scene. It was such an exciting time in my life. I got to work directly with actors I've watched in movies since I was a kid and really experience what it's like to work on a big budget mainstream film. I also hung out and got to know Adam Sandler a little bit. He's a really sincere, talented man".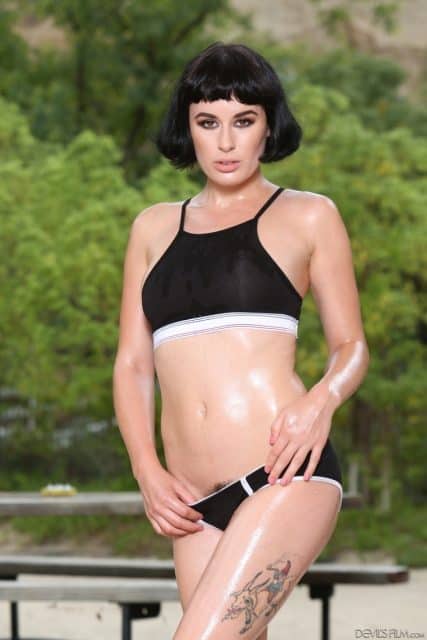 Olive Glass – Image Attribution : AVN Media Network
So what made Olive swap mainstream modelling for performing in porn? Well, Olive had been posing as an art nude, glamour and fashion model for the past seven years which led her to occasionally shoot for various fetish modelling companies. Posing for these fetish shoots enabled Olive to experiment with more hardcore content and piqued her curiosity in the adult film industry. As Olive explained in greater detail during her October 2017 AVN interview;
"I wanted to pursue porn for a long time and I never really dove into it until Trump got elected, and I was like, 'I guess now is the time and place,' right? I think that there is a lot of power behind sexuality…I guess I got kind of uninspired by it all…and I felt like the porn industry had more of the edge I was looking for from an artist's standpoint as well as I just felt really accepted and it was a fun, wonderful, well-paying environment, so here I am…
After about my fourth or fifth year in mainstream, I was like, 'I'm going to start being the boss around here too…so I started playing with different concepts, and it seemed like the people I was working around—amazing artists; don't get me wrong, but I felt like there was always that block of, they never wanted to delve too deeply or go too far, and the porn industry doesn't have that same block. The walls are coming down. I feel a lot more inspired in this industry at this point, and I was really excited to make some really cool stuff. I eventually want to start directing".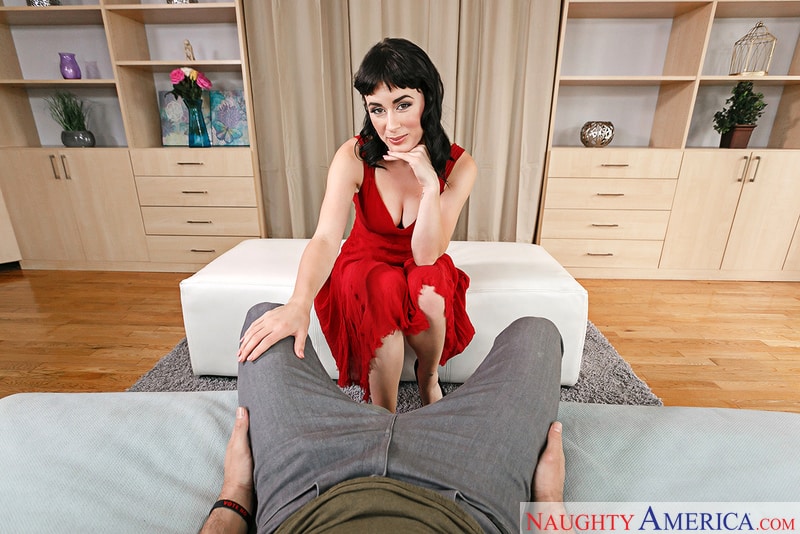 Olive in The Girl Next Door – A Virtual Reality Experience – Naughty America VR
Moreover, when she was asked during her July 2017 Adult DVD Talk interview about her reasons for pursuing a career in the adult film industry Olive explained how;
 "I think my choice to pursue porn as a career was maybe the best decision I've made in a long time. It's not an act, I really am having the time of my life!…I get to fuck talented, incredibly sexy performers. I get paid enough to travel the world. I have plenty of time off, so I don't feel oppressed by working too much, but when i do work, I'm super passionate about my job! It's really been a win-win situation for me…
That's a tough question it's completely different [to modelling] in some ways, and the same thing in other ways. The content of a porn shoot has different requirements than, say, a fashion editorial. The point of either of them is to look beautiful and inspire the viewer, but fashion is more of a mental stimulation. Porn doesn't stop til you're cumming…I think what I love most about porn is the sense of empowerment I get from it. Watching other female performers who celebrate sex in such an open, fierce and beautiful way gives me a rush…
I work hard to create what I believe is edgy and poignant images as a model and an artist. When I decided to begin working in the porn industry as a career, I think what struck me most is how painfully underrated adult performers are in the mainstream world. This industry creates work that blows me away on the daily That hits home in such a powerful way. Sexuality is scary, and I think what makes the porn industry so inspiring to me is that it forces you to get out of your comfort zone and finally face your own unique brand of sexuality- which so many people spend their lifetime running from. I find that beautiful".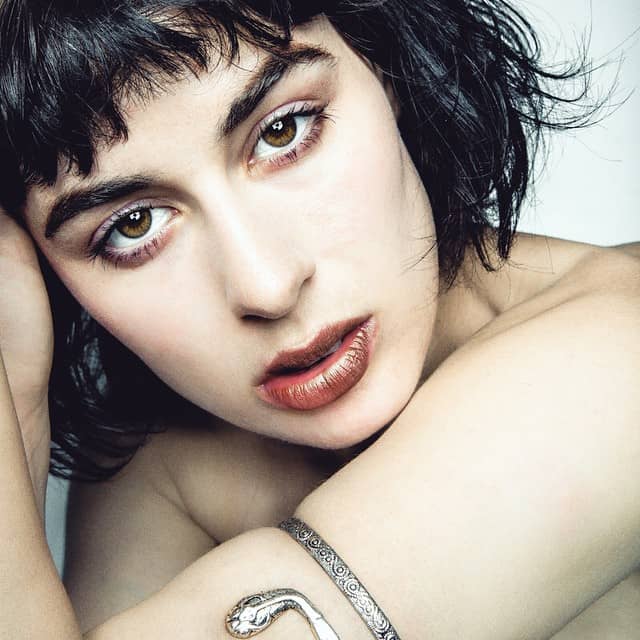 Olive Glass – Image Attribution : OfficialGlassOlive.com
Olive Glass : Adult Film Career
Olive first began performing in porn in 2013 under the stage name 'Coco'. Some of Olive's earliest sex scenes include her saucy shoot with Brooklyn Chase in the Adam & Eve porn parody Grease XXX (2013) which won "Best Parody: Comedy" at the 2014 AVN and XRCO Awards. Olive also starred in a group shoot for Manuel Ferrara's Video Marc Dorcel French porn production Lola, Dressage en Orgie/The Orgy Initiation Of Lola (2014) also starring Abby Cross, Alina Li, Anikka Albrite, Ash Hollywood, Dahlia Sky, Britney Amber, Karla Kush, Lola Foxx, Lola Reve and Romi Rain.
Fans of Olive Glass will also want to watch her intensely alluring virtual reality sex scenes with Verronica Kirei which were released via YanksVR.com in November and December 2016. In fact, Olive was actually featured on a show that aired on MTV3 in Finland wherein she and her fellow Yanks.com performers had a pillow fight and talked about sex.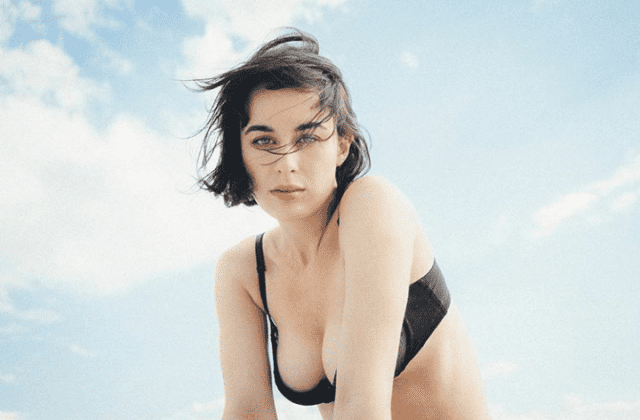 Olive Glass – Image Attribution : OfficialOliveGlass.com
One of Olive's earliest porn productions was Cirque Du Coco (2013) for Porn Fidelity within which Olive shared some compelling circus themed sex scenes with dynamic directing duo Kelly and Ryan Madison. Olive has fond memories of shooting Cirque Du Coco and divulged during her July 2017 Adult DVD Talk interview that;
"I loved it! I can't wait to work with them again. Cirque De Coco will go down in my memory as one of the most fabulous shoots, mainstream or porn,  that I've ever been on. The luxury and style was through the roof! I never wanted it to end".
In recent years Olive decided to change her porn star stage name from 'Coco' to 'Olive Glass' and explained her reasons for doing so during her July 2017 Adult DVD Talk interview. As Olive puts it in her own words;
"Coco was sort of my way of staying disguised, because at the time I was very uncomfortable with people knowing I did porn. It was a vague, one-word name that made me really hard to Google. My mainstream modeling name is Glass Olive, and I hid my porn work as much as I could. I loved shooting porn, but at the time I felt like people would judge me and I wouldn't be as valuable in my field. Now I realize it makes me more valuable, more powerful. A porn model with an extensive modeling background isn't exactly the worst position I could be in".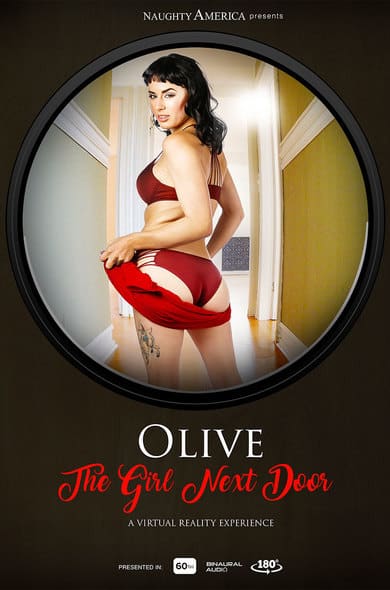 Olive in The Girl Next Door – A Virtual Reality Experience – Naughty America VR
Since changing her stage name Olive has proceeded to star in a wealth of popular porn productions including Olive Glass – A (XXX) Documentary (2017) for Porn Fidelity, Manuel Ferrara's Jules Jordan Video DVD Raw 31 (2017) which showcased Olive alongside fellow rising starlets Ivy Lebelle, Victoria June and Rina Ellis, Axel Braun's Busted (2017) for Wicked Pictures and Couples Vacation (2017) for Digital Playground which was nominated for "Comedy Release of the Year" at the 2018 XBIZ Awards. This sizzling couples-themed release featured Olive in an amazing group sex scene with Mia Malkova, Danny Mountain and Ryan McLane. Olive loves tackling these feature acting roles and eagerly expressed within her June 2017 Fleshbot interview that;
"I really love shooting features. Basically, if I could shoot features every day for the rest of my life, I would. Sex and storytelling are two of my favorite things in life :)…Eventually, down the line, I want to get behind the camera and start directing my own films. but that's going to take awhile, because I need to learn the ropes first".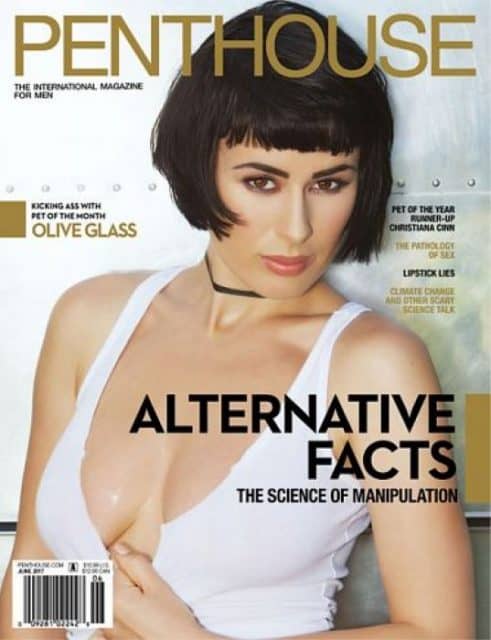 Olive Glass named Penthouse magazine "Pet of the Month" for June 2017 – Image Attribution : ATMLA Galleries
One of Olive's most successful feature movies to date has been Spoiled (2017) for Wicked Pictures. Directed by Hank Hoffman and starring Abigail Mac, Chanel Preston, Elsa Jean and Chloe Cherry, Spoiled was a critical and commercial success that was nominated for "Best Drama" at the 2018 AVN Awards and which earned Olive some notable "Best Girl/Girl Sex Scene" and "Best Sex Scene -Couples-Themed Release" nominations at the 2018 AVN and XBIZ Awards. Listed below are some of Olive's most impressive industry accolades thus far;
2018: AVN Awards nominee "Best Girl/Girl Sex Scene" Spoiled (with Abigail Mac)
2018: AVN Awards nominee "Best Virtual Reality Sex Scene" Olive Glass Makes Verronica Cum Hard (with Verronica Kirei)
2018: XBIZ Awards nominee "Best Sex Scene – Couples-Themed Release" Spoiled (with Abigail Mac)
Olive has been thrilled to receive these coveted awards nominations and ardently enthused in a November 2017 AVN press release how;
"I am so thrilled to have received two [AVN] nominations this year, with my beautiful co-stars Verronica and Abigail…It means so much to me! I am fortunate to do what I love for a living, and have the opportunity to work with some great people, both in front of and behind the camera".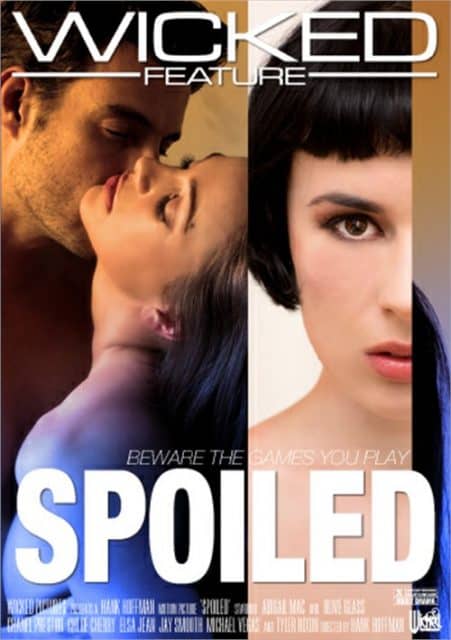 Olive Glass in Spoiled – Wicked Pictures – Adult Empire Galleries
Another landmark moment in Olive's adult film career came in June 2017 when she was named as Penthouse magazine's "Pet of the Month". Olive has also been named as Yanks.com's "Model of the Month" for May 2017 and as Karups.com's "Featured Model of the Month" for March 2018. Upon receiving these distinguished industry accolades Olive has always been keen to thank her fans and highlighted in her June 2017 Fleshbot interview how;
"My fan base is so cool! I only recently created a Twitter account. I feel like I've been really fortunate to have a fan base- for both my mainstream and adult work- that is really responsive and supportive. I don't know if that's rare, but it feels pretty rare. I realized how it had changed my life when I actually started bumping some of the people who have been following my work. It can be totally random- someone will recognize me at a grocery store, or a concert, on a subway, and say hi. It's really neat and inspiring when I'm approached my someone who appreciates my work and is stoked to meet me. I know it sounds cheesy, but I put so much thought and heart into everything I do, and it makes me want to cry happy tears when I find out it's actually impacted someone else".
Currently represented by ATMLA, thus far in 2018 Olive has already filmed several fan-favorite porn productions including Stormy Daniels' Wicked Pictures feature release The Set Up (2018) within which Olive shared some sultry scenes with Jenna Sativa, the Penthouse productions The Art of Seduction (2018) and Penthouse's Toy Box (2018) as well as starring in Jacky St James' Sweet Sinner DVD The Sex Therapist (2018) alongside Alexa Grace, Moka Mora and Lily LaBeau.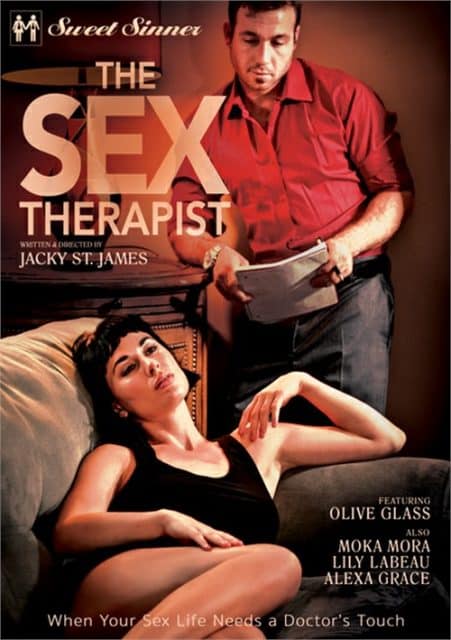 Olive Glass in The Sex Therapist – Sweet Sinner – Adult Empire Galleries
When she isn't performing in these best-selling DVDs Olive has been garnering a devoted fan following within the fetish community due to her raunchy BDSM, femdom and fetish web clips. As matters stand, Olive has filmed a Vagina Dentata femdom pegging session with Eli Hunter that was released via Kink.com's Divine Bitches web series in November 2017, a thrilling To Be Promised BDSM three-way with Alex Harper and Derrick Pierce which  was unveiled via Kink.com's Families Tied web series in February 2018, and a compelling Her First Anal Strap-on Experience shoot with Gina Valentina that was released via Lesbianx.com in September 2017. Olive loves shooting these steamy girl/girl scenes and saucily stated in her June 2017 Fleshbot interview that;
"I love g/g scenes! I find women so fucking sexy, and I love the connection I feel with other women- we can relate on a level where we can giggle and make dumb jokes and then eat each other out and orgasm like crazy in a scene, then go get tacos and talk about periods. It's just easy to feel sexy and relate on a super basic level at the same time".
Never one to rest on her laurels, in her spare time Olive enjoys painting and honing her photography skills. In fact, Olive has been dog-sledding for a week through Svalbard in Norway wherein she took photos which she hopes to release as an art book. Olive is also a talented painter who specialises in using acrylics on glass – a profession that she used to practise on a part-time basis for retailers whilst she was living in New York. Talking about these personal projects within her October 2017 AVN interview, Olive mentioned that;
"I've got a few different cameras, film and digital, that I'll be taking…It'll be in February, it'll be dark and there'll be the northern lights all day long, and it'll be cool…I have a goal set for myself to do one new thing a month…and so, this month, I'm going and taking tango lessons a little bit south of here. I have two tango lessons lined up, and last year, I went to Scotland for my birthday and stayed there by myself in a castle, and then I did a hot-air balloon ride—it all has to be by myself, like solo missions".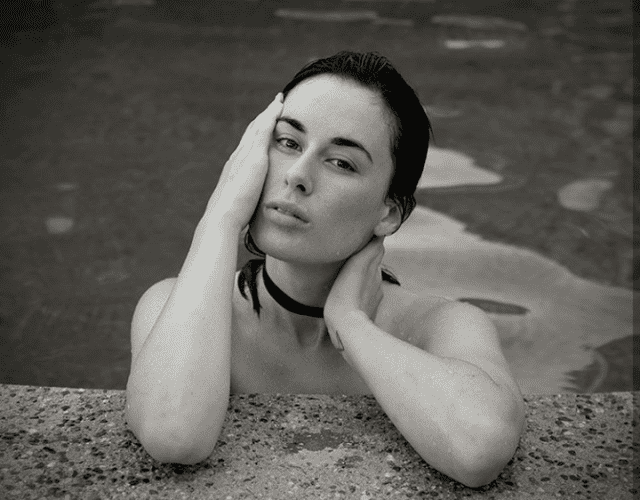 Olive Glass – Image Attribution : OfficialGlassOlive.com
So what does the future hold for multi-talented artist Olive Glass? Well, when she was asked about her long term goals during her June 2017 Fleshbot interview Olive suggested that;
"My goals are to make a ton of high-quality videos and feature films. I've been so inspired by the porn community and industry, as a sexual being and an artist, and would like to make my mark; create something unique. I'm also interested in the more political side of this industry, and want to find ways to promote awareness and advocate for sex workers, in this country as well as internationally. These goals will take time, but I'm not going anywhere…I'm doing what I love! I'm an actress by nature, and nothing makes me happier than being on set, working. and if work involves banging some of the hottest people I've ever seen…I think I'm winning at life! Ha ha!".
Keen to keep yourself updated on all of Olive Glass' exclusive web content, recent releases and upcoming projects? Not  to worry – simply use the links provided below to stay connected with the amazing Olive Glass!
Olive Glass – Social Networks
Twitter : @GlassOlive
Instagram : @glassolive
YanksVR : Olive Glass at YanksVR
Kink Profile : Olive Glass BDSM, Femdom & Fetish Content
Naughty America : Olive Glass at Naughty America
Brazzers : Olive Glass at Brazzers
IMDB Profile : Olive Glass Filmography