Quinn Wilde Twitter : @QuinnWilde9x   Camsoda : Quinnwilde   Wankz VR : Quinn's VR Experiences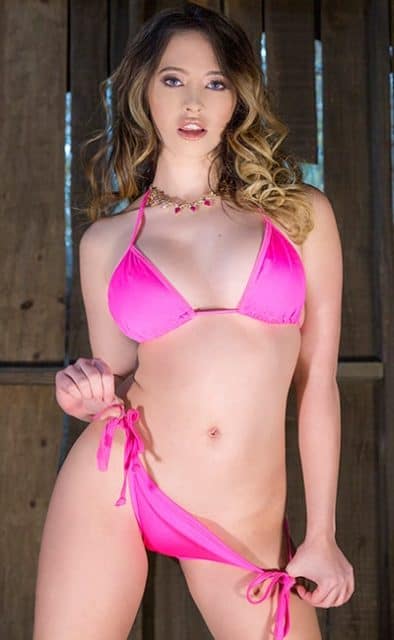 Quinn at Screwbox.com
Quinn Wilde – Personal Info
Name : Quinn Wilde
Date of Birth : March 8th
Star Sign : Pisces
Hometown : Denver, Colorado (US)
Measurements : 32D – 23 – 36
Height : 5'3 (1.60m)
Eye Colour : Blue
Shoe Size : Women's 5.5 (US)
Tattoos : A design on the inside of her wrist
Years Active : 2016 – present
Number of Scenes : 50+
Quinn Wilde is a multi-talented adult film star, exotic dancer, cam girl and model who has been performing in porn since 2016. Even though she has only been working in the industry for a couple of years, Quinn Wilde has already attracted a keen global fan base due to her sizzling scenes in many Reality Kings, Brazzers, Evil Angel and New Sensations movies. Watch this space!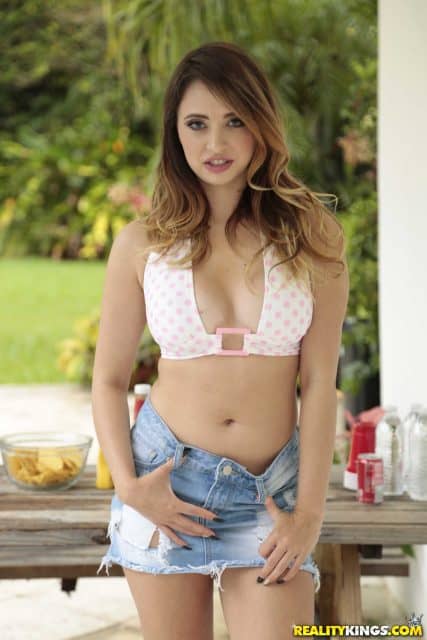 Quinn at Reality Kings
Hailing from Denver, Colorado, Quinn Wilde first started working in the adult entertainment industry as a webcam model and she continues to host lusty live cam shows via Camsoda (under the screen name 'Quinnwilde'). Quinn Wilde also performed as an exotic dancer at local gentlemen's clubs for three years before she was spotted. An adult film talent scout who was impressed by her live cam shows. Talking about this pivotal period of her life during her October 2017 AVN: Fresh Faces interview, Quinn Wilde explained how;
"It's one thing to dance on the pole and go home and no one knows and it's another thing to physically be in front of a camera and shoot…So I was like I don't know, maybe. I thought it over and I was doing modeling back at home and I told one of my photographers who was a really good friend of mine. He was like, 'Dude, I could see you doing porn. Not trying to offend you.' But he was like, 'I could really see you doing it and doing really well at it'…
I feel like we regret the things in life that we don't do. I don't regret anything before in my life; I would regret not trying. So that was what happened, [the agent] flew me out and I was nervous because I had never even gotten on a plane since I was 9 when I went out to Japan because I have family out there…I didn't know what was going to happen because the only time I had sex was in the privacy of my own place with someone I knew so it was really different…They kind of gave me the rundown and the paperwork and I was like, 'I'm really going to do this, I'm going to shoot porn.' So I shot it and I started picking up more work when I was out in Florida".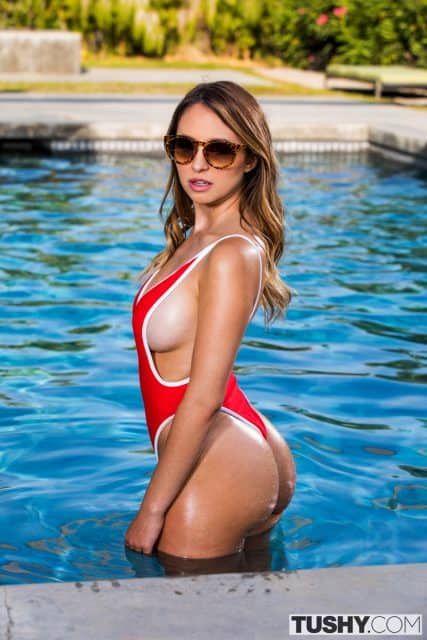 Quinn at Tushy.com – East Coast Talent Model Galleries
Quinn Wilde feels that her prior exotic dancing experience at Hooters, Tilted Kilt and Twin Peaks has helped prepare her for a career in porn. As Quinn Wilde put it in her own words during her October 2017 AVN: Fresh Faces interview;
"Because I was able to be comfortable with my body. I used to not even want to look in the mirror at myself and now I'm able to actually look at myself and be confident…Not cocky, but still able to be sure of who I am even though I'm 21 and still trying to figure that out right now…I think dancing really helped, especially because when I danced I was 18 and couldn't drink. Every time I went to the club I was sober. I didn't have to drink or do drugs in order to be able to dance. I told myself if I can do that I can do porn the same way".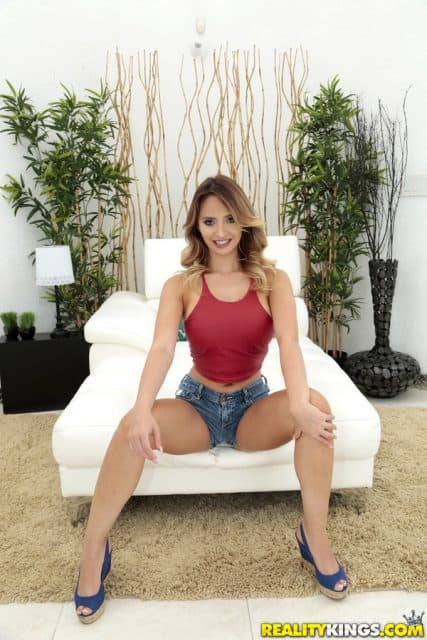 Quinn at Reality Kings
Quinn Wilde : Adult Film Career
Quinn Wilde made her official porn debut in August 2016 when she filmed some saucy scenes for the popular porn site Reality Kings. Titled Wet and Wilde, Quinn Wilde's first ever sex scenes were released via Reality Kings in October 2016 as part of their Cum Fiesta web series.
From this point onwards Quinn Wilde started to shoot a wealth of captivating web clips for the prominent porn networks Reality Kings, Mofos, Brazzers and Naughty America. Some of Quinn Wilde's earliest porn productions include her sizzling A Big Titted Bully scene with Johnny Castle which was released via Brazzers Network in September 2016, her raunchy role-play with Sean Lawless that was uploaded via Naughty America in October 2016 as part of their I Have A Wife web series, her steamy Lust For Lena shoot with Lena Paul for Reality Kings in October 2016 and her thrilling three-way with Sophia Leone and J-Mac for Mofos Network in December 2016.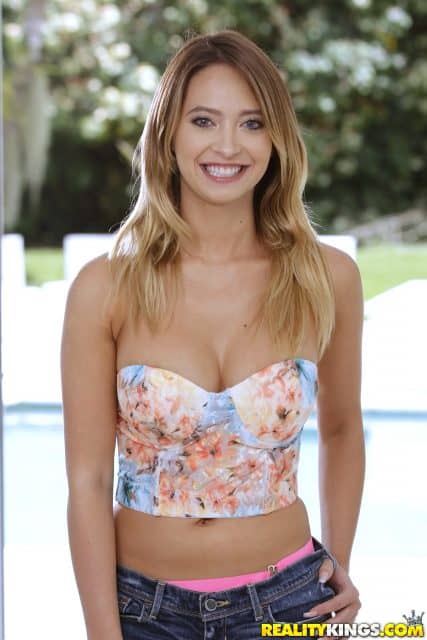 Quinn in Wet and Wilde at Reality Kings
Many of Quinn Wilde's most popular web collaborations have been those which she has filmed for Greg Lansky's award-winning Tushy, Vixen and Blacked porn networks. We recommend checking out Quinn Wilde's He Taught Me Anal scene with Mick Blue that was filmed for Tushy.com in August 2017. Her Before You Go shoot with Jean Val Jean for Vixen.com in August 2017. Don't miss her He Brings It Out Of Me scene with Cash Boss which was uploaded via Blacked.com in March 2018. Quinn Wilde has even been featured in Greg Lansky's Tushy DVD The Art of Anal Sex 7 (2018) alongside Ashley Fires, Kelsi Monroe and Jessa Rhodes. This captivating compilation title received high praise from XCritic column writer John Boy who stated in his February 2018 film review that;
"The Art of Anal Sex 7 has that sleek, big budget feel that makes the sex seem to leap off the screen. Director Greg Lansky creates makes four vignettes of anal fantasies come true much to our pleasure…Beauty queen Quinn Wilde makes her husband, Mick Blue's, anal fantasy come alive to show her gratitude for the new car he just bought her…I highly recommend The Art of Anal Sex 7. From the stylized, sleek production to the searing hot sex on screen, this movie checks all the boxes for anal sex fans".
Quinn Wilde loved shooting this steamy Tushy scene with Mick Blue – in fact it was her anal debut! As Quinn Wilde revealed within her October 2017 AVN: Fresh Faces interview;
"They liked it so much that they brought me back the next day for Vixen…It's nice to be able to kill the scene so well that they bring you back—and not only do they bring you back, they bring you back the next day. They were blown away…I was blessed and got with one of the best male performers in the industry…He [Mick Blue] was like, 'You tell me what you need.' He was super nice and we were out of there early. I was definitely lucky to have him as my first anal partner on film. It wasn't a disaster".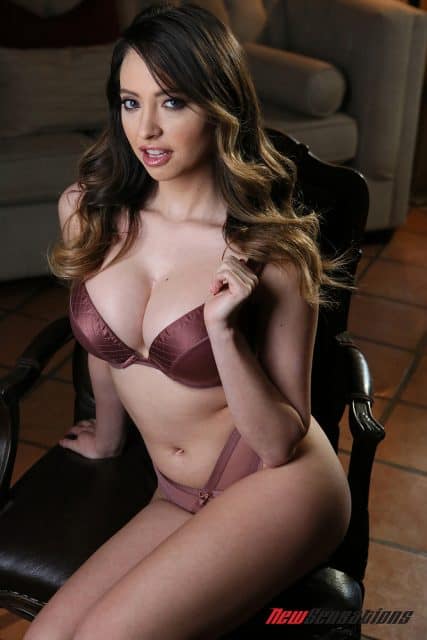 Quinn at New Sensations
Alongside her captivating web clips Quinn Wilde has starred in many fan-favorite Evil Angel DVDs. Our top picks? They'd have to be Bryan Gozzling's Hookup Hotshot: No Strings Attached (2016), Lex's Pretty Young Things 4 (2017), Kevin Moore's Blackmailed Cheating Teens (2017) that was nominated for "Best Lewd Propositions Movie" at the 2018 AVN Awards. Don't forget Mick Blue and Maestro Claudio's Ass Workout 2 (2017) featuring fellow rising starlets Vanessa Sky, Brandi Bae and Vienna Black.
But that's not all; Quinn Wilde has also filmed some epic oral group shoots with Kristen Scott, Cadence Lux, Sadie Blake and Mike Adriano that have been featured in the Evil Angel DVDs Swallowed 10 and 18 (2017-2018). Most recently Quinn Wilde has filmed an amazing anal scene with Mark Wood for the LeWood/Evil Angel sequel release She Loves Anal 2 (2018). Not to be missed!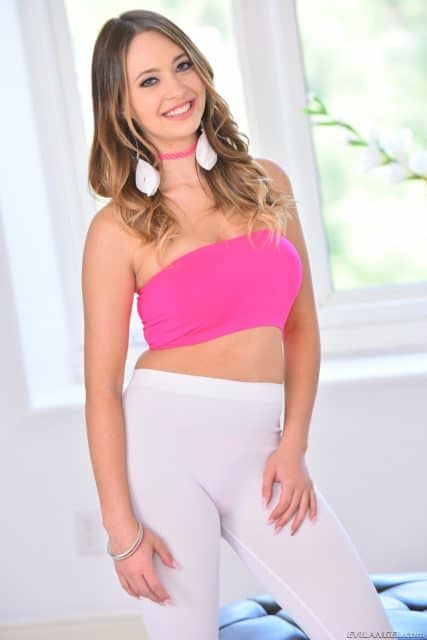 Quinn Wilde in Lex's Pretty Young Things 4 – Evil Angel
Over the years Quinn Wilde has become famous for her sizzling scenes in several critically acclaimed taboo relations titles. We recommend checking out Quinn Wilde's saucy scenes in the New Sensations/Digital Sin DVDs Schoolgirls Like It Hard 3 (2017), She Likes It Rough (2017) and Young Married & Available (2017) which was nominated for "Best Polyamory Movie" at the 2018 AVN Awards and "Vignette Release of the Year" at the 2017 XBIZ Awards. Quinn Wilde has since starred in the New Sensations movies Hotwives Are Sexy (2018) and My Wife's First Blowbang (2018) featuring Kristen Scott, Carolina Sweets and Blair Williams. Quinn Wilde has also shot some sensational scenes for Bree Mill's Pure Taboo production Almost Identical (2018). Quinn Wilde enjoyed filming her intense Pure Taboo scene with Seth Gamble and eagerly enthused during her October 2017 AVN: Fresh Faces interview how;
"It was crazy because we both were supposed to cry…I was like OK let's see if I can make myself cry, because I was always really interested in acting. Porn sometimes is acting and sometimes it's more of a funny line or a funny character and then straight down to sex—very gonzo style…
So it was cool to be able to experience acting in adult. We were supposed to cry but I started bawling and we did so well that she believed it and Bree started crying behind the cameras. I could see her wiping her tears. That's so awesome to be able to bring that, to be able to lose myself in a character…It was one of the scenes that I can't wait to see and I really hope to shoot with them again. The plot lines are very fucked up…
He's getting out of prison and I keep telling him about this letter my mom wrote…Right after I have sex I start crying because I'm supposed to. He starts crying and then I actually did start crying because something about it pushed all my emotions out and I was able to let go".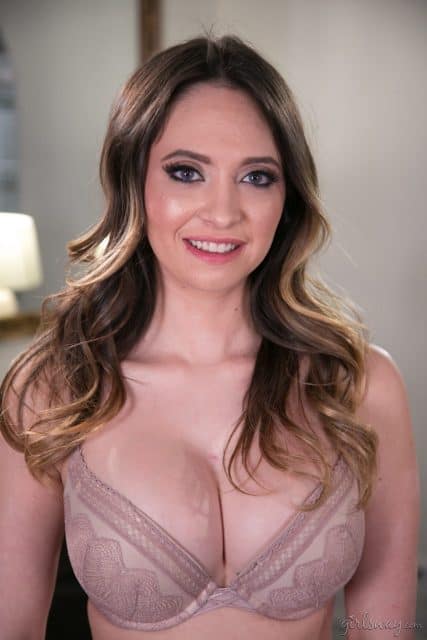 Quinn at Girlsway
Want to know the most impressive part? Alongside her hot hardcore collaborations Quinn Wilde is also a fan-favorite girl/girl performer. Fans eager to explore Quinn Wilde's sauciest girl/girl scenes will love watching her raunchy role-play with Carter Cruise in Lesbian Legal 11 (2017) for Girlfriends Films. Her steamy shoot with Jaye Summers in Please Make Me Lesbian 15 (2017) for Girlfriends Films. Or her sultry Love and Hate scene with Monique Alexander that was released via Girlsway in May 2018.
Wait, there's even more! Quinn Wilde has also filmed a sizzling Smokebombs 2 scene with Ashley Adams for Screwbox in February 2018. She recently shot a titillating Private Film scene with Bridgette B for Reality Kings in June 2018. Quinn Wilde loves shooting these sultry girl/girl scenes and saucily stated in her April 2017 Fleshbot interview that;
"There are a lot of things I love about girl/girl scenes but I enjoy appreciating a women's body. Women are beautiful! I like to hit on the girl and compliment her. I'm that girl who actually enjoys fucking other girls. I really get into it haha!".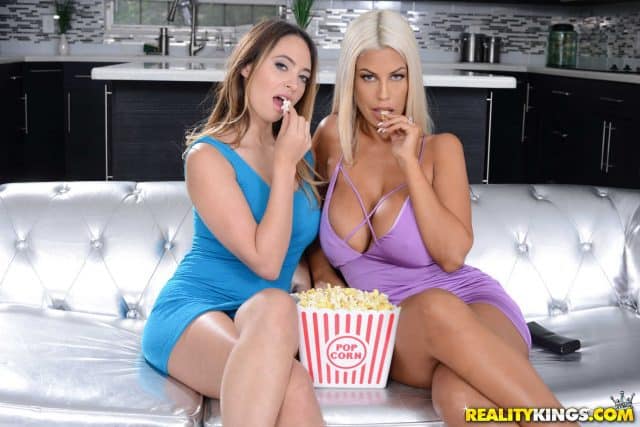 Quinn Wilde and Bridgette B in Private Film – Reality Kings
You'll be happy to hear that Quinn Wilde has also treated her fans to some intensely alluring virtual reality sex scenes. Fans eager to get up close and personal with busty beauty Quinn Wilde will love experiencing her Threesome Therapy VR collaboration with Dahlia Sky that was unveiled via Wankz VR in August 2017 and her Super Sluts VR group shoot with Emily Willis and Karter Foxx which was released via Naughty America VR in April 2018.
Currently represented by East Coast Talent, Quinn Wilde continues to shoot a wealth of saucy sex scenes as well as interacting with her fans via social media and hosting lusty live cam shows via Camsoda (under the screen name 'Quinnwilde'). Quinn Wilde enjoys communicating with her fans and mentioned in her April 2017 Fleshbot interview that;
"It's kind of crazy and great for me when I have people supporting me and so actively doing so on my twitter because it just pushes me to give them kick ass scenes and try to keep them updated on what's going on. Porn fans are the best!…I want to thank my fans for the support and love and enjoying my scenes! More to cum!".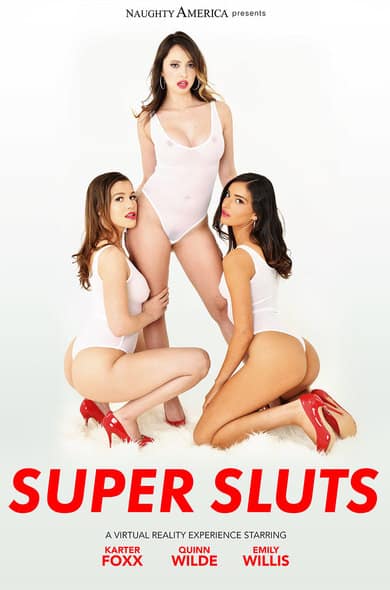 Emily Willis, Quinn Wilde and Karter Foxx in Super Sluts – A Virtual Reality Experience – Naughty America VR
When she isn't performing in porn Quinn Wilde is busy studying for her associate's degree in Business and Marketing. In fact, Quinn Wilde's secondary focus is to become a dental assistant. As Quinn Wilde divulged during her October 2017 AVN: Fresh Faces interview;
"I have a normal job when I'm home, too—they know—it's a strip club, but I'm not stripping anymore. I'm waitressing and bartending…I'm able to keep a balance in my life and that's how I wanted it…I like to go to Denver and do my normal stuff and go to school and then get on a flight and turn into Quinn Wilde and be this porn girl and a freak and then be able to fly home and be with my family. Because even though I'm in porn I'm still very close with my family…
That's a big thing I've noticed in porn is some girls can't go home. I always think about how I'm truly blessed to be able to disconnect. Plus when you do that, I never get sick of porn either. Every time I come out here it's exciting and it feels like the first time I started and I don't want to get sick of it. I know one day I'm going to have to walk away from it but I don't want to get tired of it at the same time".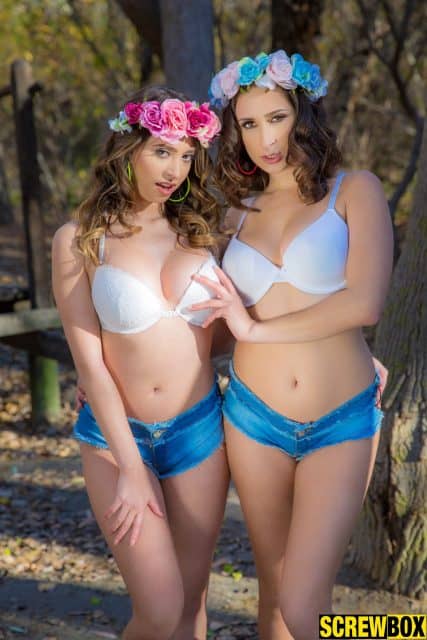 Quinn Wilde and Ashley Adams in Smokebombs 2 – Screwbox.com
Want to keep yourself updated on all of Quinn Wilde's latest porn productions and upcoming live cam shows? Then use the links provided below to stay connected with your favorite rising starlet Quinn Wilde!
Quinn Wilde : Social Networks
Twitter : @QuinnWilde9
Camsoda : Quinnwilde
Wankz VR : Quinn's VR Experiences
Brazzers : Quinn at Brazzers
Evil Angel : Quinn at Evil Angel
Girlsway : Quinn at Girlsway
Mofos : Quinn at Mofos
Naughty America : Quinn at Naughty America
New Sensations : Quinn at Digital Sin/New Sensations
Reality Kings : Quinn at Reality Kings
Screwbox : Quinn at Screwbox
The Nude : Quinn at The Nude
Babepedia : Quinn at Babepedia