Official Website : TheAlixLynx.com  Twitter: @thealixlynx   VR Bangers : Alix Lynx VR Scenes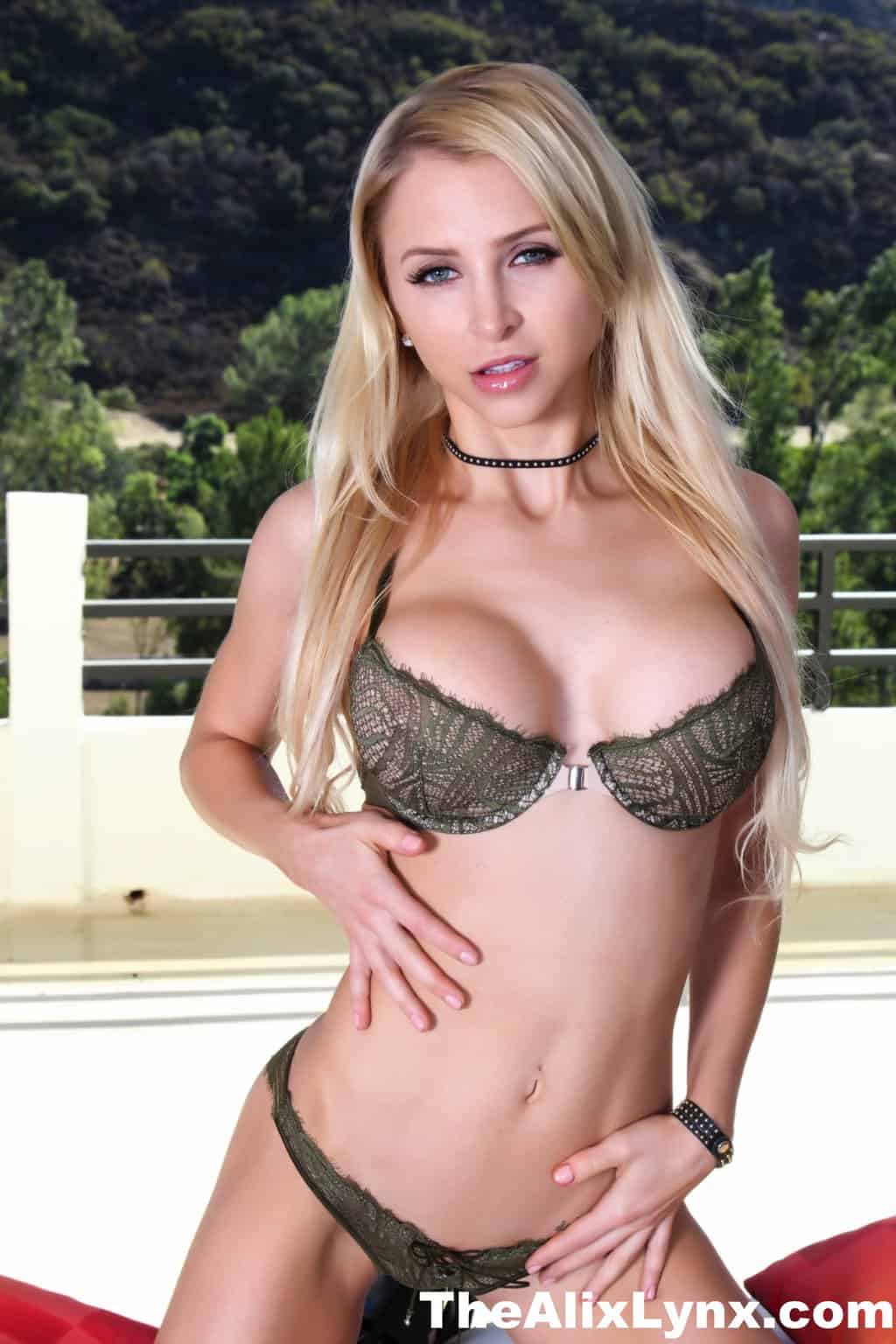 Personal Info
Name : Alix Lynx
Alias : Layton Parker
Hometown : New York City, New York (US)
Date of Birth: May 5th
Measurements : 34D – 24 – 33
Bra Cup/ Size : 34D
Boobs : Enhanced. Talking about her breast augmentation surgery in April 2013 which saw her go from an A to a D cup within her Adult DVD Talk interview Alix conveyed how;
"I always wanted them! Going back to how I got into the business, when I was 19, I was reading Cosmo and was reading this article called 'My Free Implants'. It was about crowd funding for breast implants. You go online and talk to guys and do cam shows or whatever and they donate to the fund. That's how I got my implants".
Height : 5'4 (1.63m)
Hair Colour : Blonde
Eye Colour : Blue
Tattoos : Script across her lower back
Piercings : Navel
Years Active : 2014 – present
Number of Scenes : 97+
From her sultry girl/girl sex scenes to her lusty live cam shows, there's no disputing that blonde bombshell Alix Lynx is one of the biggest rising starlets within the adult entertainment industry! Fresh from her "Best All-Girl Group Sex Scene" win at the 2017 AVN Awards for her AI: Artificial Intelligence (2016) three-way, Alix continues to thrill her fans with a broad spectrum of kinky web content for FM Concepts and Femdom Empire as well as numerous best-selling Girlfriends Film and Fantasy Massage DVD titles.
Before she became the amazing adult film star that her fans know and love, Alix was born and raised in upstate New York City within a small close knit community. Alix discussed her small town upbringing during her November 2014 Adult DVD Talk interview and explained how;
"I grew up in upstate New York which is pretty much in the middle of nowhere. Really, really small town. Farmville USA basically. We knew everyone in the town. There wasn't much going on there. There's a mall and people drink for fun there. (laughs) It's like a frozen tundra between November and April basically. I went to a really small high school, there was a 150-person graduating class. I had a really good growing up experience. People think that pornstars have daddy issues and problems like that, that was totally not the case. I went to private school. I participated in gymnastics and cheerleading and figure skating. I was really well-rounded. My parents always taught me to be the best I could be. They were hard workers. When I graduated high school, I went to college in the same town and got my Bachelor's in TV broadcasting. After that, I ended up moving downstate to Westchester County and I worked there for 4 ½ years. In the process, I got my MBA online. I worked in social media marketing and PR, that kind of thing".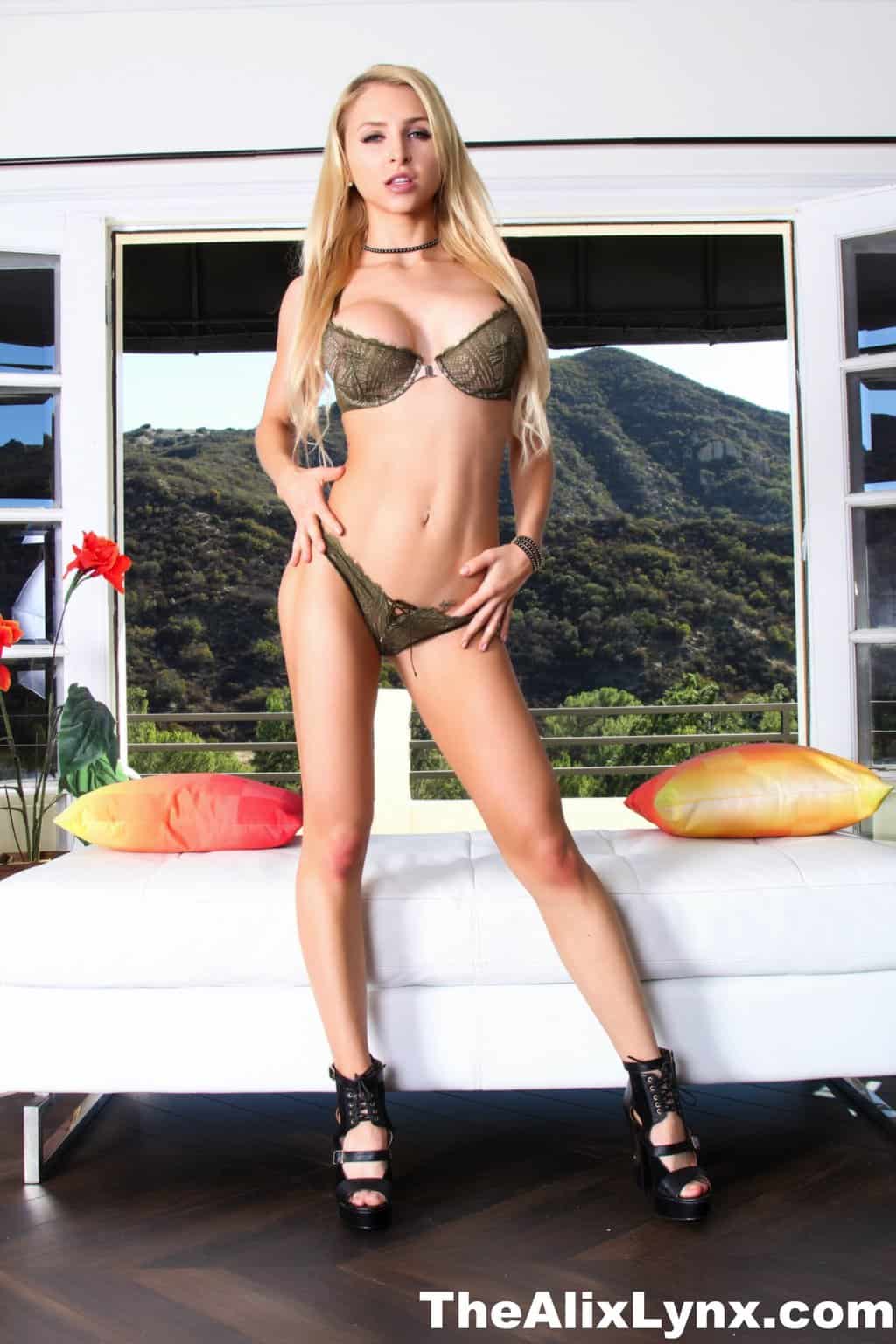 As Alix further elaborated within her August 2016 Fleshbot interview;
"I grew up in a super small town and graduated with 150 people, so it was an environment where everyone knew everyone. I guess you could consider me a 'popular' kid, but it was because I was so involved in academics and extracurriculars that I just knew everyone. I was an honors student in AP classes, was on homecoming court, played the saxophone and the flute in the school band, played volleyball, did cheerleading and gymnastics, and outside of school was also a competitive figure skater. I was nice to everyone and my teachers always liked me…
I did, however (always have and always will) have a bit of a wild streak in me, so while I was so well-rounded and involved, I was also definitely out getting wasted on cheap vodka on the weekends, smoking weed, and sneaking out to death metal shows. I'm definitely responsible for corrupting a good number of my friends. Oops!…
I wasn't really the type to have random hookups; I lost my virginity at 16 to my boyfriend of over a year (which is an eternity when you're in high school) and didn't even make out with a boy until I was 14. I hooked up with a few of my friends after we broke up, though, and even tried to have a foursome with my best friend at the time (she ended up hogging the guy she was with so it was more like four people hooking up in the same room, ha)!".
Alix's father worked in construction whilst her mother worked for the health department. Alix and her siblings were encouraged by their parents to explore their own creativity and Alix was always reminded of the importance of attending college. As Alix herself stated within her February 2016 Cosmopolitan feature article;
"They were supportive of everything [my siblings and I] did, and encouraged us to explore our creativity. They did everything for us and sacrificed their own lives so we had good ones…I graduated high school at 18, and the thought of skipping college never crossed my mind, especially since my mom said, 'You have to go school or you'll be flipping burgers for the rest of your life'".
Consequently, Alix attended a state school within New York whereupon she earned her Bachelor of Arts (BA) degree in TV broadcasting. Although she excelled at her academic studies, Alix has conveyed within her February 2016 Cosmopolitan article that she felt lost during this period of her life. As Alix puts it in her own words;
"I was a lost soul, because no one really knows what they want to do when they're 18. I saved money, I didn't take out student loans, and did school for three years, graduating a year early because of my AP credits. I took classes every summer, spring, and winter break. I never stopped. It sucked, but I was like, "I could either hang out with my friends and party, or suck it up and take this class and get more attention from teachers."…After I graduated college, I was still lost at 21. And of course, there was my mom, saying "You should get your master's degree. It'll set you apart because everyone has a bachelor's." I didn't see a point. My view is still the same now. Why would I get a master's if I could work?".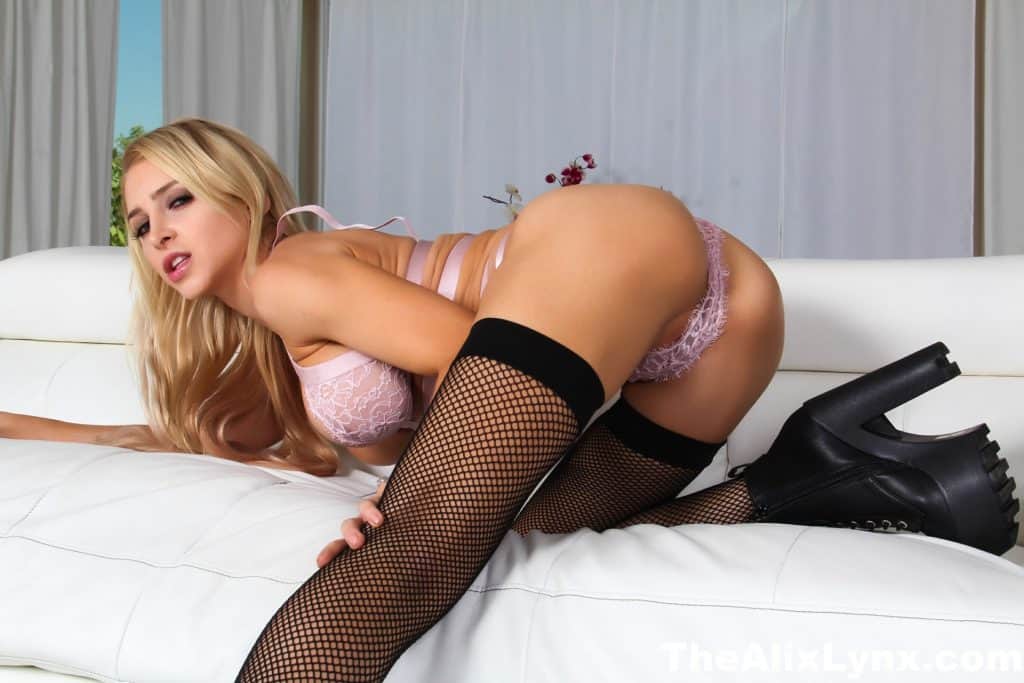 In this manner, Alix began to investigate online master's degrees and she ended up studying for an online MBA whilst also working part-time as a promotional model; a job which she had already explored during her college years. After graduating with her MBA in social media marketing, and working part-time as a promotional model at bars, conventions, restaurants and professional networking events for several months, Alix began to send off job applications to various PR firms. Alix was soon hired as an assistant at a small firm whereupon she was promoted to assistant account executive in a matter of months. Alix discussed this period of her life during her February 2016 Cosmopolitan article, explaining that;
"I sent my résumé to a small PR firm with big clients. [The owner] hired me as an assistant to do office tasks but I still learned a lot about PR, because she knew about my education. After a few months, I was an assistant account executive, which meant communicated with clients and helped out with corporate work, event planning and press releases. After six months I was promoted to account executive, so I was in charge of actual accounts. Finally, a couple clients decided to leave. The company lost money and couldn't afford to keep me, so I got laid off…
I was like, "Oh my god. What do I do?" Immediately I was like, "[PR] is OK, it's not my passion, but I'm supposed to have a 'good job' so might as well do more." I was back to square one…
My MBA was in social media marketing, so I found a boutique firm 30 minutes away from me specializing in that. I blindly emailed the lady saying, "Hey, I'm in the process of getting my MBA in social media, I really love what you're doing and I would love to hear about any opportunities." She called me for an interview and I was hired as a social media manager consultant, which snowballed into a full-time position".
Whilst working her conventional 9 to 5 job Alix was introduced to the concept of adult cam sites by a friend. Intrigued by the lucrative financial opportunities of performing live cam shows, Alix began to research various adult cam sites and enthusiastically signed up for an account whereupon she was approved two days later. Alix discussed this pivotal moment in her life during her November 2014 Adult DVD Talk interview, revealing how;
"One of my friends jokingly told me about webcamming. He said I could do that but he was joking. That night, I signed up and two days later I started webcamming part time. At that point, I was naked on cam but I didn't want my identity found out. I was making fun money doing it, for vacations and stuff. I thought it was temporary because that wasn't what I should be doing. I didn't tell anybody except for a few friends. I was doing it on-and-off and ended up switching jobs and ended up working for a start-up company. I ended up getting screwed on money so I quit and started webcamming full time…
I always wanted to move to LA and get away from the weather in New York. I figured if I wanted to get into adult, I had to do it now. I googled 'How To Be A Pornstar' and OC Modeling came up. That was coincidental because I was at Exxxotica in New Jersey and met a few people in the industry and they referred me to OC as well. I sent my picture in and my agent called me a couple days later. We hit it off, she was down to earth and I ended up signing with her. I moved fully out here in August. Here I am!".
Alix Lynx : Adult Film Career
Alix Lynx filmed her first ever sex scenes with female porn star Jeannie Marie for the Hustler Video porn production Bonnie Rotten Bounty Hunter. Talking about shooting her first ever sex scenes during her November 2014 Adult DVD Talk interview, Alix revealed that;
"My first scene was pretty good. I did it with Jeannie Marie. She's been in the industry for awhile and she was really nice and helpful. I was nervous. I'm used to being on a webcam and performing but it's different to be with another person and doing it for what looks good for the camera. It was for Hustler and I think we did ok. Jeannie really took the lead and was really the dominant one and really tossed me around. I think I did a pretty good job and every scene since then, I've improved. It was just getting over that initial nervousness and every scene since then has gotten better and better…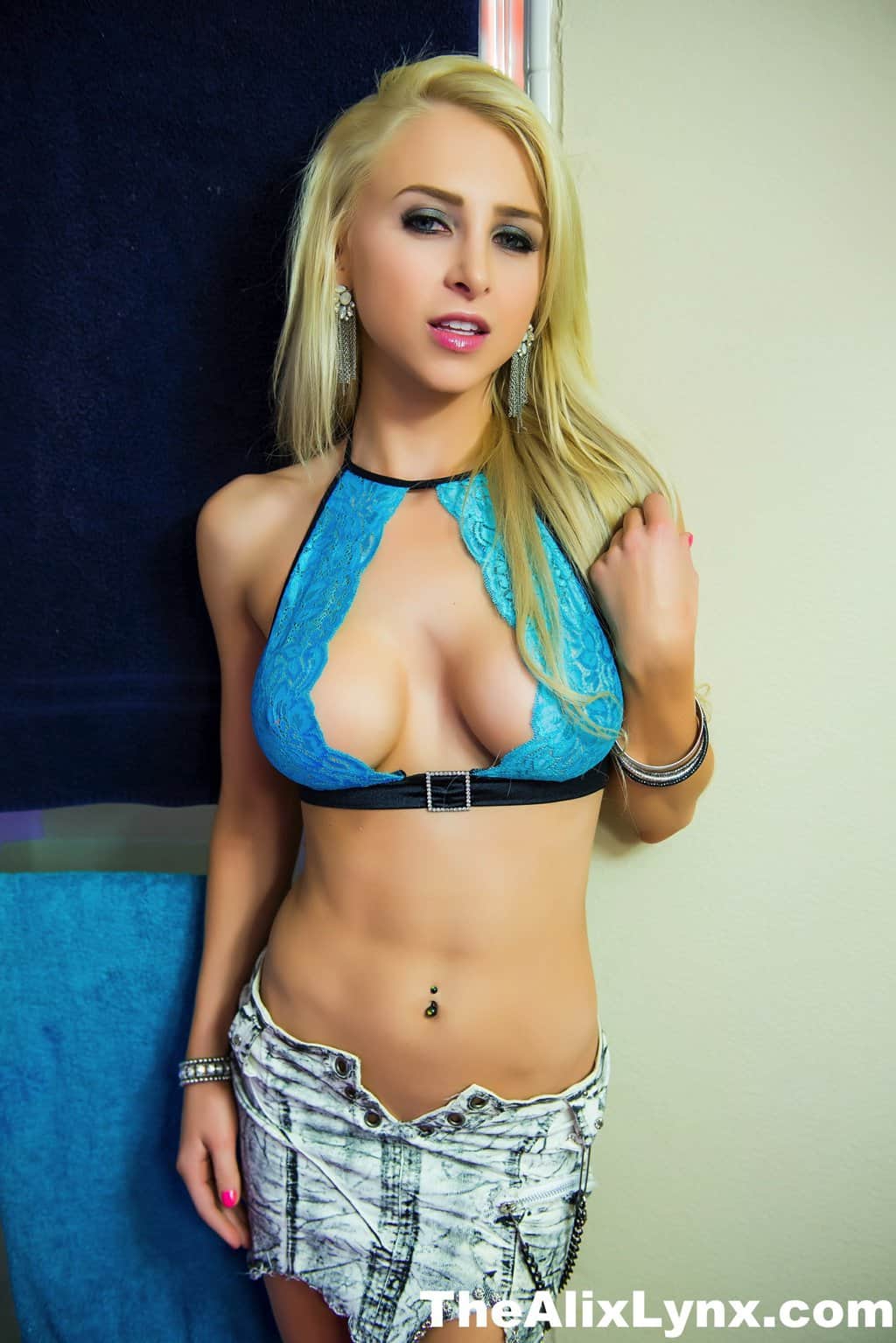 Right now, I'm just getting used to the industry and getting used to shooting. I will only see what the future has in store for me. Boy/girl is a lot different than girl/girl… I used to be pretty shy and not open sexually, now I don't have a problem telling people what I want or what feels good, so I guess I'm more outspoken".
Alix originally chose the porn star stage name 'Layton Parker' but she has explained within her November 2014 Adult DVD Talk interview that she decided to change it to 'Alix Lynx'  because it had far more 'box cover' potential. As Alix puts it in her own words;
"I had a different stage name at first, it was Layton Parker, but that was a mouthful. I didn't like it, it didn't have a ring to it. So I went back and forth and my agent told me I needed a name that was short and box cover worthy. So I went online looking up names. I actually knew a girl named Alix and I always liked that name for a girl. I liked the 'i' in there because it was different. And I picked 'Lynx' because I liked the 'x' on the name of it and I thought it was sexy without being tacky".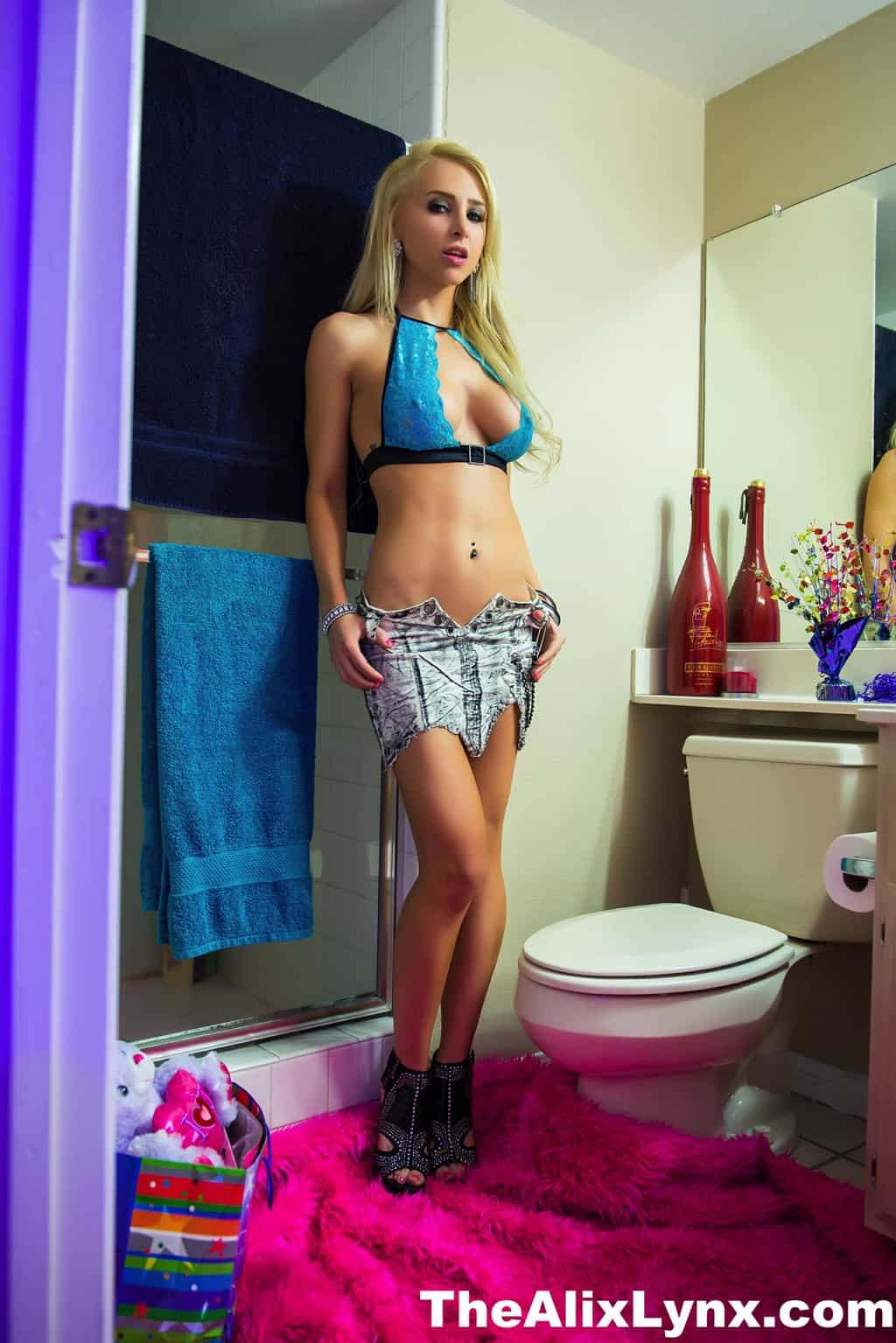 When she first began working within the adult entertainment industry Alix initially performed exclusively as a girl/girl performer and live webcam model. Some of Alix's earliest porn productions include her all-girl bondage sex scenes that she filmed for the fetish porn network FM Concepts. Fans who are eager to discover Alix's kinkier side should check out the FM Concepts porn productions Bondage Agenda (2014), Bondage Cam Show (2014) with Casey Calvert, Dressed In Ropes (2014) also starring Anikka Albrite, Chloe Amour, Jenna Sativa, Layla Sin and Whitney Westgate, Tape Bound 22 (2015) with Mia Malkova, Topless Models Bound For Domination (2015), Tied Up Costumed Girls (2015), Naked And Chair Bound (2015), Beautiful Feet On Barefoot Treats (2015) and Intimidated Secretaries Held Captive (2015).
From 2015 onwards Alix began to shoot a wide range of girl/girl, fetish porn, BDSM, femdom and boy/girl sex scenes for numerous popular porn networks such as Mofos, FM Concepts, Amateur Alllure, Femdom Empire and Reality Kings among many others. Some of Alix's most compelling web content includes her Nosey Neighbour sex scenes with Karla Kush that were filmed for the Girlsway porn site sextapelesbians.com in January 2015, her Alix Lynx: Tempted By Bondage solo sex scenes for FM Concepts in April 2015, her outrageous outdoor sex scenes for the Mofos porn site iknowthatgirl.com in April 2015, her Rich Brats Of Beverly Hills 2 three-way with Peta Jensen and Xander Corvus for the Brazzers Network porn site babygotboobs.com in June 2015, her Who's The Master? BDSM sex scenes with Marcus London for the Fantasy Massage porn site trickyspa.com in October 2015 and her Sloppy Professionalism sex scenes with Danny Mountain for the Brazzers Network porn site dirtymasseur.com in November 2015. Alix has also filmed a wide range of femdom girl/girl sex scenes and thrilling three-ways with fellow busty blonde bombshell Savana Styles for Femdom Empire including Making Use Of Men in October 2015, Taking His Ass in November 2015, Obedience Is Mandatory in December 2015 and Shiny Mistress Tits in December 2015 but to name a few!
Alix has garnered a devoted fan following throughout her porn star career due to her stellar sex scenes in several best-selling Girlfriends Films/ Desire Films DVDs. Fans of Alix Lynx should check out the Girlfriends Films and Desire Films porn productions I Came On James Deen's Face 5 (2015), Girls And Girls Alone 2 (2016), Pussy Delight (2016), Pussy Loving (2016) and True Lesbian Love 3 (2016) as well as Dicked Down (2017) wherein Alix shared a raunchy sex scene with male porn star Brad Knight. Performing in these Girlfriends Films DVD titles has enabled Alix to collaborate with famous female porn stars such as Simone Sonay, Abigail Mac, London Keyes, Dana DeArmond, Dani Daniels, Nicole Aniston, Alison Tyler and Romi Rain. Alix loves shooting these types of sultry girl/girl sex scenes and has been happy to discuss some of her earliest lesbian sexual encounters during her her November 2014 Adult DVD Talk interview. During this insightful interview Alix divulged that;
"I made out with girls in high school but a couple years ago, I hooked up with my best friend and another girl. I was at this party with a bunch of people and we were really drunk. We ended up hooking up. That was a good time. I wondered what took me so long! I love women!".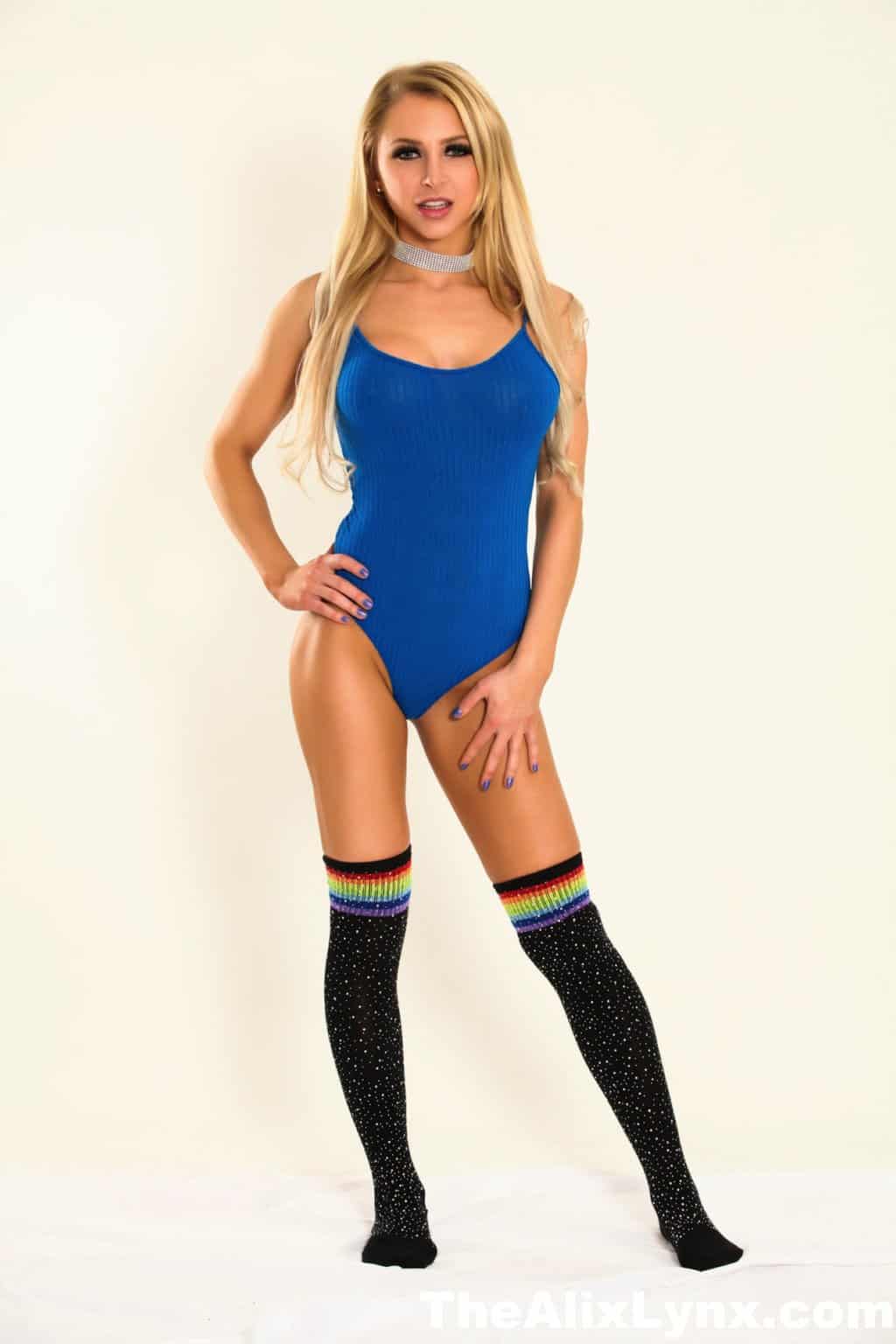 Among some of Alix's fan-favourite girl/girl productions include Licking The P 2 (2016) for Girlfriends Films also starring Elsa Jean, Asa Akira, Alison Tyler, Holly Hearts, Samantha Rone, Dakota Skye and Lily Cade. Some of Alix's sauciest girl/girl sex scenes to be released in recent years have been her captivating collaboration with Megan Rain that was featured in the Girlfriends Films DVD title No Man's Land: Raunchy Roommates 2 (2016) also starring Jenna Sativa, Jillian Janson, Brett Rossi, Lyra Louvel, Megan Sage and Shane Blair that was nominated for "Best All-Girl Movie" at the 2017 AVN Awards, her sizzling sex scene with MILF star Cherie DeVille in the Girlfriends Films DVD title Gimme That Pussy 2 (2016), her compelling collaboration with April O'Neill in Babes Illustrated: She Loves Big Boobs (2016) for Video Team that was nominated for "All-Girl Release of the Year: Non-Feature" at the 2017 XBIZ Awards and her three-way with Celeste Star and Serena Blair in the Girlsway/ Girlfriends Film porn production AI: Artificial Intelligence (2016) that won "Best-All Girl Group Sex Scene" at the 2017 AVN Awards and "Best Special Effects" at the 2017 XBIZ Awards. AI: Artificial Intelligence was highly recommended by XCritic column writer cyber 5 who commented in his January 2017 film review that;

"Girlsway shoots, Girlsway scores!…If you like your lesbian porn soft and pretty, and your sci-fi to actually be based on real possibilities then you'll love this flick! Buy it. Highly Recommended! The girls are hot, the story is well told and the whole production comes together fantastically".
One of Alix's most popular Girlfriends Films DVD feature releases to date has been her Sexxxploitation of Alix Lynx (2016) star showcase with Cherie DeVille, Jenna J Ross, Kissa Sins and Leya Falcon that was nominated for "Best Star Showcase" at the 2017 AVN Awards and which also earned Alix a notable nomination for "Best Solo/ Tease Performance". In fact, Alix has received several distinguished adult film award nominations throughout her porn star career including;
2016: Spank Bank Technical Awards winner "Queen of the Onesie"
2016: Spank Bank Technical Awards winner "Untamable Tart"
2016: Spank Bank Awards nominee "Best Body Built For Sin"
2016: Spank Bank Awards nominee "Best 'Come Fuck Me' Eyes"
2016: Spank Bank Awards nominee "Blonde Babe of the Year"
2016: Spank Bank Awards nominee "Boobalicious Babe of the Year"
2016: Spank Bank Awards nominee "Porn's Next Superstar"
2017 : AVN Awards winner "Best All-Girl Group Sex Scene" AI: Artificial Intelligence (with Celeste Star and Serena Blair)

2017: AVN Awards nominee "Best Solo/Tease Performance" Sexxxploitation Alix Lynx
Alix has been thrilled to receive these prestigious adult entertainment accolades and loves working within the adult film industry. In fact, Alix has ardently enthused within her August 2016 Fleshbot interview how;
"There's SO much to love, so here goes! I love the fact that I get to explore my sexual side in a safe and professional environment. I love that I get to get all glammed up and get people off who are watching my scenes at home. I love that I'm my own boss and have complete control over my career, and the freedom it provides. I love how incredibly empowering my career is and how much it's helped me open my mind and become a more accepting and overall happy human being. I love that I continuously defy people's stereotypes of what a 'porn star' is really like, and that I'm able to help many other women in my profession integrate porn into our society by being open about my life and the fact that I'm just another human being with a brain and career I love who happens to have sex on camera for a living…
I love that I left corporate America to do so, which meant deviating from societal norms and what we're all told we're 'supposed' to do (like go to college, get a job, etc). I love that there's no ceiling to what I can accomplish; Just because I do porn doesn't mean I can't make moves in other industries, too. And I absolutely love meeting my fans!! It's still crazy to me when people come up to me to introduce themselves and ask for a picture, like, 'Who, me?!' while looking behind my shoulders for like, Margot Robbie or something. I've gotten the most heartfelt letters and messages from people all over the world who reach out to me to tell me how much they love my personality, how my social media brightens their day . . . and of course how much they love my work, too! ;)".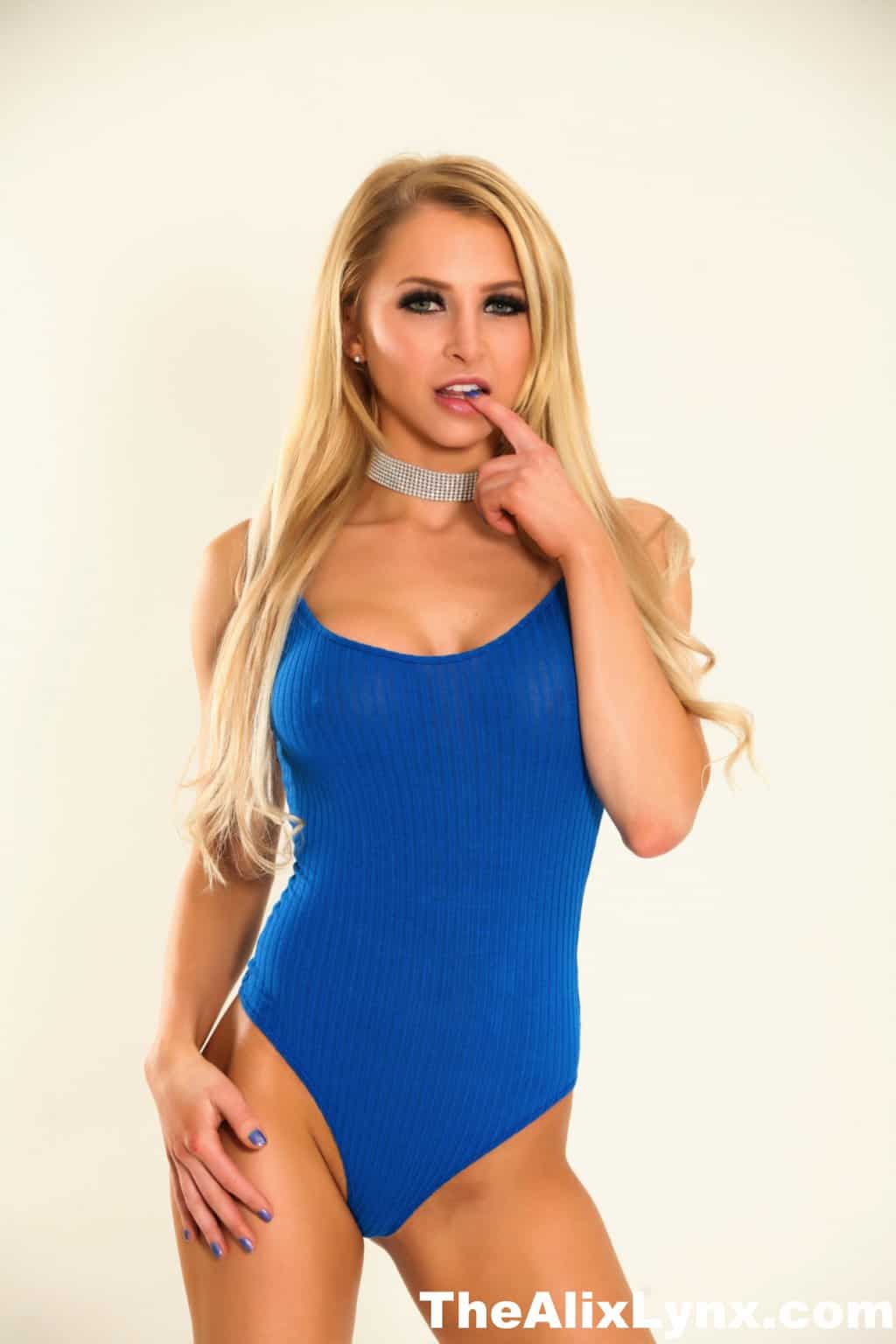 Alix also has a lot of love for her fans and has been eager to express her sincere gratitude to her international fan following for their ongoing support and praise. Alix enthusiastically commented within this August 2016 Fleshbot interview that;
"My fans mean everything to me. I wouldn't be talking to you right now if I didn't have fans! The fact that there's this mass of people who chooses to take time out of their lives to follow mine means the absolute world to me, and for that I'll forever be grateful. I love the fact that I'm able to have a positive impact on people's lives, whether it's through watching my goofball antics on Snapchat to brighten their day or to watch one of my scenes on a lonely night. It feels like I have a ginormous group of friends I can talk to about anything on the daily and they'll always be down to hang out. Fucking awesome".
As a result, Alix has continued to treat her fans to some saucy sex scenes that have featured within the best-selling DVD feature releases Big Wet Breasts 3 (2015) for Jules Jordan Video that won "Best Big Bust Movie" at the 2017 AVN Awards, Wet And Wild Open Spa (2015) for Girls Gone Wild and Open Relationship (2015) for Digital Playground that was nominated for "Best Polyamory Movie" at the 2017 AVN Awards and "Couples-Themed Release of the Year" at the 2017 XBIZ Awards.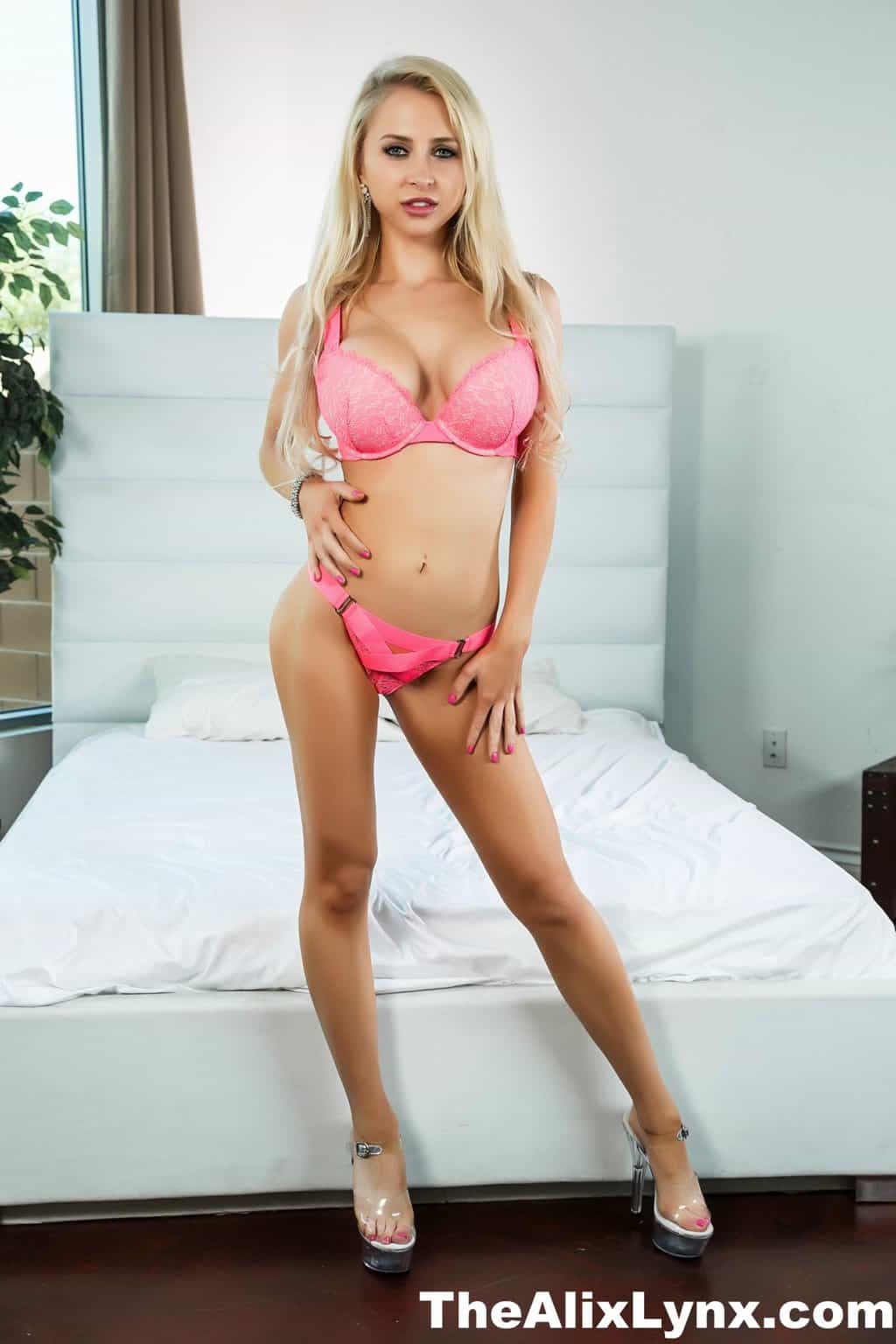 Whether she's showcasing her raw sexuality in the intensely passionate Wicked Pictures porn production From The First Moment (2016), or demonstrating her comedic talents in the porn parody release Hills Have Thighs XXX (2016) for Spizoo that was nominated for "Clever Title of the Year" at the 2017 AVN Awards, there's no disputing the Alix Lynx is one of the biggest rising starlets in the adult film industry.
In fact, throughout 2016 Alix has continued to treat her global fan following to a broad spectrum of solo, girl/girl, boy/girl, group and fetish porn web content. Among some of Alix's most popular online sex scenes in 2016 include her Strap-On Training Program femdom sex scenes that were distributed via Femdom Empire in January 2016, her sensational Spizoo sci-fi fantasy porn production Space Sex 3 (2016), her Feet And Heat For Tied Up MIB's (2016) foot fetish sex scenes and Duct Tape Challenge (2016) BDSM sex scenes for FM Concepts, her oral sex scenes for the MyXXXPass Network porn site 1000facials.com in September 2016, and her Help The Homeless sex scenes with Chad White for prettydirty.com in October 2016. Alix has also amassed a devoted fan base for her taboo relations sex scenes such as her Dad's New Girlfriend sex scenes that she filmed for puremature.com in March 2016 and her Daddy's Hardest Worker taboo relations sex scenes that she shot with Danny D for the Brazzers Network porn site bigtitsatwork.com in December 2016.
Alix Lynx : Mainstream Media Projects & Future Plans
Alix attracted mainstream media attention when she was interviewed by Cosmopolitan magazine in February 2016 for a feature article titled "I Gave Up My Corporate Job To Be A Porn Star" that was distributed via their official website. Alix Within this illuminating article Alix discussed her happy childhood, academic studies, corporate job and lifelong dreams of pursuing a career within the adult entertainment industry. During this candidly honest interview Alix dispelled several misperceptions that society often imposes upon adult film stars when she expressed that;
"I had a really good upbringing. I know a lot of people say people who do porn must have issues. That was not at all the case. I was an all-around ace student who excelled in sports. I was in accelerated classes and did extracurricular activities. I was what people called "well-rounded." …Porn is something I wanted to do since I was a teenager.. Some of my friends knew. [When I was a teenager,] I came across a stack of Playboy magazines at a friend's. At that age, I was like, "Holy cow, these girls are beautiful." I wanted to be like that…
After school, I vowed to move to California and make [porn] happen. At 15 or 16 on summer break, I was watching movies on the couch. This documentary on the adult film industry came up. I don't remember what it was about but Jenna Jameson and Jesse James seemed a lot more confident and sexier [on screen]. They owned everything. They were making a living off getting people off…I wasn't promiscuous growing up — I'd lost my virginity at 16 to my high school boyfriend — but I never made sex a big deal. When I saw that documentary, I was drawn in. I was like, 'I don't want to be Playboy. I want to be in porn'…
After webcamming full-time for a year, I realized I was going to be 25. A few deaths in the family opened my eyes to how fragile and short life is, and I had another epiphany: I only get one life. I'm finishing up school. I could work from wherever. I'm going to contact some agencies…
I did a ton of research. The more I read, the more I knew nothing could stop me. For my agency, now, I sent them pictures of myself in my bedroom, and they contacted me asking me to fly out to California…
[My family is] actually supportive. They don't necessarily approve, but if I'm happy, then that's great. People from hometown and random parts of my life message me. They're mostly supportive and curious about the industry…
I just want to prove you can do whatever you want. I look around at people in my circle and see that deep down, they have a dream but won't do it because of the stigma. They'd rather stay in the bubble working for the man…It's my business and it's only the beginning. My life isn't just about porn, but I'm building an empire. I'm going to be a household name".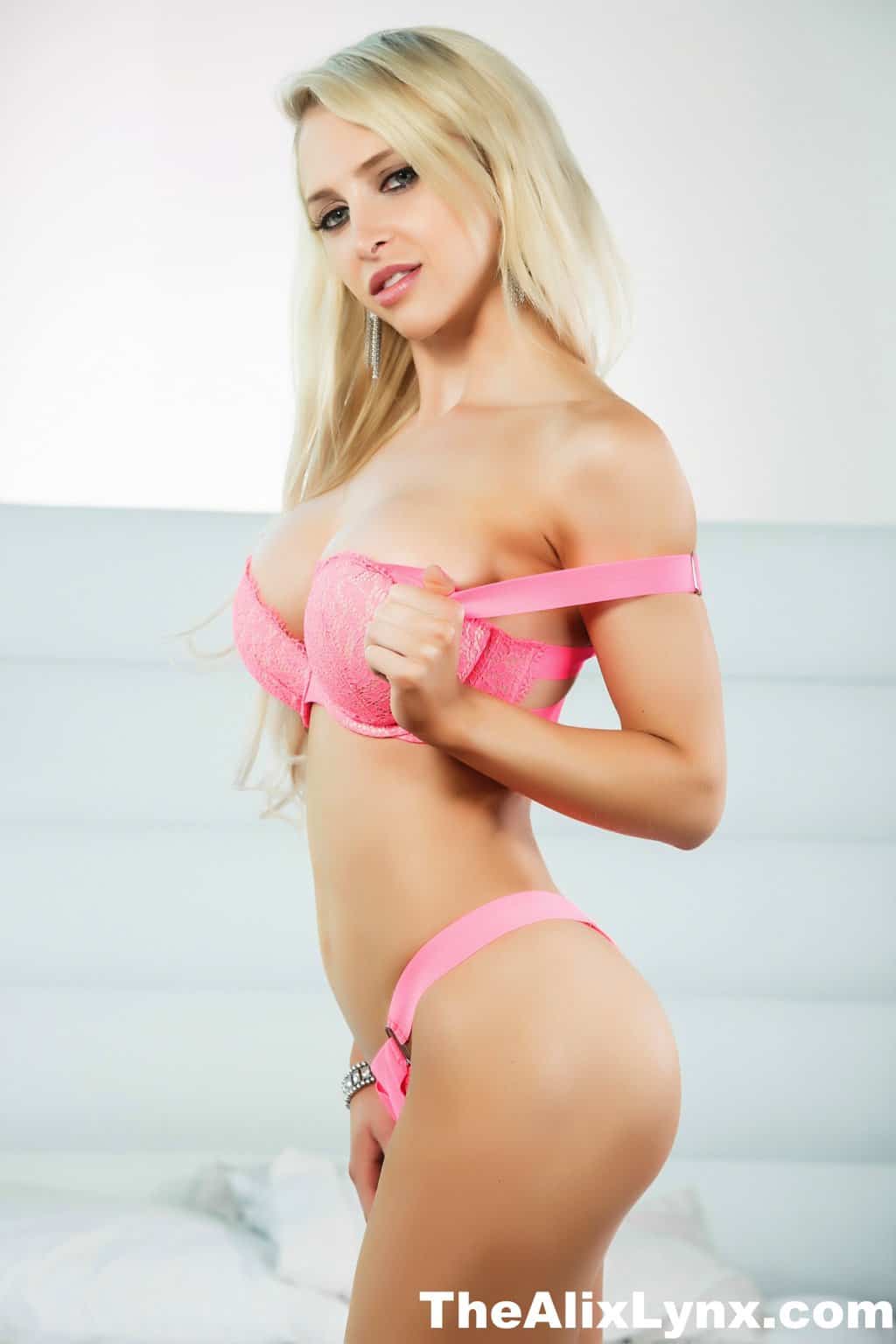 Alix's comments about leaving her corporate job behind to pursue her dream career within the adult entertainment industry piqued the interest of several mainstream media outlets and Alix has since been featured within numerous articles that have been published by the Daily Mail, the Daily Star, the Mirror, the Playboy website, the Daily Record, and Viral Thread throughout February 2016. As fellow webcam model Harriet Sugarcookie conveyed within her February 2016 Sex In The News blog post;
"The internet went into meltdown this week when girly magazine Cosmopolitan interviewed pornstar Alix Lynx. Credit to Cosmopolitan, they've always been sex-positive and always write about sex as if it's a normal healthy thing and nothing any girl should be ashamed of. The reason it's in sex in the news if for the way every newspaper on the planet picked up on the story…The interview went viral because in the interview Alix Lynx revealed that she used to have a corporate job in communications and even has an MBA…
It's funny this is even a story. Anyone that's met or seen interviews with pornstars will see that they're just normal girls from all sorts of backgrounds. Many are educated, others creative and some are incredibly funny. They're just as diverse as regular people…
That this is such a big story – so much so that Alix Lynx was trending on twitter – says a lot about how the mainstream media view female sexuality as well as how they view female intelligence. Intelligence and sexiness are not mutually exclusive. Ah well, it gets them lots of clicks and Alix comes across well. That can only be good".
In addition to this extensive mainstream media news coverage, Alix was also one of several adult film stars, including Peta Jensen, to feature as an escort within a mansion orgy scene in the Season 2 Episode 6 of the HBO TV series True Detective starring Colin Farrell and Rachel McAdams. Titled Church In Ruins, this erotic orgy scene was aired via HBO on July 26th, 2015, and it introduced Alix's ample assets to a whole new network of global fans. Discussing this star-studded TV shoot within a July 2015 Daily Beast article, Alix commented that;
"Me and my co-star Peta Jensen were in that little room for hours…We were naked and the dude was going at it from behind both of us and all we had separating us were these little strips we put over our lady bits. We had to do it hundreds of times, so we all got pretty close…For that one little spot that I was in for 30 seconds… I spent three days doing that!" says Lynx, who has a newfound appreciation for the amount of work it takes to create a TV show…were asked to do it because we are reliable…I was walking outside during downtime, on set exploring the property, turned a corner and almost walked right into Colin Farrell…We made eye contact, then I was shooed away by the crew".
Always eager to explore new and exciting sexual horizons, thus far in 2017 Alix has already begun to star within an eclectic variety of popular porn productions. Talking about her future adult film industry plans within her August 2016 Fleshbot interview, Alix mentioned that;
"As for whos, I'm dying to work with Riley Reid!!! 'Nuff said. As far as what's, I take my career at a turtle's pace. Right now, I'm right where I want to be as far as what I perform goes, but of course there will be some 'firsts' that will come along when I feel the time is right…
My to do list is pretty much 17 miles long, but what I will say is that ultimately what's important to me is continuing to expand my career and venture into other industries. I absolutely love porn and will always have one foot in the door here, but I also don't think the fact that I've had sex on camera before should have the power to define who I am and what I can accomplish. I've always loved a challenge!…
Ultimately I want Alix Lynx to be a brand that's associated with porn but not ALL about porn, which is a direct reflection of me and my personality. I want to help contribute to further 'normalizing' porn in our society. It's come a long way, but it's still got a ways to go. And, of course, I want my own Fleshlight".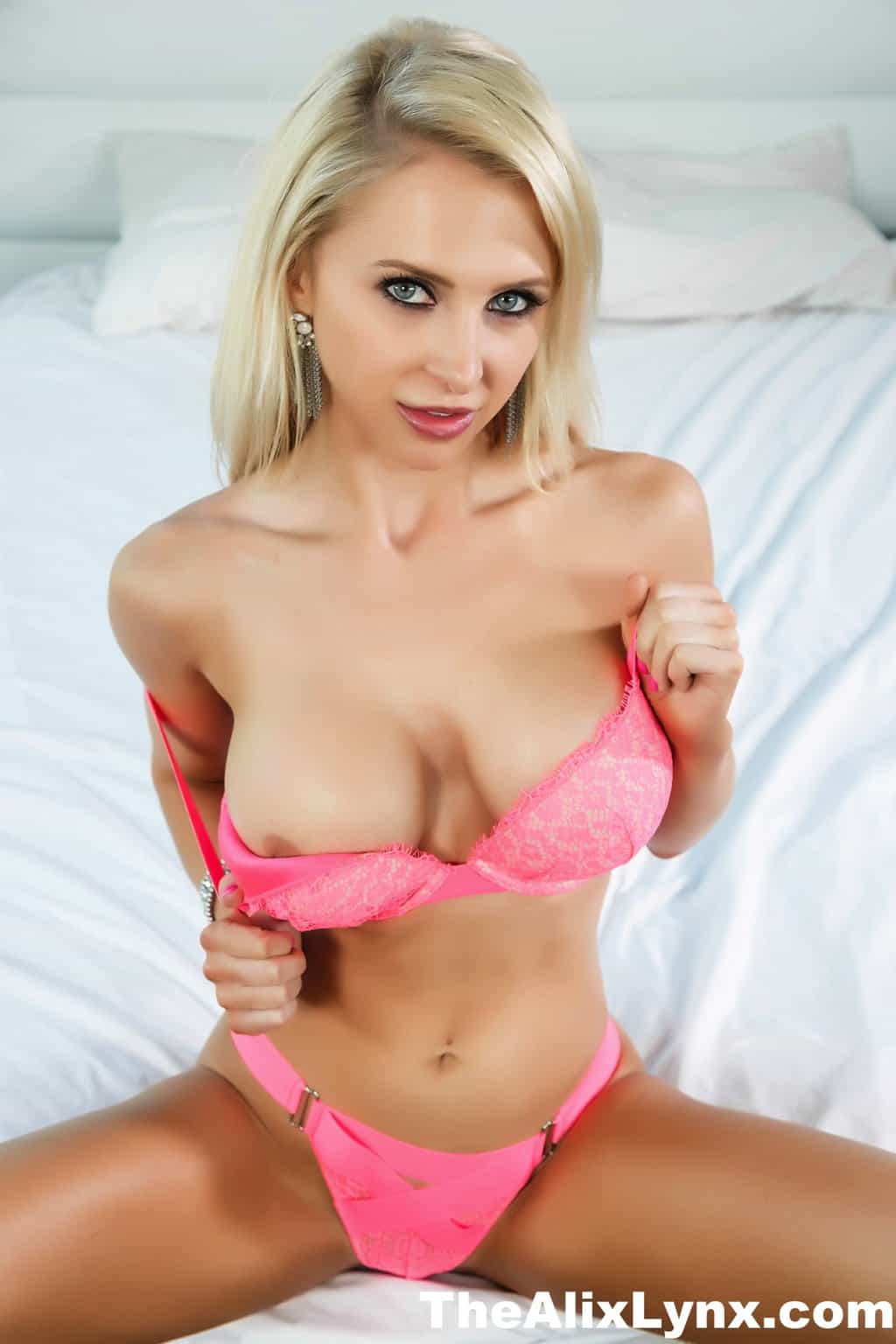 So if you'd like to keep yourself updated regarding Alix Lynx's ever-evolving adult film career then please feel free to use the links provided below to check out Alix's official social networking channels online today! From her kinky web content and show-stopping DVD titles, to her mesmerising magazine modelling shoots and intimate live cam shows, there's more than one way to discover the amazing adult film exploits of beautiful busty blonde bombshell Alix Lynx!
Social Networks
Official Website : TheAlixLynx.com
Twitter: @thealixlynx
Instagram: @thealixlynx
VR Bangers : Alix Lynx VR Scenes
Snapchat: AlixLynx
Facebook : alixlynx
Brazzers : Alix Lynx at Brazzers
YouTube Channel :alixlynx
IMDB Profile : Alix Lynx Filmography