Kendra James
Kendra James Twitter : @Kendrajames13  Girlsway : Kendra James Girl/Girl Scenes  Babe VR : Kendra Jame VR Experience  Kink : Kendra's BDSM Content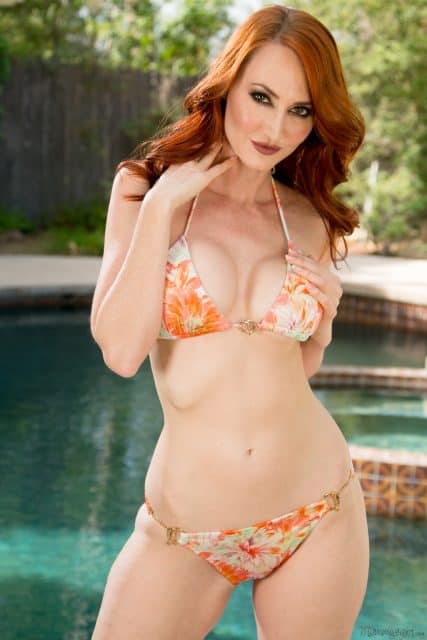 Kendra James – Glamour (Almost Caught) – Girlsway
Kendra James – Personal Info
Name : Kendra James
Date of Birth : January 18th
Hometown : San Francisco, California (US)
Measurements : 34C – 25 – 34
Height : 5'6 (1.68m)
Hair Colour : Red
Eye Colour : Hazel
Shoe Size : Women's 7 (US)
Years Active : 1998 – present
Number of Scenes : 150+
Kendra James is a fan-favorite fetish model and girl/girl performer who was nominated for "Best Supporting Actress" at the 2017 AVN Awards. A former professional dominatrix and circus performer, Kendra has amassed an avid fan following within both the fetish lifestyle market and the mainstream porn industry due to her sizzling scenes for Kink.com, Girlsway and Twistys.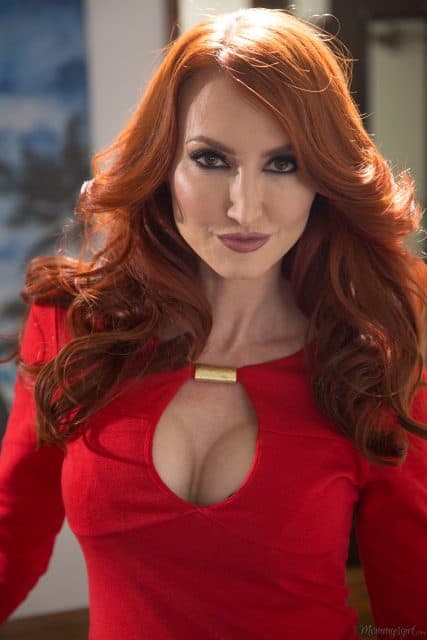 Kendra James in Don't Fuck With Mom (Almost Caught) – Girlsway
So where did it all begin? Raised in San Francisco, California, Kendra grew up in the Bay Area and has mentioned in her June 2016 Adult DVD Talk interview that she had a 'pretty liberal' childhood. As Kendra puts it in her own words;
"I grew up in the San Francisco Bay Area, the East Bay, and I feel like I had a very normal childhood. It was the Bay Area in the '90s and it was pretty liberal and open and I had the freedom to explore and do things that maybe a lot of other kids wouldn't have been able to do…I really, really wanted to be an actress when I grew up. I did the acting schools and did some commercial work and a little bit of stuff here and there when I was a teenager. So that's what I wanted to be when I grew up and I guess I sort of get to do it. I guess I am what I actually wanted to be".
Kendra first started working in the adult industry as a professional dominatrix in 1998 at Fantasy Makers in San Francisco. Originally, Kendra only went along to an audition to support a friend but soon discovered that she loved the lifestyle! As Kendra explained in her June 2016 Adult DVD Talk interview;
"I stumbled upon it by mistake. A friend of mine was moving from San Francisco to Seattle and she was looking for some quick cash and started to make money very quickly. She was auditioning at strip clubs then she saw an ad in a free paper in Oakland for Mistresses. She went and interviewed with this place and she was looking for moral support. She wasn't sure it was something she wanted to do, she wasn't sure how it would go and I went along with her to support her and make sure everything was ok. During the interview process, I was 'Ooooooh, this is interesting! I could do this!' She found that she wasn't into it and I found that I really was. I really liked the idea of it. I think I was about 19 at that point. 'I could do this! It sounds like fun!' I worked at a dungeon in San Francisco for a while and they closed and I ended up working at a dungeon in the East Bay for a number of years".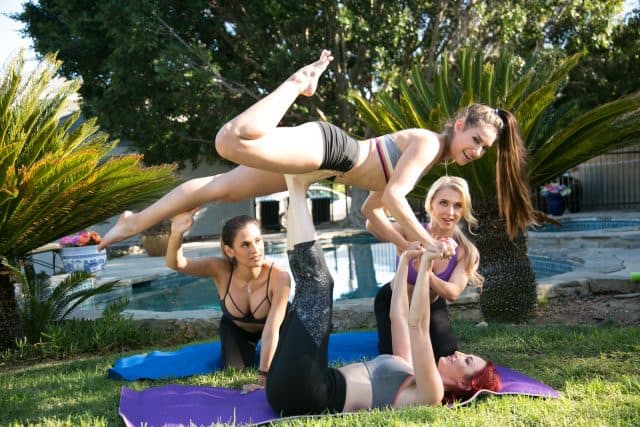 Vanessa Veracruz, Cassidy Klein, Kendra James and Alix Lynx in Lesbian Workout Stories – Girlsway
Ever eager to explore new career avenues, when Kendra was 19 she ran off and joined the circus. Travelling with the Reverend B. Dangerous Freak Show under the stage name 'Stitches', Kendra learned how to use a bullwhip, dance on broken glass and swallow swords. Talking about her circus years during her November 2012 Barelist interview, Kendra divulged that;
"When I was 19 I ran off and joined the circus…no, really! I learned how to use a bullwhip and hit targets with it, dance on broken glass and swallow swords. I don't do this anymore, but every so often I'll use one as a party trick! When I was learning how to swallow swords I'd carry a drum stick or knitting needle around with me and pull it out in bars after I'd been drinking. It's a little disturbing to see some chick randomly swallowing a long stick at a bar!".
Performing as part of the circus paved the way for Kendra to tour the United States with Ozzy Osbourne and Ozzfest. Being a part of this tour enabled Kendra to work alongside Ozzy and heavy metal icons Black Sabbath, Pantera, Slipknot and Marilyn Manson. In fact, you may recognize Kendra as 'Mrs. Clause' in a photo shoot with Ozzy that was featured in Metal Hammer magazine and which appeared in an episode of the hit MTV reality TV series The Osbournes. Posing for this saucy shoot introduced Kendra to the possibility of modelling and, after the Ozzfest tour ended, she decided to pursue a career as a full-time fetish and bondage model. Kendra already had prior modelling experience – posing as a catalogue and fashion model between the ages of 14 and 17 for YM and 17 Magazine.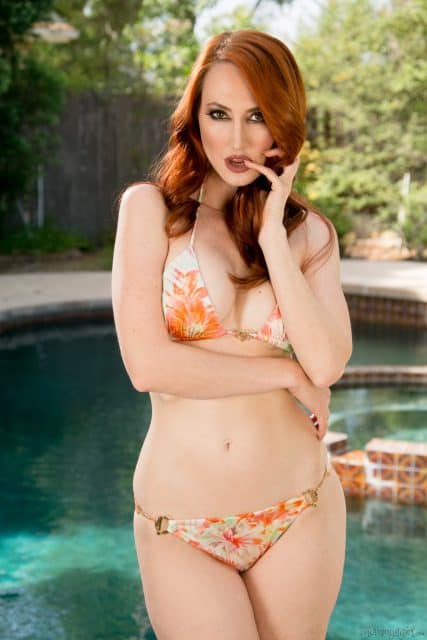 Kendra James – Glamour (Almost Caught) – Girlsway
As a model Kendra has collaborated with famous photographers Ken Marcus, Holly Randall, Ian Rath and Jim Weathers among many others. It was whilst Kendra was posing as a fetish and bondage model that she first started collaborating with the fetish porn network Kink.com. And the rest is history! Talking about the progression of her dominatrix, modelling and adult film career during her June 2016 Adult DVD Talk interview, Kendra recounted how;
"I started in the adult industry in 1998. But I started initially as a Professional Dominatrix  From there, I got into other things. The fetish stuff and the Pro Dom stuff came first then I discovered companies like Kink. In the late 90s, there were a lot of other fetish companies in San Francisco that are no longer around. I guess Pro Dom first, then art modeling then nude modeling. I've never done boy/girl, I've always been fetish and girl/girl. The girl/girl has been intermingled with the fetish stuff for a number of years".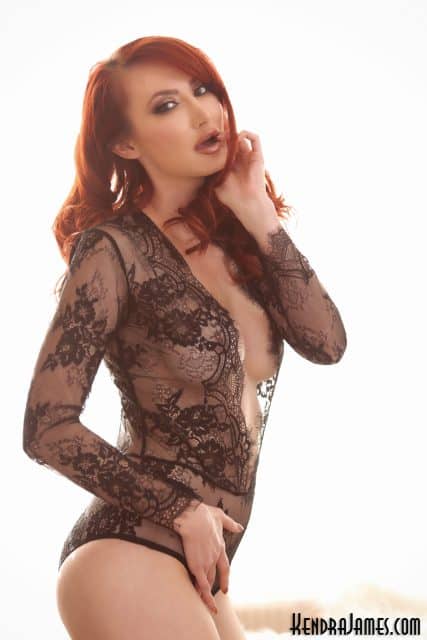 Kendra James – KendraJames.com – Society 15 Model Galleries
Kendra James – Adult Film Career
Kendra filmed her first movie (and posed for her first box cover) for Red Board in 1998. Kendra also shot for the former porn network SickPuppy.com between 1999 and 2003 and she started filming some saucy BDSM scenes for Kink.com in 2002. We recommend checking out Kendra's Fucking Machines solo shoot in May 2002, her Hogtied bondage session in July 2002, her Whipped Ass medical role-play with Kym Wilde in July 2002 and her Whipped Ass BDSM three-way with Cowgirl and Summer Cummings in August 2002. When Kendra was asked about her personal dominant/submissive preferences within her June 2016 Adult DVD Talk interview, she revealed that;
"It really depends on the situation. I wouldn't say naturally one way or the other. It's sort of whatever happens in the situation and I like being both top and bottom. It really is dependent on what is going on and how I'm feeling in the moment. Sometimes, I'll be 'tie me up and do things to me!' and other times, I'll be 'Nope! This is the way it is!'…Actually, I would say I'm more of a control freak. I want to know exactly what's going on and being in control of the situation, which is also probably why I've never had an agent".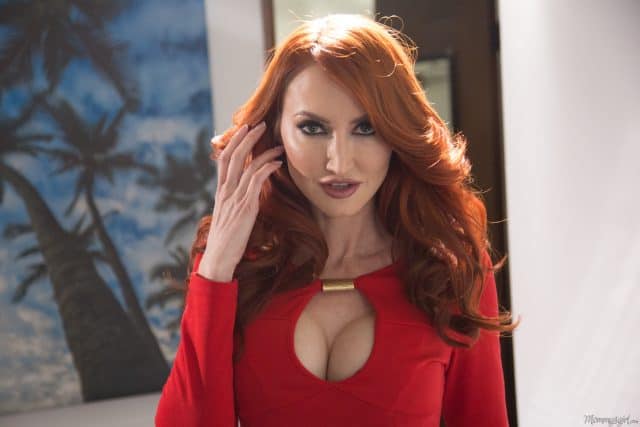 Kendra James in Don't Fuck With Mom (Almost Caught) – Girlsway
Kendra has discussed these early years in greater detail during her 2014 Sinical magazine interview and revealed that she was also a photographer and editor for many of Kink.com's Hogtied, Wired Pussy and Whipped Ass shoots between 2000 and 2003. As Kendra herself explains;
"I found a local dungeon in San Francisco to work in and some of the other women there also modeled. I was introduced to photographers, models and the beginning of kinky websites. San Francisco was such a mecca of kink in the late 1990's and there were so many fantastic people to work with. It wasn't difficult to get in touch with amazing photographers once you were in the goth/ fetish scene. The scene was still pretty intimate…
Everything changes and evolves. Photographers moved from film to digital photos to video as the demand for it rose and as websites started to take off. Of course one of the largest and most influential fetish companies in the world is based in San Francisco and they were on the forefront of video and the digital age. Working for Kink.com years ago I didn't realize how ahead of the time they were. From the beginning they primarily shot video and I guess I thought everyone did it that way. The way they did/ do business influenced me a great deal and I learned a lot working for them. Most people don't realize that I not only was one of their models, but I was also an employee for a couple years. If you look back at pictures from hogtied, wiredpussy and whippedass between 2000 and 2003 they were taken by me and much of the video was edited by me".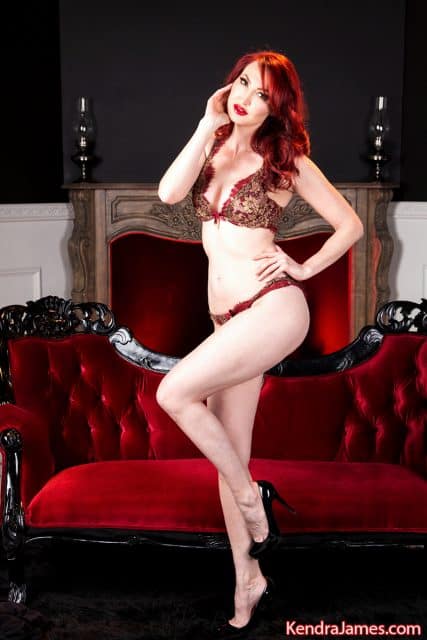 Kendra James – KendraJames.com – Society 15 Model Galleries
Over the years Kendra has collaborated with Kink.com on a wealth of femdom, BDSM and fetish content – most recently appearing in an Entertainment For A Mistress scene with Chad Rock that was released via Kink.com in October 2011 as part of their Men In Pain web series. Kendra also launched her official solo website, MissKendraJames.com, in 2007 and she continues to share all manner of exclusive BDSM content with her devoted fan following via her new official website KendraJames.com.
Alongside her solo web content, Kendra has collaborated with David Mack on some sizzling fetish scenes for The Bondage Channel as well as shooting a broad spectrum of fetish scenes for FM Concepts, PRV Productions, Amateur Bound, TransFetish Productions, Handcuffed Babes, Badman Productions, with Irene Boss for Boss Video, with Steve Lake for Lakeview Entertainment and with Anastasia Pierce for Anastasia Pierce Productions. Some of Kendra's most popular fetish movies include Taboo: Lovers Enslaved (2008) for Hustler Video and the Anastasia Pierce Productions titles Obey Her (2011) and Boudoir Secrets (2012) which were both nominated for "Best BDSM Release" at the 2013 AVN Awards.
Want to know the best part? Kendra has continued to star in many of Anastasia Pierce's most popular fetish porn productions. Our top picks? They'd have to be Wonder Woman: A Fetish Parody (2015), Wonder Woman Sexed-Up (2016) that was nominated for "Fetish Release of the Year" at the 2017 XBIZ Awards and Batwoman (2017) which was nominated for "Fetish Release of the Year" at the 2018 XBIZ Awards. Kendra starred as Batwoman in this kinky cosplay movie and shared some sizzling scenes with Angela Sommers, Saharra Huxly and Veruca James. Kendra has since starred as Catwoman in Anastasia Pierce's Lesbian Comix (2017) and Catwoman On The Prowl (2017) that was nominated for "BDSM Release of the Year" at the 2018 XBIZ Awards.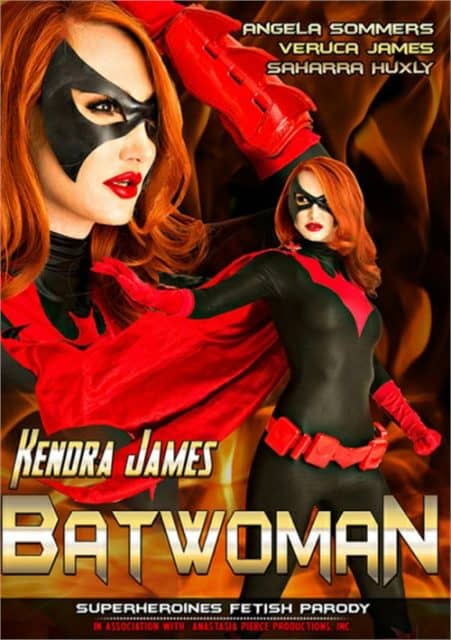 Kendra James in Batwoman – Anastasia Pierce Productions – Adult Empire Galleries
Kendra James : Girl/Girl Performer & Award Nominations
Alongside her fantastic fetish porn productions, Kendra has attracted an avid fan following within the mainstream porn industry due to her saucy scenes in several Girlsway movies. We recommend checking out Kendra's steamy scene with Alex Tanner in Teach Me Mommy and Other Stories (2015), her saucy shoot with Penny Pax in A Quick Learner (2015) and her sizzling scenes with Kimmy Granger and Ember Snow in Almost Caught (2016).
Without a doubt, Kendra's most popular Girlsway movie has to be Missing: A Lesbian Crime Story (2016) within which she shared some sensational scenes with August Ames, Cassidy Klein, Karlie Montana, Kenna James, Riley Reid and Sara Luvv. Directed by Bree Mills and Stills by Alan, Missing: A Lesbian Crime Story was a critical and commercial success which won "Best All-Girl Movie" at the 2017 AVN Awards as well as earning Kendra a notable "Best Supporting Actress" nomination. In total, Missing: A Lesbian Crime Story received 7 nominations at the 2017 AVN Awards and 7 nominations at the 2017 XBIZ Awards including "All-Girl Release of the Year: Feature". Bree Mills had high praise for Kendra and her fellow cast members, highlighting in a July 2016 AVN press release how;
"We have an all-star cast for this one…In all of my movies I try to pay homage to one cinema genre and this one I'm going to play off elements of true-crime and crime-thriller type films…But instead of a detective movie I wanted to spin it with a journalist who's uncovering acts behind these cases. When people watch it they should see the standard elements of a crime thriller, with our own twist. All of our films are filled with Easter eggs and interconnected story lines, but this will hold up as a stand-alone".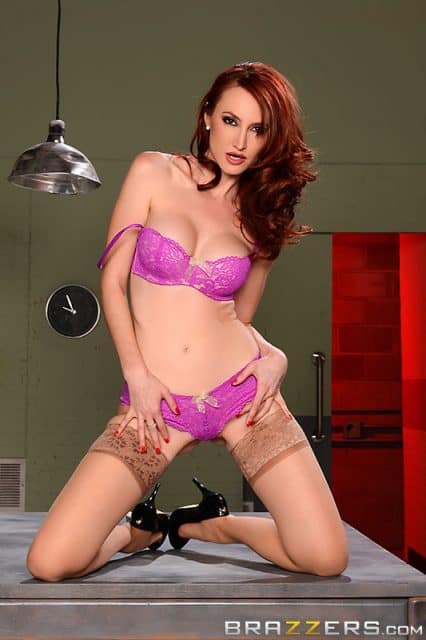 Kendra James in Hot Cop Mean Cop – Brazzers
Kendra loved shooting Missing: A Lesbian Crime Story with Bree Mills and conveyed during her June 2016 Adult DVD Talk interview how;
"That was really, really fun to shoot. When Bree (Mills) sent me the script, I started giggling. 'Oh my God! I get to be so horrible and evil and devious and make girls do all sorts of bad things!' I started to get really excited. My role, Anita Sharp, is very two-faced. In one role, she's a very sweet, Southern lady with lots of charm and then she switches over and she's actually this power hungry, ultra-lesbian, draining-the essence-of-women for her own maniacal ideas. She's really evil and vicious and kind of heartless. (laughs) I don't why I started playing these characters that get to be evil and make sweet innocent girls do evil things to each other…
I was really happy to be a part of this project and was thrilled when Alan contacted me about it and mentioned Bree was writing the part of Anita with me in mind. They're such a wonderfully creative team and the character is so devious. She's super evil but the story also eludes to a romantic involvement or maybe a partnership between she and Mantis which gives her a jilted lover sort of feel and I hope this is touched upon in future movies. If Girlsway calls me to reprise my role, I'll be more than happy to do it!".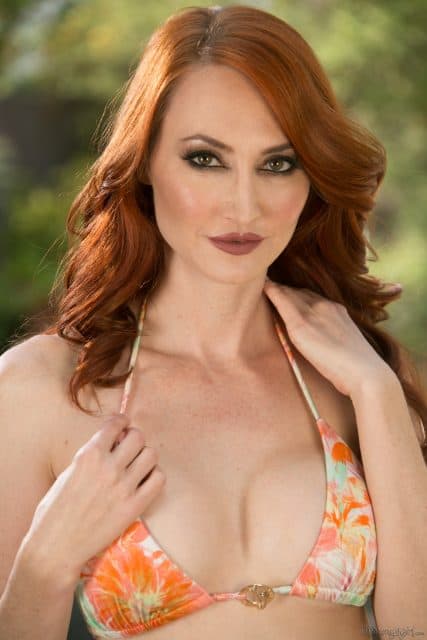 Kendra James – Glamour (Almost Caught) – Girlsway
You'll be happy to hear that Kendra has since starred in many more Girlsway movies. Fans of Kendra James will love viewing her raunchy group shoot with Alix Lynx, Cassidy Klein and Vanessa Veracruz in Lesbian Workout Stories (2018) and her thrilling three-way with Edyn Blair and Lauren Phillips in My Daughter's Approval (2017). As Kendra's co-star Lauren Phillips hotly hinted in a July 2017 AVN press release;
"Most of the scenes I am booked for lately have been boy/girl, so when my agents called me and informed me that I was booked by Girlsway to do an all-girl three-way sex scene, I was so excited that my panties were dripping wet. This is a porn fans 'ginger wet dream' come true, with me, Edyn Blair, and Kendra James fucking each other. It was so hot!".
Hold on, it gets even better! Edyn Blair added in this July 2017 AVN press release that;
"There is nothing sexier then when a woman makes another woman cum so hard her eyes roll back, and this was the type of scene Lauren, Kendra, and myself had. Thank you Girlsway for making my lesbian fantasy come true in My Daughter's Approval".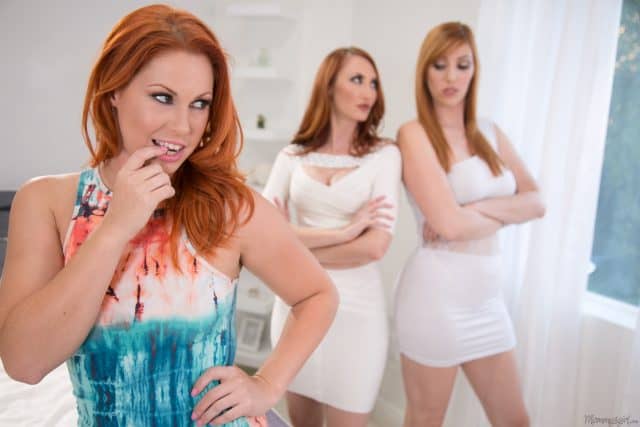 Edyn Blair, Kendra James and Lauren Phillips in My Daughter's Approval – Girlsway
Just can't get enough of Kendra's sultry girl/girl scenes? Well you're in luck! Kendra James has appeared in a wide range of all-girl movies including the Girlfriends Films productions Women Seeking Women #88 (2012) and Lesbian Sex #11 (2014), Members Only (2014) for Reality Kings, Jacky St. James's Digital Sin taboo relations title A Mother Daughter Thing #3 (2015), Holly Randall's A Miss For a Mrs. (2016) and the Brazzers DVD Punish My Pussy (2016). Kendra has since filmed several titillating sessions with best cam pornstars Alix Lynx, Crystal Clark, Aurora Belle and Jojo Kiss that have been showcased in the Twistys compilation titles Melts In Her Mouth (2017), Making Her Drip (2018) and Mom Knows Best #7 and #8 (2018). Kendra has even filmed an immersive Teasing & Pleasing virtual reality sex scene for Babe VR in June 2018. Not to be missed!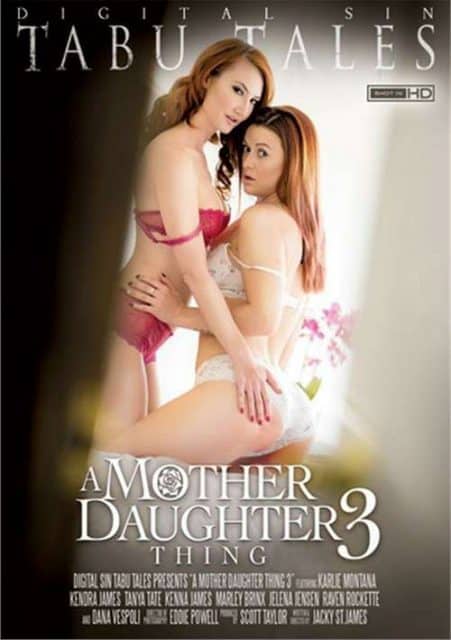 Kendra James and Karlie Montana in A Mother Daughter Thing #3 (2015) – Digital Sin/New Sensations
Currently represented by Kendra Lust's exclusive Society 15 talent agency, when she isn't performing in porn Kendra enjoys relaxing on the beach and has actually been learning how to scuba dive. As Kendra James explained in her June 2016 Adult DVD Talk interview;
"Actually, I live at the beach so I spend a lot of time on the beach. My weekends are usually out in the ocean. This weekend, I'm learning how to scuba dive. Finally! I've lived in Florida for almost 10 years now and have never gotten scuba certified! There is tons and tons of diving close by. The Bahamas are an hour away. The Keys are a couple of hours by car. There are so many good diving spots here and so many good beach places here. I think a lot of my time will be taken up by that. I'm excited for it!…What I listen to when I'm just hanging out by myself is rockabilly or punk rock, a little bit of metal. I listen to everything, really".
Wondering what the future holds for fan-favorite fetish performer Kendra James? Well, when Kendra was asked about her future career plans within her June 2016 Adult DVD Talk interview she divulged that;
"That's a good question. I never intended this to be a career. I never thought that it would be my job and I always, even when I started, 'I'll give it a few months and see what happens!' Somehow, it's turned into 17 years in and around the adult industry. If I haven't been performing, I've been behind the camera. I think I'm stuck here. That's not meant to be negative. I never thought it'd be my job and it has been. I have my own sites and I produce my own videos and I will eventually transition to completely off-camera and just be behind the scenes".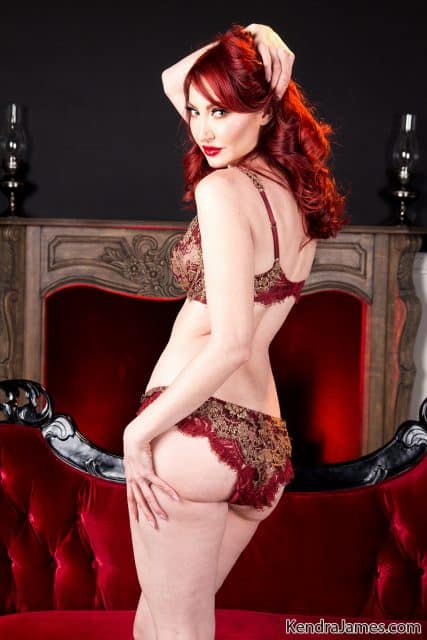 Kendra James – KendraJames.com – Society 15 Model Galleries
Want to keep yourself updated on all of Kendra James' upcoming projects and exclusive web content? Then use the links provided below to stay connected with your favorite ravishing redhead and best cam pornstar Kendra James!
Kendra James – Social Networks
Twitter : @Kendrajames13
Instagram : @KendraJamesOfficial
Babe VR : Kendra James – Teasing & Pleasing VR Scene
Brazzers : Kendra James at Brazzers
Girlfriends Films : Kendra James at Girlfriends Films
Girlsway : Kendra James at Girlsway
Kink Profile : Kendra James BDSM, Femdom & Fetish Content
New Sensations : Kendra James at Digital Sin/New Sensations
Reality Kings : Kendra James at Reality Kings
Twistys : Kendra James at Twistys
Official Website : KendraJames.com
Adult Empire : Kendra James DVDs
IMDB Profile : Kendra James Filmography
Fapnado : Kendra James
 The Nude : Kendra at The Nude
Babepedia : Kendra at Babepedia