Layla Sin
Layla Sin's Twitter : @realLaylaSin   Naughty America : Layla Sin's Sex Scenes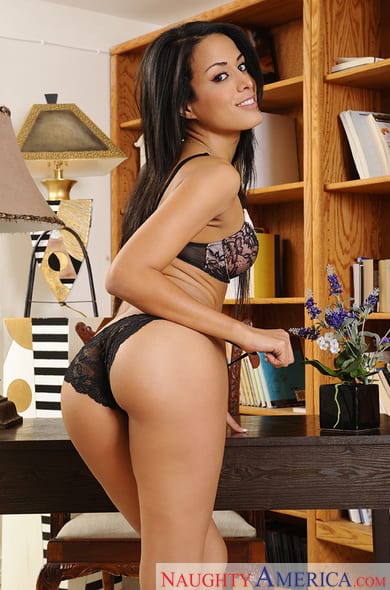 Click here to see more of Layla Sin's hottest sex scenes at Naughty America
Layla Sin – Personal Info
Name : Layla Sin
Date of Birth : January 10th
Star Sign : Capricorn
Hometown : Tel Aviv (Israel)
Measurements : 34B – 24 – 36
Height : 5'6 (1.68m)
Hair Colour : Brunette/Black
Eye Colour : Brown
Piercings : Navel
Shoe Size : Women's 6.5 (US)
Years Active : 2012 – present
Number of Scenes : 80+
Layla Sin is an international porn star, centrefold, director and mainstream actress who was named as Penthouse magazine's "Pet of the Month" for August 2014 as well as "Pet of the Year" in 2015. Nominated for "Best Supporting Actress" at the 2018 AVN Awards, Layla Sin continues to be featured in a wealth of best-selling Penthouse productions.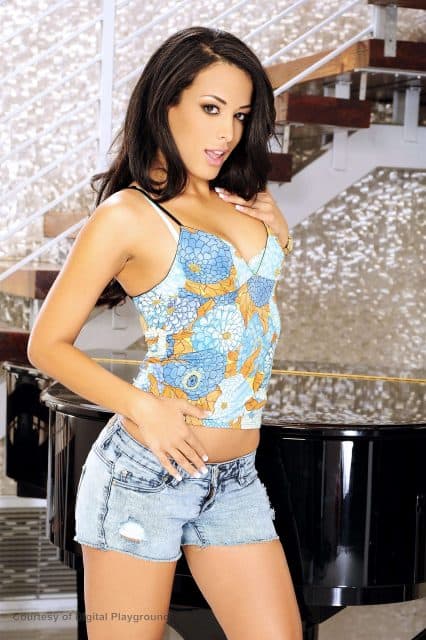 Click here to watch Layla Sin in "Champagne Showers" at Digital Playground
Hailing from Tel Aviv, Israel, Layla Sin moved to the United States when she was 18 years old after completing her army service. Layla Sin is a nursing school graduate who started competing in beauty pageants and eventually progressed to professionally modelling work. Spurred on by the success of her modelling shoots, commercial roles and movie work, Layla started nude modelling which paved the way for her to make her adult film industry debut in 2012. When she was asked about these early years in her May 2015 Adult DVD Talk interview, Layla Sin reflected upon how;
"I was born and raised in Israel. I came to the United States when I was 18, 19 after the army service. I did the army service in Israel. I was a nurse. I loved it here so much that I decided to stay. I started doing beauty pageants and people told me I should go into acting or modelling. I went for it and things happened. I did some movies and commercials and I started modelling more. Then, slowly, my clothes started to come off because I felt more comfortable. (laughs) I felt good doing it. The money was good also. So slowly but surely, I took everything off then the next thing you know, I was doing college porn. You don't even have your name there, it's amateur stuff. I did that and it led to other opportunities. I got an agent and it led to other companies. For the past year, I've shot girl/girl and boy/girl with only one male performer…I do it because I like to do it. It makes me feel good and I'm not doing things that I don't like to do. I like to be on camera and I like to have passion. I like to be sexual and this is what I love to do. This is it".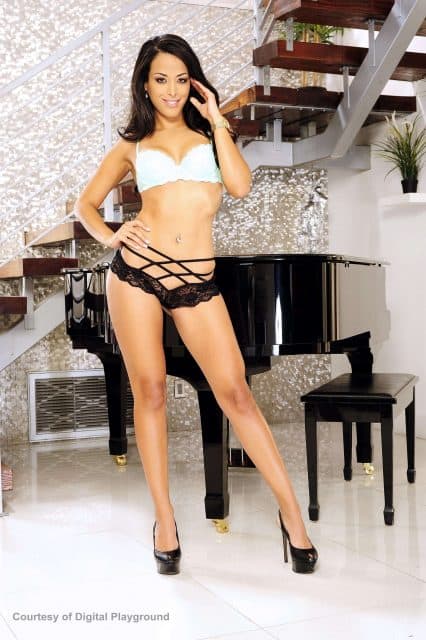 Click here to watch Layla Sin in "Champagne Showers" at Digital Playground
Layla Sin : Adult Film Career
Layla Sin first began working in the adult film industry in 2012 and some of her earliest shoots were distributed via SheSmokes.com and FM Concepts. During this time Layla chose the porn star persona 'Layla Sin' and she has explained in her November 2014 Barelist interview that she picked this particular stage name because;
"I always liked the name Layla I find it very mysterious and exotic. Sin was based on my personality which is very sinful".
In no time at all, Layla Sin was soon sought after by prominent production companies such as Hustler Video, Penthouse and Digital Playground. Talking about shooting her first ever sex scenes in her May 2015 Adult DVD Talk interview, Layla Sin revealed how;
"I was very, very, very nervous. I was shaking. But luckily, it was with a guy that I knew and it was amateur. The director told us to do whatever we want. Nobody was there, just the cameras all over the room and we just had sex. It was not bad; it was actually really nice. But I was really nervous".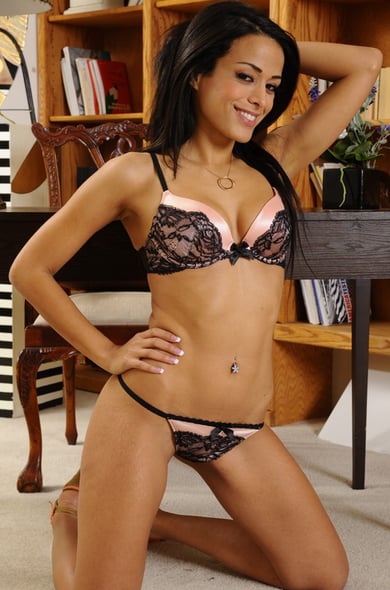 Click here to see more of Layla Sin's hottest sex scenes at Naughty America
Interested in checking out some of Layla Sin's hottest porn productions? Then we recommend viewing her steamy scenes with Dahlia Sky in the Hustler Video DVDs Lesbian Bubble Bath Bang (2014) and Dahlia Sky Loves Girls (2015) as well as her hot hardcore shoot with Jay Smooth in Champagne Showers (2015) for Digital Playground which was nominated for "Best Drama" and "Best Soundtrack" at the 2015 AVN Awards. Layla has continued to perform alongside Jay Smooth in several smash hit porn productions – most notably the Sex Art sequel release Love For Sale #2 (2017) which earned Layla a "Best Supporting Actress" nomination at the 2018 AVN Awards. Layla Sin always enjoys collaborating with Jay and has mentioned in an AVN press release that;
"Jay and I always have a great time shooting, it's naturally very hot because we have such great chemistry".
Alongside her hardcore scenes, Layla Sin is also a fan-favorite girl/girl performer who has starred in several best-selling Penthouse all-girl DVDs. Fans of Layla's lusty lesbian collaborations will want to watch her raunchy role-play with Jessa Rhodes in Hot and Horny Sorority Girls (2015), her sultry shoot with Jojo Kiss in Lesbian Anonymous (2016), her steamy scenes with Abigail Mac in Lesbian Love Tales (2016), her kinky shoot with Dana DeArmond in Naughty Maids (2016) and her compelling scenes with Jenna Sativa in Seduction (2016).
Layla Sin has since starred alongside Misty Stone in Interracial Submissions (2017) and with Uma Jolie in Tell Me What You Want (2017) that was nominated for "All-Girl Release of the Year: Non-Feature" at the 2018 XBIZ Awards. One of Layla Sin's favorite girl/girl collaborations has been with Skin Diamond in Sinister Vixens (2016). Shot in Hungary as part of a Penthouse tour, Layla commented in her May 2015 Adult DVD Talk interview that;
"I shot a scene with Skin Diamond for Penthouse in Hungary. She's like a cat. We both went for it. We forgot the cameras were there completely…I like passion. Everything about passion. There has to be chemistry, there has to be passion. It has to be pretty. I don't know how to explain it. I like the candles, I like being romantic. I don't know, something pretty!".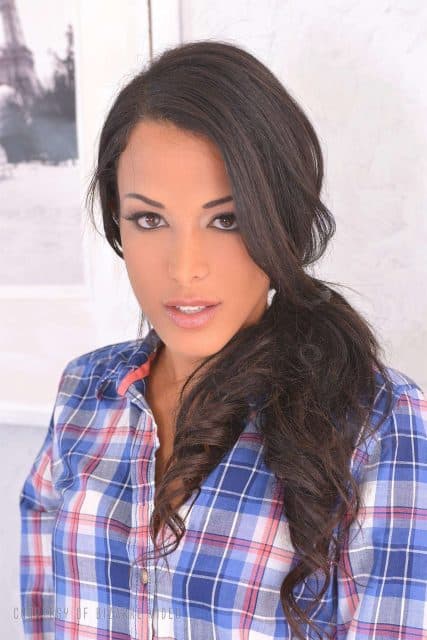 Click here to watch Layla Sin in "At Your Service" at Bizarre Video
Throughout her adult film career Layla Sin has collaborated with leading directors Skye Blue, Guy Capo, Stuart Canterbury, Hank Hoffman and Steven St. Croix on several sizzling Penthouse DVDs. Some of Layla Sin's hottest Penthouse porn productions include The Perfect Woman (2013), Kinky View (2015), Bare Ambition (2016), Masquerade (2016), Schoolgirls With Attitude (2016), Seduced By The Succubus (2017) and Supreme Vixens (2017) which showcased Layla alongside famous female pornstars Ana Foxxx, Kenna James, Jill Kassidy, Lily LaBeau and Lea Lexis.
Want to know the best part? Layla Sin was named as Penthouse magazine's "Pet of the Month" for August 2014. As a Penthouse Pet Layla became actively involved with many of their fundraising campaigns such as their San Francisco Fire Fighters Local 798 Toy Collection Drive and Fundraiser Kickoff Party. Layla hosted this charitable event in November 2014 and highlighted in an AVN press release that;
"This is an extremely important event to us, and I am thrilled to support this incredible fundraiser…Every year Penthouse works to help those in communities across the country, and we appreciate the efforts of the local fire departments and those that care enough to make a difference in people's lives, especially during the holidays".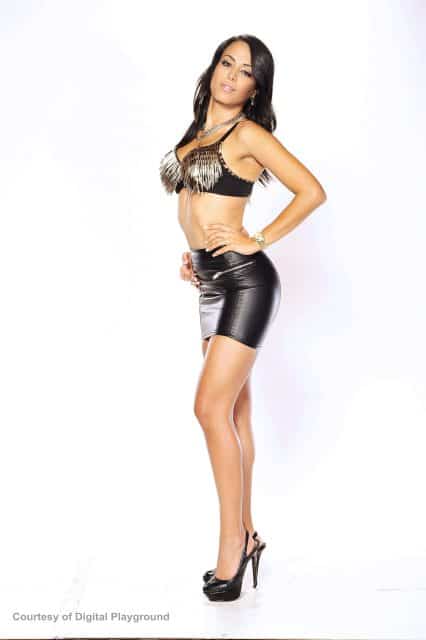 Click here to watch Layla Sin in "Champagne Showers" at Digital Playground
Layla Sin : Penthouse "Pet of the Year", Brand Ambassador & Mainstream Media Projects
The defining moment of Layla Sin's adult film career? It has to be when she was crowned as Penthouse's "Pet of the Year" for 2015. Upon receiving this coveted title, Layla Sin was featured on the cover of Penthouse magazine's May 2015 issue 'The Pursuit Of Perfection'. Talking about this momentous achievement via an April 2015 AVN press release, Layla enthused how;
"My life is way more exciting and full of surprises since I began working with Penthouse as a Pet…I'm proud of this honor and look forward to an exciting year representing the brand throughout the world. I've been travelling nonstop around the world, doing photo shoots and appearing at conventions and clubs. Of course, I'm loving every minute!".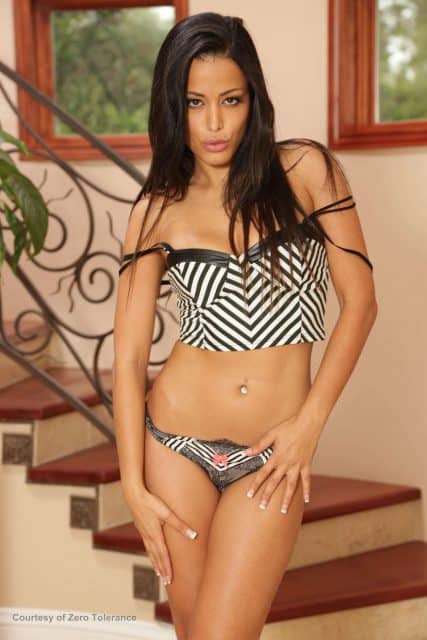 Click here to watch Layla Sin in "My Roommate's A Lesbian 5" at Zero Tolerance
Layla Sin has thoroughly enjoyed working with Penthouse over the years. In fact, when she was asked about her ongoing relationship with Penthouse in her May 2015 Adult DVD Talk interview Layla elaborated upon how;
"I started shooting for them a year ago. I filmed a couple scenes for them and they told me how beautiful I was and they wanted me to be a Penthouse Pet. I said, 'Hell yes! Definitely!' So I shot for the Pet of the Month for August 2014. Then I noticed that they really liked me. I'm a very hard working girl, I have a good work ethic and am very professional. They really liked my energy and I noticed they hired me a lot. They took me to Hungary, Australia and I shot a lot with them. They invited me for an interview and they surprised me and told me they chose me as the Penthouse Pet of the Year. It was all on camera. It was a great surprise".
Throughout 2016 and 2017, Layla Sin continued to work exclusively for Penthouse  as a "Brand Ambassador". Layla has even travelled across the globe with Penthouse; shooting in Hungary and Israel as well as being featured in a three page article for Penthouse Germany magazine. As a Brand Ambassador, Layla was featured within Penthouse's first ever virtual reality shoot. Layla loves working with Penthouse on these exciting new projects and has enthusiastically stated in a June 2016 AVN interview how;
"I'm super stoked to be sticking with Penthouse exclusively for another year…I have had so many great experiences with the company and seen so many incredible places, there is nowhere else I would want to be. I feel at home at Penthouse and am grateful for the opportunities that have come with it…These advances are absolutely amazing…It's hard to believe that we have gone from fast-forwarding bulky VHS tapes to DVDs to digital to VR. It's a very exciting time to be in the adult industry".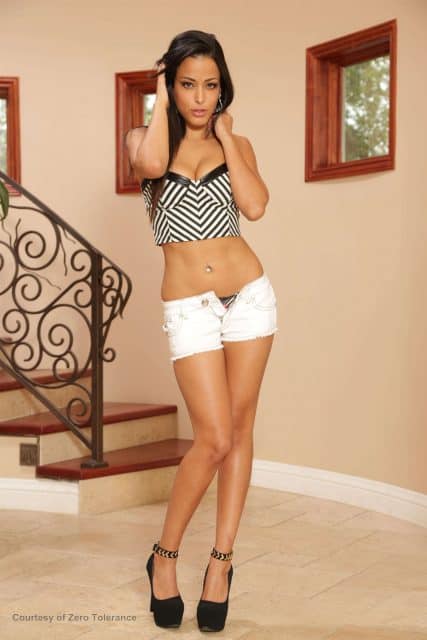 Click here to watch Layla Sin in "My Roommate's A Lesbian 5" at Zero Tolerance
 In addition to her ongoing Penthouse promotional work and advocacy projects, Layla Sin has filmed a commercial for the Free Speech Coalition (FSC). Layla is an ardent supporter of the FSC and conveyed in a May 2016 AVN press release that;
"I was shooting this week for FSC, promoting the fact that adult talent are proud to be tested and know that they have many alternatives as to health…It's important that people know we are informed and proud of what we do".
Alongside her popular porn productions, Layla Sin has pursued a wide range of mainstream acting work. Fan will want to keep an eye out for Layla as Robert Downey Jr's secretary in the comedy/drama movie Chef (2014) and may be interested to learn that she has appeared in the first season of the popular TV series Dating Naked.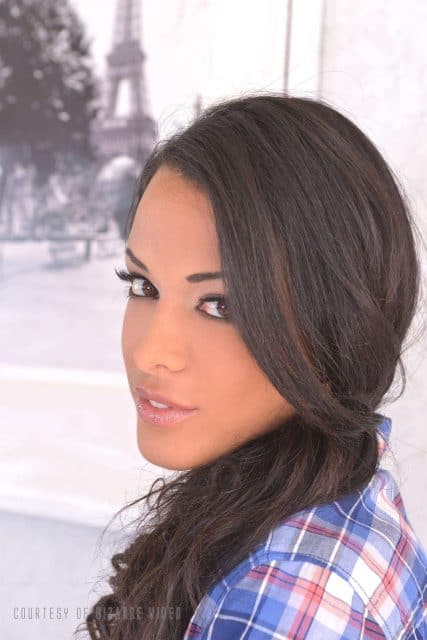 Click here to watch Layla Sin in "At Your Service" at Bizarre Video
Wondering what the future holds for Layla Sin? Well, in previous interviews Layla has commented that she would like to launch her own lingerie company and direct movies.  True to her word, in recent years Layla Sin has stepped behind the camera in order to pursue her own directing projects. Thus far, Layla Sin has directed several scintillating scenes featuring Dani Daniels, Chloe Amour, Alexa Grace, Elsa Jean and Ariana Marie. Talking about this exciting new stage of her career in a March 2016 AVN interview, Layla Sin highlighted how;
"Being a talent can make you understand that the more comfortable the talent is the more real and natural the video will be…This is a big part of my work when I'm directing. I want my talent to be as comfortable as possible and I make sure everything is clear and straightforward and my talent never does anything they are uncomfortable with…
 I'm directing three times a week for different clients…People trust me to deliver what they want. Some clients give me a very detailed script and detailed list of photos that they want. Some clients have a very general idea of what they want to see and the girls they want to see and I make this happen for them. I hire girls from top agencies and girls that are very experienced in the business as well as new ones…
I shoot solos and boy/girl on the same day, so I must say it's a lot of work, but I am very happy because it allows me to be creative and artistic. I want the girl to look as pretty and sexy as possible and really deliver a great content. Always professional and treat my girls with respect. After all, it's all about having fun!…Some girls I have already shot five or six times because my clients love them so much and I love to work with them…I'm really happy being able to work on both sides of the camera and excited about the future".
Keen to stay updated on all of Layla Sin's sensational modelling shoots, popular porn productions and recent directing projects? Then use the links provided below to stay connected with your dream girl Layla Sin!
Layla Sin – Social Networks
Twitter : @realLaylaSin
Instagram : @laylasin
Cherry Pimps : Layla Sin at Cherry Pimps
Digital Playground : Layla Sin at Digital Playground
Naughty America : Layla Sin at Naughty America
Penthouse : Layla Sin at Penthouse Gold
The Nude : Layla Sin at Nude EU