Twitter : @CoraMoth   Wild On Cam : Cora Moth Sex Scenes   Adult Empire : Cora Moth DVDs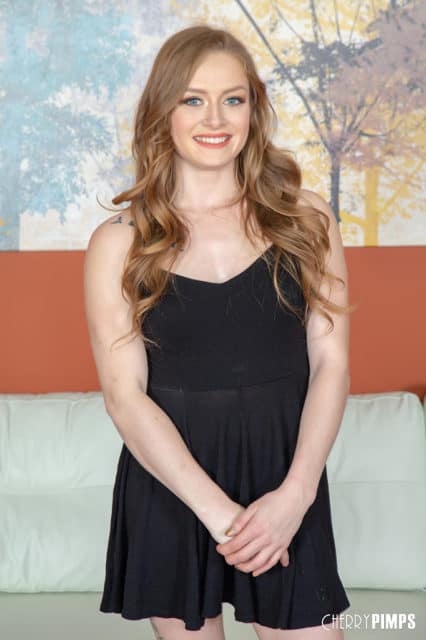 Cora Moth at Cherry Pimps/Wild On Cam
Personal Info
Name : Cora Moth
Date of Birth : May 27th
Hometown : Eugene, Oregon (US)
Measurements : 32B – 26 – 34
Height : 5'1 (1.55m)
Hair Colour : Strawberry Blonde
Eye Colour : Blue
Tattoos : A large flowers and feathers design across her right side, hip and thigh, 'Live A Little' script as the string of a red balloon on the left side of her rib cage, and birds in flight across the right side of her collarbone/upper chest
Piercings : Both nostrils
Shoe Size : Women's 7 (US)
Years Active : 2018 – present
Number of Scenes : 10+
Cora Moth is a rapidly rising porn star and model who made her adult film industry debut in late 2018. In this short space of time Cora has already attracted a keen fan following due to her steamy scenes for ArchAngel, Mofos and Cherry Pimps. Watch this space!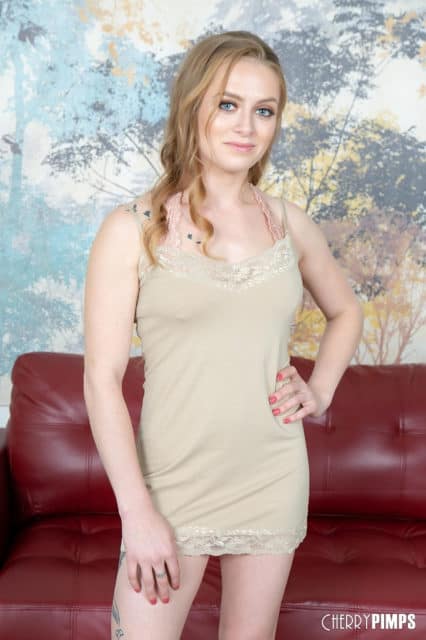 Cora Moth at Cherry Pimps/Wild On Cam
So where did it all begin? Hailing from Eugene, Oregon, Cora was home-schooled and she also had a passion for gymnastics. Cora is an intelligent individual who went to college when she was 16 and attained her Associates degree. Before she finished her Bachelor's degree, Cora decided to postpone her studies and join the circus! For the next two and a half years, Cora performed as an acrobat as well as taking part in partner acrobatics, contortionist displays and aerial rope shows. As Cora explained in her February 2019 Adult DVD Talk interview;
"I grew up in Eugene, Oregon. I grew up with a single mom and was home schooled. But I still loved going to some classes. I did gymnastics most of my young life. I played outside a lot. Went to college at 16, got my Associate's and decided to join the circus before finishing my Bachelor's… I was an acrobat. I did partner acrobatics, aerial rope and whatever they needed me to do. It was a lot of fun…I can do backbends and I used to do contortion but my body couldn't handle it anymore. I'm still pretty flexible and I can still do all the splits and put myself in not-very-sexy but weird positions. [laughs]".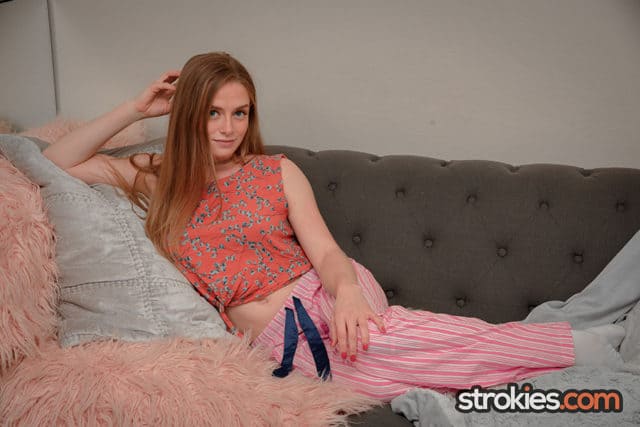 Cora Moth at Strokies.com
Cora discussed her career as a circus performer in greater detail during her April 2019 AVN: Fresh Faces interview, divulging that;
"I was at the right place at the right time. I was at a music festival; someone saw me doing acrobatics and offered me a place in the circus up in Portland, Oregon…Performance level for a career in the circus is really hard on the body. I kind of want to hold it as my own passion. I'm still passionate—I just don't perform any more. I'm getting certified in yoga right now and moving into teaching pole".
Cora first started working in the adult entertainment industry as an exotic dancer and she performed in clubs for 6 years prior to making her porn debut. Cora decided to pursue a career in porn whilst she was living with fellow adult film star Olive Glass. Cora was able to ask Olive countless questions about the adult industry over the years until one day she decided to try it out for herself! Talking about this pivotal period of her life in her February 2019 Adult DVD Talk interview, Cora recounted how;
"I've been a stripper for a little over 6 years and I lived with Olive Glass. Her experience was very positive and I asked her many questions over the years. Eventually, it just peaked my interest. Being a sexual person and I enjoy being in the sex industry. I like stripping but it can be difficult but there can be a lot of issues with not a lot of consent going on. So I wanted to be in a sexual realm where it was very consensual and respectful".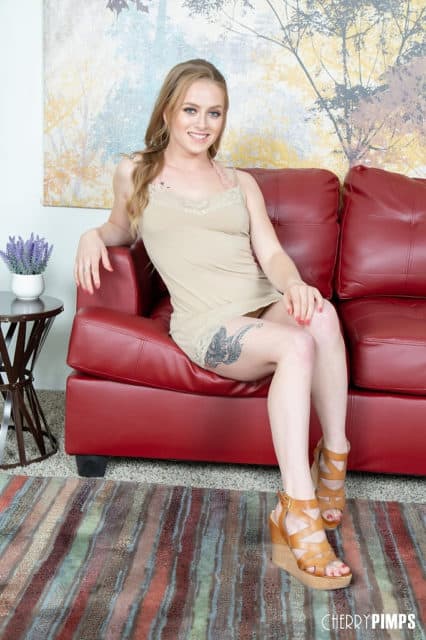 Cora Moth at Cherry Pimps/Wild On Cam
Cora Moth : Adult Film Career
Cora made her official adult film industry debut in October 2018 when she filmed some saucy solo scenes for ATKingdom. In fact, Cora was featured in the ATKingdom DVD Pussy Training 101: Toy Edition (2019) alongside fellow rising starlets Riley Star, Zoe Parker, Kasey Miller, Carmen Rae and Jaycee Starr. When Cora was asked about shooting her porn debut in her February 2019 Adult DVD Talk interview she conveyed how;
"My first scene was a solo with ATK. What's strange is that I find solos to be even more nerve wracking because there's not another human being to interact with. But my first boy/girl scene was in Freaky Petite 4. It was a good experience. Everyone was very respectful and was kind enough to walk me through it and answer some of my silly and not-so-silly questions".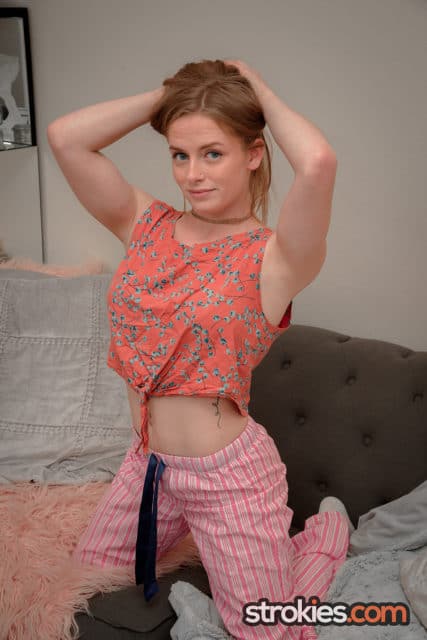 Cora Moth at Strokies.com
Wondering about the origins of her sultry stage name 'Cora Moth'? Well, Cora revealed in her February 2019 Adult DVD Talk interview that;
"One represents darkness and one represents light".
What's more, when Cora was asked about her unique stage name during her April 2019 AVN: Fresh Faces interview she explained how;
"I made it up. Moths are creatures of the night and they go toward what they love, the light, even if it kills them".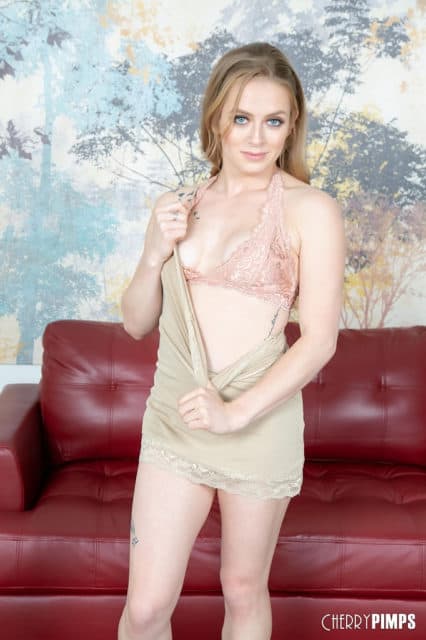 Cora Moth at Cherry Pimps/Wild On Cam
In November 2018 Cora filmed her first ever boy/girl scene with Lucas Frost that was featured in the ArchAngel DVD Freaky Petite #4 (2018). Cora enjoyed shooting her boy/girl debut and she enthusiastically stated in a November 2018 TRPWL press release that;
"I'm so happy to finally give my fans what they've been waiting for – my first BG scene. Working with Lucas was a pleasure, and he made me feel at ease. I know that this is just the beginning, and I can't wait to give my fans more!".
Also starring Athena Rayne, Karla Kush and Shavelle Love, Freaky Petite #4 was an instant hit which earned Cora and her fellow cast members high praise from director MimeFreak. As MimeFreak stated in a November 2018 XBIZ News press release;
"'Freaky Petite Vol. 4' came out with some very underrated performers. Athena Rain and Shavelle Love hit the ground running and were a pleasure to see what they were able to do on camera. Cora Moth impressed me from the moment she shared with me her goals. For her to have a slam dunk performance her first time performing was amazing. Karla Kush has been someone that I've longed to shoot. I'm glad she's back at it and graced my series with her presence".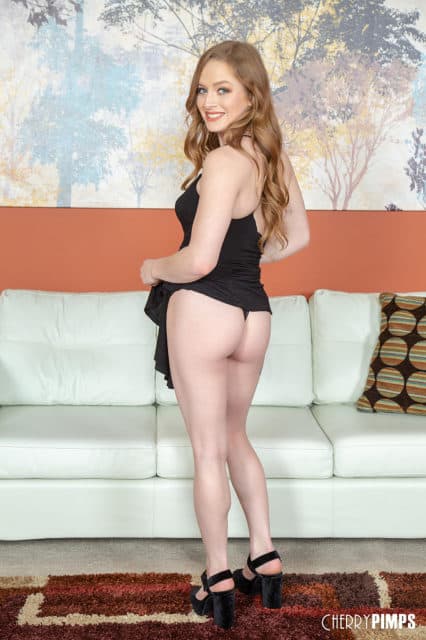 Cora Moth at Cherry Pimps/Wild On Cam
You'll be happy to hear that Cora has continued to star in a wide range of hot hardcore scenes. We recommend viewing Cora's seductive Sexy Gymnast Cora Moth Teasing You Live solo session that was first broadcast via Cherry Pimps' Wild On Cam web channel in November 2018, her immersive POV scene for Strokies.com in December 2018 and her raunchy Writers' Room group sex scene with Bunny Colby, Maya Kendrick and Quinton James which was uploaded via the Clips4Sale store Daphne's Fantasies in December 2018.
Most notably, Cora shared a steamy Blowing More Than Smoke scene with Jessy Jones that was released via Mofos in February 2019. Cora enjoyed shooting her Mofos debut and she eagerly expressed in a February 2019 AVN press release that;
"I had such a great experience with Mofos and this scene. Working with a veteran performer like Jessy so early in my career was awesome, and this scene was just so fun".
But that's not all. Cora has also shared a sizzling Flexible scene with Ryan Madison that was promoted via 5K Porn in January 2019, she shot a raunchy Cora Moth Returns For Some Hot Action Live hardcore session with Codey Steele which was first broadcast via Cherry Pimps' Wild On Cam web channel in January 2019 and she filmed a kinky A Moth Drawn To The Flame bondage scene for Hardtied.com in February 2019. Not to be missed!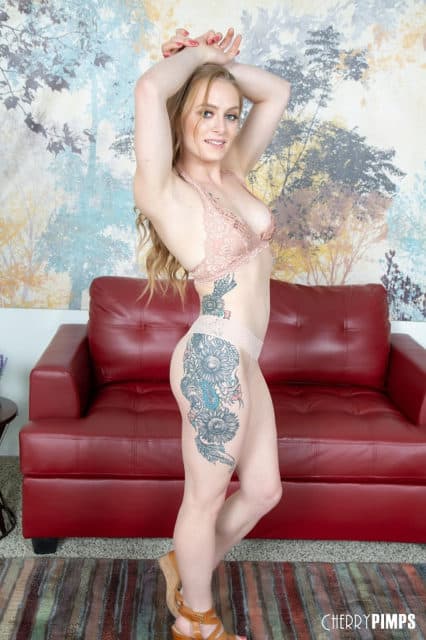 Cora Moth at Cherry Pimps/Wild On Cam
When she isn't shooting these compelling web clips, Cora enjoys interacting with her fans via social media. As Cora sincerely stated in her November 2018 Fleshbot interview;
"I think it's very sweet that people take the time to reach out to me, follow my work, and want to feel connected to me. When I am able, I like to do the same for them!…Thanks for taking the time to get to know me a little bit more! I'm excited to see what I will be able to give to you all in the future!".
Wondering what the future holds for rapidly rising starlet Cora Moth? Well, when Cora was asked about her future career plans during her November 2018 Fleshbot interview, she divulged that;
"I've been in the sex industry one way or another for years– stripping, small forms of kink, sugaring, etc. Porn was sort of a natural progression…I'm keeping an open mind. No solid goals have risen up yet, I am going with the flow to see where it takes me!".
After all, Cora enjoys experiencing new things and she mentioned during her April 2019 AVN: Fresh Faces interview that;
"I'm very drawn to experiencing new things…especially everything that has to do with the taboo world. In the past I worked in kink and now I'm moving into porn. I think I've checked just about every box except for anal, for the time being, d.p. and boy-boy-girl…I'm looking forward to exploring the entire industry…As far as my expectations, I'm trying to keep an open mind. I have no idea what I'm going to like".
Keen to stay connected with strawberry blonde stunner Cora Moth? Then use the links provided below to discover all of Cora's hottest sex scenes, exclusive web content and upcoming productions!
Social Networks
Twitter : @CoraMoth
Instagram : @cora.moth
ArchAngel : Cora Moth at ArchAngel Video
Mofos : Cora Moth at Mofos
Strokies : Cora Moth at Strokies.com
Wild On Cam : Cora Moth at Cherry Pimps/Wild On Cam
Adult Empire : Cora Moth's DVDs