Official Website : GoddessKyaaXXX.com   Twitter : @GoddessKyaa   Niteflirt : Call Goddess Kyaa   Trans Erotica : Goddess Kyaa Sex Scenes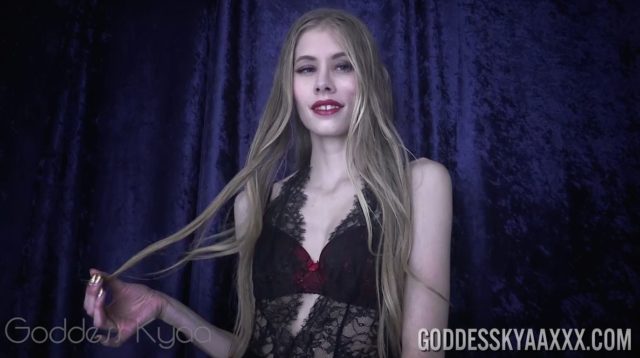 Goddess Kyaa in Fishnets & High Heels – GoddessKyaaXXX.com
Personal Info
Name : Goddess Kyaa
Alias : Kyaa Chimera
Date of Birth : October 30th
Measurements : 36C – 26 – 38
Height : 5'11 (1.80m)
Hair Colour : Blonde
Eye Colour : Blue
Tattoos : A symbol on the inside of her right forearm
Shoe Size : Women's 9 (US)
Years Active : 2018 – present
Number of Scenes : 10+
Goddess Kyaa (also known as Kyaa Chimera) is a critically acclaimed dominatrix, porn star and producer. Over the years Goddess Kyaa's compelling clips and femdom content have earned her an avid international fan following as well as numerous "Best Girl/Girl Scene", "Best Self-Producer" and "Best Non-TS Performer (Female)" nominations at the 2019 Transgender Erotica Awards.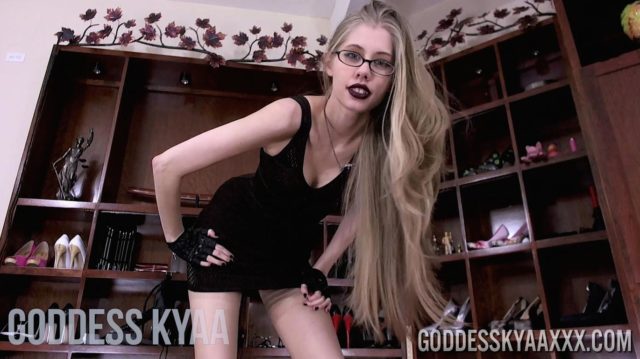 Goddess Kyaa Teasing – GoddessKyaaXXX.com
So where did it all begin? Hailing from Las Vegas, Nevada, Goddess Kyaa first started working in the adult entertainment industry as a professional dominatrix when she was 20 years old. For the next decade, Goddess Kyaa thrilled eager submissives via her phone-with-cam line on Niteflirt. You'll be happy to hear that Goddess Kyaa continues to host sensational domme sessions via Niteflirt, hotly hinting via her official profile that;
"I am Goddess Kyaa, a professional and lifestyle dominant with a decade of experience owning and training slaves. Specializing in hypno-brainwashing, feminization/sissy-training, cock control (including chastity, JOI, stroking games, CEI & more) and Goddess worship, you will find that I am a complex domina with a plethora of kinky skills at my disposal. Call now to hear my sultry voice and fall under my spell".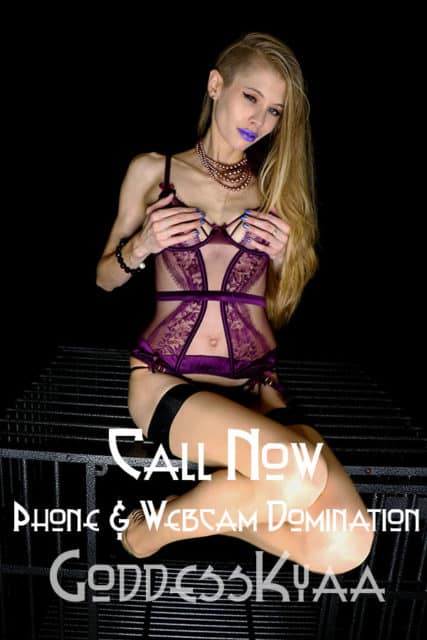 Call Goddess Kyaa – Phone & Webcam Domination – Niteflirt
After establishing herself via Niteflirt, Goddess Kyaa progressed to shooting and sharing her own videos via Clips4Sale. Goddess Kyaa found that she loved making her own videos and they paved the way for her to make her adult film industry debut in 2018. Talking about the evolution of her dominatrix profession during her October 2018 Domme Addiction interview, Goddess Kyaa explained how;
"Well, for those who don't know, I entered the professional FemDom realm at the age of 20, that was more than 10 years ago now! I first started using Niteflirt to mind fuck and enslave weak men, then soon after I began making videos and selling them on Clips4Sale. I quickly realized that this was my calling and jumped in with both feet. Over the years I have had highly ranking sites and stores, my following ever-growing. While I don't focus as much on pumping out a clip every single day of the week my content is higher quality than ever, being filmed in high class dungeons around the world with top tier porn and fetish performers serving me".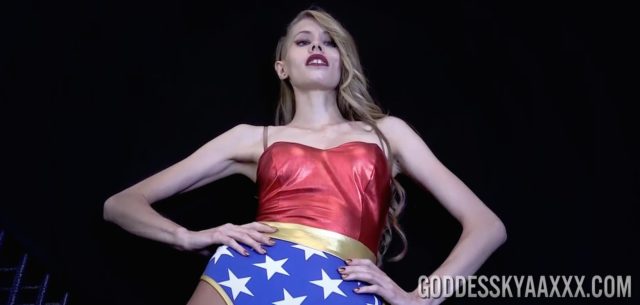 Goddess Kyaa Wonder Woman Cosplay – GoddessKyaaXXX.com
When Kyaa was asked about the type of slave that she enjoys most during this Domme Addiction interview, she revealed that;
"Obedient slaves. All that truly matters to me is obedience. Obedience simply means exactly its definition. To obey, to comply with every command given it to you. I am a reasonable Goddess, I will never demand more from a slave then I know they are capable of doing. As long as you obey, you will please me and become one of my special slaves. But, to be honest, strict obedience is rare and hard to find, it takes years of training and real dedication from a slave to achieve. Most of my minions are simply submissives with fetishes and weaknesses which I use to exploit and control them for my own sadistic pleasure and gain…A true slave mentality is actually rather rare…For me at all boils down to two things worship and control. I love to be worshiped and I love to control slaves so if your fetishes fall within the realm of that then we are going to get along".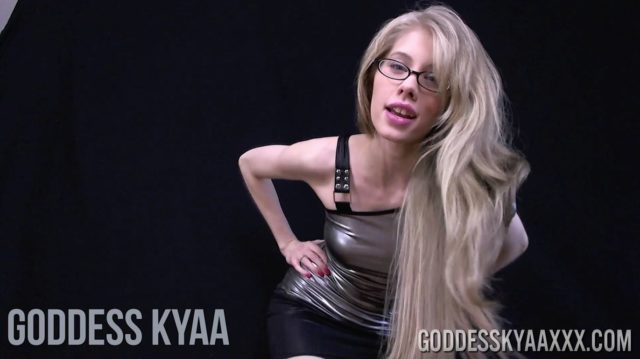 Goddess Kyaa Upskirt – GoddessKyaaXXX.com
Goddess Kyaa : Adult Film Career
After establishing herself as a fan-favorite professional dominatrix and clip artist, Goddess Kyaa decided to start shooting hardcore porn productions in the summer of 2018. Goddess Kyaa filmed her first ever boy/girl, anal and blowjob scene with Bryan Gozzling for his Hookup Hotshot web series. Titled Kyaa's First Anal Scene Is Extreme!, this amazing anal scene was featured in the Evil Angel movie Hookup Hotshot: Sex Tapes #7 (2018). Goddess Kyaa was even showcased as the box cover model for this raunchy release which also starred Chloe Temple, Rocky Emerson and Vanna Bardot.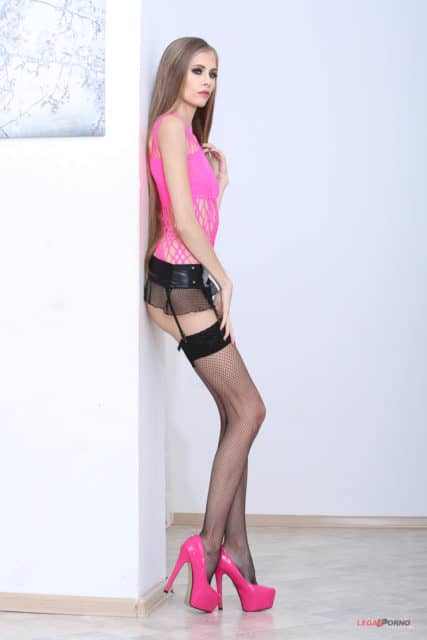 Goddess Kyaa at LegalPorno.com
Some of Goddess Kyaa's earliest porn productions also include her raunchy Madam Joins Her Trans Girl In Fucking A Client three-way with River Enza and Christian XXX which was uploaded via Pure-TS.com in September 2018, her immersive Goddess Kyaa And Her TS Slut Enjoy A Big Dick three-way with River Enza and Christian XXX that was released via TSPOV.com in October 2018 and her formidable femdom scenes in Glenn King's MeanBitch Productions movie Mean Dungeon #11 (2018) featuring Alexis Monroe, Daisy Ducati and Richelle Ryan. Kyaa discussed her reasons for shooting hardcore porn productions during her October 2018 Domme Addiction interview, highlighting how;
"While I continue to dominate the FemDom world I am spreading my Goddess wings wider and into the sex industry at large now. I've started doing hard-core porn and I'm excited to see where this journey takes me over the next few years. I get to have amazing sex with the most beautiful people in the world and get paid very well to do it. Of course, I'll remind all the cucky betas out there to close their eyes when it pops up on my timeline because you're not worthy! But that's not all I'm doing… I'm excited to be performing live for the first time ever recently and plenty more live performances doing extreme acts of domination on eager and willing slaves at Club Heathen in San Diego and other venues yet to be announced. And for the very first time ever I will have a paid membership site launching in just a few months! This membership site will be FemDom and Goddess Worship focused for all my submissive fans out there who want all my best content in one place".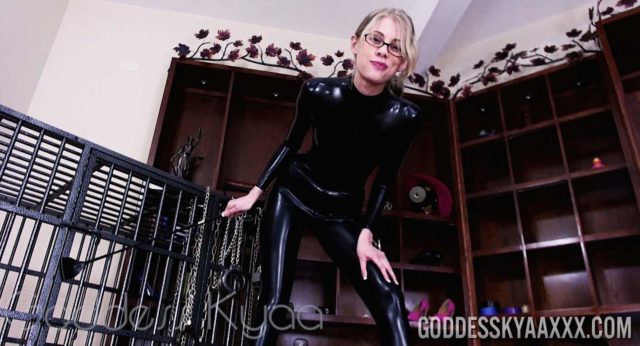 Goddess Kyaa Latex Costume – GoddessKyaaXXX.com
During this time Kyaa started to shoot a wealth of captivating content for TransErotica.com. Kyaa made her Trans Erotica debut in March 2018 when she filmed a Goddess Kyaa Dominates River Enza BDSM scene with her slave-wife River Enza. Goddess Kyaa and River Enza have filmed a broad spectrum of thrilling femdom, fetish and BDSM videos for Trans Erotica. We recommend checking out their River Enza Dominated By Goddess Kyaa scene in June 2018, their titillating River Enza Ties And Flogs Cassidy Quinn femdom shoot with Cassidy Quinn in June 2018 and their sizzling Shower Sluts River Enza And Goddess Kyaa scene in August 2018. Must see sex scenes for Goddess Kyaa fans!
Most notably, Goddess Kyaa shared an unforgettable three-way with Natalie Mars and River Enza that was released via TransErotica.com in July 2018. Titled Natalie Mars, River Enza And Kyaa Threesome, this sensational BDSM three-way was nominated for "Best Girl/Girl Scene" at the 2019 Transgender Erotica Awards. Unsurprisingly, Goddess Kyaa received several notable nominations at the 2019 Transgender Erotica Awards for "Best Non-TS Performer (Female)" and "Best Self-Producer".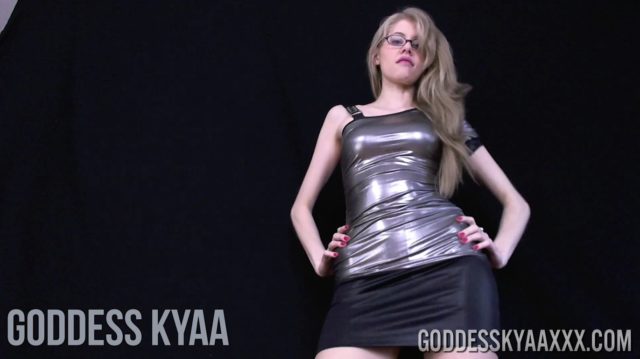 Goddess Kyaa Upskirt – GoddessKyaaXXX.com
But that's not all. Fans of Goddess Kyaa will also love watching her thrilling three-way with River Enza and Dominic Rystan in the Trouble Films release Fetish Fvckdolls #2 (2018) that was nominated for "BDSM Release of the Year" at the 2019 XBIZ Awards. This compelling three-way was also featured in Chelsea Poe and Courtney Trouble's Trouble Films production Fuckstyles #3: Threesomes (2018) also starring Ari Crow, Big Papa, Dion De Rossi, Mad Kate and Rooster.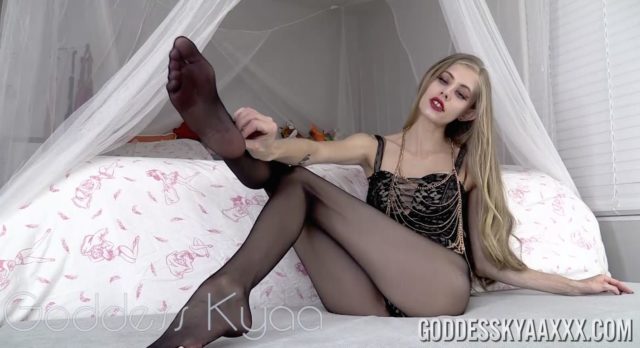 Goddess Kyaa Ripped Pantyhose – GoddessKyaaXXX.com
Most recently, Goddess Kyaa has shot a wide range of raunchy web clips for LegalPorno.com. We recommend viewing Goddess Kyaa's scintillating scene with Dylan Brown in November 2018, her epic double anal penetration (DAP) debut with Larry Steele, Neeo, Thomas Lee and Tony Brooklyn in November 2018, her sensational group shoot with Brittany Bardot, Ennio Guardi and Neeo in December 2018 and her sizzling group sex scene with Bigg Baby, Dylan Brown, Freddy Gong and Tony Brooklyn in January 2019.
Wait, there's even more. Goddess Kyaa has also treated fans to a titillating group shoot with Sara Bell, Dylan Brown, Tony Brooklyn and Yves Morgan that was released via LegalPorno.com in January 2019, she shared a raunchy DAP scene with Tony Brooklyn and Yves Morgan in February 2019 and she shot a sizzling group sex scene with Freddy Gong, Tony Brooklyn and Yves Morgan which was unveiled via LegalPorno.com in March 2019. Not to be missed!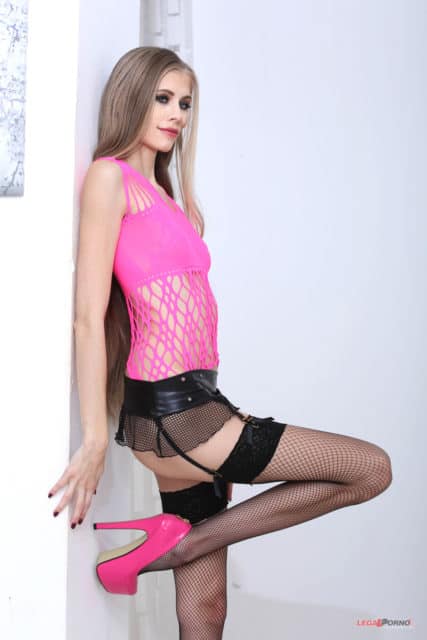 Goddess Kyaa at LegalPorno.com
As matters stand, Goddess Kyaa continues to thrive as a professional dominatrix, clip artist and porn star. You can discover all of Goddess Kyaa's compelling clips via her official website GoddessKyaaXXX.com, as well as via Clips4Sale (Kyaa's Empire) and ManyVids (Kyaa's Empire). When Kyaa was asked to name her 'must-buy' clip during her Domme Addiction interview, she divulged that;
"A 'must buy' clip for Kyaaists? Well, when you look for videos with the keyword 'Kyaaism' on my video stores you will find that I have dozens of clips specifically for Kyaaists. Devotees should collect them all! A few titles to get you started, though…Devote Yourself to Kyaaism, Divine Goddess Kyaa – Worship Her Holiness, Cock Control for Kyaaists and Kyaaism For Life. Goddess Worship is just a small slice of what I do, though. My stores are also full of hardcore BDSM scenes in which I dominate slaves of all shapes and sizes, powerful role play and cosplay videos with extravagant costumes, intense hypnosis videos (some of my best selling videos are my hypnosis videos) and a wide variety of fetish from feet to hair worship and everything in between".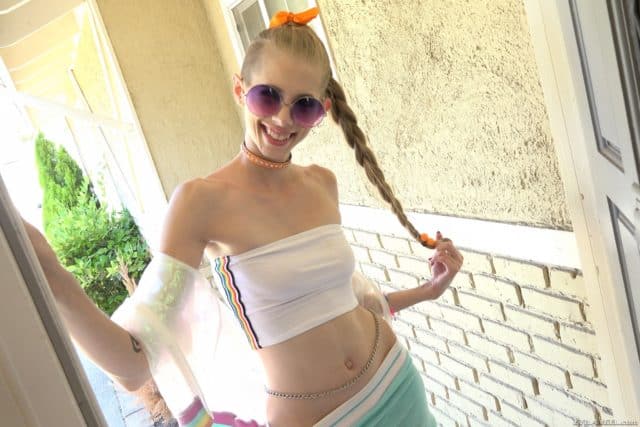 Goddess Kyaa in Kyaa's First Anal Scene Is Extreme! (Hookup Hotshot: Sex Tapes #7) – Evil Angel
Wondering what the future holds for your favorite domme Goddess Kyaa? Well, when Goddess Kyaa was asked about her future plans in her Domme Addiction interview, she mentioned that;
"I want to tie up and dominate more BIG male slaves, the stronger and more physically fit the better. Watching muscles bulge in my ropes, their huge body shaking under my cane as I beat them into a stupor…I want to make more cosplay and fantasy scenes, complete with costuming and special effects. I feel like I am just finally getting to a point where I can do special editing effects at a non-cheesy level, and I especially enjoy creating special videos like my newest release, Sell Your Soul for Devil Dick. I want to film a full length feature Femdom film, something to bring together all the fantastically talented Dominas I know, professional submissives and other amazing fetish artists to create a kinky female supremacy movie…to name but a few of my current goals…Violet Doll, Miss Foxx UK, Goddess Virgin, Bratty Bunny and Bratty Nikki are some of my absolute favorite Femdom Goddesses. I'd be honored to work with any and all of them. I just love living in a world full of gorgeous and powerful dominant women. We are truly taking over the world together! The more we band together, the more powerful we become".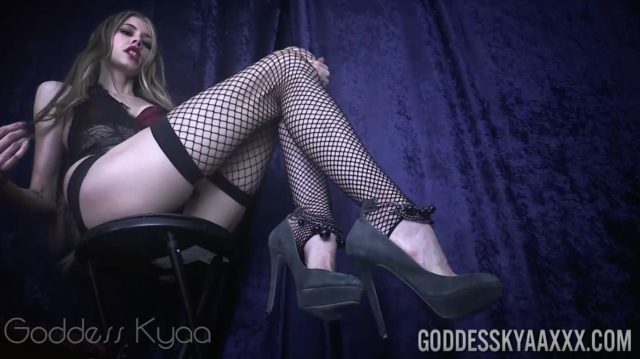 Goddess Kyaa Fishnets And High Heels – GoddessKyaaXXX.com
Eager to discover all of Goddess Kyaa's hottest sex scenes and compelling web content as well as her exclusive phone-with-cam line? Then use the links provided below to stay connected with devilishly delightful dome Goddess Kyaa!
Social Networks
Official Website : GoddessKyaaXXX.com
Twitter : @GoddessKyaa
Chaturbate : DommeKyaa
Clips 4 Sale : Kyaa's Empire
Evil Angel : Kyaa Chimera at Evil Angel
ManyVids : Kyaa's Empire
Legal Porno : Kyaa Chimera at Legal Porno
Trans Erotica : Goddess Kyaa at TransErotica.com
Niteflirt :